Cooking Gear + Reviews
How I cook on the road 
I am cycling the world since May 2013 and so far I used gas stoves and campfires to cook my meals.
I want to show you my gear experiences from the past 3.5 years, but also tell you that I am thinking of some new equipment to use while heading to Latin America.



My cooking gear to cycle the world
My thoughts about gas stoves in general
Pros:
Super fast cooking – nothing is more annoying after a long day on a bike, than when the cooking takes a long time.
Clean – no dirty or smelly hands. No black pots.
Most gas stoves are safe enough to cook inside the vestibule
Cons:
To get camping gas bottles is not always so easy when travelling remote or in third world countries
It is not the most environmentally friendly way to cook because of the none refillable canisters.
Pricey fuel (small bottle is about US $5) but if you cook carefully a small bottle can last about 2 weeks. But only if you cook simple oats for breakfast and pasta or rice for supper.
I always love to cook on the fire, but sometimes it takes too long to prepare a campfire to cook a quick meal. Either there is not enough wood or there might be a fire ban. If it is wet or snowy a campfire can be super frustrating to start.
Sometimes it is not safe to be seen because a fire draws a lot of attention. In cities or in high barren altitude areas it is tough to get a fire going anyway.
Only cooking on the campfire without any other stove as a second option is not the easiest solution for a world trip on a bike. But I know someone who did it…
Cooking with a petrol stove
I had in total 3 MSR Whisperlite stoves in the past decade and always had issues with them. Additionally I don't like the smell of petrol and I don't think it is very healthy to use them.
To me a petrol stove is not appealing at all.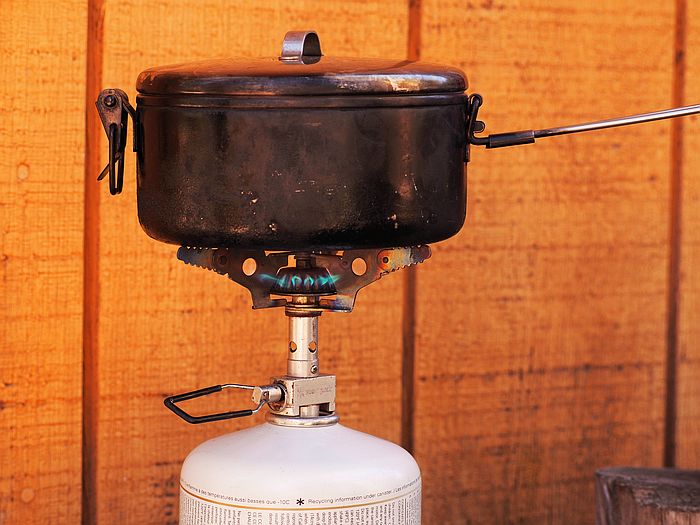 At first I had two pots, but after about 3 years it was time to toss the second one away, as I found I could easily manage my cooking with one pot.
Pros:
My MSR stowaway 0.8L pot is a great item. It doesn't seal completely when you want to stow your leftovers away, but if there is no moisture in your food you can close it and put it in your bag to eat the rest later.
It also keeps insects from crawling into your food while you leave it in your vestibule for the next morning.
In general it is an easy way to have a prepared lunch for any time later. Even if most of the time the hunger of a cyclist will finish off everything that's there anyway 😉
Made out of steel and therefore useable on the fire. Cheap US $15
Last a lifetime
Cons:
Two pots are not possible to store into each other.
A gas bottle doesn't fit into it.
Heavier than aluminum or titanium pots
You can also use the pot as a great helper in bear country 😉 Watch my video and you will know what I mean.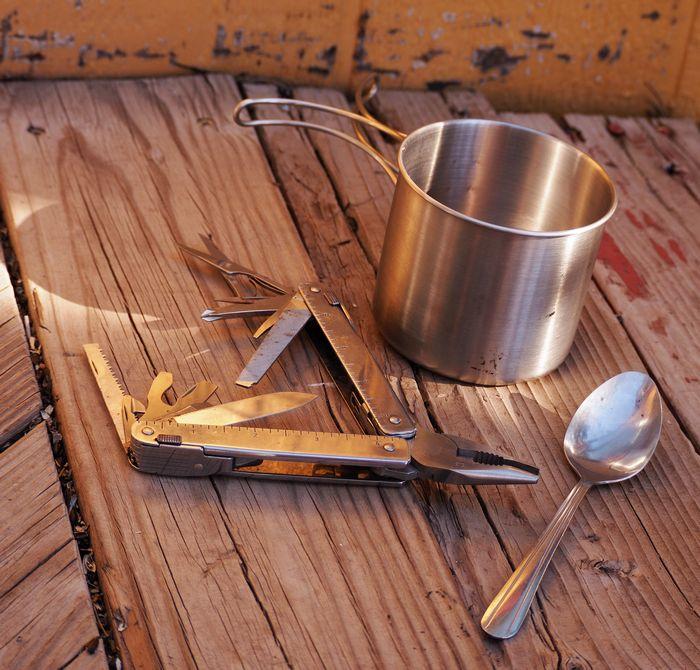 I use a simple spoon, a steel mug which I might leave behind one day if I need to reduce my weight even more. It is handy to have a mug, but not really necessary.
For a knife I use my Multi-Tool Victorinox – a great gear for all purposes, even if it is a bit heavy. 288 g.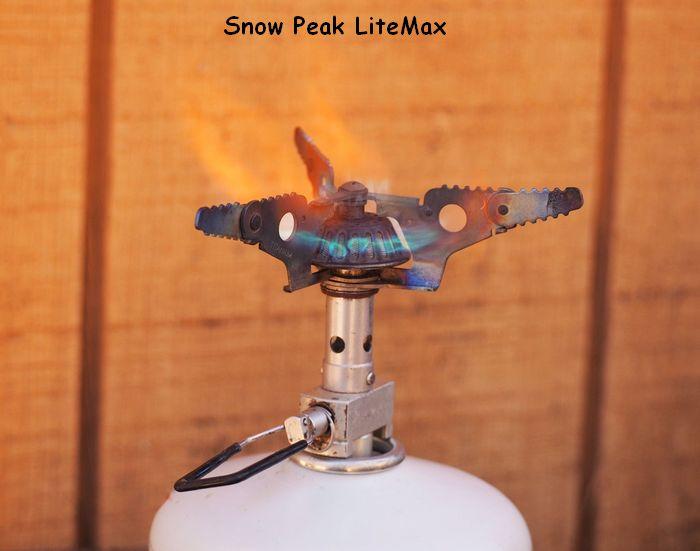 Snow Peak LiteMax Titanium  Stove

I was lucky to find out about this great stove which I have been using for the last 9 months.
Pros:
Super lightweight & small to pack
I used it with several gas bottle brands and never had any issue
Works fine even when it is -10 C
The amount of heat is easily adjustable.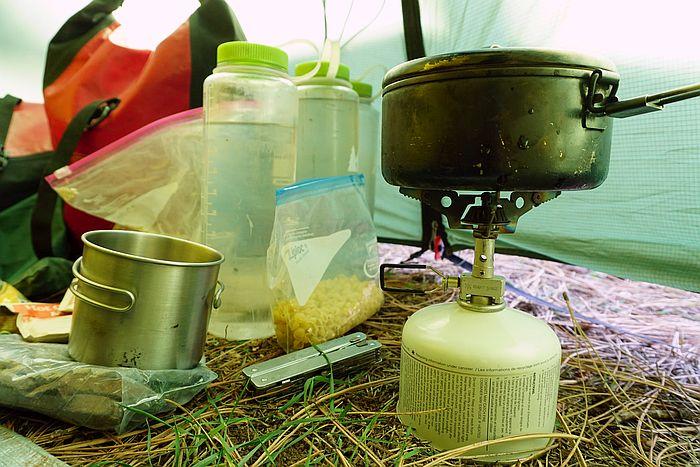 I had an MSR Pocket Rocket and had problems with several gas bottle brands. Once I was even in danger because the stove didn't seal any longer and a huge flame came out of the threads.
One night I left the stove attached to the bottle and the next morning the gas had all leaked out.
In general I did not like the MSR Pocket Rocket stove. I used it only a short time.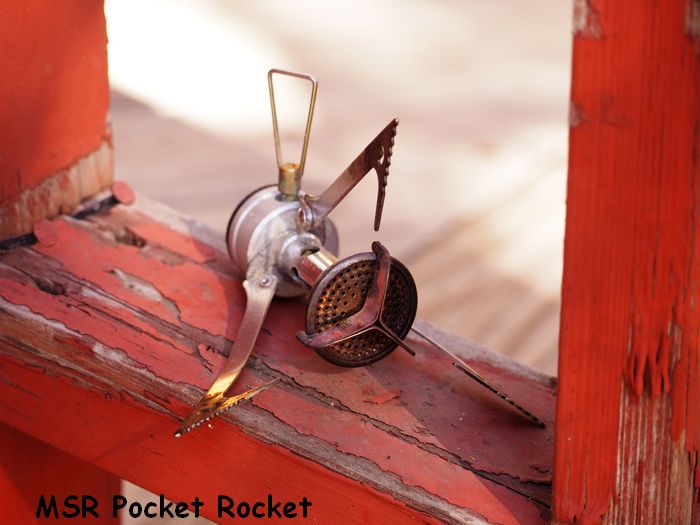 The entire way from Germany to the USA I used an Edelrid Kiro Ti gas stove which is of high quality and fits to any bottle I found. Light, same quality as the Snow Peak, but cheaper. Sadly not available in the USA, so I couldn't replace it when it finally didn't work any longer.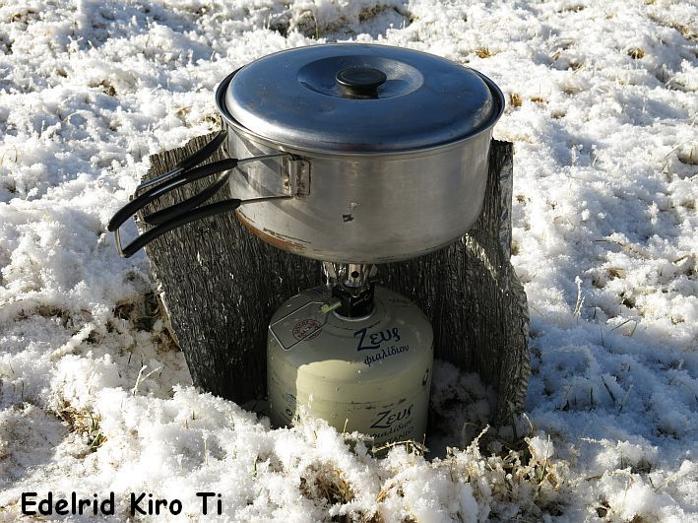 I am still searching for a good windscreen for my stove. The one I used at the beginning was great but I lost it and so far I couldn't find the right shield which is small, light, stable and efficient enough.
To have an additional option to heat up water, I bought an immersion heater a while back. It is a US $10 item. So far I used it indoors or outside of public buildings for a hot drink or to pre boil the water to reduce the waste of expensive gas.
But it is not a stove for cooking a real meal with it and therefore not really of much help. It is light and easy to use.
To vary my cooking style a bit and to be prepared for countries that don't have gas bottles available I want to use from now on a combination of a Hobo stove and an alcohol stove.
To be on the safe side I will keep my gas stove for another while until I am sure that this choice was a good idea.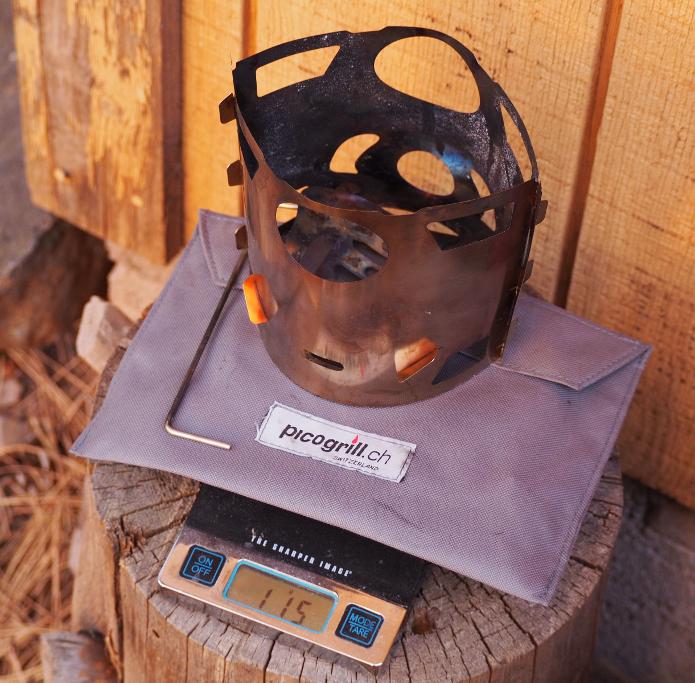 I fell in love with the Picogrill 85 Hobo wood stove
Pros:
Light, slim pack
Lights up super fast
Fun to use
Wood is for free and almost everywhere to be found with the small amount you need to keep this stove going
It leaves a tiny little footprint
Cons:
Not possible to use indoor or in a tent because of safety issues
Dirty pot – dirty hands
Smelly clothes – well, I love the campfire smell
Pricey US $60
Not available in the US
Takes longer to boil water than with gas
My first great impression of the Picogrill in a video
Trangia alcohol stove with a self-made pot stand
Pros:

Small and light
Cheap US $15
Alcohol is fairly easy to get, besides in Moslem countries
Cons:
Not safe to use in a tent without the full Trangia system and that is a problem
Fuel is heavy to carry
Takes longer to boil water than with a gas stove
Needs some practice
My first impressions of the Trangia with a self-made pot stand in a video
All my reviews are honest statements. Even if I received an item as a sponsorship, I will still give you an honest overview what the gear is like. Everyone who followed my blog knows that truthfulness is an important part of my philosophy.