Bikepacking setup or classic Ortlieb panniers for your bicycle trip around the world?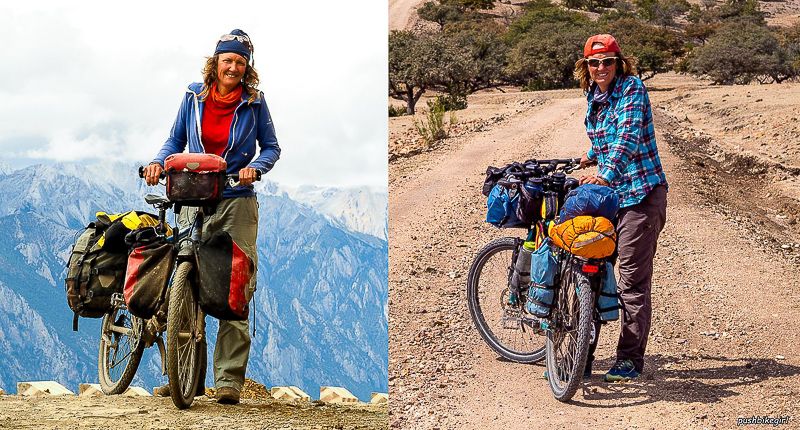 Is it possible to cycle the world with a bikepacking setup? And is it wise to do so?
What is better – Bikepacking or the normal pannier setup from Ortlieb??? Or maybe a mix of both?
Why even consider following this new bikepacking trend for touring the world?
Read on and I will tell you what my experiences are from trying different set-ups lately.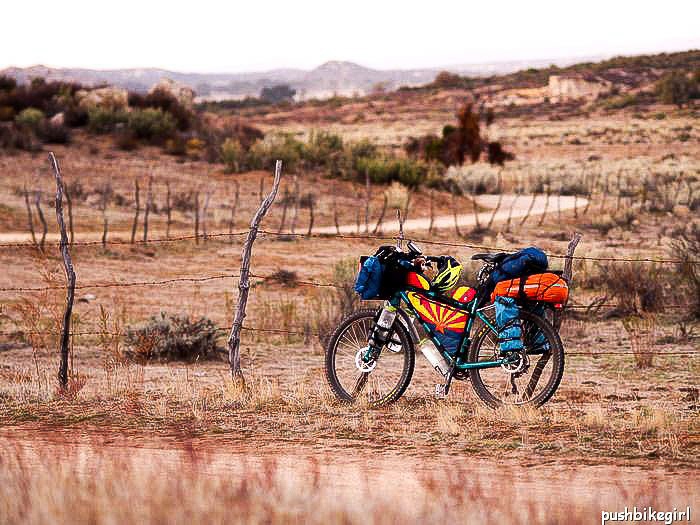 Bikepacking was created in the USA.
The idea is to be able to cycle off the main roads on remote trails carrying the minimal amount of gear and food needed to survive the outdoors for a few days without resupply possibilities.
The minimal amount of weight gives you the opportunity to ride faster and with a lot more fun. You can also ride on almost every terrain you come across. It opens up a whole new world for trail hunters. And I love trails and off road travelling a lot.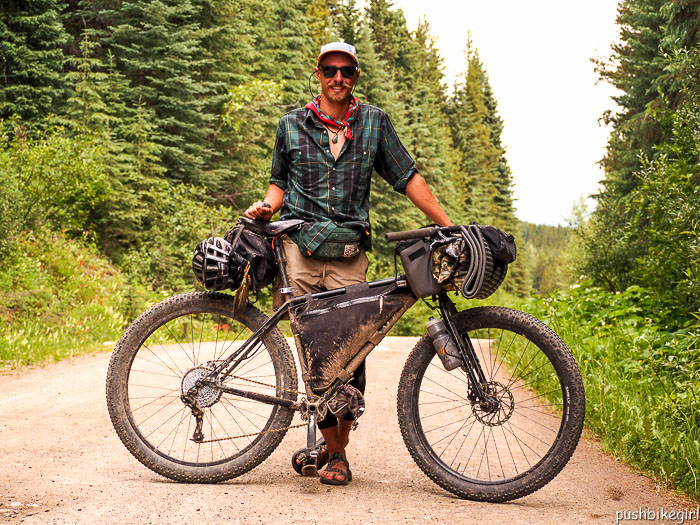 A bikepacker whom I have met on the Great Divide in Canada 
Of course, bikepacking a trail for a few weeks is a different perspective than cycling the world.
Bikepackers tend to choose ultralight gear which doesn't last as long as the heavier sturdy materials used in traditional panniers, such as Ortlieb panniers. Ultralight gear as in tents, clothes and sleeping bags usually packs-up using a minimal amount of space. The advantage is huge.
Some bikepackers also only use a Bivi sack, which is okay for a short time but not for extended travel, at least not for me. Some bikepackers are credit card travelers and stay quite often in hotels, something which is often beyond the budget of a long-term cyclist.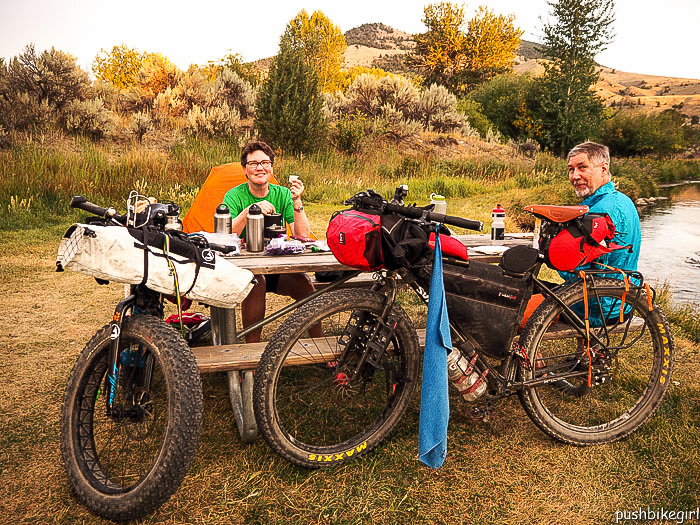 Allan and Audrey on the Great Divide in Montana enjoying their evening rest
But the ultralight gear with its shorter lifespan is not always practical for the world cyclists who is relying on their gear to hold up for years and don't want to have to replace it as often.
Additionally, bags such as frame bags are custom made to the bike and not available everywhere.
All in all, I wanted to find out for myself if there is a possibility to also use the bikepacking setup for touring the world. Even with my heavier and bulkier gear and traveling solo which means not being able to share gear loads with someone else.
My beloved Hilleberg tent weighs 2.2kg. My tent is heavier for the different seasons I am travelling in. I carry a 13" laptop, additional gear for cooking and things such as tools and spare parts all add up to a lot for the bikepacking bags to handle and for a solo rider to find space for.
I worked on a new setup for about 8 months while riding on different terrain, including the Great Divide and Baja Divide Trails, the Kokopelli trail, and the entire Mexican country.
It also included time on tarmac roads and pretty much every other kind of road and trail condition imaginable. Of course, I couldn't always change setups to meet the current conditions nor do I have the budget of others who may then have better access to equipment testing.
Here is my result.
Pros: 

  
1. The less weight you have the more fun the riding will be.
2. The weight with bikepacking bags is better balanced on the bike enhancing the ride especially on trails and primitive roads.
3. The bikepacking bags themselves weigh less than Ortlieb panniers and you are also under pressure not to carry unnecessary items because of the lack of space. It all saves a lot of weight.
To be honest, this is almost everything positive I can say about a bikepacking setup for a long-term cyclist. But these arguments are not to be underestimated and that's why I am still sticking to the system, at least in parts.
As mentioned before, if you are two and you can share the big items like tent, laptop, spare parts and cooking gear, the bikepacking is definitely a great set-up for a bike trip around the world.
As a solo cyclist I found it still difficult to find enough space for everything. Especially my laptop was in any way I tried to pack it always the party-pooper.
Cons:  
1. Food problem. Where do I put my bananas and my fresh vegetables?
Yes, that's a big problem for me and it was the biggest issue causing me to finally switch back to my small front panniers which I attached to the rear rack. I want to eat healthy while away from home for years on end. A bikepacker riding a trail for a few weeks can easily survive with rice and pasta and a tin of tuna.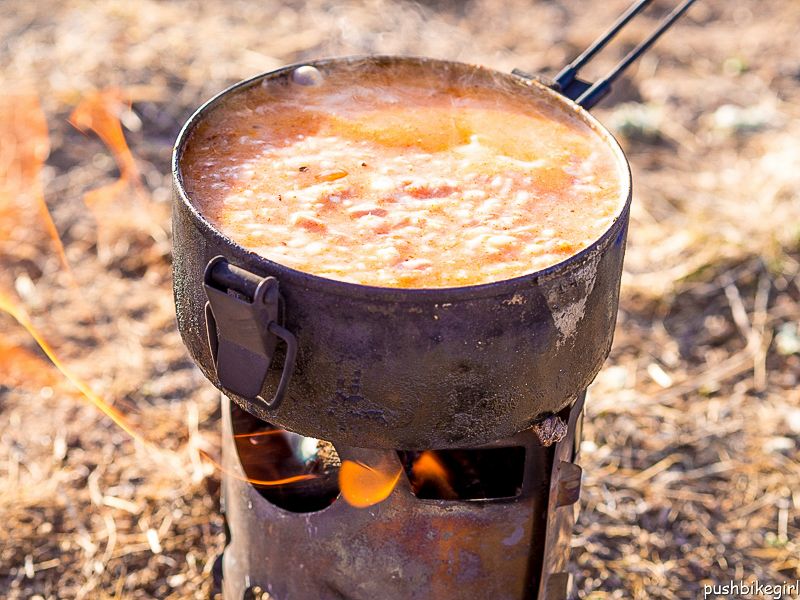 2. I was shocked how fast those relatively expensive dry sacks wear out.
My frame bag and saddle bag instead are sturdy and I am sure they will last for a long time. But they are not 100% waterproof and that's a problem. The harness is strong as well.
Ortlieb panniers – compare to the dry sacks and bikepacking bags I tested – are waterproof and sturdy. (Some bikepacking bags might be 100% waterproof, but I haven't met anyone yet who said to me, yep mine are 100% waterproof. Ortlieb came out with some new bikepacking bags and are claiming they are 100% waterproof, this would be something to consider, but their frame bags are not customized)
It makes a difference if you are doing one long trail and bought your gear specifically for this trail or if you are planning to have the setup for a full round the world trip, even if I know that Ortlieb panniers don't last forever either and they have their faults too, but they definitely last longer than what I have tested lately.
The wear and tear on the bags is intense bouncing over these trails especially on a touring bike with no suspension and without wider tires. Straps attaching bags move thousands of times a day and the same is true for the bags. Straps wear through and holes appear in the bags much sooner than later.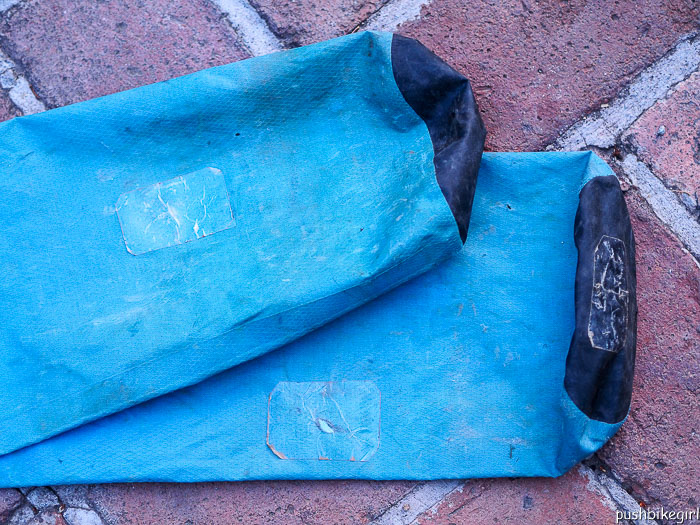 3. It is totally impractical to take bikepacking bags on and off.  It is simply not a quick process. River crossings, steep slopes can become difficult for me as a solo female. Carrying your bike up to the third floor of a hotel can be a nightmare I assume even for a lot of guys.
Boarding a train, a bus or putting the bike into the back of a car all become more difficult, because you can't unclip those bags within seconds as you can with traditional touring panniers. Once the frame bag is attached it will stay on forever. Same with the saddle bag and the harness.  
That also means the bikepacking bags stay on the bike while you are sleeping in your tent at night. If it rains the bag interiors get wet along with anything you chose to leave in the bags overnight, at least if your bags are not 100% waterproof as most of mine are.
There might also be some animals running around and chewing a hole in your bags because you might have accidentally left food in one of the bags.
Or possibly curious kids who check out your bags while you are sleeping. There is a huge difference if you are always on a trail which is far away from civilization or if you pitch your tent somewhere close to a town.
I personally like to have all my belongings in my tent at night, with bikepacking bags that means you always have to empty the frame bag, the saddle bag and the small top tube bags item by item with everything loose in the tent through the night and then load it all back into the individual bags in the morning. Pretty annoying and time consuming.
With the Ortlieb panniers it is an easy unclipping in a second and you can have your gear with you while the tent is closed for the night. Everything simply stays in your panniers safely stowed in the vestibule.
4. If you like to ride your bike through town without any of your gear packed on your bike, the harness with its long straps are always in the way. Same with the cages where you either attach a bag or like I do attach a water bottle.
You have to attach those straps somewhere around your frame or click them in before you start riding. That is also the case when you just push the bike for a few meters when you start loading your bike in the morning. The straps always twist their way into the disc brakes or spokes. At least it does it with mine. It is not a big thing, but it has to be done. 
5. Packing and unpacking takes too long with the amount of gear a world cyclist is normally carrying – even if I have reduced my gear a lot. 
Packing up is a tricky process to get it all in with a bikepacking set-up packed tight and if you need something during the day, it might take a bit to get it.
In most cases, it is not simply opening and digging through a pannier for what you are looking for, no it might be at the far end of a dry sack and you have to pull everything out to get to what you need.
I know a clever packing system would avoid this, but in some cases, I couldn't avoid it. I tried it in hundred different ways.
6. People don't seem to see that you are touring for an extended time. This might seem a weird reason to mention here but I still want to be identified as a world cyclist not as a short term bikepacker. And I don't mean this in a negative way, but it is a different way of life.
7. Seasonal issues should be mentioned also. Where do I store my winter gear? But I already left my winter gear with someone in the US, so I have this issue anyway and also found it a bit silly to carry winter gear through a piping hot climate where I am right now.
8. The frame bag can damage the paint on your frame.
My trials :
Here are the different trials I worked on for about 8 months checking out the possibilities bikepacking offers.
It all started with an accident in the US, I was hit by a car and needed a new bike. So it was time to try to switch over to bikepacking.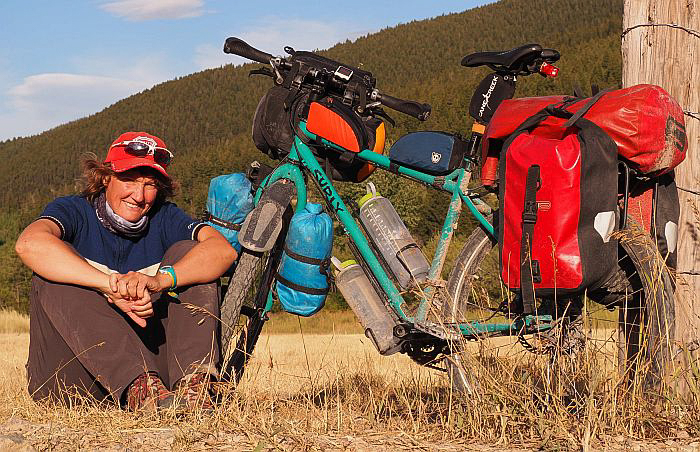 Great Divide MTB Trail Summer 2016
This first picture shows my setup for the Great Divide MTB Route. Harness in the front with my sleeping bag attached in a waterproof stuff sack. The front fork with cages and 2 bags and my front small panniers attached to the rear rack. Plus a waterproof Ortlieb dry sack, which is far heavier than other dry sacks but last far longer.
It worked totally fine for me and for the technically easy Great Divide trail it was perfect, but I wanted to get rid of the panniers just for the sake of it.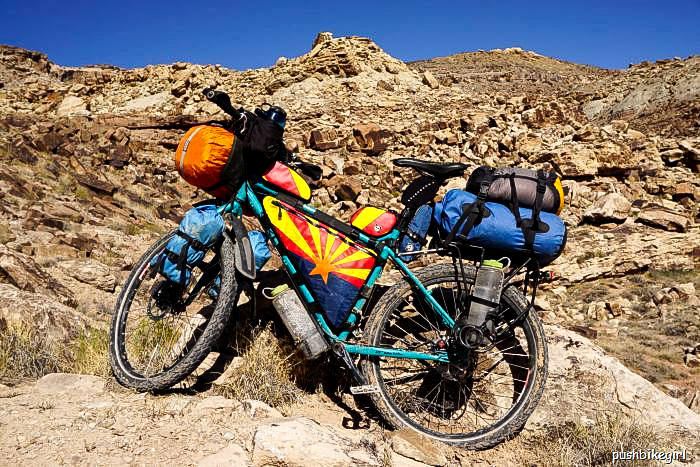 Kokopelli Trail Utah Fall 2016
So my next step was that I received new bikepacking gear from Rogue Panda. And I was finally able to eliminate the panniers. But my first trial didn't work out well.
I wasn't able to pack my gear the way I needed it. There was no easy way, to have access to the blue dry sack on my rear rack, because my sleeping bag was on top of it. It was just too complicated. I had my laptop, which was always the biggest problem in the blue bag.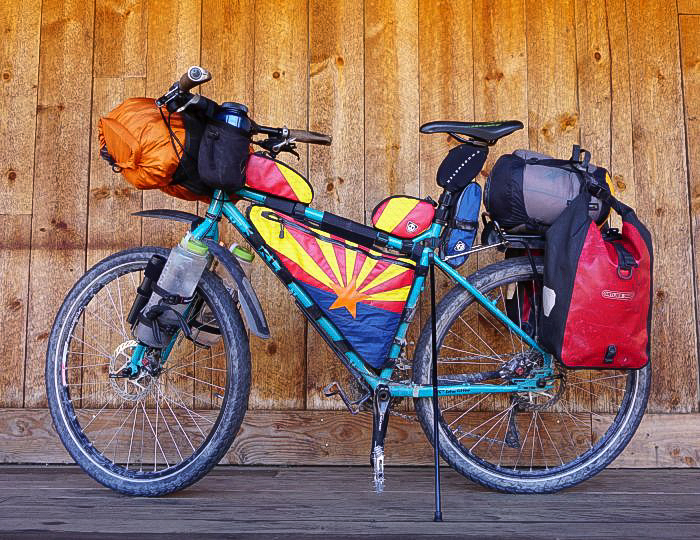 USA Arizona October 2016
 The next trial was using the panniers again, but it didn't work well because the sleeping bag stuff sack was too slippery to get it properly attached to the rack without using tons of straps to attach it. And I was back using the panniers which I so much wanted to avoid.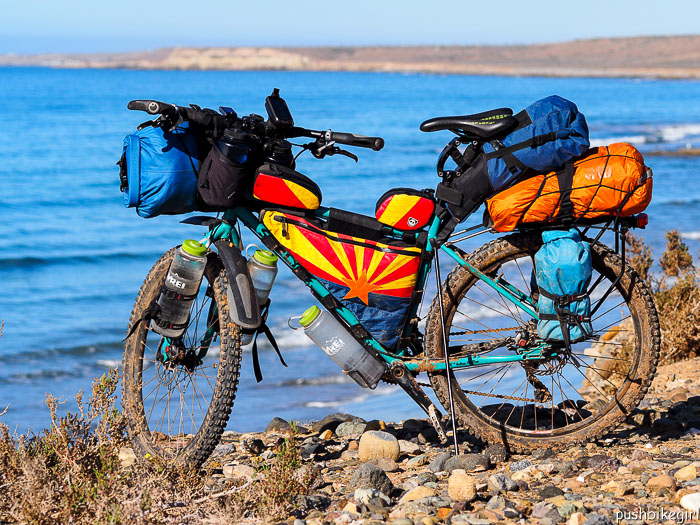 Baja Divide Trail Mexico Winter 2016
Finally, I started using a seat bag for the Baja Divide Trail in Mexico.
And a rear dry sack which I attached with one strong strap that clips and a small cargo net to give it more stability. I had my laptop in my orange bag with my tent.
Each time it was wet, I had to wait to pack up because a laptop and a wet tent in the same bag isn't very healthy for a computer. Sometimes I put the laptop in the front dry sack which is attached to the harness, but it is too bulky and always presses the mudguard to the tire.
This setup wasn't perfect either. The Thudbuster (the suspension seat post) couldn't work properly any longer and therefore I had back pain. I was also tired of the laptop packing problem.
Mainland Mexico March 2017
Finally, I got my panniers sent again and the set-up I am using at the moment might be the final setup for the rest of my tour, but I am not yet 100% convinced about it. Now I have too much space and too much weight again, but that also means I can easily carry more clothing with this setup in colder winter conditions which I will surely encounter in the future.
My laptop is now in one pannier. My tent in the other pannier. If it rains and the tent is wet I can pull out an extra dry sack for my tent and attach it to the rear rack.
In the front is my sleeping bag, mosquito net and pad. Clothes and my camera lenses are in my seat bag. Frame bag has random stuff which is not so important when it gets wet or stolen. It also contains my poles for the tent. The rest is somewhere in the panniers.
The set-up feels comfortable to cycle and I can still carry 6.5 liters of water and finally some fresh and healthy food again. My laptop is in a safe and dry place.
But I haven't done any serious trails with this set-up lately, so I am still considering switching back to a full bikepacking set-up when I will get to the next trails.
All in all, I guess there is no perfect solution.
To avoid rattling I am using Velcro ( soft peel and stick side) which I have attached to almost every surface of the bike especially the rear rack. It helps a lot and I can definitely recommend using it.  
I found it handy to have loops sewn to the dry sack, it gives a more stable attachment to the harness.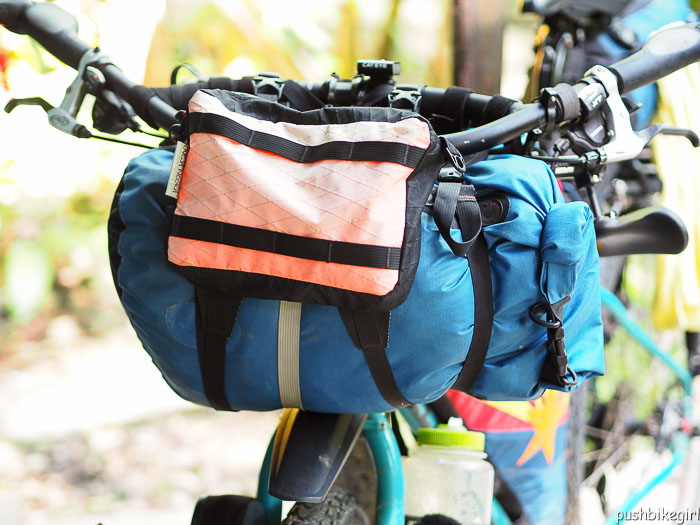 I also like my chalk bags attached as bottle or food holders. In one of the chalk bags I carry my cup and on top of it my water bottle.
Keep in mind that we are all different and have different needs and preferences. What works for me might not work for anyone else.
If you have any questions feel free to ask. If you like to share your personal experiences you are more than welcome to do so.
Happy riding!