Interview – Biciclown – Álvaro Neil – 13 years – 178.192 KM – 117 countries – world bicycle tour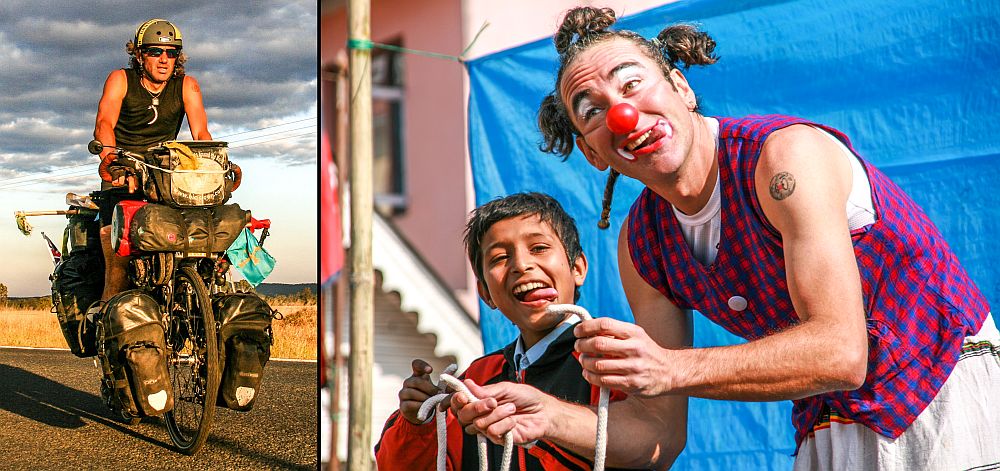 Biciclown – Álvaro Neil (51) Spaniard 
Álvaro is one of the few world cyclists who pedaled the planet more than 10 years non stop. What makes him even more extraordinary is that he performed as a clown in schools and small towns all around the world for free.  
I had the honour to meet him in Spain and took the chance to interview him.   
+ Australia 2012 East Coast +
#1
13 years is a long time to be on the road. Packing and unpacking every single day, being confronted with different weather conditions, visa problems, strenuous cycling, loneliness and a lot more. A life of adventure can be tough. How did you keep the motivation going?  

Álvaro:   I didn't need to keep the motivation going – it just went. It is as simple as that. You don't think about how to breathe – you just breathe. The motivation is inside of me. For this world trip I had a clear idea of what I wanted to do. I wanted to cycle the world.  
And I faced every imaginable problem to make this dream come true.  
I never had a day when I thought, please take me home. You have a bad day because you might be in a bad situation but then you have to accept it. Try to find solutions. If it's raining you get a cheap hotel or you check the weather and head another direction than was planned. You don't escape. You have a problem and then you solve it.  
+ Nepal 2009 +
#2
You are famous for being a clown. And you performed in schools and towns around the world for free. I am sure you made a lot of people happy. But what did you get in return? 
 
Álvaro:  It gave me a lot of energy and pleasure. Because if you make someone happy, you are happy too. People were so thankful that it made me feel much better. When you are on the road you receive a lot, and performing as a clown was my way of giving back.  
Making those clown shows was one of the best parts of my project. Giving away is something that is priceless. You give away a smile.  
You can buy a bicycle in the supermarket but you can't buy a smile. Making people smile, especially adults, makes me very happy.  
Sometimes people said, I never liked clowns, but I enjoyed it with you. This is of course a great compliment. There are many kinds of clowns and of course I don't like Ronald McDonalds.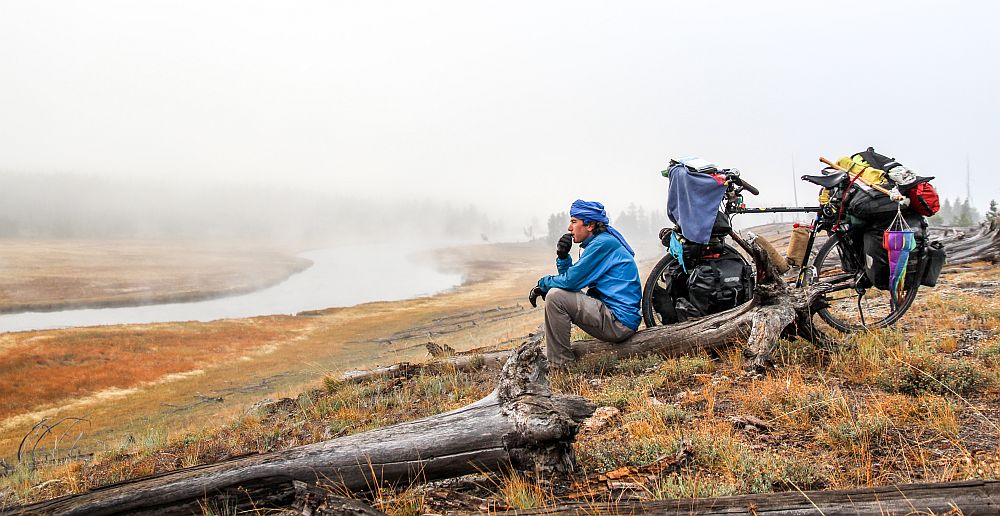 + USA – Yellowstone 2013 +
#3
A long-term trip gives you a lot of lessons for life. What did you learn?  
Álvaro:  I learned that the world is very small. You can get everywhere on a bicycle. The bicycle is a school in life. You have to push and you get a reward for it. When you push your bike up a mountain, there is always a downhill. The bicycle is the best passport to travel from country to country. People helped me a lot because I was cycling.  
The most difficult decision was probably to step out of the comfort zone and leave my job and a good salary behind and go to an uncertain destiny. I didn't know what was going to happen to me. I didn't know where I would live when I came back to Spain. I have no house. I don't know how I will deal with my pension, because I don't have any pension. But the journey taught me that every problem comes with 3 solutions and you just have to pick up the best.  
We make up most of our problems in our mind and they are not real. There are many things that happen that we cannot imagine and that is part of life. We cannot make a lot of plans because life has a plan for us. If you just let things go, it normally has a positive ending. You have to trust your intuition. We have only one life. No one leaves life with their money. Make sure you spend it all before you die.  
+ Syria 2008 – locals offering dates +

#4 
You cycled every continent. Which one is your favorite and why?  
Álvaro:  I had fun on every continent. Every continent had something positive for me. Most of the stories I talk about in my presentations are the stories I experienced in Africa. Africa is where you can see real hospitality. Africans will help you! It is also amazing to see how easy you can communicate with Africans even without knowing their language.  
In Asia you get amazing food and there are great landscapes. But there are also a lot of people and it is sometimes hard to find a place for the night. Especially in India.  
In Oceania, you are at the end of the world. You can see a lot of different characters there. Very special people.  
In the Americas, you have 3 continents in one. North America, Central America and South America. And of course, I had much more fun in Latin America because I can speak the language.  
Then Europe, where things are a little boring, everything is obvious because being born in Europe I know what's going to happen.  
It is hard to get a place to sleep. It is not easy to stay in a church or at the fire station. And you know you are not facing the friendliest people on earth. And you wonder – why? People have so much – but they are not friendly. It seems like when people have a lot of materialistic things they want to protect what they have. In Africa they have nothing, but they share.  
So, I arrived in my country and I said to myself, I have to keep an eye on this. Don't get many things otherwise you become possessive. You might no longer want to share. You might get scared and you might feel like you need to protect what you have. You no longer trust.  
It appears that if you have a lot, you change.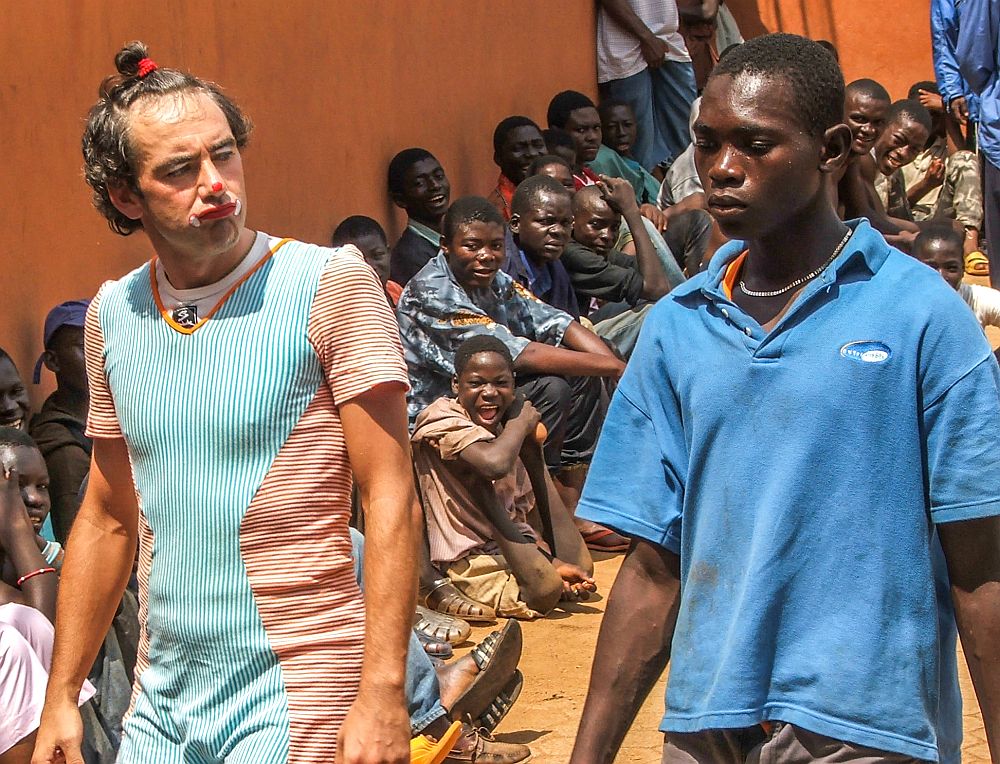 + Show in Cameroon 2005 +
#5
What does an average day on the road look like for you?  
Álvaro:  I wake up without an alarm clock. I cook and pack up. 1 ½ hours later I start. I have an idea of a destination – but never a fixed plan. It's more like I want to reach a town or a spot. Then I might realize later in the day that it might be too far to get there in one day so I change my mind. Every two hours I take a 30 minutes rest. But the last few years I just stopped whenever I wanted. Before, it was exactly 2 hours, but now I stop when I see something interesting.  
I eat small things during the day. I go to the supermarket almost every day. This helps me to get in touch with the locals. Then in the afternoon, I fill up my 4-liter water bag and try to find a campsite. I try to find a campsite where I can see the sunrise. I love to find a spot with a tree which protects me and keeps me from having a wet tent in the morning.  
I take my shower, and for that I boil water. I cook and write in my diary. Sometimes I listen to the radio and, very rarely, I spoil myself by watching a movie.  
Then I say "thank you" and go to sleep.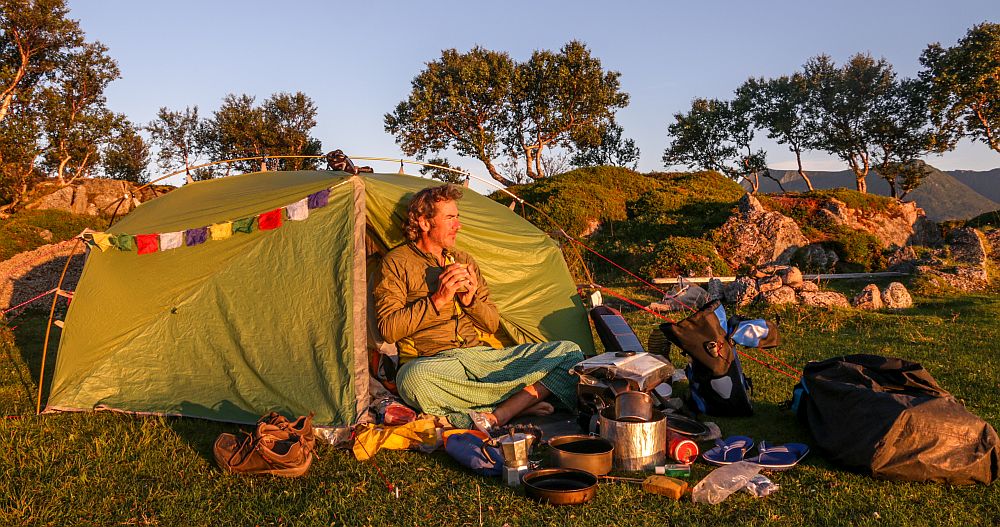 + Norway 2015 +
#6 
When you look at the world map. What kind of emotions are coming up?  
Álvaro:  I feel relieved – wow I made it. Because, before, it was a big task. Before, it was the feeling that I had to cycle the world – I have to do this. Now I see the world and I think, I've finished this task – it was a big one. One less task on my check list.  
I also feel happy. But I also see the world and think, why are people fighting? Don't they see that we are all the same? No one chose to be born where they were born. Nobody chose the color of their own skin – it's just pure coincidence. People who have a lot don't realize that there are people who have nothing. And people who have nothing don't know that there are people who have even less than that.  
The world is such an amazing place and we are slowly destroying it, and I am really happy that I've seen it before it is destroyed.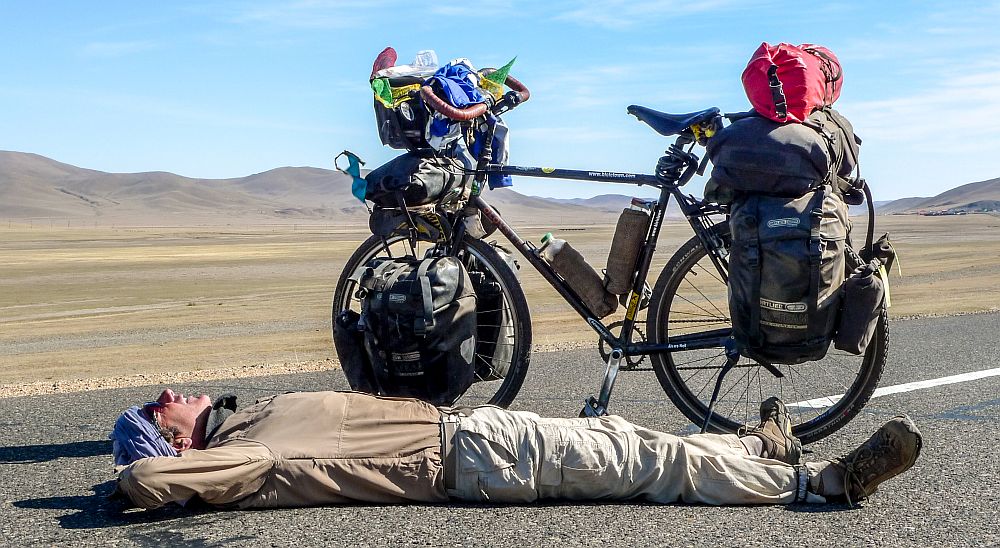 + China 2010 near Kashgar +
#7
Coming home after 13 years is not easy. How do you feel now in your country? 


Álvaro:  I am now writing my last book, my 7th book about my journey. It is about the end of my trip. Riding home from Japan. The title of this book is "Coming back to no man's land," because when I finished the journey I arrived in Spain – not home.  
At the beginning I said I am going back home. But one day I realized I said when someone asked me, I am going back to Spain, not back home. Because Spain is not my home, it is another country I have to discover.  
When I came back I didn't come home, even if I met my family I came home to another country I don't know. Spain has changed so much. People are no longer talking to each other as much as they did before. When I left, people talked and looked at each other when they sat in a bar. Now everyone looks at their mobile phone. This is crazy.  
Because I cycled my last 2 years in Europe I already knew that things have changed. So, I knew Spain wouldn't be any different.  
I left a traveler life when I stopped cycling but I became a nomad. I am a nomad living in my own country. I am a nomad on the inside and I don't want to settle down in a place. I don't feel like I belong to Spain and I also don't think I belong to this planet earth. I belong to somewhere else.  
At the moment I plan to focus on my own life.  
+  Peru 2014 +
#8
What is the one thing you regret?  

Álvaro:  I regret I missed Tajikistan. I also regret I didn't keep a more detailed track of where I have been and what I have done. Like statistics, addresses of people who helped me, how many punctures I had and so on.  
I should have stayed longer in some places to explore them deeper. But sometimes you have to leave the places otherwise it is too hard to leave. When you already have the keys of a person's house or when the owner of the bakery already knows your name, it is too late. It was necessary to head on, otherwise I might have stayed forever.  
+ Pablo, Lontxo and Biciclown  USA 2012 + 
#9 
Which single kilometer was the hardest for you? 
Álvaro:  The hardest was the very last one. Arriving in my hometown. Suddenly I saw my brother I hadn't seen in 13 years. Faces of people I had in my mind were frozen and now I got the update after 13 years. I saw people I didn't follow on Instagram or elsewhere and I wondered what had happened to those people. They looked so old. My brain was just updating all those faces.  
It was also very emotional. Some friends came from abroad. From Hawaii, Brazil, Switzerland and Italy to cycle with me that day. And I thought "Wow!  All those people are together because of me." Amazing!  
But I also felt like I wanted to go back – I didn't finish the ride.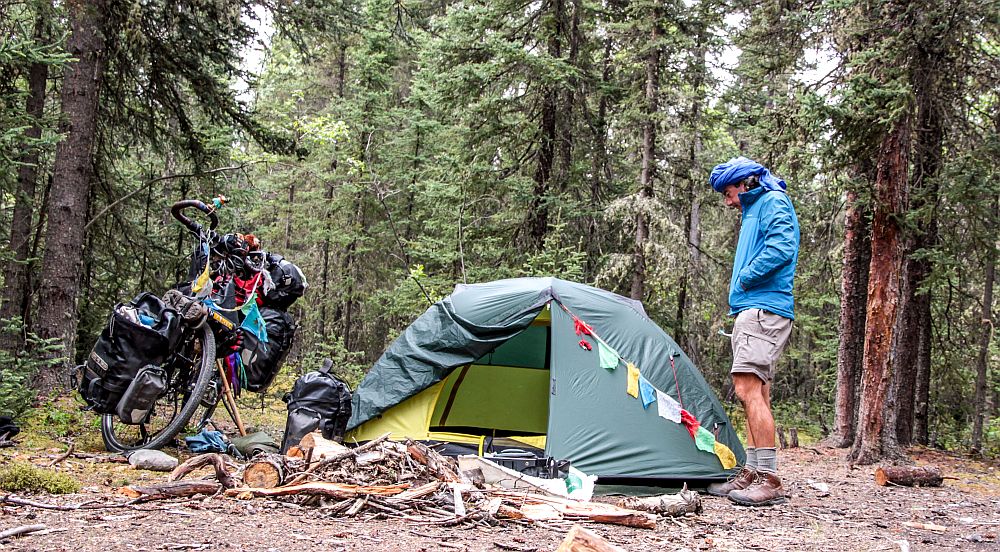 + Alaska 2012 + 
#10
How did your way of traveling and exploring change during such a long trip?
Álvaro:  The longer I cycled, the more remote I travelled. At the beginning I stayed on the big roads. But the more confident I became, the wilder I cycled. Even if I had to push now and then to get through those less developed areas.  
Before, I was looking at the speedometer. I had to do my 100 KM a day. At day 6, I enjoyed a rest day. But at some stage I stopped counting. I also didn't write my diary as often as before.  
But I still wrote down all my expenses every day. I wasn't crazy when I spent 20 Euro one day but it helped to see where I might have spent too much in general.  
At the beginning I might have gone to a museum. Now I go to the market, because I get more contact to the people there. I also take less pictures and make more videos. I like to see and hear how people live and what they think.  
Before, I had to see the Pyramids, the Great Wall, Machu Picchu and Iguazu Falls. But once you have seen it – especially those places which are full of tourists – you get tired of it. I would rather talk to an old lady in Peru. That was much nicer.  
+ Climbing Sani Pass South Africa to Lesotho 2006 + 
#11 
The one night you will never forget?

Álvaro:  One night in Australia I heard crocodiles around my tent. I was really scared and didn't know what to do. Should I go out and scare them away or should I stay in the tent waiting for my last minute?
I thought whether I stay awake or if I sleep, it doesn't make any difference to them. If they want to eat me, they will eat me anyway. But if they don't eat me, and I don't sleep the next day, I will be really too tired to cycle. So I focused on my breathing and slowly went back to sleep.  

+ Spain 2018 + 

If you like to find out more about Álvaro and his journey, then please check out his page and his social media networks.  
biciclown.com
instagram
youtube
facebook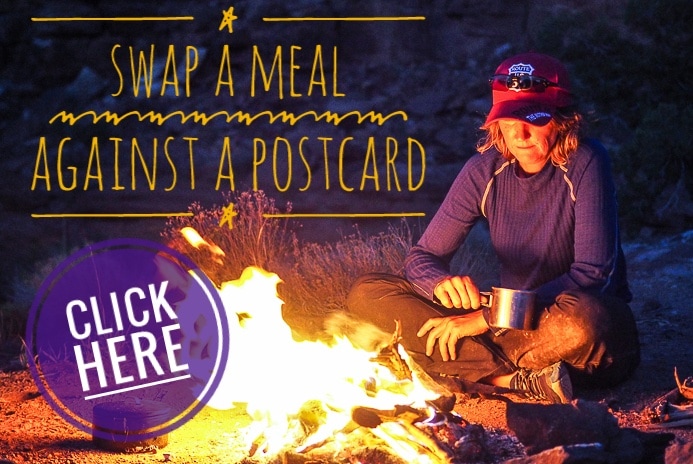 If you enjoyed the interview feel free to share it among your friends. A comment is very welcome too.