Acropolis & Co were ticked off soon and didn' t impress me much. Dimitris, my warmshower host in Athens, spoiled me with local food and heaps of information. Super.
If I have a look at the world map seeing the short distance I covered so far it looks really tiny compared to what' s ahead of me going all the way to Australia. I always thought the world is small, but if you have to pedal your way around it, you realize how big it actually is.
To get my camera fixed I sent it to the service in Germany with the hope of getting it back soon.  But I was mistaken. More later.
I took the ferry from Pireaus to the island Hios and from there to Cesme in Turkey. With Turkey I entered the 13th country on this trip and I am planning to stay here a bit longer, the huge country is reason alone.
Right from the beginning I enjoyed the delicious cuisine and the great hospitality. Turkish people give you the feeling of being very welcome.
In each village next to the mosque, there is a small room or house were guests can stay. Quite often dusty and really run down, but dry and for free. It is a bit scary to be there, just because I am alone in a foreign world and there is no possibility to lock the door or the windows. Most of the time someone came along and brought me supper or breakfast, if no food than at least a chay (tea).
At one late afternoon I had a unpleasant experience. A motorbike rider followed me and annoyed me. He even hit my bum while I was cycling. After a while I shouted at him he should piss off and I threw stones at him. But instead of leaving he phoned his mates and suddenly there were four motorbikes around me. Luckily a turn off to a small village came up and I escaped into the small town.
Sometimes it is a disadvantage to be a female. But so far I had such a good time and I guess a man wouldn' t have been invited so often as I was.
I had another visit by the police. The mayor of a town didn' t like that a family invited me home. They called the police and I had to show my passport and needed to answer a few questions before they walked away again.
The landscape until Cappadocia wasn' t exciting. Instead a lot of traffic and really boring roads.
Just right before Konya I met two Swiss blokes and I cycled a few km with them.
In Konya I wanted to pick up my camera at a hotel adress but it was still at the custom office in Istanbul and the delivery was delayed. Custom duties were payable because Canon insured the parcel in a too high amount.
At Huseyins place in Konya, a warmshower host, I met Rafael. A friendly spanish bloke on his way to Nepal. He startet at the same time as I did. In Konya we headed off together. We have nearly the same speed, the same journey and the same ideas of travelling. Let's see how long we will stick together. I am happy to have company for a while.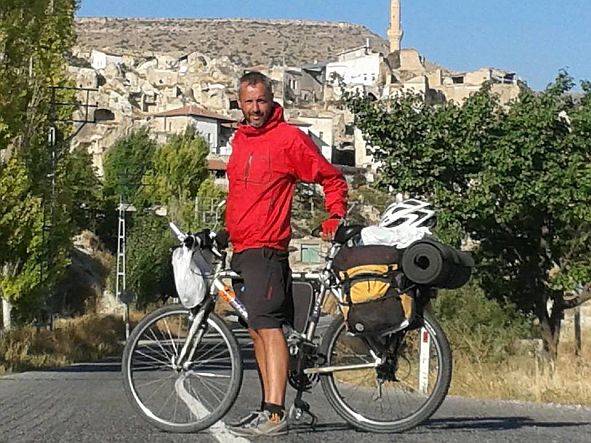 I knew Cappadocia before but I was still very impressed of the natural beauty. At sunsrise countless balloons are flying in the sky and during the day you can hike and climb through the rocks. A really great place to explore.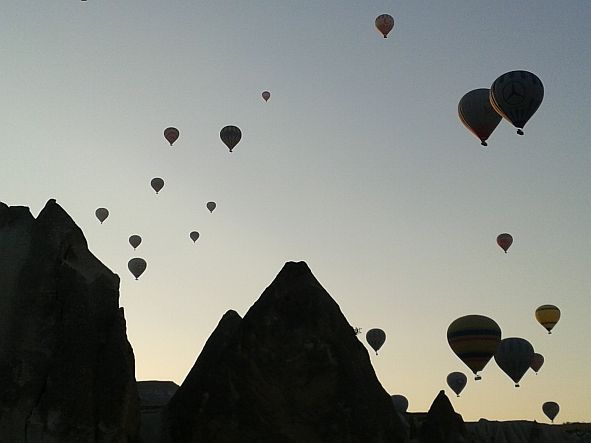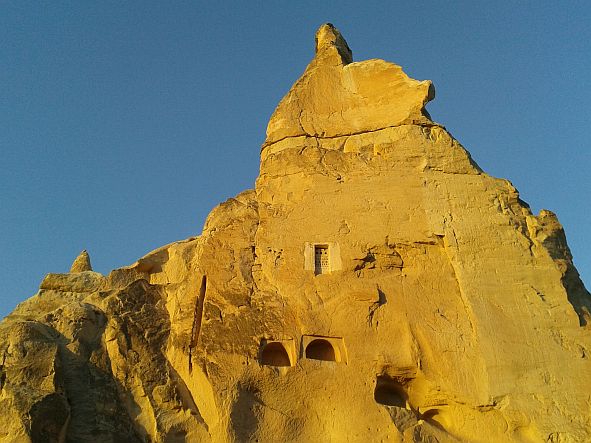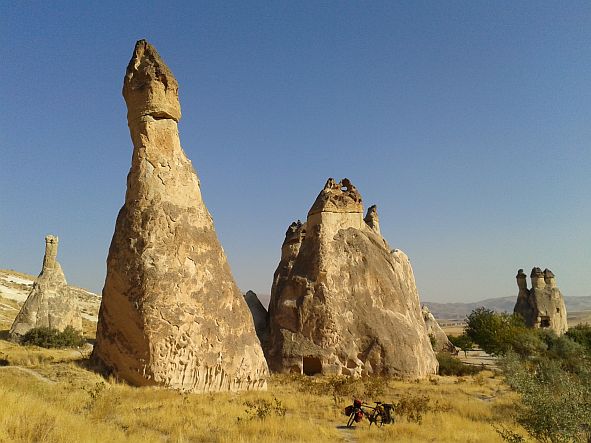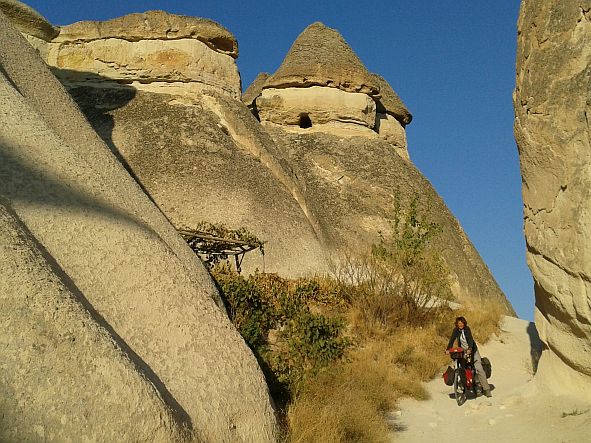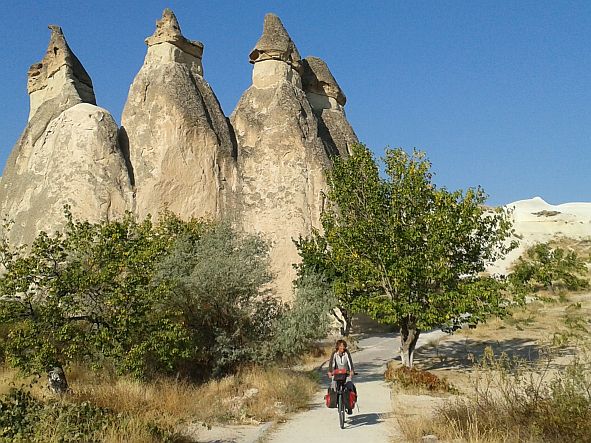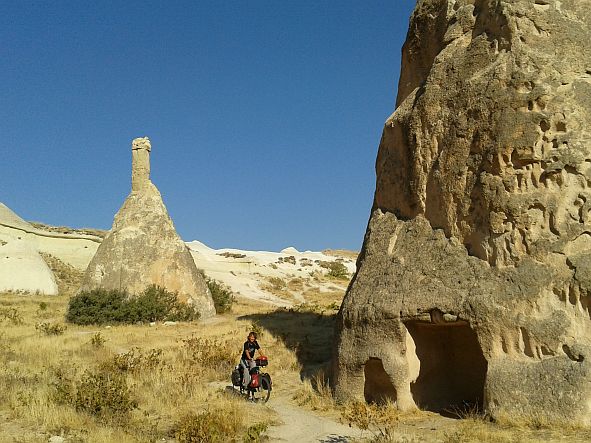 After a long corresponding via email force and back with Canon and UPS I finally managed to recieve my camera in Goereme. All in all it was a really annoying process. Because of the problems I had I don' t have any pictures of the last 3 weeks.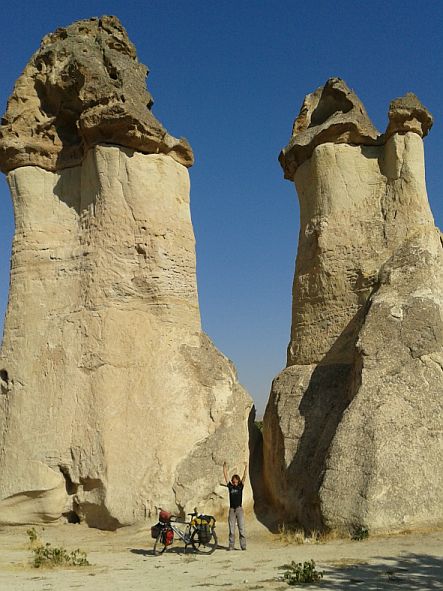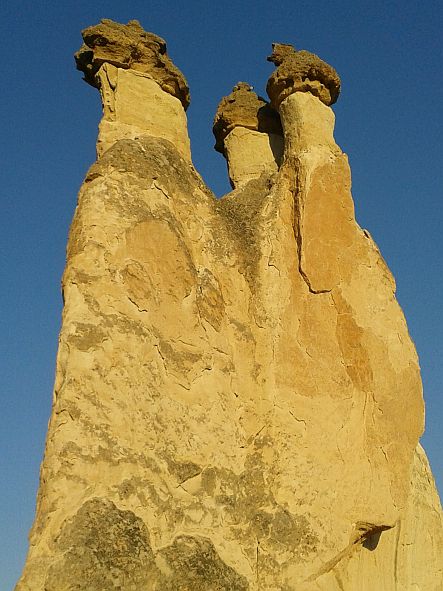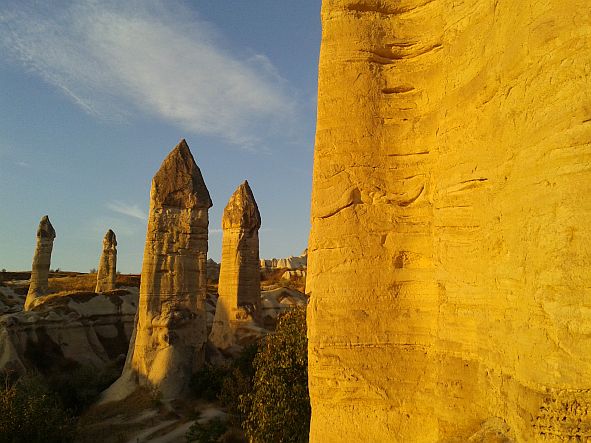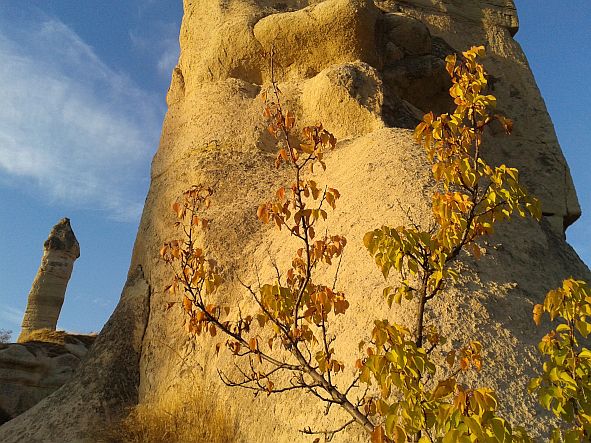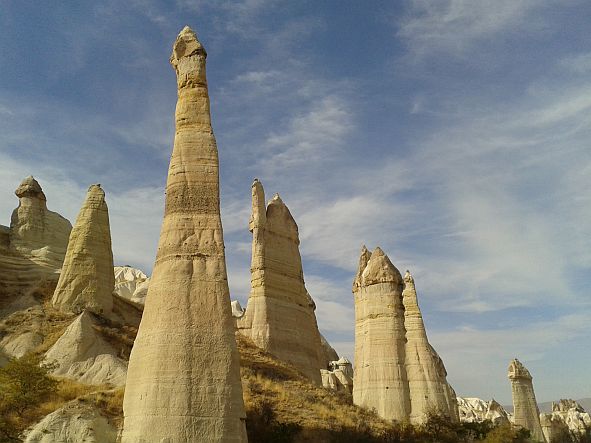 We are haeding off now to Nemrut Dagi, Mardin and Lake Van. We are a bit in a hurry because winter is coming soon.
I am looking forward to seeing how the eastern part of the country will be.