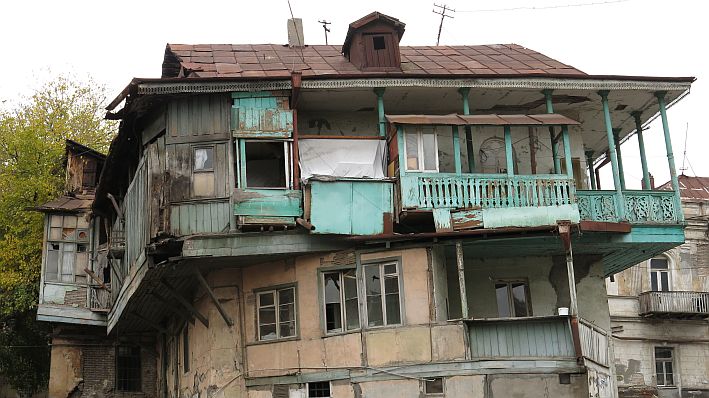 I really enjoyed my time in Tbilisi a lot. I liked the city and I had big luck with my hosts. First Niko, a Georgian guy, and a few days later Taylor from the States. Both really nice blokes.
Tbilisi is in a desperate shape in some areas, but this is exactly what attracted me.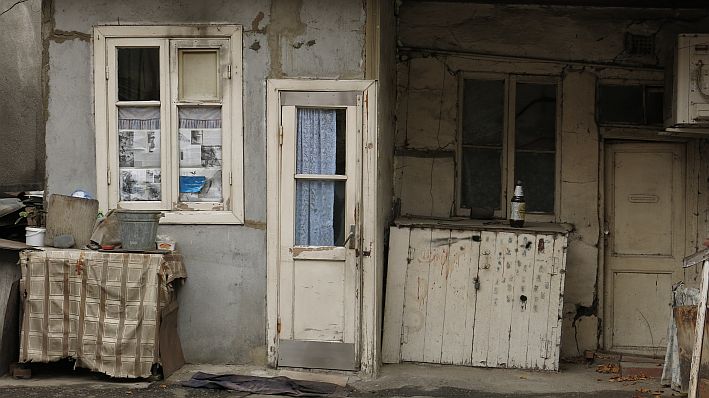 I could get rid of my cold, gave an interview to a journalist of a Georgian newspaper and I also visited Tbilisi's surroundings.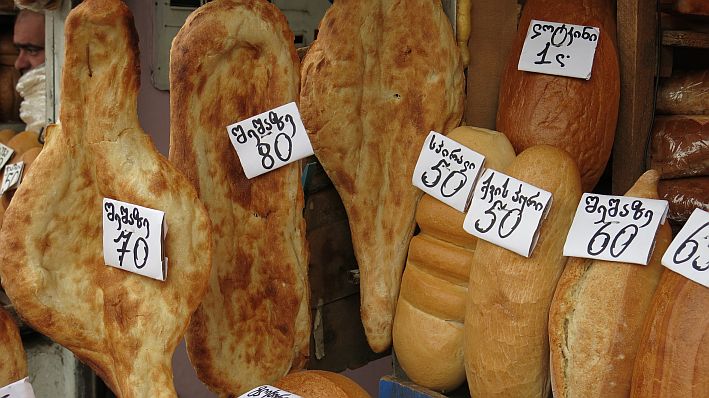 I allowed myself a week in my favourite city on this trip so far, before I continued.
The traffic in Tbilisi and in the entire country is quite inconsiderate and it is not a lot of fun to cycle on the main roads.
I enjoyed Georgia. Great sceneries, pretty churches, good food and friendly people. I would like to come back, but next time in summer.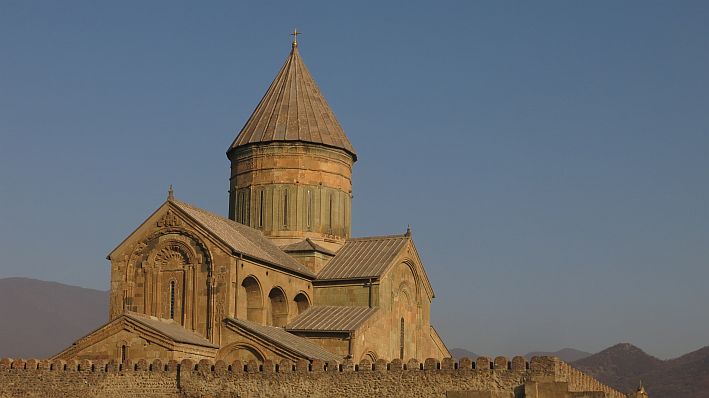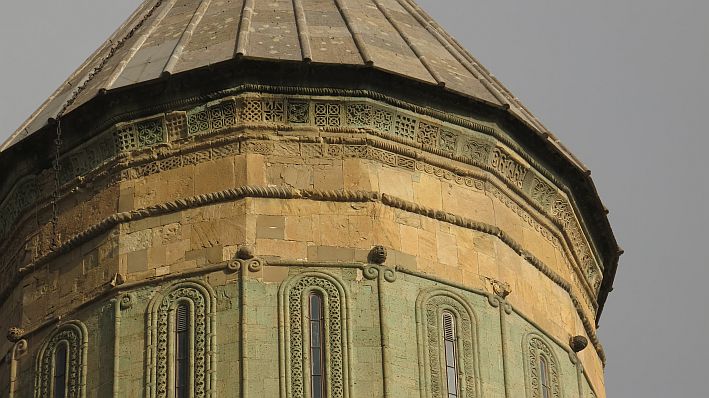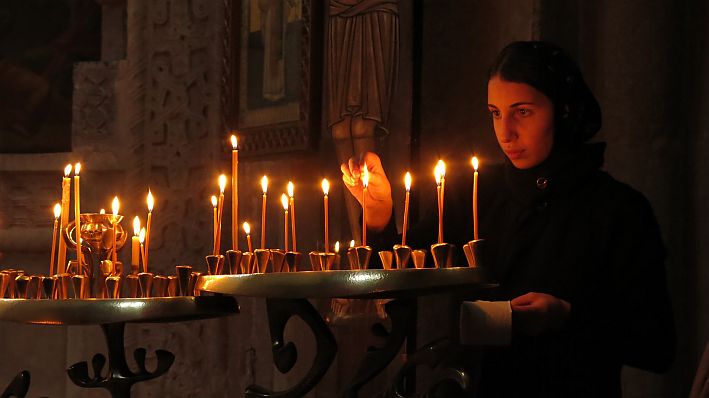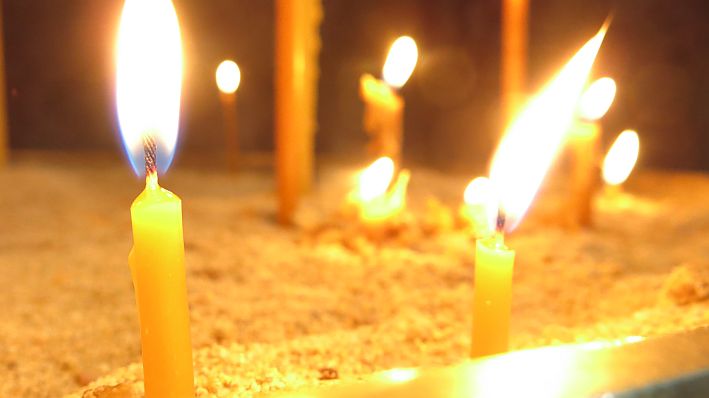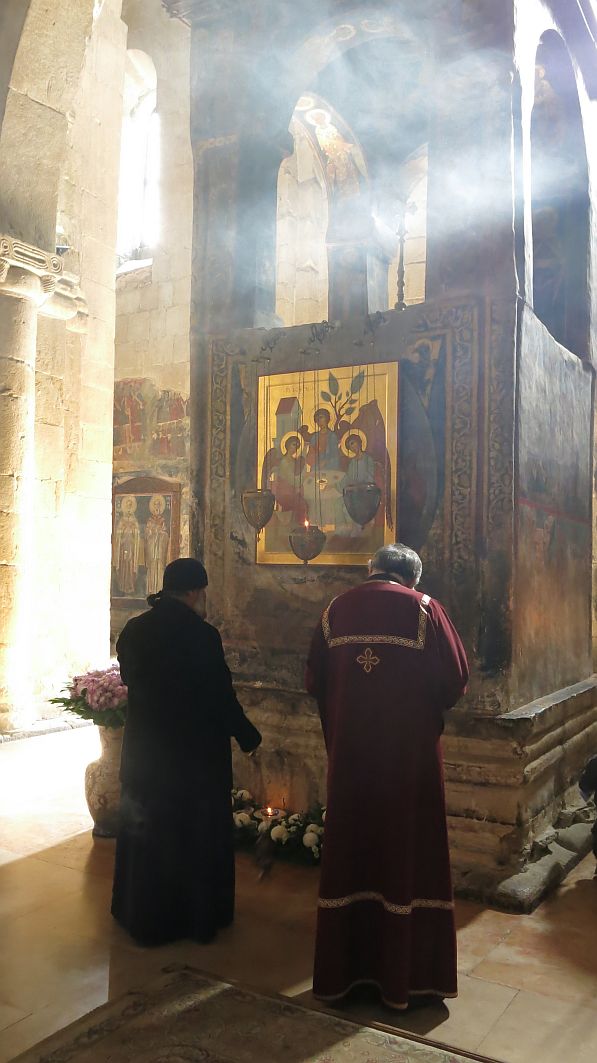 In Georgia I was able to be me again. I could talk to both genders equally and I was accepted as another ordinary person. There wasn't any aggression. I also didn't feel that men starred at me and had sexual thoughts when they looked at me, as it constantly happened in Turkey. No, I had a good feeling and could get my strength back. I felt safe everywhere, had nice conversations and could have some cultural exchanges.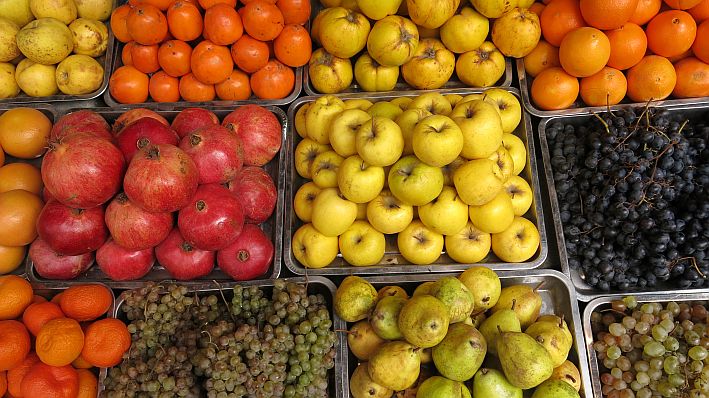 To have a break of an Islamic society by going to a Christian country turned out to be a good idea.
By the time I left Tbilisi I was suddenly looking forward to go to Iran and I had the feeling I would have a good time there.
But first I went to the smallest of the Caucasus countries: Armenia.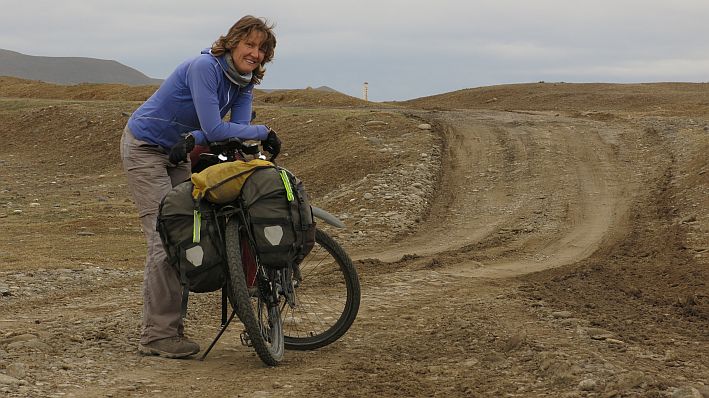 It rained when I crossed the border. I pedalled along barren rocks and dreary villages through the Debed Canyon. The country seemed to be even poorer than Georgia. I guess in summer it is a lot more colourful, but in winter everything was grey and dull.
Because of the bad weather, I spent two nights in the mining town of Alaverdi and visited the beautiful monasteries Haghpat and Sanahin.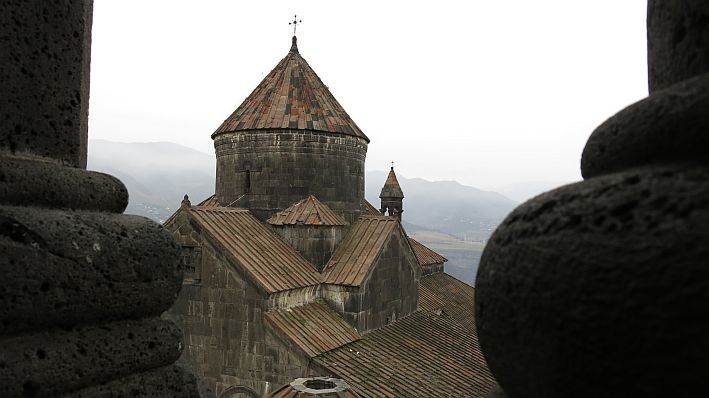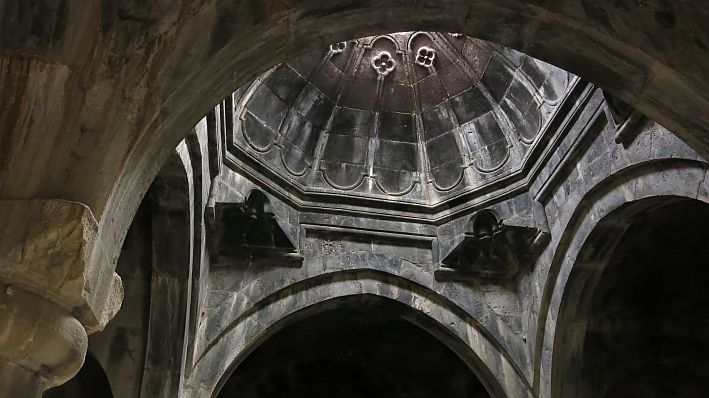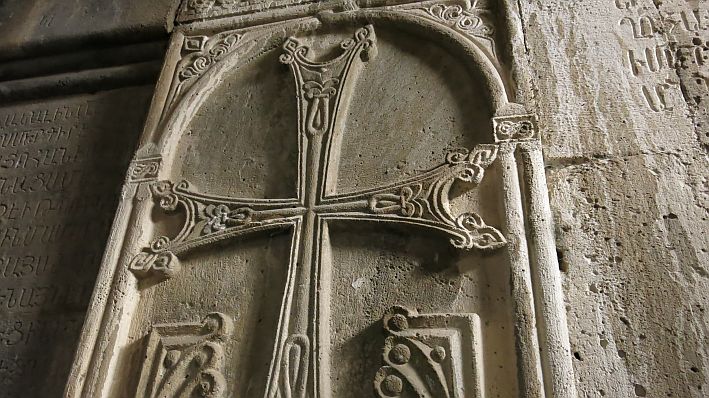 The roofs are overgrown with grass; massive walls and stone carvings decorate the UNESCO-listed churches.
The priest in Haghpat invited me for a cay and complained a bit about his priest life. He is originally from Jerusalem, but has Armenian roots. He worked for a few years in Sydney and was transferred to Haghpat 7 years ago and is desperately waiting for a posting somewhere else.
I could understand him, because Haghpat and Sydney are worlds apart and this not just geographically.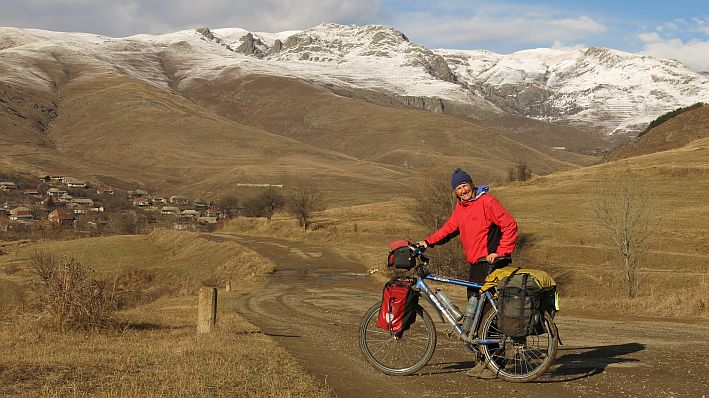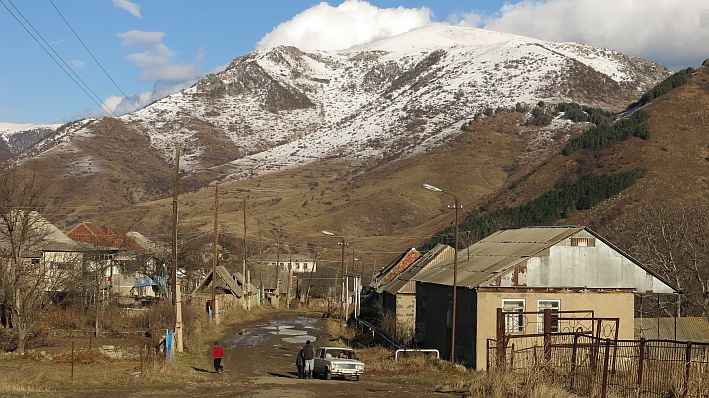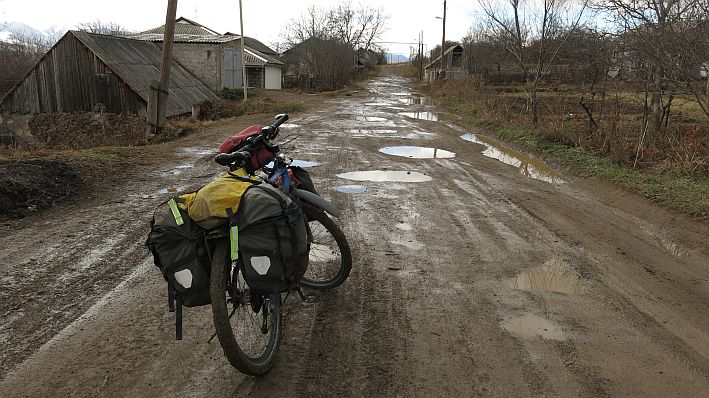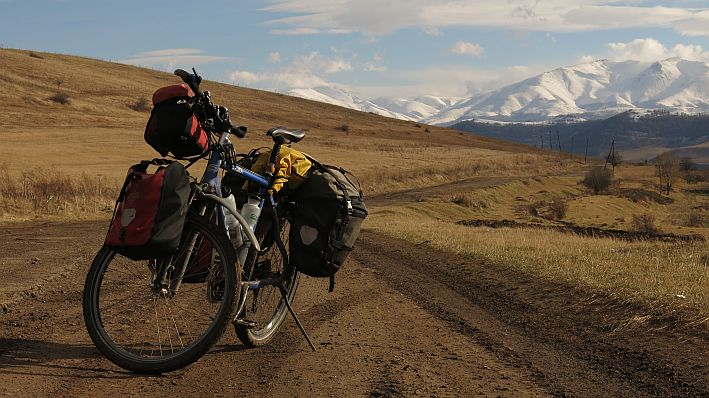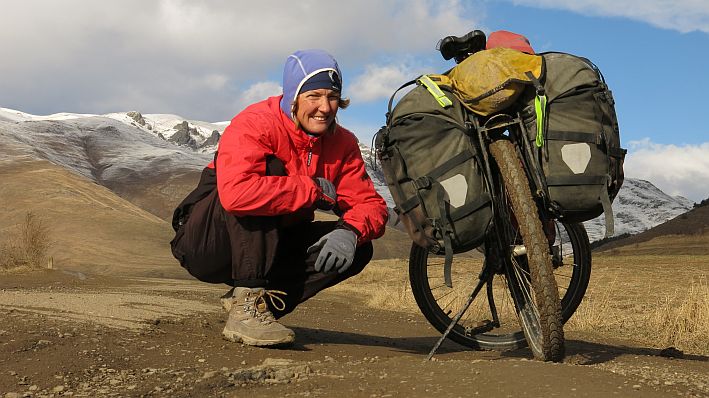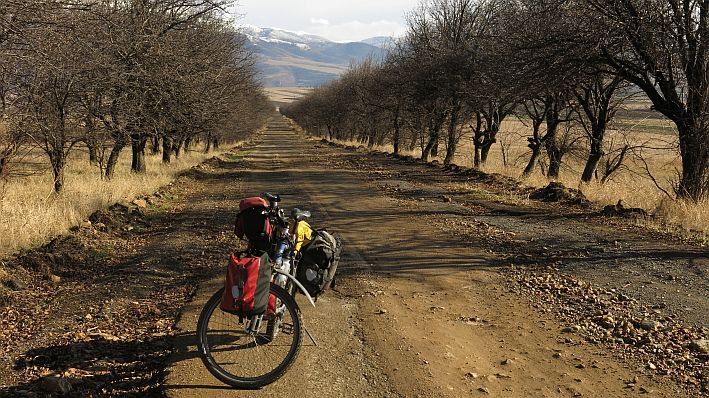 I took a pretty minor road heading from Alwaverdi to Stepanavan. Just short before Stepanavan my little cycle computer showed 10,000km.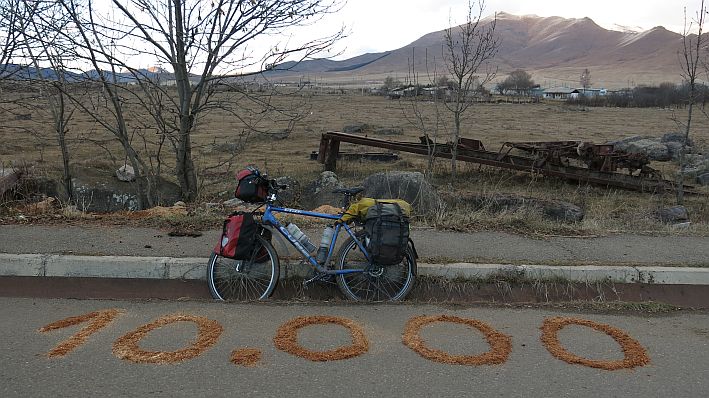 It was a special moment and I was even a bit proud. I was trying to remember the first months and I realized that I already found it difficult to place images in my mind with places on a map.
I also thought about the heat I had in the Balkans and I wasn't sure what was worse, the heat or the cold weather I was cycling in for the last few weeks.
In Stepanavan I was invited to stay at a travel agency and could sleep on the couch.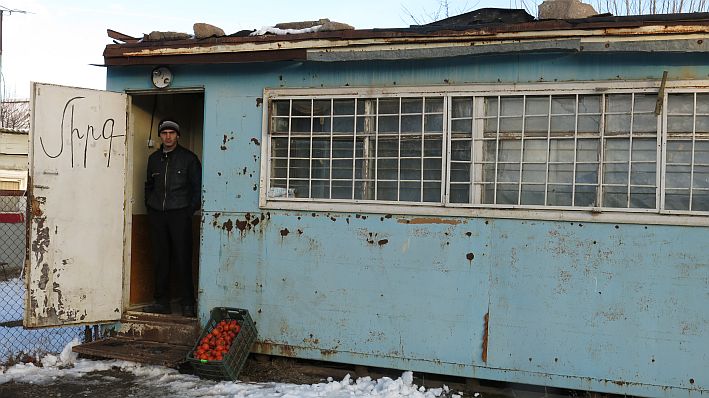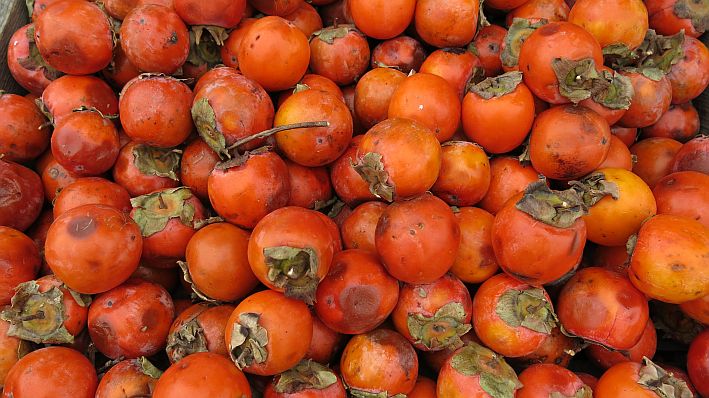 grocerie store
From Spitak I had to cross the first relatively easy pass, Pushkin Pass. It ends in a tunnel which was pitch dark. My bad luck had it that the batteries of my torch were nearly finished and I stumbled on the side from one entrance to the other.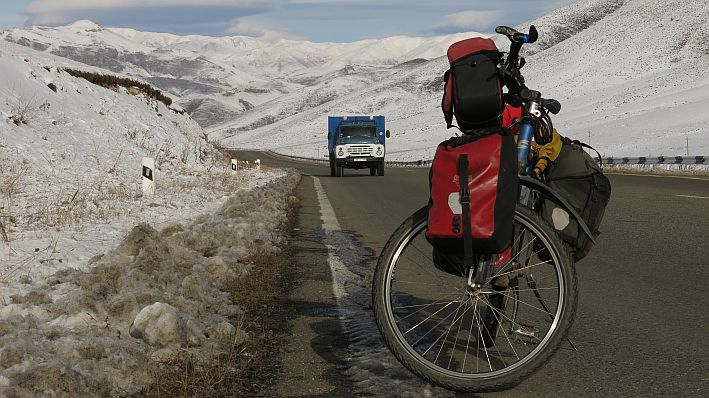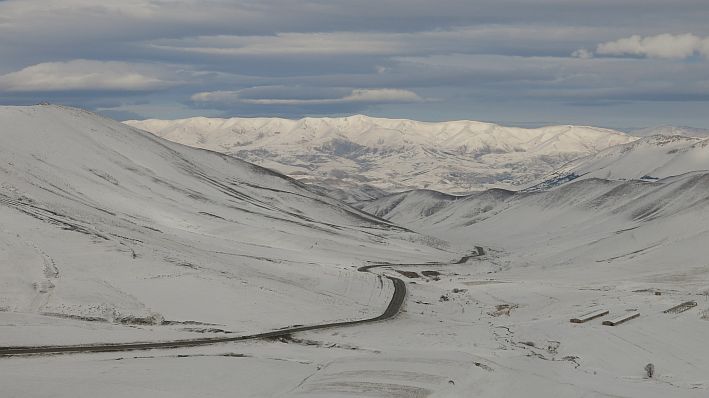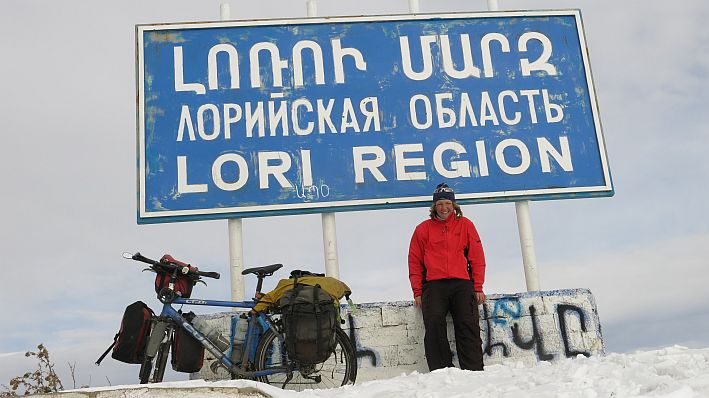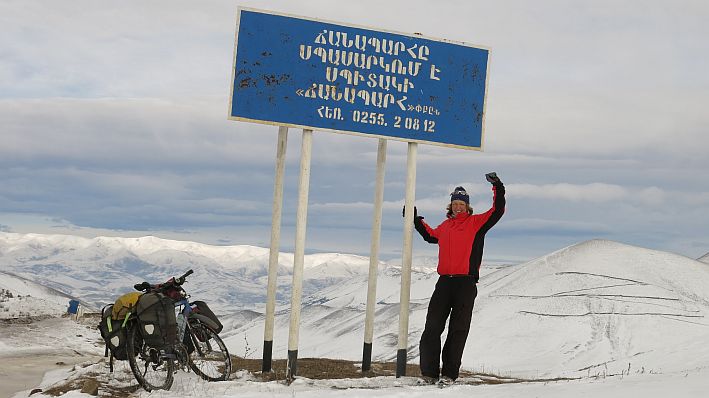 The Pamb Pass was already much harder and I was relying again on truck surfing. If big loaded trucks are driving slow enough I have sometimes the chance to hold on to get pulled along for a while. Some drivers support it and help by driving further to the middle of the road, but others try to get rid of me by driving to the side of the road so that I am end up in the gravel.
Some of the trucks even blow there fumes directly in my face. Eventually though, my arms or fingers become sore and I give up myself. But anything to relax my legs for a bit and have some change for a short while.
The streets were surrounded by wonderful snow covered mountains. It was cold, but the views were incredible and therefore it was absolutely worth freezing for a bit. Luckily, in every Armenian village is a store where they have a heater running where I could warm up my feet for a bit. But I didn't get anywhere, because of the cold I started late, I stopped a few times to warm me up again and I finished early because it was getting dark soon and would be freezing cold again.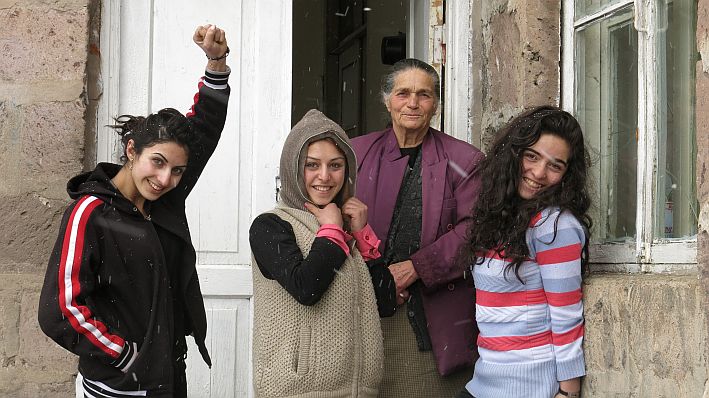 In Aparan I could stay with a family. Camping wasn't possible anymore, because in the night the temperature dropped down way below 0 C. Even inside, one morning, it was just 6 C when I had a look on my watch when I woke up.
There is only one oven in the house. The whole family from grandfather to grandchild are living together and therefore everyone is sitting around the only warm place. They chat and laugh and eat together. The furniture is old and dirty, the walls already grey, the beds are really worn out and the toilets are quite often outside.
When I started in Aparan it snowed. My motivation was next to nil and I had one of those thoughts again, where I asked myself why am I doing this?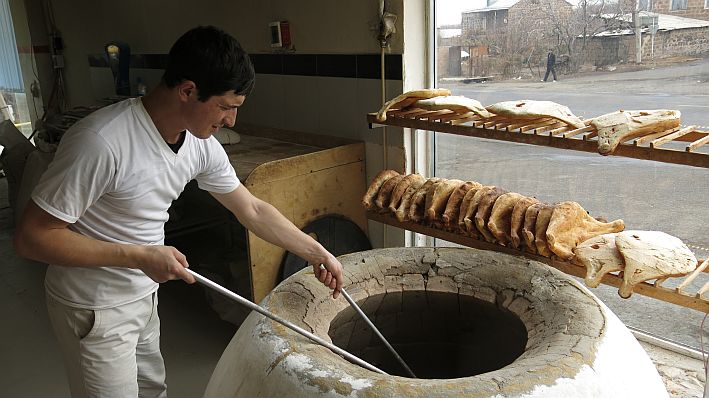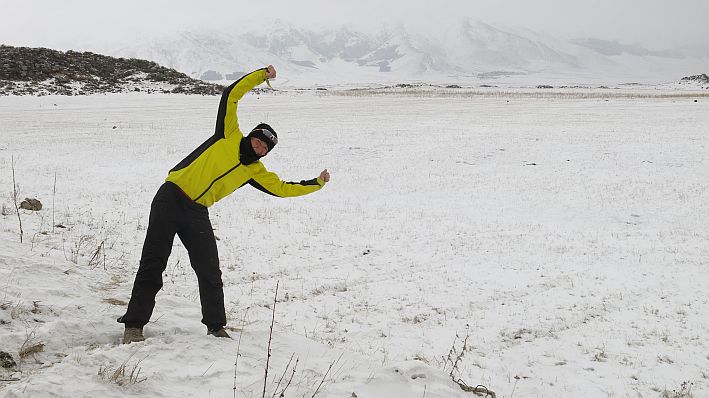 I reached Yerevan. I could stay with Josef, a nice German guy who cooked delicious German food for me and also showed me the pubs of the city. Since Poland, I have been confronted with cigarette smoke; in the house, in the restaurant, in the city bus or in the shops. It does not even bother me anymore to go into a really smoked pub, I got used to it already and also there is nothing I can do, I can just accept it as it is.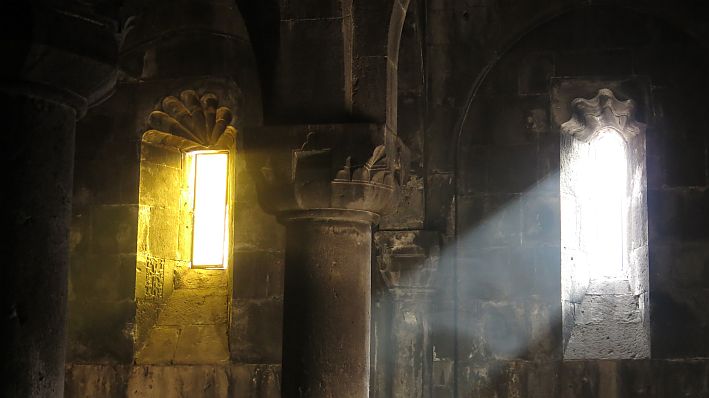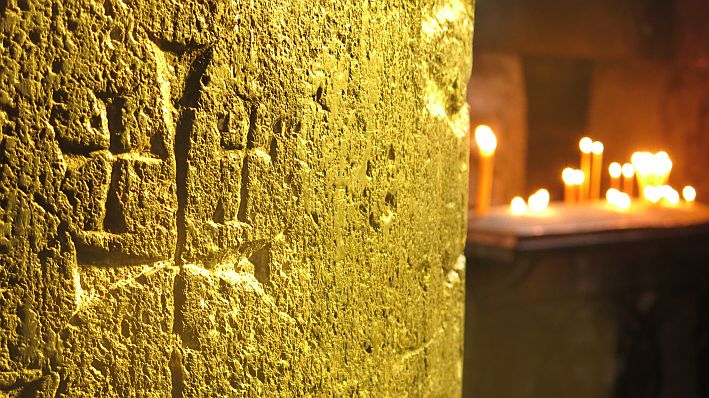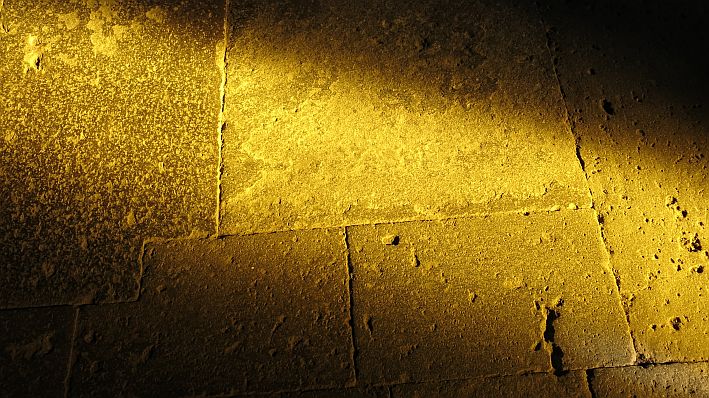 I needed to go. It was getting colder every day and I had to cross another four high passes on the way to Iran.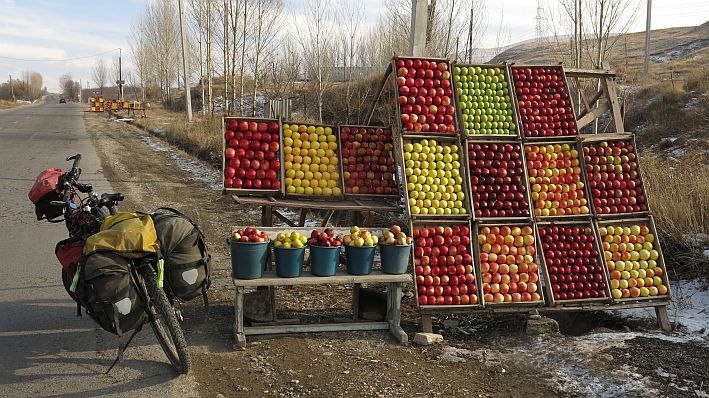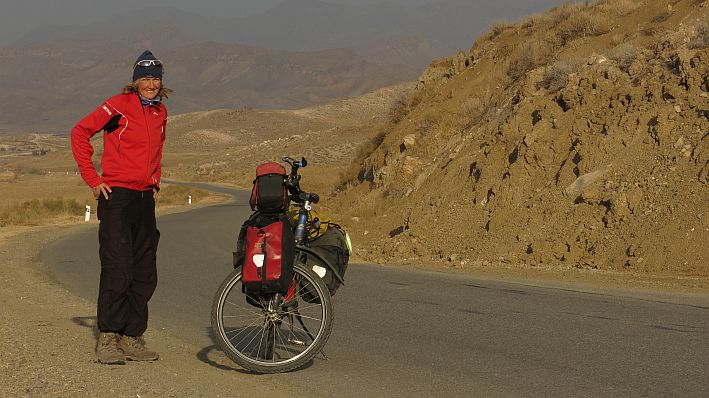 In Urtsadzor a family invited me home. But I must say it is every evening a lot of hard work to find a place to stay. Either the guesthouses charge way too much for what they offer, or the people look blankly at me while I am showing them my translated letter, where I am explaining who I am, what I am doing and what I want. Quite often they just laugh and give me the impression that they think I
am mad. Everywhere else my translated letter worked really fine, people read it and I was very welcome to come inside, not so in Armenia. I bargained quite hard to get a payable guesthouse, which means around 6 Euro, but this was without heater, sheets and hot water. If I could camp it was a lot easier, as I wouldn't have to rely on people that much.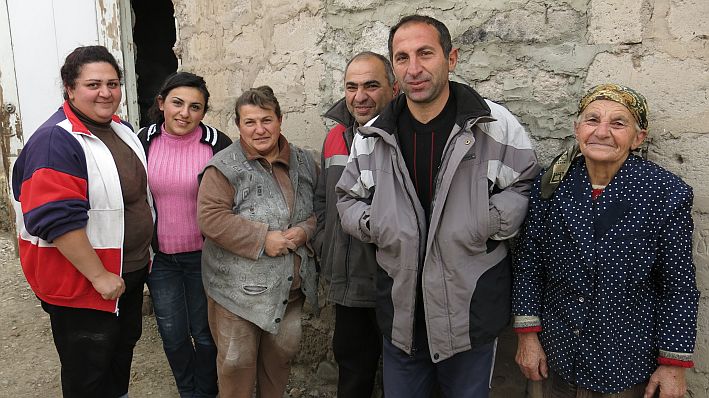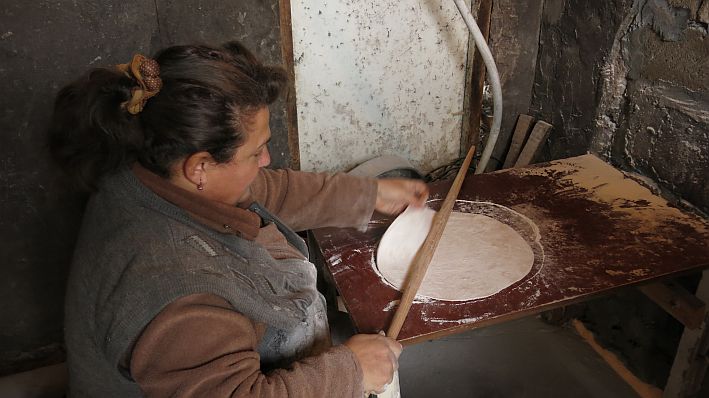 It seems to me it is all about money in Armenia. I also got apples as a present, but I also was charged 10 times as much as the locals.
Back to the family in Urtsadzor. The big son was tring to teach me some Armenian, and told me the results of the German Bundesliga football games of the last weekend. Because Heidelberg is close to Hoffenheim, a German team, I was the hero of the day. I couldn't convince the father that I could easily sleep on the floor and therefore he slept on the couch and I could sleep with the mother and the child in the sleeping room.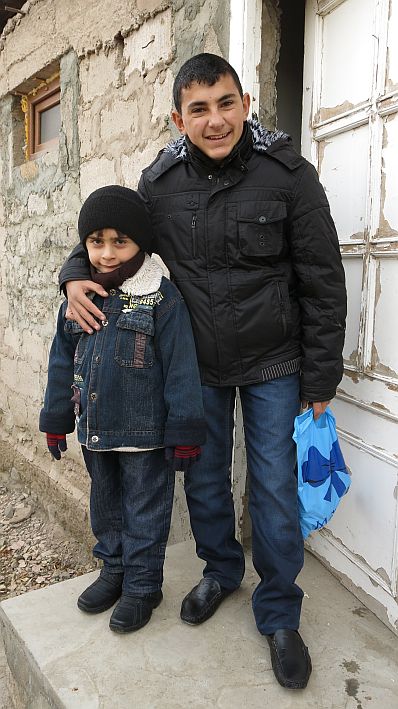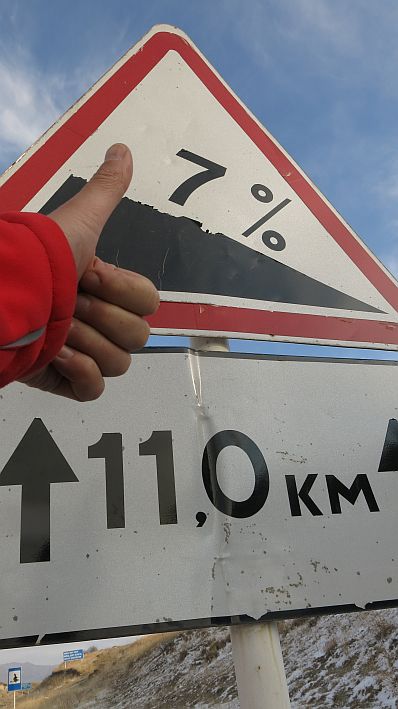 I helped baking bread and they gave me cheese and bread for the road. This friendly side is also part of Armenia.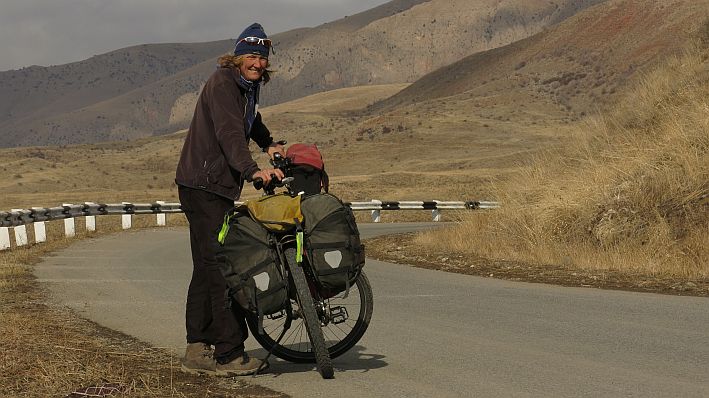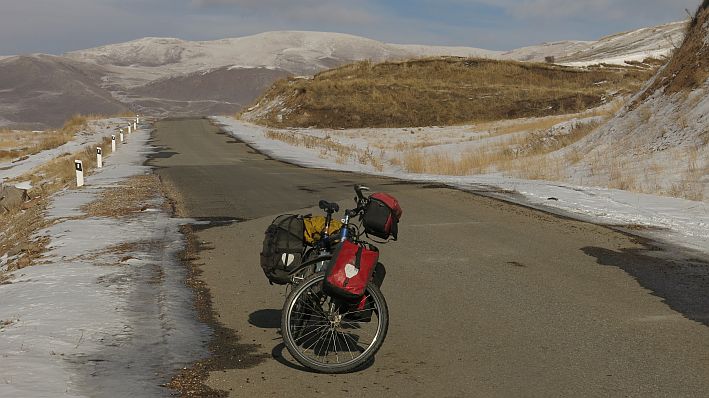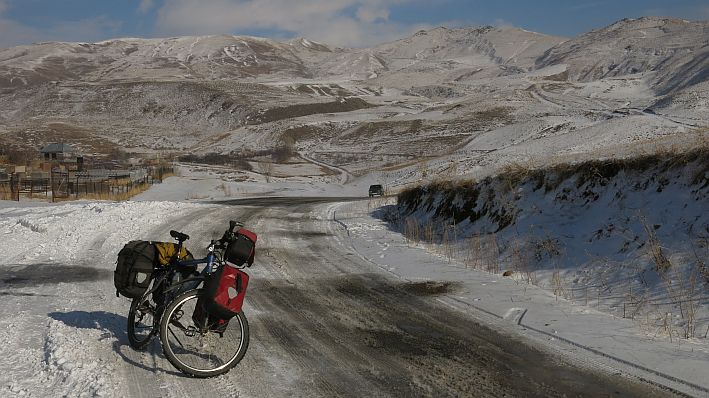 Armenians are proud of their country. Sometimes I found it a bit exaggerated. Some even told me human beings were created in Armenia. They hate the Turkish people, which after the genocide, is understandable. The borders to Azerbaijan and Turkey are closed.
I was surprised that now and then someone spoke German.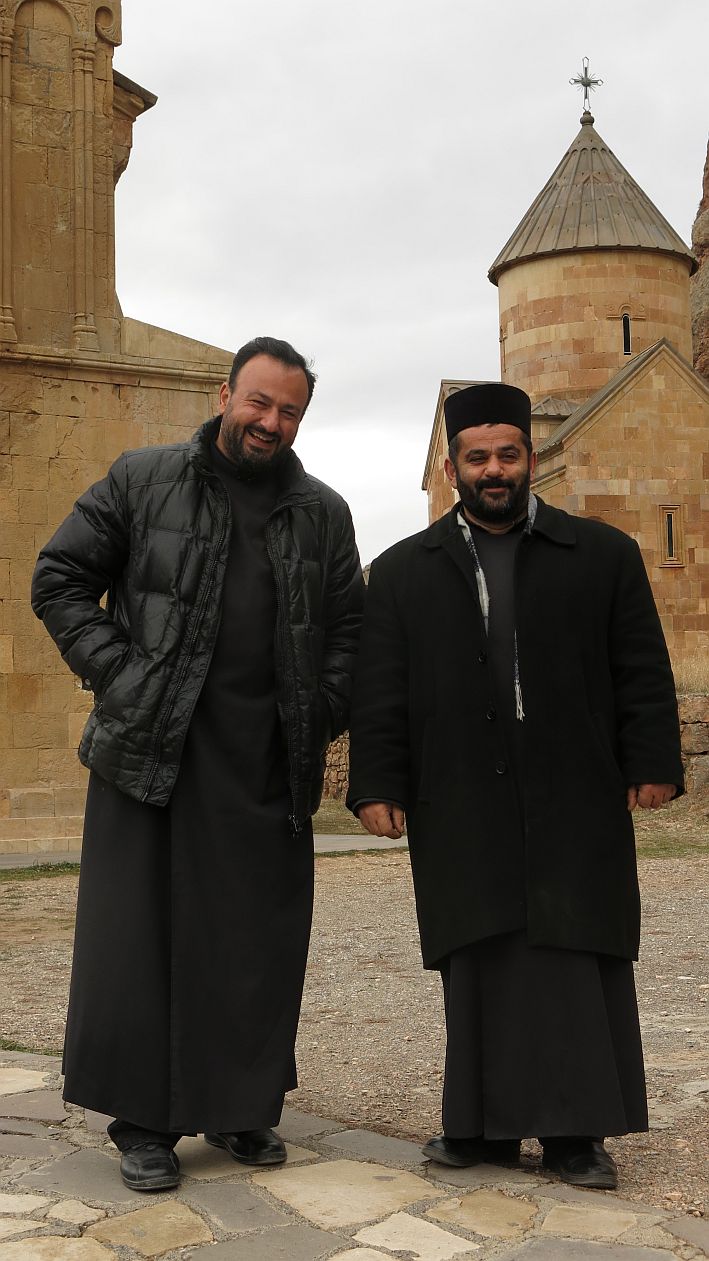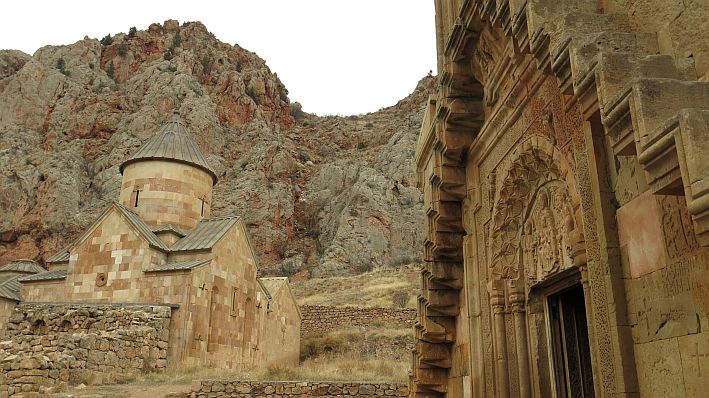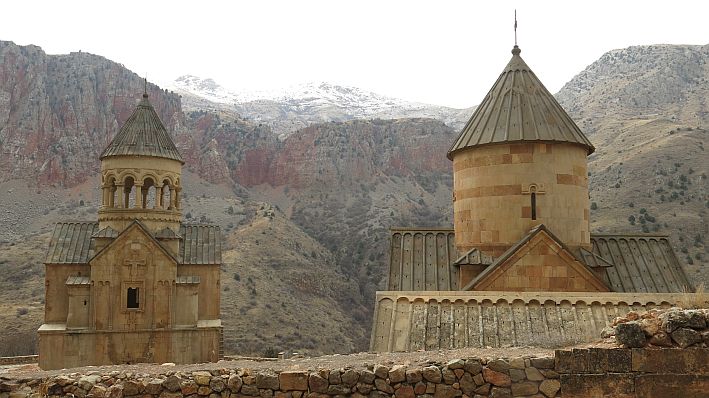 To get to the monastery of Noravank I had to cycle through a pretty gorge. The monastery itself stands high up, above the valley. Great place and a nice monastery. Also here the priest invited me for a cay. The advantage of travelling in winter is to be always the only tourist. But honestly, I would have liked to exchange a few more tourists for a few warmer degrees Celsius.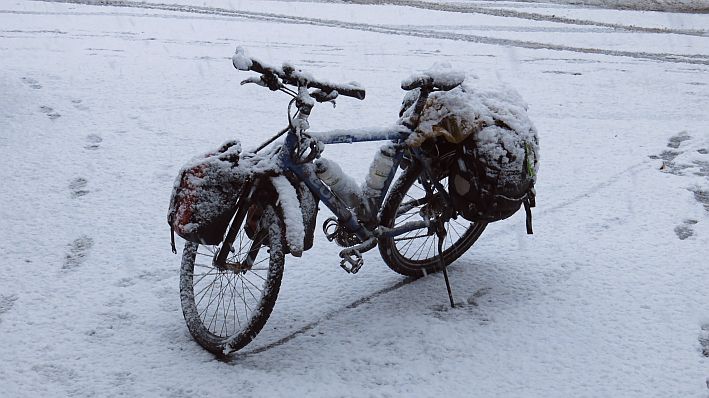 I cycled until Yeghegnadzor than it didn't stop snowing anymore. The next day the streets were icy and the passes full of snow. It was impossible to cycle any further, so I took the bus from Yeghegnadzor to Goris. From Goris to Kapan I hitchhiked, but I had to pay, and from Kapan to the border town Agarak I took the bus. It was still cold, but there wasn't snow anymore.
When I saw the wire of the border to Iran I was really nervous. I stayed one more night in Armenia and the next morning I had a look out of the window to the border. I think I probably never packed up so slowly like I did this morning.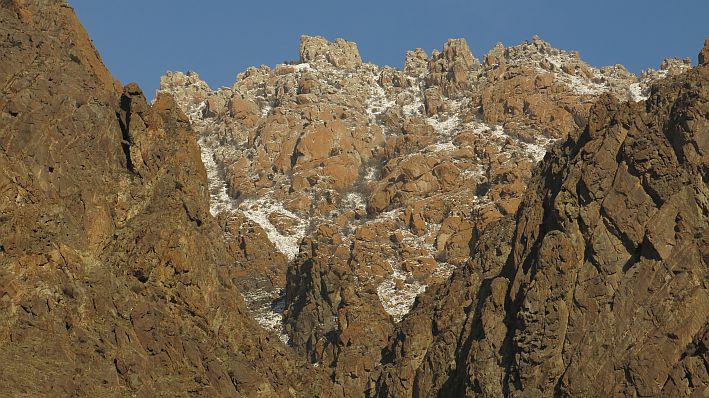 The Armenian police officer checked my passport like it was never checked anywhere else before. He checked it of explosive traces and if it was faked. I just thought, oh Heike where are you going to ???
I was insecure. My heart beat was a lot faster than normal and while I cycled across the bridge of the border river, I saw the barren rocks and the Iranian flag and thought about the movie "not without my daughter", a story about a American woman and her child who was married to a Iranian man who kept her captive in Iran. It took her years to escape.
My clothes are not following the dress code yet, because I didn't have a long shirt which covers my bum. I also didn't have a scarf. But I used my beanie and my hood so no one could also see my hair.
The border police was absolutely friendly and let me feel welcome. They told me that they are convinced that I am having a very good time and that I will be back soon after I left the country. I just thought hopefully that they are right.
They just checked my passport for an Israeli stamp, if I have had one, they wouldn't have let me go in. The asked my marital status, my father's name, my profession and where I am planning to go to. I got a stamp, which allows me to stay 30 days, turned the clock 30 minutes back and finally I was in a new country.
I changed money and was suddenly a millionaire, because 1 Euro is 40,000 Rials.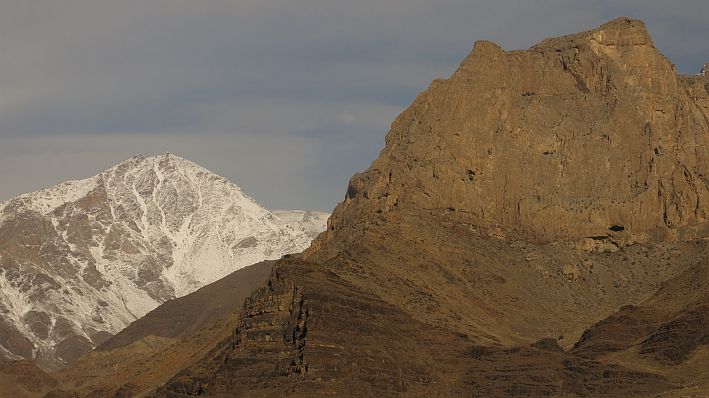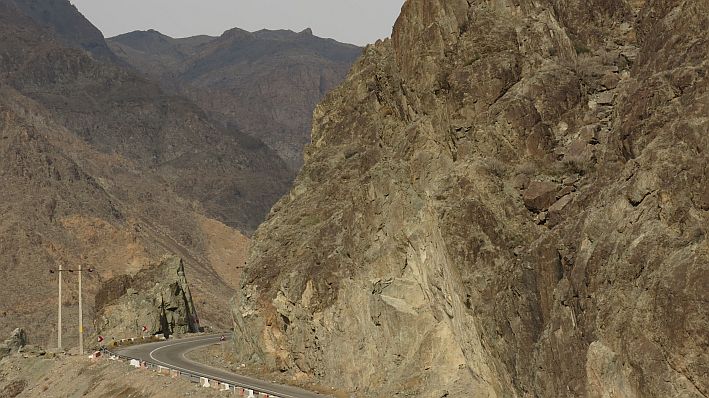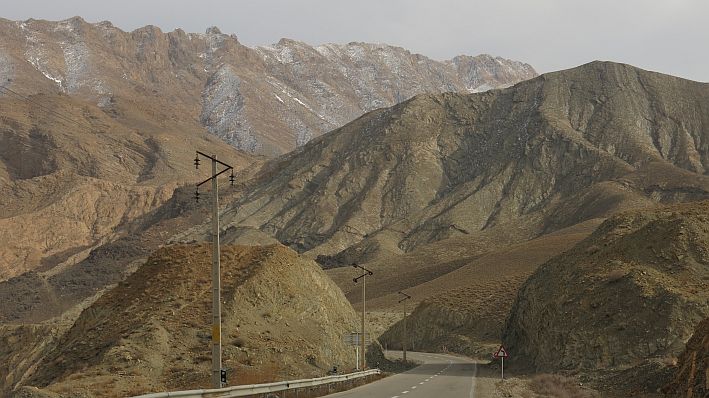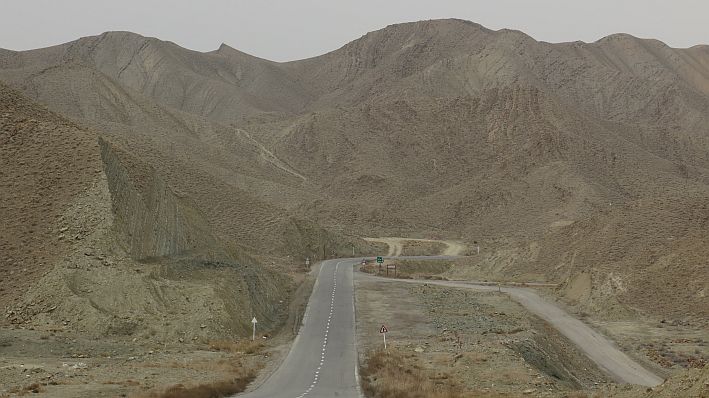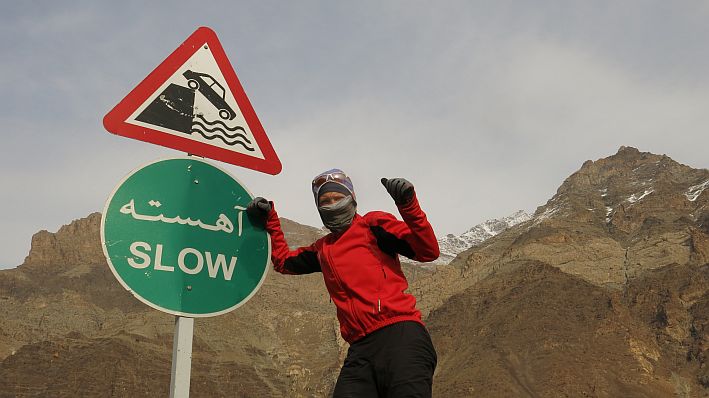 I wanted to go to Tabriz and decided to take the main road. I would have loved to take the road across the mountains, but I wanted to find out first how the people are before I cycled somewhere remote. But I was lucky, even the main road, along the border to Azerbaijan was full of stunning scenery. Everywhere were military posts, on both sides of the river.
I carefully observed the people inside the cars who passed me. How do they look like, how are they dressed, do they look aggressive or calm? I went into a restaurant and ordered a meal for around 1 Euro and was served by a very friendly waiter.
Back on the street I had my first very nice contact with an Iranian man. I was chased by 3 dogs and couldn't get rid of them, so he stopped and helped me. He was holding them back as long as I was far away enough before he drove off. I was impressed. Everywhere else, even the owners do not help me and sometimes just watch their dogs chasing me. I thought these people seem to be as nice as every cyclist had told me already. I felt relieved for a bit.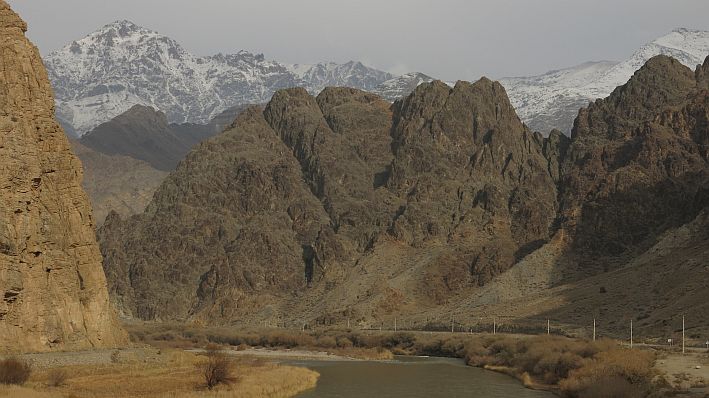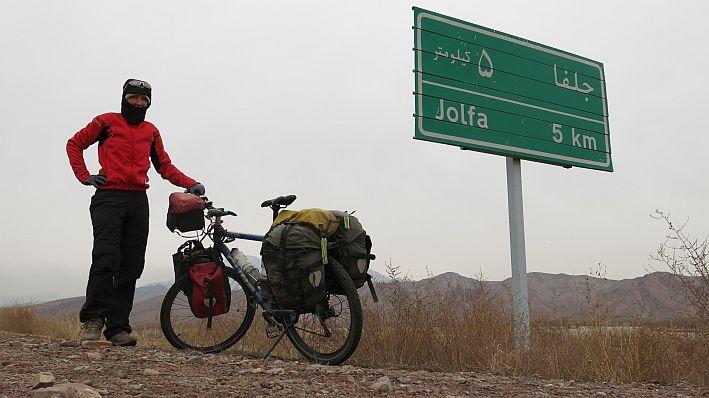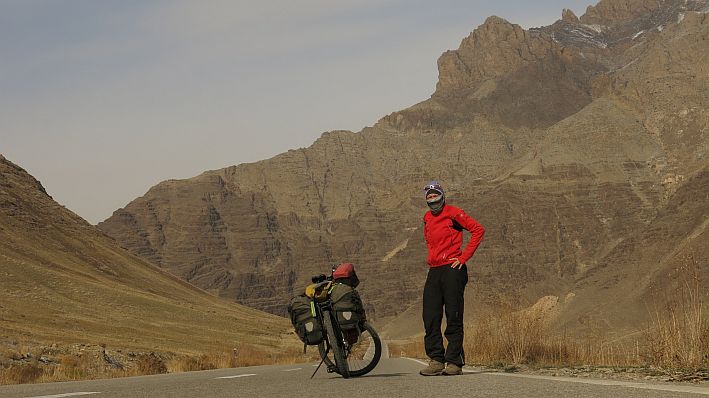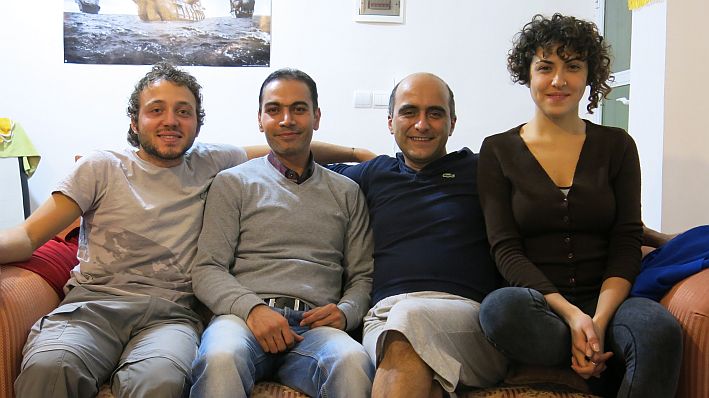 In Jolfa I met a cyclist couple from Turkey. They invited me to stay with them and their friend. We had a great lunch, the host fixed my bike, they even served alcohol and both of us girls could take off our hair cover.
The next morning it was -3 C and it snowed. Perfect. I thought about a new plan. I had enough of the cold weather, the snow and ice. I really wanted to cycle every single km of this trip, but it came to the point where I really had enough. It wasn't funny anymore.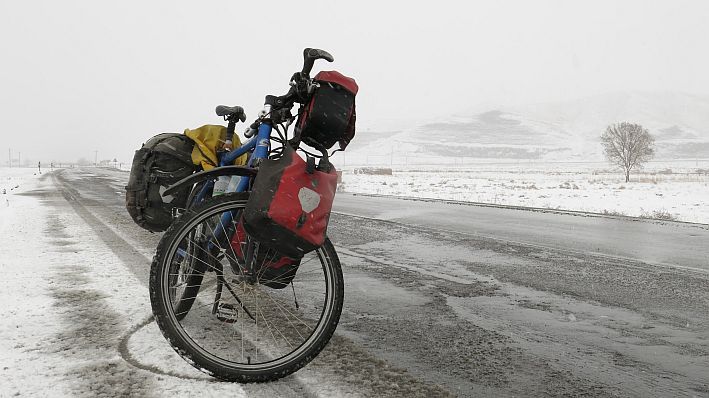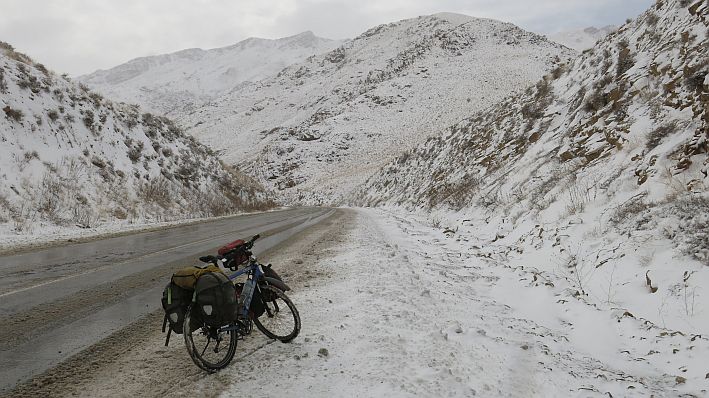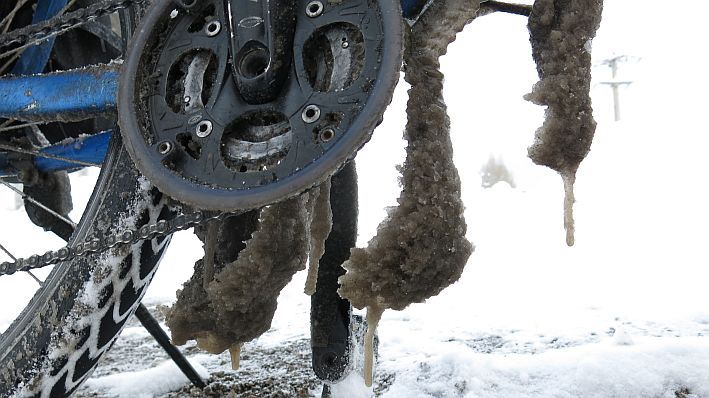 Until Marand it was 70 awful kilometers. Freezing cold wind, lots of snow and ice and bad visibility. The police didn't let the cars pass without chains anymore, so I nearly had the road for myself. It was already -6 C and my gears were frozen. I could only use one gear for half of the distance and had to stop over and over again to get rid of the ice between my mudguard and my wheels.
In Marand lives Akbar, a guy who is part of the helping cyclist community. He is always getting informed from truck drivers when a cyclist is close to the city and then he is inviting the cyclist back home. But he missed me. Two other guys helped me pushing the bike through the snow and invited me back home. A big family was already waiting for us. I guess at least 25 people in total were sitting on the floor and had dinner. I could shower and didn't need to wear a scarf while I was in the house.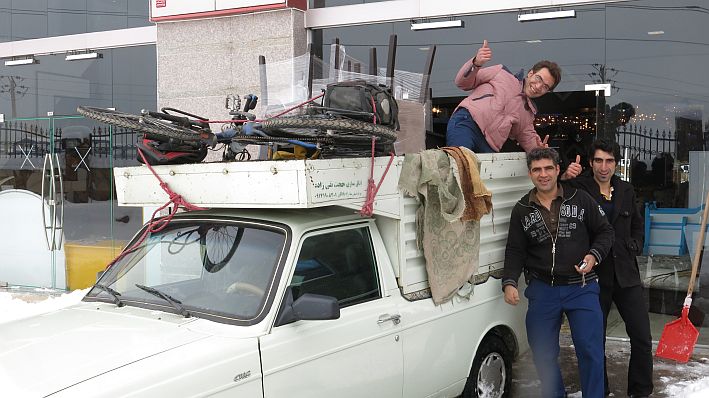 It was a funny evening. The next day they organised a transport to Tabriz for me, because it snowed half the night and it was again impossible to cycle.
Hamed picked me up at the Hwy. He is also "member" of the helping cyclist community and organised a host for me in Tabriz. He gave greetings to me from Akbar the guy in Marand who apologized that he missed me. The weather was so bad, therefore he couldn't find me, even if he knew already that I am on my way. He was sad, because he has got a gallery of pictures at home of all the cyclists and now I wouldn't be part of it.
I stayed with Ali, a German Iranian. Tabriz was just cold and snowy. It didn't stop snowing for 24 hours, so I finally decided to take the bus to Isfahan with the hope of better weather further south.
Hamed showed me around and told me that I am cyclist number 1250 he has said hello to and the first solo woman cyclist.
Around about 1000km is the distance to Isfahan and the bus took 14 hours to get there. When I arrived in the morning it was still cold, but sunny. On one side I was happy that I left the bad weather behind me, but on the other hand I was sad, because I had the feeling I had destroyed my trip, because I didn't cover the distance with my own muscles.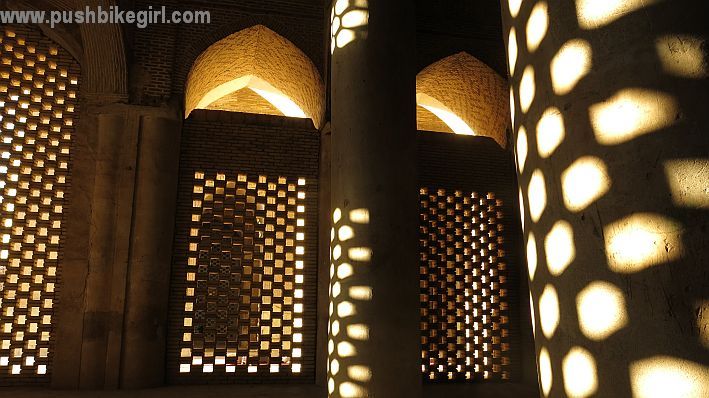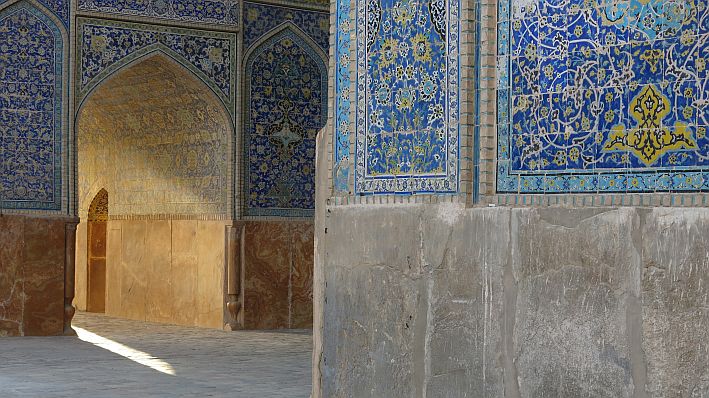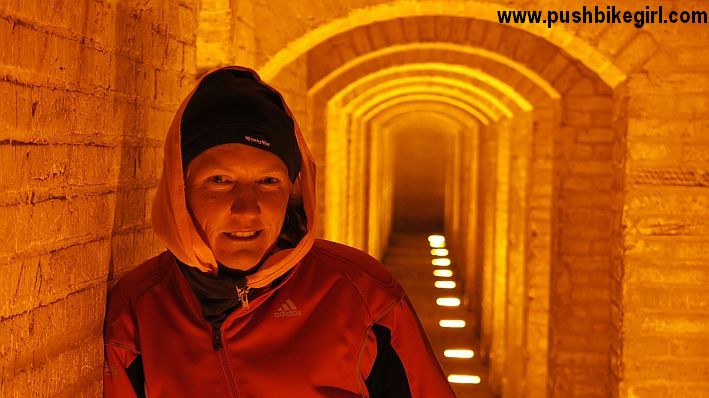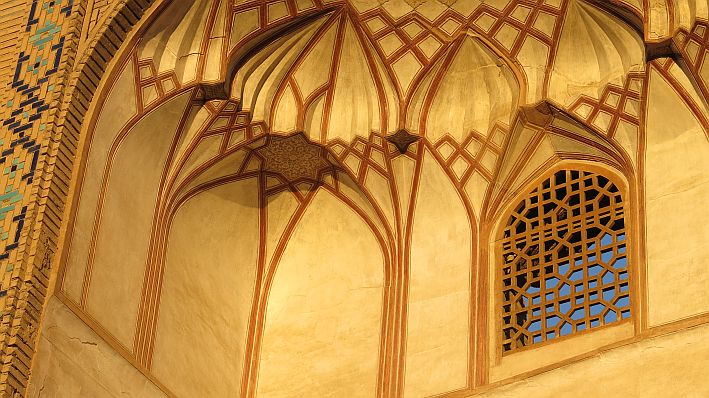 Actually I am already in Yazd, but so much happened since I was in Isfahan that I have difficulties at the moment to bring all my thoughts on paper. I will write about it in my next blog.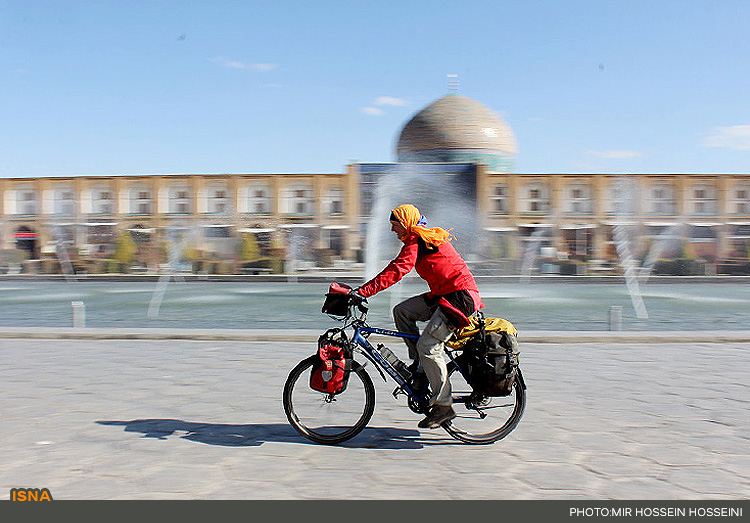 Just one more thing, the Iranians are very warm hearted people. They always give me the feeling that I am welcome in their country. And somehow this country makes me happy. I think, so far on this trip, I never had such a good feeling like I have here. I could shout everyday to the sky how happy I am to be able to experience this trip; that I can cycle through this wonderful world. I have a really strong feeling to be free and somehow it feels like the world is mine. Life is wonderful and I am enjoying it as much as I can.