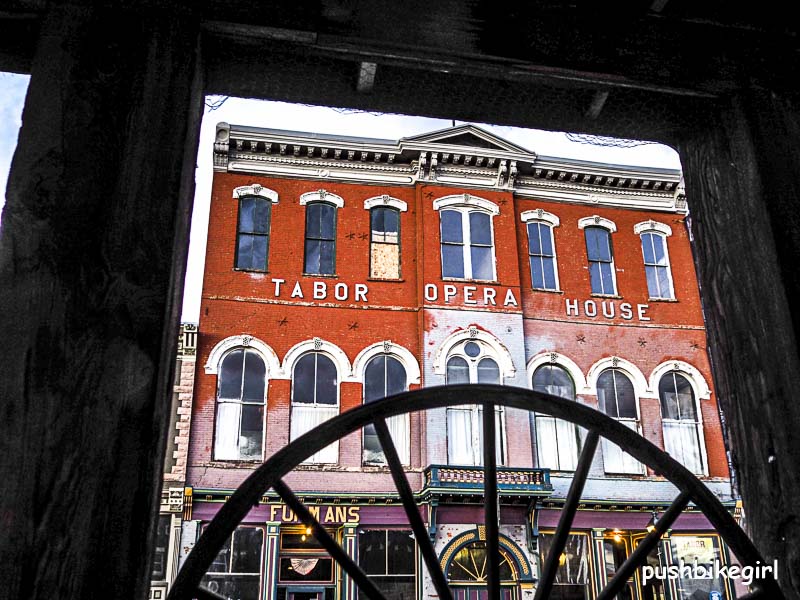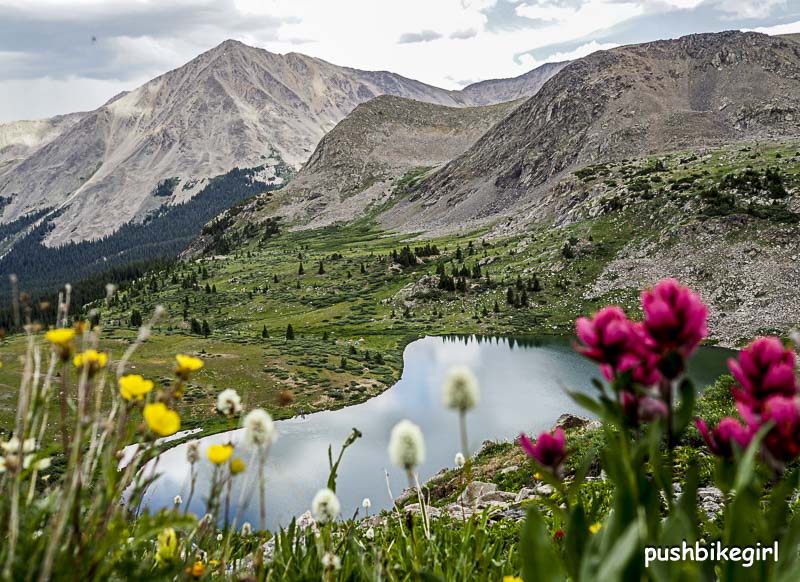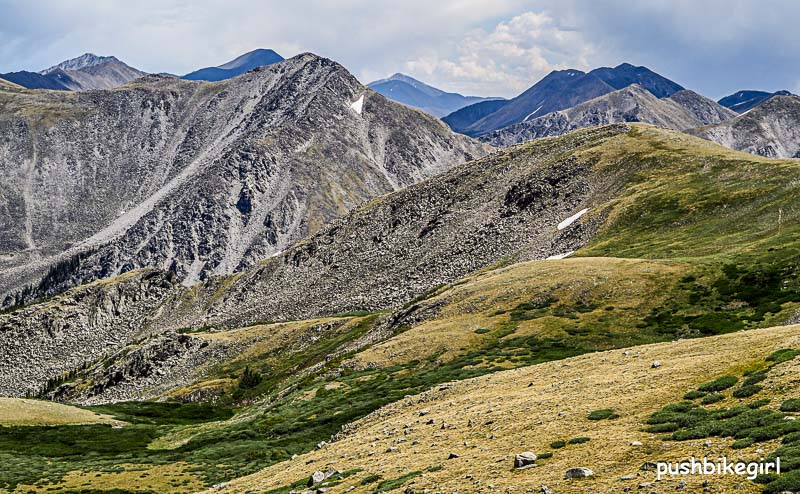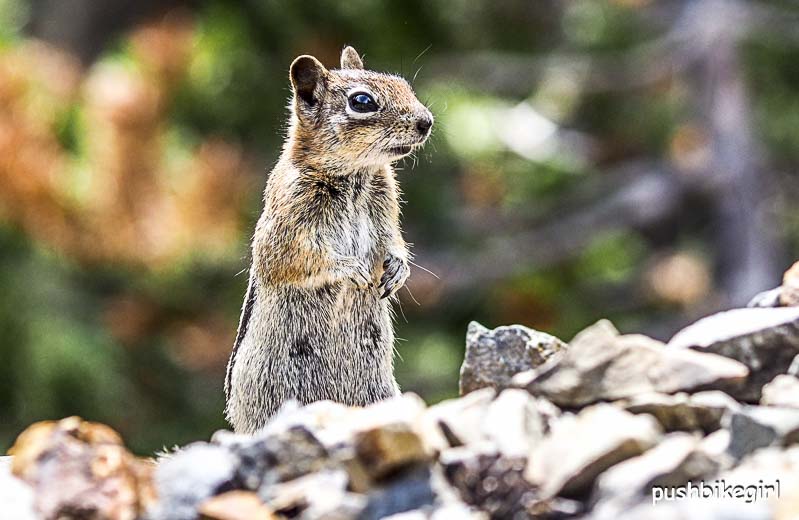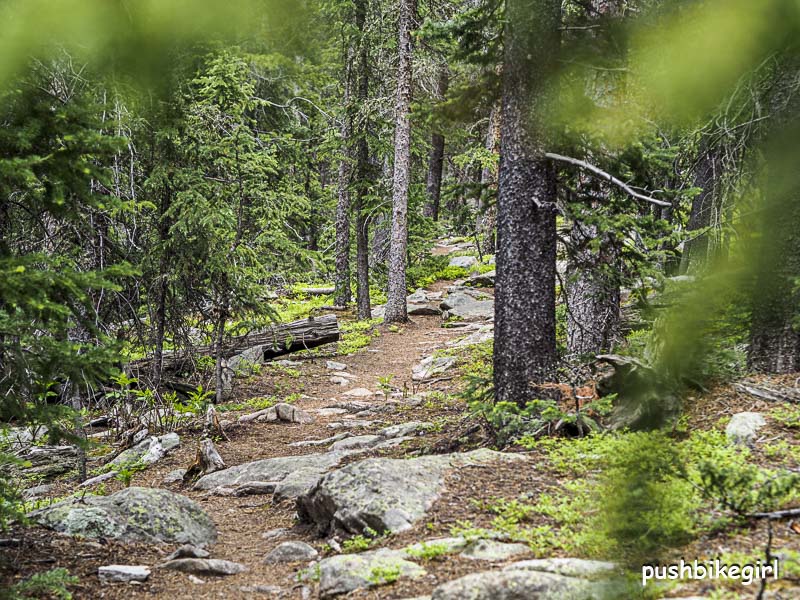 "Wow – a bear! Look over there! Honestly, no shit, there's a bear! Harry, you're not looking." I poked at him.
"Come on, what's so special about a black bear? They were always running around my front yard. That's why I'm not gonna crawl out of my sleeping bag now."
"Seriously? Woohooo, a bear so close to the tent, madness" I shouted into the forest.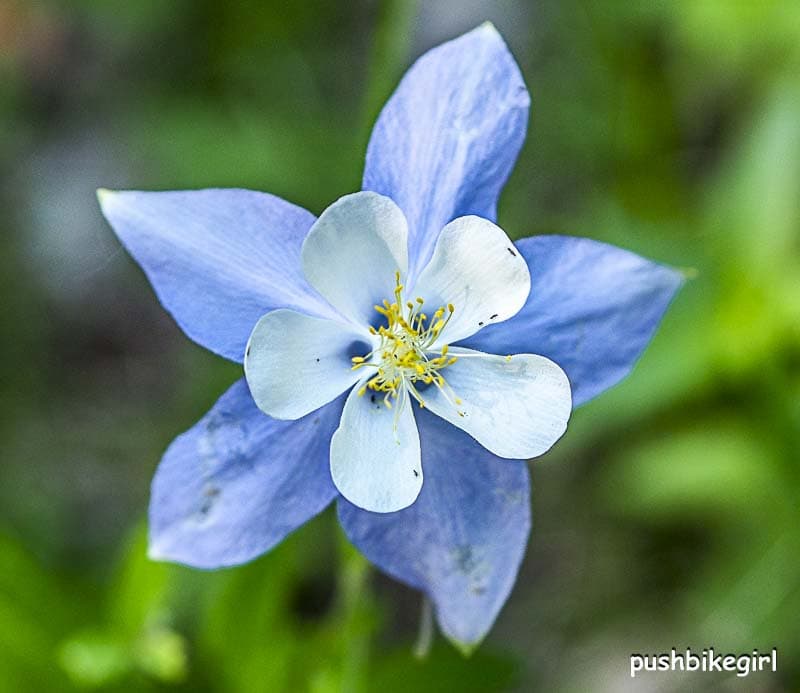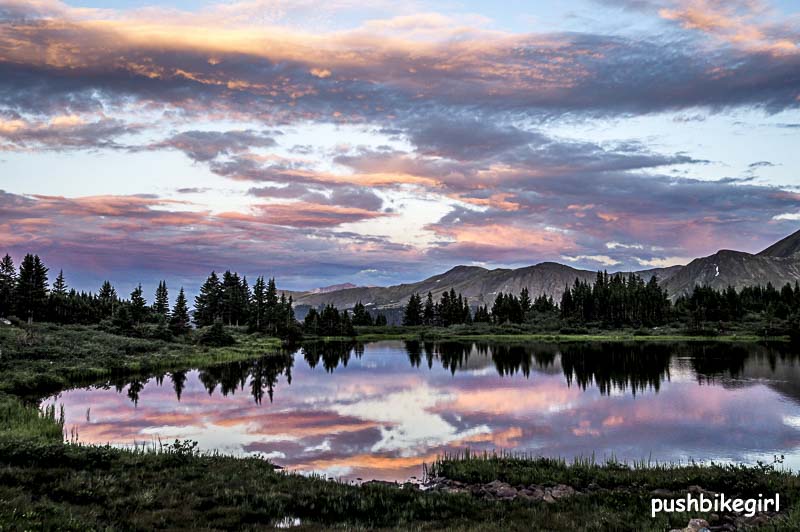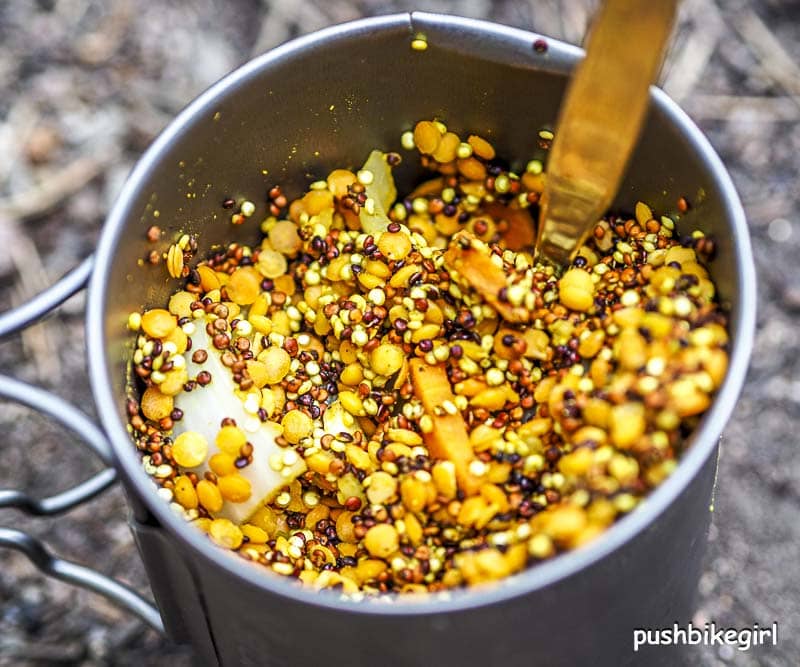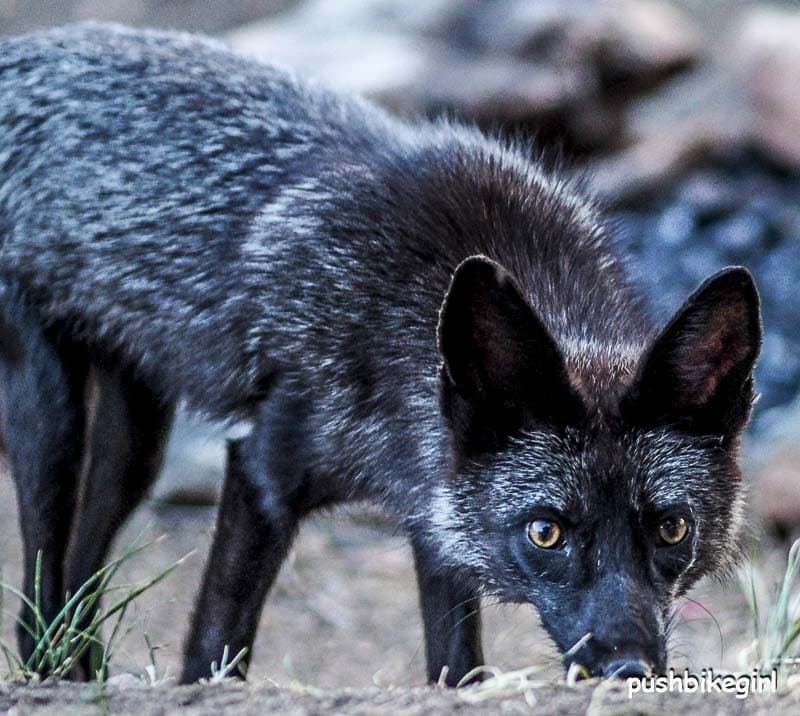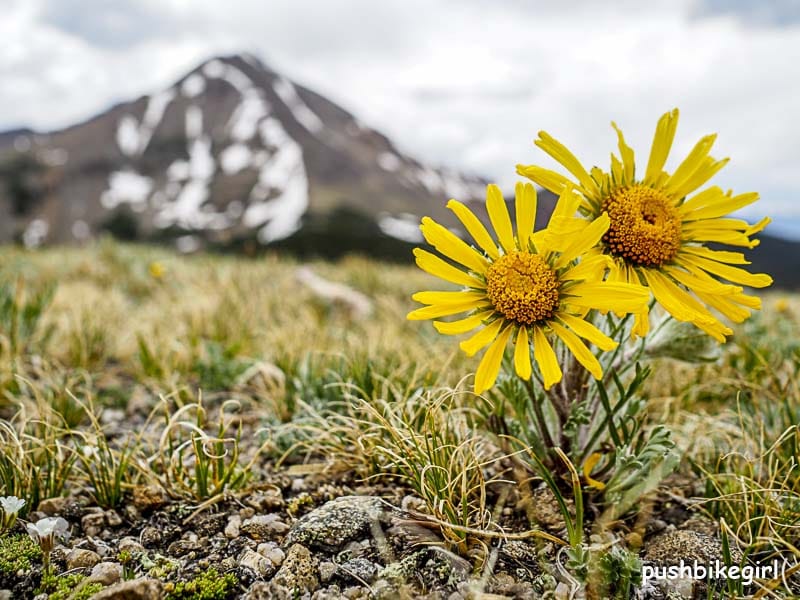 The bear story was the running gag of the coming weeks, because when we talked to other long-term hikers, so-called thru-hikers, I liked to tell the story over and over again.
Harry grinned from ear to ear each time and said that moose were much more exciting, but we hadn't seen any yet!
But, wait a minute, how did I get here? And what actually happened that the Pushbikegirl was suddenly hiking?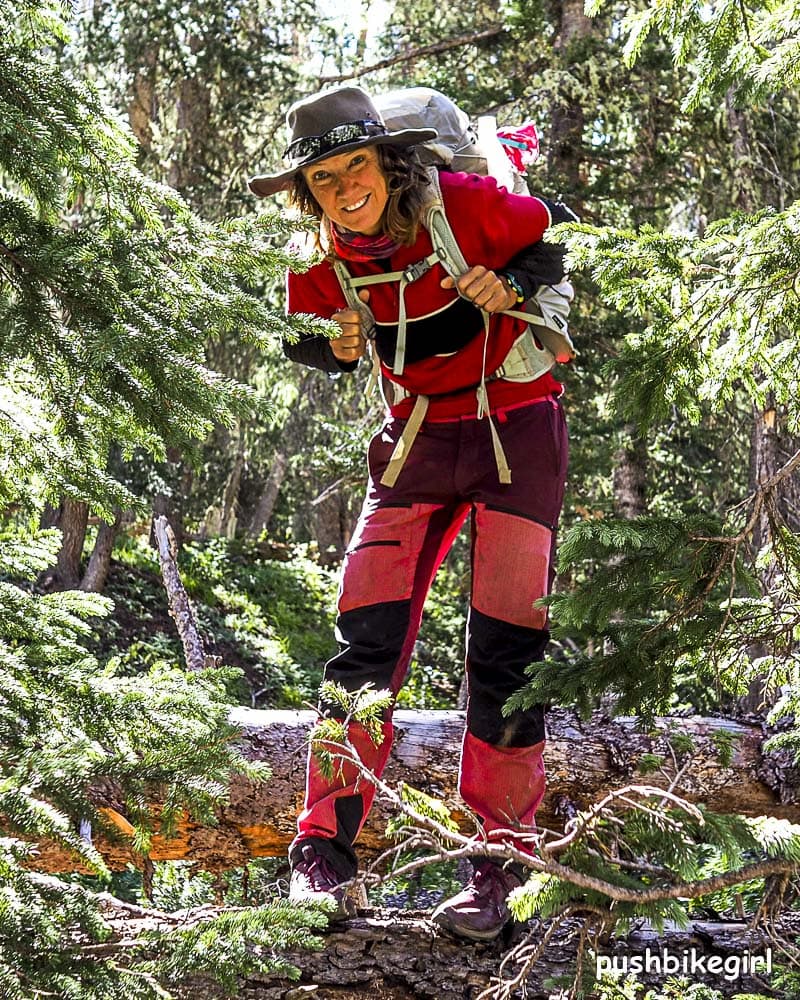 Now, let's start at the beginning! 
On March 10th my plane flew to Cartagena in Colombia. A huge continent waiting to be explored.
This time on foot and with a pack animal! I wanted to reach totally remote areas and was looking forward to an exciting new adventure, which would keep me busy for some years!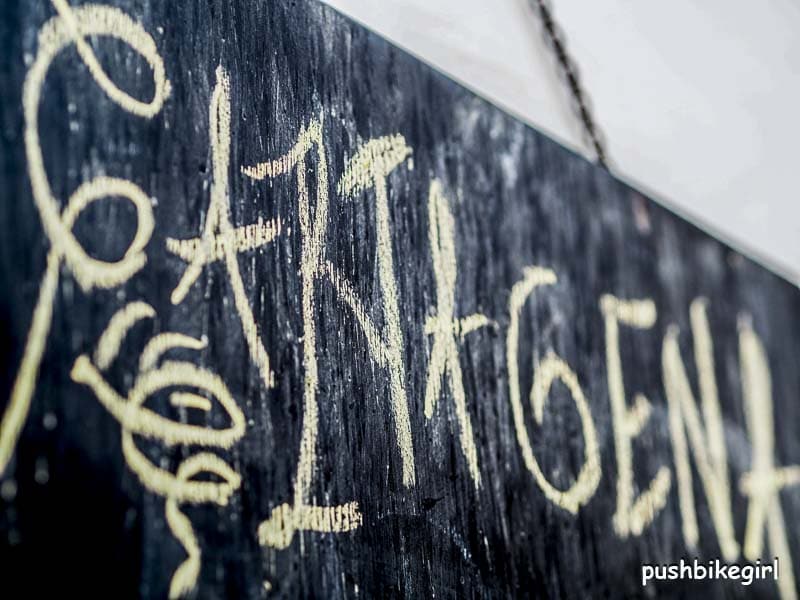 Of course, I didn't know if it was such a clever idea, especially since I know nothing about pack animals, but I wanted to take the chance, because nothing ventured, nothing gained.
Cycling was checked off for me for the time being! I was longing for something else – a new challenge! The biking was too easy. Routine, always the same, I had become bored with it!
Harry, an American, was like me, riding a bike for years. We met briefly in 2017 on the Baja Divide and have been in contact ever since.
He had just cycled through Australia and was looking for a cycling partner for his next adventure – he didn't care about the continent.
"I can't offer you cycling, but what do you think about hiking?" I left him a message on Messenger and shortly afterwards we met in Cartagena to walk towards Patagonia.
When we left the city, Harry cycled next to me, because he didn't want to leave without his beloved bike.
How that should work out, we did not know, but as it is well known, long-term travelers find a solution for everything.
The only thing we both knew was that we were fed up with traveling alone and wanted to see if we could get along together. Everything else will sort itself out.
On the first day walking out of Cartagena, I had my cell phone stolen – welcome to South America!
The two guys approached us by motorbike, threatened us with a hidden weapon under the T-shirt (could have been a water pistol) and I gave them my cell phone, which I was using for navigation. Bummer!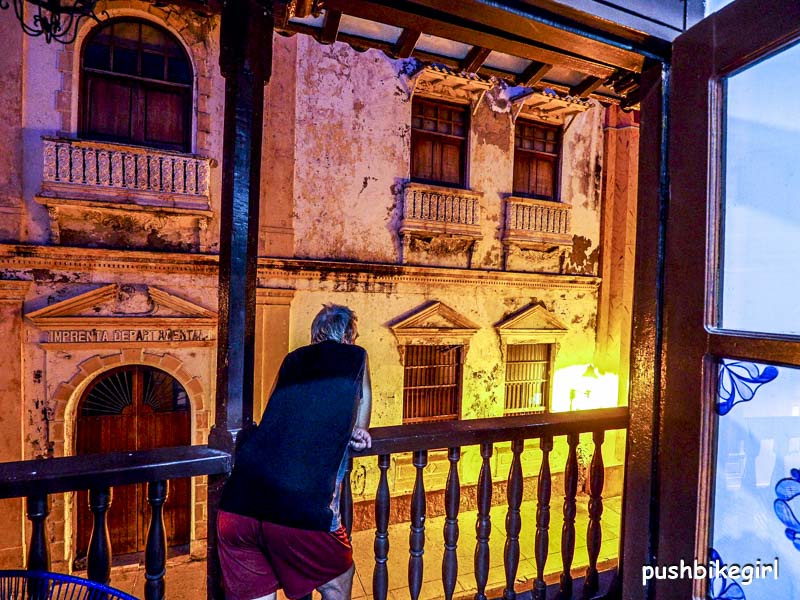 A few days later the police threw us off a village square. "Get out, you're bringing the virus to us!" and so we moved on, irritated.
Shortly afterwards the military police stopped us, but after much discussion, they let us pass.
By chance we found a donkey, negotiated with the owner about the price, spent the night on his property and the next day we planned to go to the office together to have a title issued.
But this never happened, because in the morning we were again detained. The police made it clear that we were not welcome.
In the back of a pick-up truck we were brought back to Cartagena like prisoners. We drove around for hours because they did not know what to do with us.
"Go home! The airport closes in two days!" we were told.
After a coronavirus test, of which we never got a result, and a visit to the immigration office, we talked ourselves into being allowed to stay in the country.
After all that we ended up in a hostel in the middle of the old walled city with a 14-day quarantine.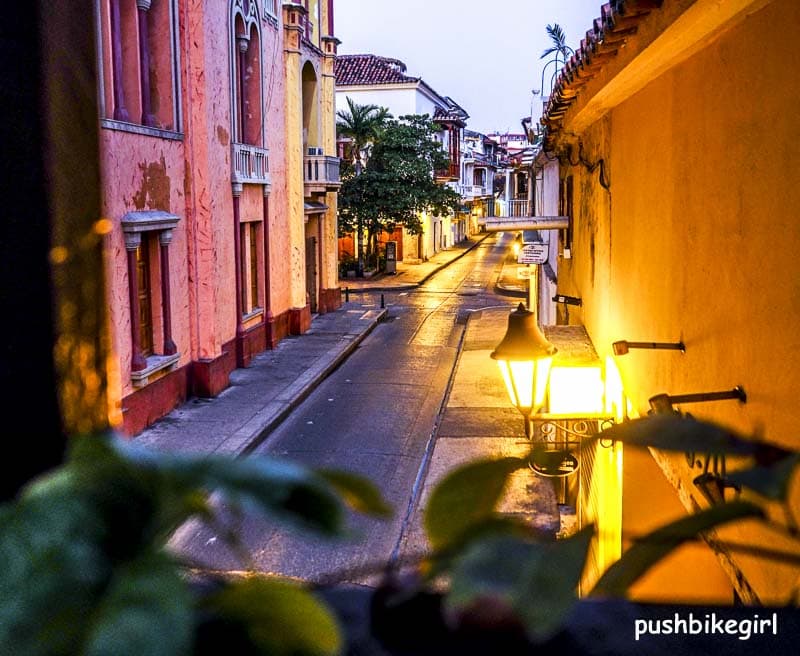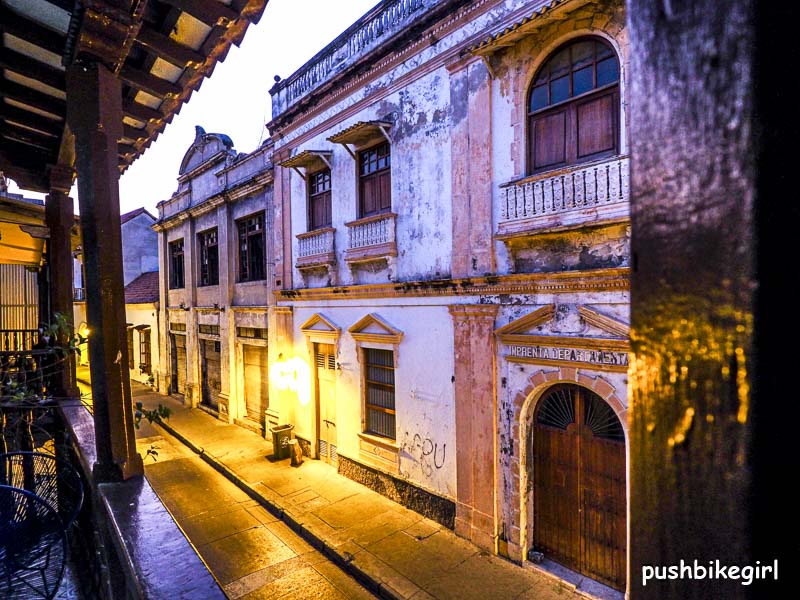 On March 20th. The door slammed behind us. The last travelers left the hostel to go home in time before the airport closed. And so, we had the whole hostel to ourselves.
Cartagena's lively old town radiated a ghostly atmosphere. Dead silence. Everything was closed, except for the police patrol there was nobody on the streets. Total lockdown!
"Now what? Oh, we can travel again in a few weeks", we were convinced of that!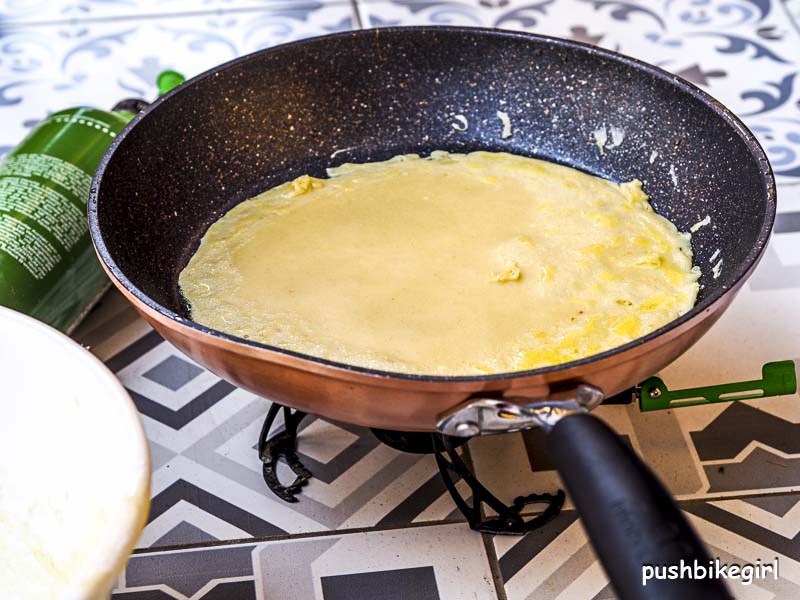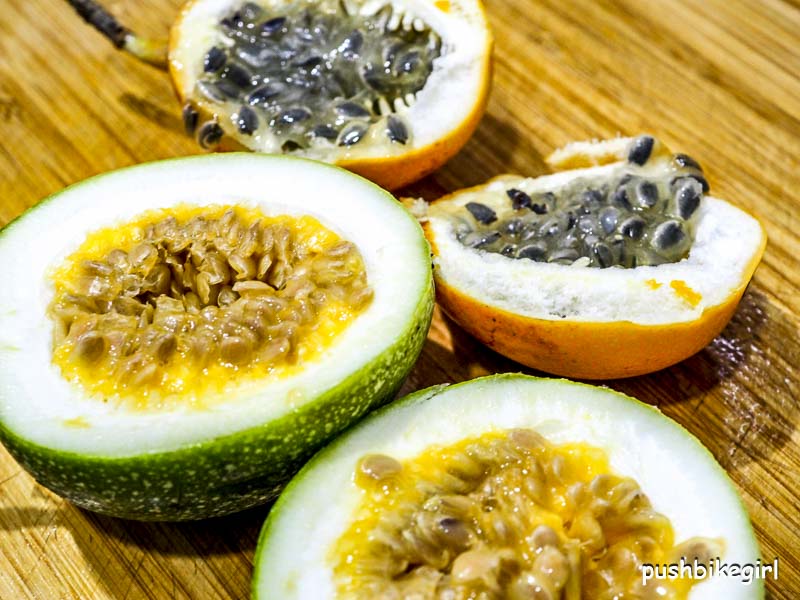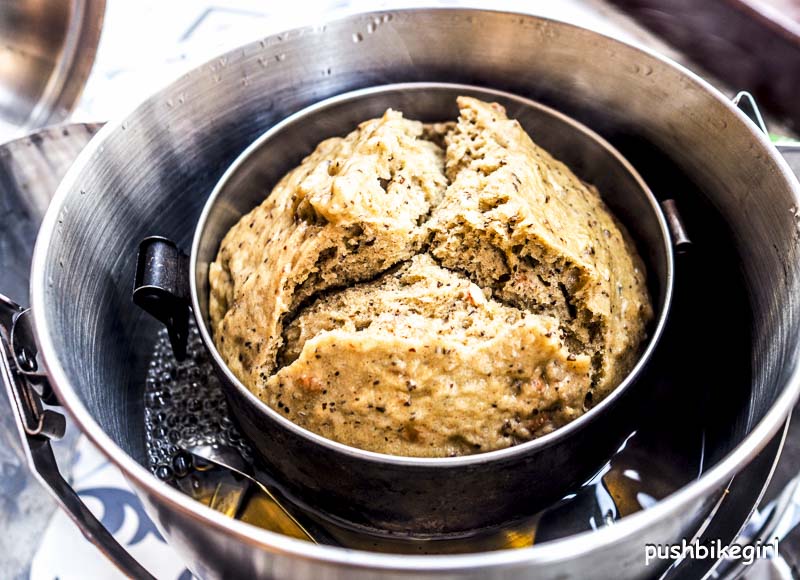 The first two weeks went by fast. I even found it exciting to see a whole city fall into a long sleep.
Supermarkets were monitored by the police. You were only allowed to shop every 5 days, because the last digit of your passport number indicated the day on which you were allowed to shop.
After four weeks of lockdown, gender segregation was introduced. This meant that from now on you could only shop every 10 days.
But we tried to stay positive and still believed that we could soon be on the road again, even if doubts arose, especially with regard to the fact that the crime rate will certainly rise and traveling here in South America will be much more uncertain in the future.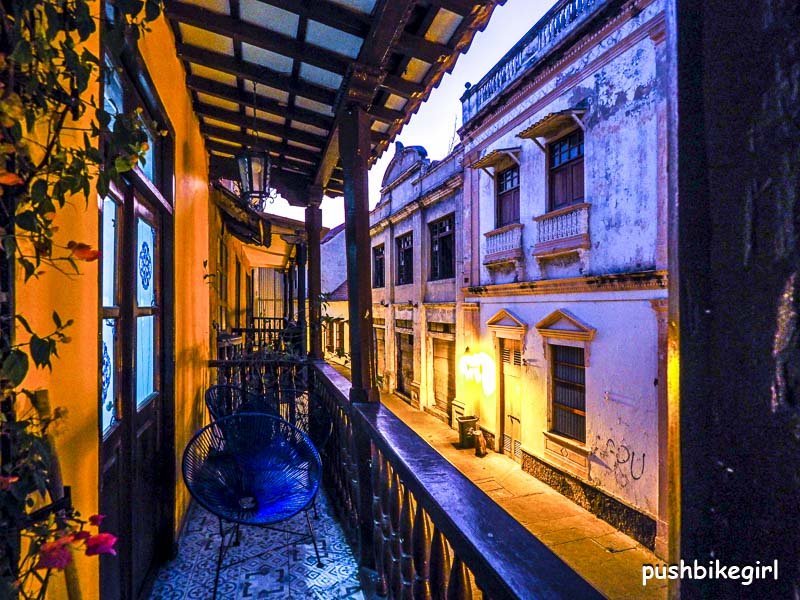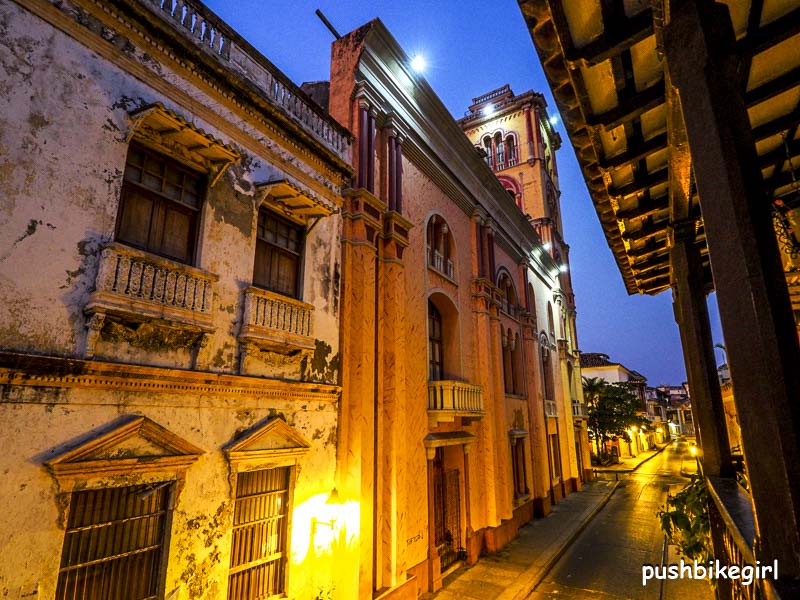 I was encouraged several times by my friends to return home. But taking a humanitarian flight to Germany was out of the question for me.
Firstly, because I saw no reason to make this far-reaching decision in the first few weeks when it was still possible. Secondly, because for environmental reasons I had decided not to fly more than once a year.
And, thirdly, because I had no desire for Germany and also felt no panic and was sure that there would be a solution at some point in the near future!
But the lockdown was extended again and again. It was also announced that the airport would be closed until Sept. 1st and all national borders until further notice.
For 10 long weeks we were stuck, sitting on our fat asses, bored to death and went through crises until an opportunity arose.
The Americans were repatriating their people home and I was allowed on board.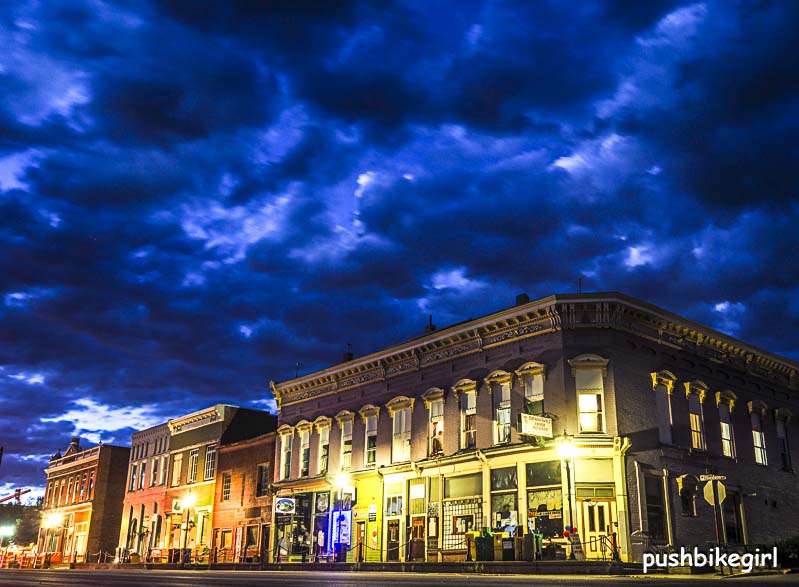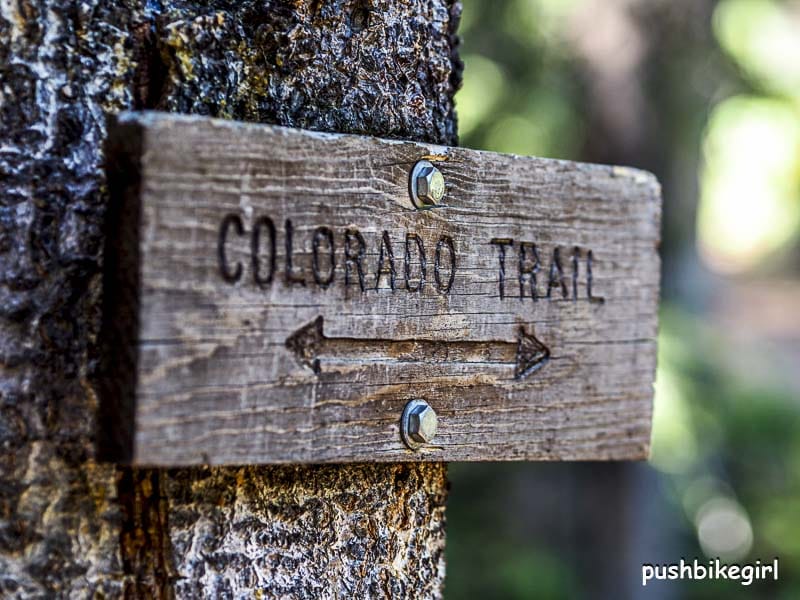 On June 5th, Harry and I flew to Florida. We road tripped to Colorado and there the real story of this blog post starts – the Colorado Trail.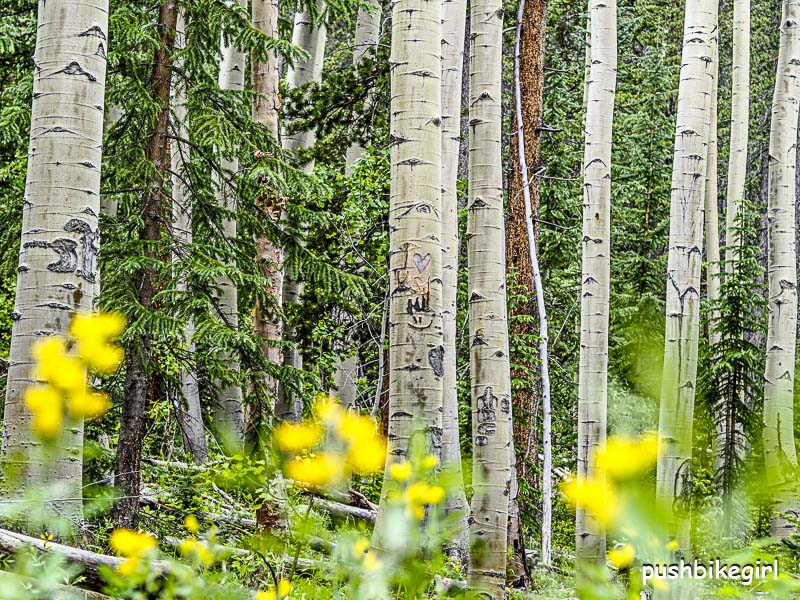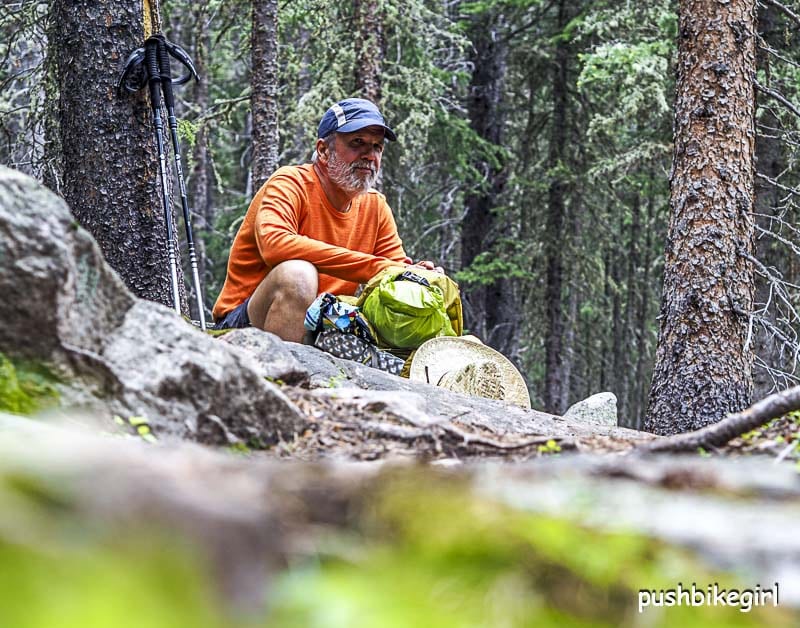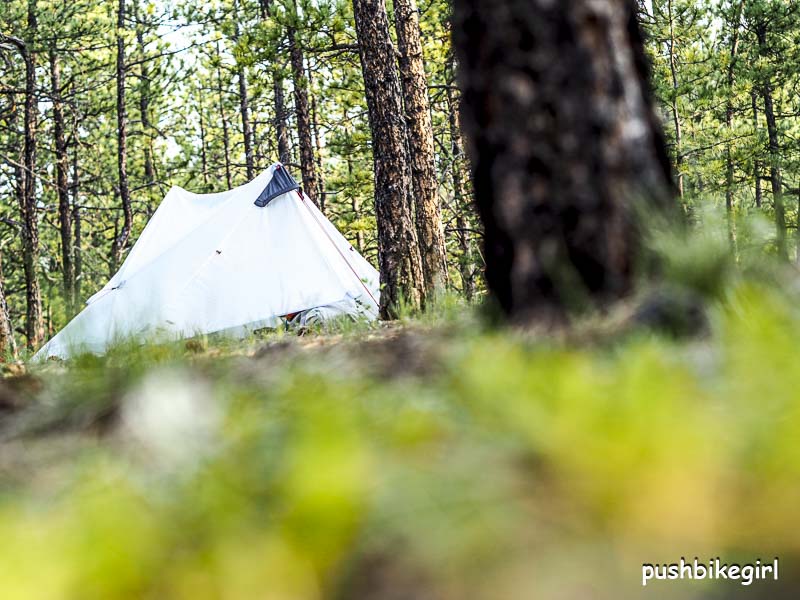 An ultralight backpack was quickly organized, otherwise we already had everything we needed.
Luckily Harry had a friend in Denver where we were able to store extra gear. Soon we were off into the woods and onto the trail.
10 weeks of inactivity didn't do us any good and we hit the trail totally out of shape.
We were starved for nature and underestimated the difficulty of the trail. Acclimatizing took some time.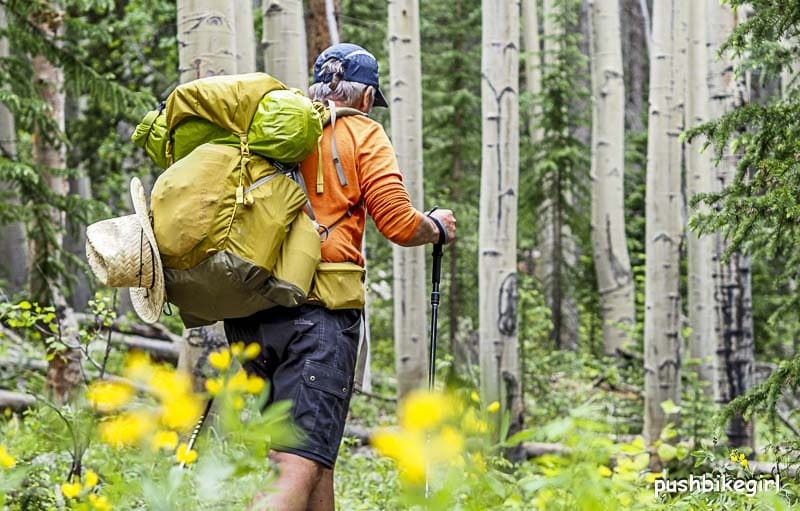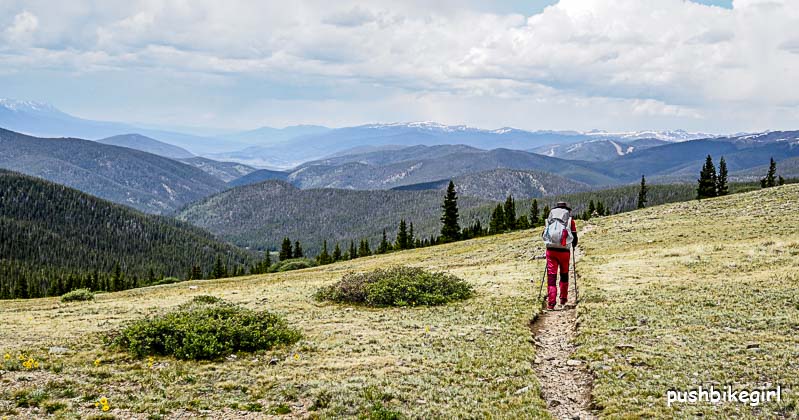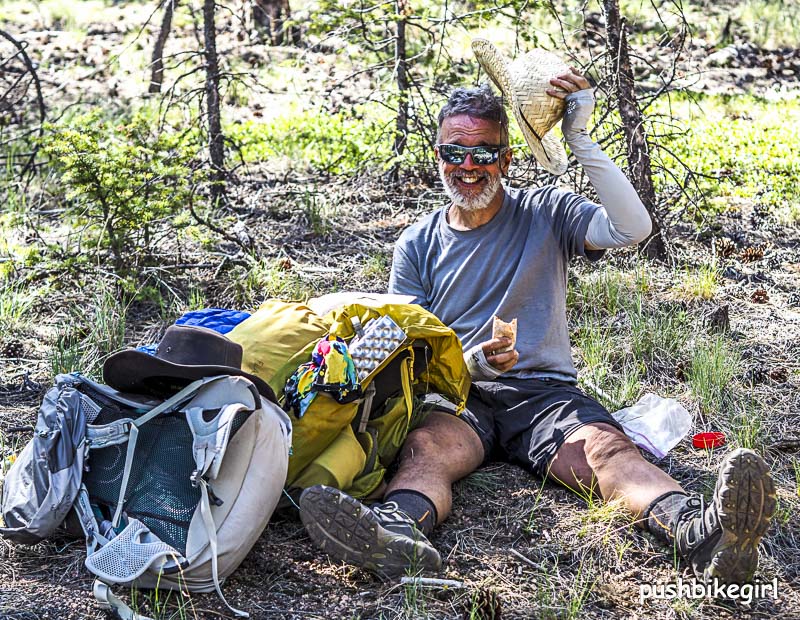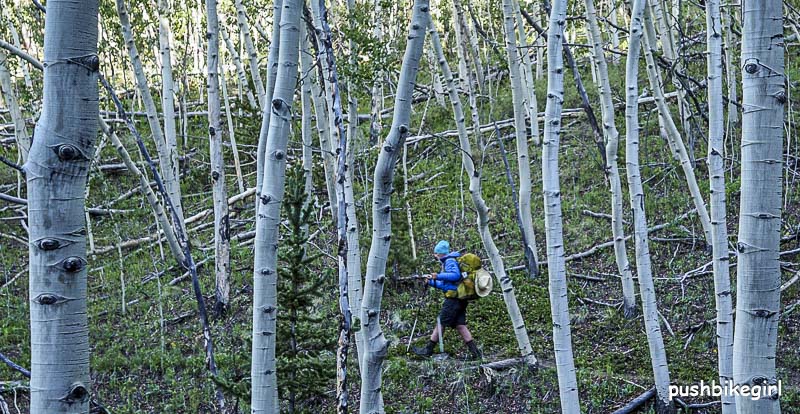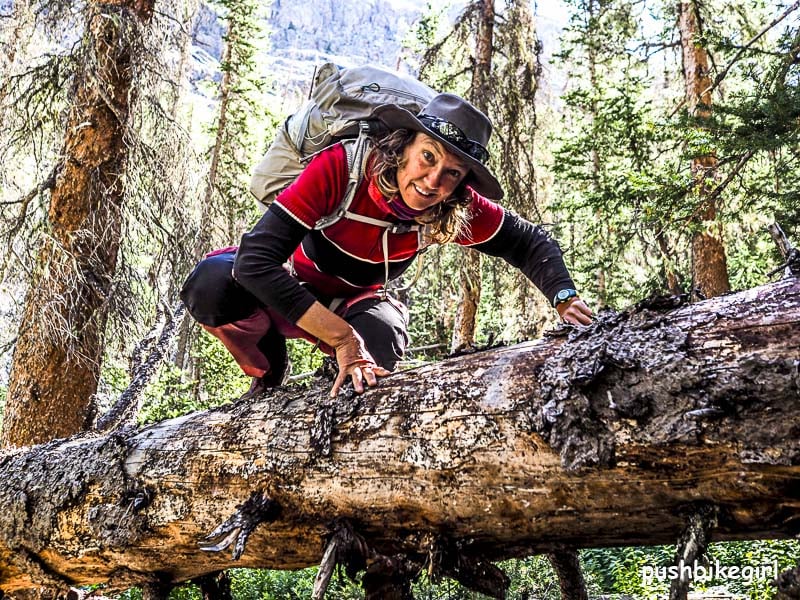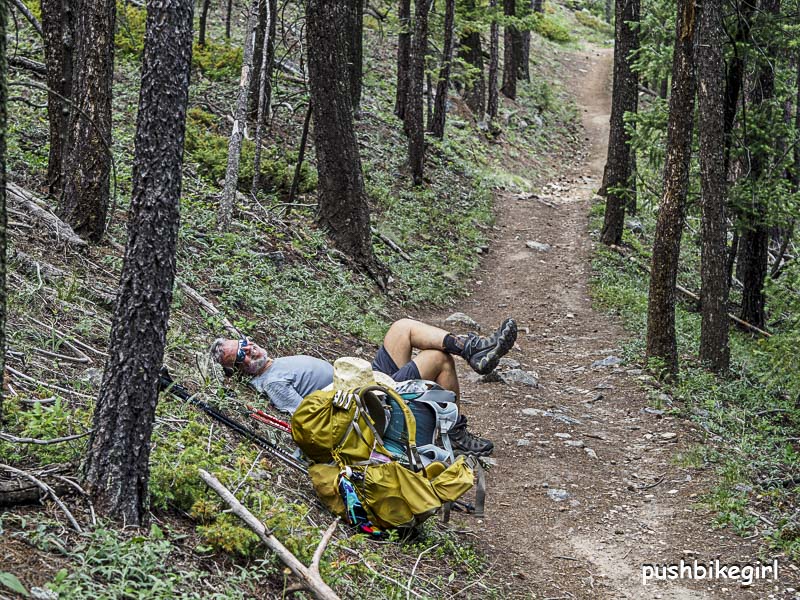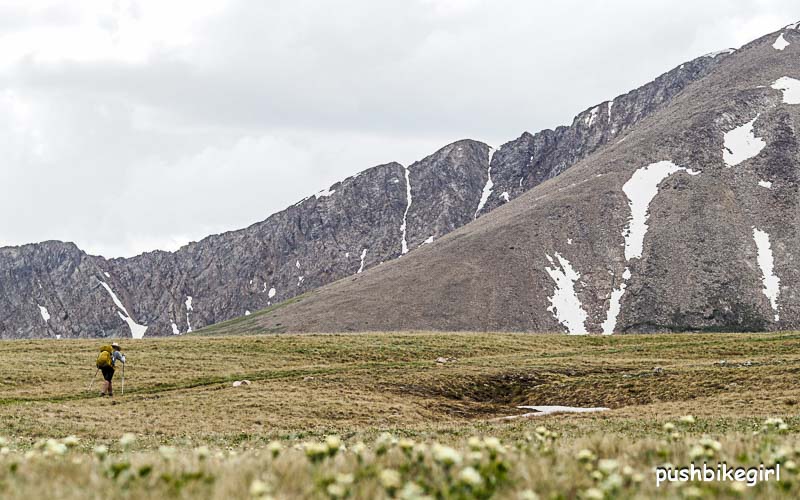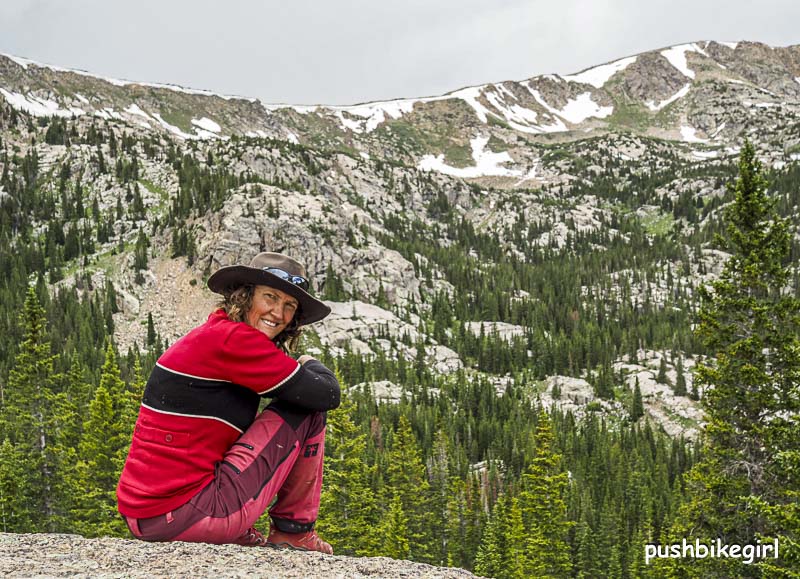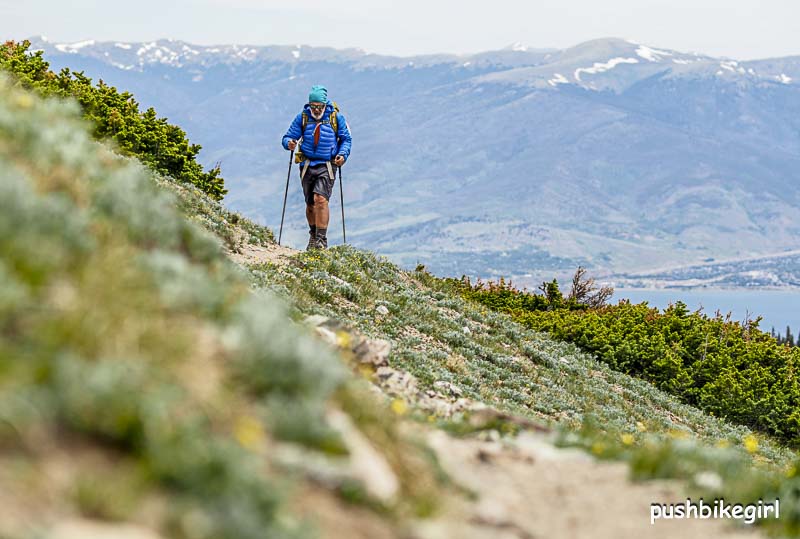 The Colorado Trail has the following statistics:
480 miles (778 kilometers), 121.267 feet up (36962 meters) and 104.703 feet (31700 meters) down. Highest point of the trail is 13.271 feet (4045 m). The average altitude of the trail is 10.300 feet (3200 m). Divided into 28 Segments.
So, there was a lot for us to do! ?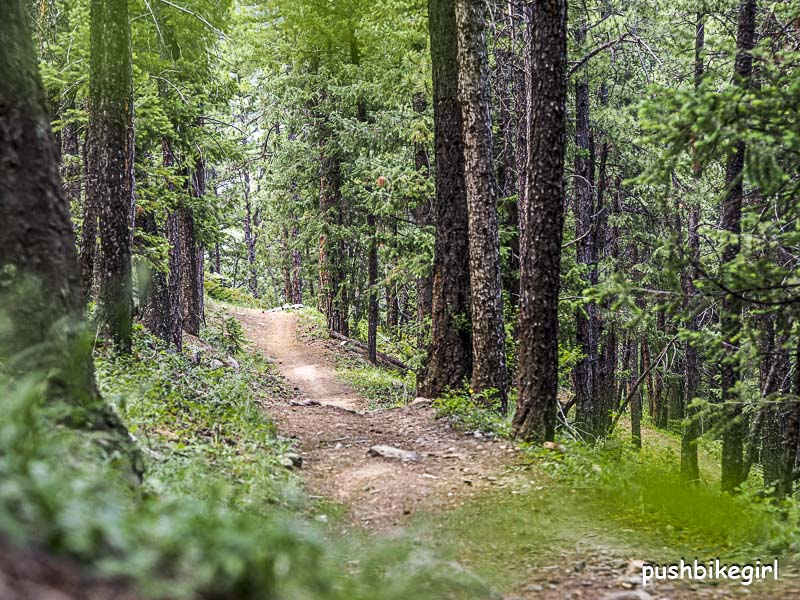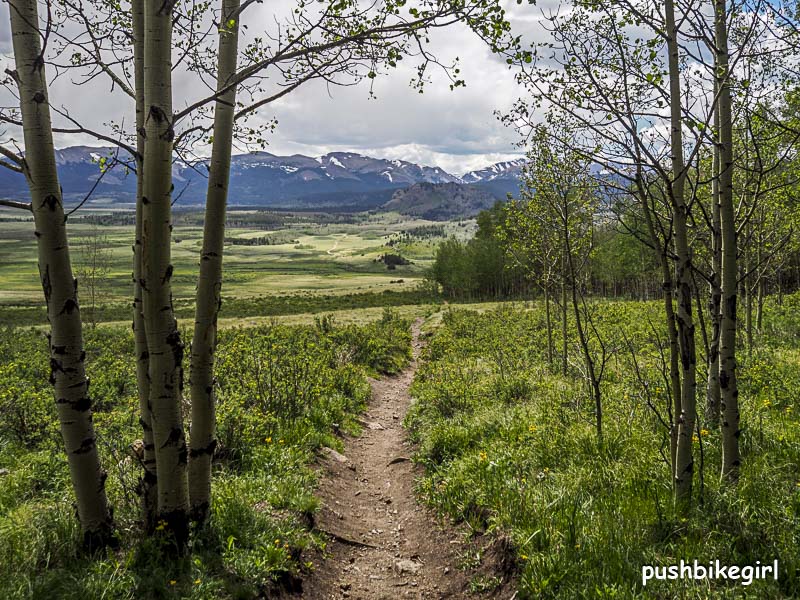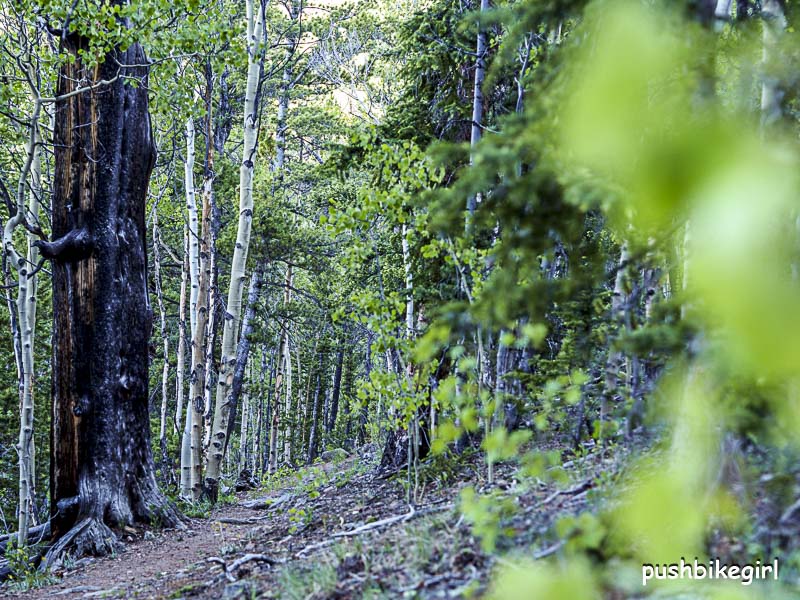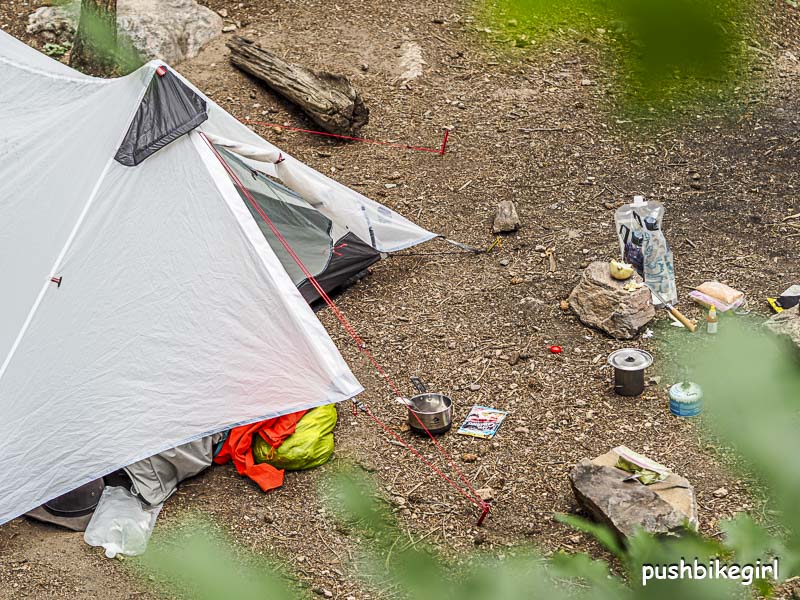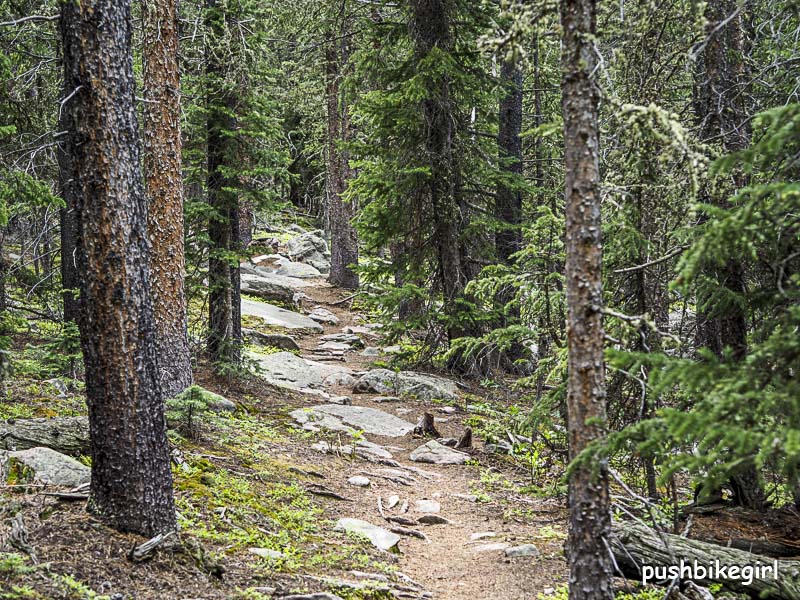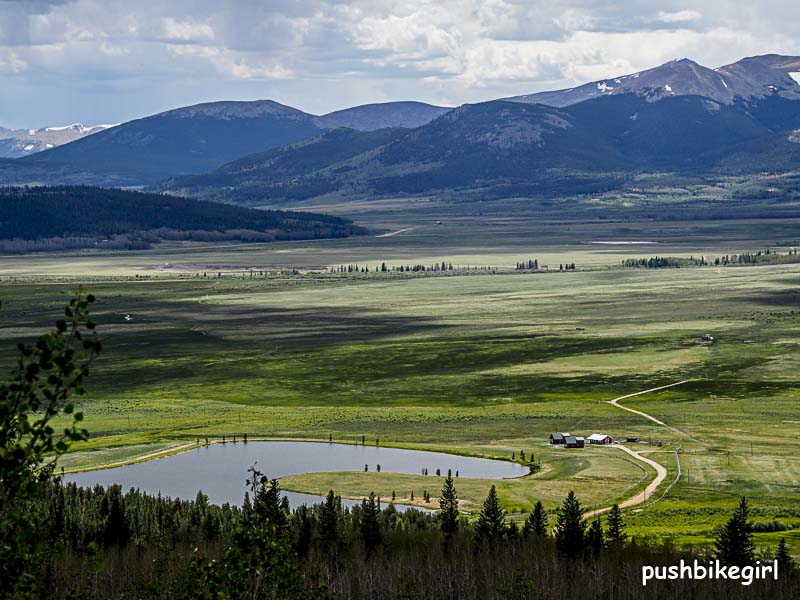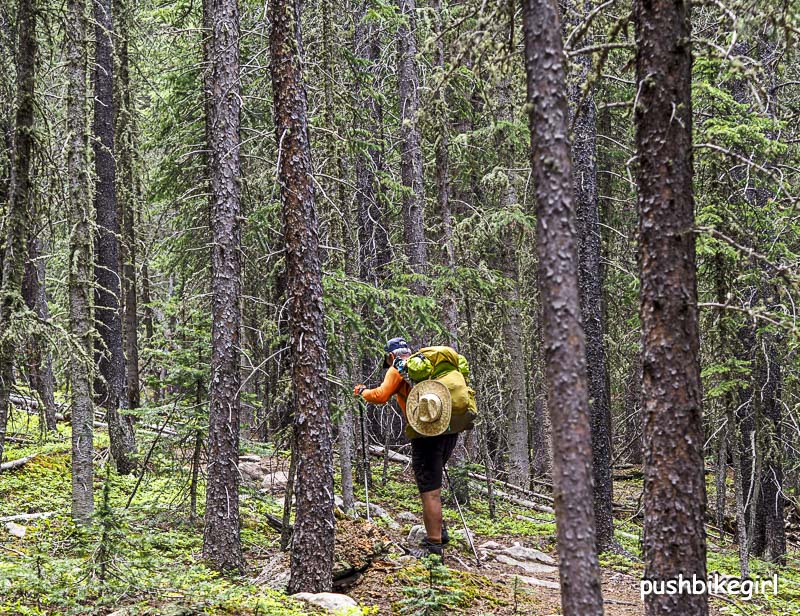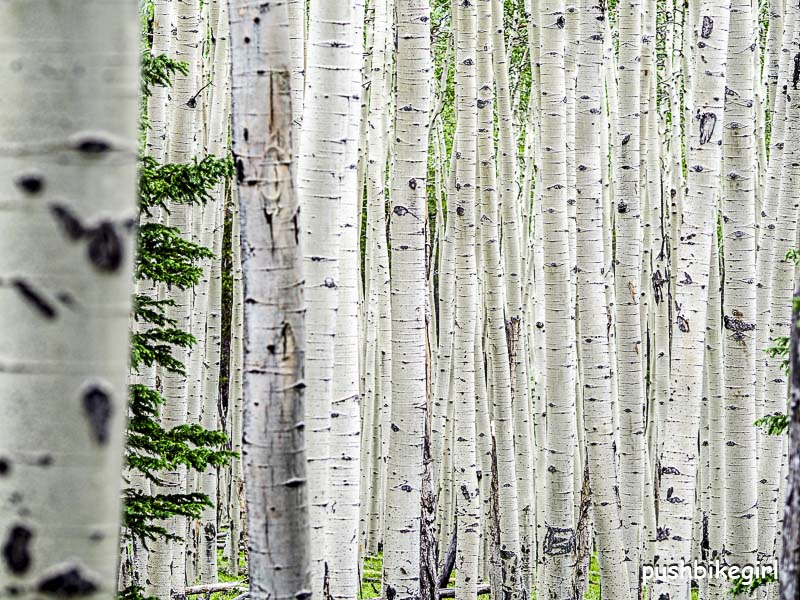 From the beginning the wildness we hiked through was impressive. Views were plentiful.
A beautiful forest that was constantly changing. Lonely, quiet and an eternal up and down. Over hill and dale, every day anew.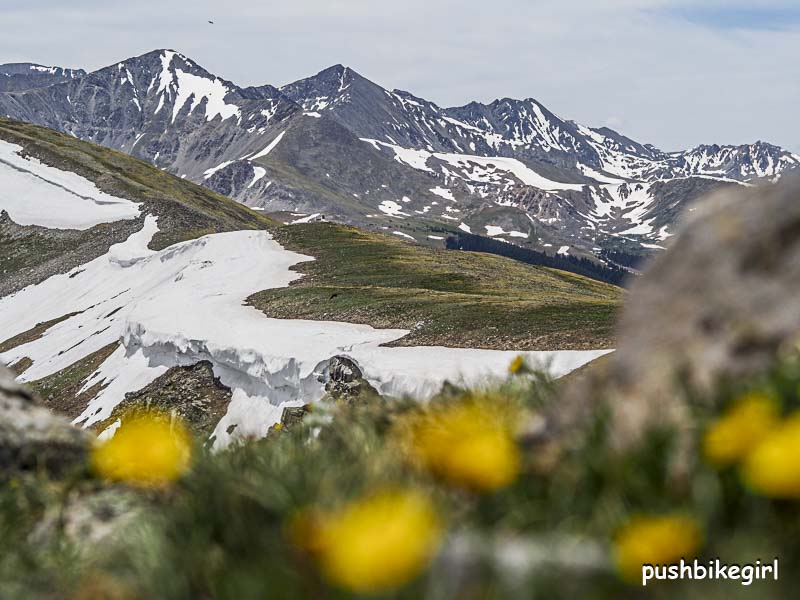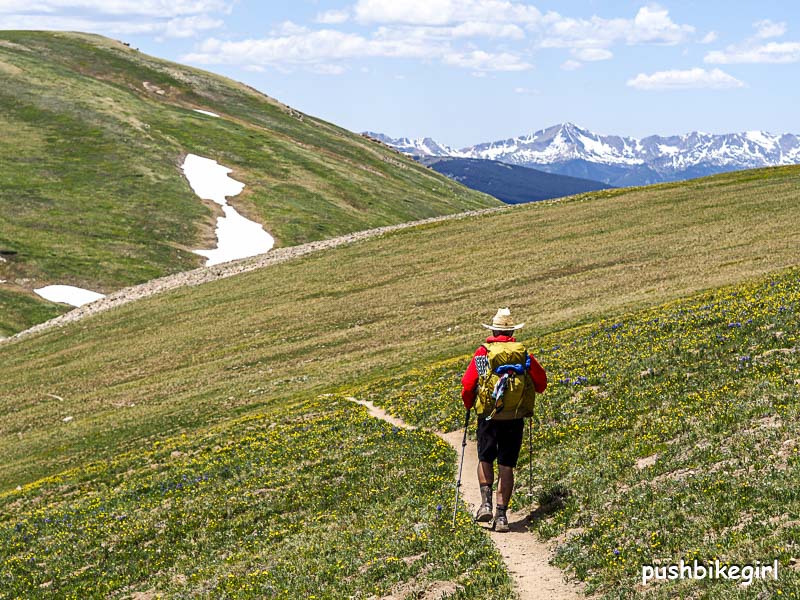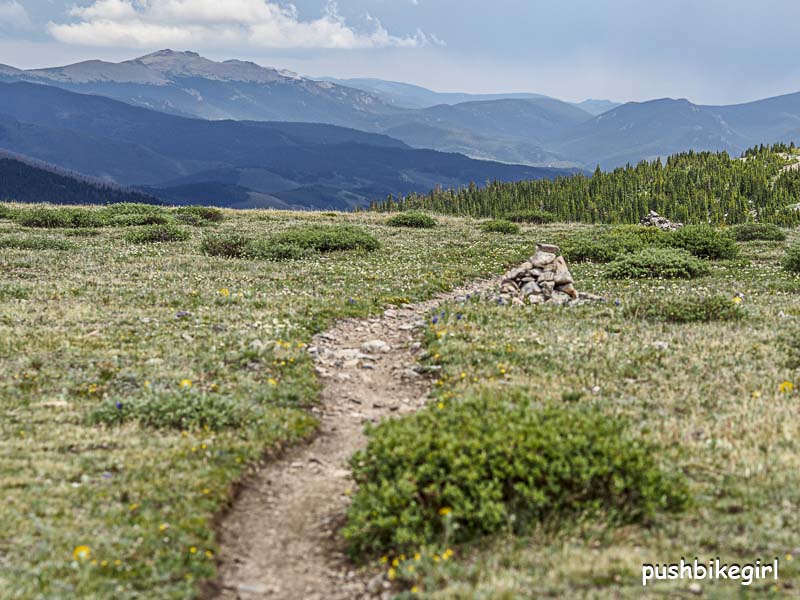 The wildflowers were fantastic and the hikers who crossed our path were once again super friendly.
America – I love it!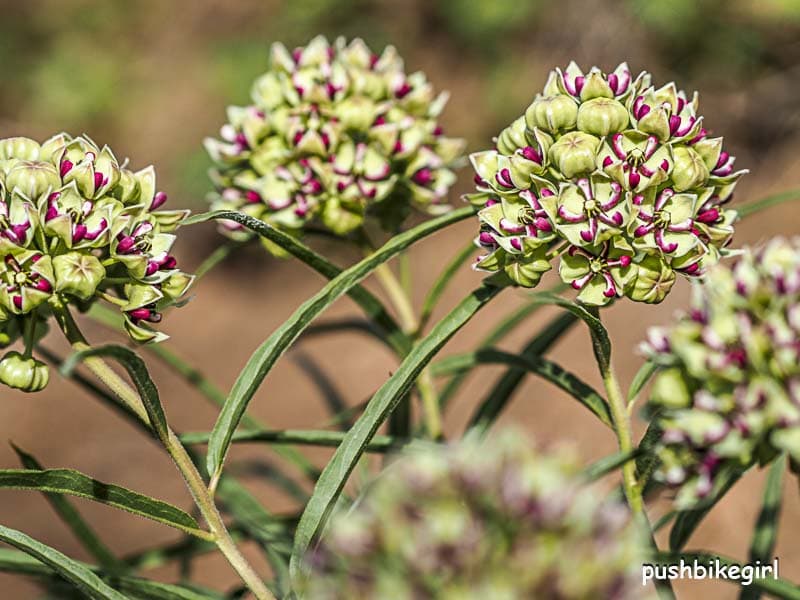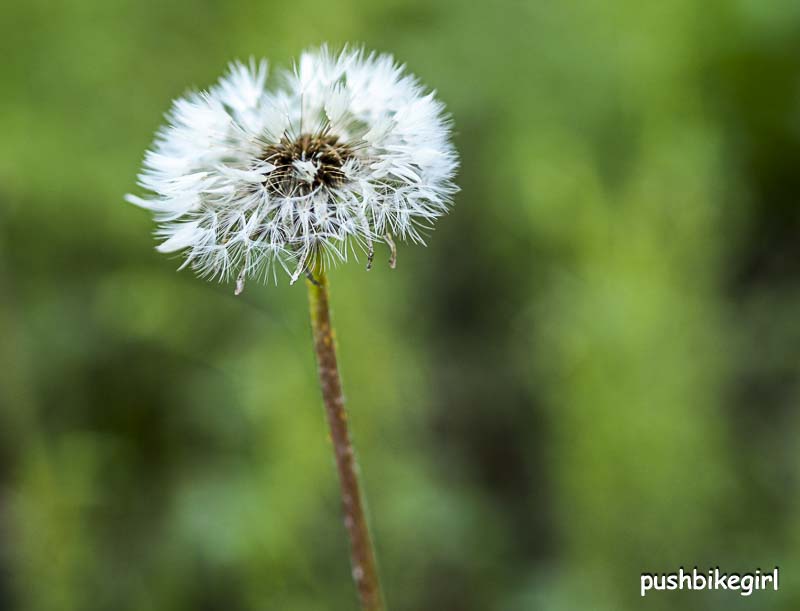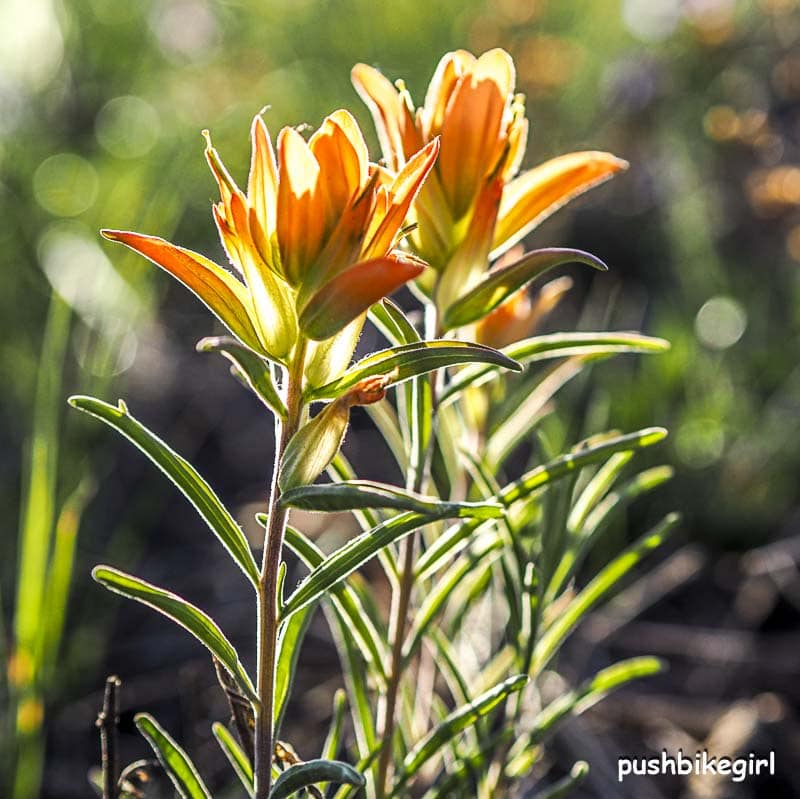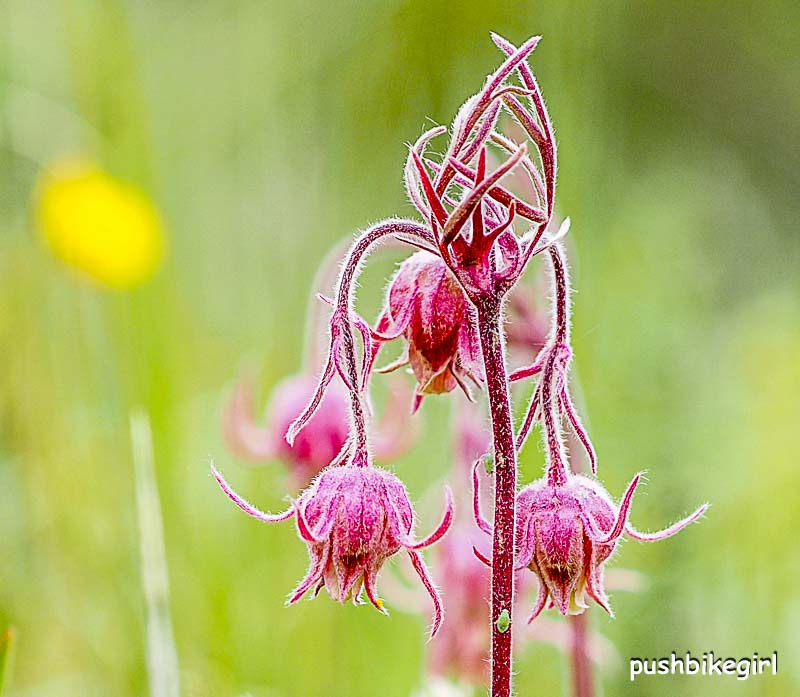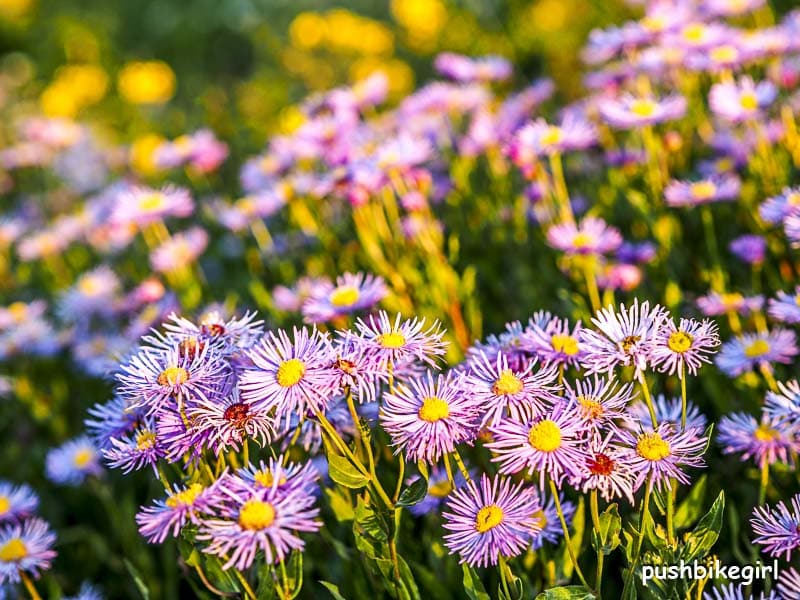 Unfortunately, there was a total fire ban, which was a pity and obliged us to have a gas stove with us.
My well used hobo stove had to stay in Denver. And I had to postpone my beloved campfire nights to another time.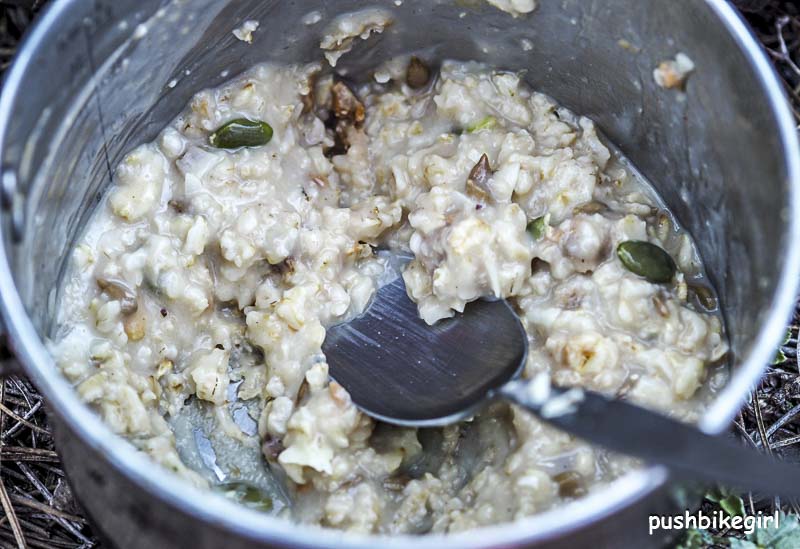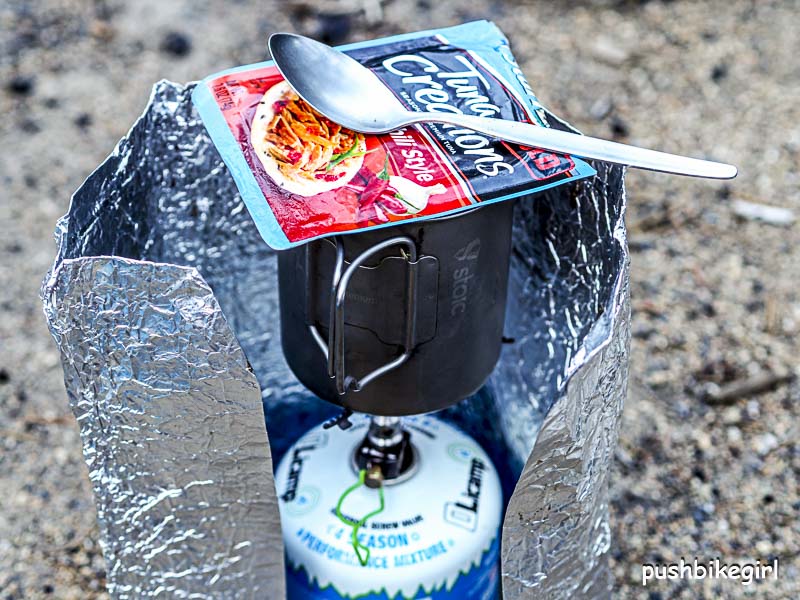 Surprisingly, there were only a few wild animals, even birds were hard to spot.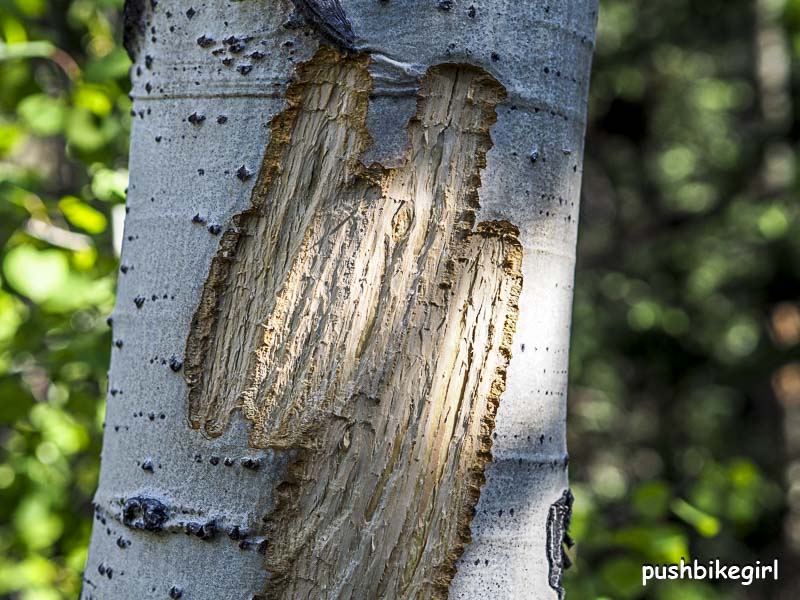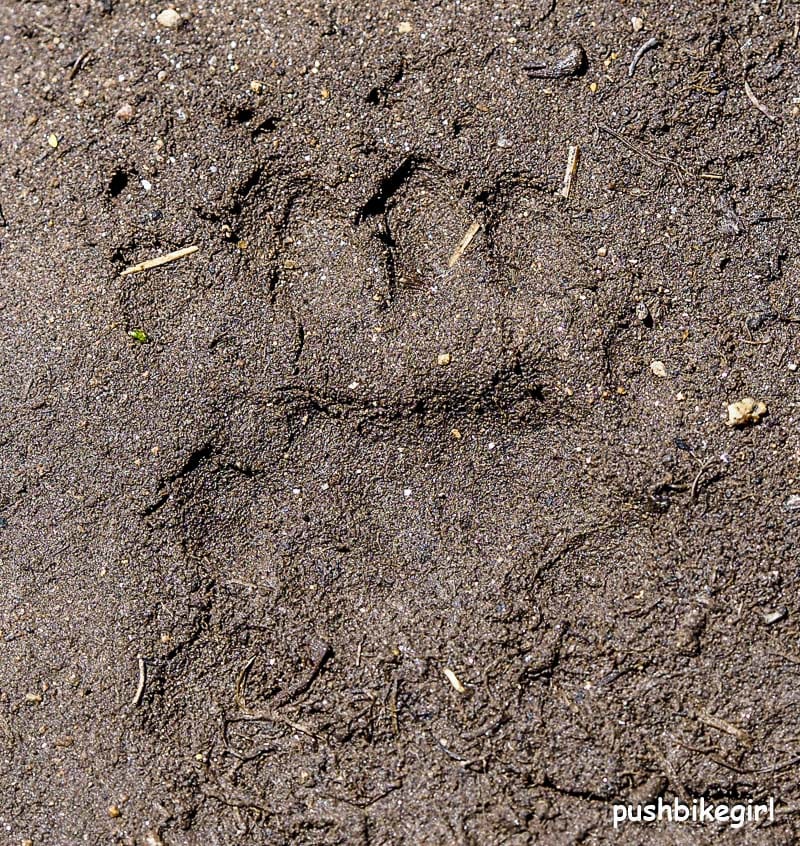 What impressed me from the start was that there were so many young people on the trail. The older generation tends to label the young people as lazy and unimaginative.
Rude and selfish on top of that. But I have to say, exactly the opposite was the case here.
At that age, I would certainly not have had the desire or the stamina for such a demanding and time-consuming hike.
Therefore, my hat is off to all the young thru-hikers I met, who welcomed me warmly and befriended me time and again.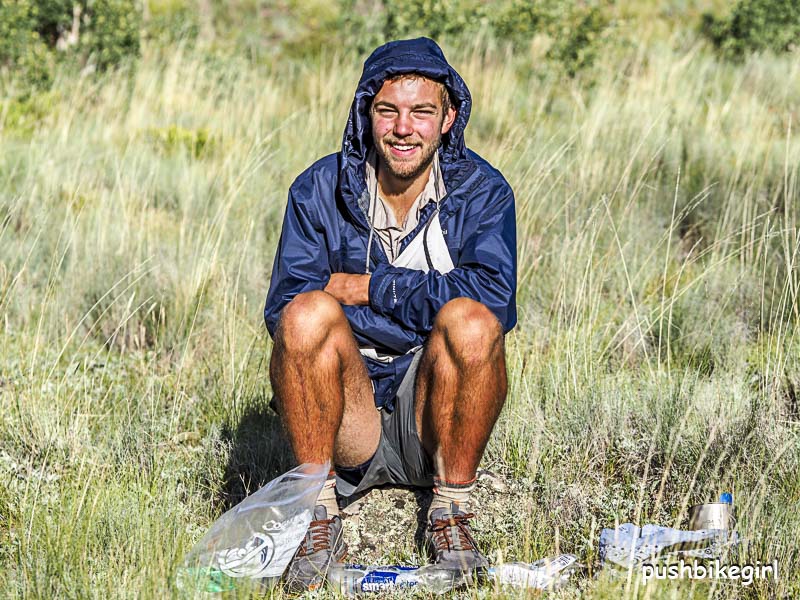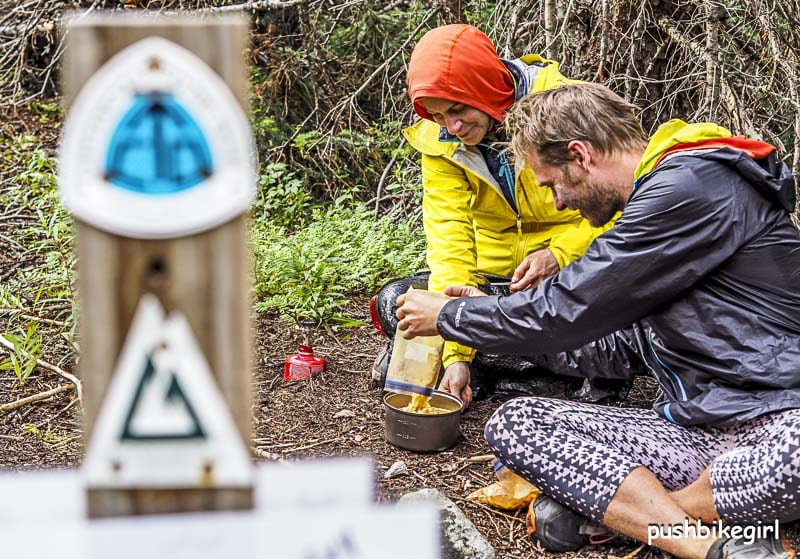 Harry had problems with his knee from the beginning, which forced us to take breaks from time to time and we couldn't walk so many kilometers per day.
But I didn't mind that at all – on the contrary – I was able to enjoy it even more. I always like to soak up and observe nature.
After about a third of the way, Harry got off the trail because his knee simply never recovered and was always swollen and painful.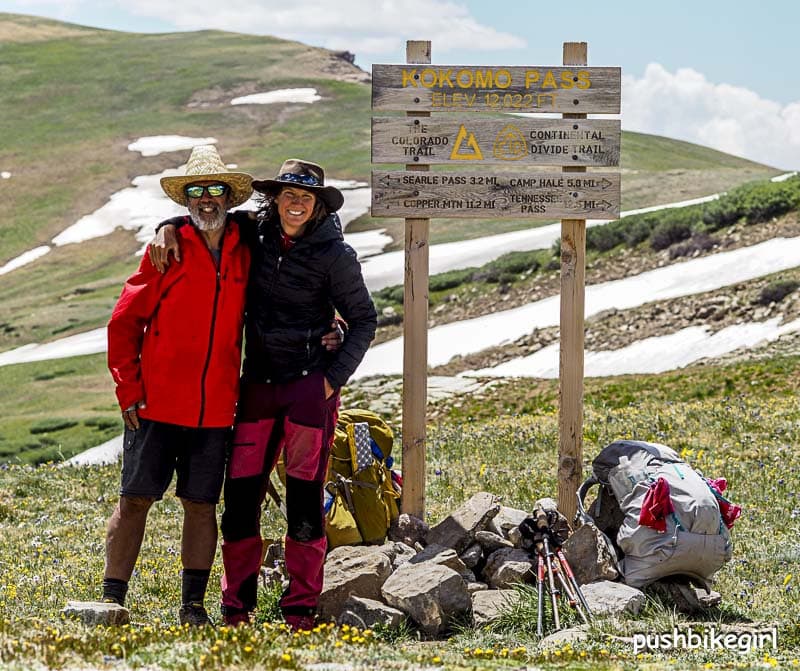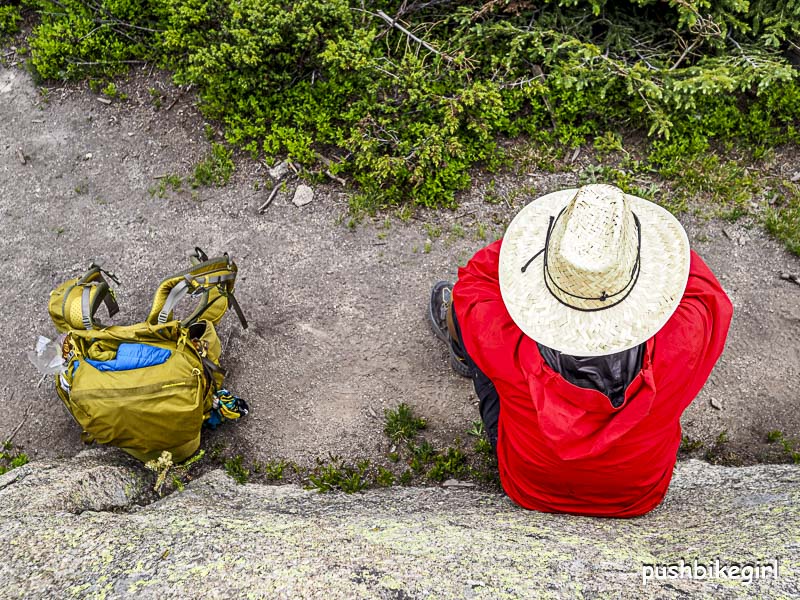 Soon I was on my own again. Which gave me much more contact with other people.
I also had my own rhythm again, because I generally start late in the morning and go to bed later than most people.
Somehow it is also less stressful for me. Being on the road alone is sometimes lonely, but it also has many advantages.
Or maybe I should say it is different, because the time with Harry was also very fun and entertaining. And we will certainly plan further adventures together.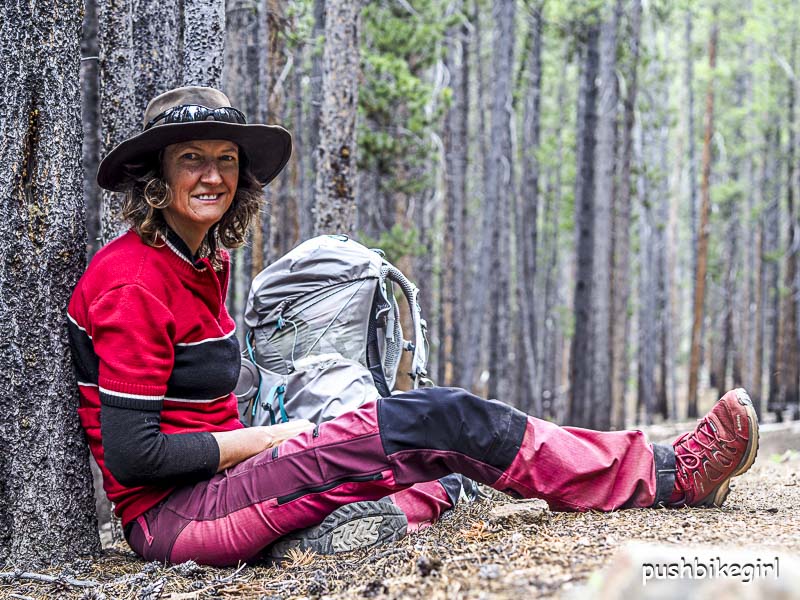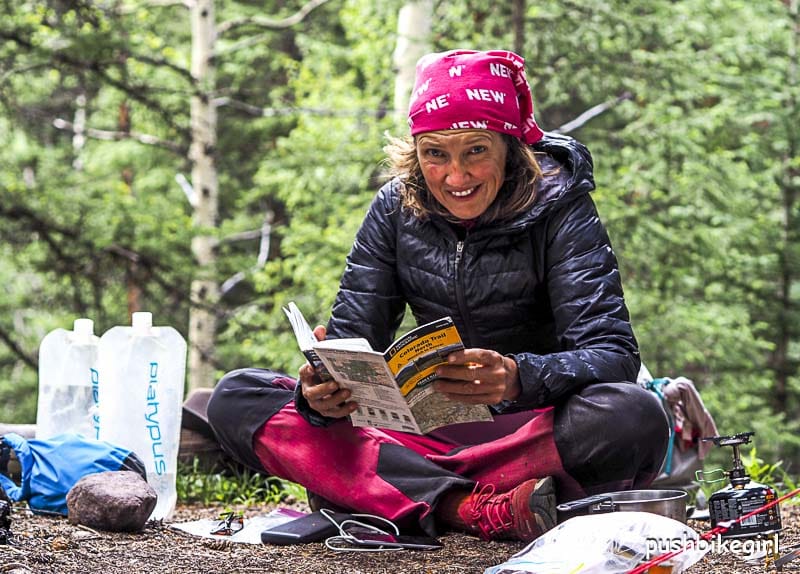 While we could share our equipment before, I now had to carry everything by myself, but tried to keep the weight as low as possible.
The weight of my pack with food for six days, but without water, was 13.5 kg (30 lbs).
Of course, you can go lighter than that, but then you have to invest a lot of money and optimize your equipment accordingly.
By chance I met a thru-hiker who had already done many trails and who knew that I would like to change the 2-man tent I had to carry unnecessarily into a 1-man tent and nice as he was, he lent me his tarp for the rest of the trail, which weighed 1 kg less.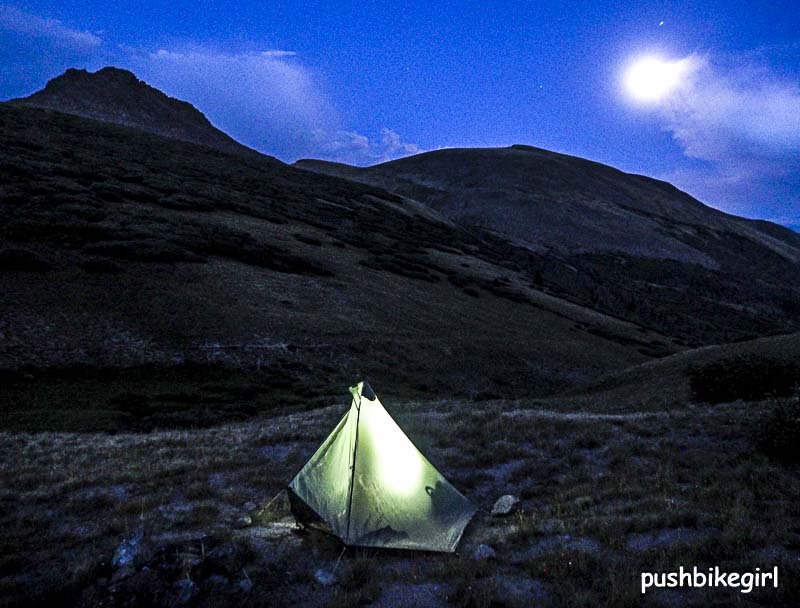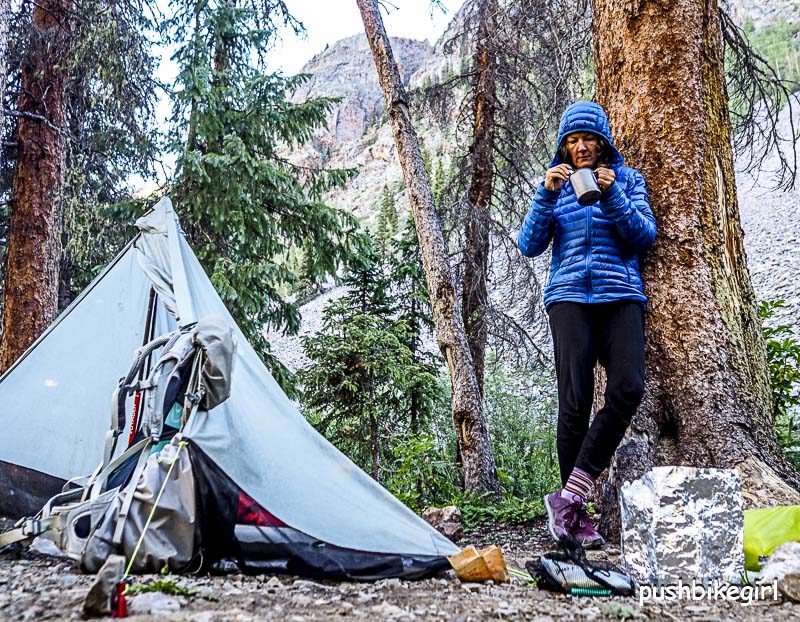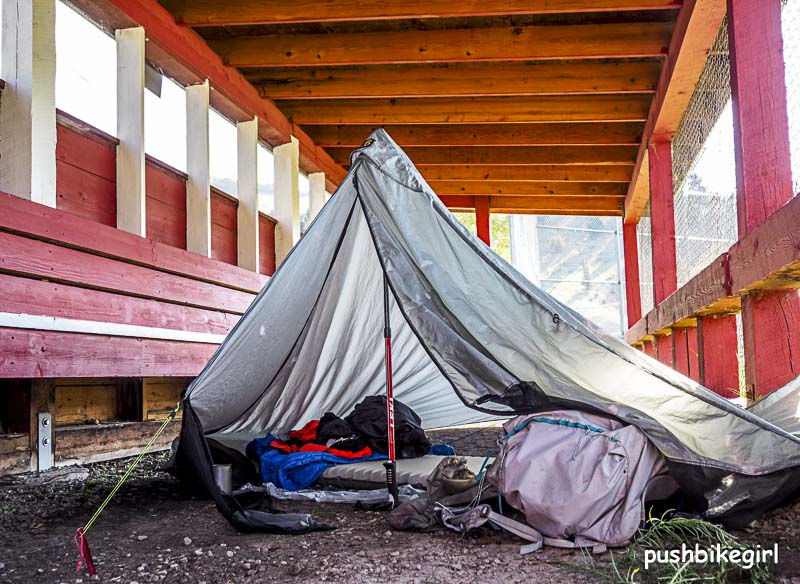 The hiking community is very considerate in taking care of each other and the standard saying was over and over again when I thanked someone for anything: "No problem. Pass it on!" Just great!
This is also what prompts some people to organize Trail Magic. A big moment for every thru-hiker. You hear about it many days in advance, because everybody is talking about it and was really looking forward to it.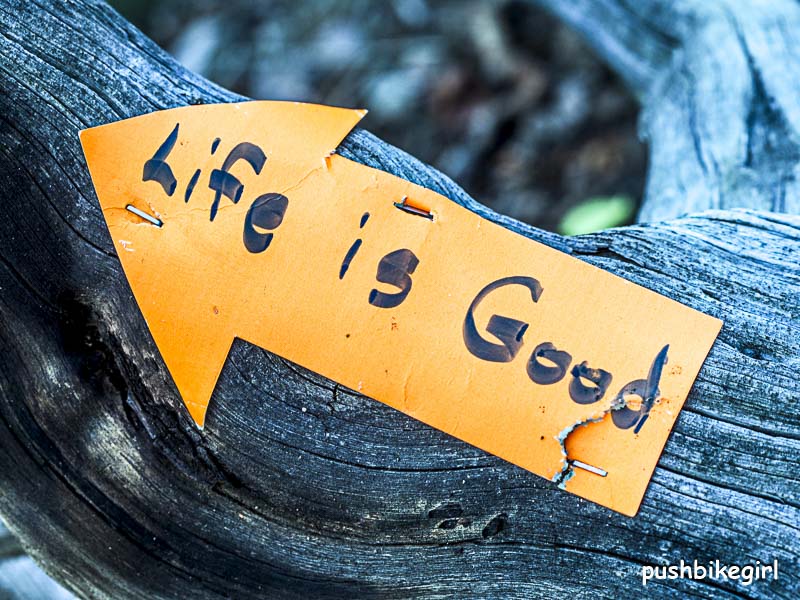 For example, there was Pooh, Linda and Jan who were thru-hikers themselves on the Appalachian Trail a few years back.
They had embraced the philosophy of passing on and had set up a tent in the middle of the forest for 10 days and distributed pancakes for breakfast and hot dogs in the evening. Terrific!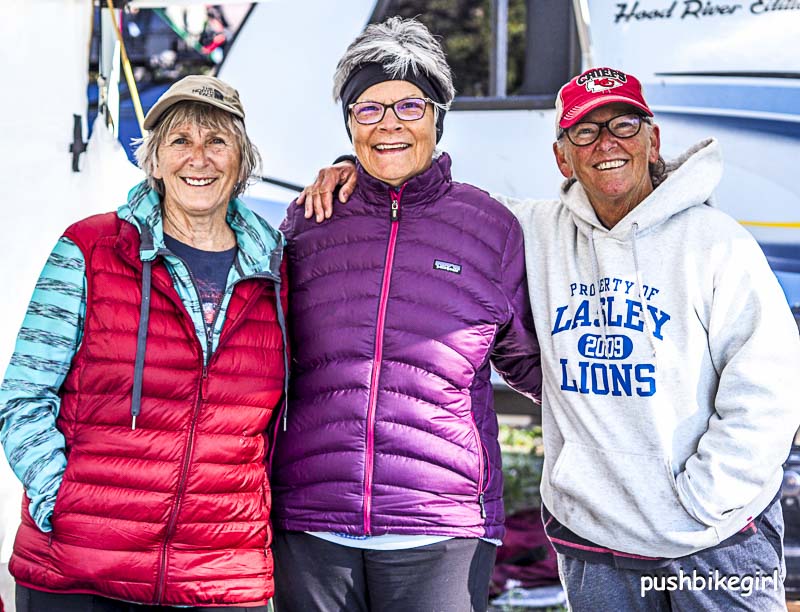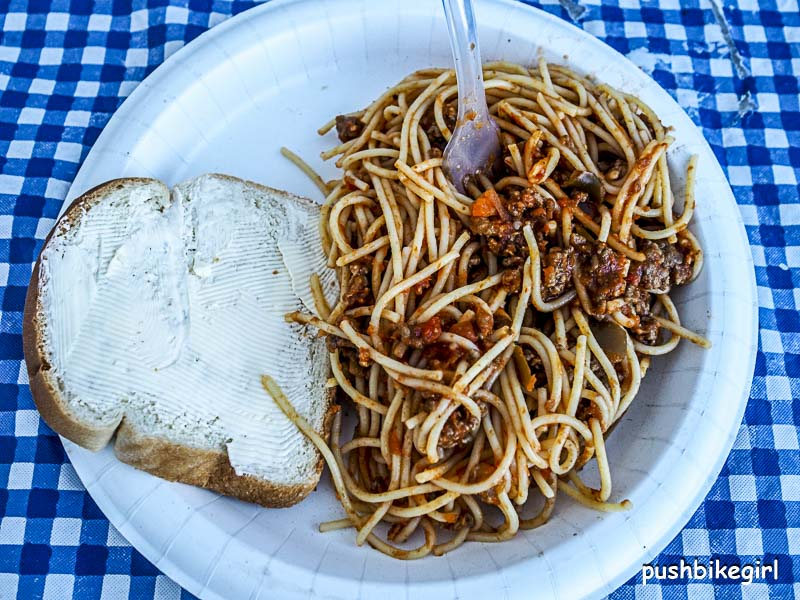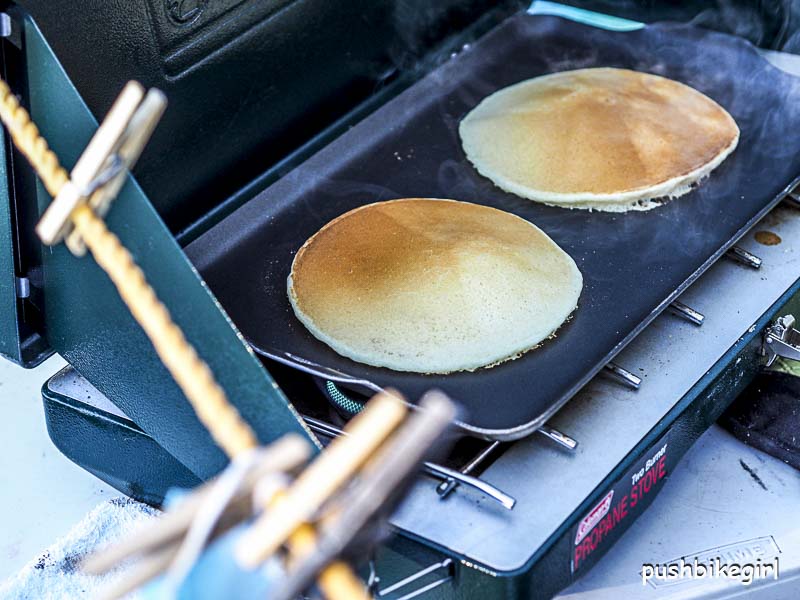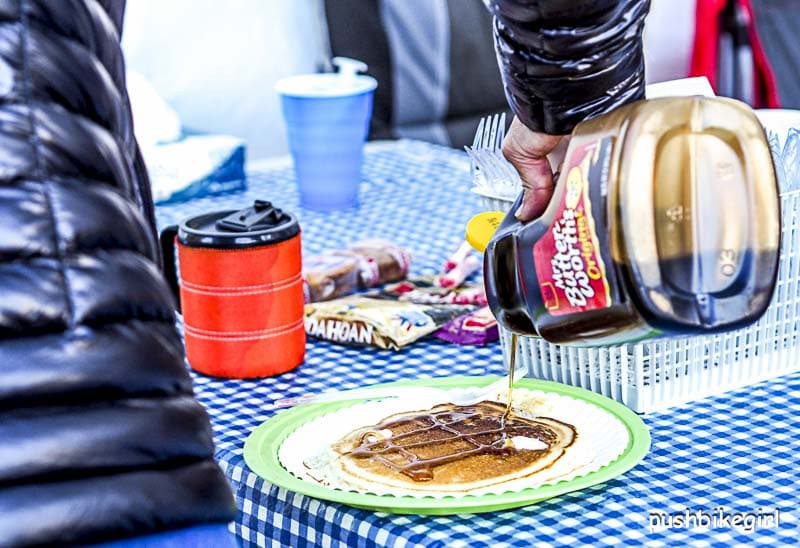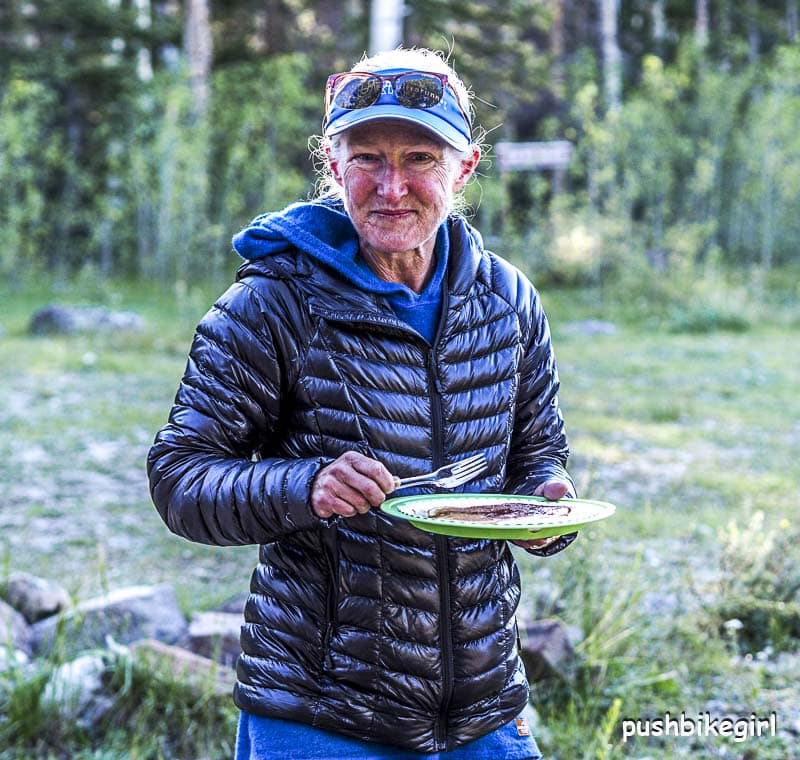 When I asked them if they were having fun, they answered: "So many Trail Angels have helped us, now we want to help others.
We have fed 205 hikers in the last 8 days. You just have to see the smiling faces when we hand them their pancakes, then you know why we are doing this!"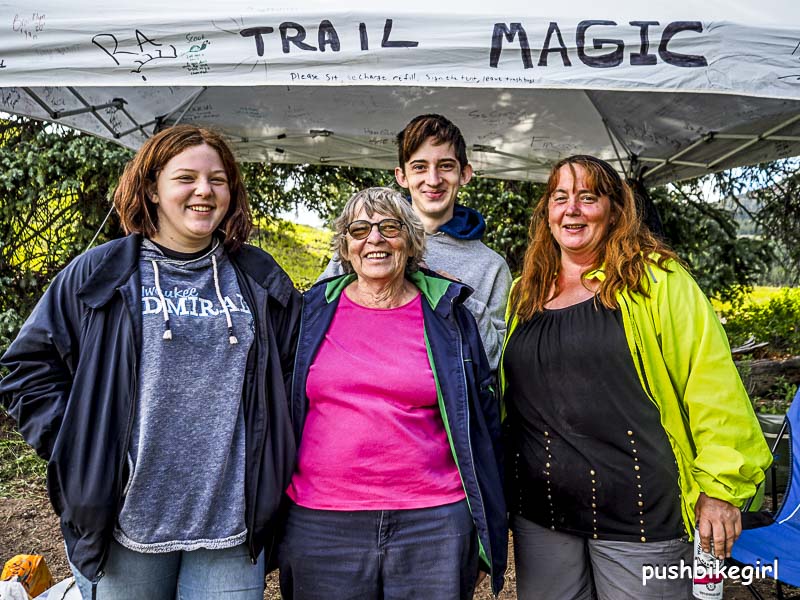 Then there was Ra and her family, who had pitched their tent in various places for four long weeks.
I met them just before Silverton, on their last day.
They had a lot of hiker-boxes where everybody had put something in or taken something out over time. From toothpaste to dried fruit to chewing gum.
I was surprised with a cold drink and was told to take whatever I needed!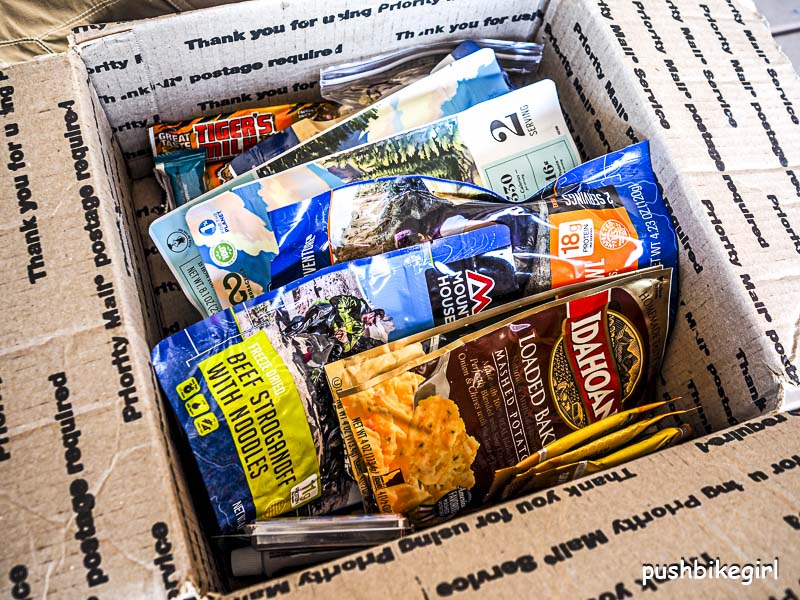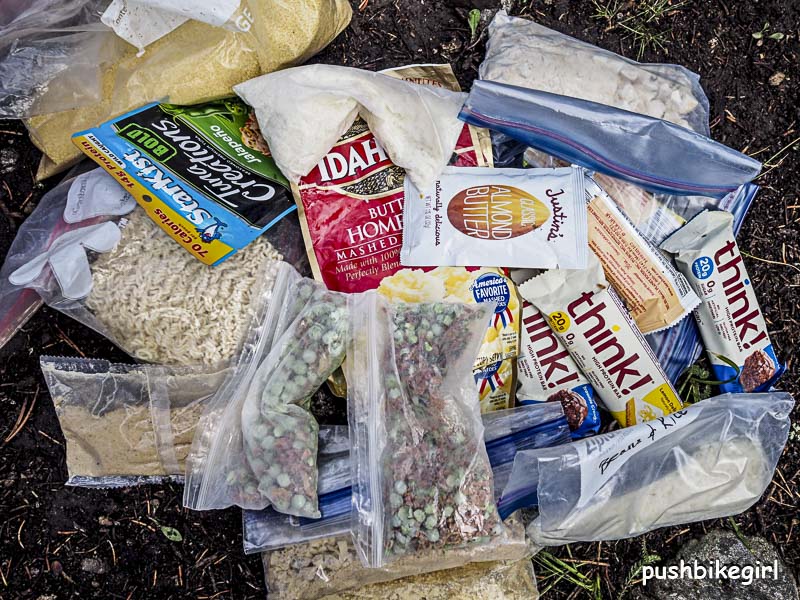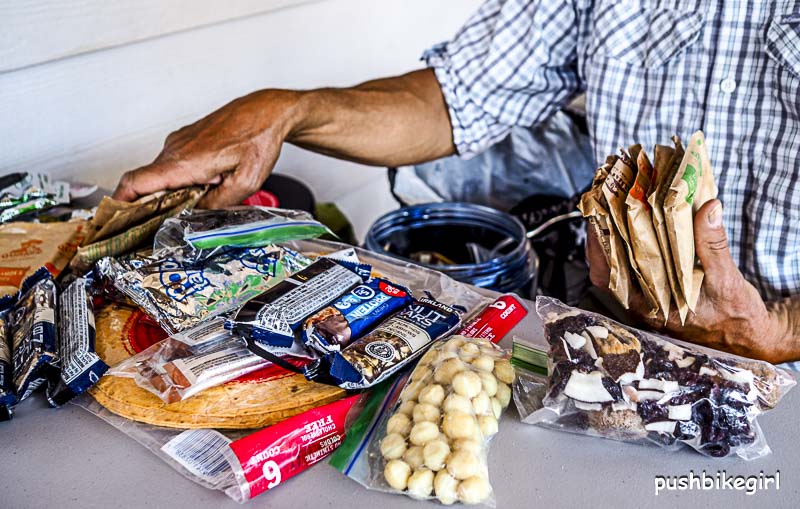 You can find hiker boxes at many locations and everyone is always happy to look through them. Once
I was lucky and stood next to a family who had just picked up their supply package at a small store, which they had sent to themselves.
The family had to leave the trail earlier than planned and distributed the entire contents of the box to everyone standing around them.
All the food was home-cooked and then dried, which is much healthier than any ready-made food and I really enjoyed it.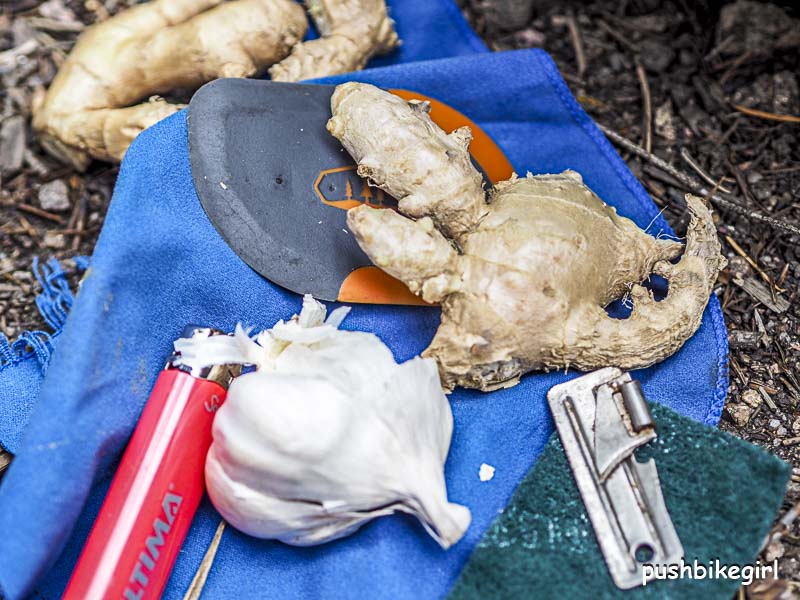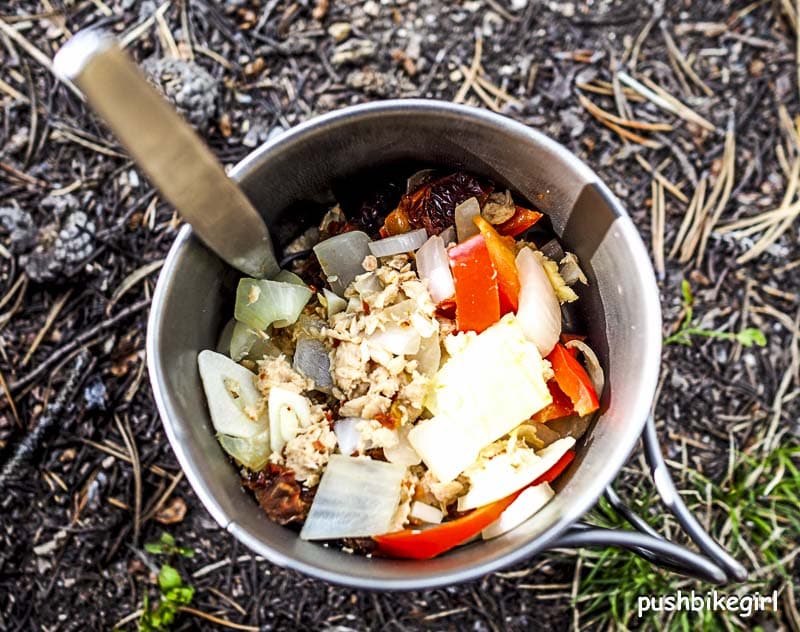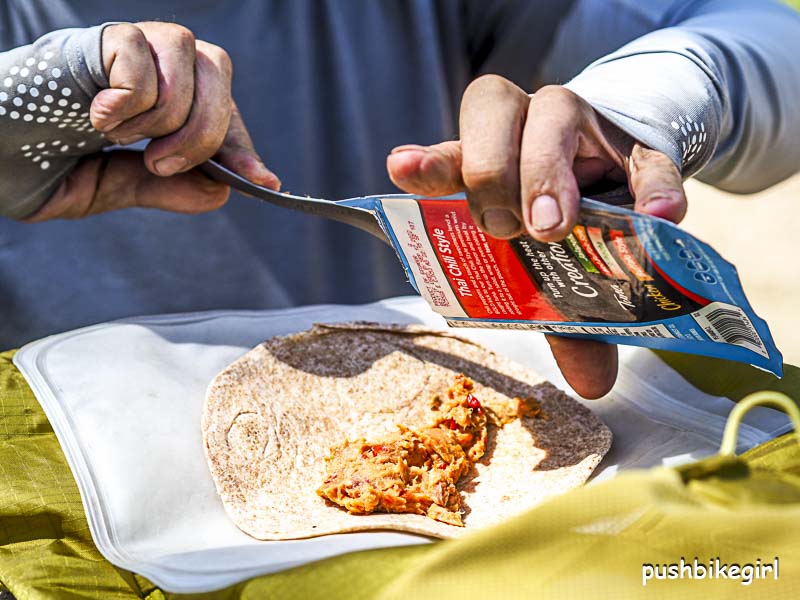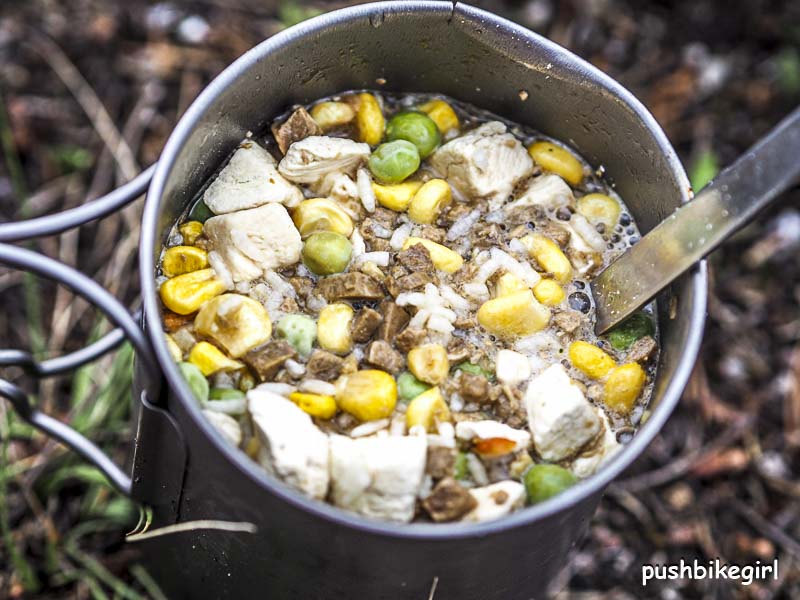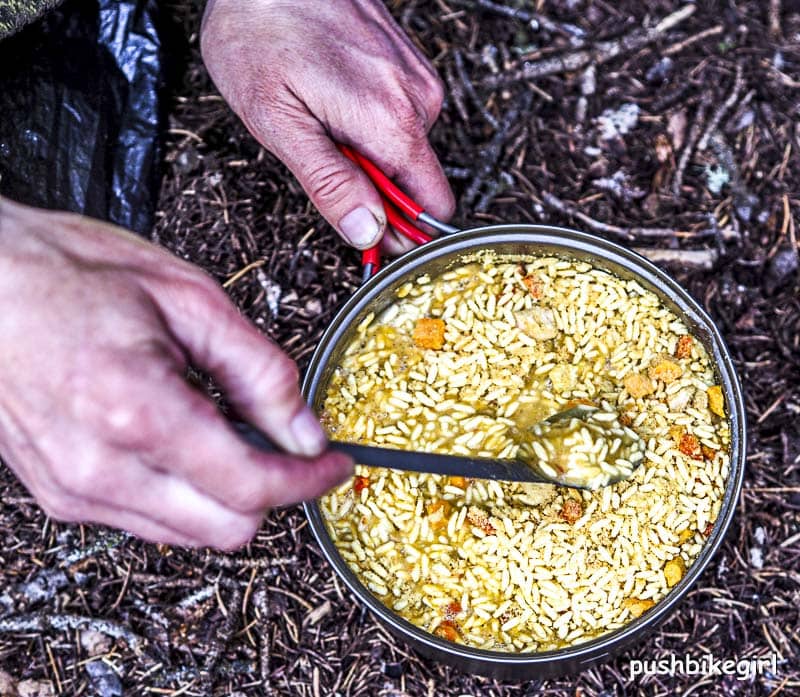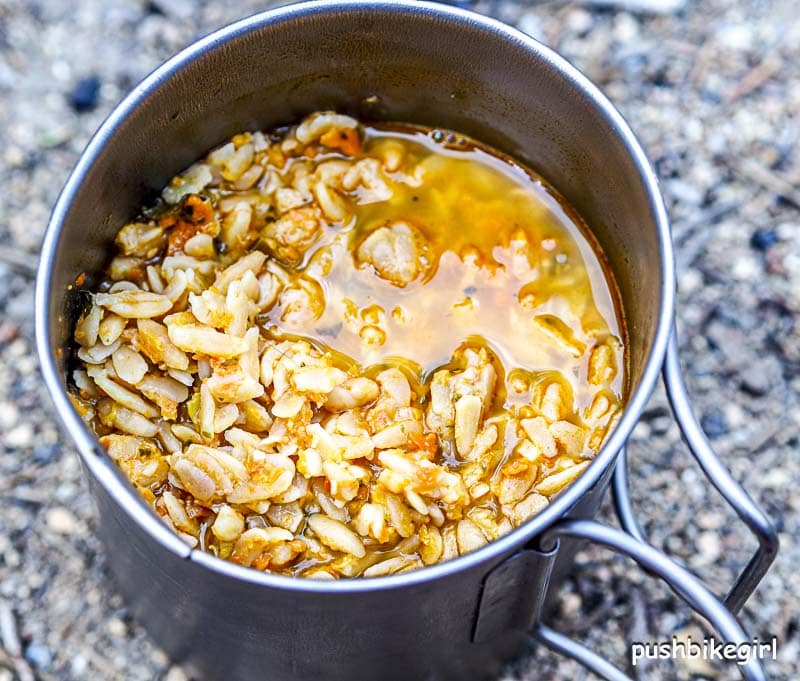 Generally, I always had tortillas in my pack, peanut or almond butter, cheese, ramen, which I mixed with gorgonzola and then ate for breakfast.
Whenever possible I bought dates and nuts, garlic, oatmeal, raisins, tuna in foil packaging and energy bars.
Every evening I hung my food from a high branch to protect it from the bears.
It would have been too bad if there was nothing left the next morning, or if the bear had stumbled into my tent to see what I had to offer.
One night I had a sweet little mouse under the tarp, who looked at me with her big brown eyes completely horrified, until I set it free.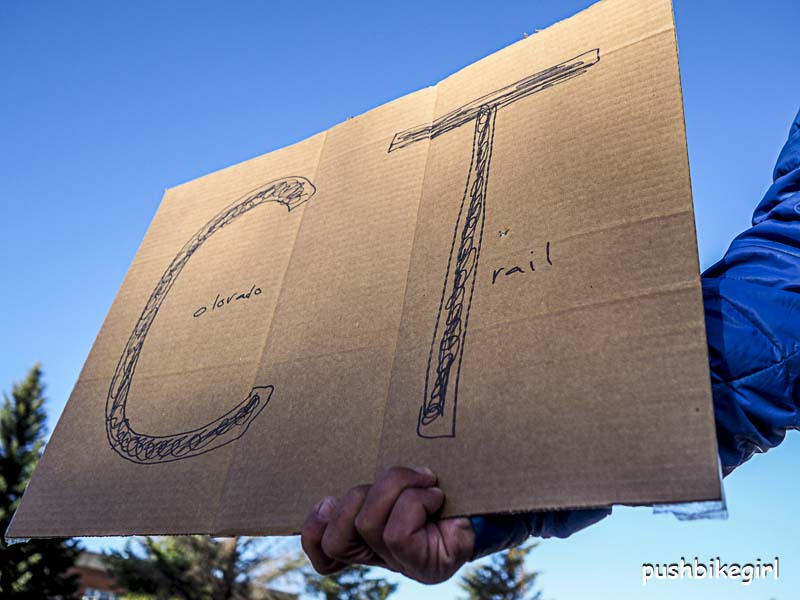 The small towns, which you have to visit to resupply, can only be reached by hitchhiking.
Because of Covid-19 it sometimes took a little bit longer until I got a ride. But in the end, it was never really a problem. I often met very interesting people.
I was mainly picked up by elderly men travelling alone, who always drove me much further than they were going.
It is interesting to see how a woman alone has huge advantages, because it seems to awaken the protective instinct in the men, which is certainly less likely for a hitchhiking man.
In some places the locals were used to the thru-hikers and that made it far easier. There was once even a sheriff who drove us to the trail.
Leadville, was a cute small town with a hostel where we spent some time. It was a great place to take pictures, relax and meet other hikers, because everybody came here to resupply.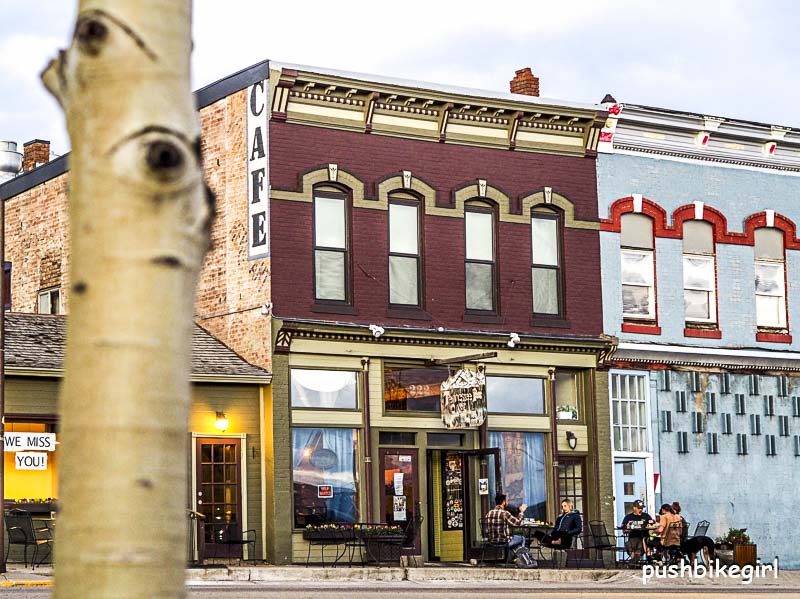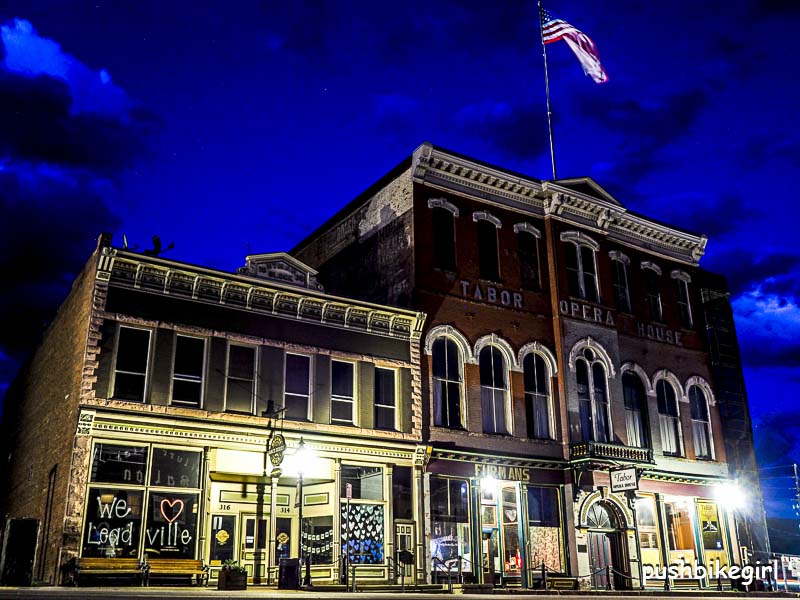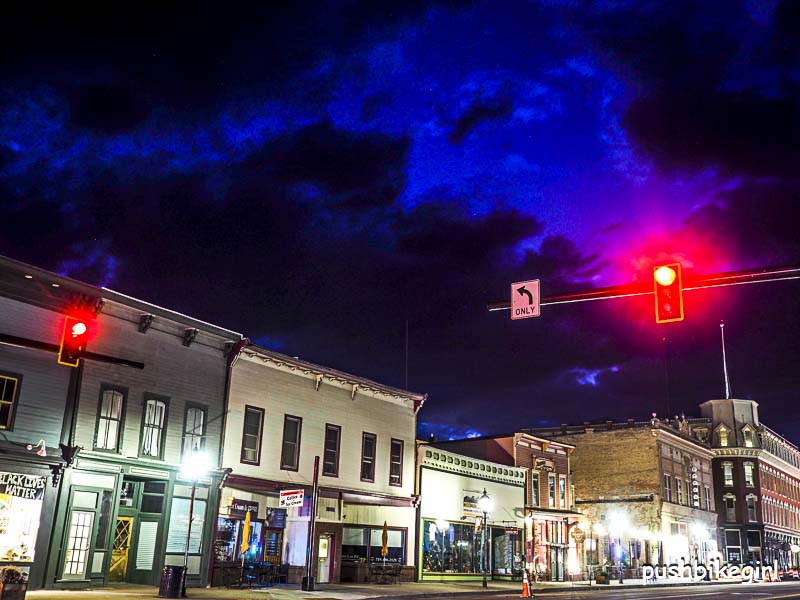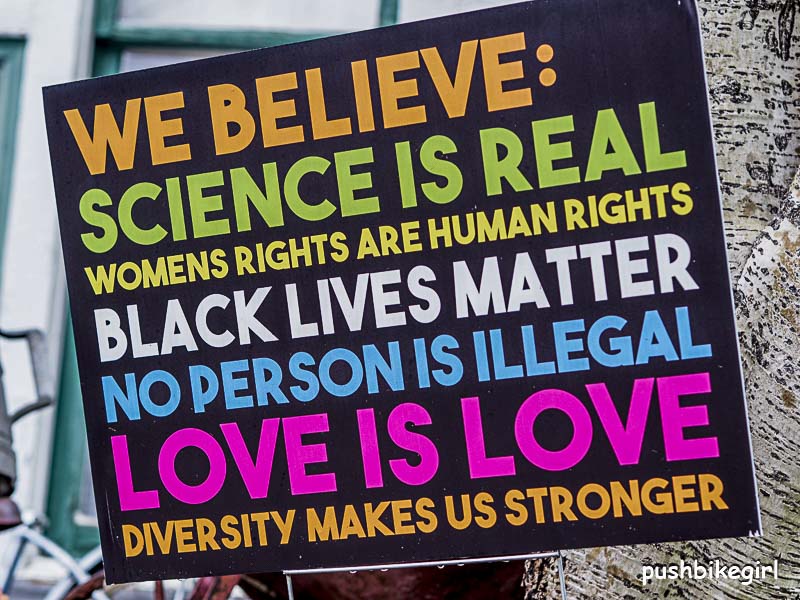 Because of Covid-19 there was many more people on the trail this year than usual.
The other big trails were partly closed, many lost their jobs or they just wanted to escape the virus or couldn't stand the news any longer and just wanted to have their peace.
Usually there are a few hundred thru-hikers who hike the trail every year. This year there are almost 10 times as many. Which is not to say it was crowded.
The vastness of Colorado has room for everyone, so I enjoyed meeting about 5 to 10 hikers a day rather than thinking that this is too overcrowded for me.
Some walked northbound, starting in Durango, but most hiked southbound, like us who started in Denver, and still others hiked the entire Continental Divide Trail, which starts at the Mexican border and ends at the Canadian border, sharing 313 miles with the Colorado Trail.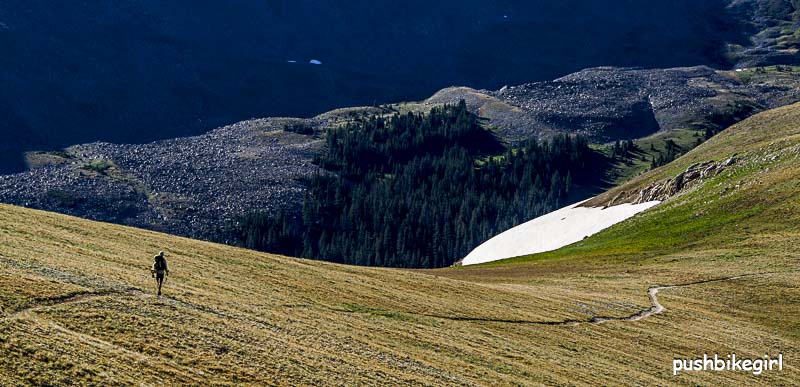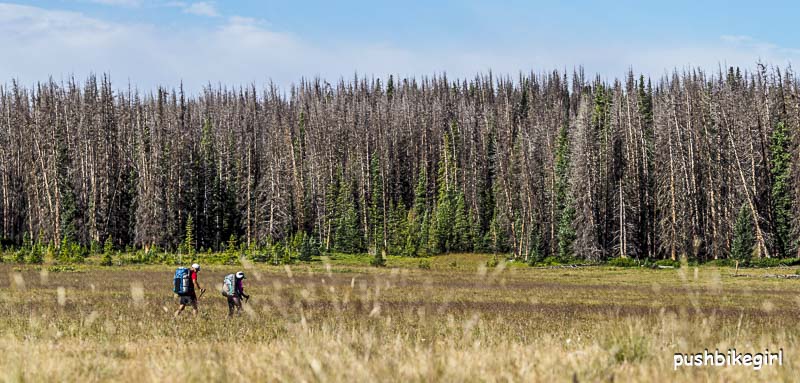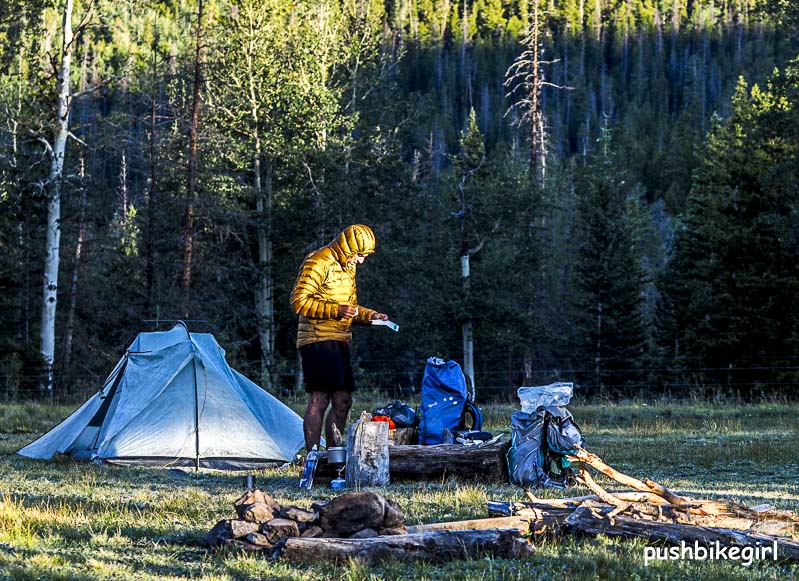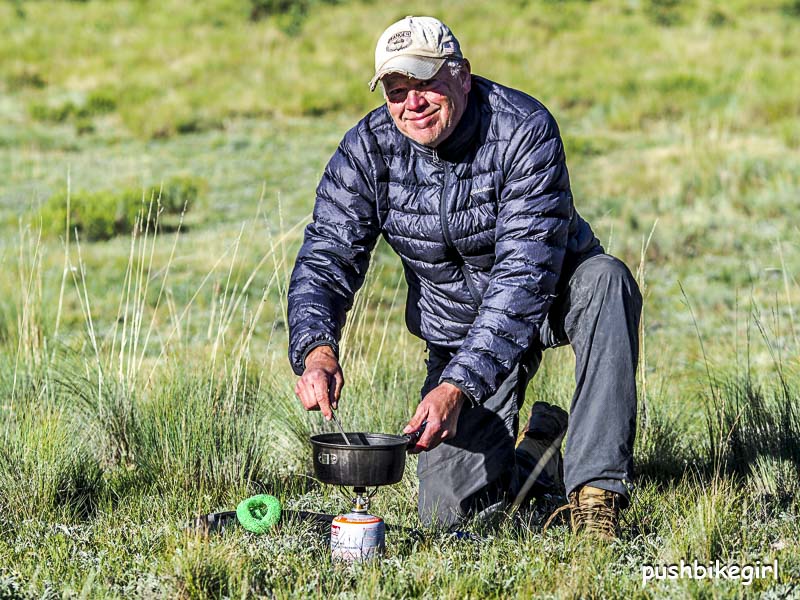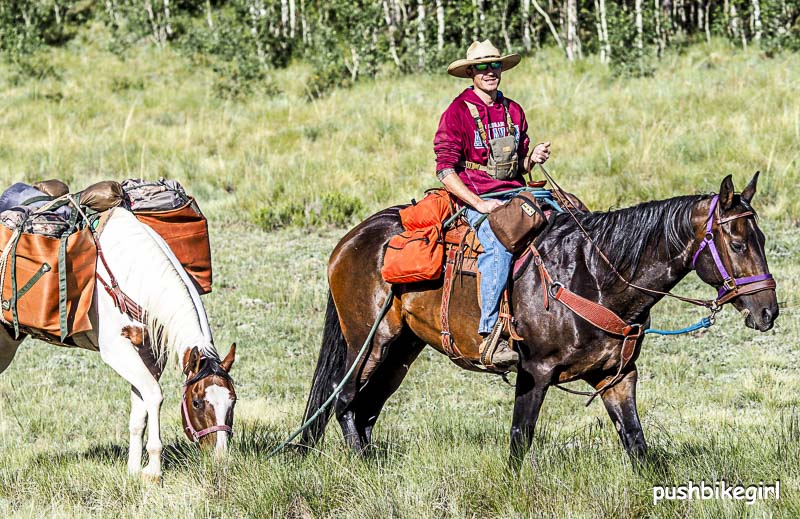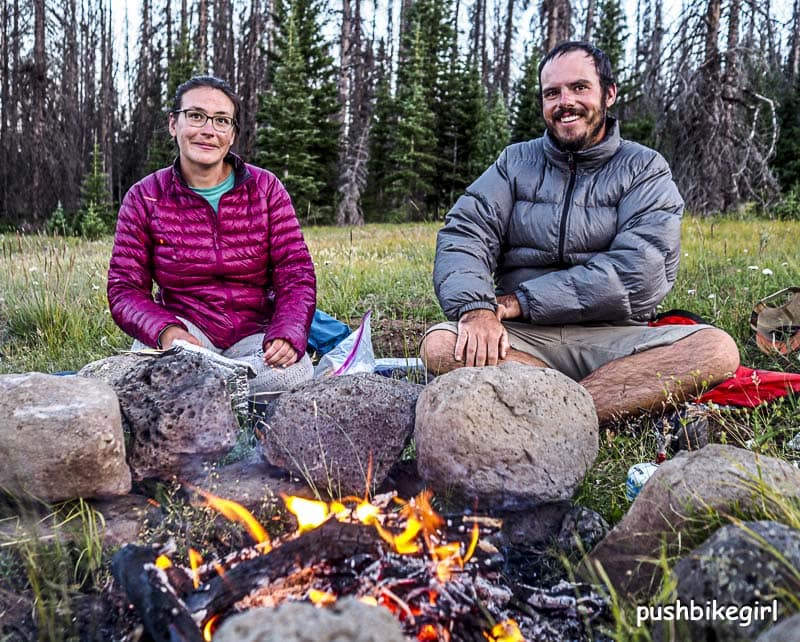 Surely some of you have heard of the trail names that other hikers have given each other.
Someone will introduce himself to you with the name Moose Poop or Big Money, Packman or Salty and many others. Nobody has given me a name and I am not really sad about that.
It was cold, windy and often very wet. That made the trail a bit difficult and less comfortable.
Especially the thunderstorms were scary. Being above tree line and totally exposed to the elements is not really fun.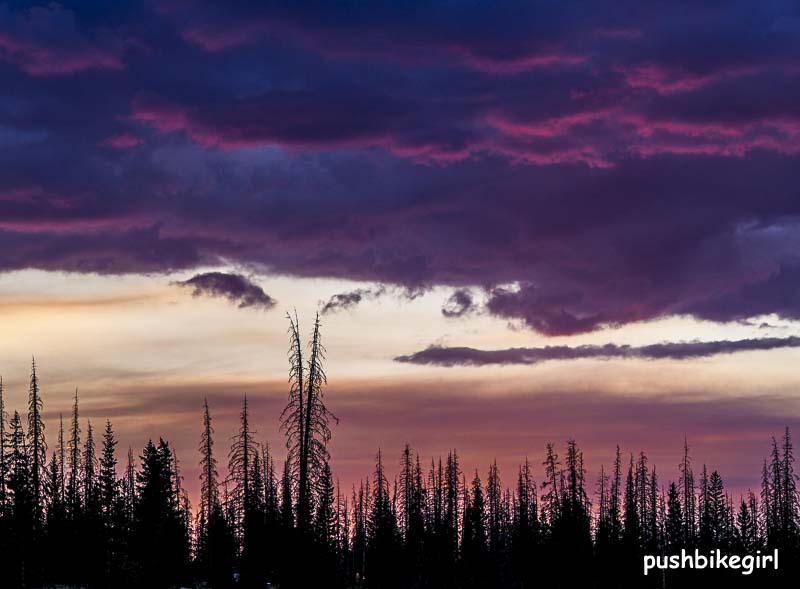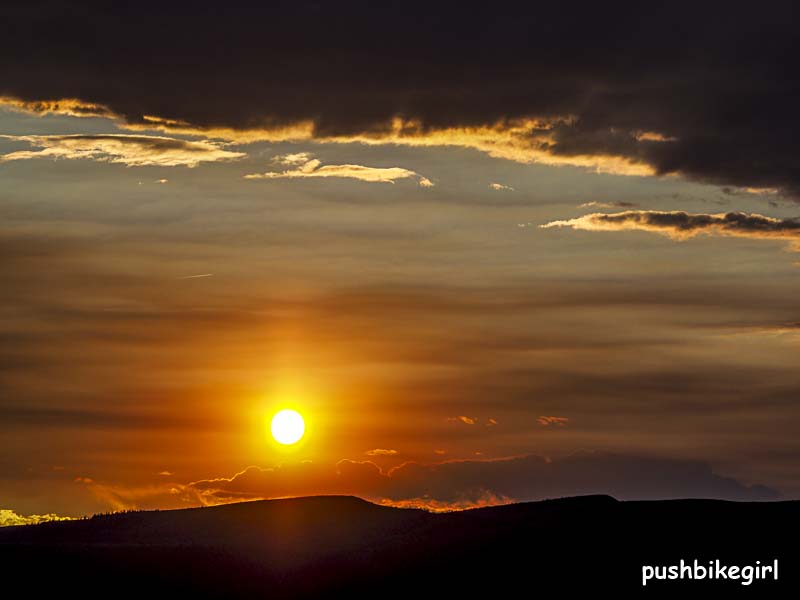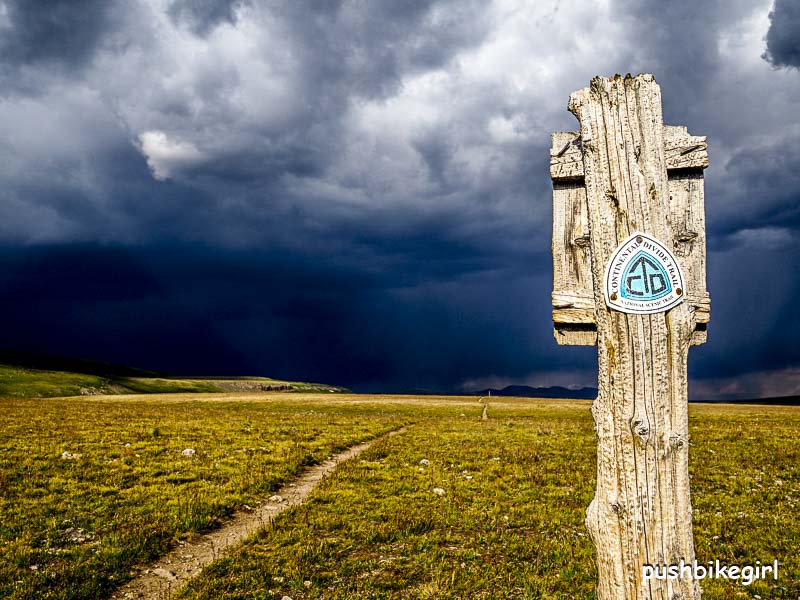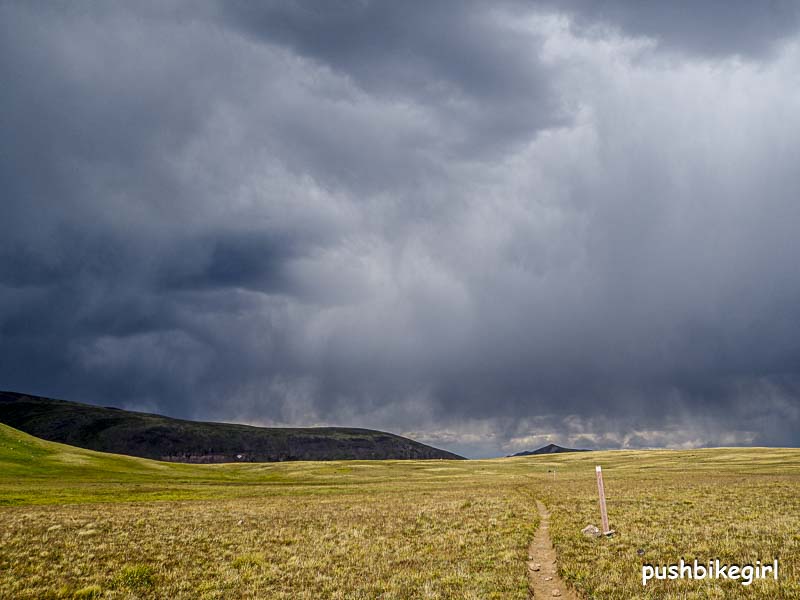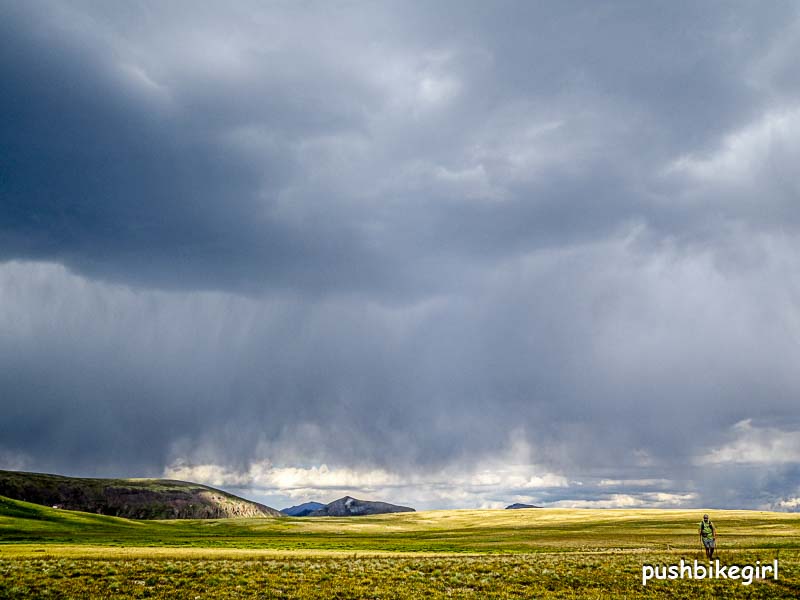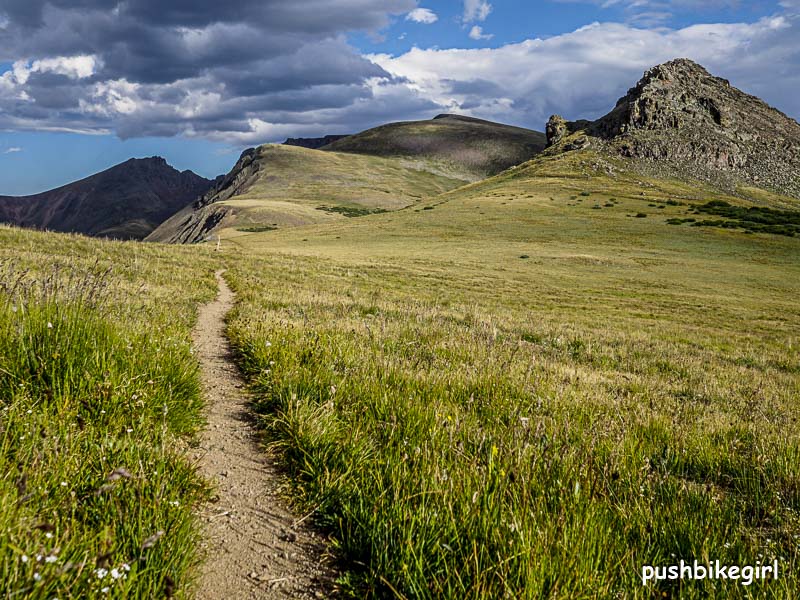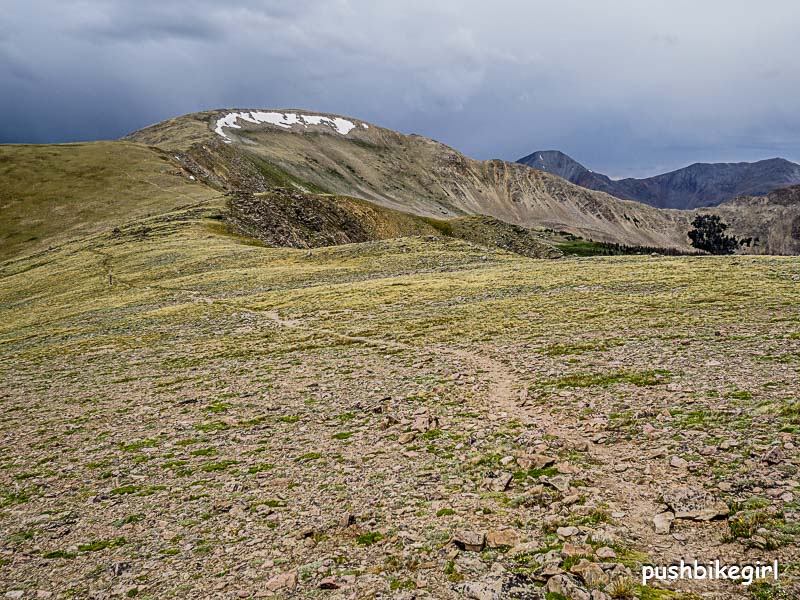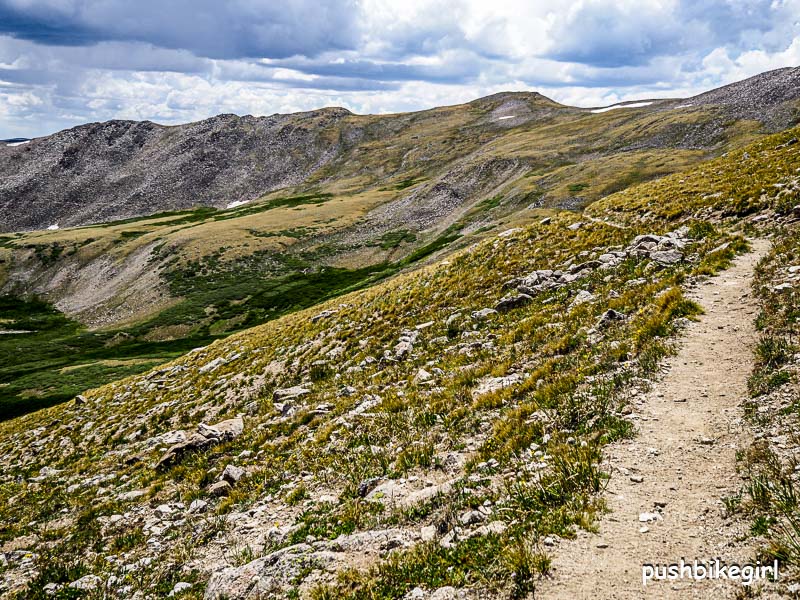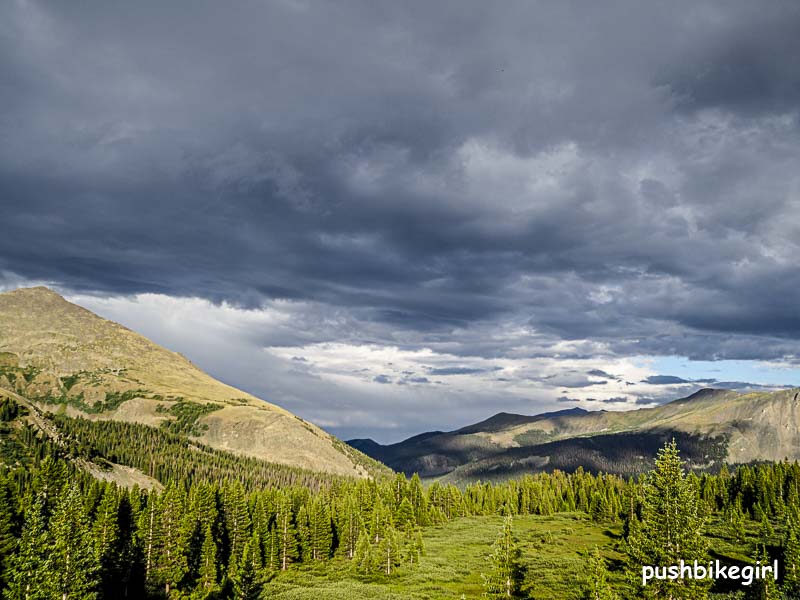 Twice I ran down the mountain to get to a safer area. Each time I was surprised to see other hikers from afar, who were just going up the ridge.
No idea what they were thinking, while there was lightning and thunder around them and the world was about to end.
The good thing was that the thunderstorms were usually over quickly.
It hailed on me 10 times. For about a week my tent was totally frozen in the morning. I often wore all my clothes while in my sleeping bag, to avoid waking up at the coldest time of the night at 4am.
Otherwise I would freeze my butt off waiting for the sun to finally rise.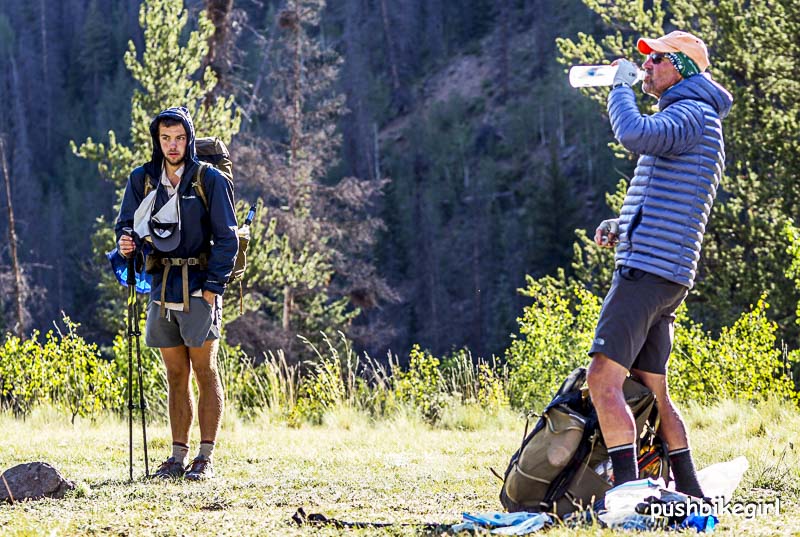 So, it was all the more amazing that, as so often in the US, the Americans started off in the morning with shorts and T-shirt.
I also met some who didn't have long pants with them at all, because they wanted to have as little as possible to carry in their backpack.
The USA is short pants country – apparently the people here feel the cold less. Not only the men, also the women. I wish I was like that!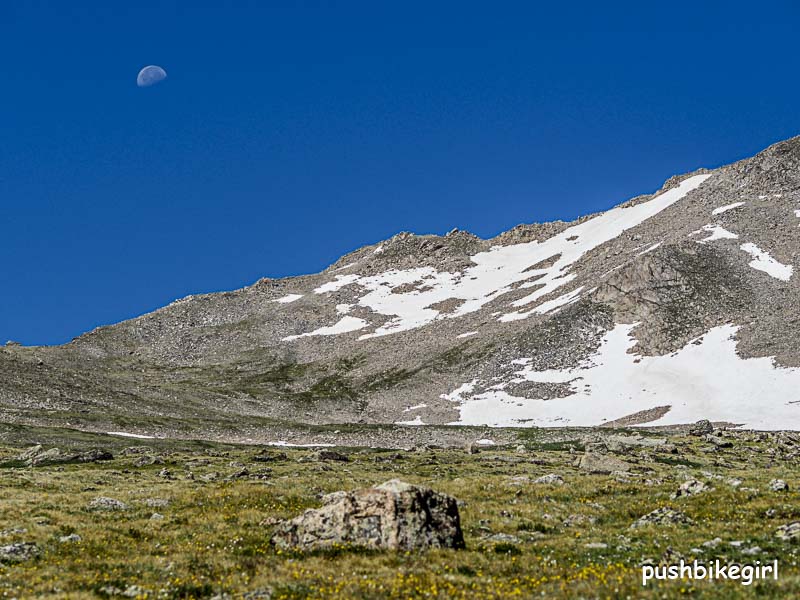 There are some 14'ers along the way, as the Americans call their 14,000 feet mountains. That's mountains over 4,200 meters. I tackled three of them.
The first one was Mt.Massive, which with 14.429 feet is the third highest mountain of the lower 48 states.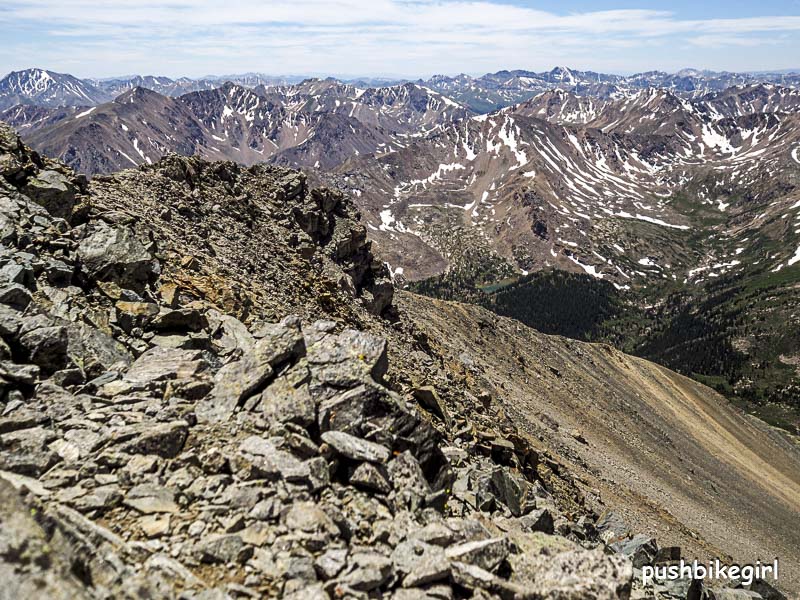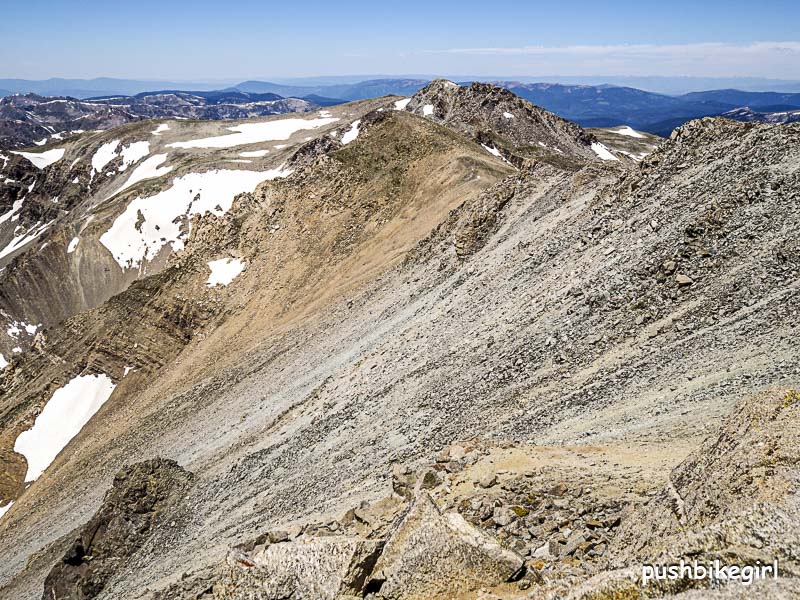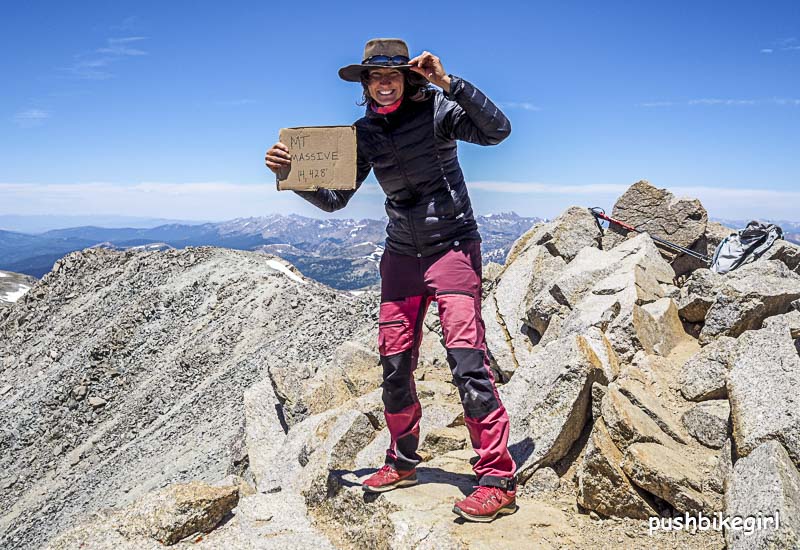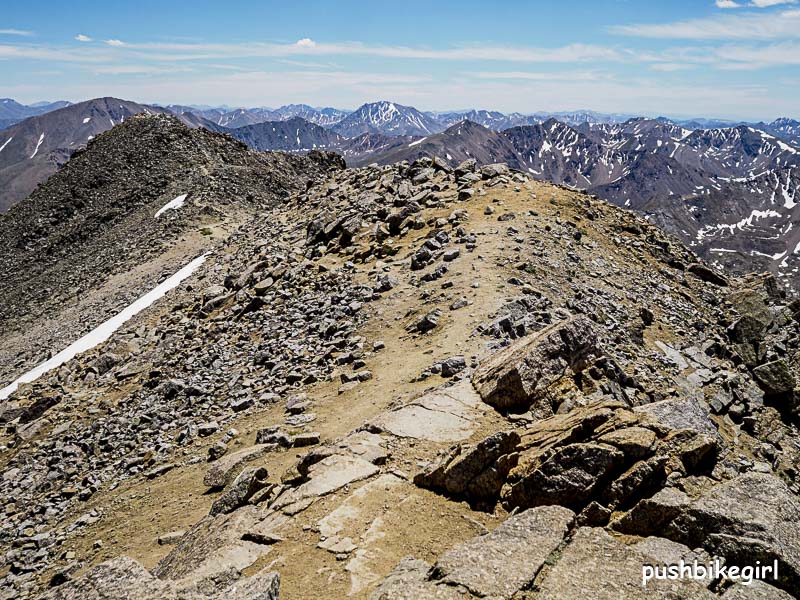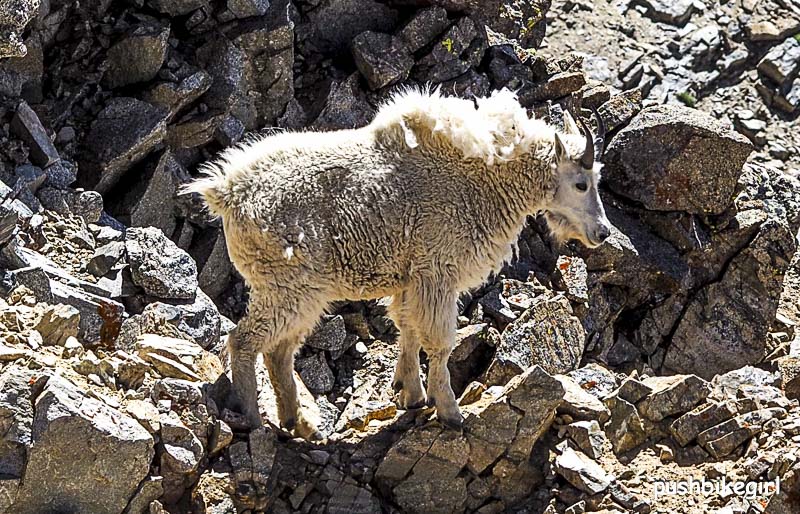 It was a long hike and not much air to breathe, but in the end, I had a great time up there!
The view was sensational and the people with whom I shared the highest point of the area were all in a good mood!
A lady asked me: "How many 14'ers have you climbed?" "This is my first" I smiled at her.
"Oh, Mt. Massive is my 35th 14'er." And she told me that she wants to have climbed all 58 of them by the end of the year.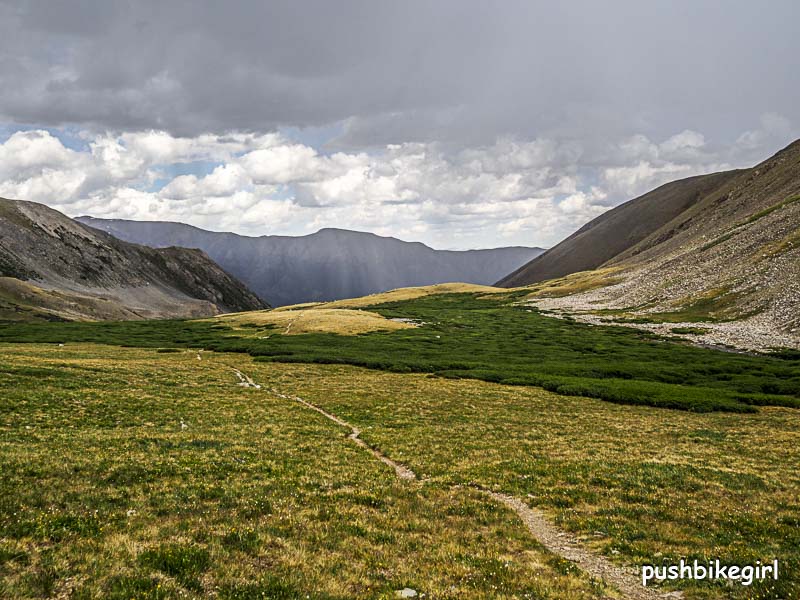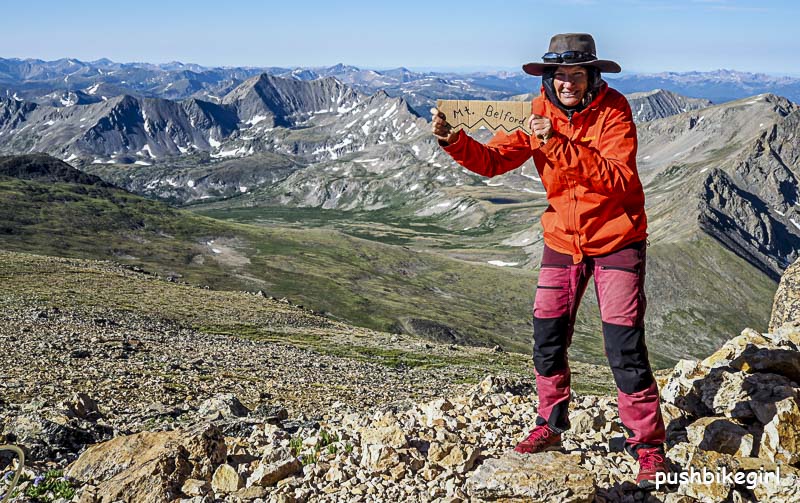 Next, I tackled Mt. Belford 14,203 and Mt. Missouri 14,075, which were very close to each other, so I mastered them both in one day.
The temps were cold, hail and storms accompanied my night at the foot of the two mountains and on both my ascents and descents.
And I have to say, in the end I was completely exhausted and hitchhiked to Leadville to be pampered by Harry, who stayed there in the hostel and worked for a short time in a pizzeria.
All in all, a great experience and an enrichment of my time on the trail!
Especially since the access to the three mountains is right off the trail and therefore, I only had to take extra provisions, but otherwise I didn't have to make any further arrangements.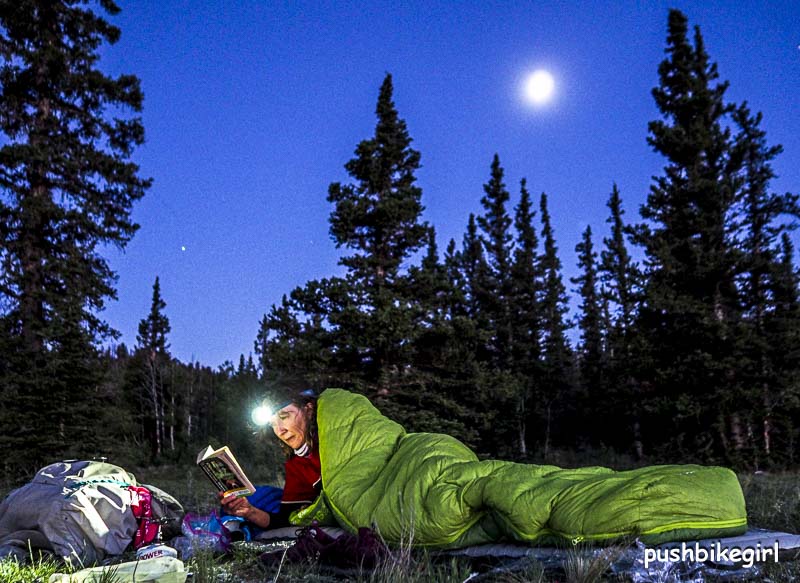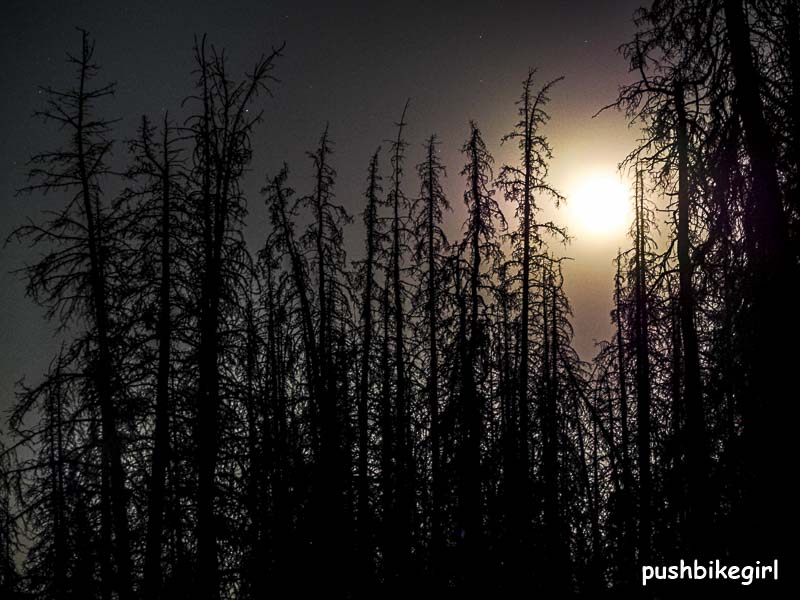 Because of the bad weather it was seldom possible to look at the stars and therefore I only cowboy camped twice. (Camping without a tent). But at 4 o'clock in the morning I wrapped my tarp around my sleeping bag to not freeze to death.
The Milky Way was sensational to see on both evenings and I must say, the starry sky in a wilderness area where there is no light pollution is simply one of the most magnificent things you can see.
Especially as the coyotes howled and made the experience all that much better.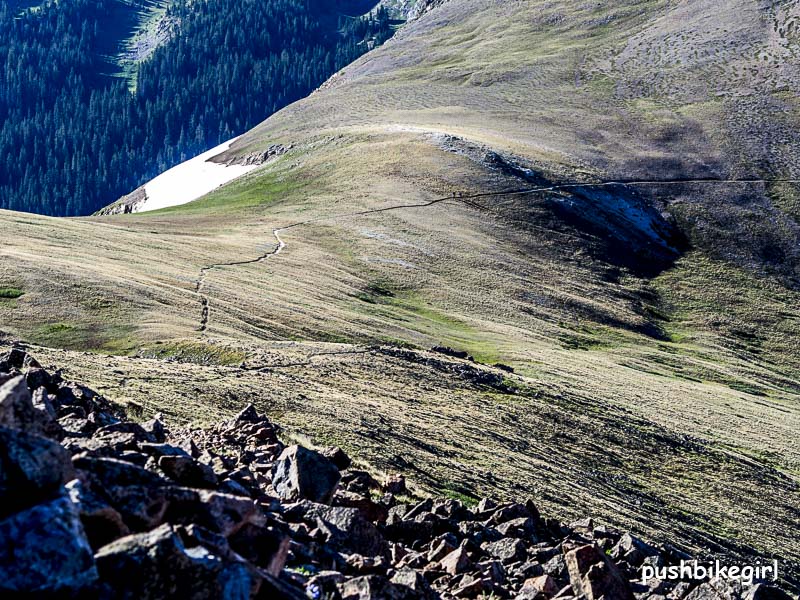 At Cottonwood Pass, in the Western Collegiates, I couldn't believe how loud the traffic was.
Coming from the wilderness, where even bicycles are not allowed, a pass road is incredibly noisy and hard to bear.
We always talk about air pollution, but noise pollution doesn't seem to be a topic.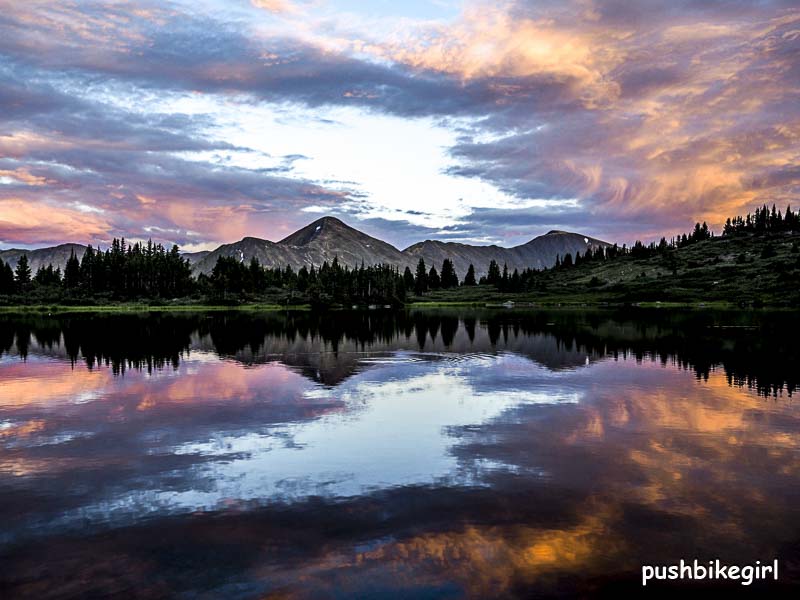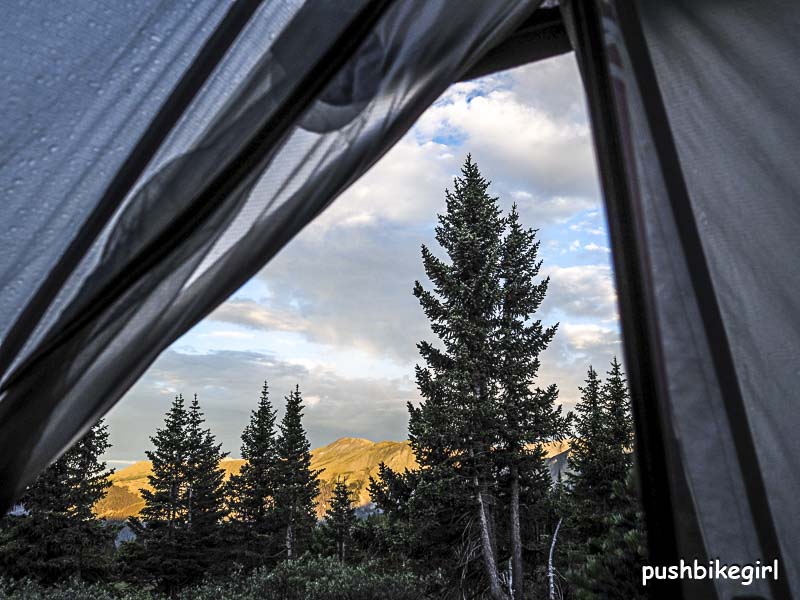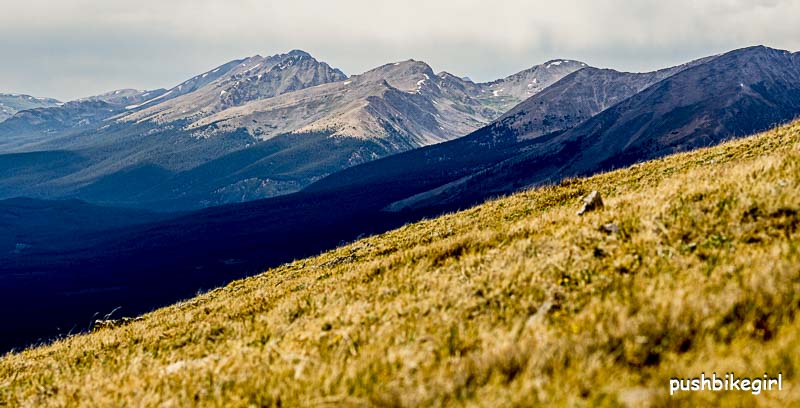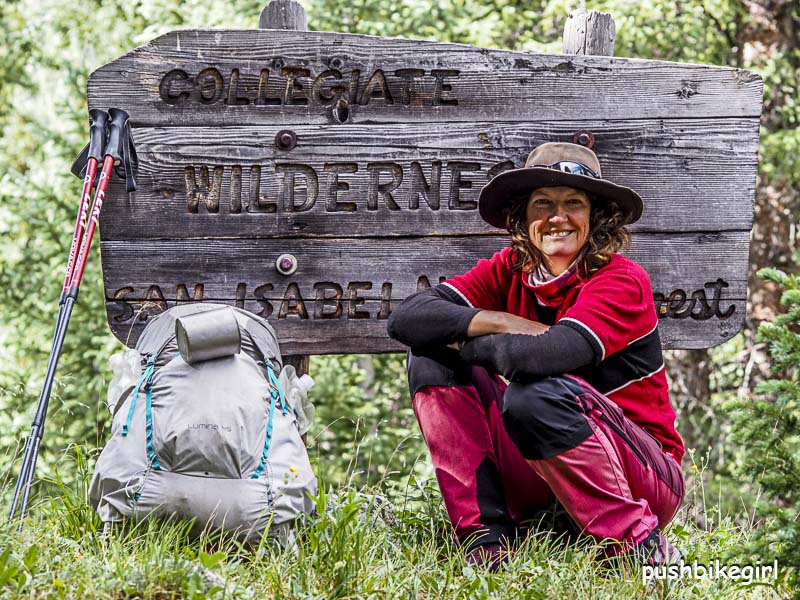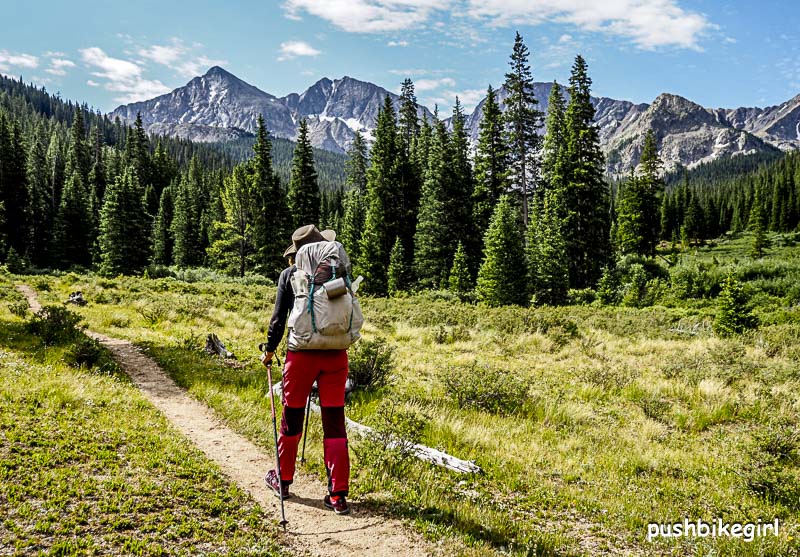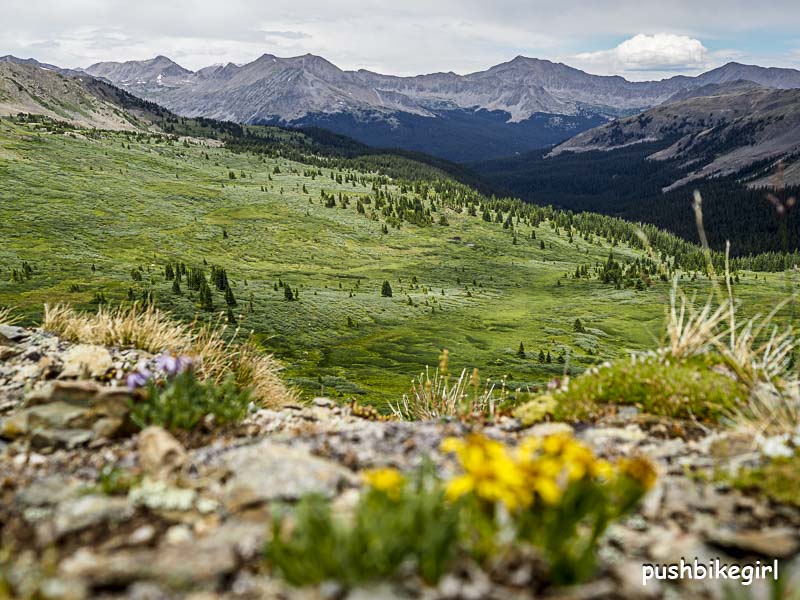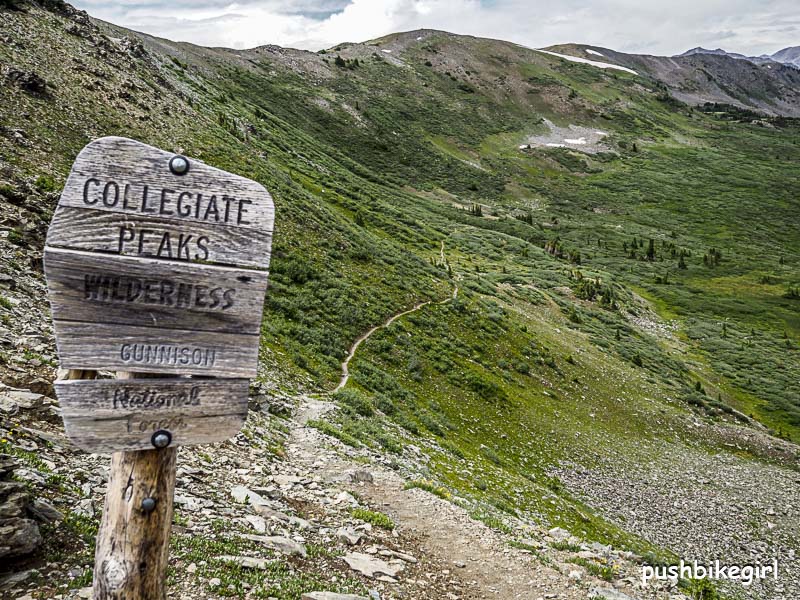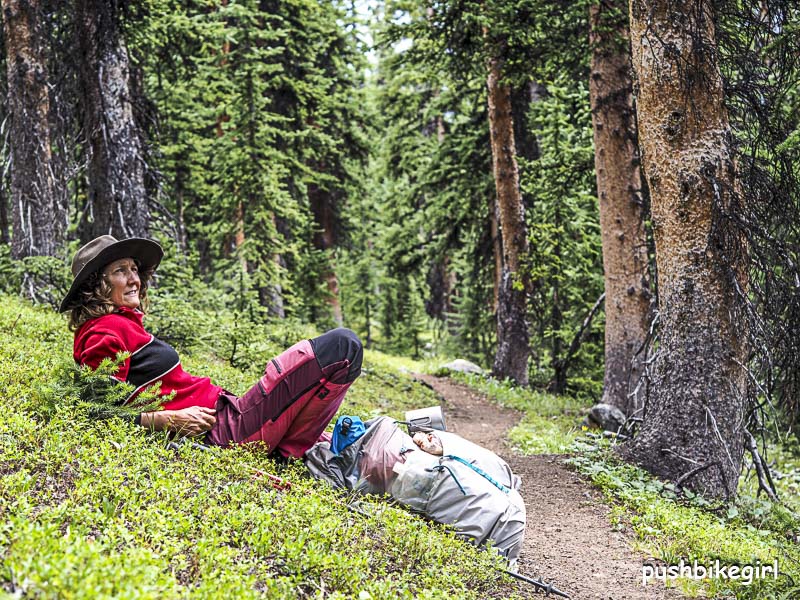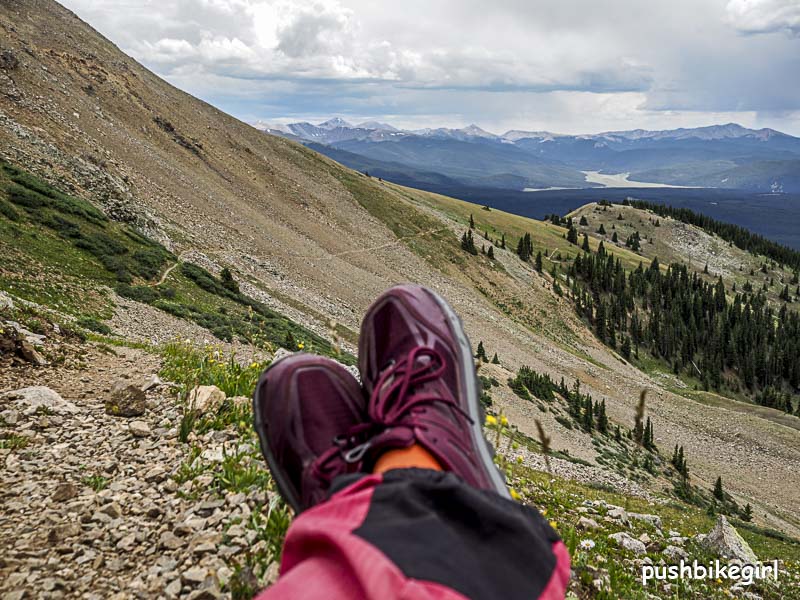 Climate change is also visible in Colorado. For about 100 miles, (160 kilometers) I walked past dead pine trees. Trees killed by the pine bark beetle, falling over in disarray and turning the forest into a graveyard.
From my point of view these dead pine trees are the biggest danger on the trail. Neither the bear nor the mountain lion, which I never saw, frightened me.
But for sure, the pine trees, which during the many storms I experienced, often fell close to my tent and woke me up in the night.
Whenever possible, I tried to avoid camping in the forest, because it was simply too scary for me.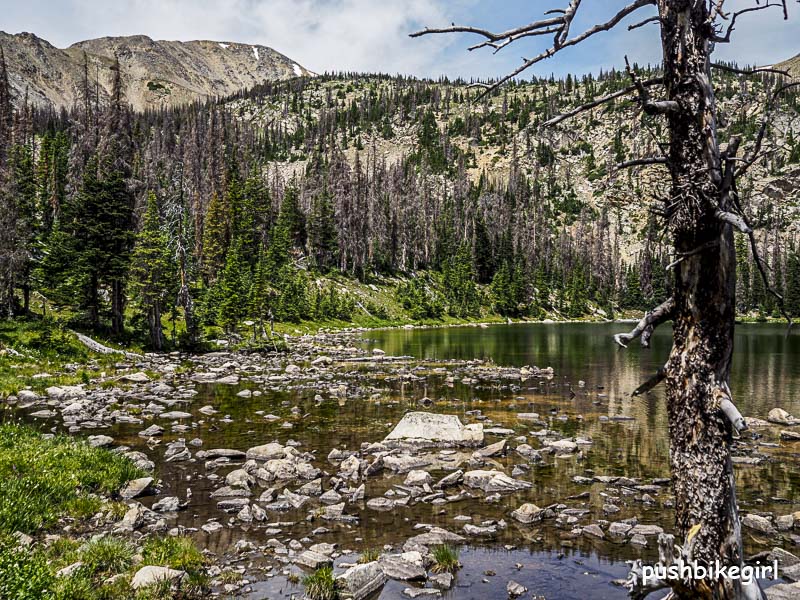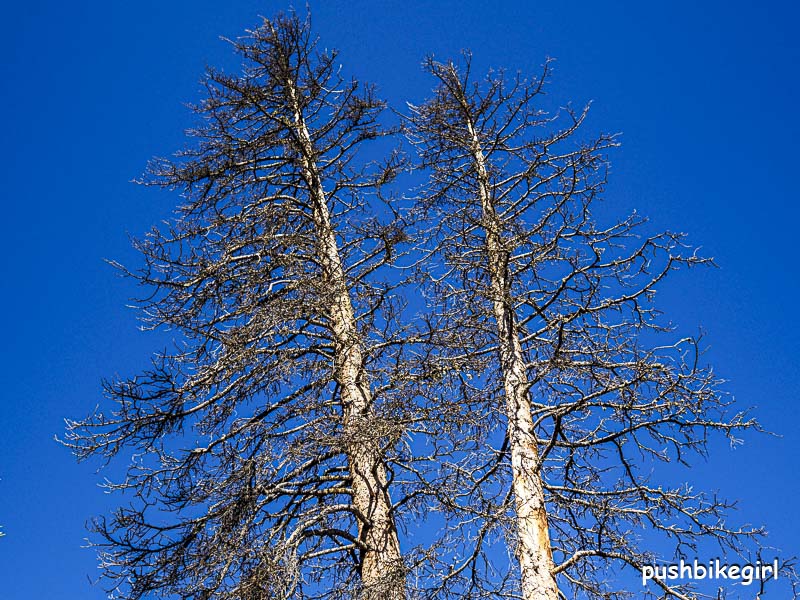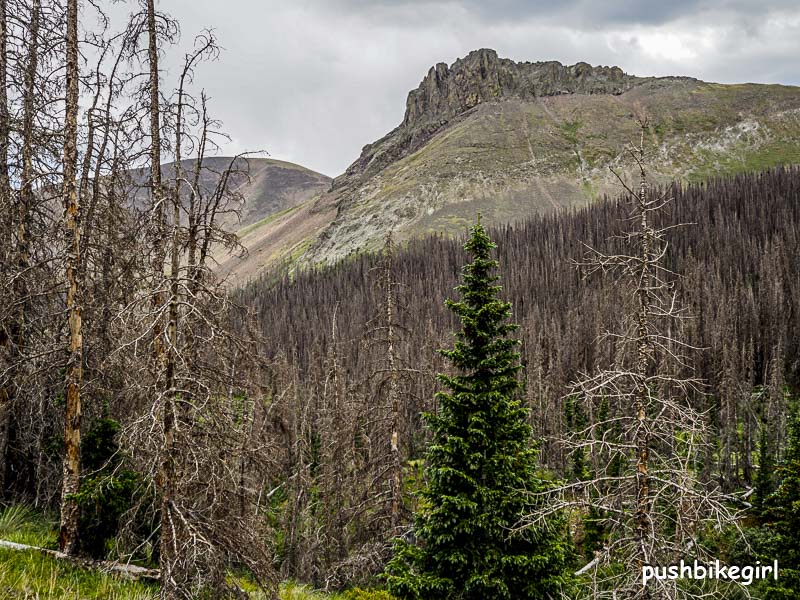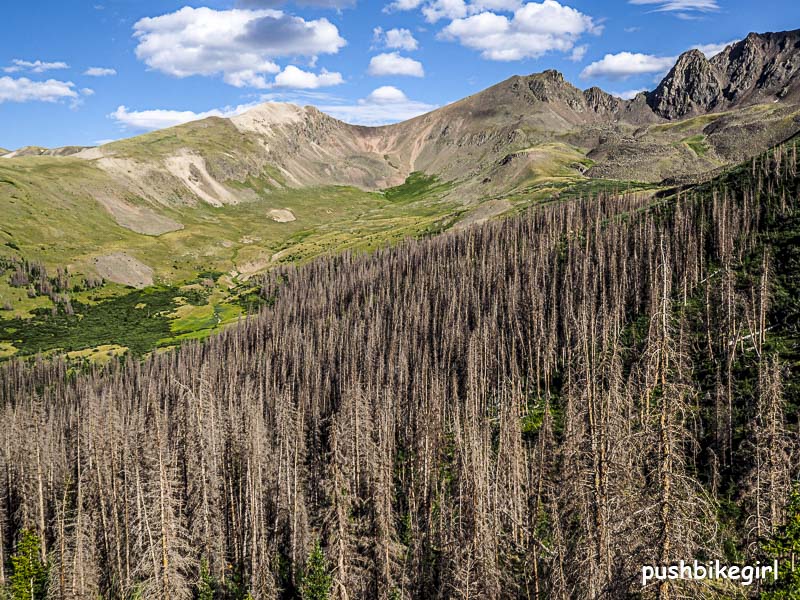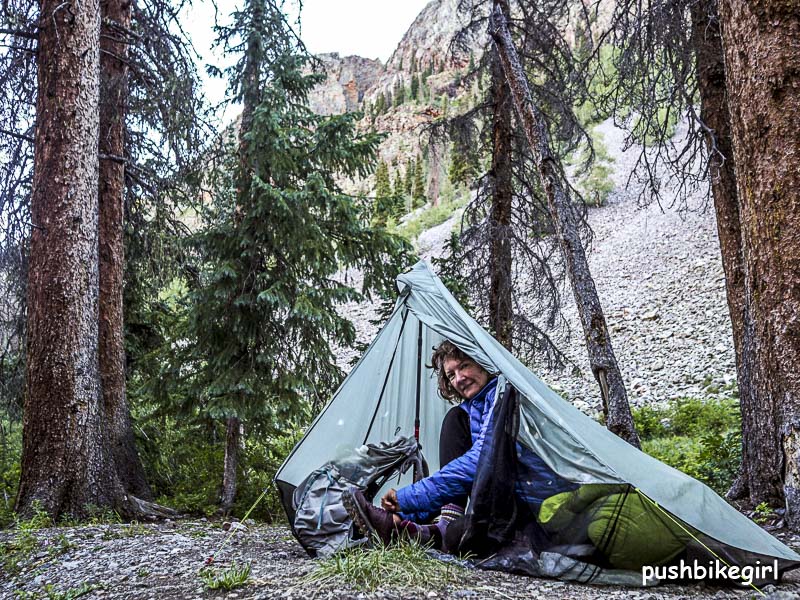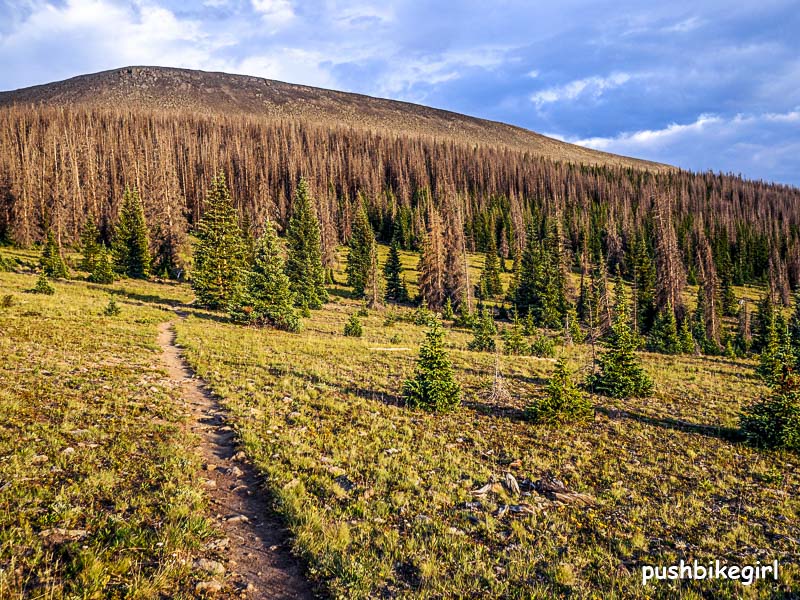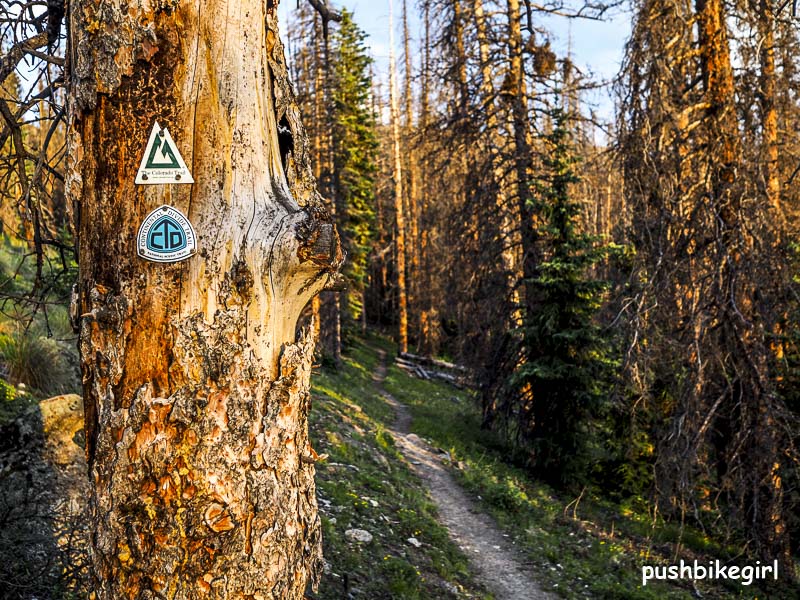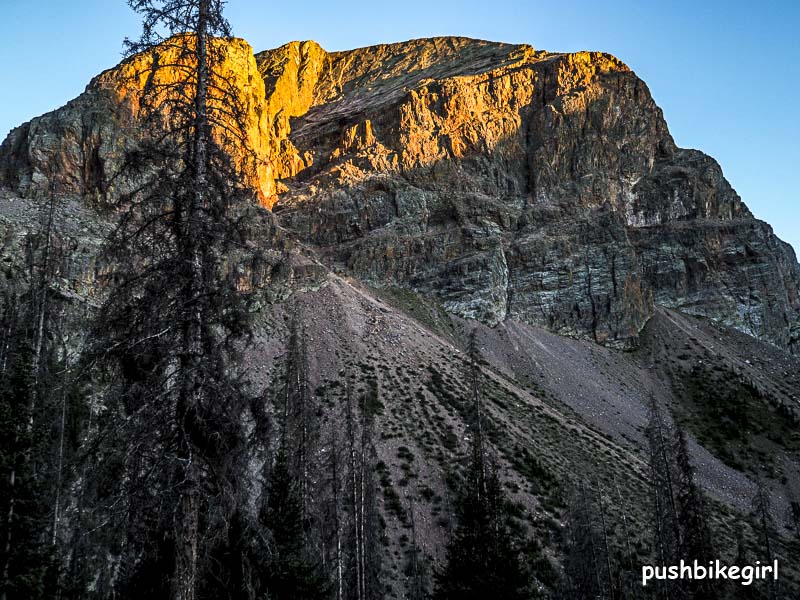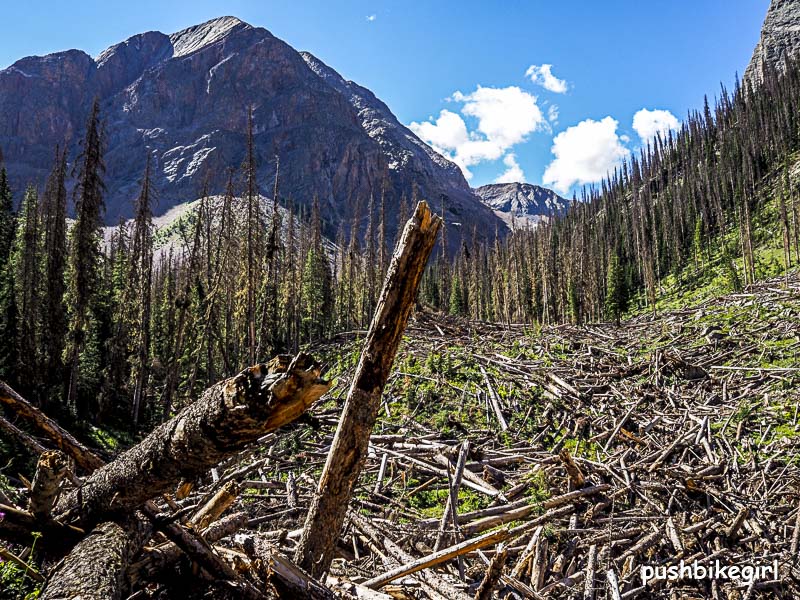 You can't get lost on the trail. It is well signposted, perfectly maintained and leaves nothing to be desired.
The logistics were very easy and I was proud of myself that I walked the trail to the end, because I still find it difficult to simply follow another person's idea without doing any planning myself and without bringing in my own ideas.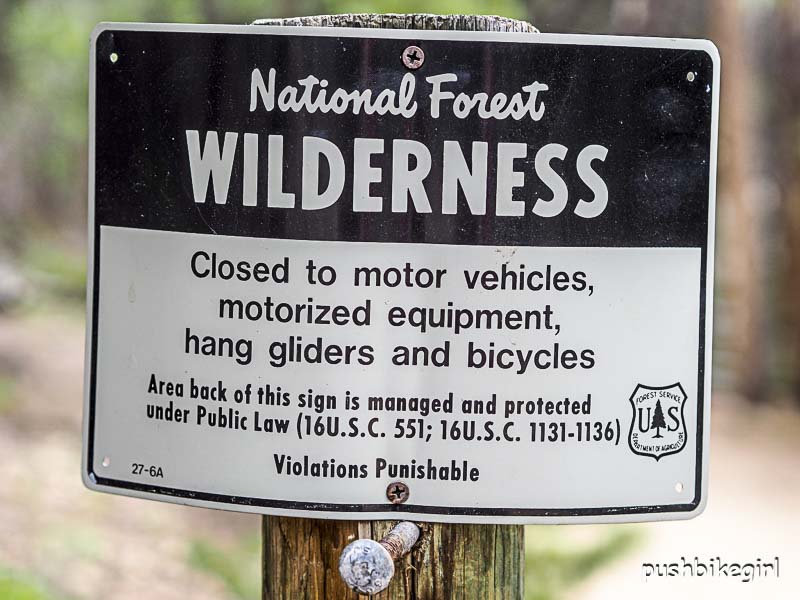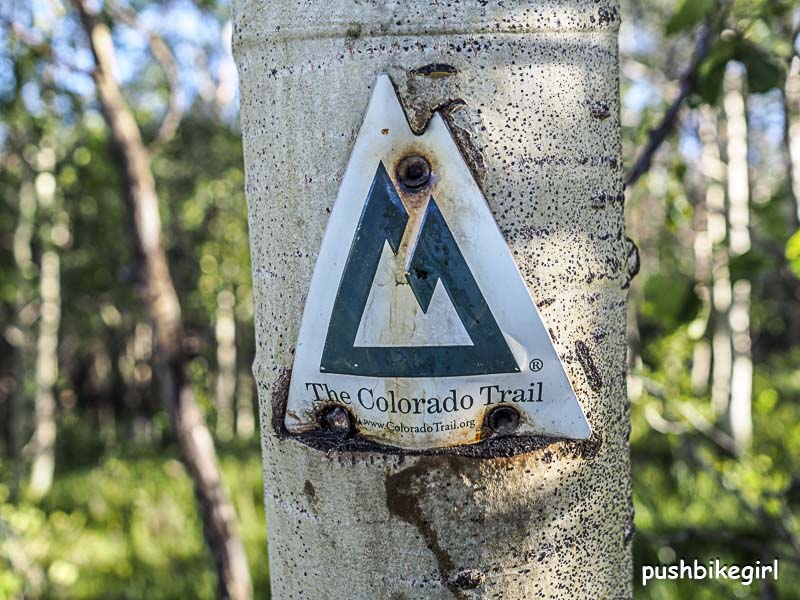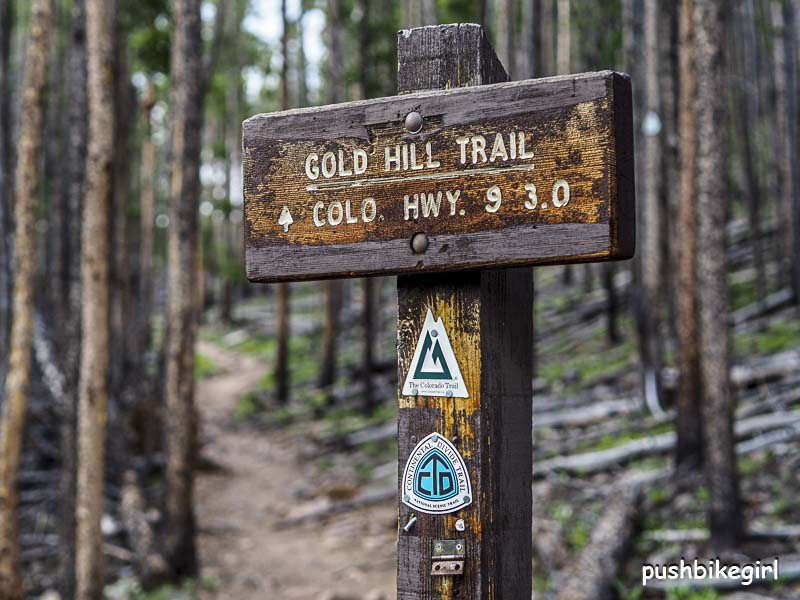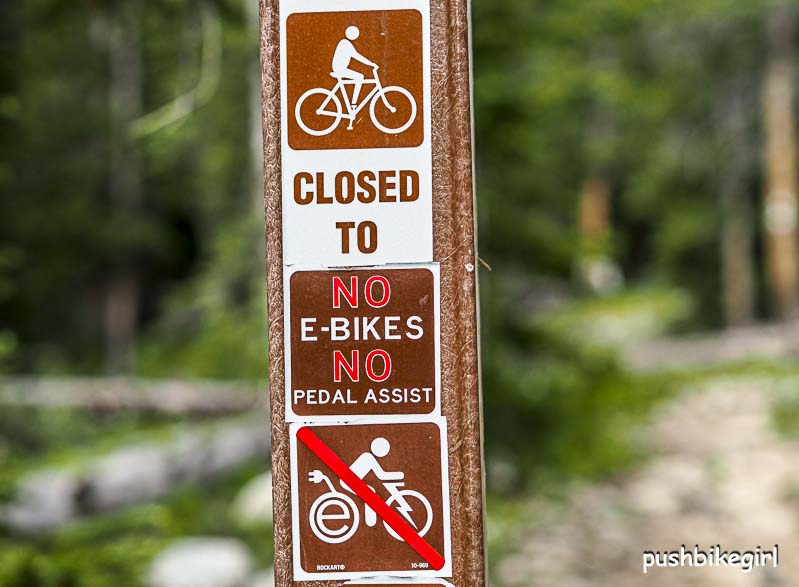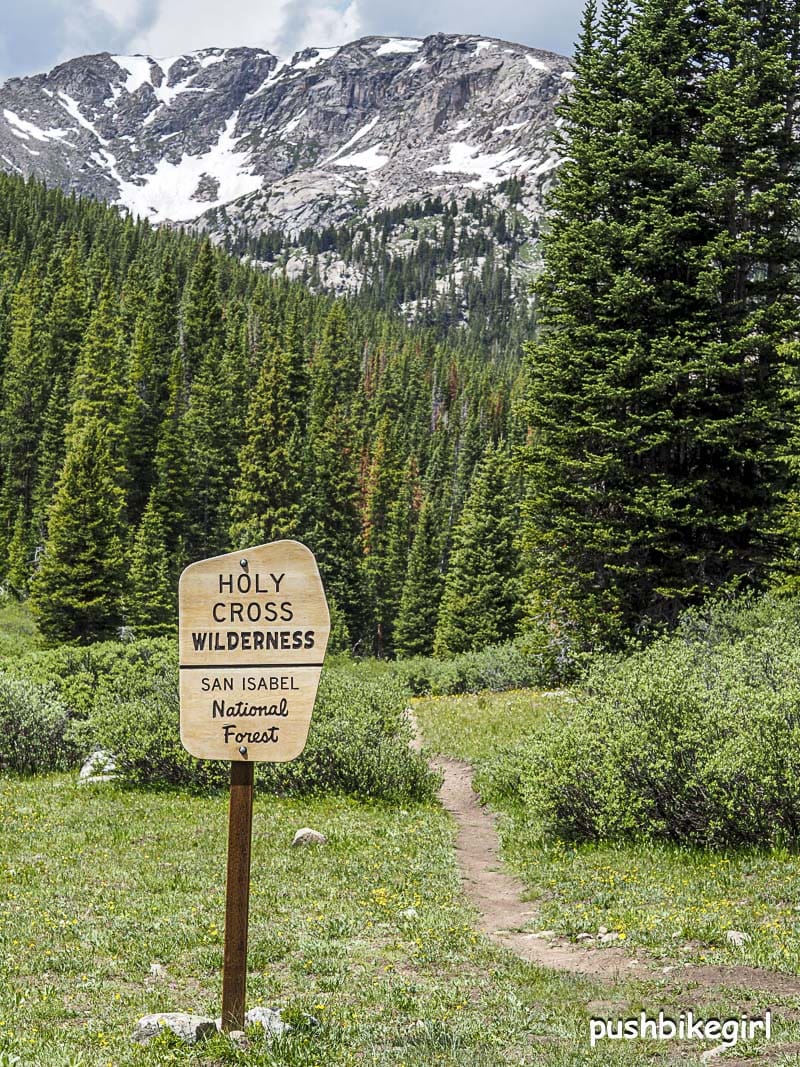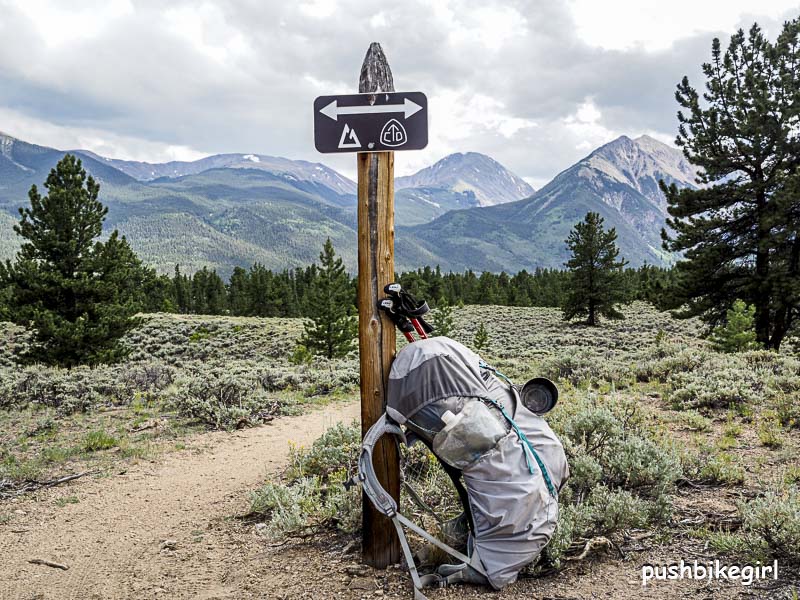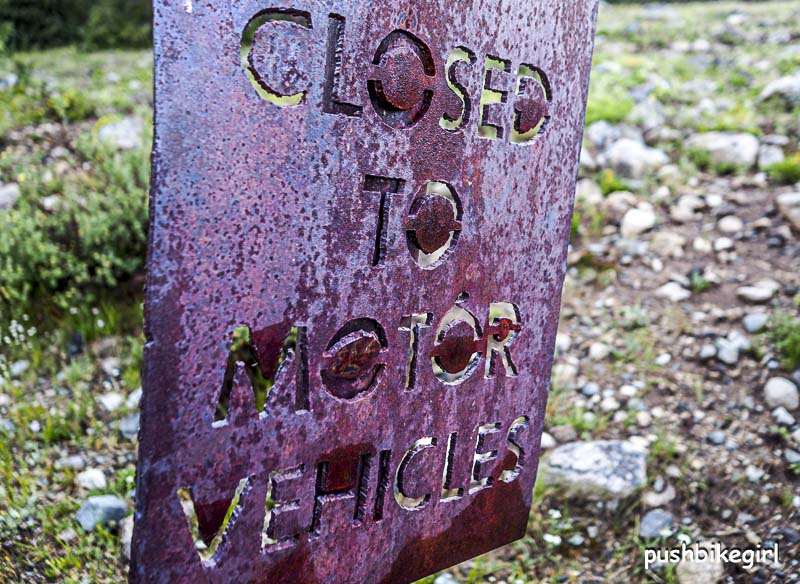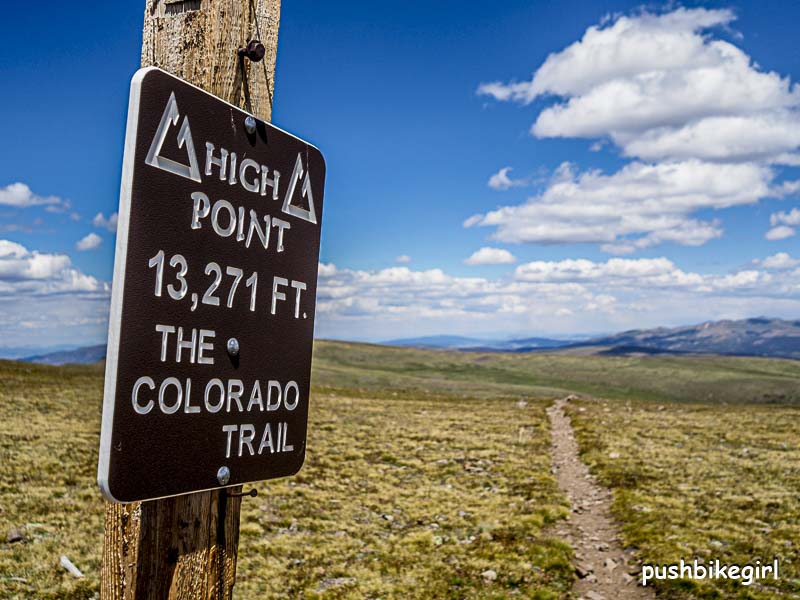 The Western Collegiates had superb scenery, but required a great effort and I bonked twice and just couldn't go on.
The legs and the whole body couldn't take it anymore and only after I ate some energy bars and took a break for a while, I could slowly recover.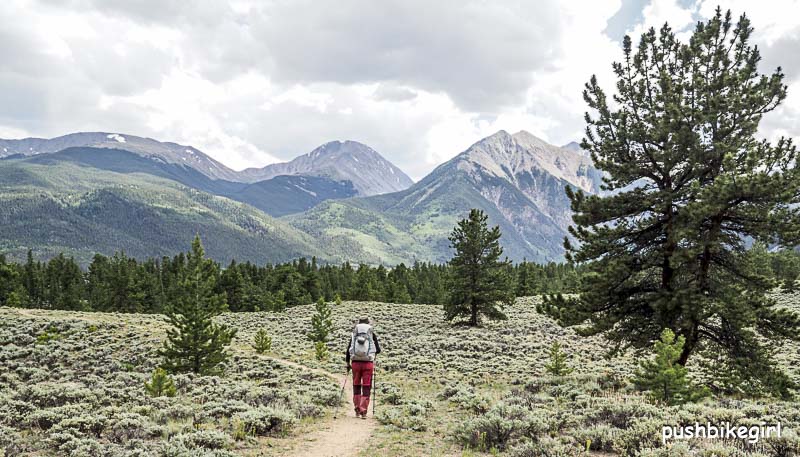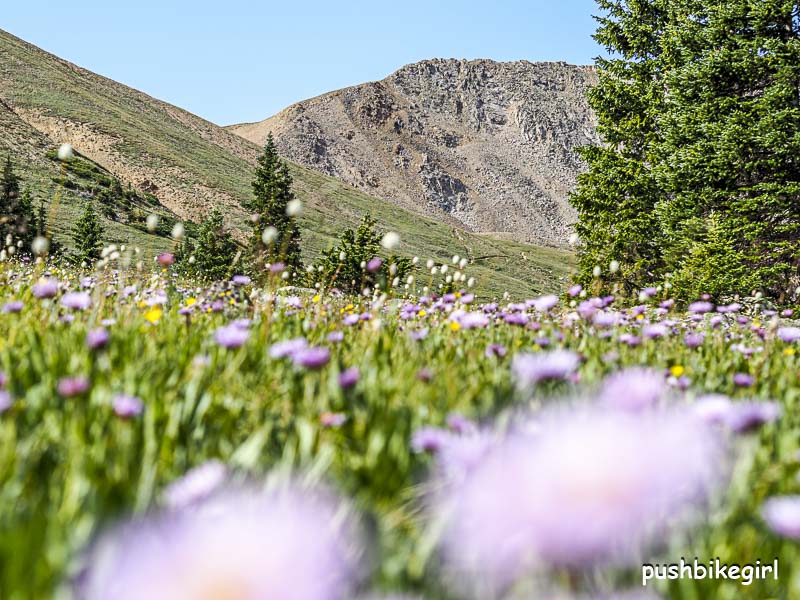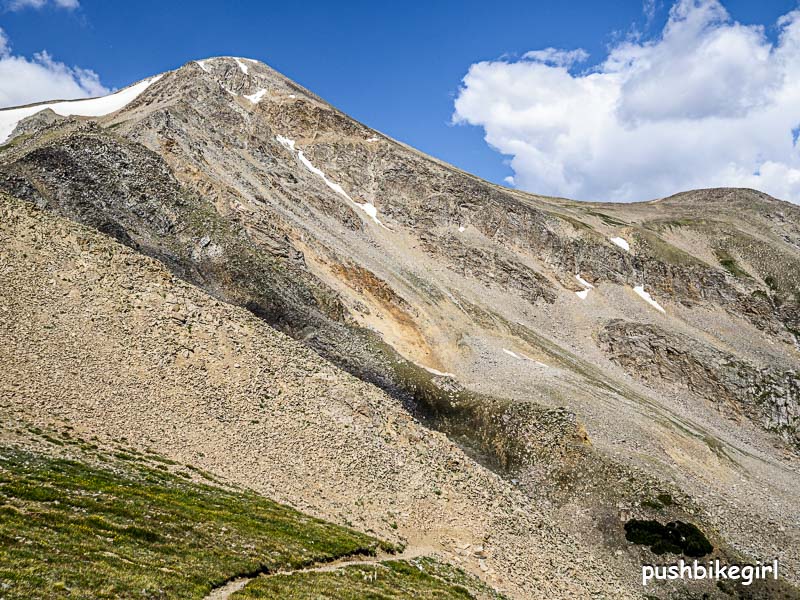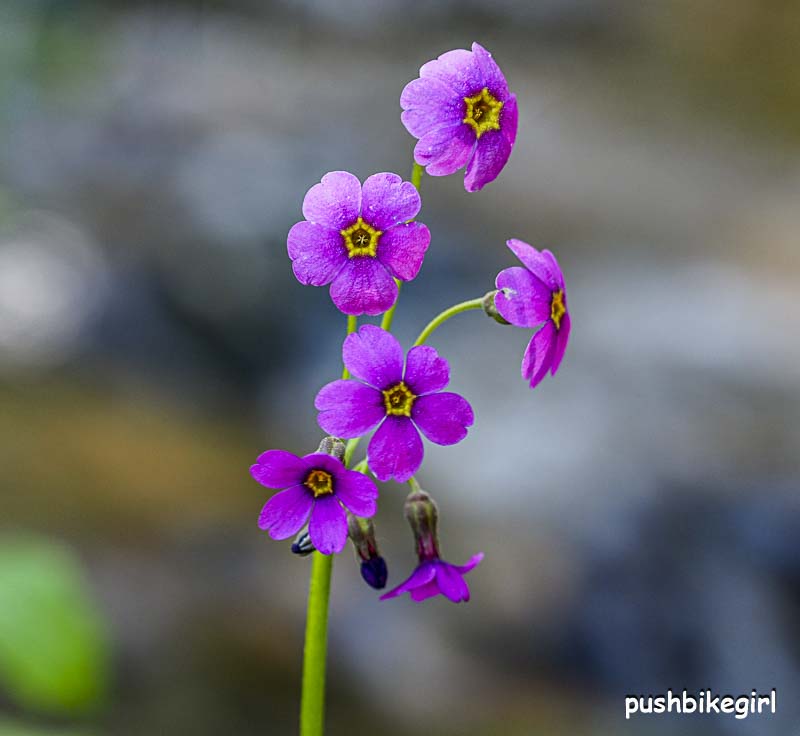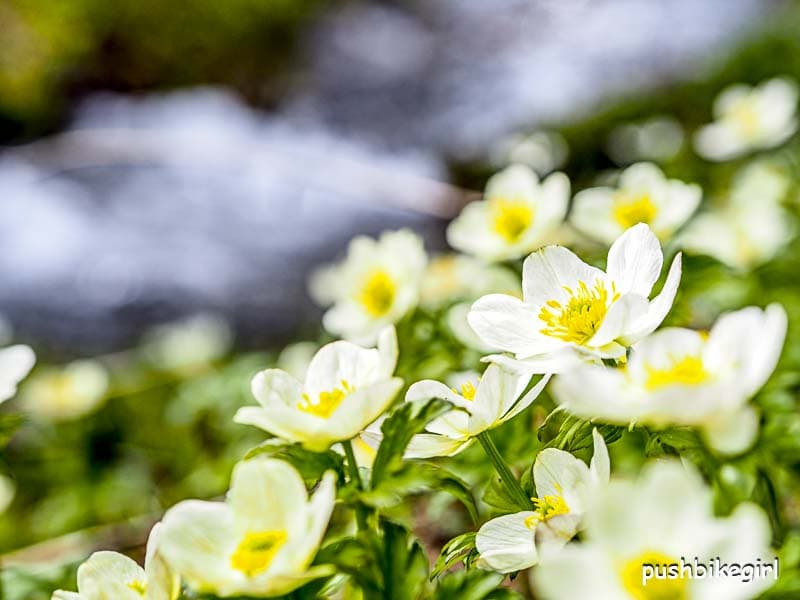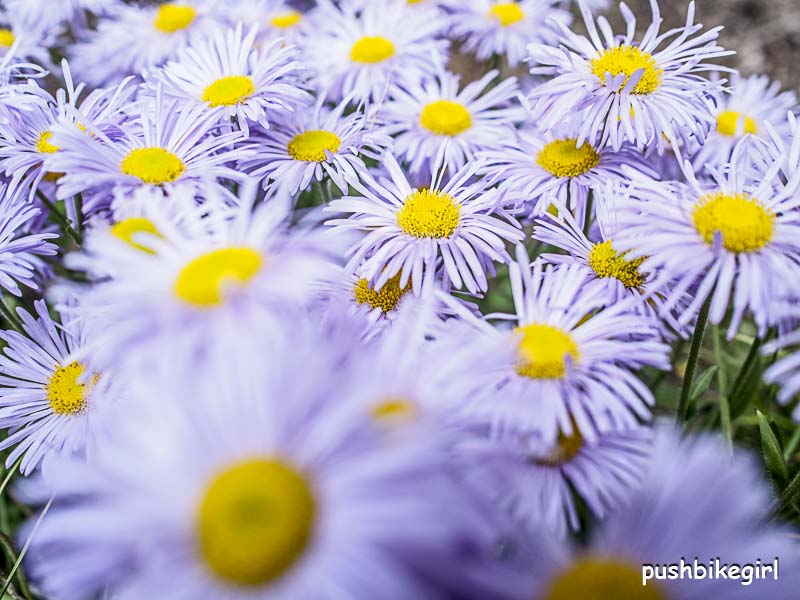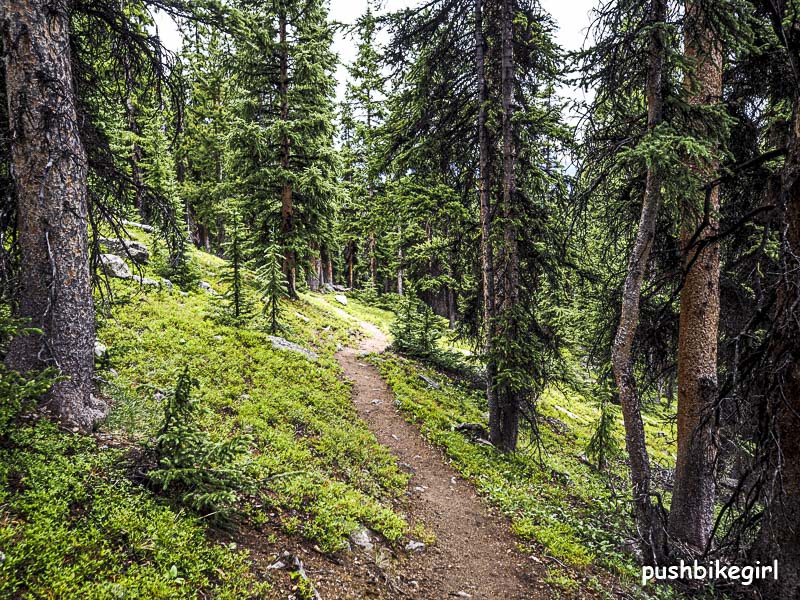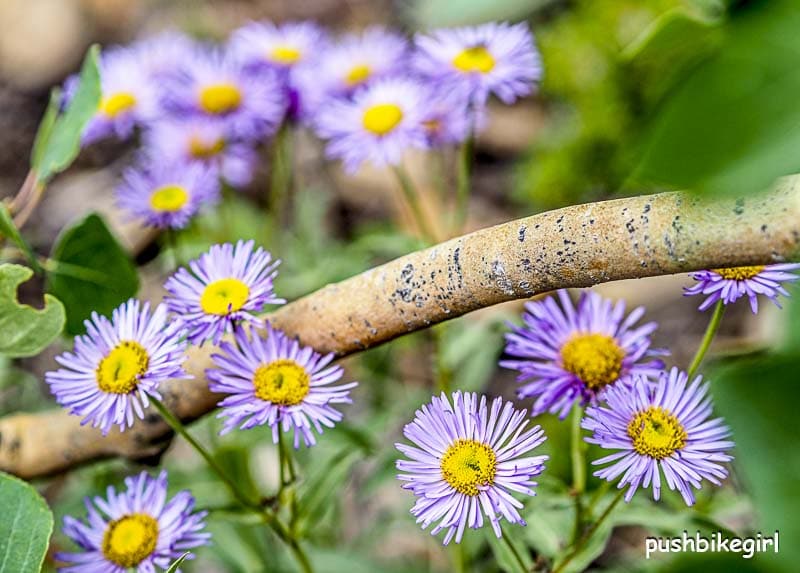 Twice I ran completely out of food. I always bought a lot of food, because I am always hungry, but then my backpack was super heavy and I tried to eat everything the first few days.
In the end it was never enough and twice other thru-hikers who had food left helped me by giving me some of their rations so that I could get to the next town.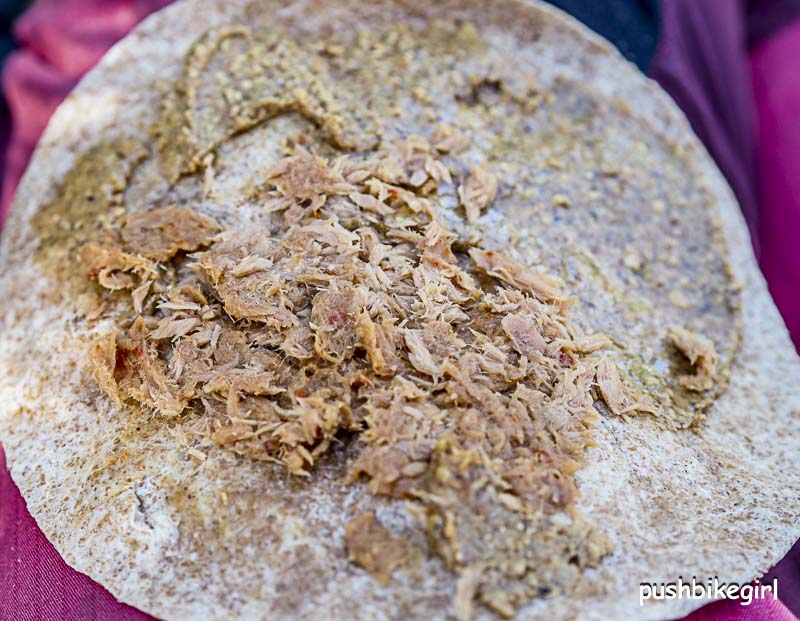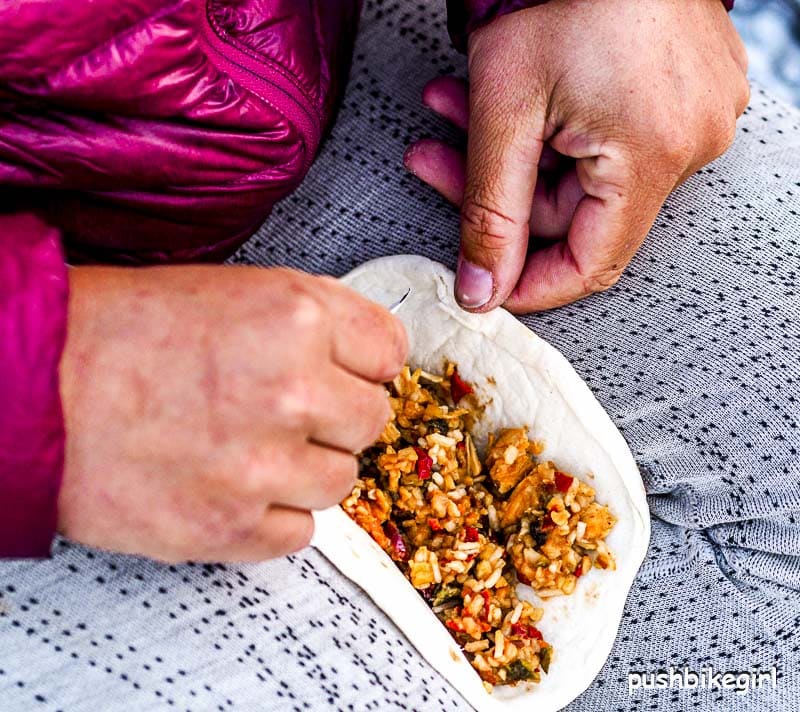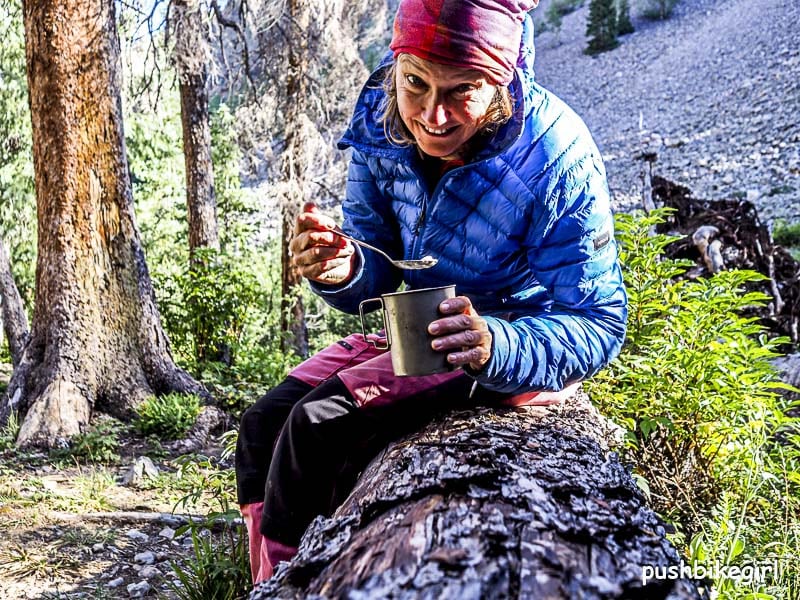 Something that irritated me was the question that I was asked over and over again about the distance I covered every day.
Some of the thru-hikers felt it was especially important to tell me how far and how fast they were hiking.
Apparently, the pressure to perform in society is taken into the wilderness.
Don't we have enough stress and competition already? Isn't it much more important to admire the flowers and enjoy the landscape than to pay attention to the GPS?
How far you have walked today to show off to your mates how fit you are?
I thought that was a pity and I must say that I enjoyed my long hike mainly because I took my time.
Sometimes I have the impression that people forget to enjoy what they are doing.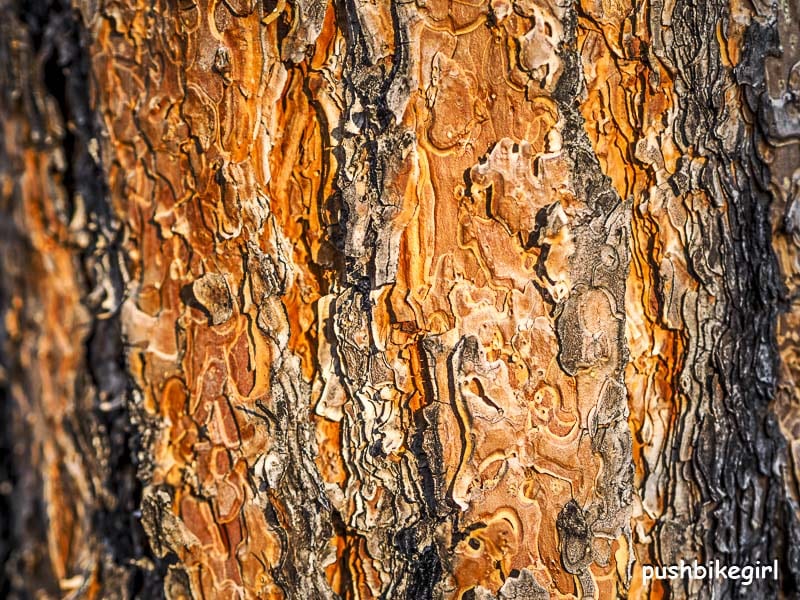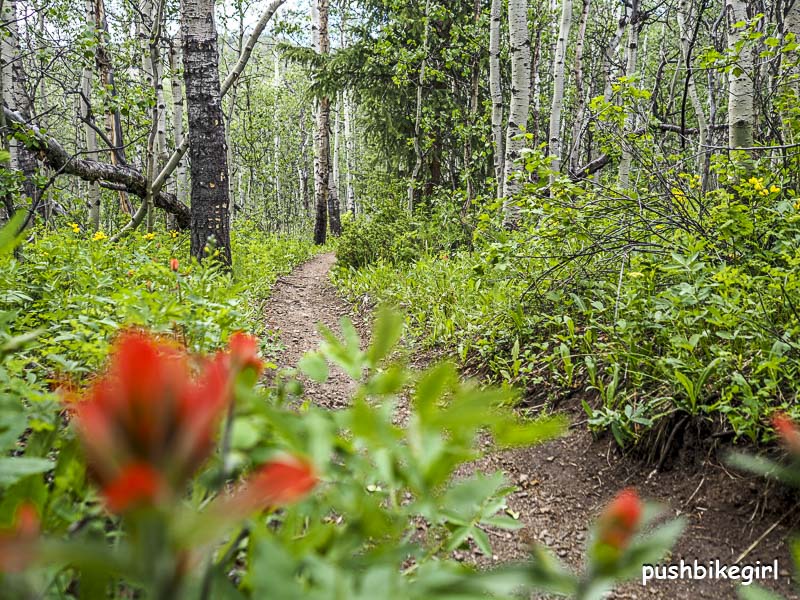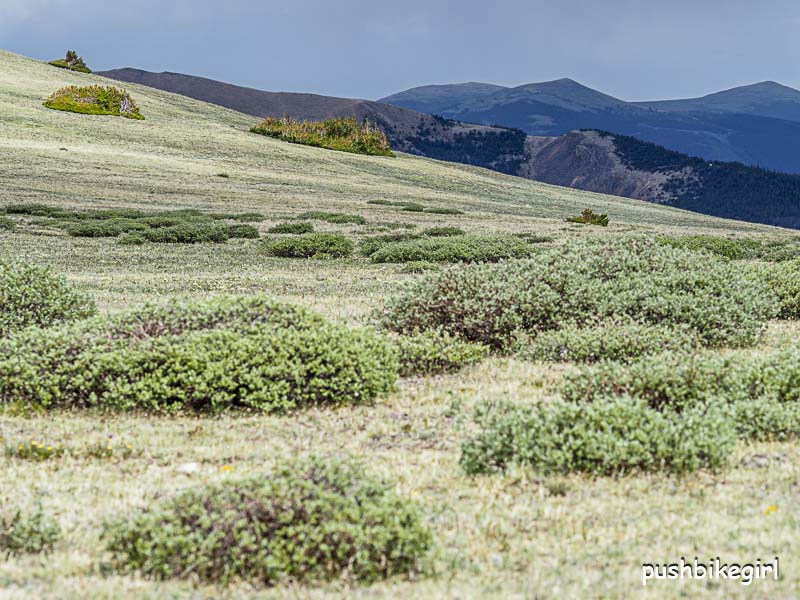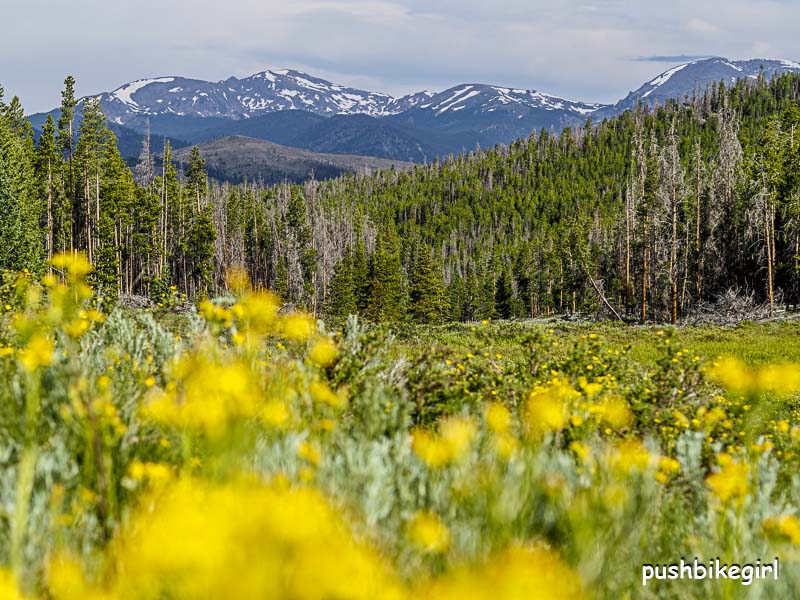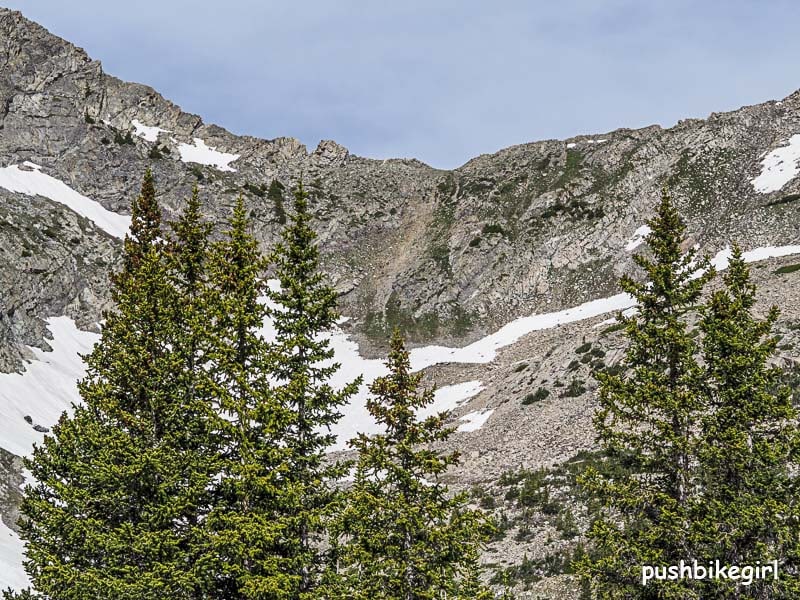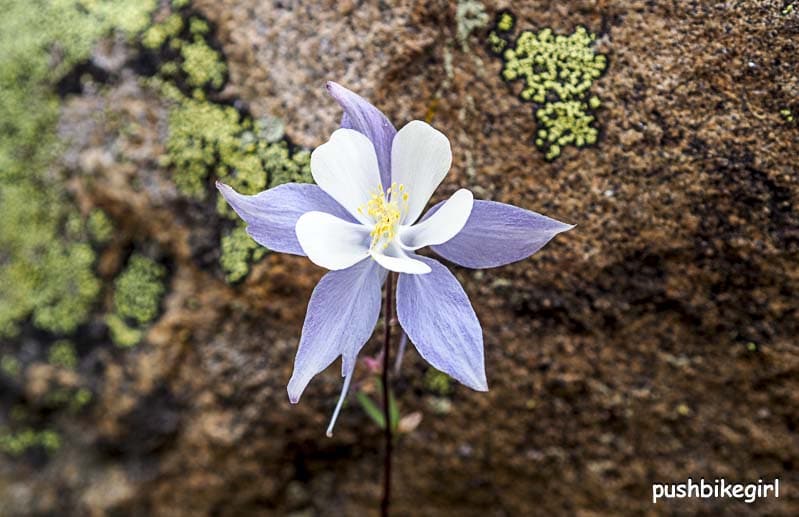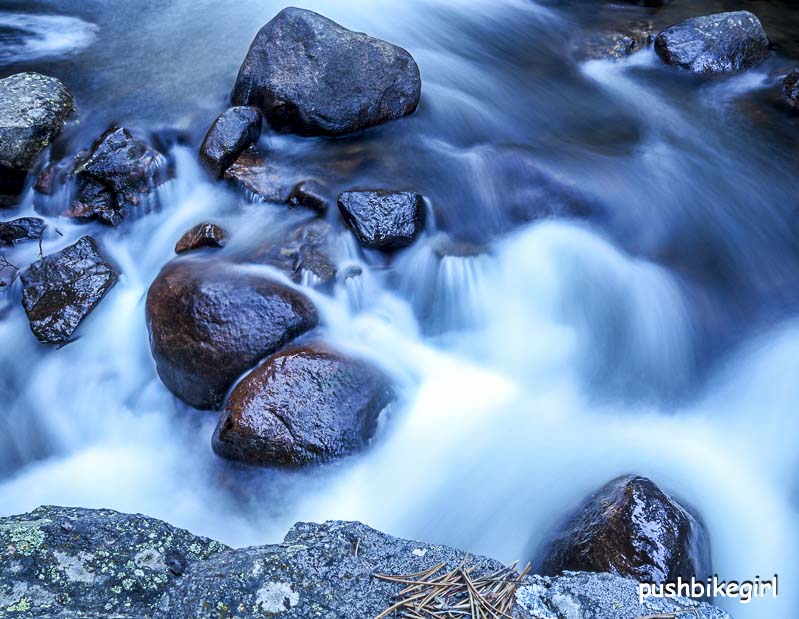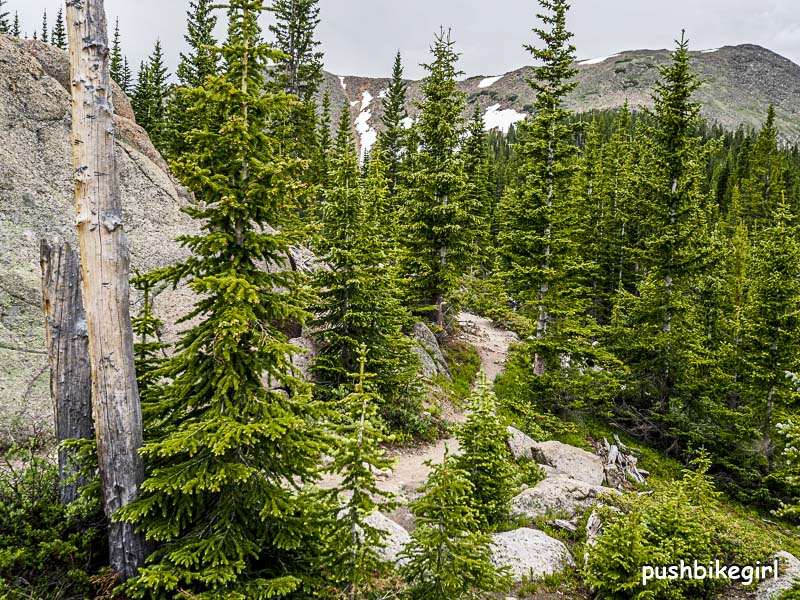 What seems also to be a huge issue is the base weight of the backpack. Some people make a sport out of it and therefore even do without underpants.
Each to their own, but I felt especially sorry for those who sat in the evening eating their cold soaked noodles (food soaked in cold water for several hours and not cooked) and had nothing warm to eat so as not to have to carry a stove and pot.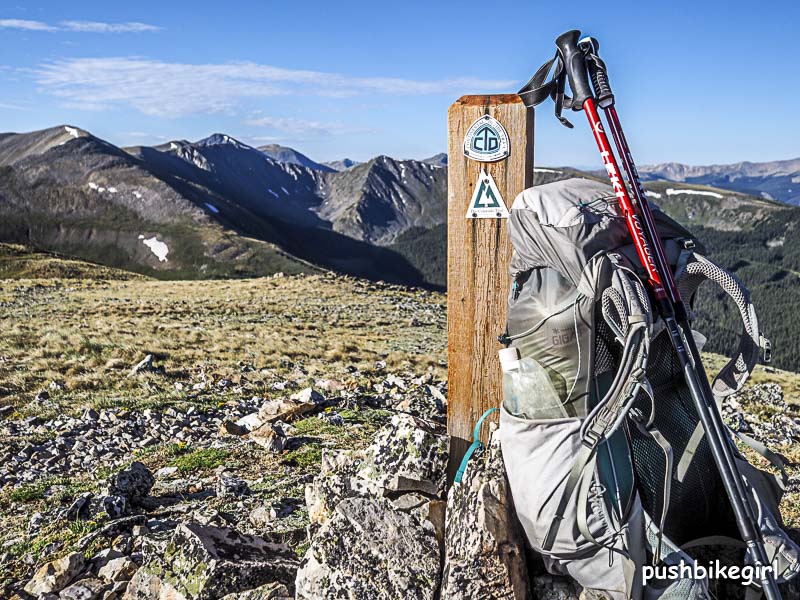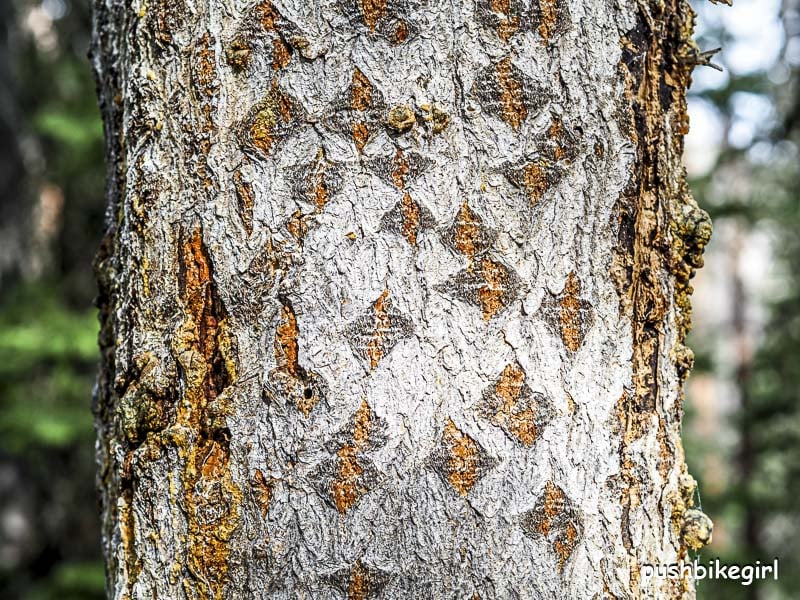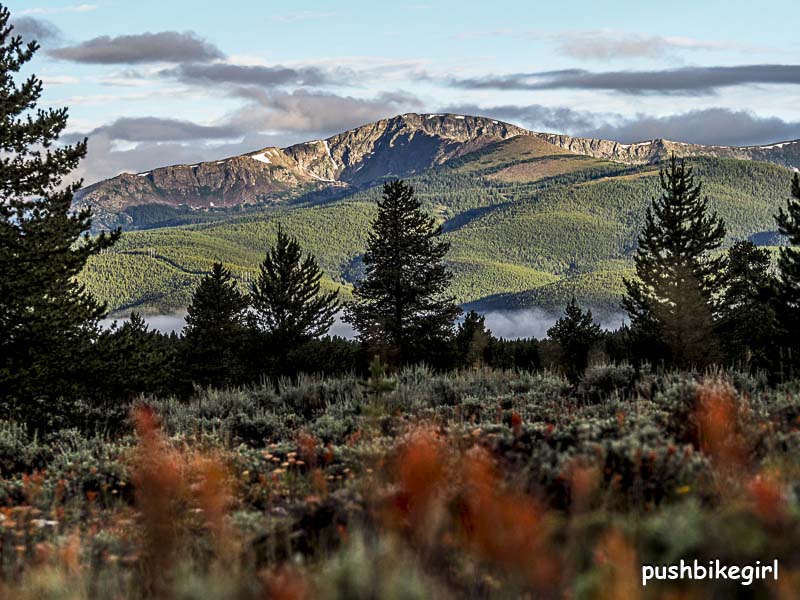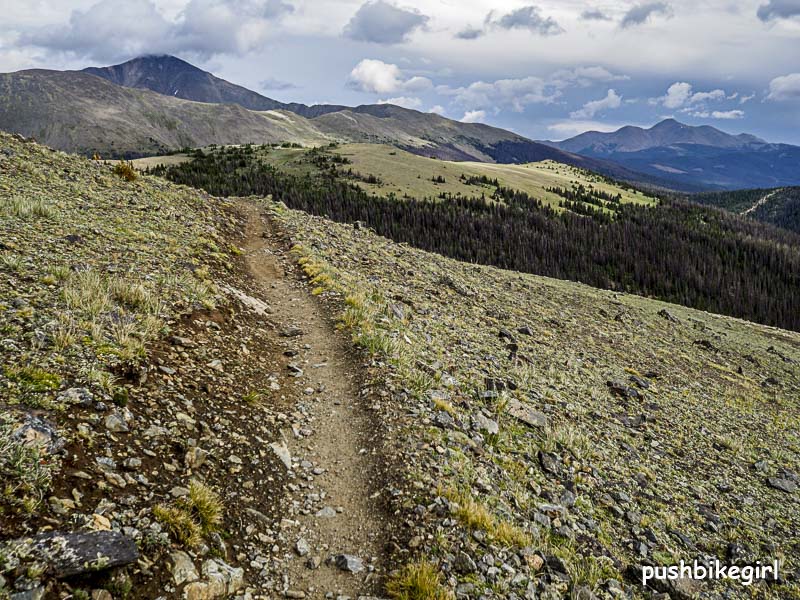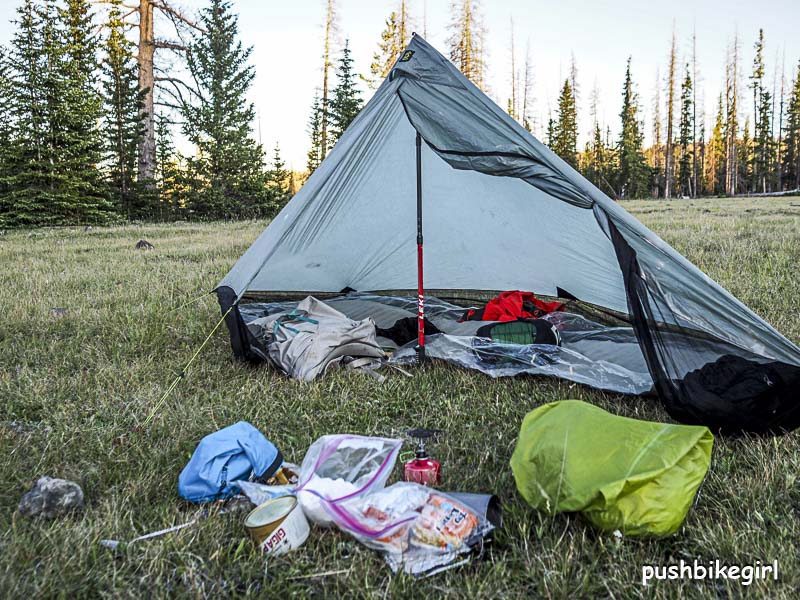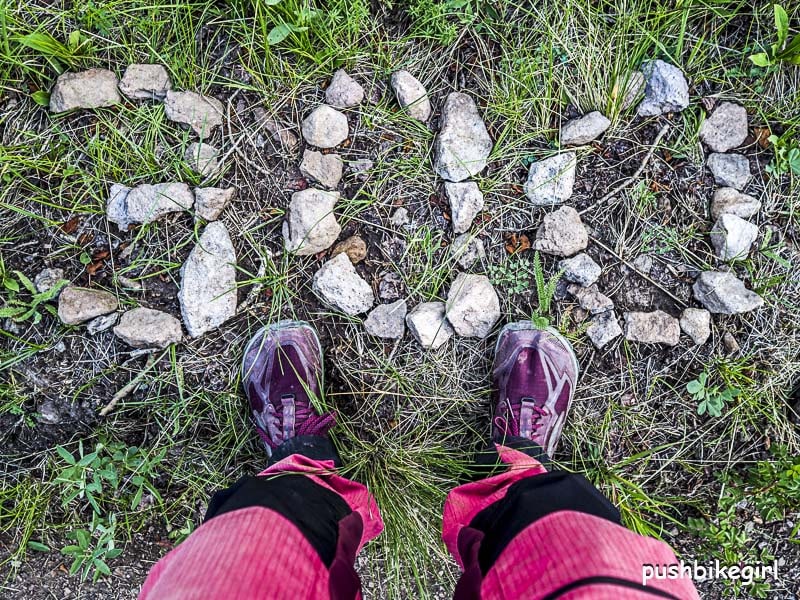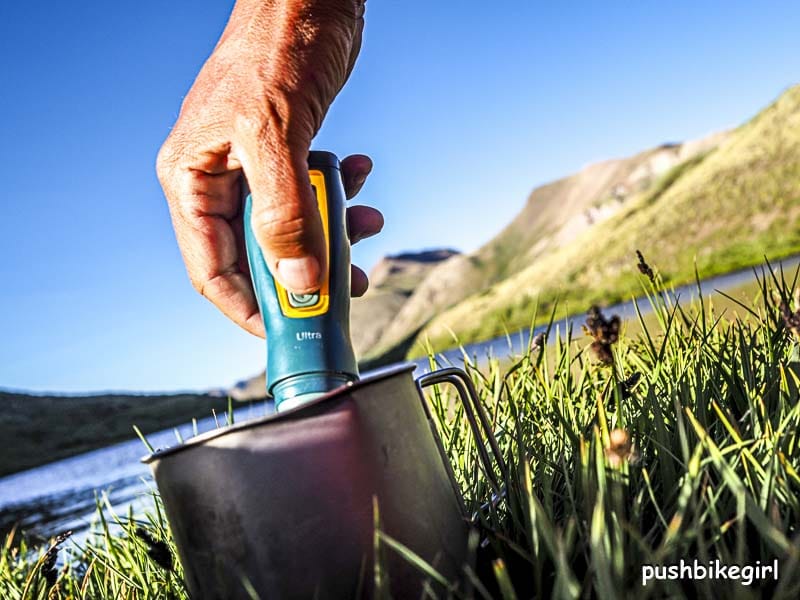 Now and then I had motivational swings. Sometimes I was in a super good mood and could hug the whole mountain range all at once with joy and then again, I would have loved to sit down forever and not move.
But unfortunately, that didn't work because I had to continuously keep hiking for the lack of food.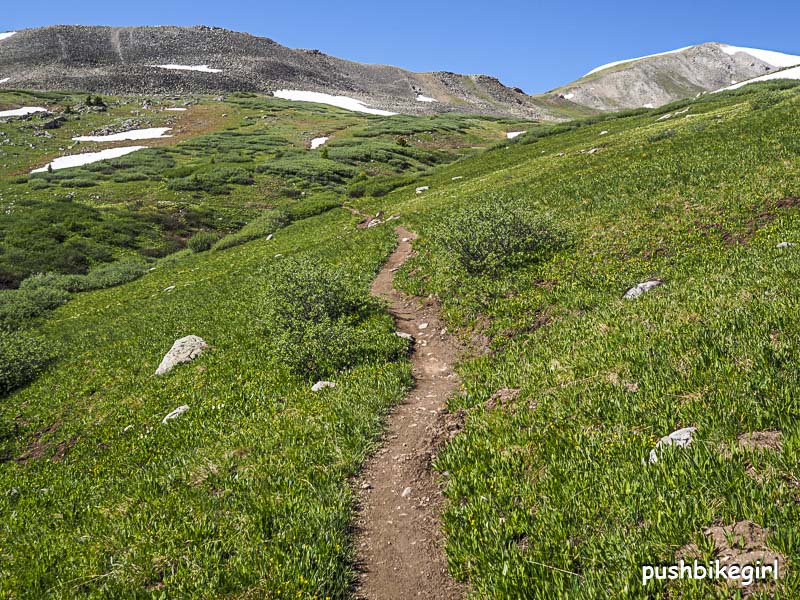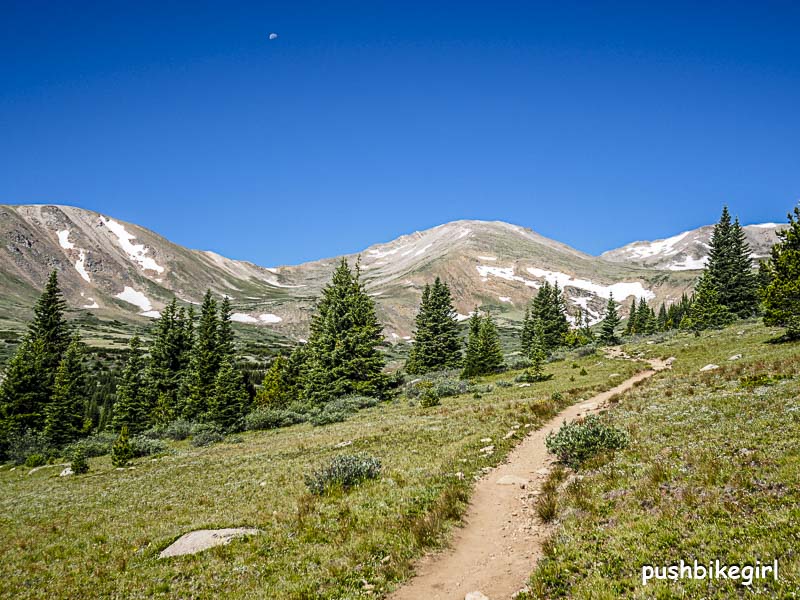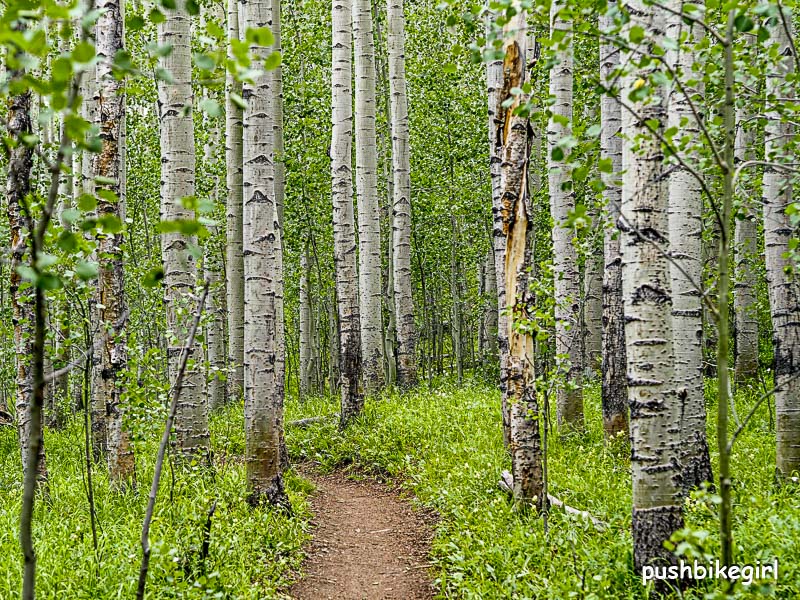 That people ask you for your name is totally normal. And so of course I was also asked for my name.
Now Heike, is a difficult and strange name in the English language and many people thought it might be my trail name or I was saying I am a hiker.
So, I spelled my name at least a hundred times, looking at amazed faces.
It strongly reminded me of when I was cycling through Australia and I heard the same joke over and over again: "Heike the biker".
Or when a woman in Russia told me: "Heike, your mother didn't give you a nice name."
I was also asked often how I entered the USA or if I live here because a European is not allowed to enter at the moment.
So, I told my Colombian story quite a bunch of times and was happy that I met at least two other foreigners.
One was a Filipino and married to an American. The two came from Cuba, just like me on a humanitarian flight.
And an Irishman, who lives in Australia and strangely enough was allowed to enter the country shortly before from Australia.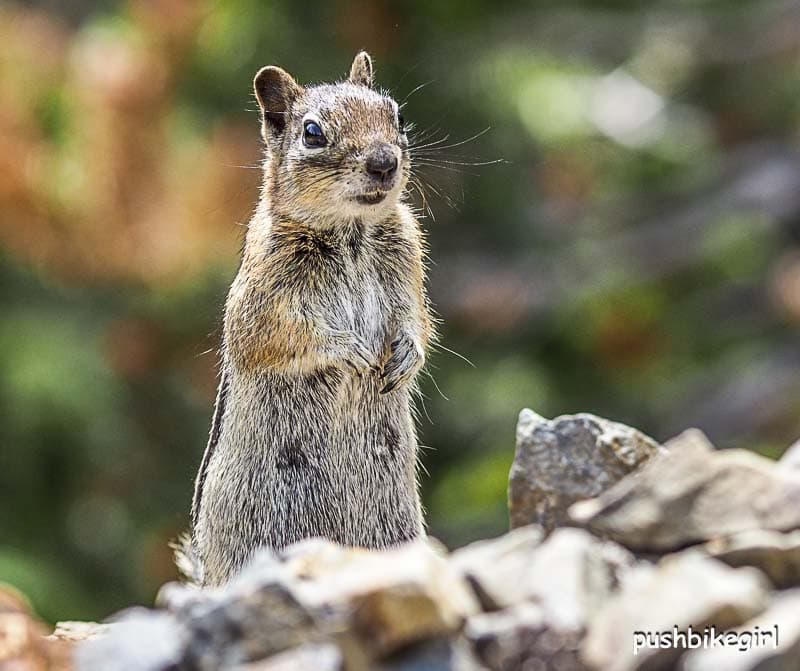 As already mentioned, I saw few wild animals. Altogether it was a black fox, a black bear, a mountain goat, two moose, four elk, many deer and marmots as well as pikas, many chipmunks and black squirrels, a coyote and a weasel.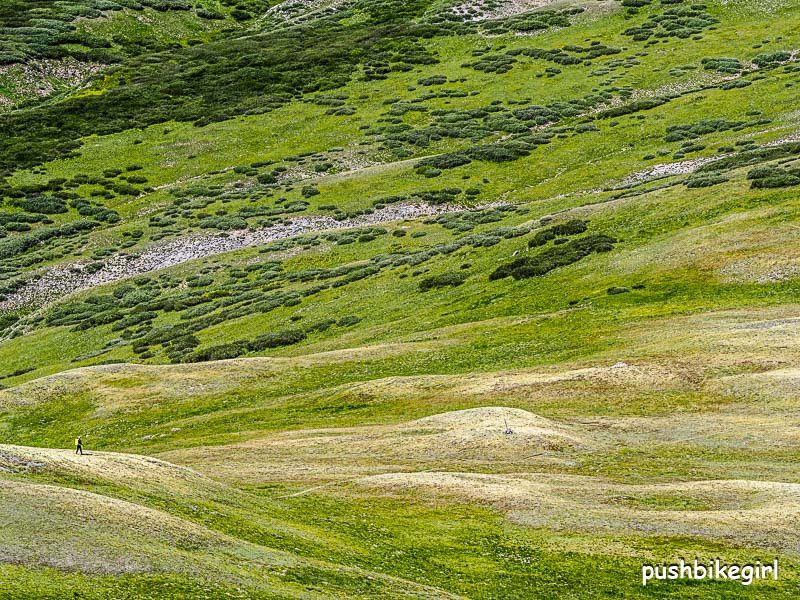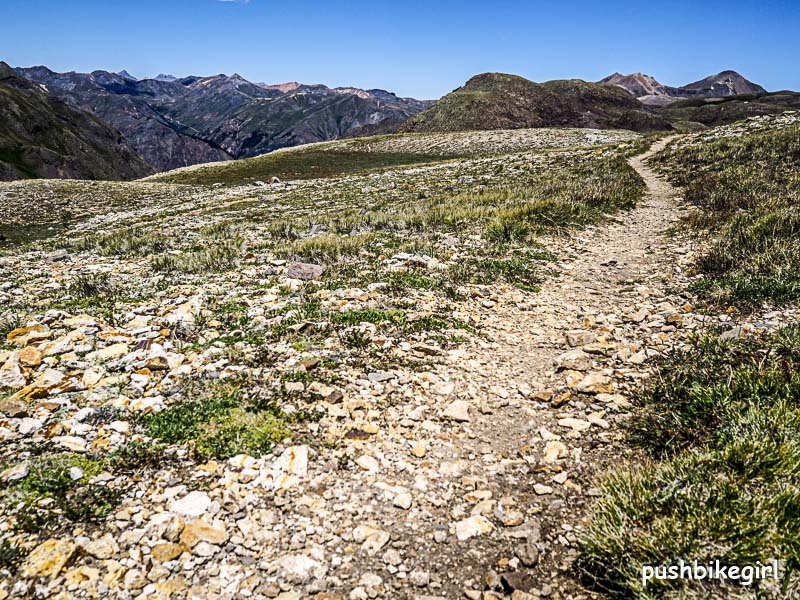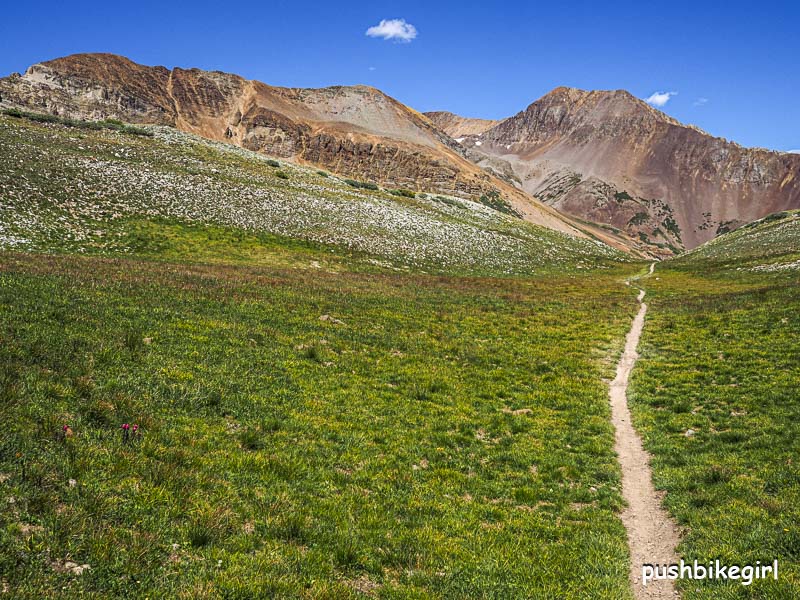 I managed segment 18 limping. My right foot didn't want to go any further. And so, I limped with pain and fought my way to the next water source 5 miles away to spend my night there.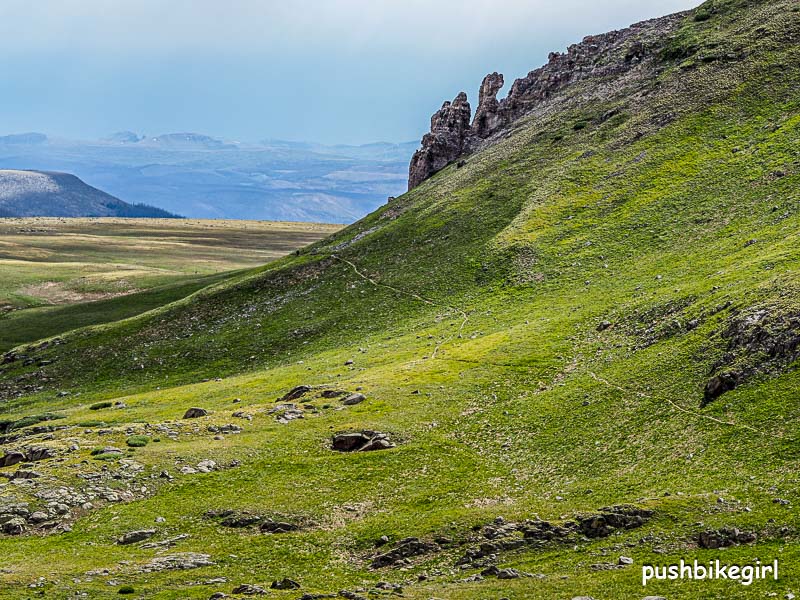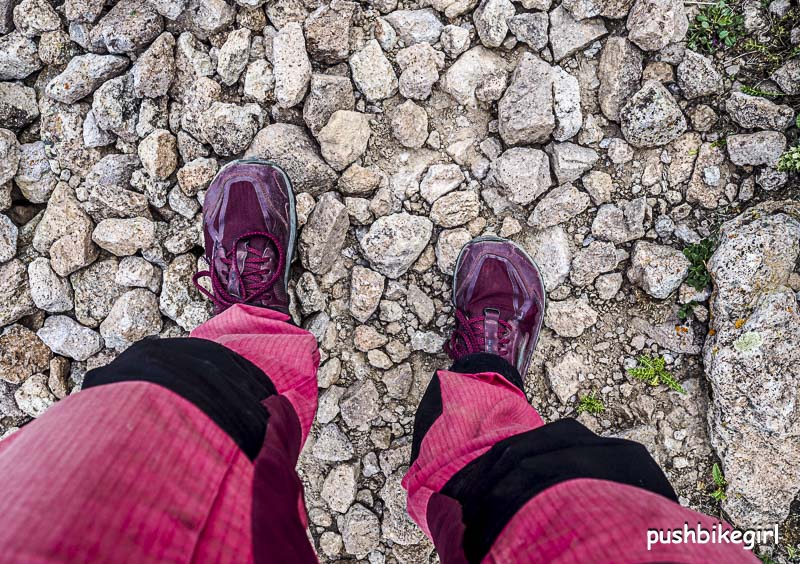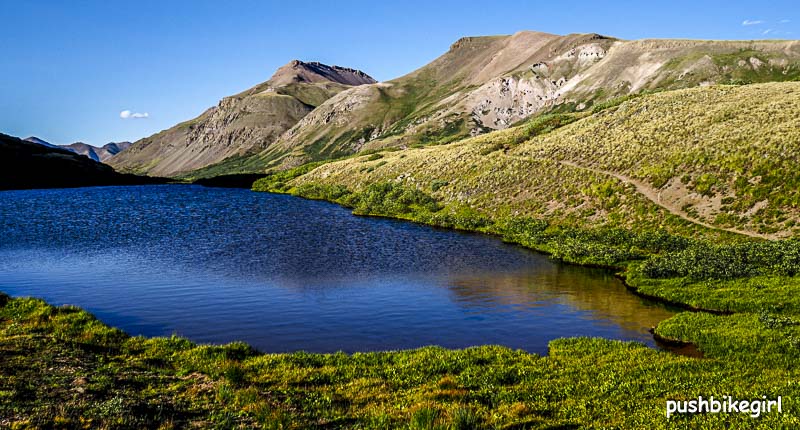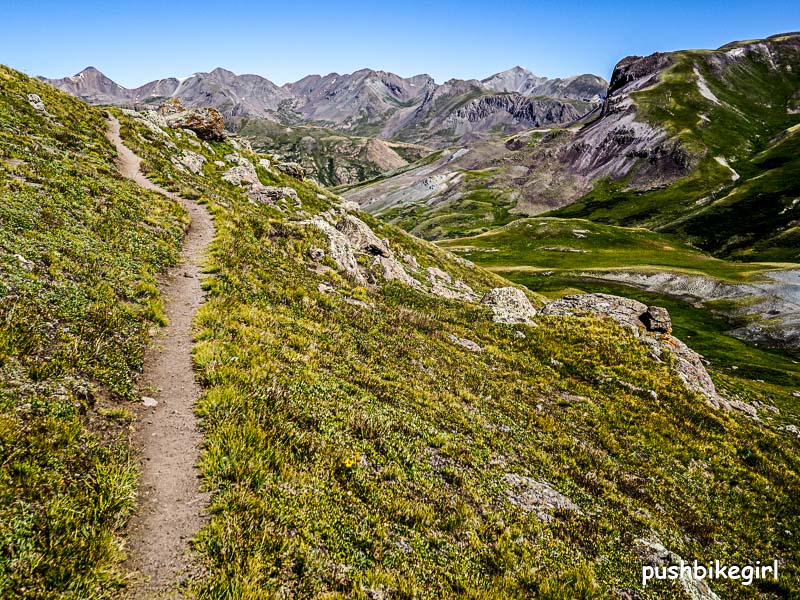 In the end I found the trail a bit too long. I walked faster and further each day and finished the last day way after midnight, because I just wanted to get it done.
A funny thing that night was, that I said hello to the bear and the mountain lion every now and then, so they noticed me and I didn't run into them by mistake.
And suddenly there was a voice out of the dark forest saying "Hello" and I was completely surprised that there were three hikers camping along the path.
Around 3 AM I went to sleep at the end of the trail in the parking lot next to the cars and was very lucky to get a ride from the trailhead all the way back to Denver the next morning! Jackpot.
To say the least, I had a great time in a fantastic environment!
Thank you to those who maintain the trail and all the trail angels, and all those who helped to make the journey as great as it was.
And now off to my next escapades – stay tuned!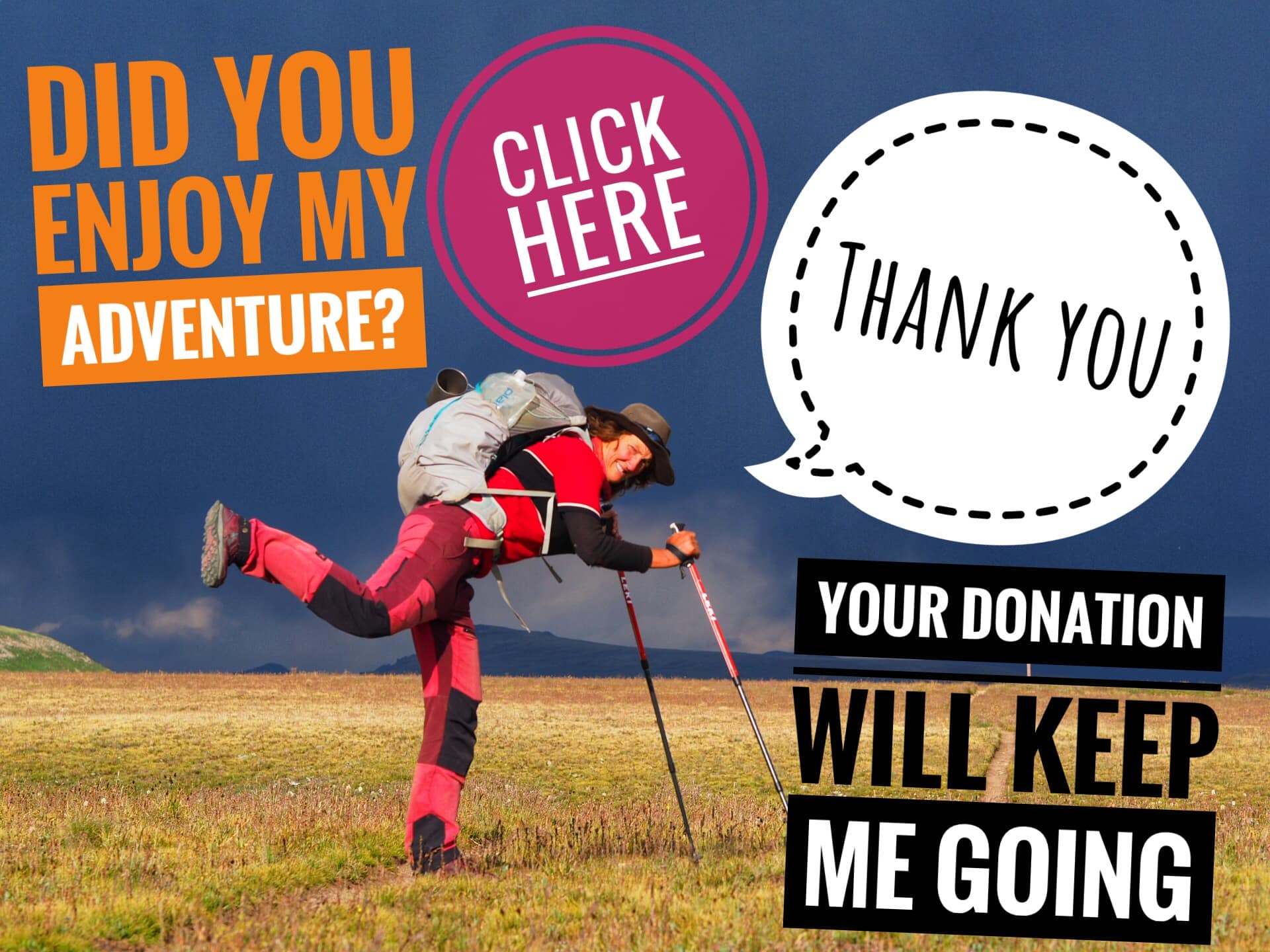 Sharing is caring 🙂 I would be very happy if you would share this post with your friends!