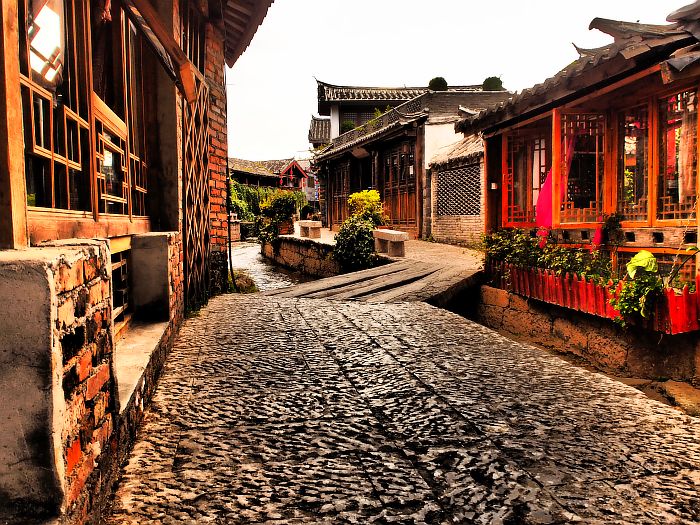 I left Shangri La on the main road to the south, which was a mistake, because there was
significantly more traffic on that road than I expected. I would say it was the busiest highway
I was on since I began traveling in China.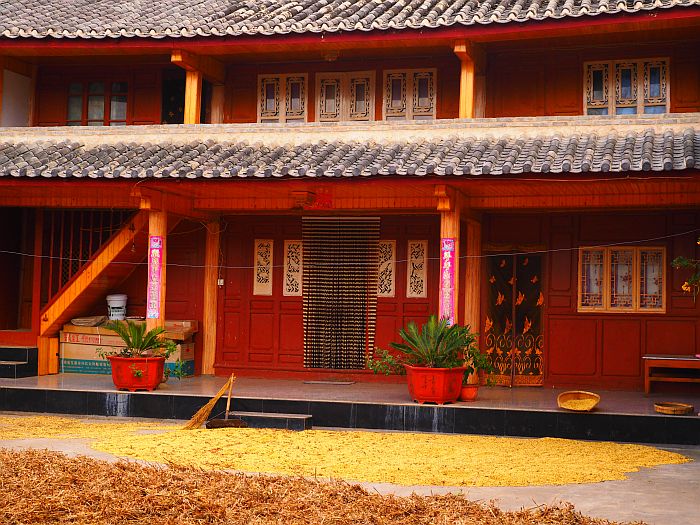 There wasn't much to see there at all except for an endless line of tourist buses – all full of Chinese. I found myself in the midst of a holiday week. From the 1st to the 7th of October, all of China is underway – an exception to the norm.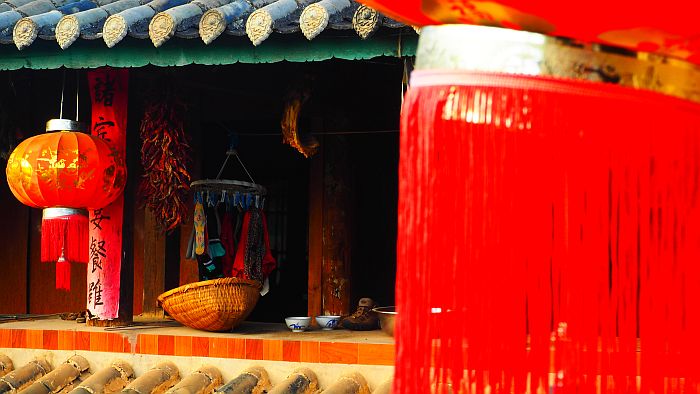 The road dropped from 3,200 to 2,200 meters and, suddenly, it was really warm. Banana and palm trees, cactuses, agave, bamboo and many other exotic plants embellished the landscape. The sudden change in vegetation was extreme.
The slopes were thickly overgrown; the gardens were full of flowers, fruit and vegetables. And sweet corn and chili peppers were stored in the courtyards.
A group of cyclists stopped me on the road and invited me to dinner. As always, they were on their way to Lhasa, although I was surprised that they wanted to go to Tibet so late in the year.
What's really great is that if you eat together with the Chinese, you can try dishes that you wouldn't normally order on your own. Six different dishes were served and each one was as delicious as the next. As always, I was invited to join them at no cost.
A room for the night was under 2 Euros, so I decided to stay in the same small hotel as the others.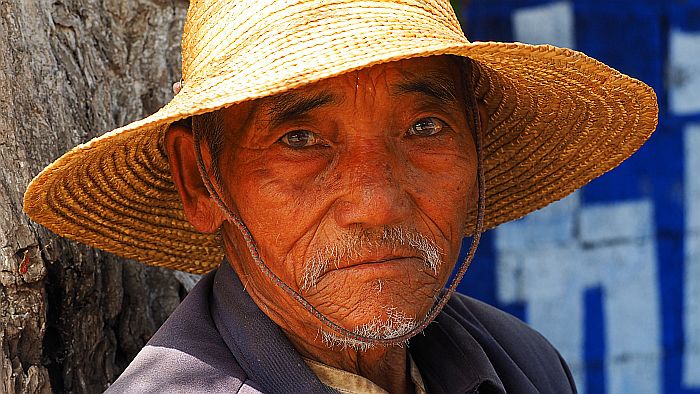 The next day I headed to the Tiger Leaping Gorge, a very well-known canyon on the way to Lijiang. Unfortunately, a lot of other people had the same idea, so the traffic getting there was totally chaotic.
It was the first time since I've been in China that I had to pay an entrance fee – 8 Euros for a gorge, a very steep price. At the most famous lookout point there were so many people that I decided not to go there. Instead, I rode a few kilometers further so I could enjoy the canyon alone.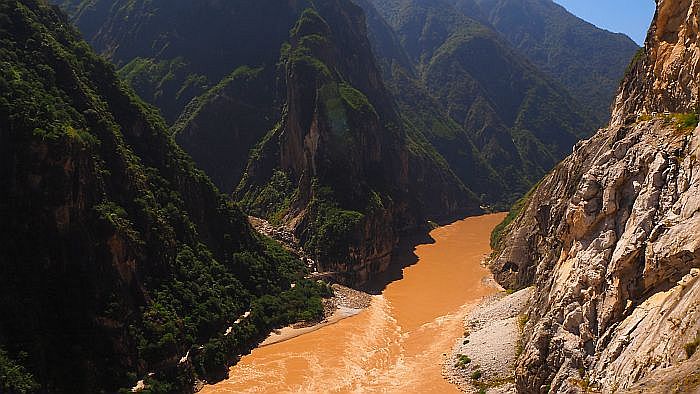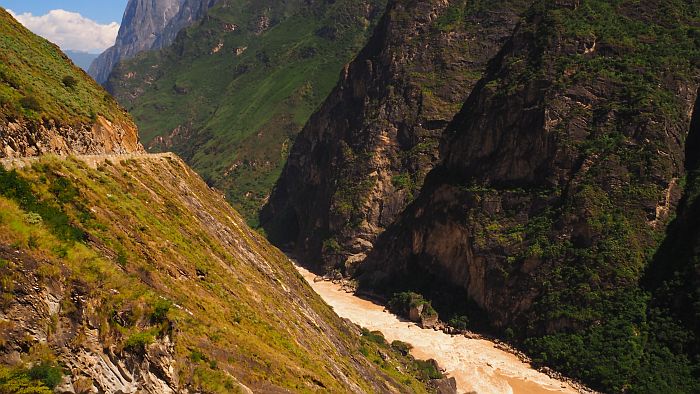 The canyon was beautiful, but nothing as earth-shattering as everyone had been talking about.
I stayed in a small guest house above the gorge and just wanted to sleep.
I had been tired for days – exhausted, burned out, no energy – like a balloon that had lost
all its air. I definitely needed a long break and a lot of sleep, but somehow I wasn't able to
treat myself to that luxury. It's impossible to sleep in this country anyway.
The last 3 months in China have honestly been pure stress. I was always running out of
time and cycling in strenuous terrain. But in Yunnan, there is still a lot to see and it would
be a shame if I didn't use the time I have left. So, I've decided to postpone my break
until I get to Laos, especially since I have to apply for a new passport there and will have
a lengthy waiting period ahead of me.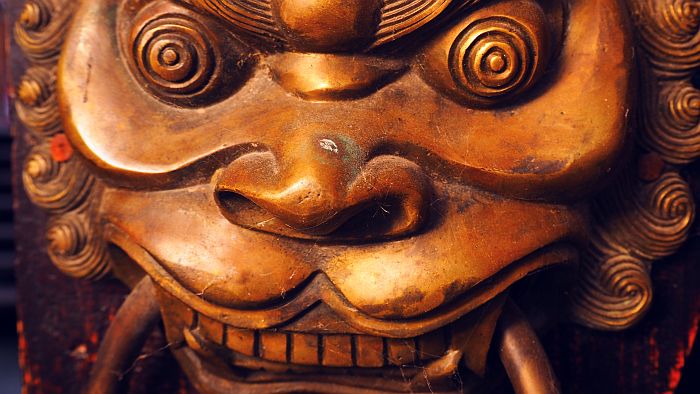 The next day started out nicely, but later on it became a bit annoying. I arrived in the village,
where there was allegedly a ferry somewhere to take me to the other side of the river.
But, as is it so often the case, no one could give me any information. The people are not
capable of providing any information that you can do anything with. Instead, they giggle
to themselves and wave their arms around, pointing in all directions, and they never feel
responsible for any further help.
I rode up the little lanes and back down again, but the river wasn't visible, so I really had
no idea where the ferry could be. After I had ridden into several side roads, I met a man
who knew how to tell me where I wanted to go. It took me a bit of time to finally find the
dirt road through a field leading to the water. It went steeply downhill to a ferry, where
no one was waiting. There was only a sign with a phone number. I saw a few people
on the other side, but only one woman responded and let me know that she couldn't help me.
Somehow, I was annoyed. Couldn't the people back in the village even have told me I
needed to call the boatman? Can't the people count to three, or don't they want to count to three?
None of the people – all construction workers – on the other side of the river, who heard me
calling to them, didn't consider it necessary to contact the boat owner.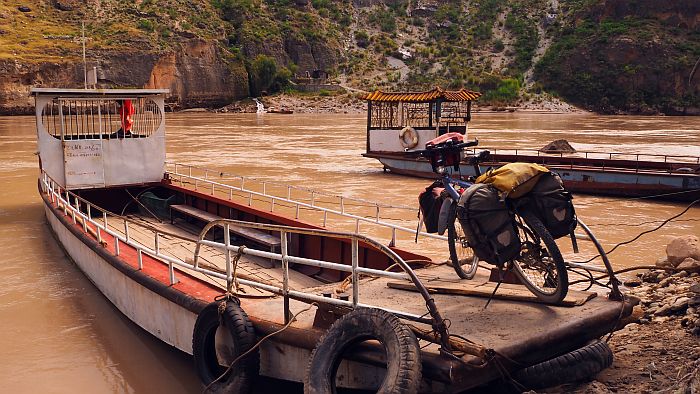 I sat there for at least 2 hours until I decided to wrote down the phone number and walk back
to the village to find someone with a telephone. When I had almost made it back up the hill,
the ferryman and a passenger suddenly came toward me.
He wanted 50 yuan for the trip across the river, which the Chinese passenger also paid.
Instead, I gave him 20 yuan because that was the price written on the boat. He also
wanted to charge extra for my bike, but I just smiled at him and said "mei you".
Luckily, the Chinese passenger helped me to get out of the boat again, because the
boatman was so super nice that he just dropped the anchor where it would be impossible
to get a heavy bicycle out of a boat. Of course, he didn't feel responsible to help me.
By early afternoon I was finally on the other side of the river and pedaled slowly and
comfortably along beautiful narrow roads and fields belonging to the small villages.
The architecture had now become clearly Chinese – the gabled roofs curving up at the end,
the facades with beautiful verandas. Everywhere, there were red lanterns and a lot of Chinese
symbols on the walls of each house.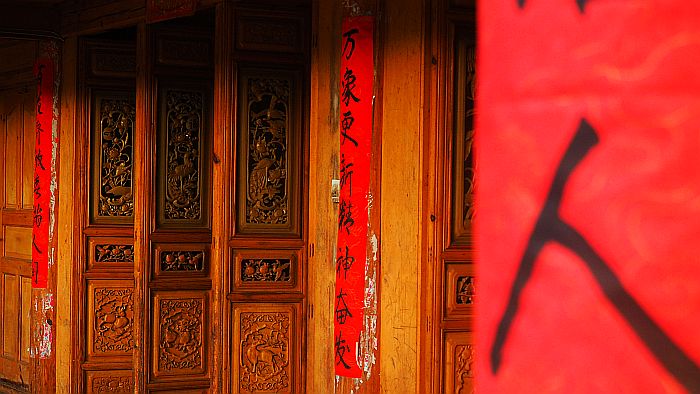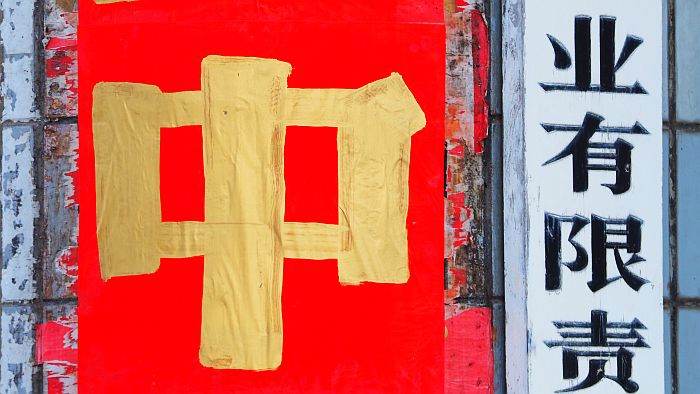 The road led in all directions and I was looking for the way to Lijiang. It's just plain annoying
when you repeatedly ask someone and only get the "I-have-no-idea" expression on their faces
or a chaotic shuffling of arms pointing in all directions.
I stood at a fork in the road, pointing at the two ways and wanted to know which of them was
the correct road to take. But that was just asking too much. The people either didn't know,
or one would point to the left and the other to the right. Everything takes so much longer in China
anywhere else int the world, because both the language and the culture are a huge barrier. .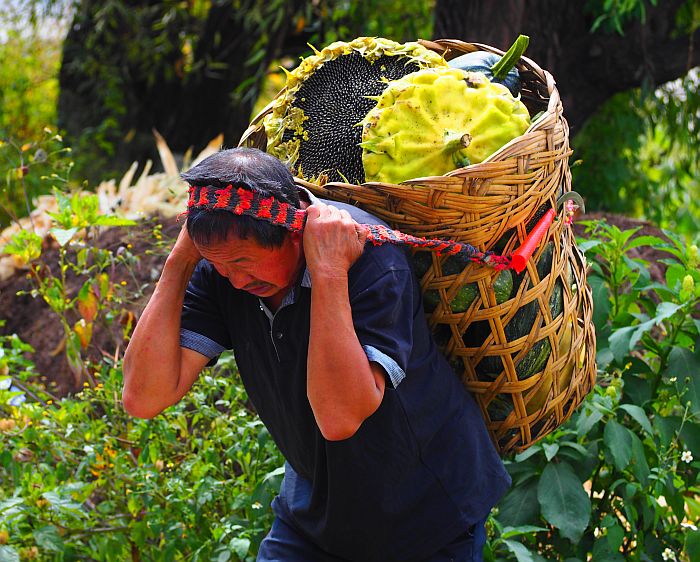 At the end of the day, a thunderstorm came up and I found a small hotel room where I quickly
took refuge before it started to rain cats and dogs. Within a few minutes, the road was
completely under water. That would have been a lot of fun in a tent.
The hotel room was on the ground floor; above it were more rooms. The house was built
completely out of wood. A few men were talking loudly half the night and were constantly
trampling back and forth, so I often had the feeling that the ceiling might come crashing down.
Sometimes, I feel like I could really freak out, but that wouldn't help at all. No one is
interested anyway, because no one seems to understand that it is impossible to sleep
at a noise level of 150dB. I'm pretty certain that the people here can take their nap
with no problem at all next to a jackhammer.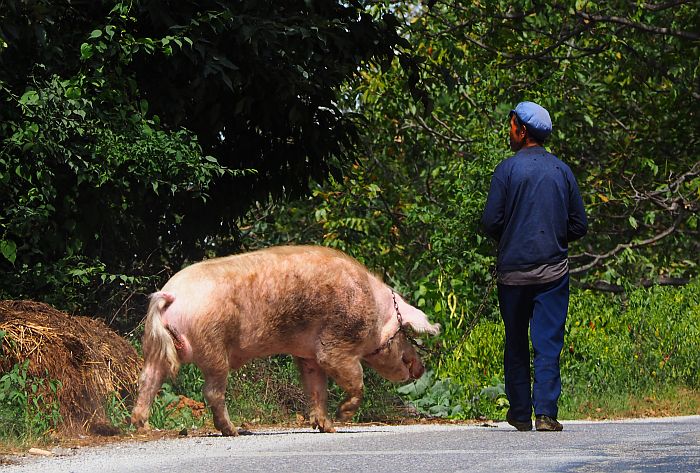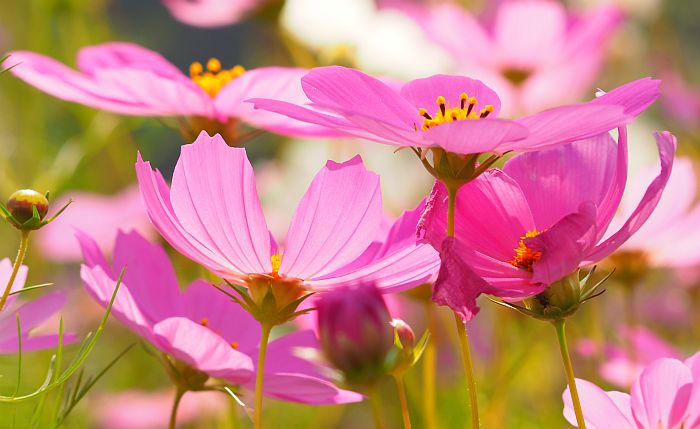 The Chinese always take a nap at lunchtime and they do it in the exact spot where they happen
to be at the time. So, on their motorcycles, they nap by tilting their heads onto the handlebars;
in the street they lie in the ditch; they sleep in their car, on a chair, in a restaurant or
supermarket, at the box office, next to a vegetable stand and so on.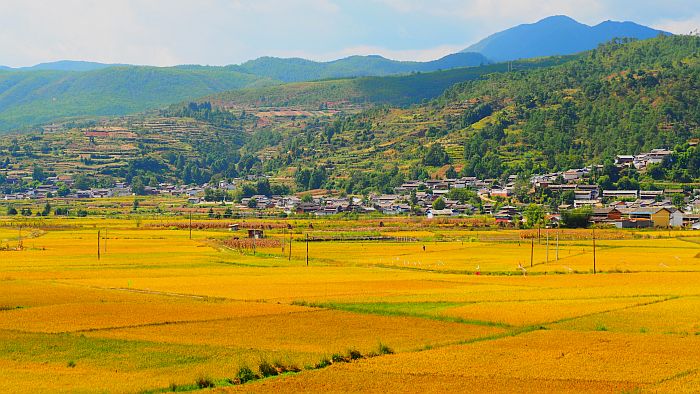 Another mountain was in the way and the road went up 1,500 meters in umpteen curves
toward Lijiang. At the summit, the barrier to the Snowy Mountain National Park blocked
my way. 14 policemen were standing around in the area bored and killing time.
They wanted me to pay the park entrance fee, but I told them that it wasn't my fault
that this road runs through a national park. "I want to go to Lijiang and not visit the national park."
They seemed to get the point, so I was able to continue without paying. On top of that,
they supplied me with noodle soup, biscuits, apples and water.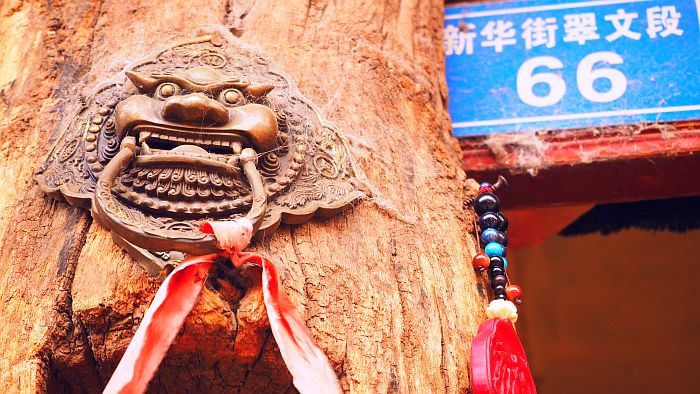 It soon became dark, so I looked for a place to spend the night. I was able to stay with a
Tibetan family for 20 yuan (2.50 EUR). For that price I was even given dinner and breakfast.
The mother was preparing yak butter for the market. 200 yuan for 1 kg of yak butter.
Wow, I was very surprised about the high price.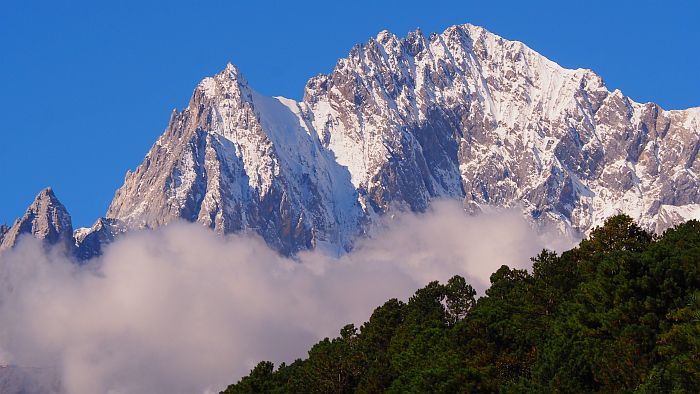 In the morning I had a clear view of the 5500 meter-high glacier, but I didn't really get the
feeling I was in a national park. It reminded me more of Disneyland – too many people,
artificial ponds, tourist trips in small electric trains, toy gondolas, a visitor center that
looked like it was made of paper mache and a theatrical stage where a show was going on.
Suddenly there was so much traffic that I stuck in a traffic jam. So many people.
They were on the road, next to the road, in their cars, in their trucks, and on
their bikes or mopeds. Chaos reigned.
It reminded me of my childhood days, when we took our bicycles on a hot summer
day to the swimming pool and all the rest of the world was also headed in that direction.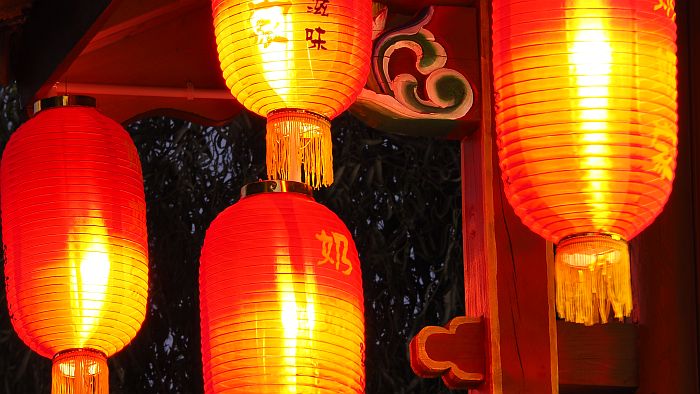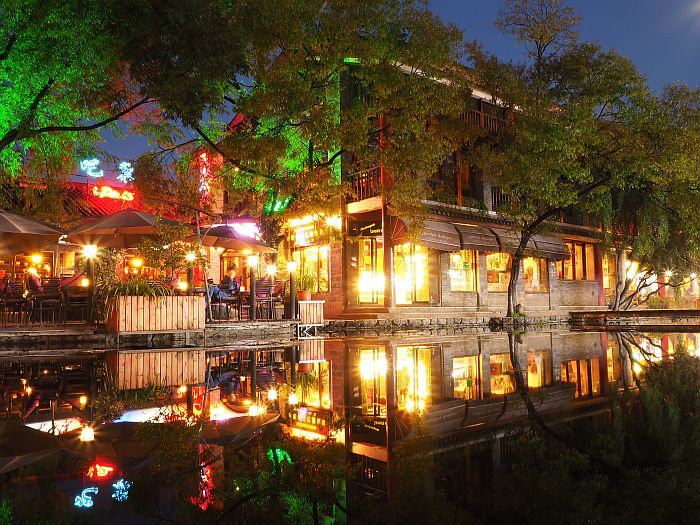 Before riding to Lijiang, I decided to visit the small town of Shuhe, which was visited less,
but supposedly just as fascinating as Lijiang. However, the little village had rather something
of a party island atmosphere. Souvenir stalls, high prices and disco music at night
in every restaurant. I discovered a few Western faces, but most of the tourists
were Han Chinese.
Less than 5 km away, Lijiang is protected by UNESCO. I experienced it as a mixture
of a Christmas Market, Oktoberfest and Ruedesheim on the Rhine. But I managed
to escape the crowds and enjoyed the night hours in the wonderful atmosphere
of the narrow streets.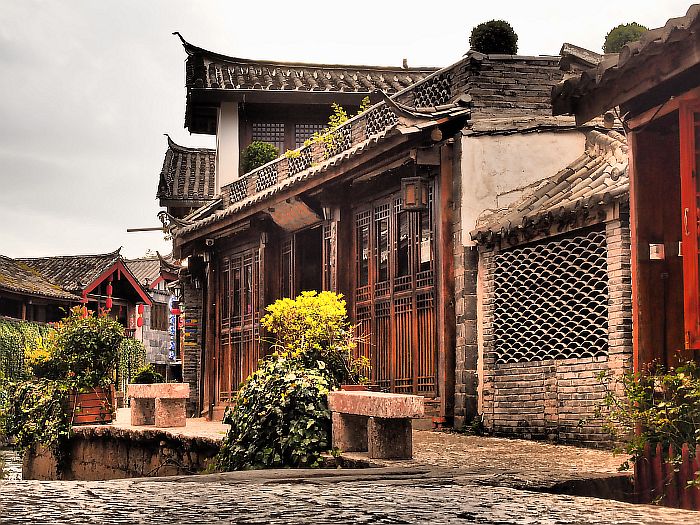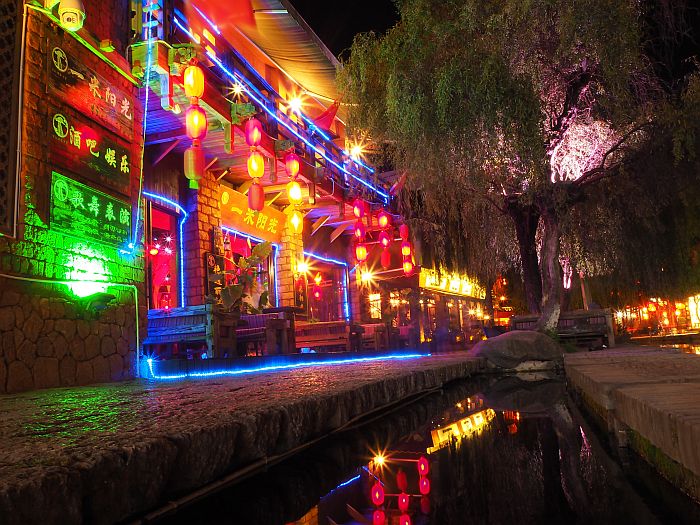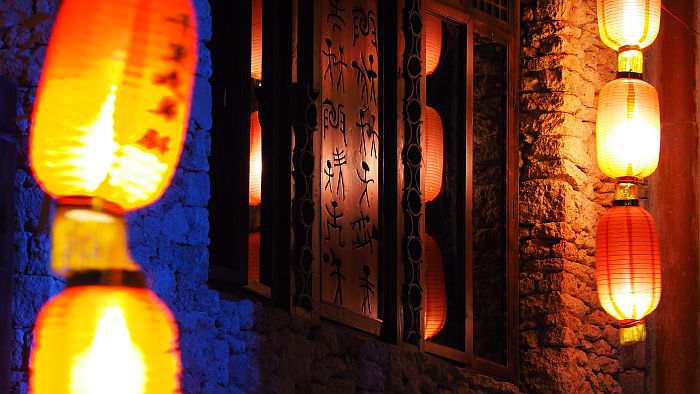 In Shuhe I sat in the hostel and heard a woman crying bitterly. No one responded,
and no one gave the impression they wanted to help. I went to her, talked to her, and tried
to comfort her, but I think she didn't understand a word of what I told her. She cried so hard
that I assumed something really bad had happened. I tried to get the other Chinese people
nearby to help her. Other than handing her some tissues, they showed little reaction and all
of them shrugged their shoulders. It took a long time for the lady to get herself under control
and eventually she left.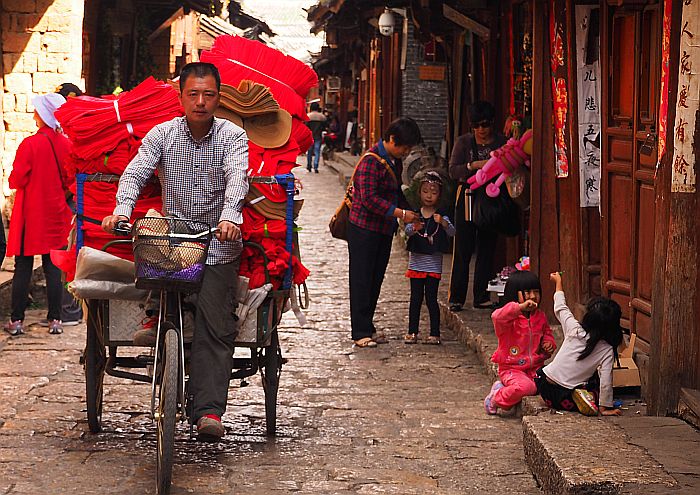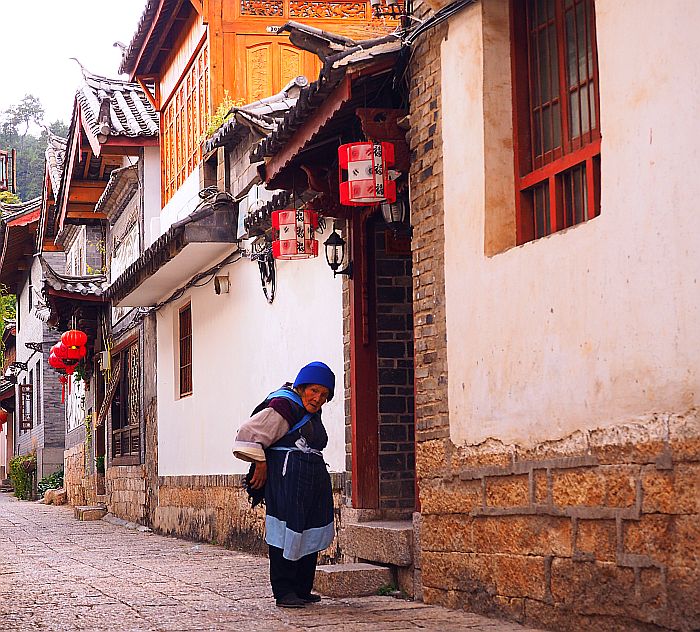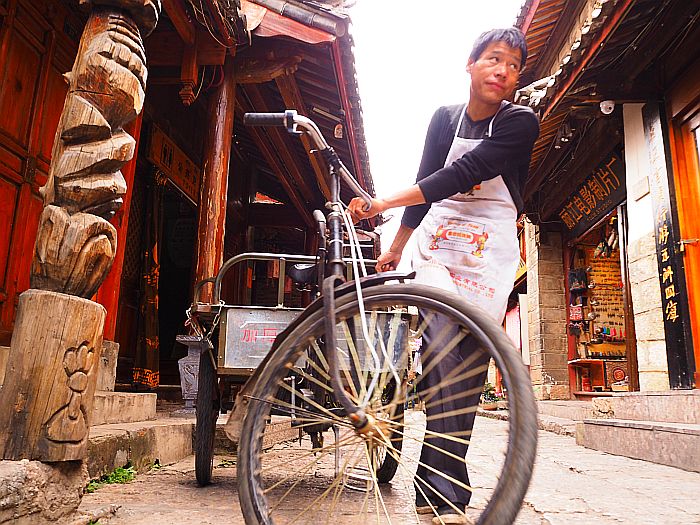 On the way to Lijiang, I saw a motorcycle lying straddled across the road. A young man sat
on the side of the road and was shaking all over. His hand was bleeding and he was white
as chalk. I rode over to him immediately and tried to calm him down and find out if he was
seriously injured. Unfortunately, we didn't understand each other. After dozens of cars
had already driven around the motorcycle and I had tried to get pedestrians to stop
and talk to him, someone finally paid attention to him.
What kind of selfish world is this? The more people the worse. It seems the higher the population in a country, the more selfishly the people tend to develop. You can see that constantly in China when you have to stand in a line somewhere. People are jumping ahead of you trying to squeeze to the front. It's an elbow-your-way-forward society, actually, understandable, and yet it is often hard for me to bear.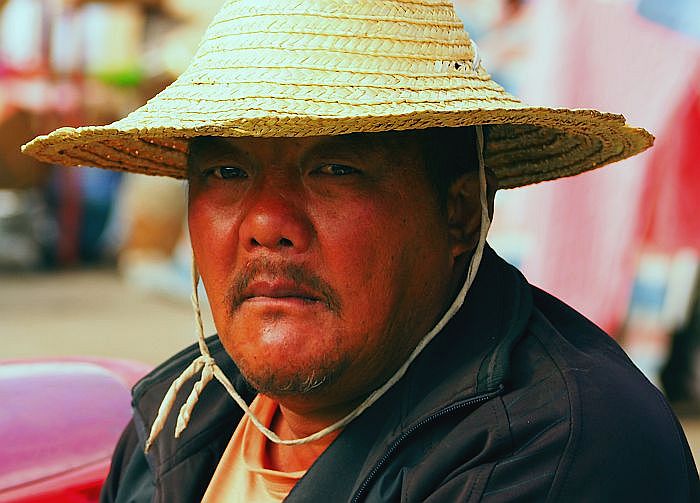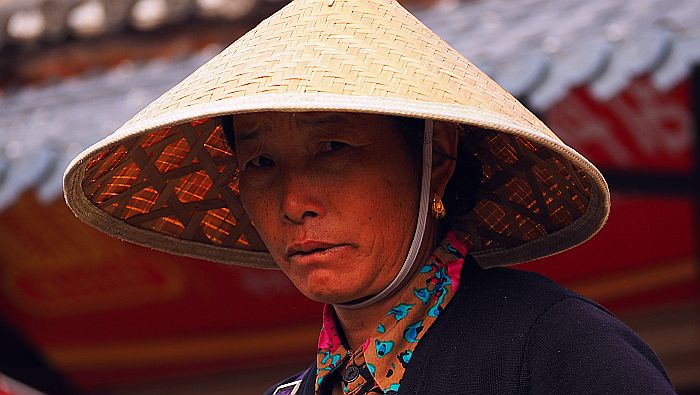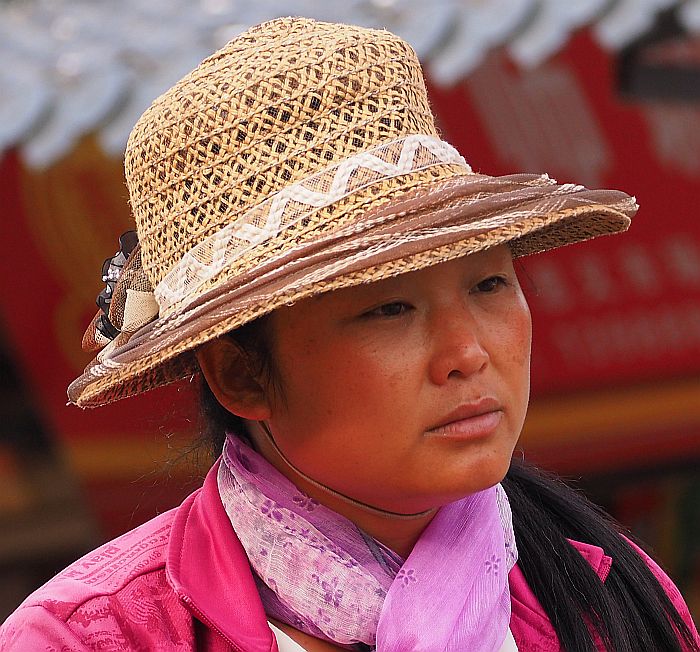 In Lijiang I checked into a small boarding house. The lady was completely overwhelmed
with my passport and the computer system. I couldn't help her because I couldn't read
the check-in form, so I didn't know which field to put the data in. I also have to admit
that I had run out of patience, with the way she acted, and especially the way she spoke
to me in such a loud voice. She called an English-speaking lady who came to help her
and together they were able to decipher the mystery of the Chinese bureaucracy.
Eventually, filling in the blanks seemed to fail, because my point of entry, Shenzhen,
was not in the template. I tried to make it clear that it didn't matter and that they could
simply enter any city because that wasn't important. When the English speaking lady
translated what I said, the owner freaked out totally. She said something to her "helper"
and her volume suddenly tripled. Totally hysterical.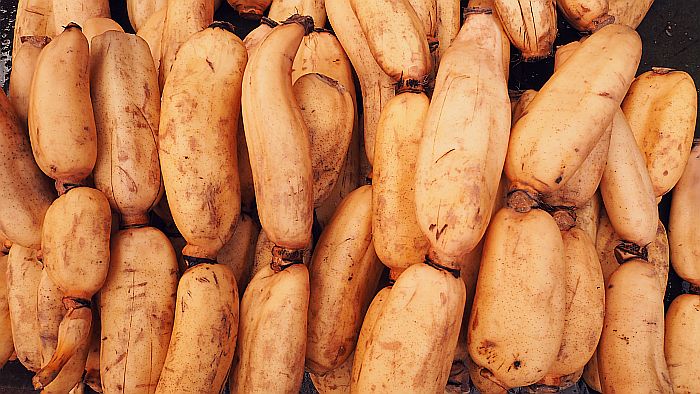 People are afraid here – afraid of the police, and afraid of getting into trouble. They simply
take no risks whatsoever that might jeopardize them. They would rather turn down a paying
hotel guest than bring a potential problem into the building.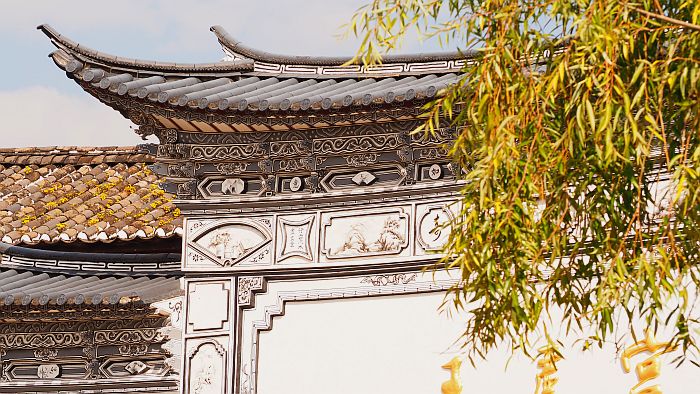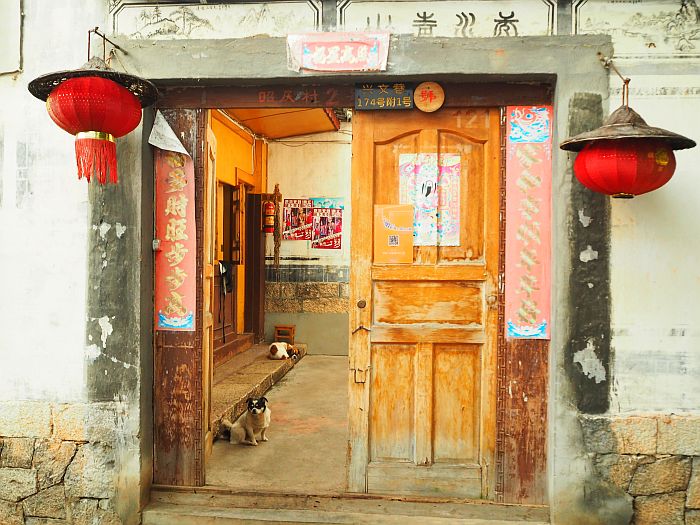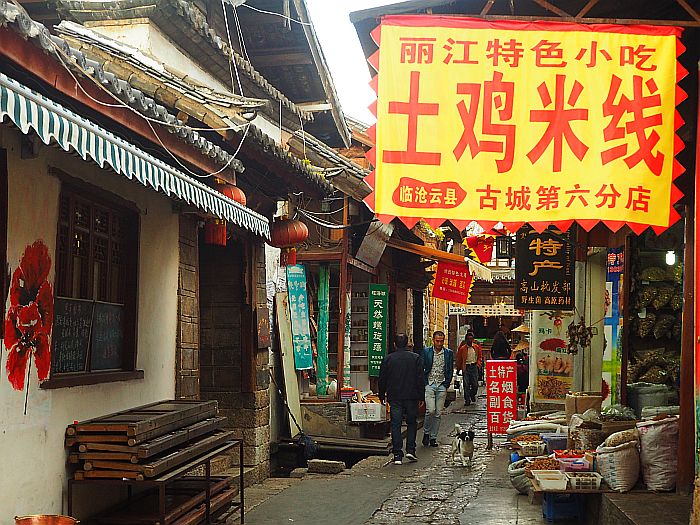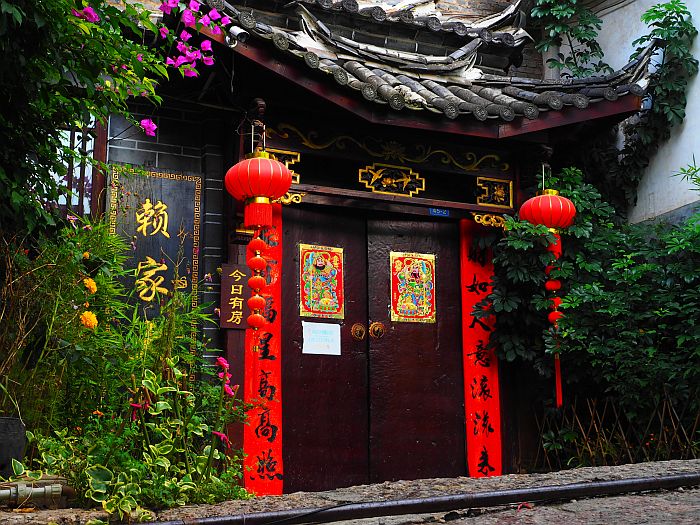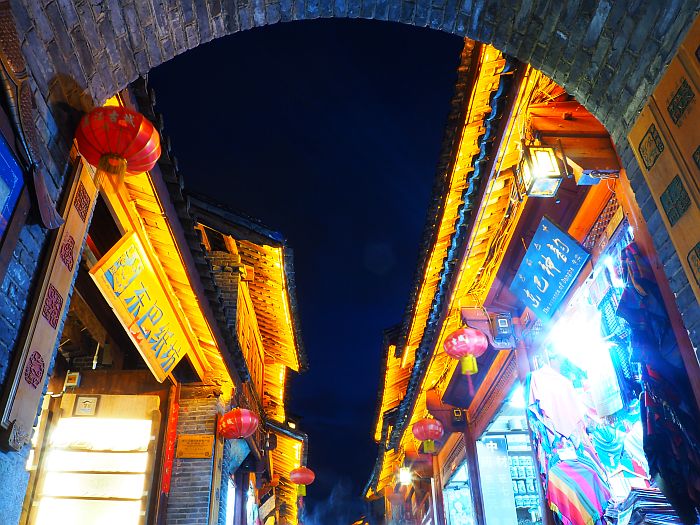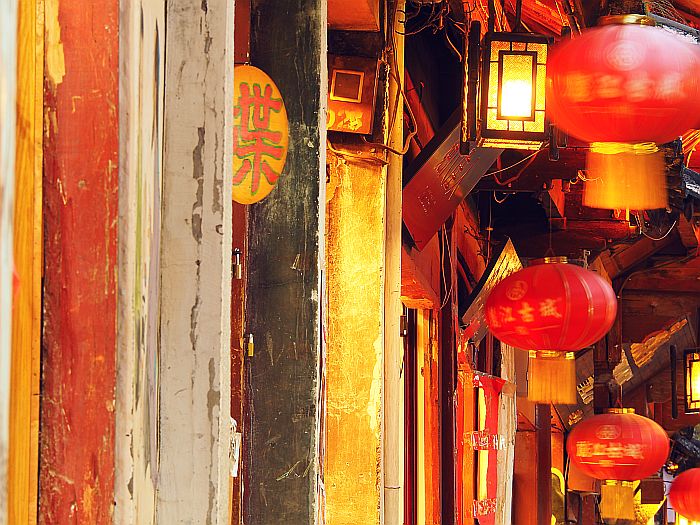 From Lijiang, I drove southward towards Jiangchuan. I asked dozens of people
which road to take because the place names on the signs were of no help to me.
Of course, I knew which direction I needed to go, but I couldn't find the road. I asked
again and again, but the questions only annoyed me because, in most cases it led to nothing.
A brand new highway went in the same direction and, eventually, I decided to drive the first
few kilometers on it in the hope of finding a turn-off, or to simply continue to ride the first
20 kilometers to the nearest town. At the toll booth, a policeman came running up to me
and shouted "Go back." Whereupon, I first pointed out to him that there was no reason
to yell at me.
I've never been underway in a country where there was so much shouting as there is here.
I tried to explain to him that I couldn't find the road and when I saw it, it was no longer
possible for me to get off the highway. I also added that, unfortunately, I couldn't climb
over the high fence, because the highway was as always fenced in.
He shouted "Go back!!!" Whereupon, I replied "mei you!!!" By then, there were six policemen
standing around me and I made it clear that I would not turn around; I wouldn't push my bike
back through the tunnel and go over the bridge again to look for the road, especially since they
weren't able to tell me exactly where the road was to be found. The map, which they draw
didn't have either the tunnel nor the bridge. Finally, I agreed that they would get a vehicle
to drive me to the road. Okay, I could live with that. But instead of taking me back,
which was what I expected, we went forward – only one kilometer, because there was
the exit. For that, we had been talking for over 30 minutes.
Over the past 3 months, I had cycled thousands of kilometers on brand new highways through China and it didn't interest anyone. That's China – every day new rules!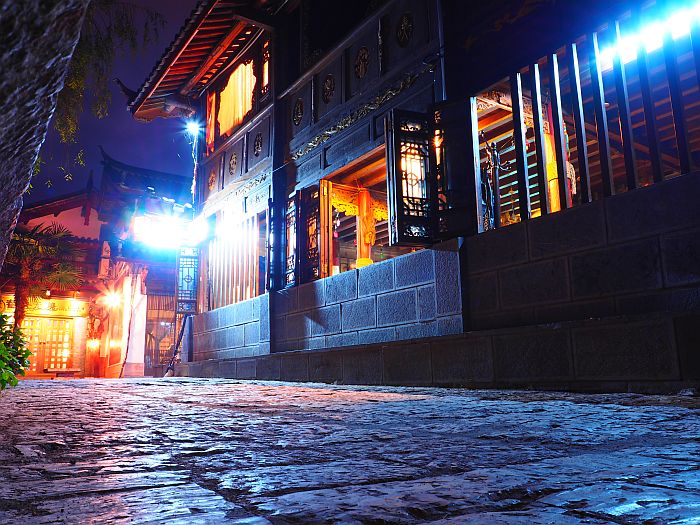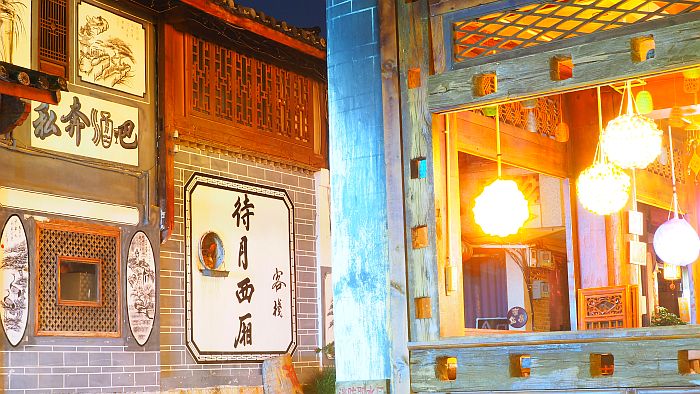 It was already almost dark when, once again, I could find no suitable place to camp.
I stopped at a house, where I had the impression I might be able to stay. As it turned out,
it was an accommodation for truckers – the walls made of wood. The men there were
on their telephones nonstop. When Chinese use the phone, they usually speak even louder
than when they talk with each other. After 2 hours of patiently enduring the continuous
shouting into their phones, I knocked on their door and yelled at them, that they should
finally shut up, because I was really on the verge of exploding.
But, as I said before, no one paid any attention to me. 15 minutes later I threw my shoe against
the wall, and then a shoe from the other side thundered back. We shouted at each other
through the wall, but I could have saved all my efforts. The noise and the shaking walls
didn't seem to disturb the owner at all, because she didn't show up. More and more truckers
came. One of them repaired his truck and pounded nonstop around on some metal,
the men next to my room were chattering, the house water pump was running directly
under me and dogs had been barking now for hours.
Just when I was thinking about packing up and leaving to look for something else
in the middle of the night, I heard a faint hiss. My tire went flat. No, this can't be true.
I'd never seen anything like that before, a bicycle which had been standing there for
hours and then, suddenly, it began leaking air. How could that be? But that no longer
interested me this evening, because if I would have repaired the flat at that time,
I would probably have gone bonkers. Especially since I knew, that even if I waited
until it became quiet, it would only take them 5 minutes to fall asleep and they would
begin snoring so loud, that I couldn't even think of falling asleep again.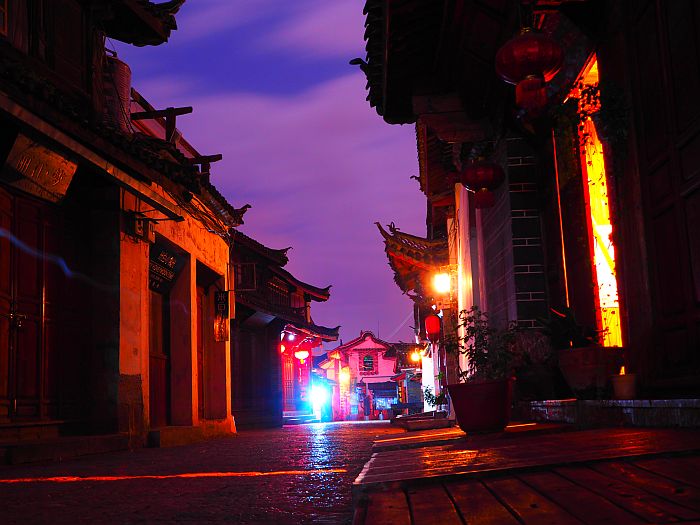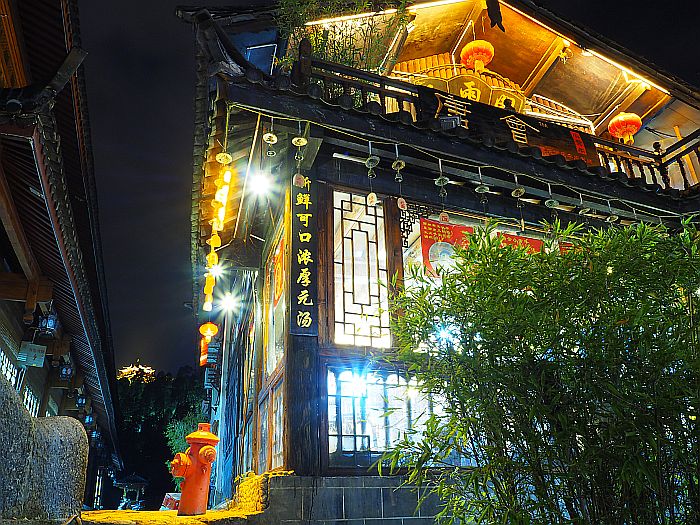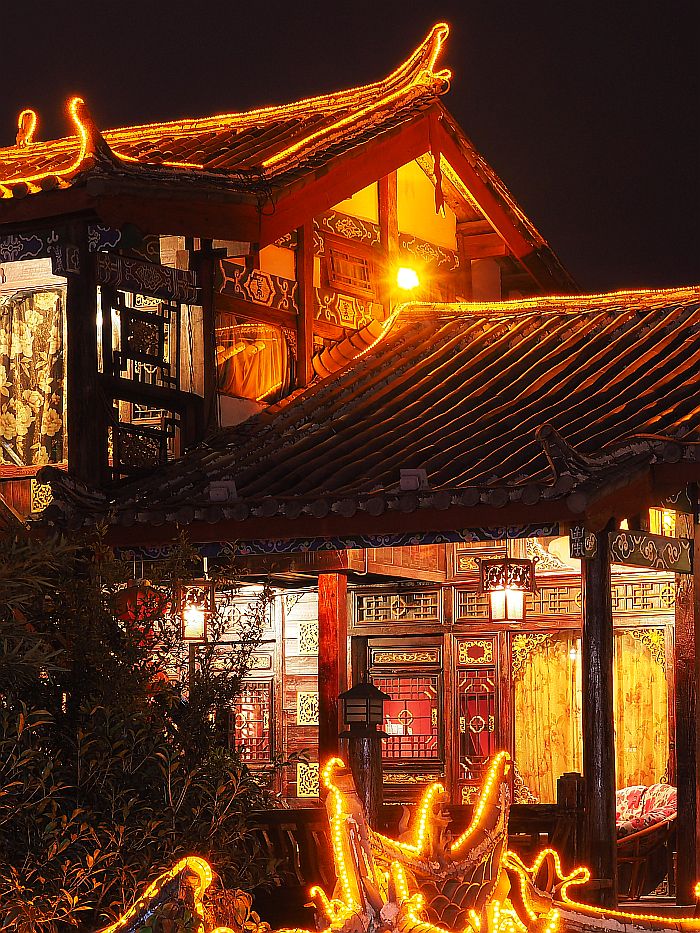 How the adventure in Yunnan continued, I'll tell you in the next blog.