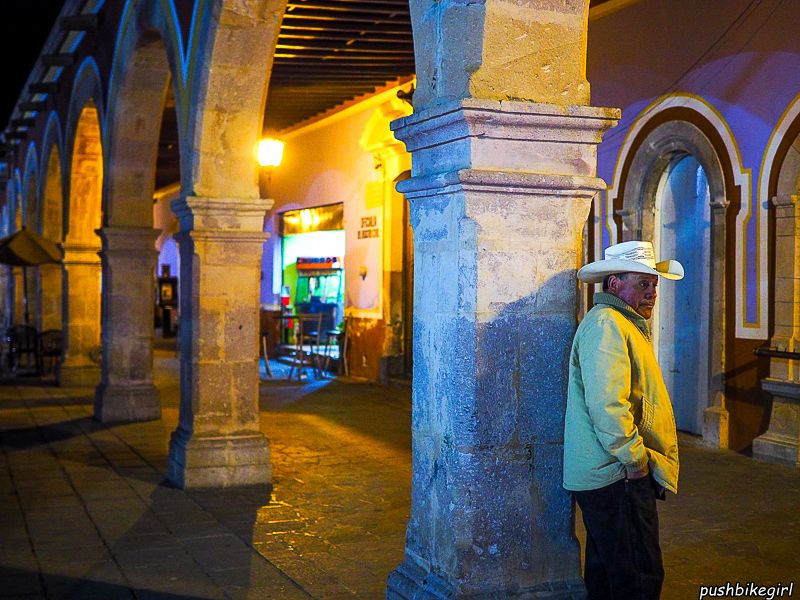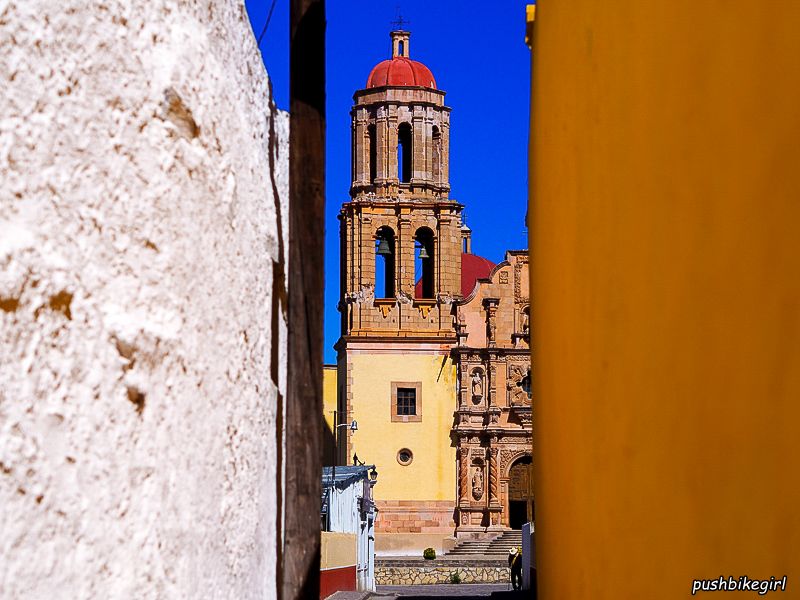 I started my short, somehow new trip experience, which took place without cycling in Sombrerete a -Pueblo Magico – a magical village in the state of Zacatecas in the North of Mexico.
A great village full of street life and superb colorful houses, pretty churches and simply a lot of flair. I strolled until very late through the alleys and tremendously enjoyed photographing the pretty streets.
I also enjoyed being able to stay in a small hotel and more importantly not having to worry about anything. It was simply something else, a different style of travelling and that alone was just good and a change which I needed so badly.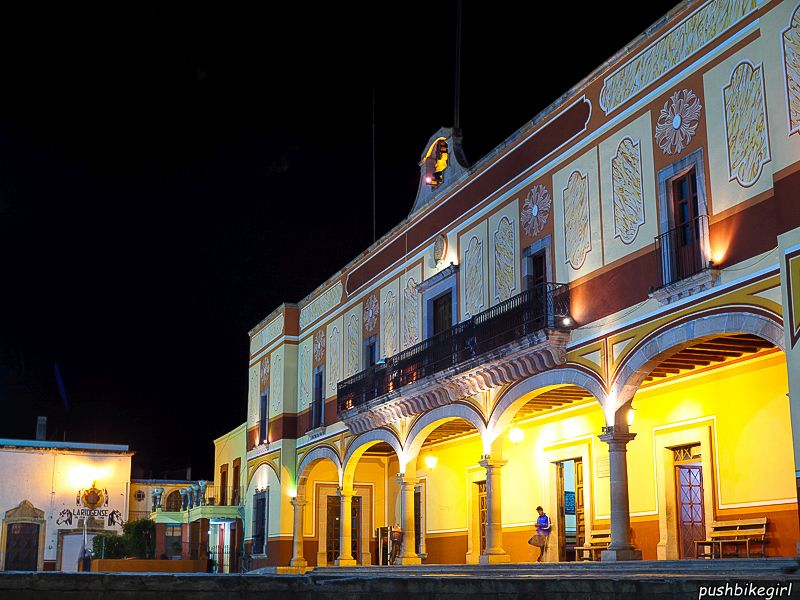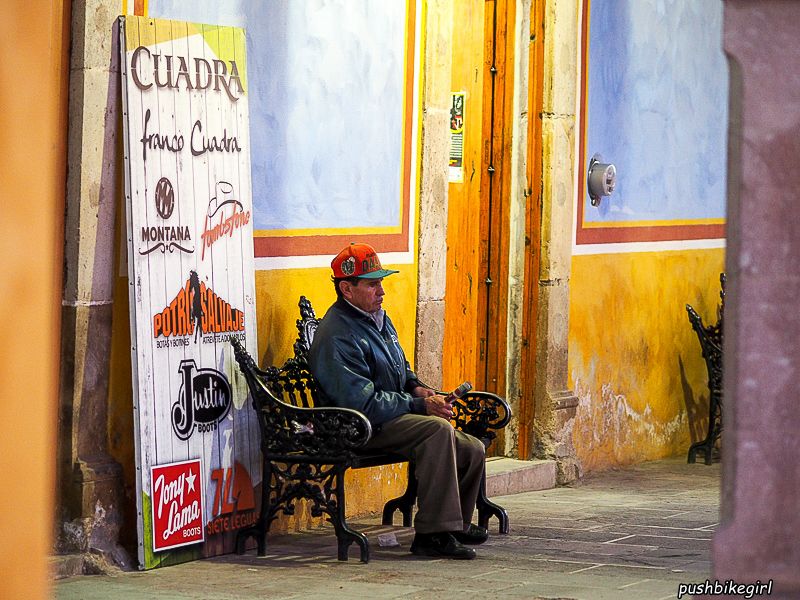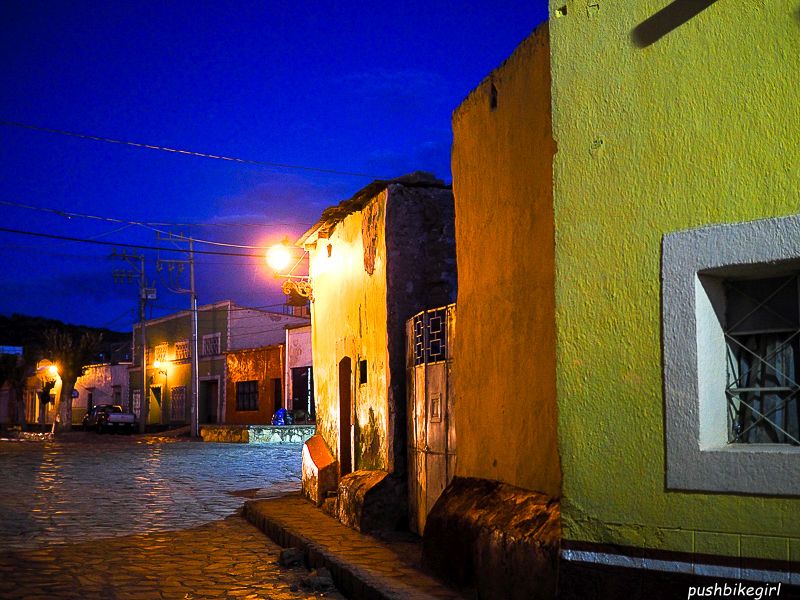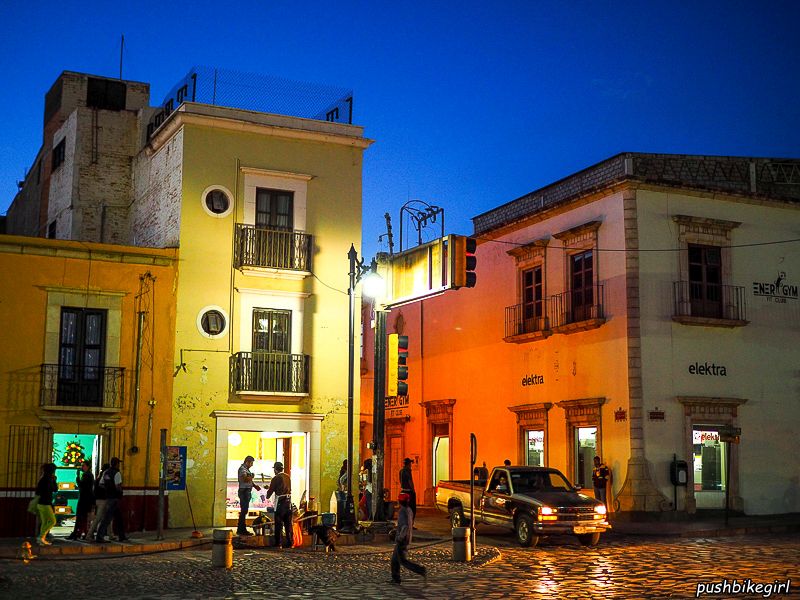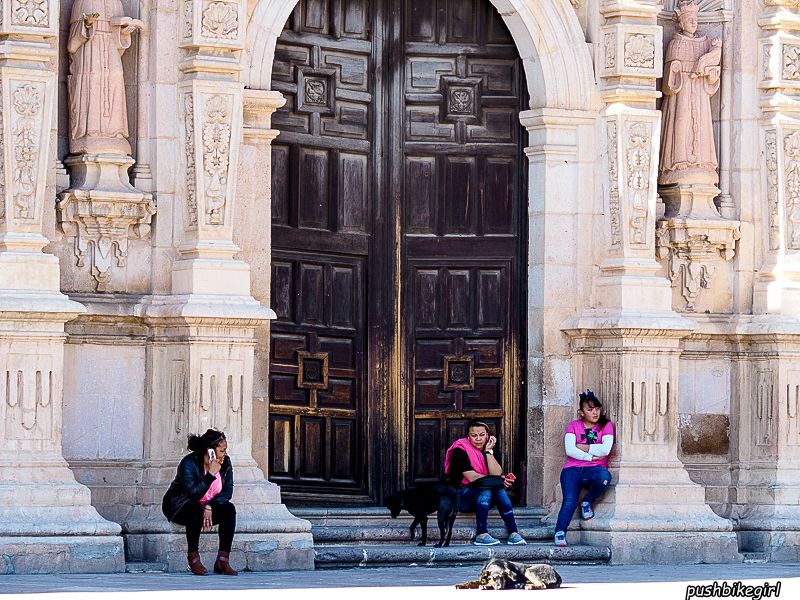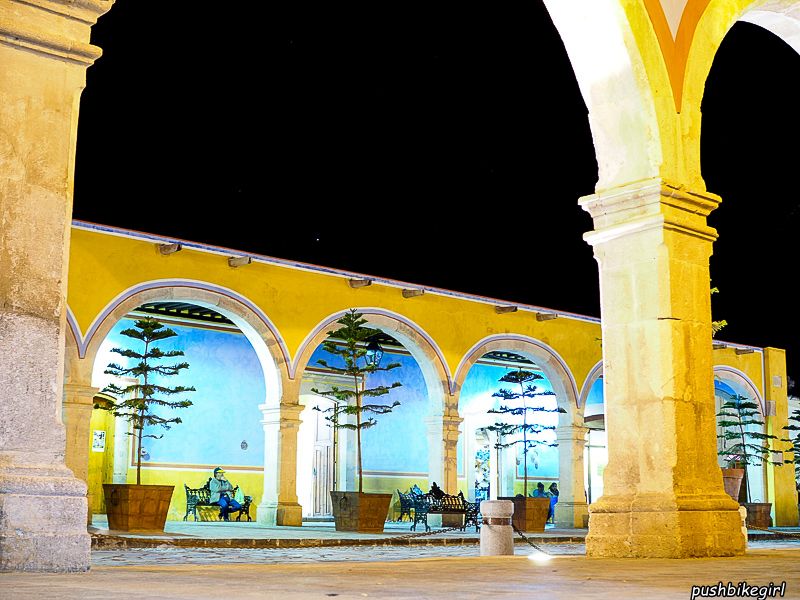 Billard is a popular Mexican evening activity among men. There is often an interesting atmosphere in those pubs and always worth a short visit.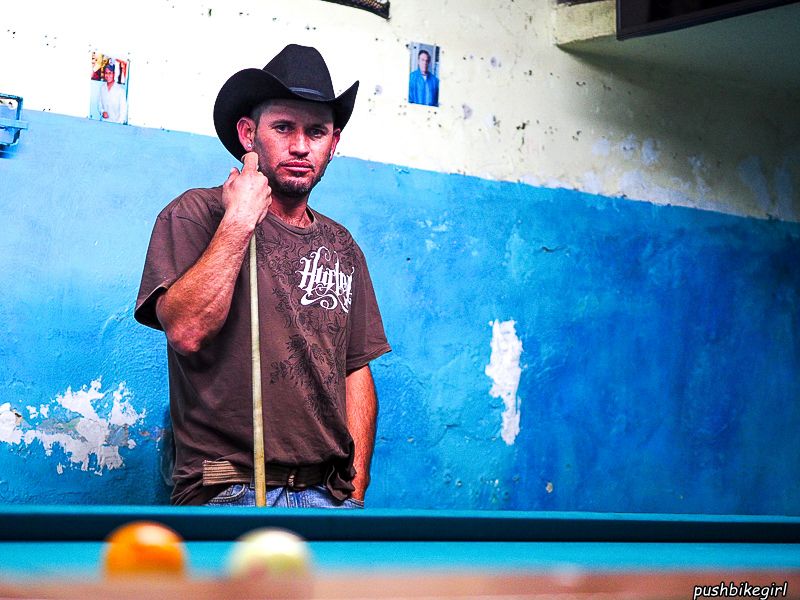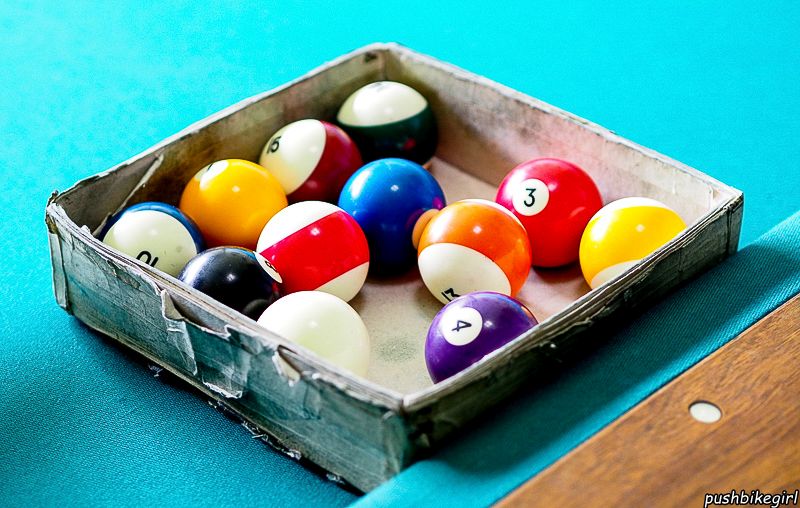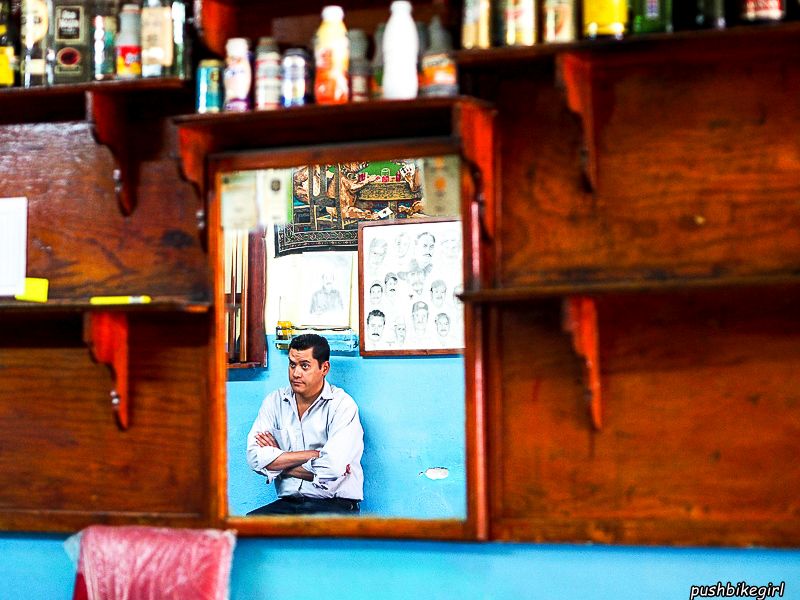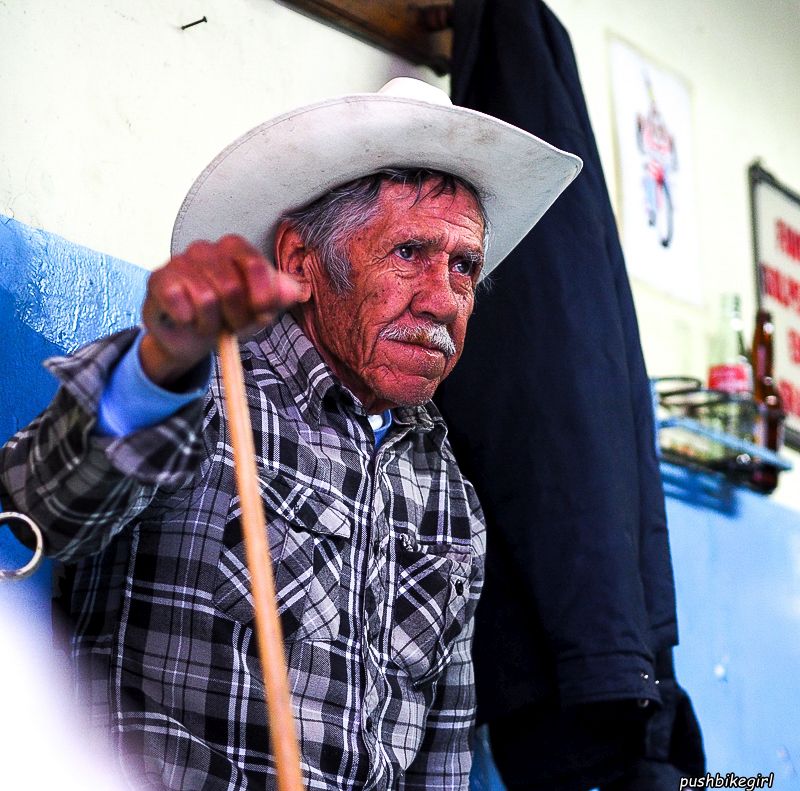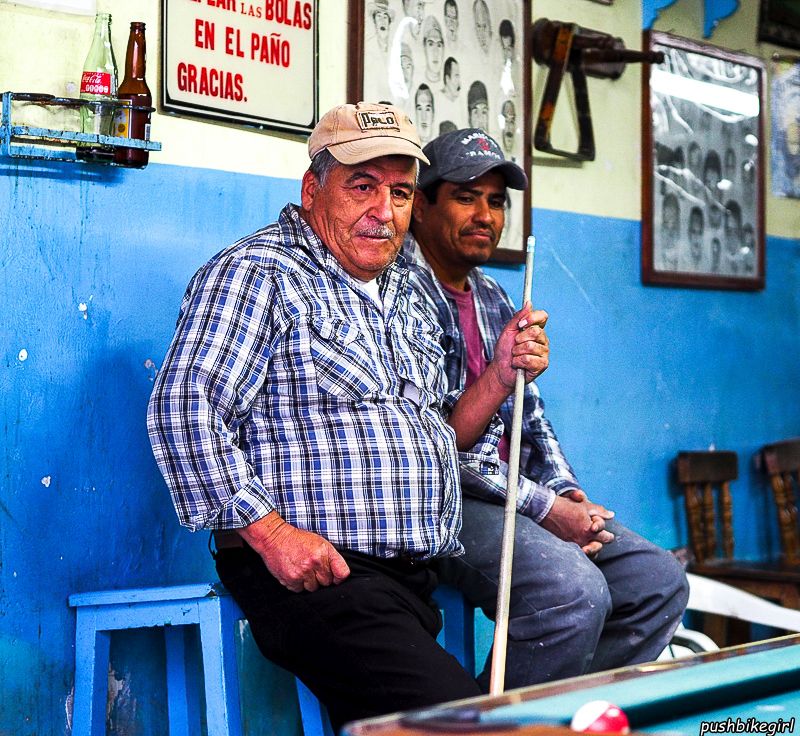 Domino is also played, especially among older men. Funnily playing football doesn't seem to be very popular. No ball kicking kids to be seen.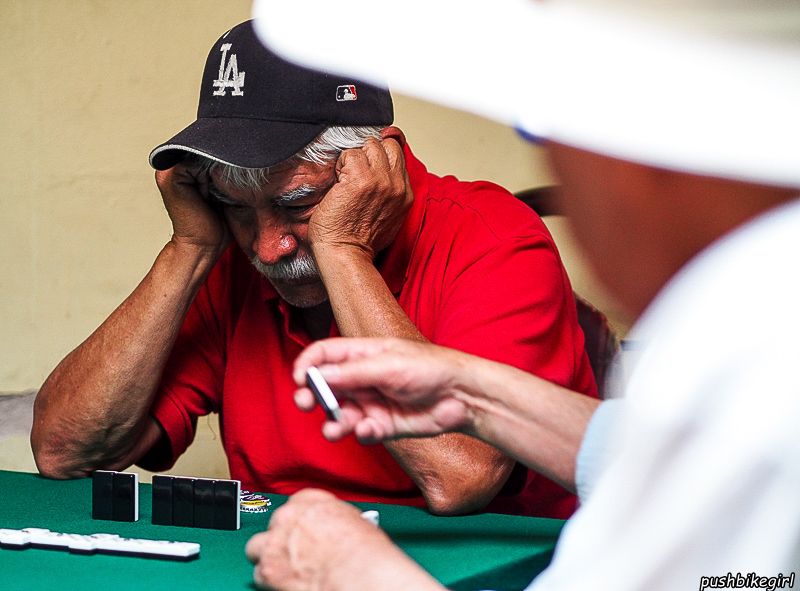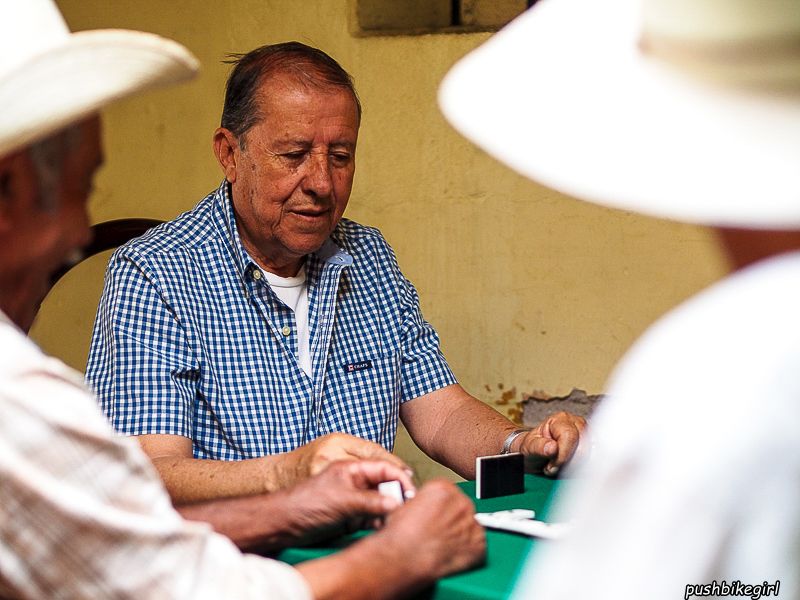 Cowboy hats are at every age the men's outfit par excellence and I have to say it really suits them well.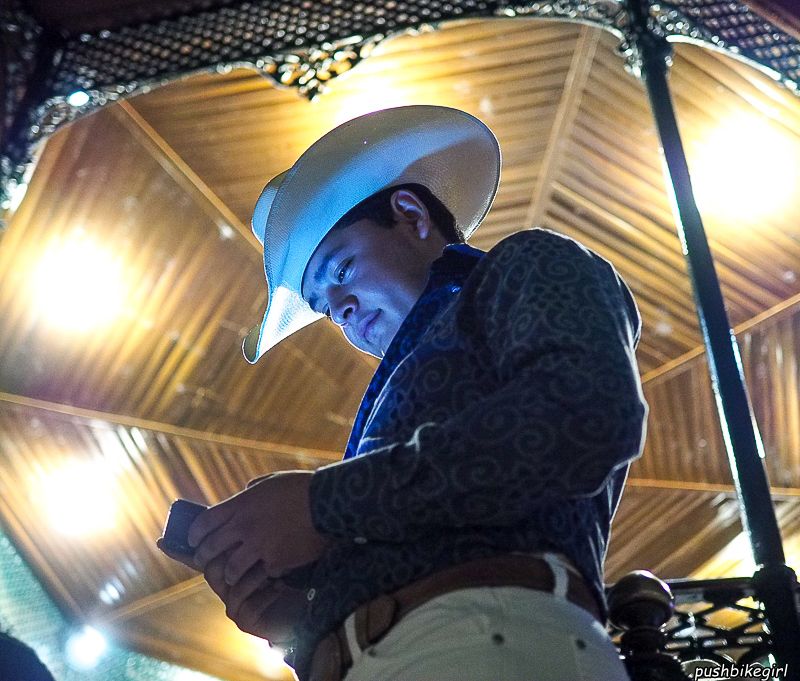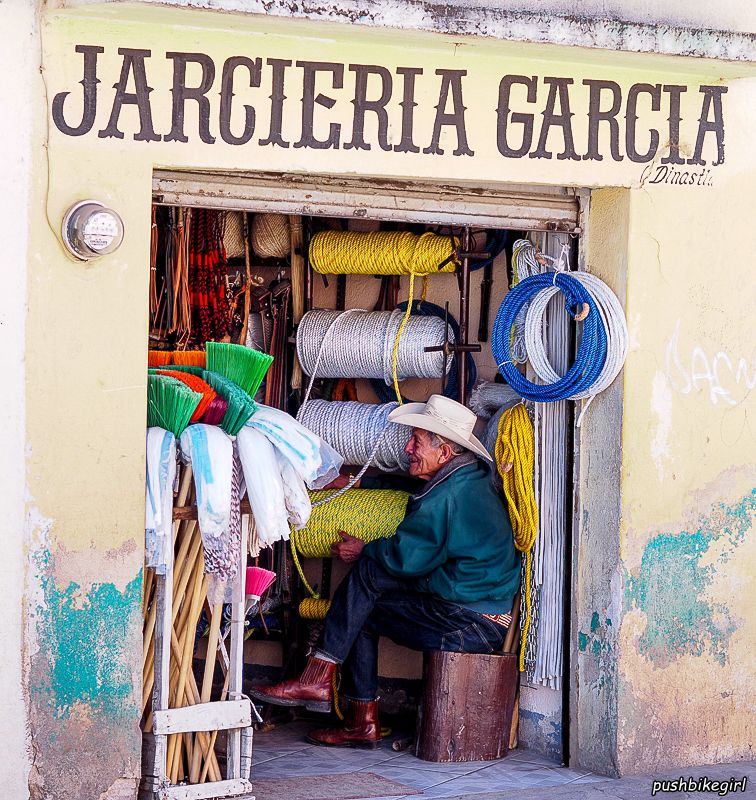 The evening movements in this part of Mexico were much livelier and took place far longer into the night. Something I found very positive. It is just great to be able to stroll through the alleyways on a quiet night and watch people listening to music, sitting together and having a good time. Even if there was still not much happiness around – at least that's how it felt to me.
But the somewhat desolate time I had in the north seemed to have improved in any case, even though I can't really say that the people received me with open arms, but it looked more positive.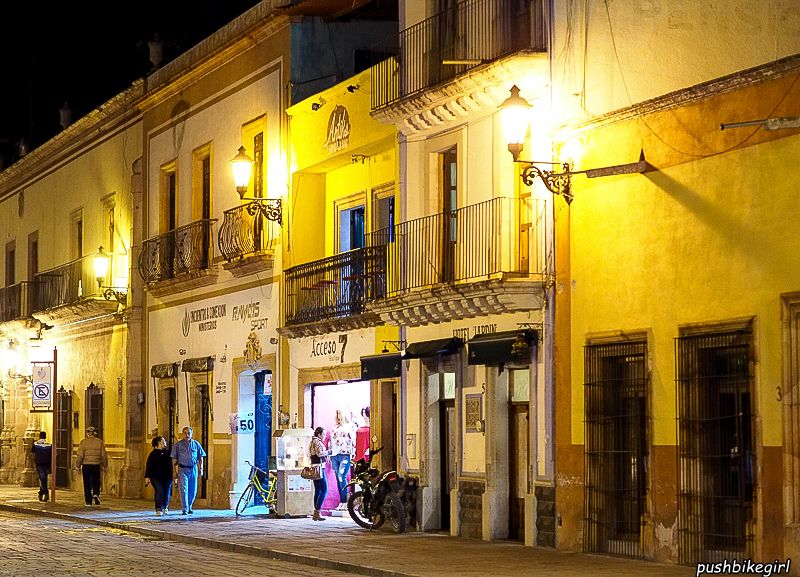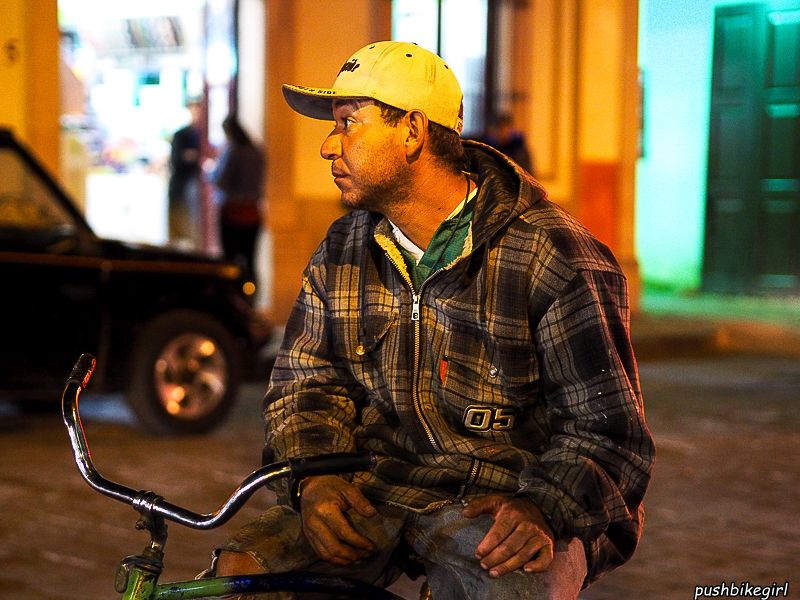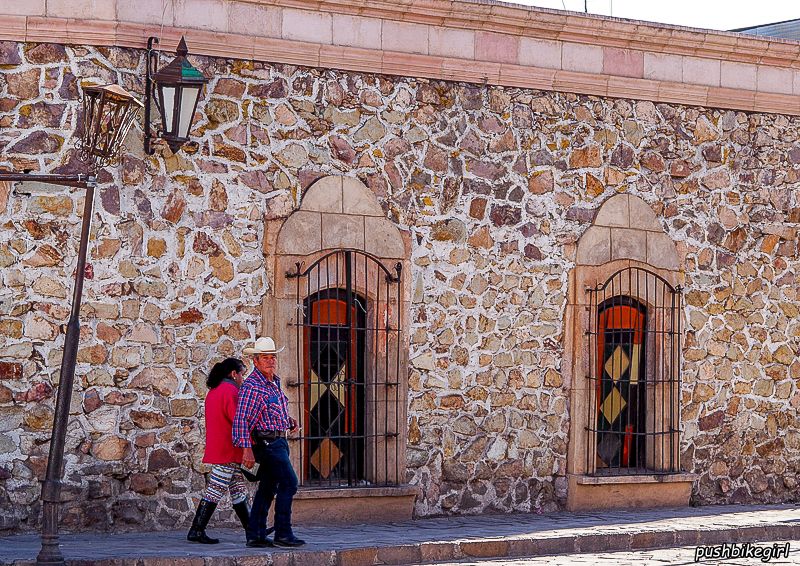 Zacatecas was the first real colonial city, which is almost in the heart of the country at about 2000m and is surrounded by desert – had somehow suddenly emerged from nowhere. An old silver town where the Spaniards have left a lot of churches and colonial buildings. A rich city.
I also have to say that Mexico is not a poor nation, I never had the impression that people are suffering from hunger or that they don't have any luxury items, except the indigenous in the mountains, they really had only the most necessary things.
After a very long time not staying in a hostel I was keen on sharing some time with other travelers. I always like to meet people from all over the world. And it is refreshing to be able to talk properly and share experiences. Zacatecas was nice, but I had expected more.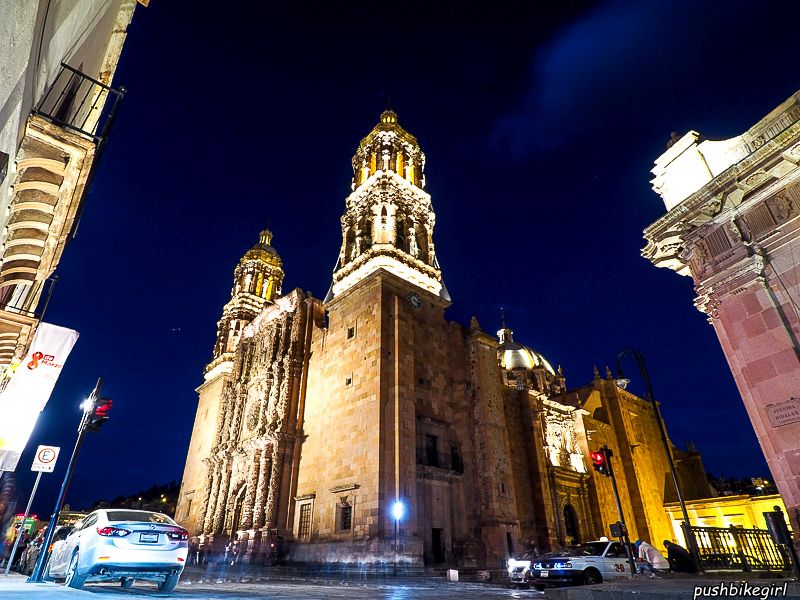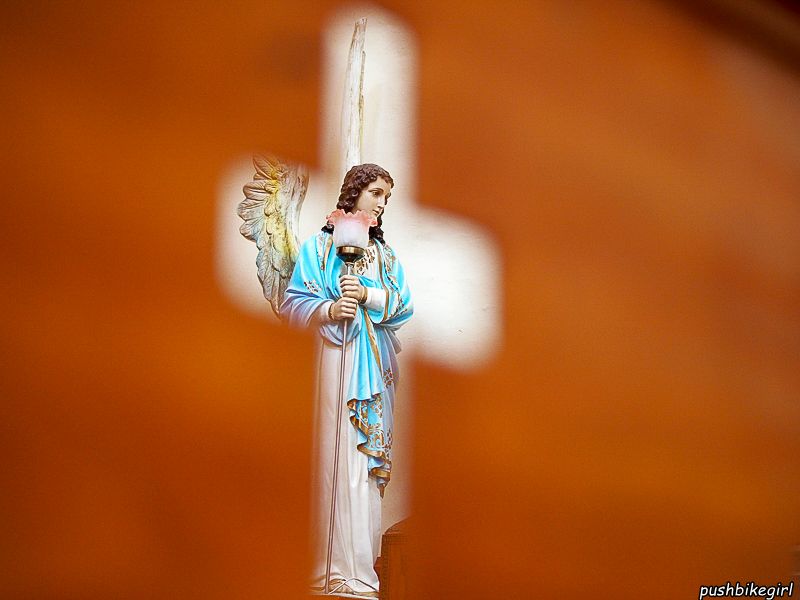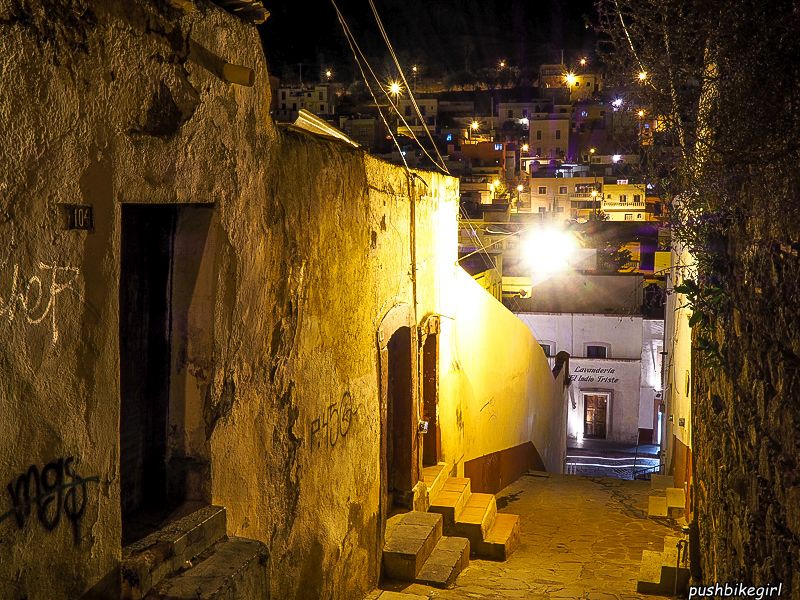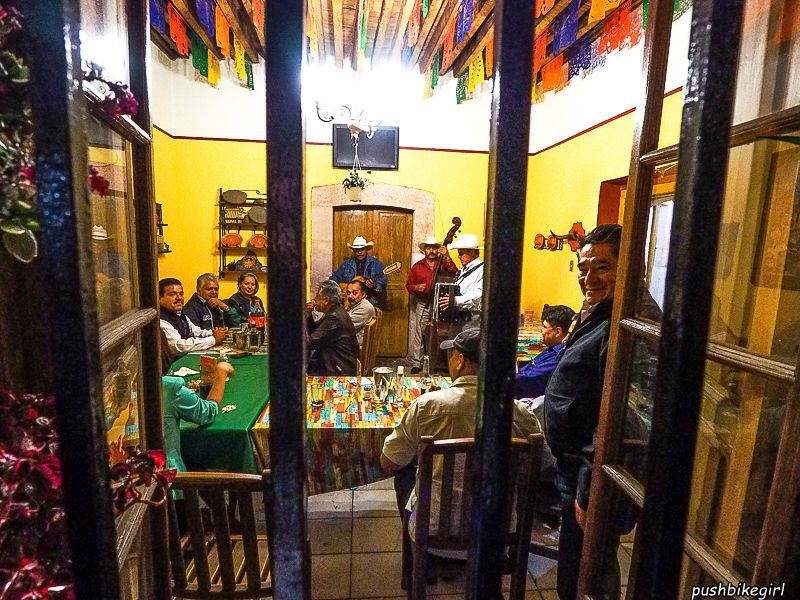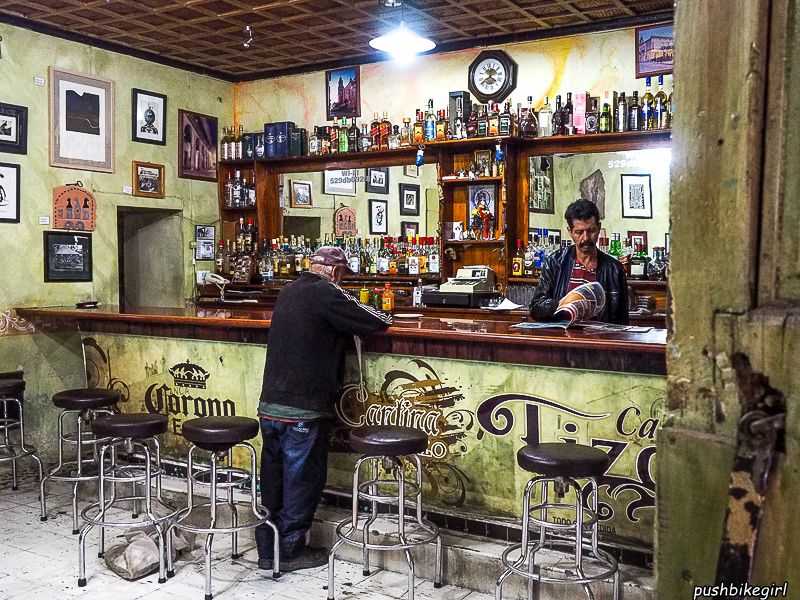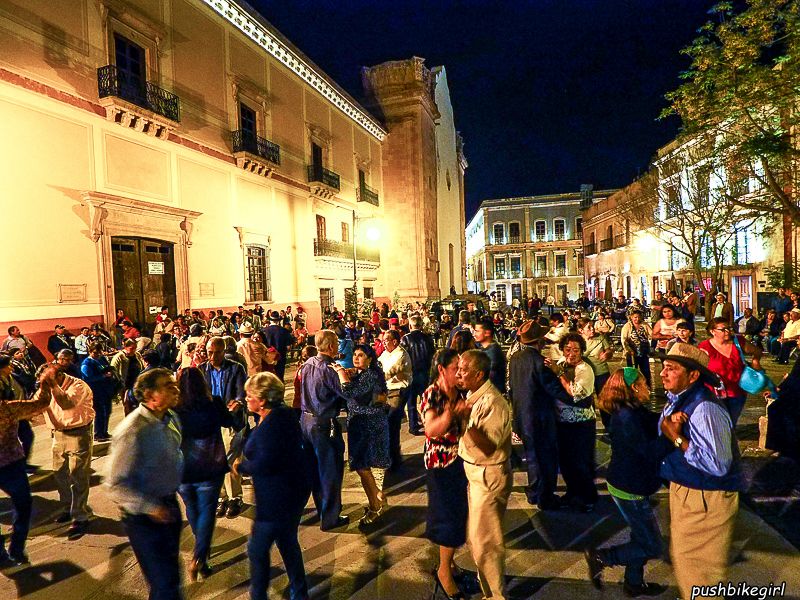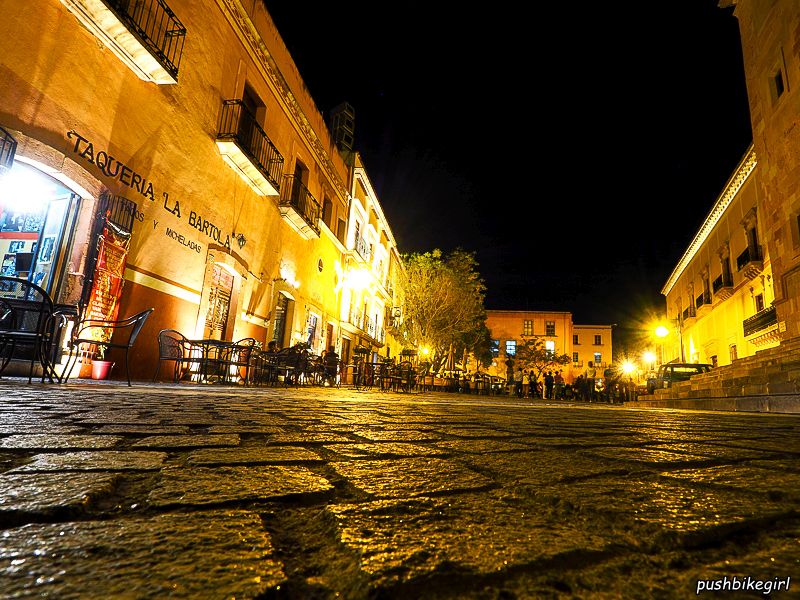 From now on there was a bit more international food available which I immediately exploited and I enjoyed quite a few Chinese meals. The Mexican food is just not my thing.
I talked to a Japanese woman who shared my opinion. "The tortillas are sometimes filled, sometimes not. They can be folded or not. Often, they are soaked in fat and the fillings also vary little. "
I couldn't have said it any better.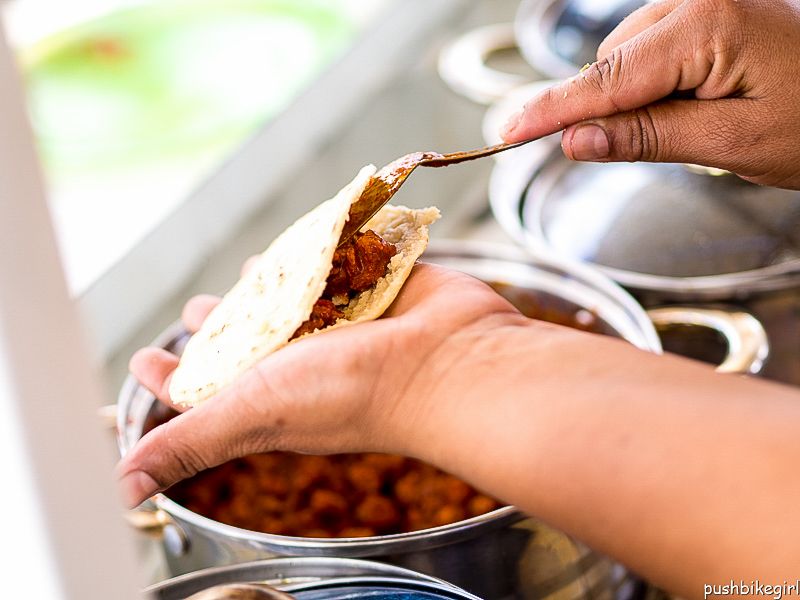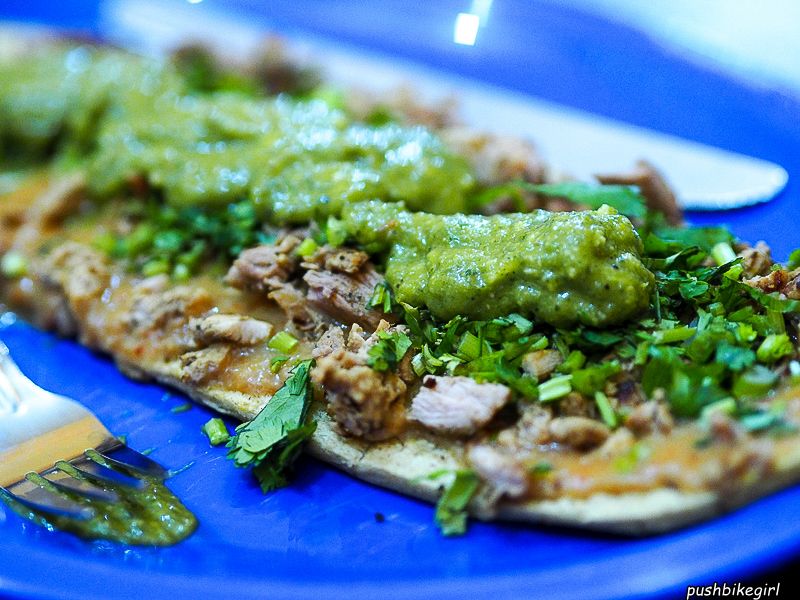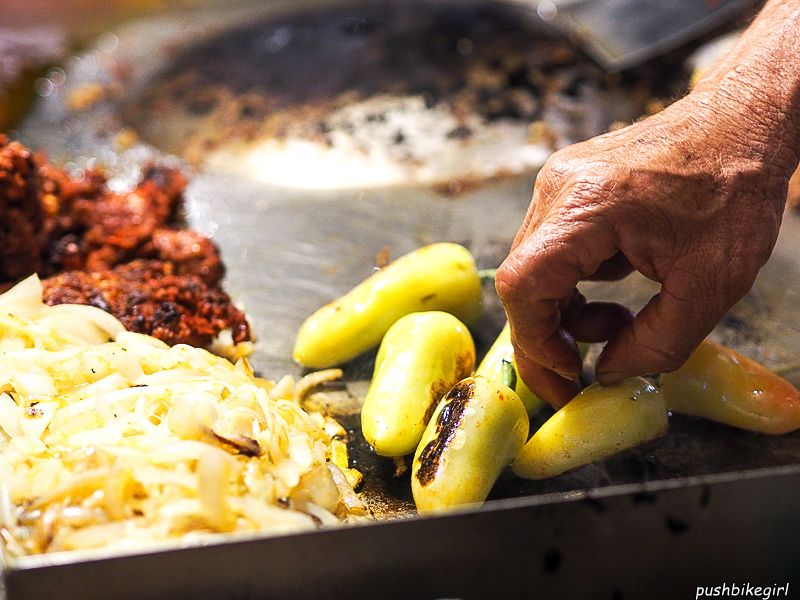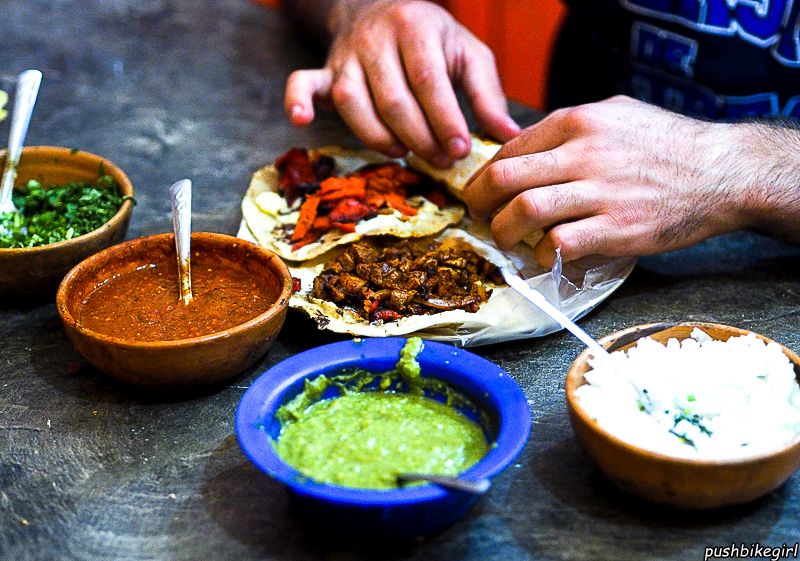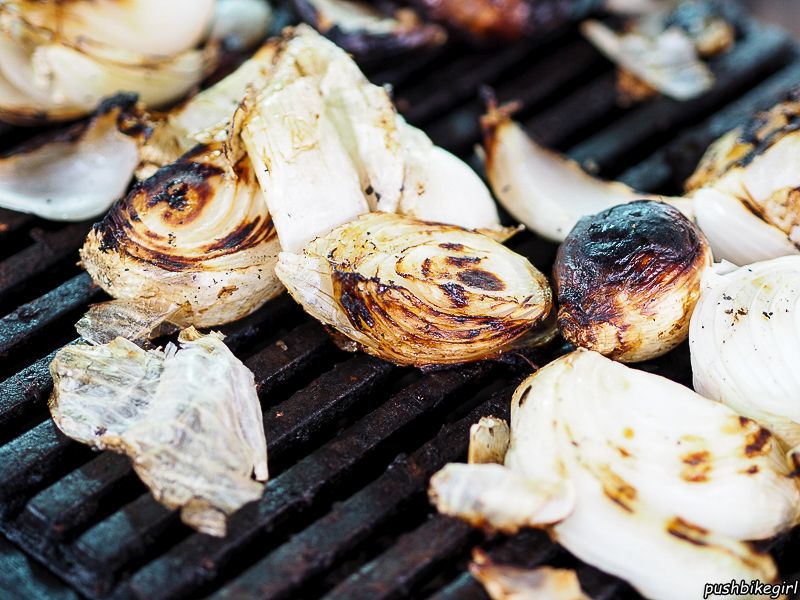 To all this fat there is Coke. Lots of Coke. I don't know any other country in which people drink such a huge amount of Coca Cola.
I don't know the statistics, but I am convinced they even beat the USA. They don't buy the Coke in 0.3 cans but in 2.5 liters bottles if they are carrying them home.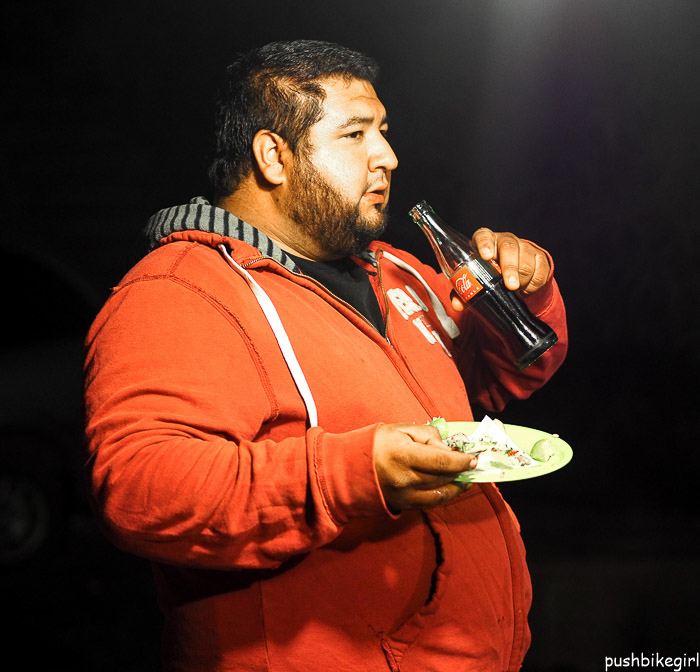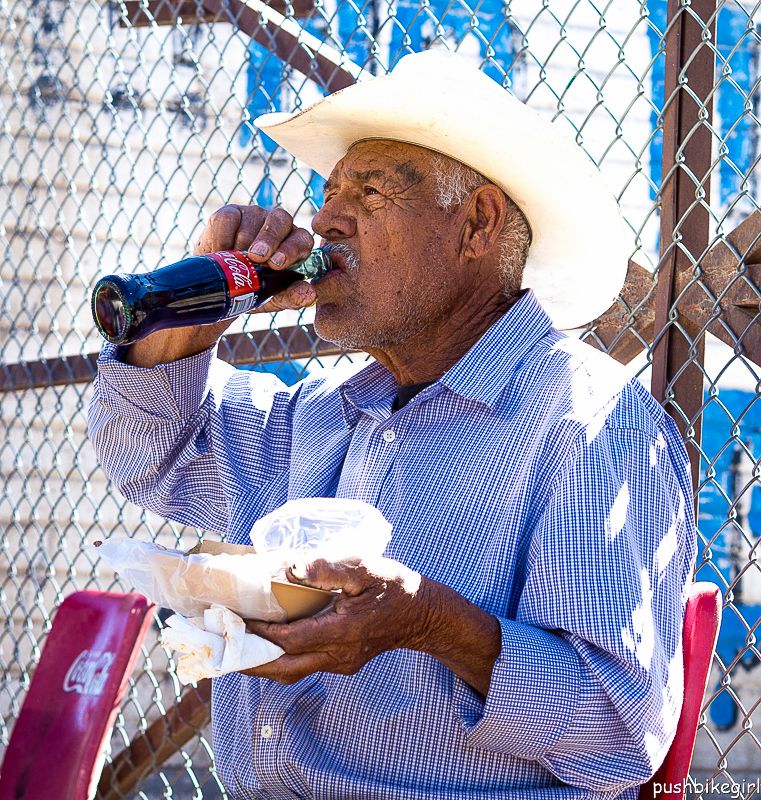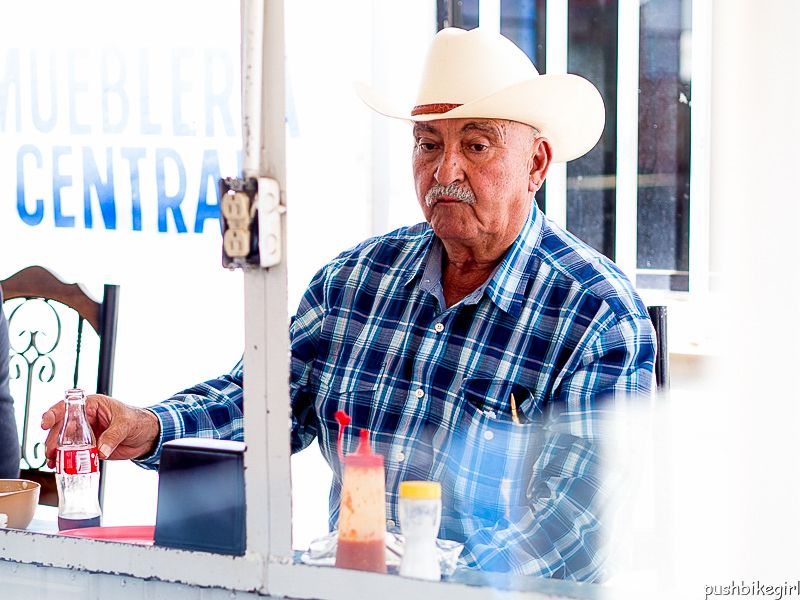 Chips are popular with young and old. Add to that the huge amount of meat and lots of fat there is no wonder why so many people are accordingly overweight. When I was in the US an American told me "You'll see the Mexicans are even more overweight than we are". At the time, I thought he doesn't really know what he is talking about. But there is a lot of truth in it.
Oxxo is the Seven Eleven of Mexico, a convenient store chain, which is absolutely at every street corner to be found and where you can buy a lot of junk-food. Alone the many varieties of chips fill a whole shelf the length of the store.
However, I like the Oxxo store, but for a very special reason. Here they sell my beloved Kinder chocolate! Real German Kinder chocolate, so I find it hard to ignore the store.
What I also totally love are the many delicious fruits which are now available at every corner. The freshly squeezed orange juices are extremely delicious, the mangos and papayas divine. The coconut milk is great too.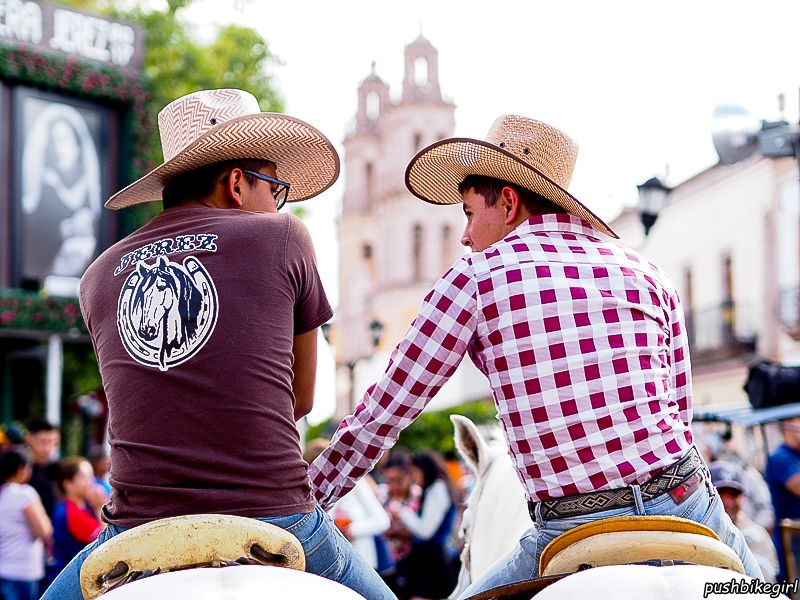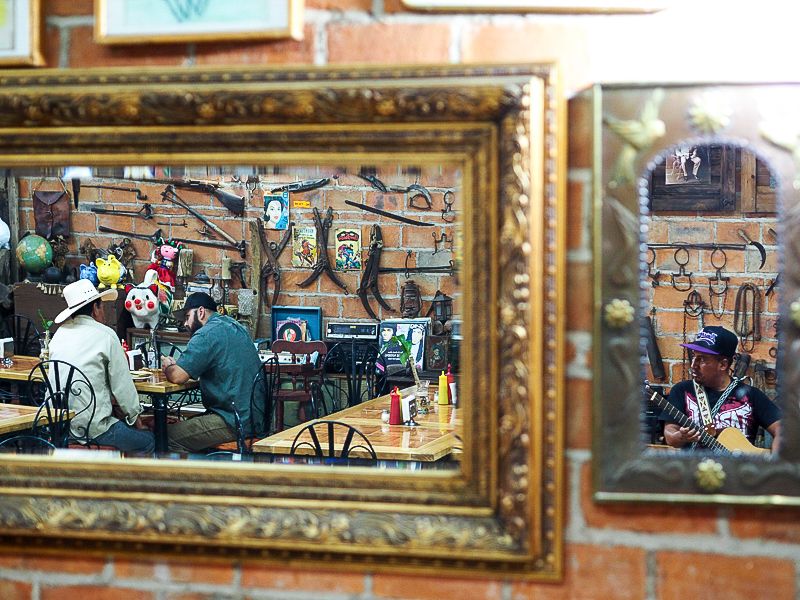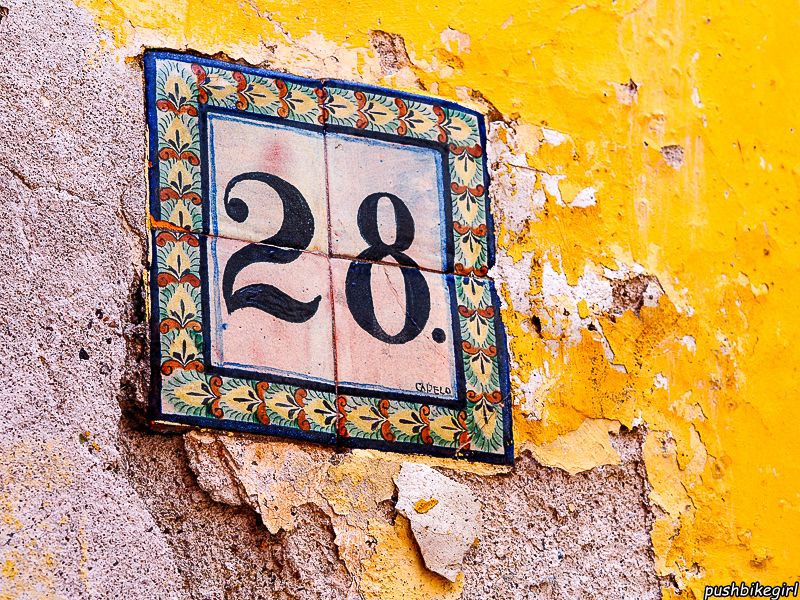 Jerez de Garcia Salinas was another Pueblo Magico, a magical village, where I spent some time and was finally introduced to real Mexican live music. The street musicians went from pub to pub and played often until far into the night.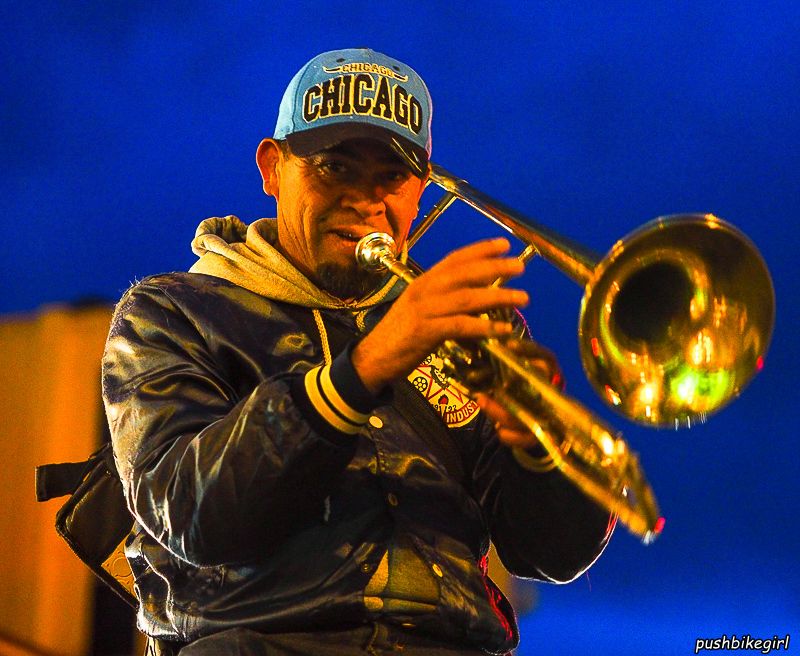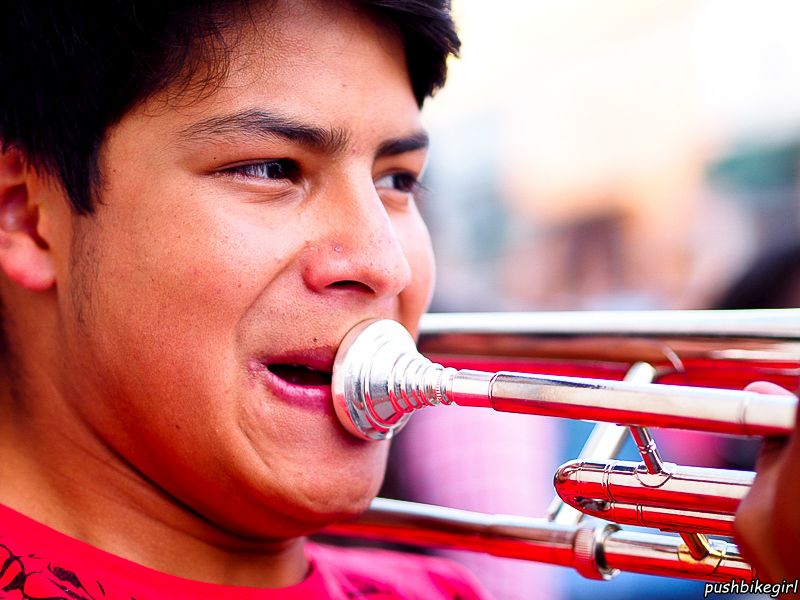 In between, there are the cowboys who ride on their horses through the alleys, the shoe polishers clean the noble leather shoes which are very popular and the women present their new evening dress.
There are the young guys with their brand-new fancy cars who are cruising along the streets all night to draw attention and the old men sit as cool as cucumbers on the many park benches that are around every plaza and watch the scene.
Finally, this was the Mexico I had expected.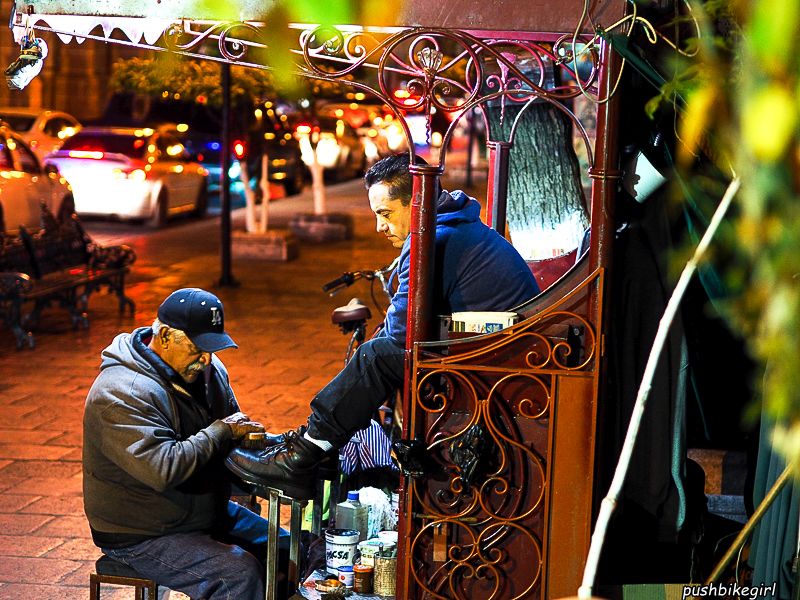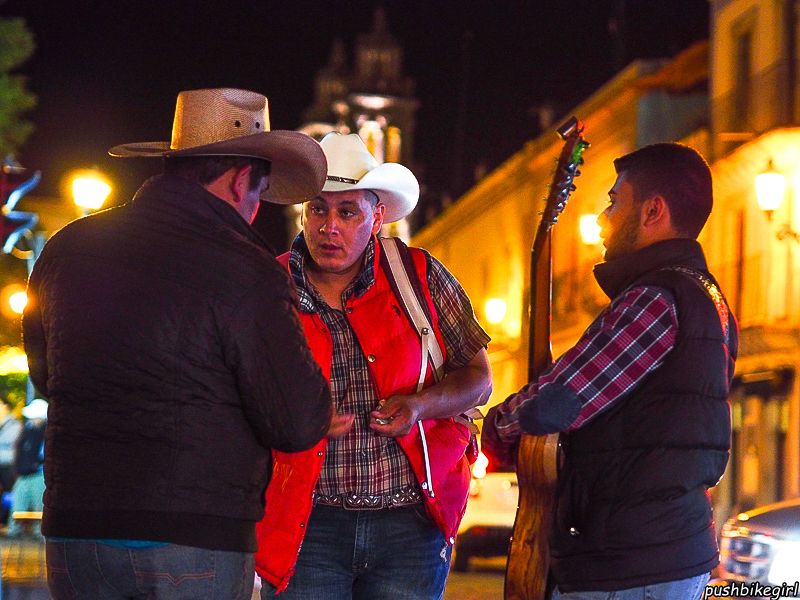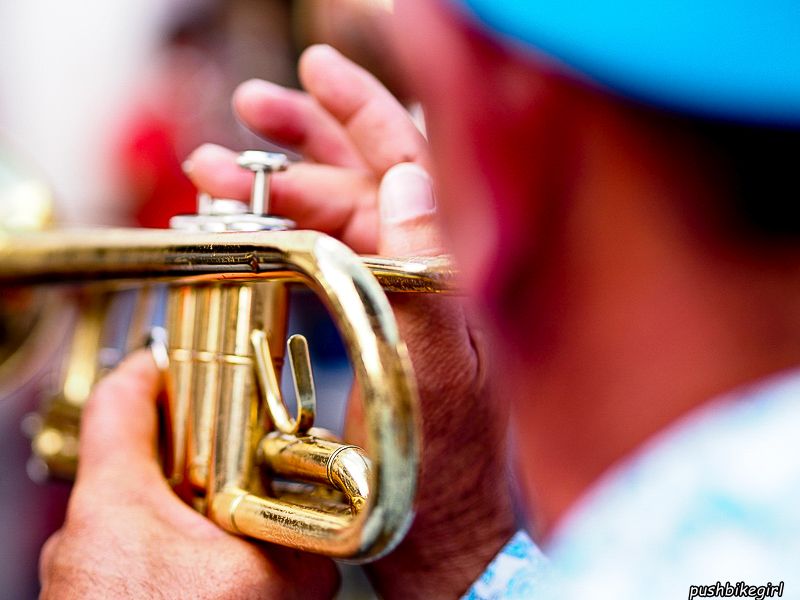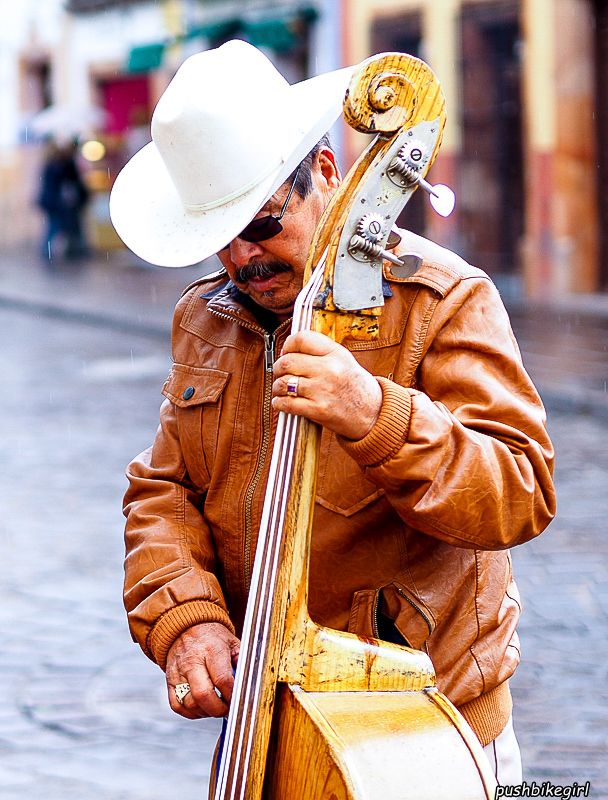 Guanajuato, another UNESCO colonial city which is one of the most beautiful cities I have ever seen. The view from the top of the city is sensational. The colorful houses a feast for the eye and the narrow, winding alleys the total dream for every photographer.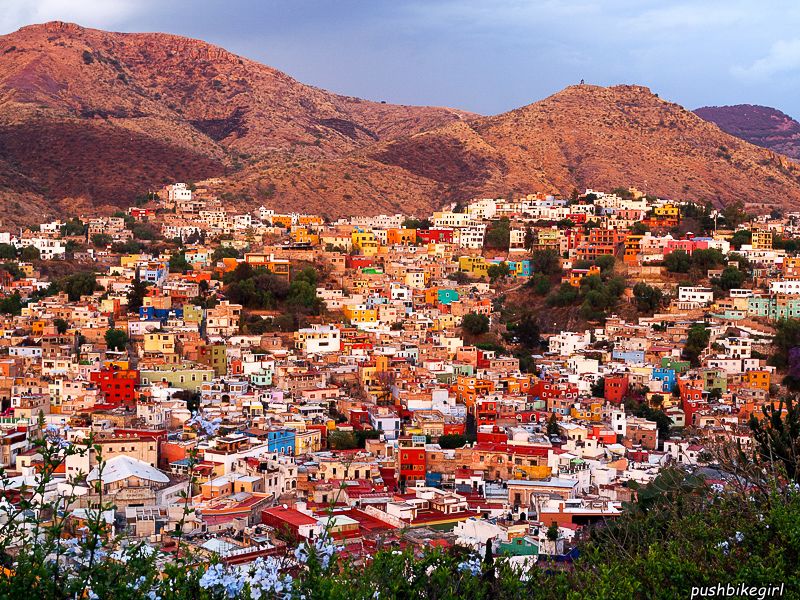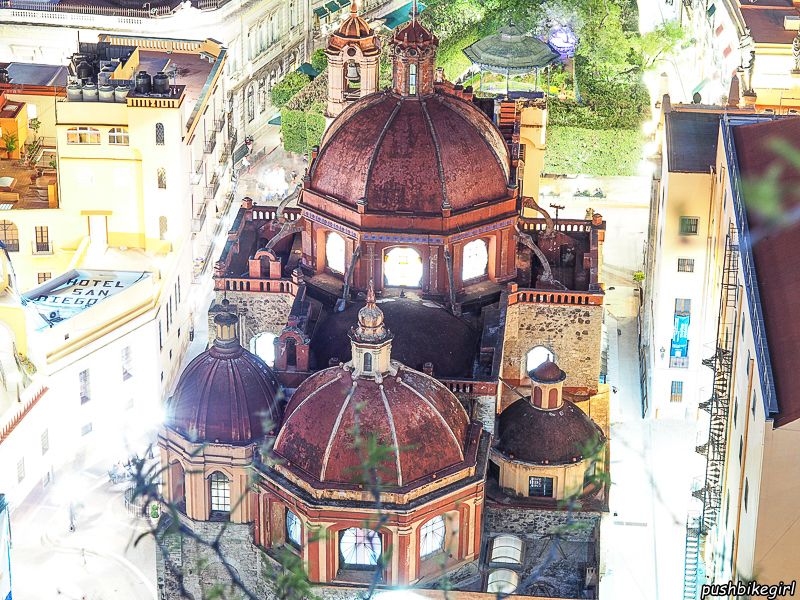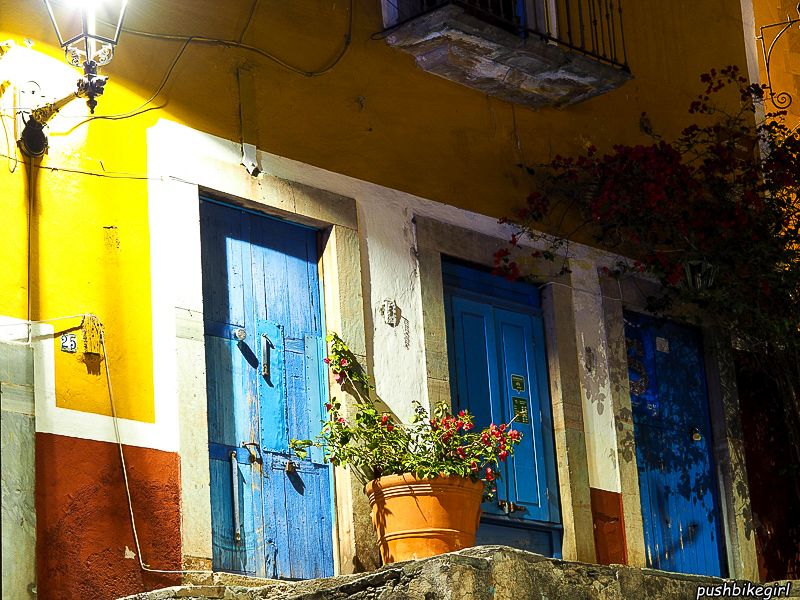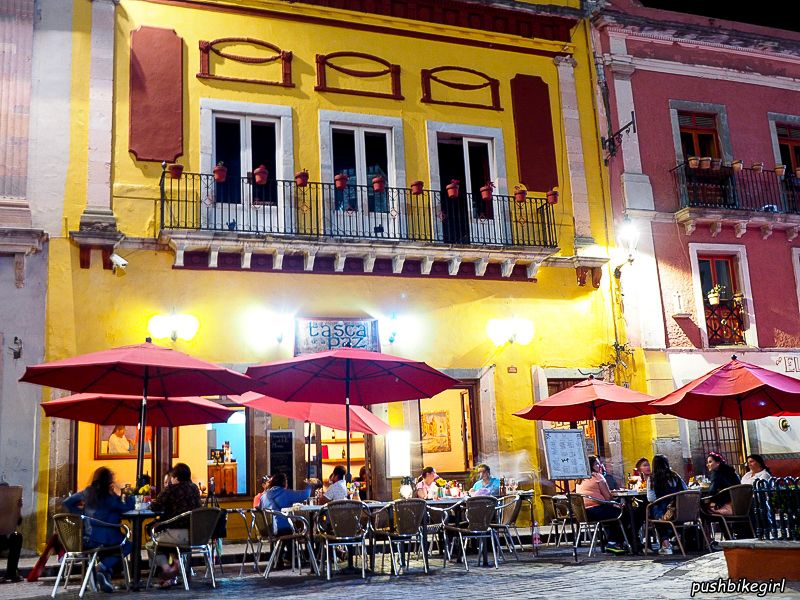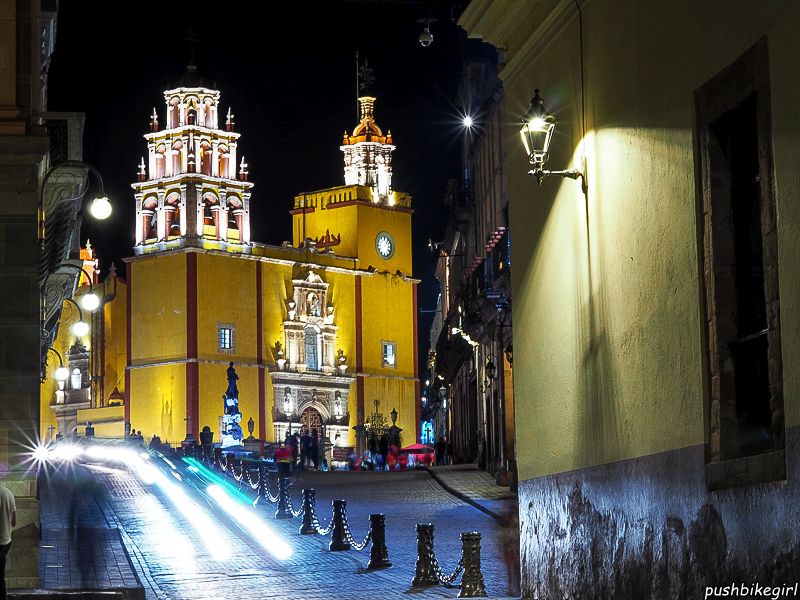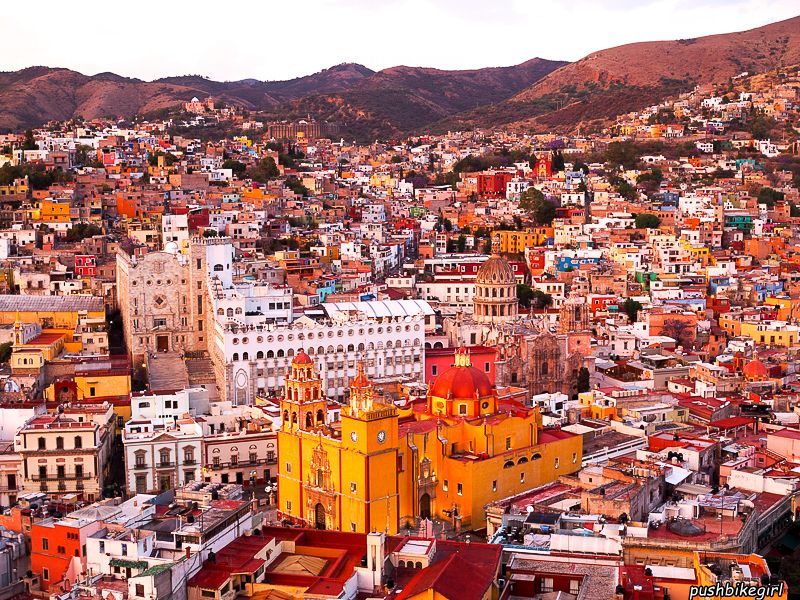 In the evening, the town was full of life. There was again live music on every corner and the bands walked from one quarter to another. The inner city was car free and thus really pleasant to stroll and watch all the activity. Just great and most certainly after the Baja California my highlight of the country.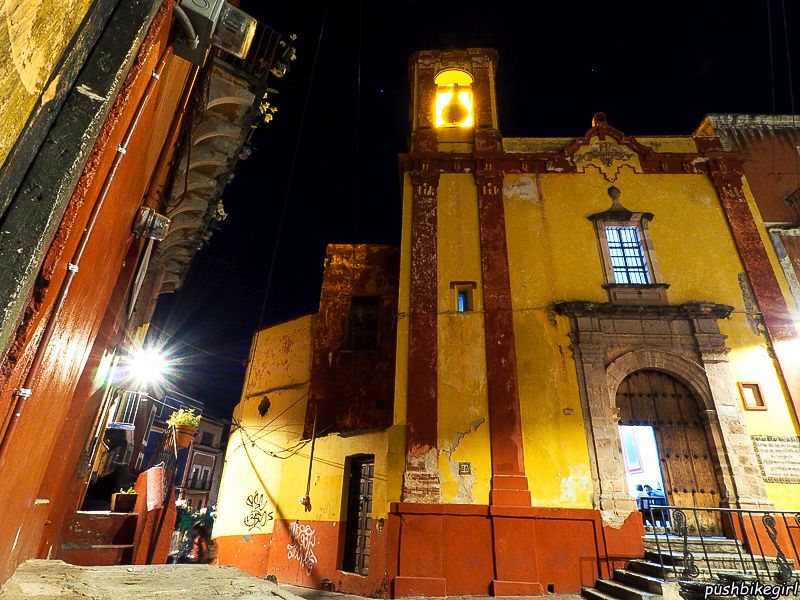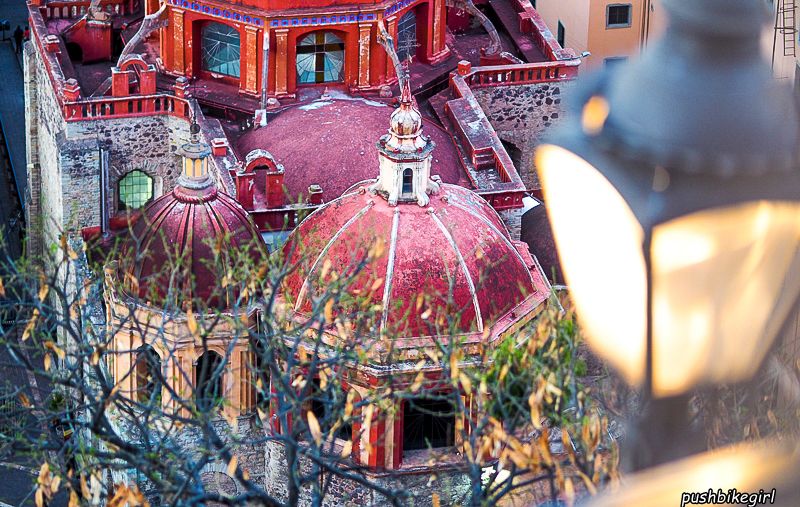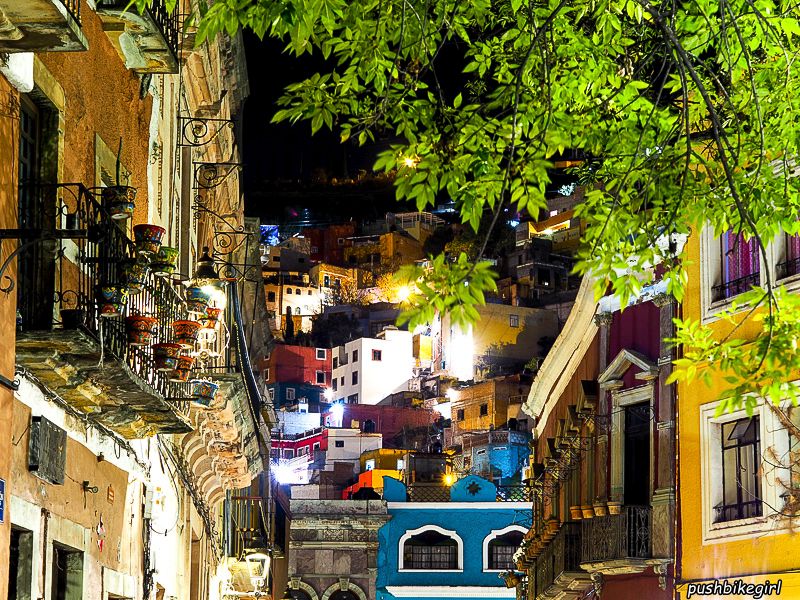 I began to find pleasure in Mexico, the last few weeks were really nice and impressive. I was able to live my love for photography, which always inspires me and is very important to my well-being. When I take pictures, I'm fine.
Between the sights were often eternally long stretches through boring areas and I was not really sad that I didn't have to cycle everywhere and really enjoyed the motorized luxury very much.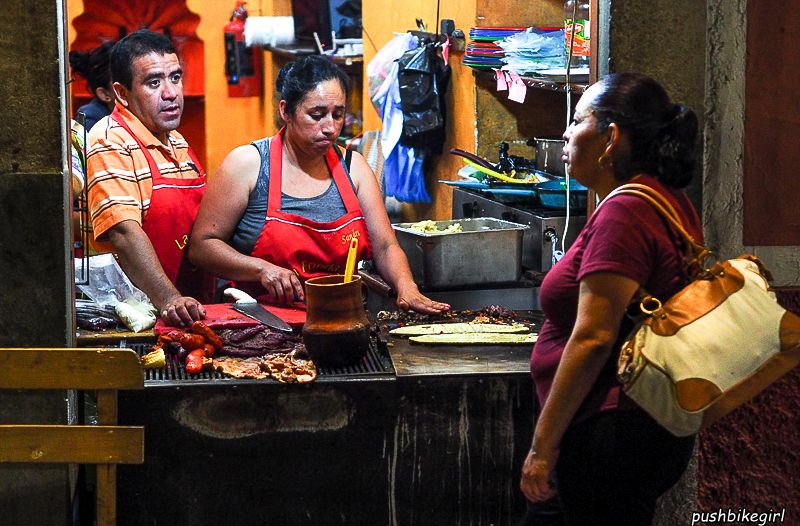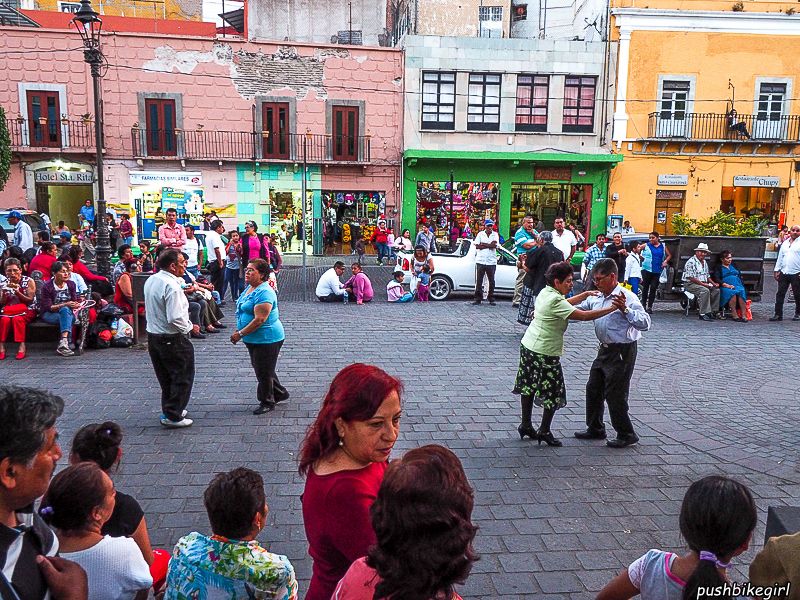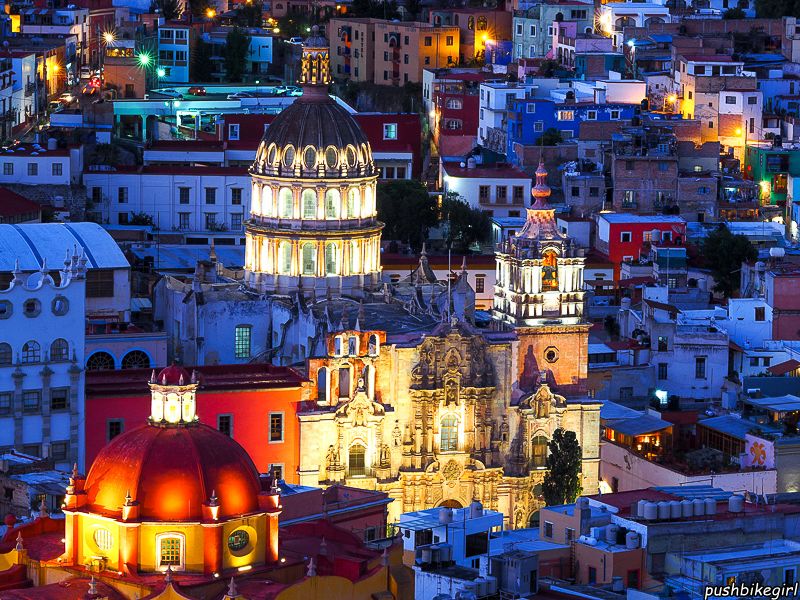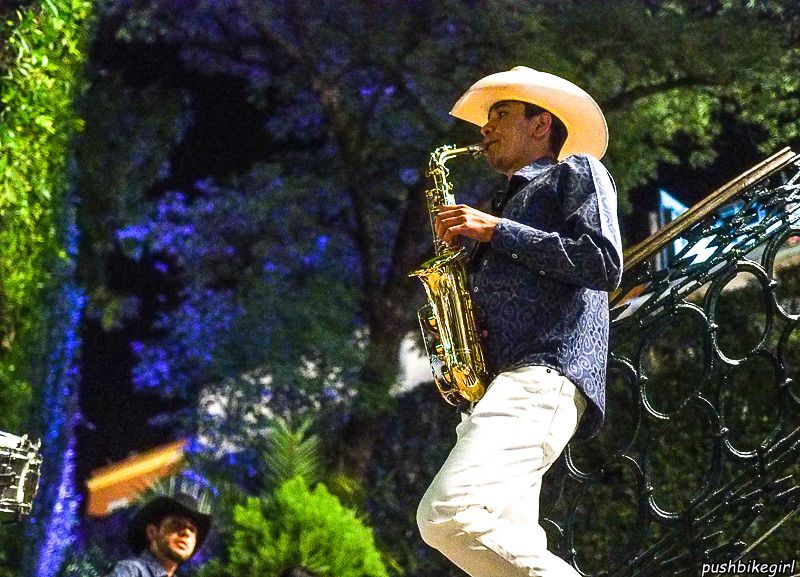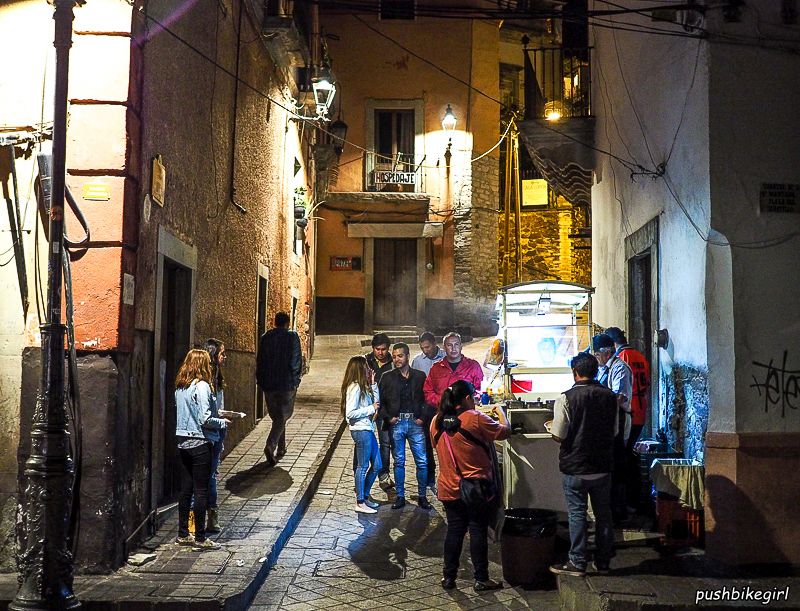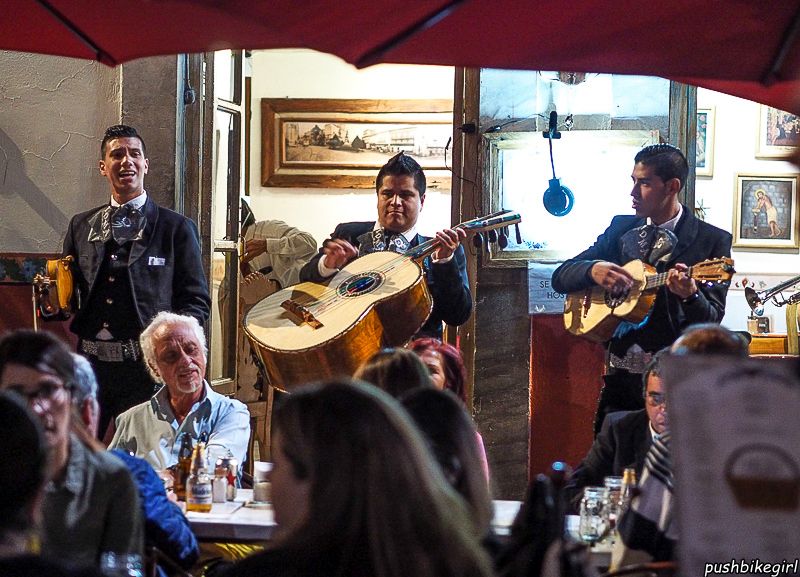 On the way to the Sierra Gorda, I was introduced to Montezuma's revenge –  a food poisoning, which knocked me out for a day. But after about 24 hours the worst was over.
The trip went through a beautiful mountain landscape until I ended up in Xilitla which is located in the middle of the jungle. The heat was suddenly unbearable, but the colorful bird life compensated for the agony.
Finally, there was life in the trees, butterflies, parrots flew past me, and the world was a completely different landscape. As much as I love the desert, I was ready for a change.
In Xilitla I was interested in James Edwards's surreal concrete landscape, which he had left in his jungle for posterity. For my taste, a bit too much concrete, nevertheless it was a style of a garden I had never seen before and found this a really exciting experience.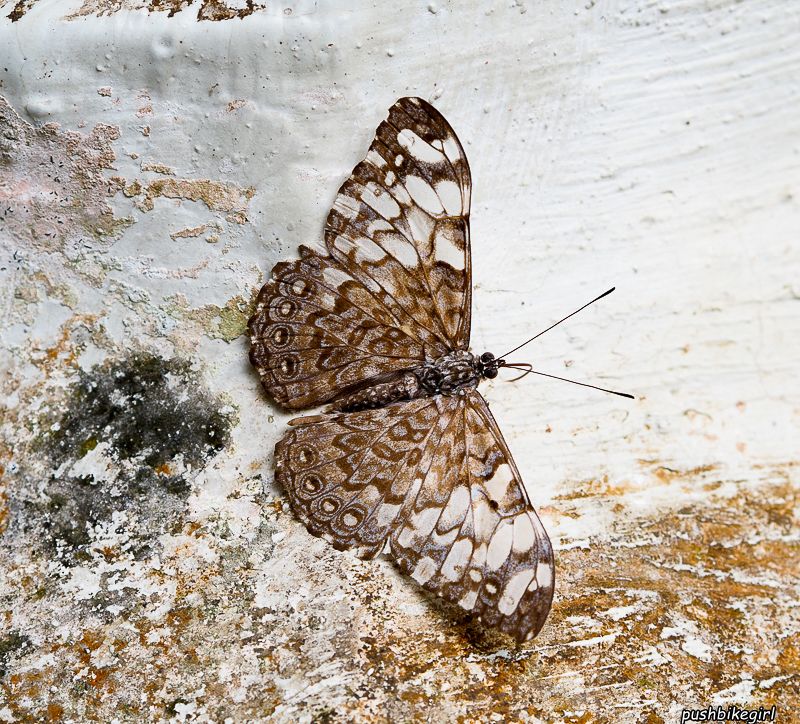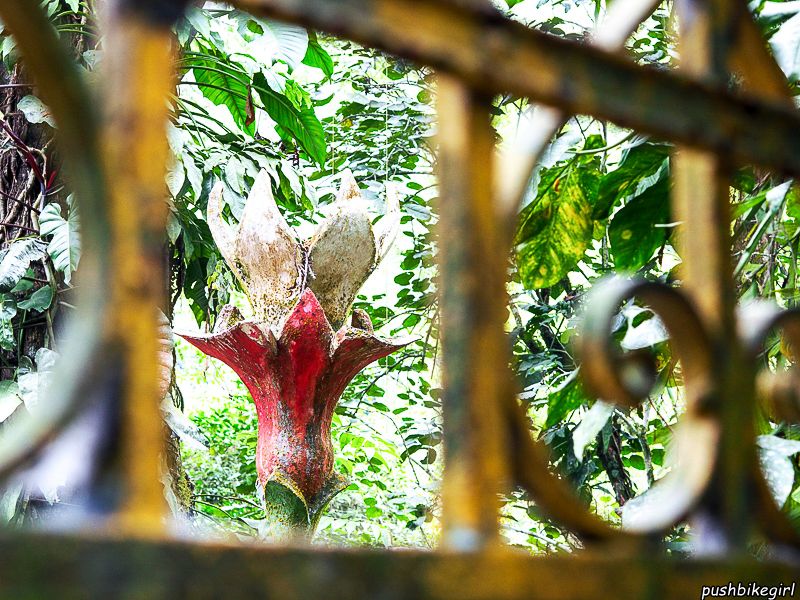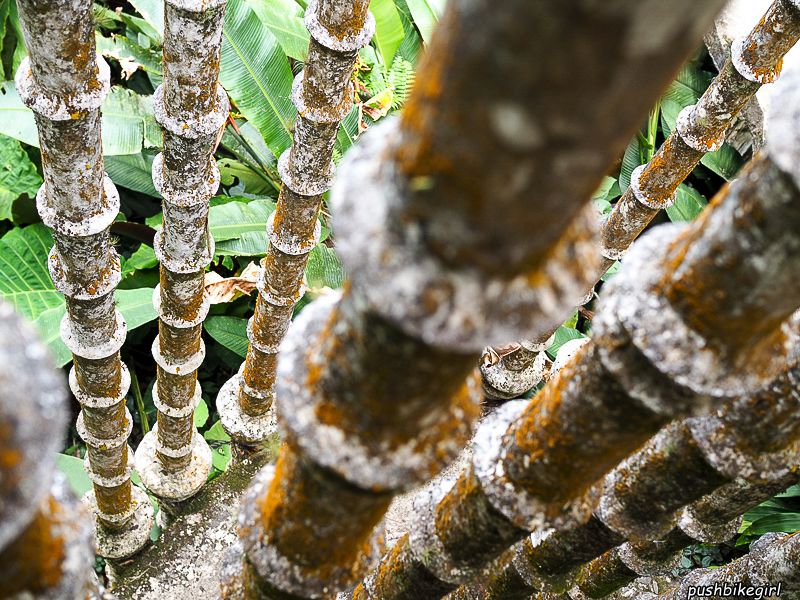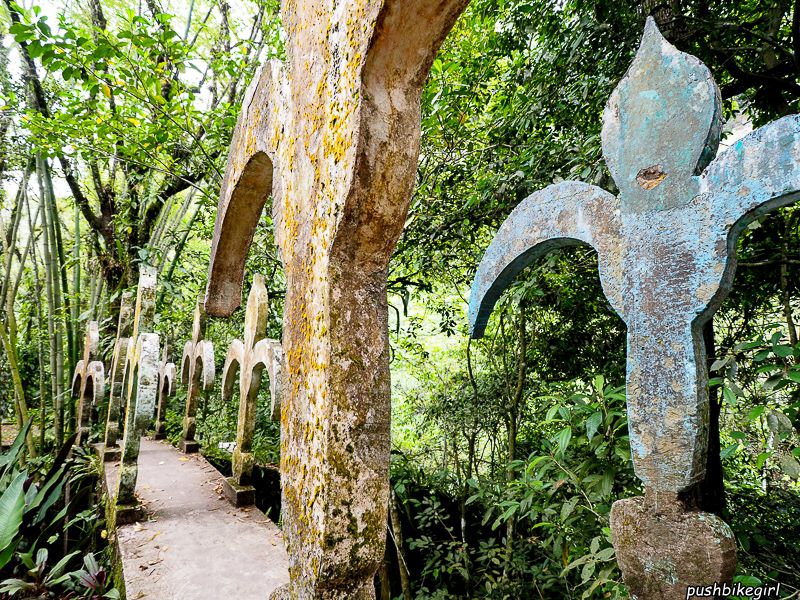 What I also liked about this short backpacking-tourist trip was the possibility to meet other travelers, as in this case I met an Israeli with his Italian girlfriend, who told me the latest news from Berlin, where they had spent their last 5 years.
In addition, a Spanish couple with their VW van who are cruising towards the north and also lived the last 3 years in Berlin/Germany. There was much to tell.
Lulu earned the pocket money for the two by setting up a donation box and cutting everyone's hair if they were interested. Around the entrance of the much-visited garden she had some customers, among others also me. The 5th haircut of my trip and definitely the best.
Since I am mostly on some remote roads, it is often difficult to meet other travelers, something I often missed in recent times.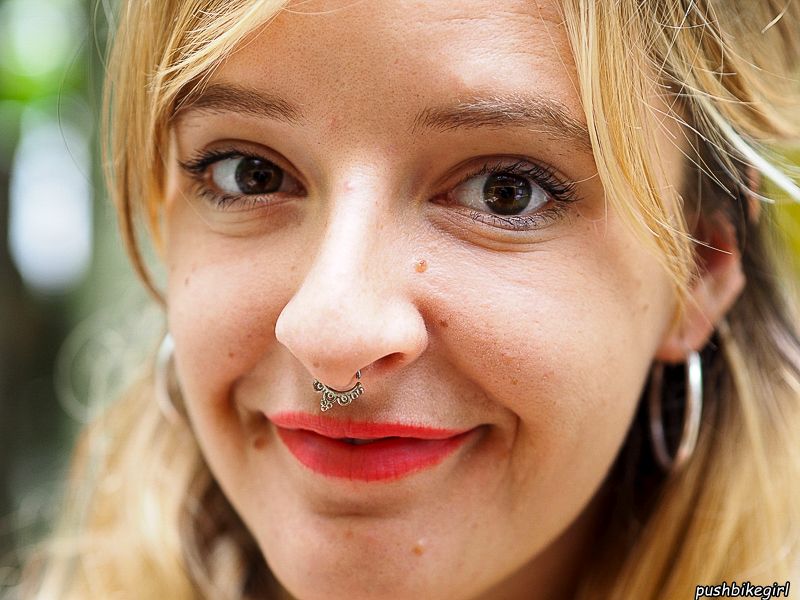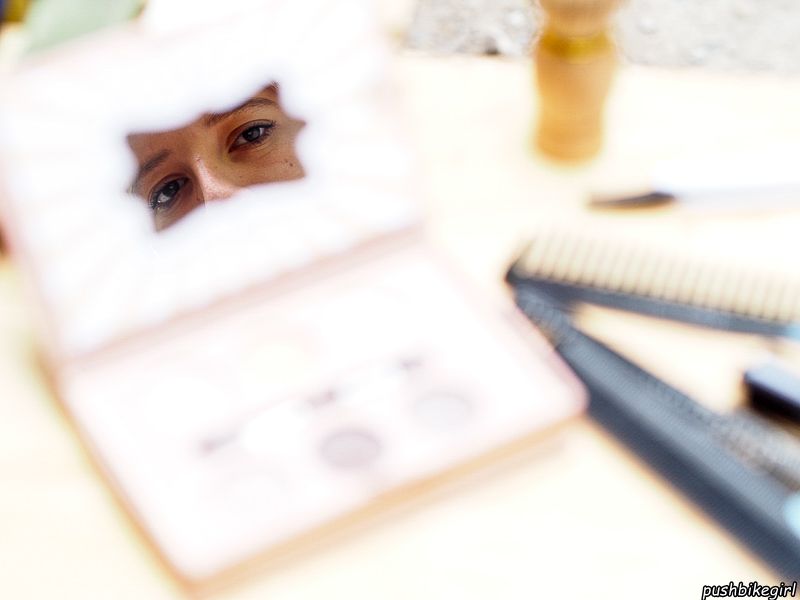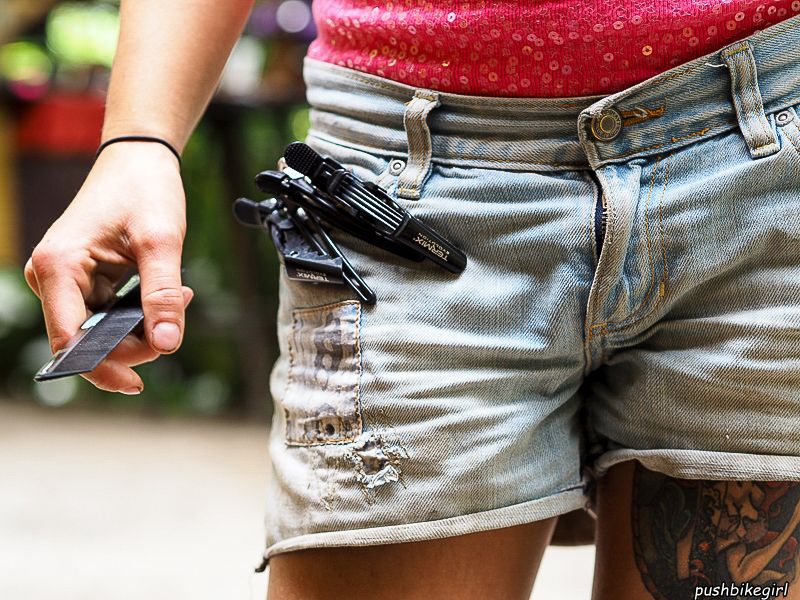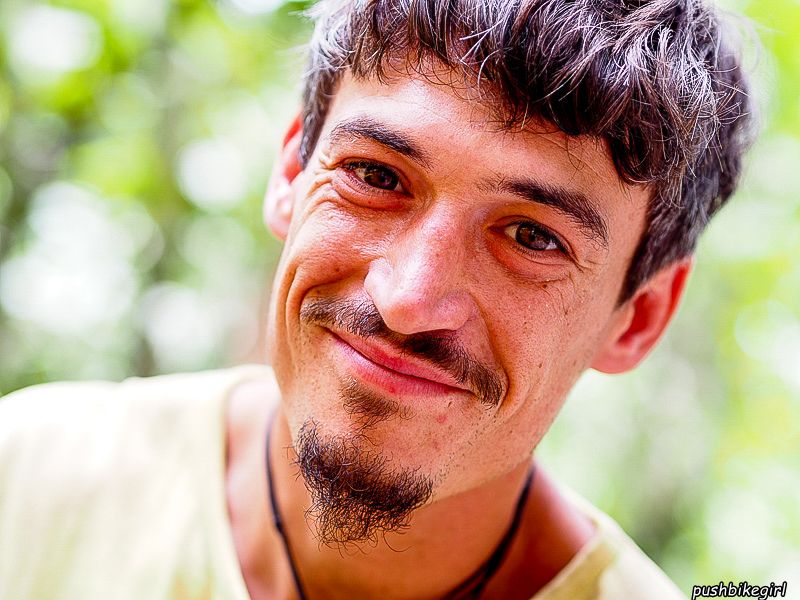 With an American, I drove to Teothiuacan, the great pyramid near Mexico City, but which didn't really impress me much. There were too many people and it looked more like an apocalyptic space station on Mars to me. In addition, people were not nice at all.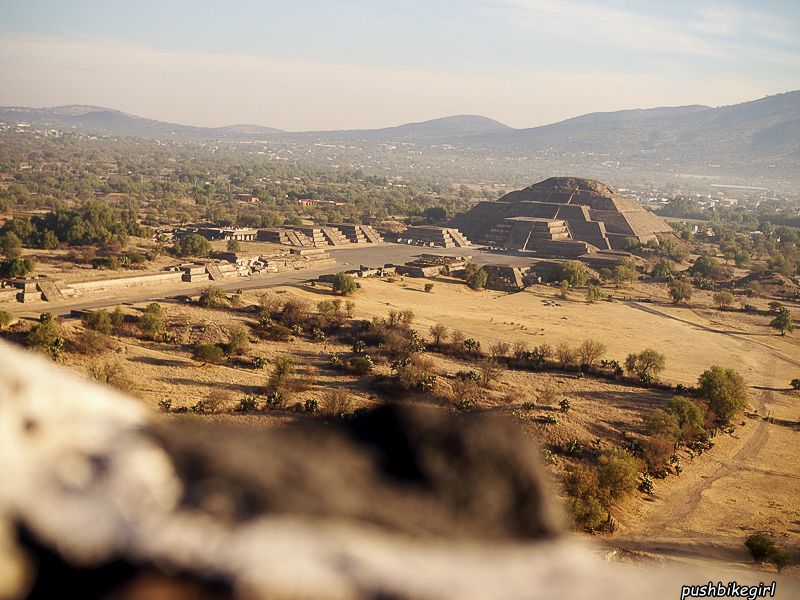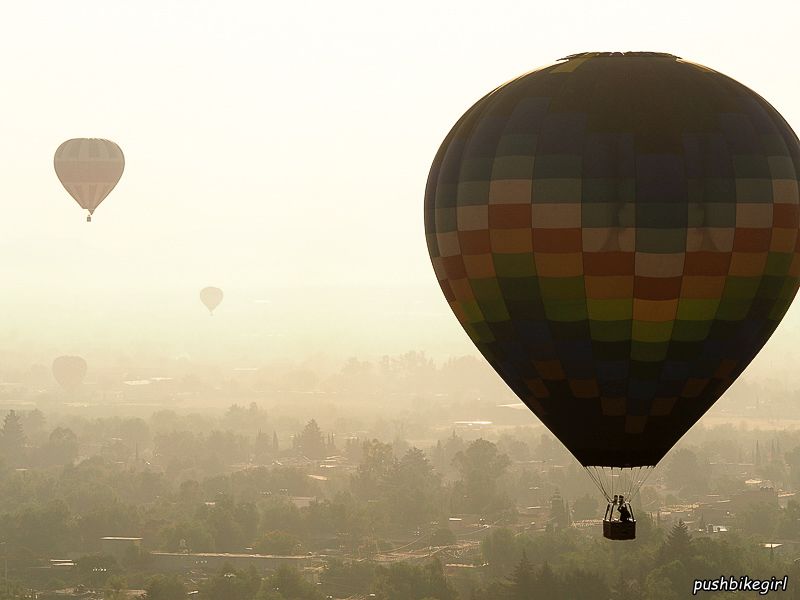 I actually had stopped being friendly too. I had given up on the Mexicans. I also said no more hello, I also stopped thanking and also didn't say goodbye anymore. Only to the children I tried to continue to have some nice moments, because they were often grateful and laughed back.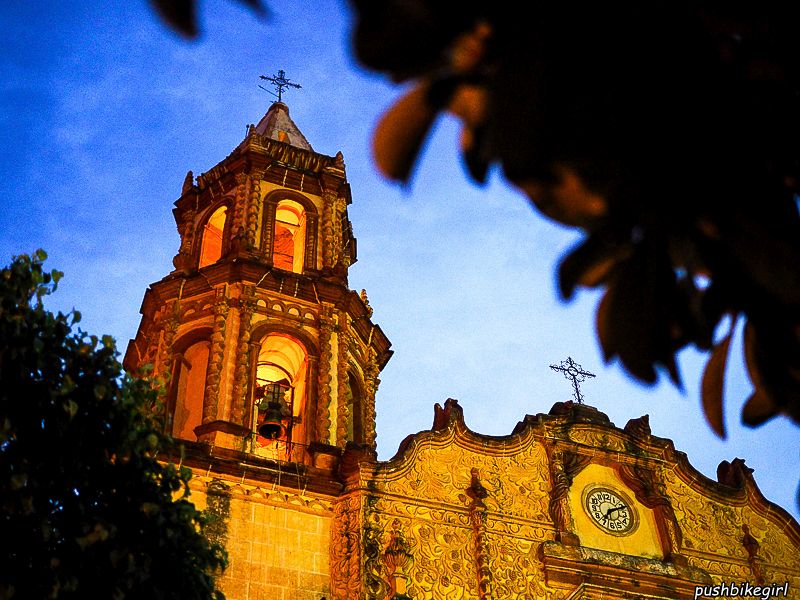 El Tajin, another pyramid that lies just before the Gulf of Mexico was next on the program. So, I was back in the heat and the tropical plant life and could deal with the heat at first, even if I was seriously worried about how this tropical heat will develop heading further south in the upcoming months.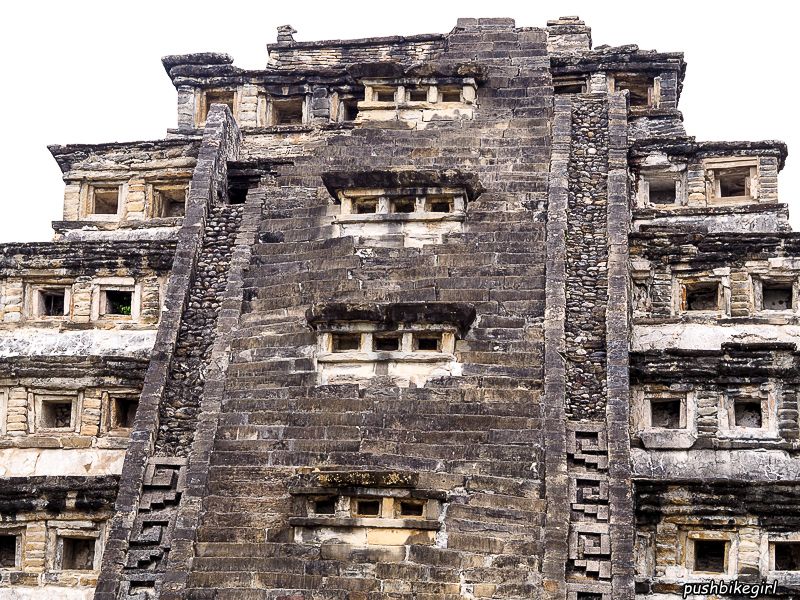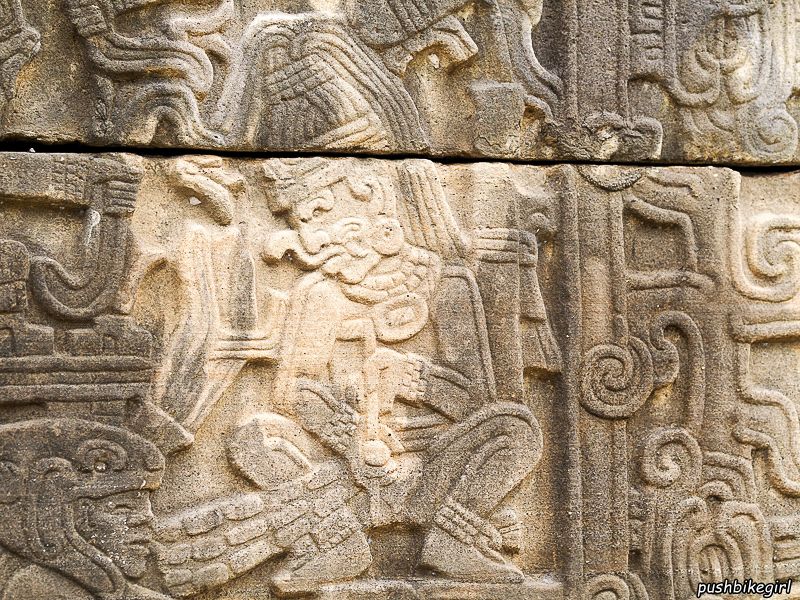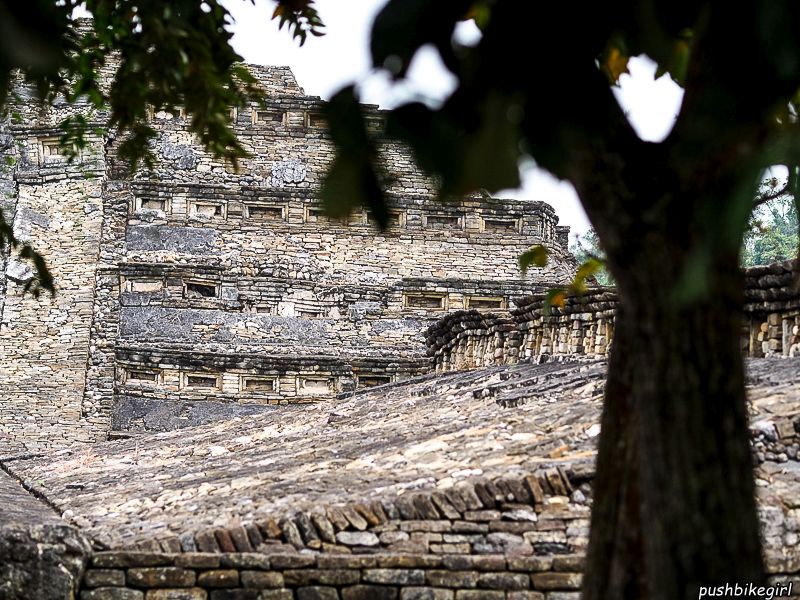 El Tajin had something mystical. A powerful charisma that really had put me in a foreign world for a few hours. I was grateful to experience all this.
An excavation, surrounded by a lot of jungle and birdsong, hardly any visitors and very nice staff who greeted kindly and also asked curiously who I am and what I do. I couldn't really believe it, and everyone who gave me a nice look made my day. Are the people along the coast finally friendly?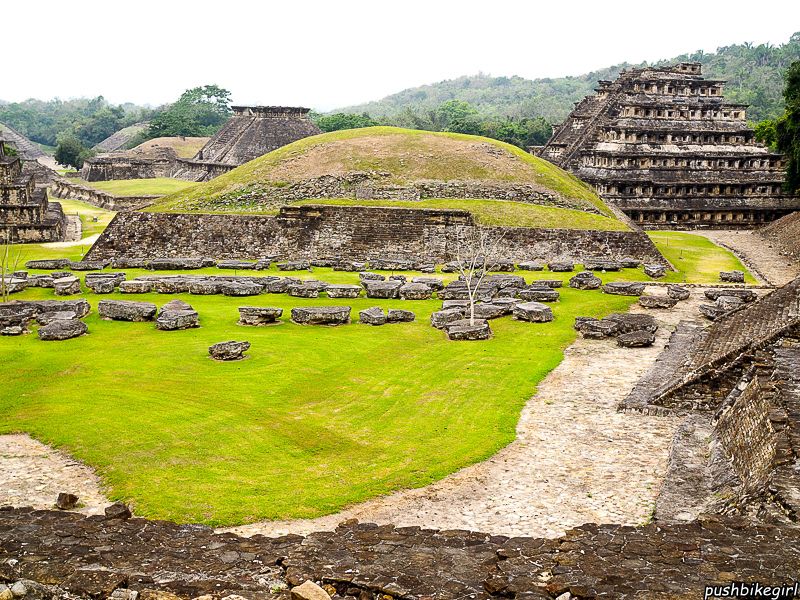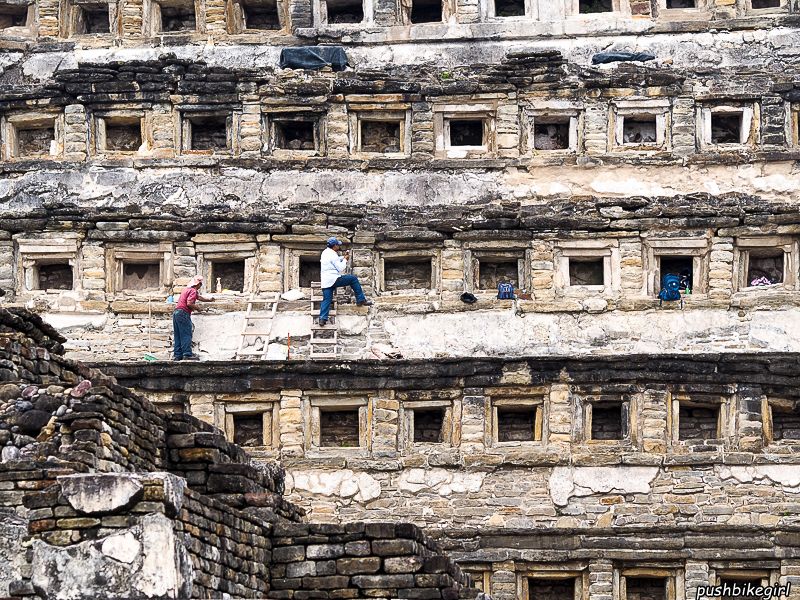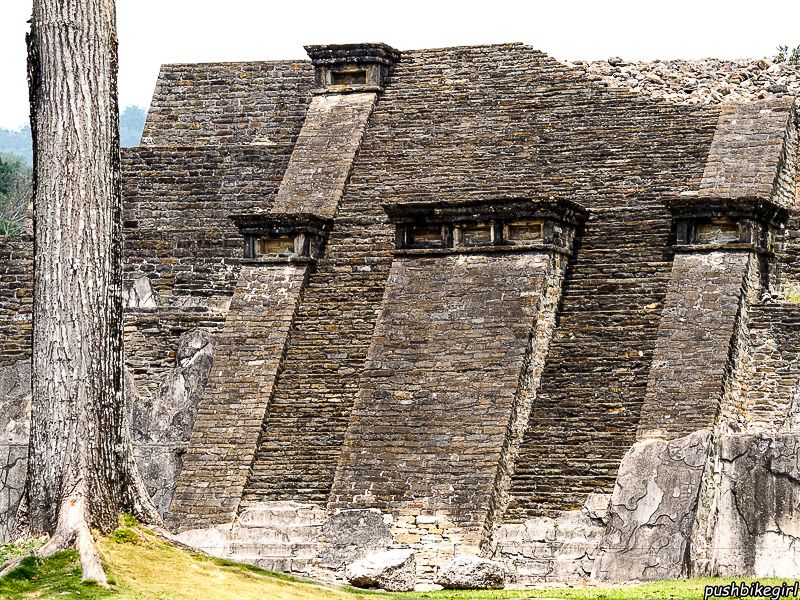 All in all, it was certainly 1500 kilometers and about a month time where I used some motorized transportation to explore this part of the world. I was always glad to have found someone who gave me a lift, or I simply hopped on a bus.
It helped me to improve my motivation and attitude towards the country, even if it will never become my favorite destination, I had experienced many beautiful hours.
Although I had moments here and there in which I saw something happening outside passing by my motorized windshield, where I thought, "oh unfortunate, with my pushbike I wouldn't have missed this moment", I didn't regret the short no-bike-trip. Additionally, I thought, "well I guess I haven't missed much."
In these 4 weeks, the focus was simply on sights, exactly the sights, which I otherwise mostly leave aside.
In El Tajin, I was ready for the road again, or better said, it was time to cycle again. I also knew that I wanted to leave the country in the fastest way. It is time to head straight to the south. Guatemala is still a long way ahead of me.