I hadn't been on the island for one second when I already fell in love with the country.
Briefly, I had my doubts getting into trouble, officially, I should not have been able to enter from the harbor with my temporary passport. But, with no further questions, the border official gave me a 90-day approval to stay and welcomed me into the country.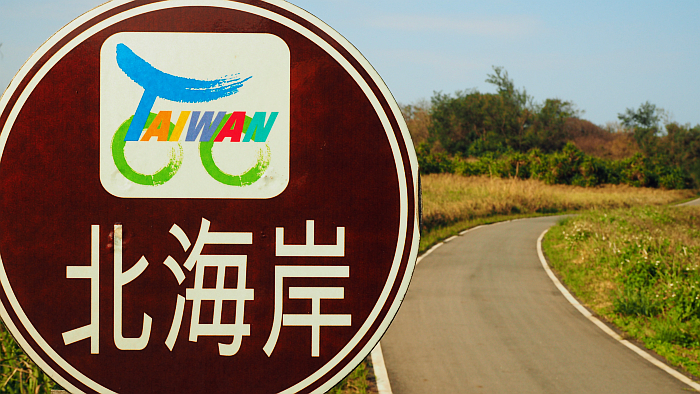 And that's exactly how I felt. I only saw happy friendly people; everyone beamed at me and called out to me with a hearty "Ni Hao".
The sun was shining, it was warm; in a 7-Eleven shop I discovered original "German Kinder Chocolate". Hundreds of cyclists rode past me; everywhere I saw bicycle signs and the car drivers were very cautious.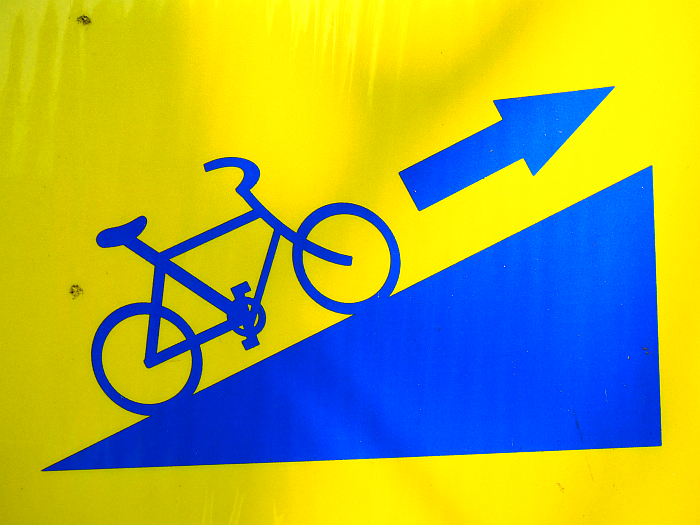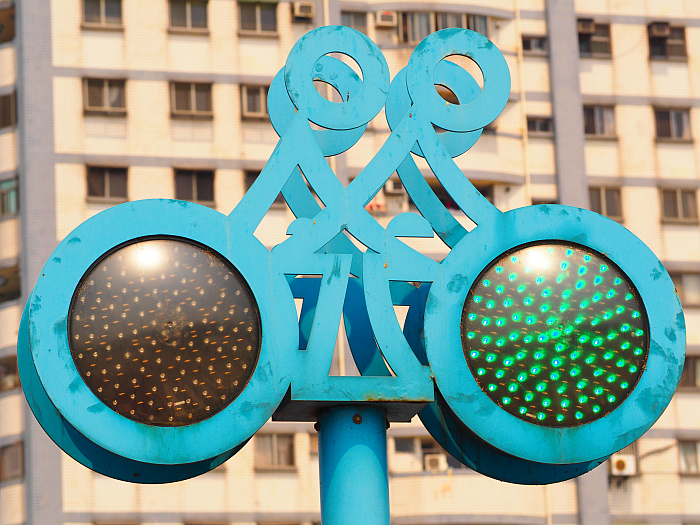 There was no unnecessary noise, no smog, no trash. Instead, it was a civilized country with no dust and dirt. It was like Christmas and I enjoyed every minute of it.
Regardless of the modern atmosphere, I saw the old Chinese culture on every corner; I passed many small Chinese food stalls and had the feeling that it was more Chinese here than in China itself.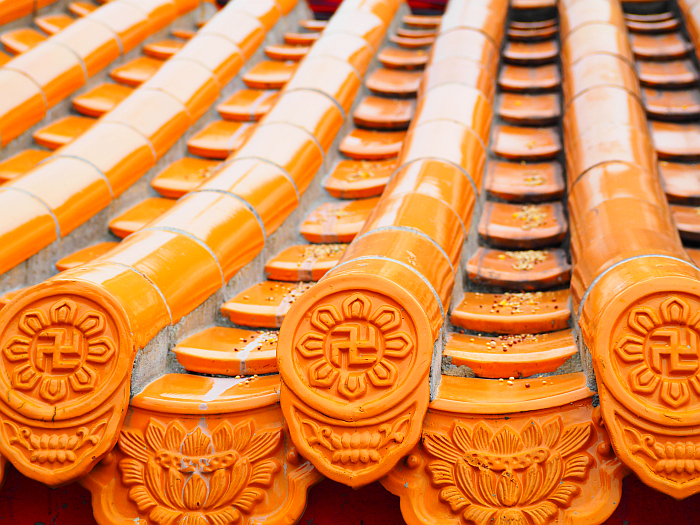 The American culture had truly had a lot of influence on Taiwan. There are fast food chains and junk food shops on every corner. But I found exactly this healthy mixture of exotic and modern culture absolute exhilarating.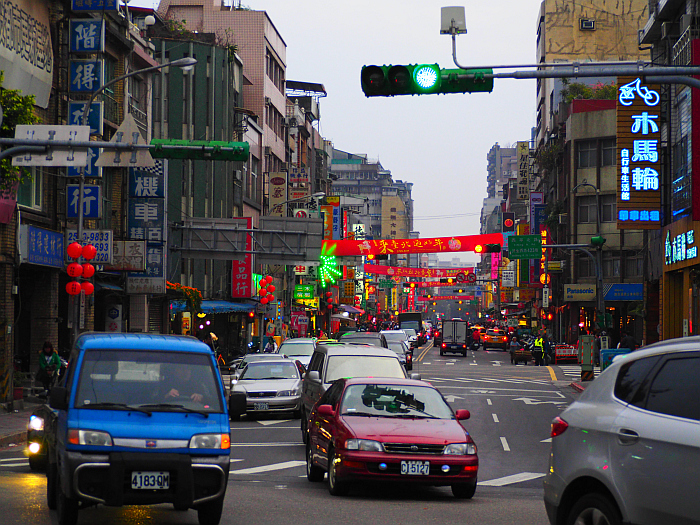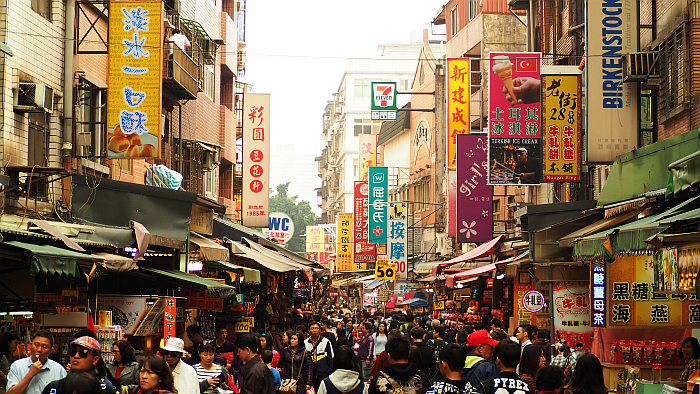 I tried to get money out of ATMs in Keelung, the harbor city, but was out of luck at every one of them. I went from one bank to the next and ran into warm-hearted helpful people.
They were so nice that the employees in the last bank collected money for me and gave me about 30 euros in NT$ so I could make it to Taipei where I could find the right ATM.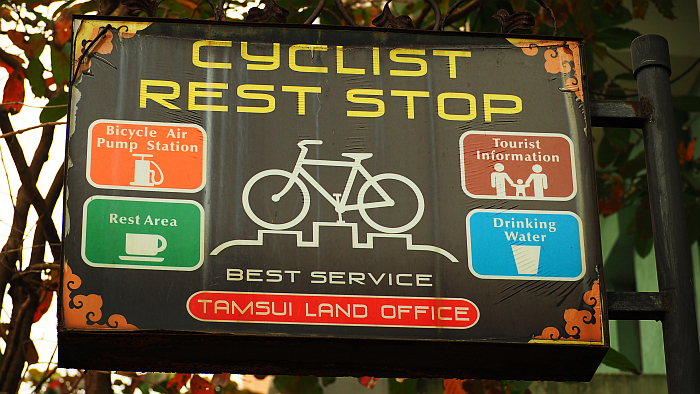 I couldn't believe it; I had a continuous grin on my face and was so happy to be underway in a country again where people were not constantly laying stones in my path. No, it was a land where people were happy that I was there.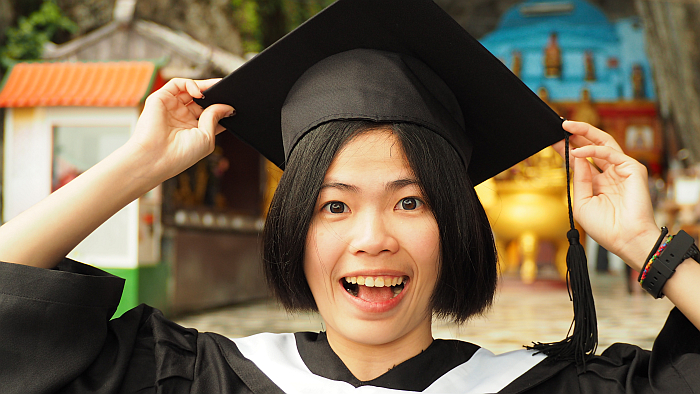 Many people spoke English and I could finally ask people questions again.
The educational level is extremely high and the way people treated me as a foreigner was never uncomfortable. There were no nerve-wracking questions.
Instead it was possible for me to carry on interesting discussions. It felt to me like I had found a lost paradise. There is simply a huge difference between being underway in small, more-or-less insignificant countries or in large influential countries.
In any case, one thing was clear to me from the beginning: the Taiwanese are completely different than the Chinese and I was extremely happy about it.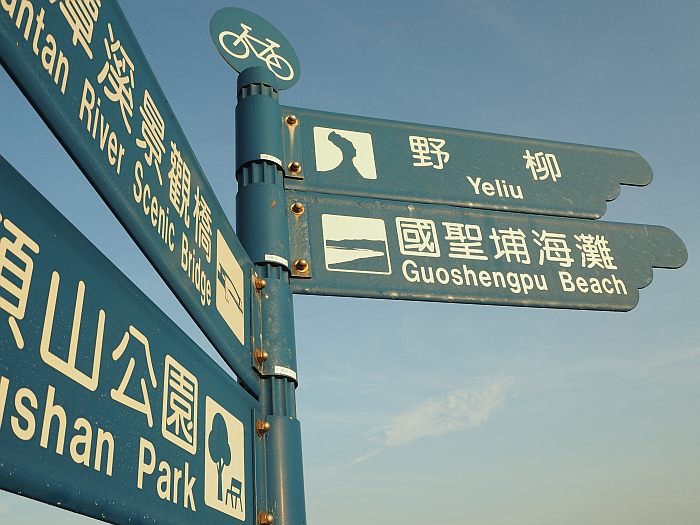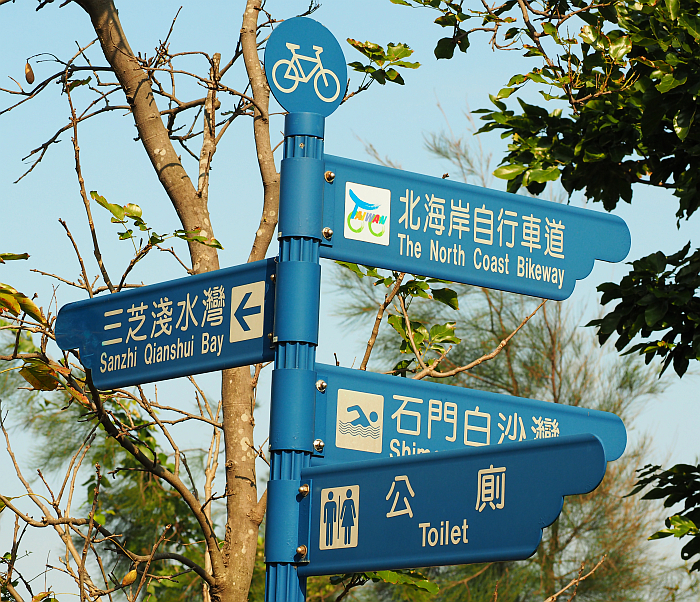 I selected the north route to cycle to Taipei along the ocean. Again and again I followed the marked cycling trails which took me along beautiful paths, often separated from the traffic.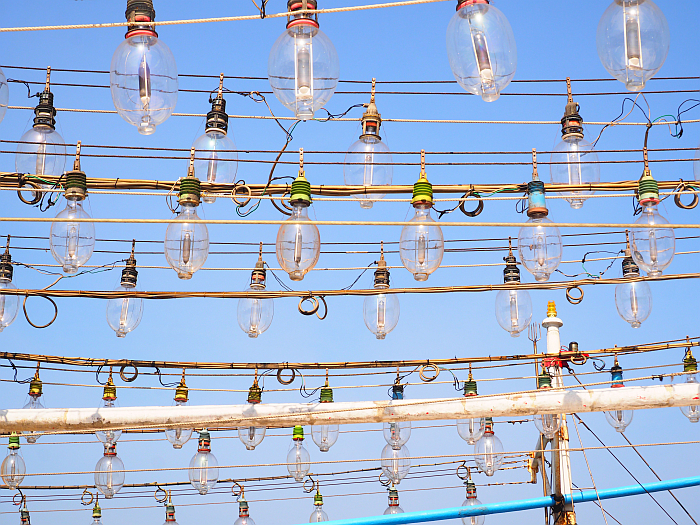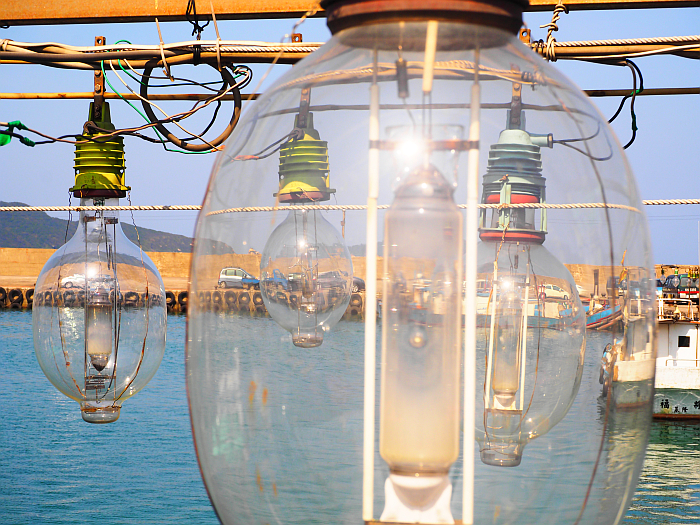 I rode through small fishing villages and cycled along wooden pathways on the beach that were built especially for cyclists. From the beginning, I felt safe and really great.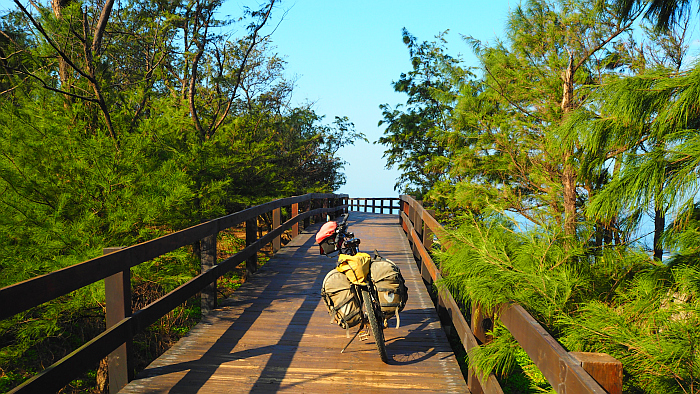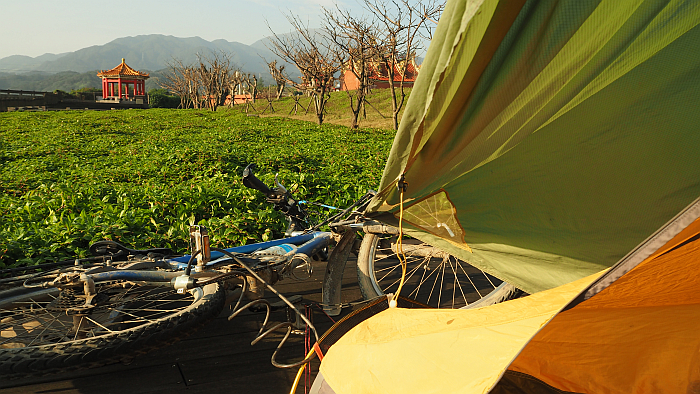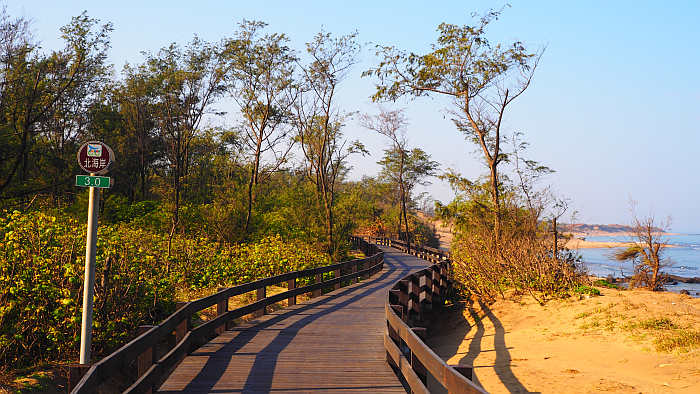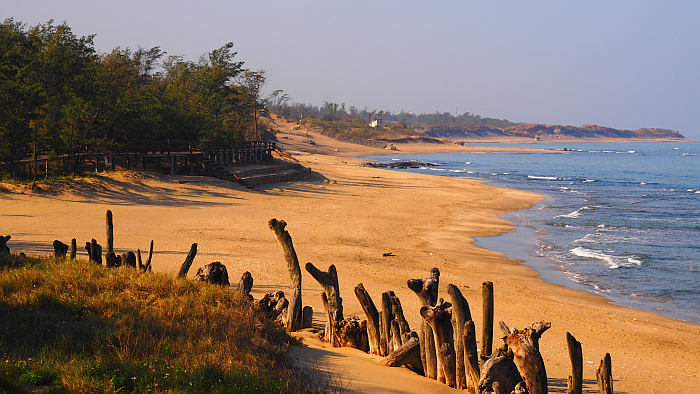 Without any further thought, I camped again and again in various places and had the feeling
that I was in one of the safest countries in the world.
Oddly, a Taiwanese confirmed my thoughts shortly thereafter. Taiwan is supposedly the second safest country in the world after Iceland.
Although I'm not a fan of beaches, I have to say that I found the ocean there to be absolutely beautiful. It radiated so much peace and quiet. Finally, I had no more stress.

I sat for hours at the water's edge and dreamed. It felt like a beach vacation in the Maldives.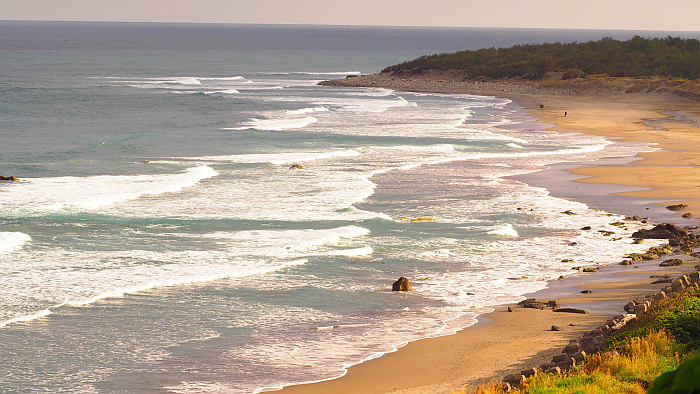 Taiwan came at the right time for me. Finally I was in a country where I could recharge my batteries and tank up with new energy.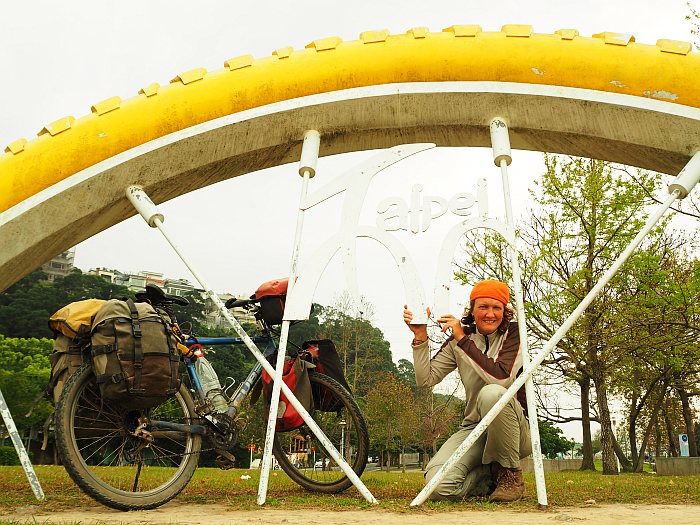 Around Taipei there were innumerable cycling trails and, in the first few days on the island, I saw more cyclists than anywhere on the long trip from Germany to here. Cycling in Taiwan is the thing to do and the cycling trails are so attractively made that everyone and his brother are underway on them.
The Taiwanese are completely enamored by the outdoors. On the weekend, all hell breaks loose everywhere and all the outdoor attractions are over-flowing with visitors.

Although I generally don't like big cities, I thought Taipei had class. Riding along with thousands of Mopeds really got me into a good mood.
Between the skyscrapers, you can always find little Chinese corners, temples, various interesting things and many green patches. There was delicious food everywhere and even in the capital city, were the smiling faces.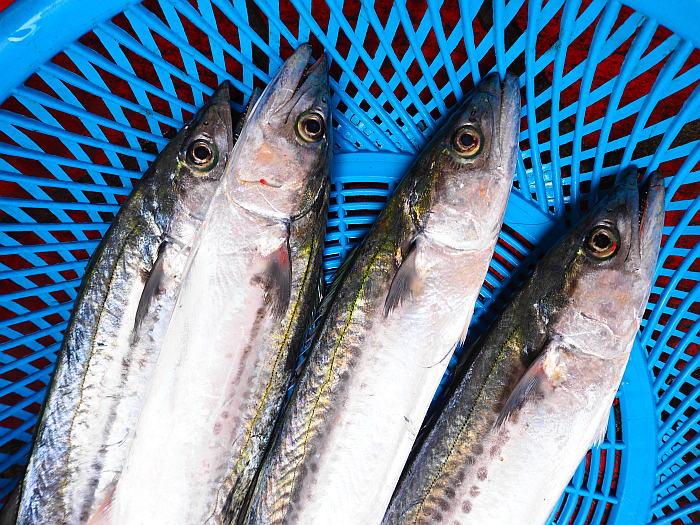 In China, I heard the words "thank you" perhaps only 5 times in 5 months. I was really beginning to think that the word "xie xie" existed only on paper in the Chinese language.
But here I was greeted with a friendly smile in every shop and they thanked me for every purchase, for every order, for absolutely everything, like I had been accustomed to in most all of the other countries.
What a radical difference there was between these two countries.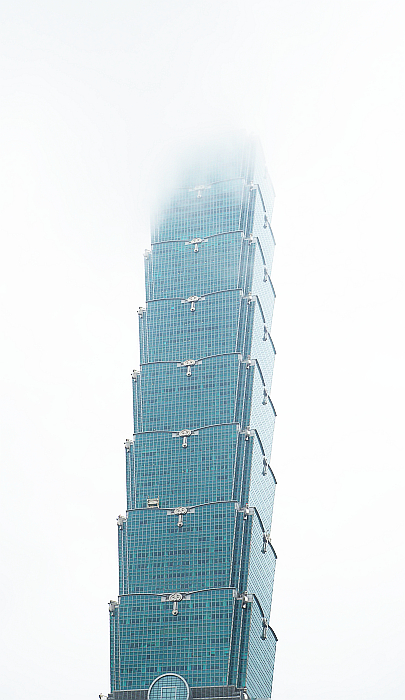 In Taipei I had the pleasure to request my passport in Taipei 101, the tallest building in East Asia. I didn't necessarily know why the German Institute had its office in this expensive ambience. Surely there must have been a less expensive address that would have also been OK, but regardless, I found it breathtaking and really enjoyed the view from way up here.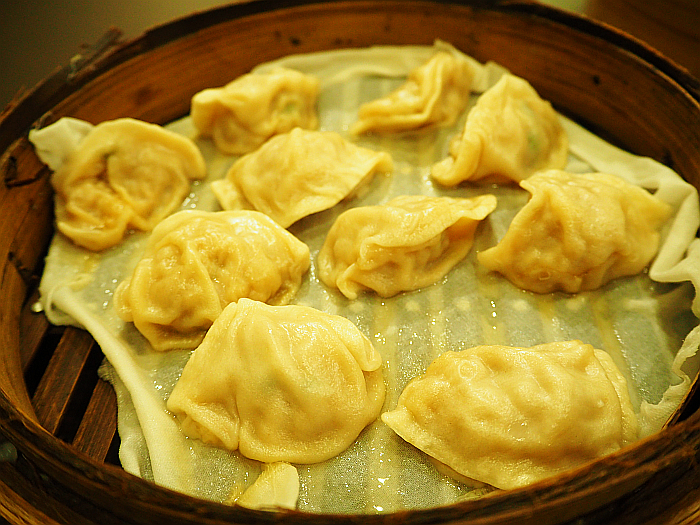 At the home of my "warm-shower" hostess, I left my front panniers, because there were some things I didn't need in Taiwan and I didn't want to carry them around unnecessarily.
The trail took me past Pingling, tea plantations and a hilly landscape back to the sea. My next goal was the east coast.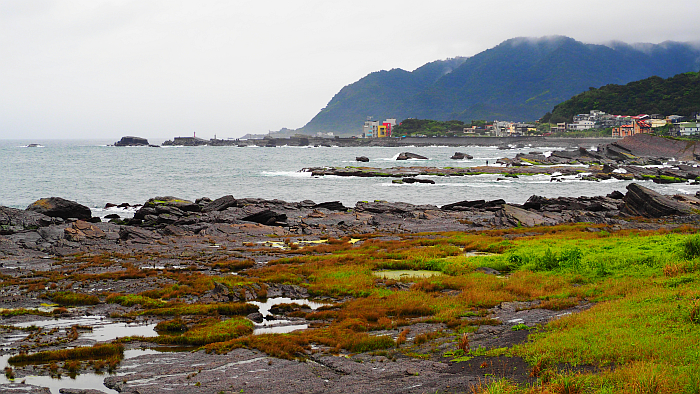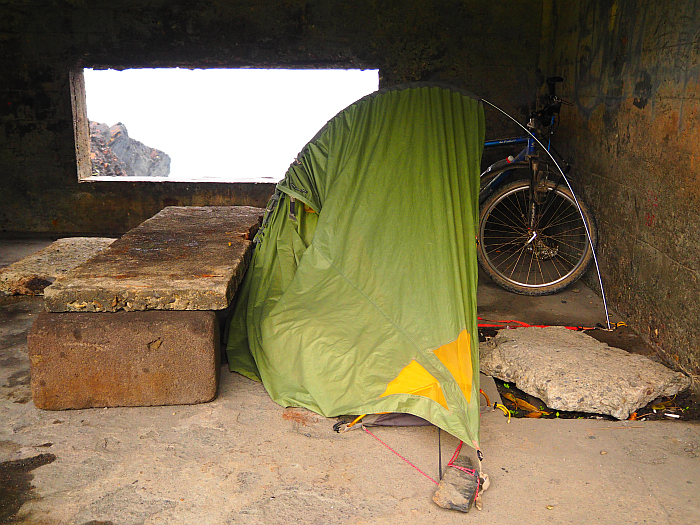 Unfortunately, it rained frequently, but there were plenty of places to find shelter.
As soon as I had pitched my tent on a look-out, the earth suddenly began to move. Wow! I experienced my first earthquake and was frozen for a few seconds. But as soon as it came, it went again. It is a strange experience when everything shakes under your feet. I would describe it like waves. Eerie, but fascinating at the same time.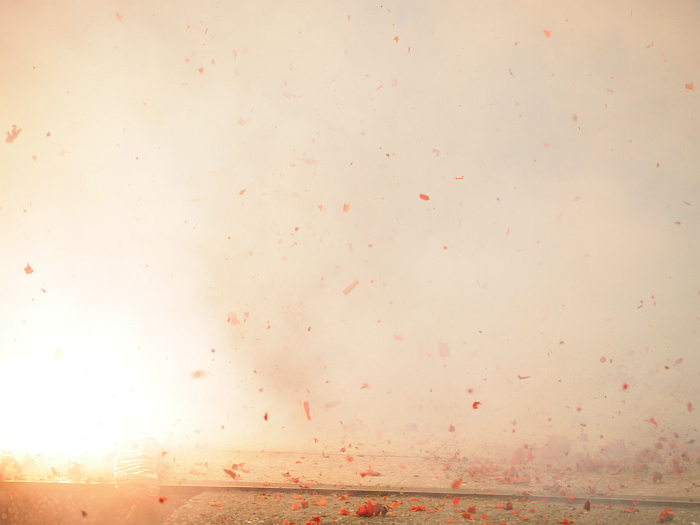 The Chinese New Year Festival had begun and firecrackers were going off everywhere all day long.
The traffic was unfortunately nerve-wracking, because on the second day of the festivities, all the families were on the road on the way to visit the wives' parents. That is the tradition so everyone in the entire country was in their car.
But there was something very positive about it, because during the first days of the festival, there was plenty to eat at every temple, cost-free. The people would stand in rows to get delicious soups and fruit.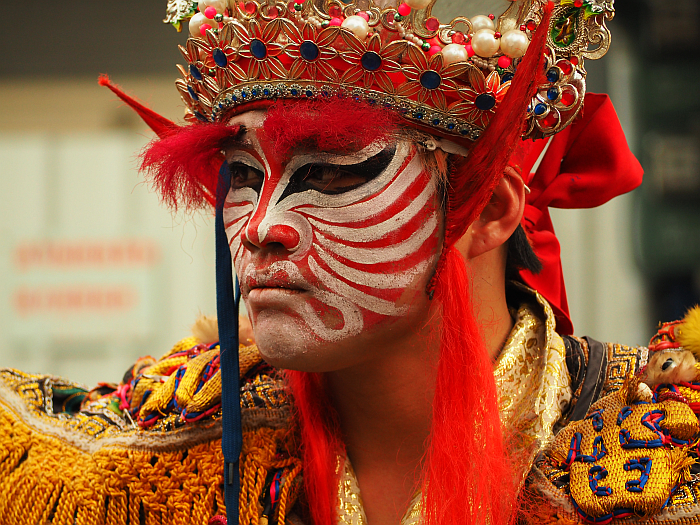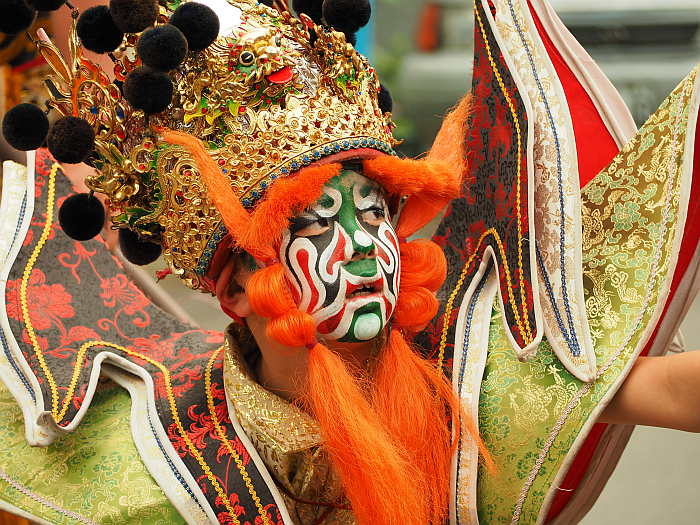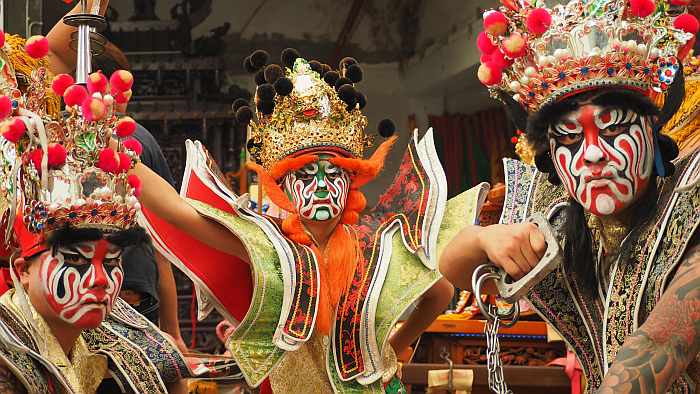 I met a Catholic priest, who allowed me to spend the night in his church. Dry, warm and safe from the racket and the many stray dogs, I was glad for the offer.

On the steep east coast, I rode on always heading to the south. The landscape was super. At every curve and after every tunnel, there were great vistas.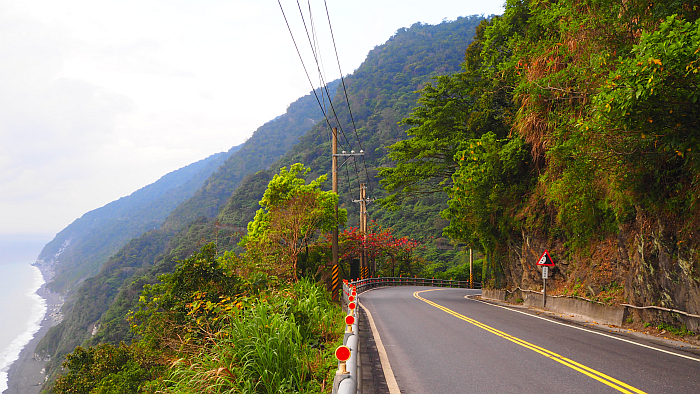 I arrived at the Taroko canyon, supposedly the highlight of the island.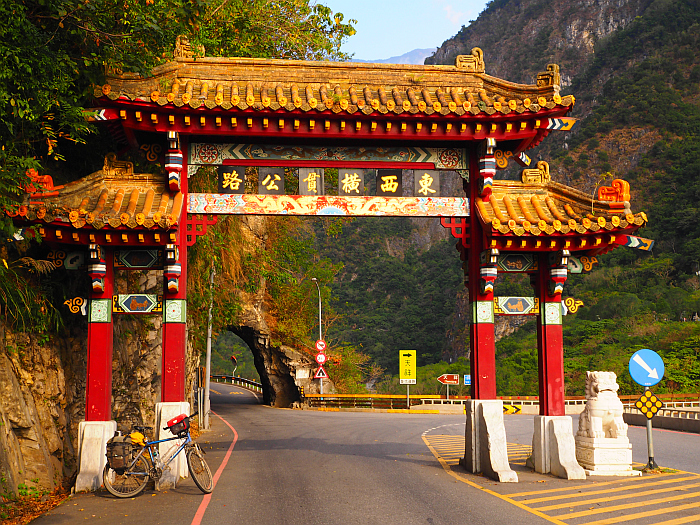 I camped directly at the visitor center, which the park ranger expressly allowed me to do and I was even served a free meal. How wonderful when people support one another!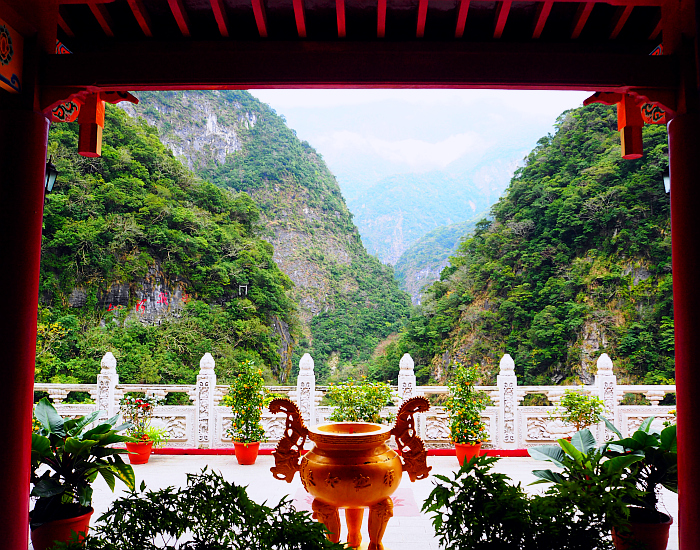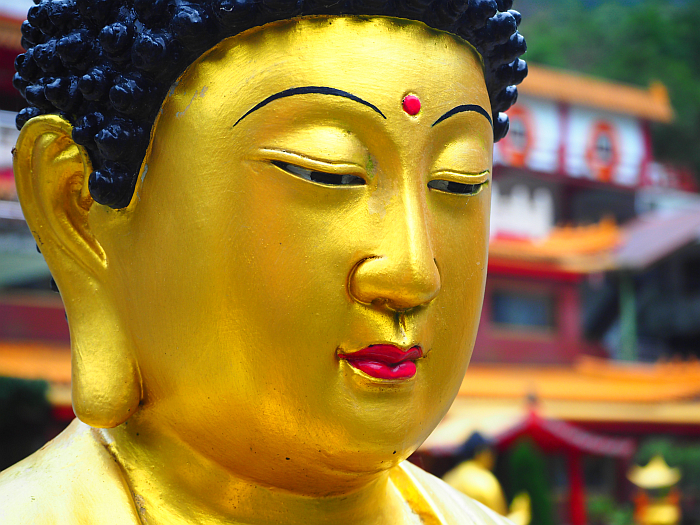 In the canyon, I discovered a convent on a lovely cliff. An enchanting melody resounded from there through the canyon walls and drew me magically forward.
It felt a little as if the melodic sounds would reverberate in waves through the canyon to be carried from there to far-away places in the world.
It radiated peace, but also elegance; yes, it had something about it like power and servitude, but also of warmth and comfort. It touched me. Somehow, I couldn't withdraw myself from these melodic sounds.

I was invited to stay for a few days and I accepted it thankfully.
The convent had its rules of orderliness. For the meals, the nuns always sat in the same seat. Every visitor had his own bowls and chopsticks. The meals were taken in silence. And everyone washed his own dishes.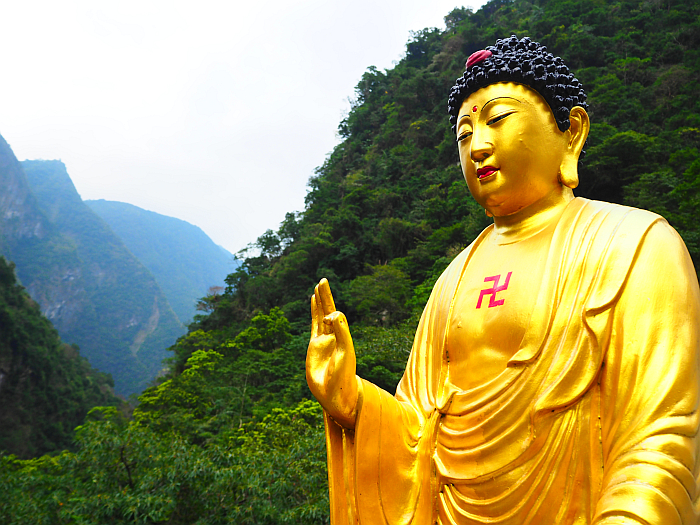 In the evening, I helped in the kitchen and was reprimanded once or twice when I cut the vegetables too large or too small. I found this quite amusing.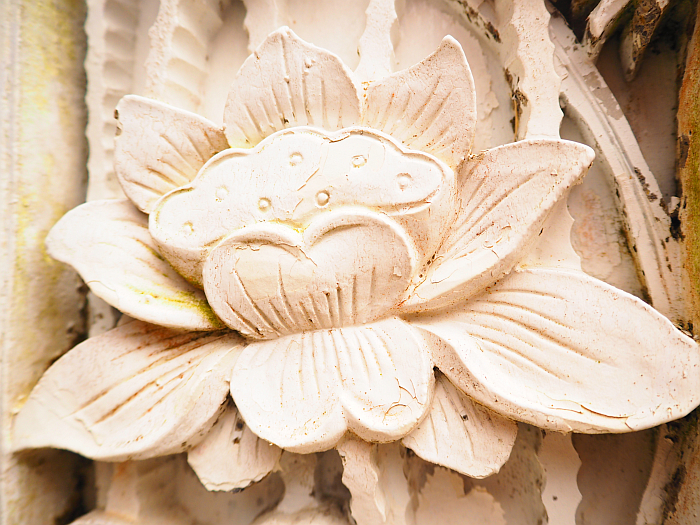 Somehow, I had the feeling the nuns were not just serious in their behavior, it seemed to me that the convent gave off an air of sadness.
At that, the thought came to me again, what would cause a person to want to live in a monastery?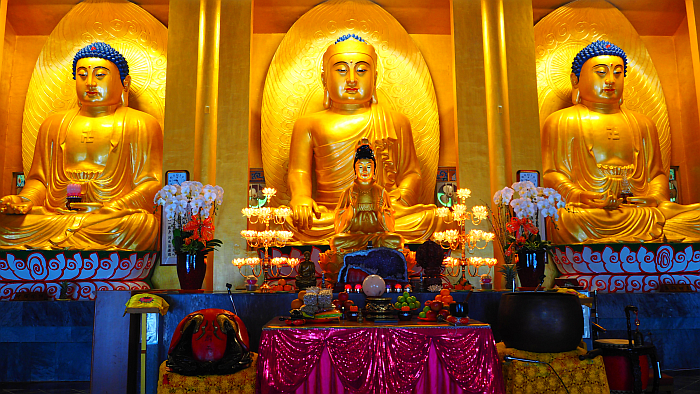 The food was absolutely delicious and I was profoundly impressed how well these ladies could cook vegetarian food.
As always in the Chinese world, there were various kinds of vegetables and everyone took what she wanted. Silently every one of them ate their meal and rattled around with their chopsticks in their bowls.
What captivated me the most were the soups, but also the many different kinds of tofu. Brown, white, totally dark, hard, soft, flat, thick – and all of them tasted completely different. Also, delicious mushrooms were available here in all different variations.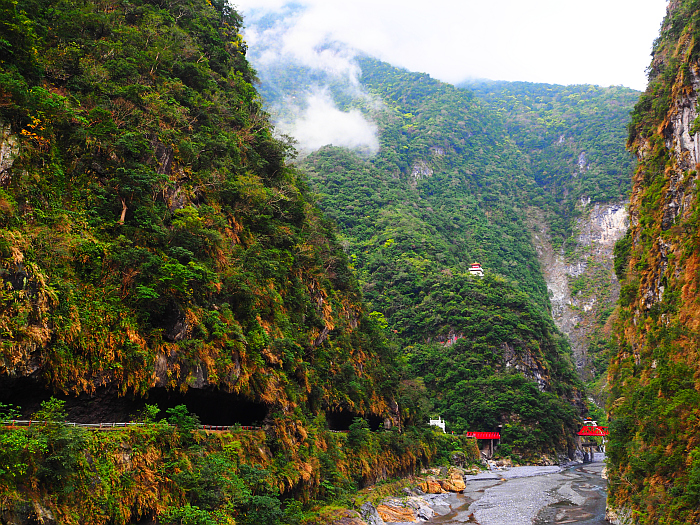 Breakfast, lunch and dinner are always the same. Rice and vegetables and always soup. Although for breakfast, there was strange watery rice, which, well, I didn't exactly find all that great.
Between meals, candy and cake and no small amount of snacks were served. I got the impression that the New Year's Festival only had to do with eating.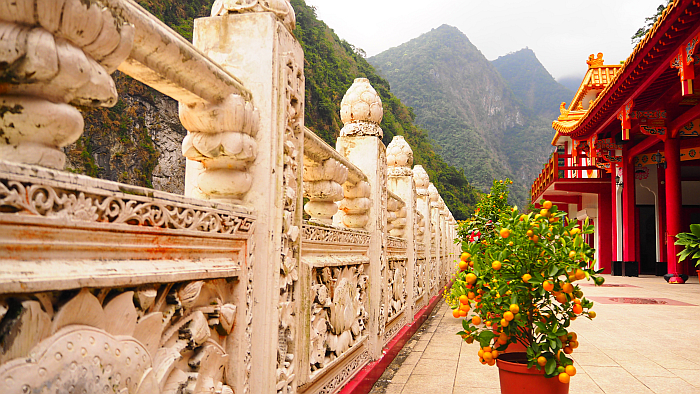 On the second day, a nun visited me, who apparently had a higher rank than the rest of the nuns in the convent. In honor of the festival, she performed a special ceremony in which I was also allowed to take part.
The supervisor nun reminded me a little bit of Mr. Bean. Her facial expression was exactly the same, which really amused me, although I really think Mr. Bean is truly out-of-touch.
She was very small, but her voice was magical and filled the room with magic.
The nuns pressed a song book into my hand even though they knew that I couldn't speak a word of Chinese. I leafed along with them at first, but thought now and then that it was totally foolish and laid it aside again. But as soon as I did, the ladies put it back into my hand, leafed through to the correct page and made it clear to me that I should please keep holding this song book.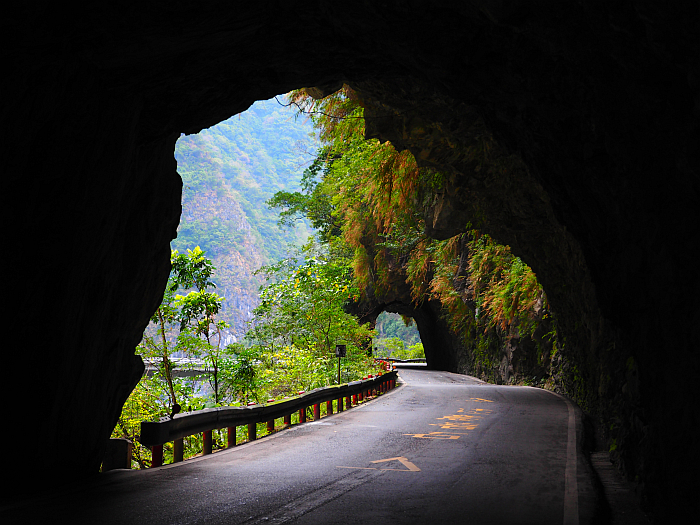 I wasn't able to knee on the pillow very long and fought with the pain. Since, after a while, I understood the seriousness of this ceremony, I attempted not to behave improperly and held out to the end.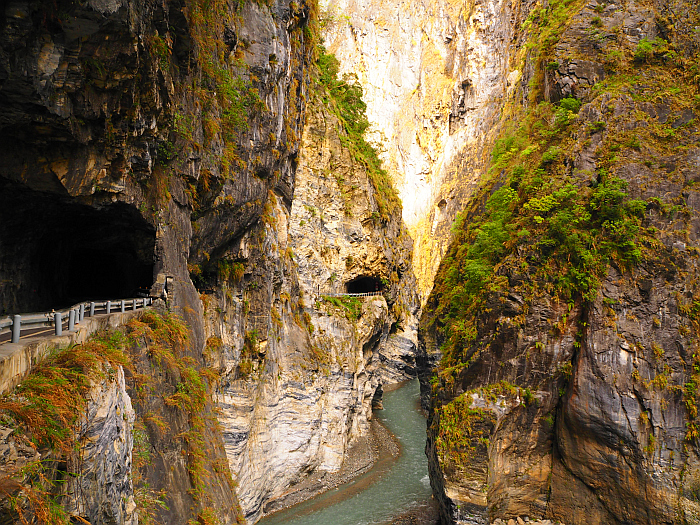 The nuns cried in all the rows – unfortunately, I didn't know why or what it was about at all.
The entire ceremony lasted 1 ½ hours and was repeated 4 times. I took part 3 times. But after I had stared on command 6x into the eyes of the giant Buddha in the room and bowed before him with a piece of wood on my forehead and then threw the piece of wood into a small fire, I didn't see the sense of going through it for the fourth time.
Somehow I missed the easy going life outside of the monastery gates, especially here in Taiwan, where people are so warm hearted and happy. I felt relieved when I left, even though I found it a great experience to stay there for a few days.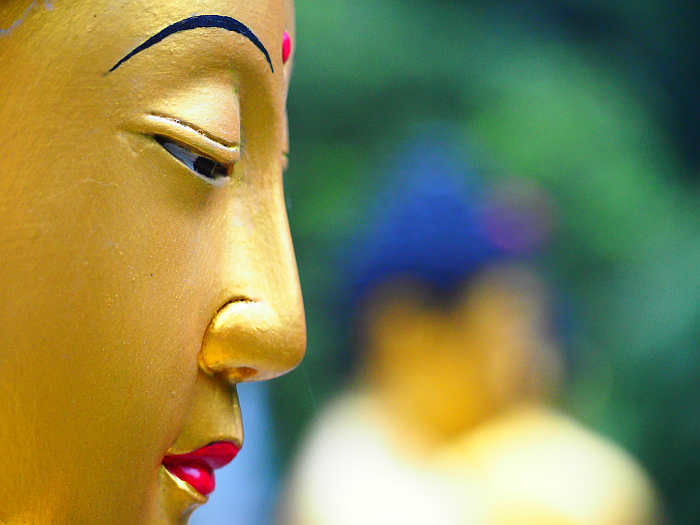 All together, they celebrate the New Year for 15 days here, and after a while, I have to admit, all the racket of the firecrackers began to get on my nerves.
Above all, the stray dogs were always skittish and came to my tent barking continuously.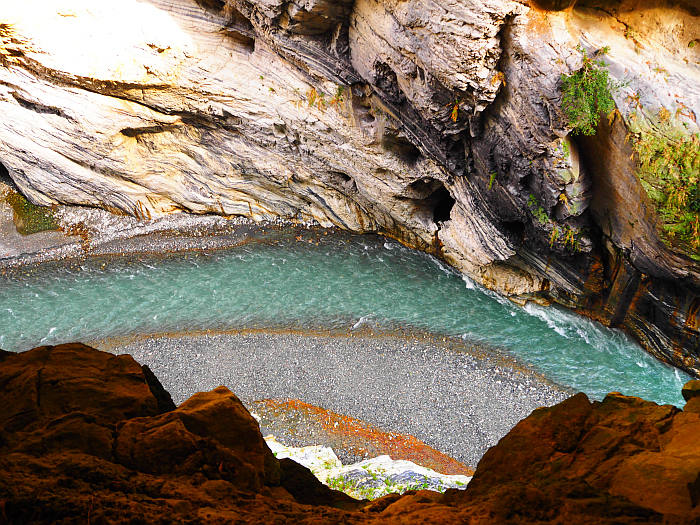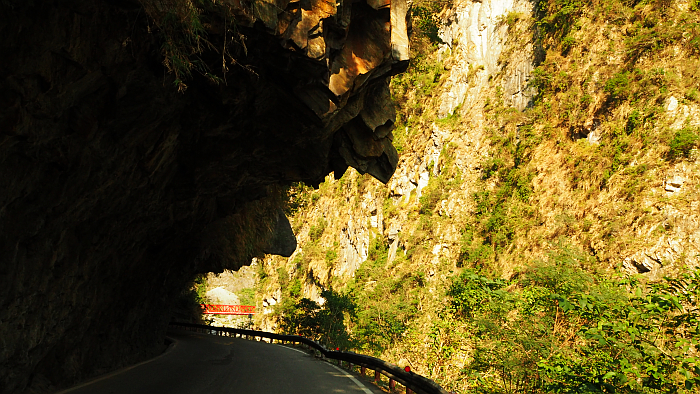 The canyon was really beautiful, but for me it wasn't the highlight of the island.
The highlight are the people – the nicest I have met so far.