I continued to follow the east coast and cycled along beautiful bays and quaint fishing villages. I camped frequently on the beach or on small look-out towers and enjoyed life to the fullest.
I was really in a good mood and answered every smile that was given to me with a big smile and a hearty "Ni Hiao!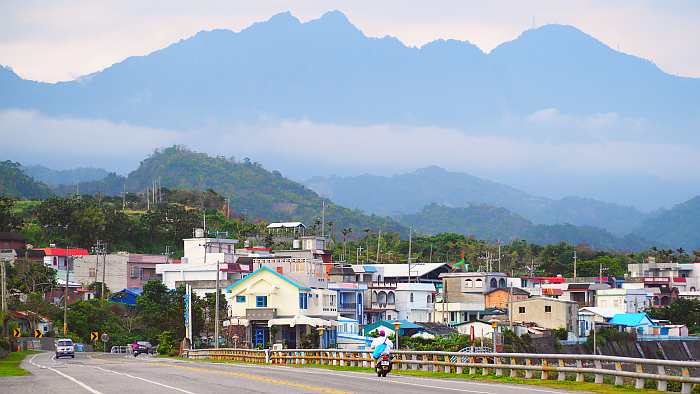 Cyclists called to me again and again saying: "Go Go Go" and they were all in a really good mood. It's incredible how much such a positive spirit of a nation could rub off on me and how quickly I could forget my frustrating experiences in China.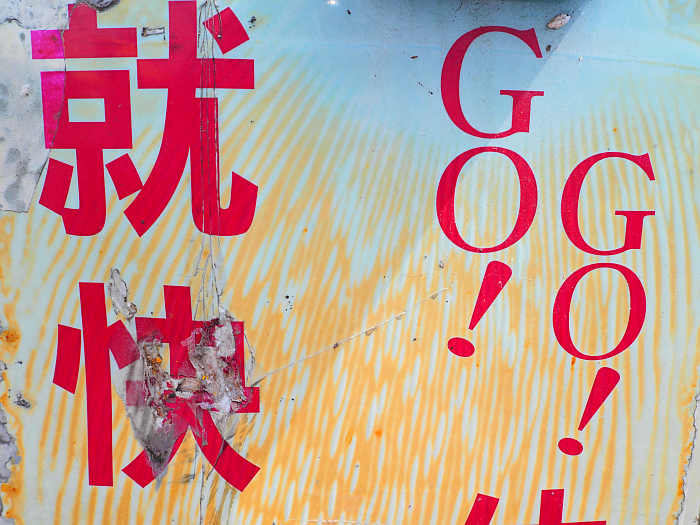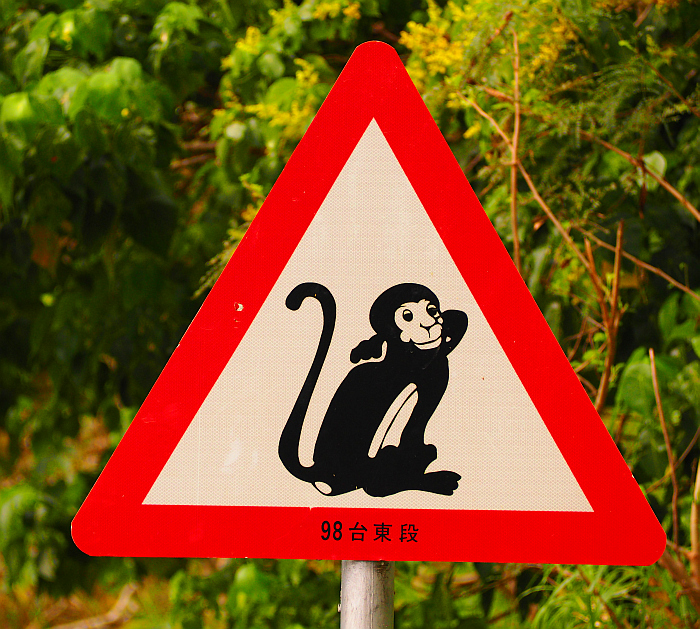 One evening, I met an American in a small village inhabited by Aborigines, who had lived there for some time. He invited me to his house and promised me a hot bath. The thought of a hot bath was something I could not resist, so I walked beside him through the darkness of the night. The longer we walked, the smaller and shabbier the homes became.
We stopped in front of a shack and he welcomed me into his home.
The ruin had neither doors nor windows. He led me through the house to the other side until we were standing in front of a gully. There was a pot there, which he had already filled with water. He lit a small fire, put the pot on it and said I should wait for about 15 minutes, then I could wash myself.
I stood in the construction mud outdoors. Frogs jumped around my feet and the full moon provided some light. Of course I enjoyed the hot water and washing facilities, although I was a little disappointed because I had imagined something else when I thought of a hot bath.
I turned down the invitation to stay overnight, however, and preferred to camp on the beach.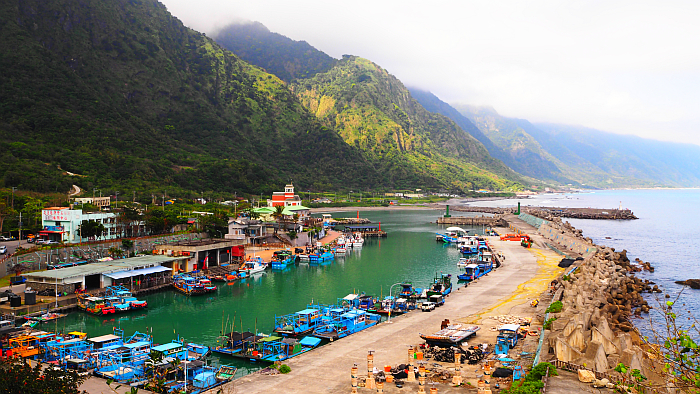 Taiwan is a paradise for cyclists. The cycling lanes are sometimes as wide as car lanes. At every police station, you can fill your water bottle and sometimes are offered fruit or even lunch. In a pinch, you can even find tools and an air pump there.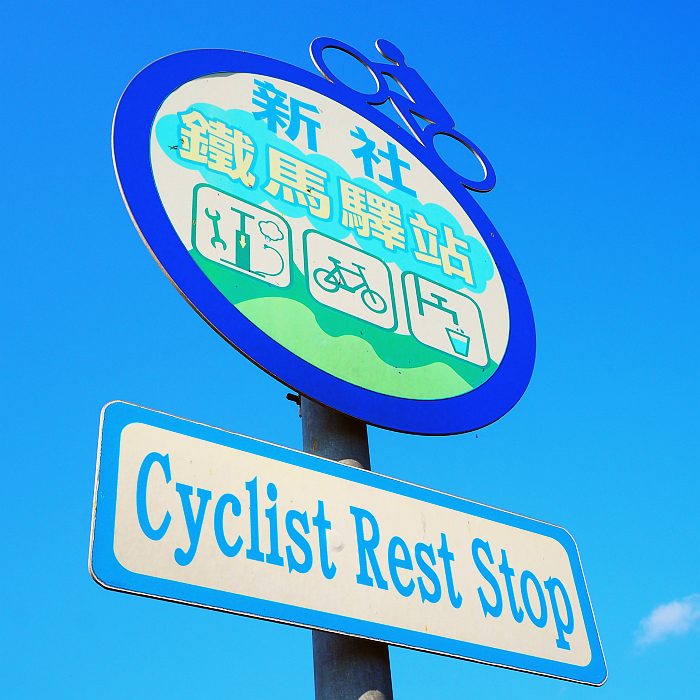 The "fill-up stations" are even officially signposted.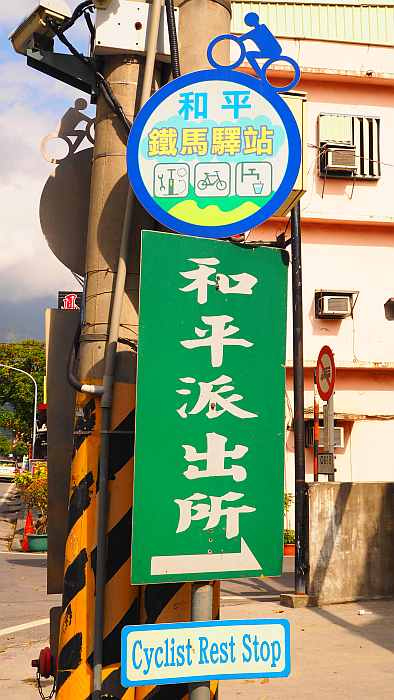 Also, people here are still extremely hospitable and sweetened every single day for me.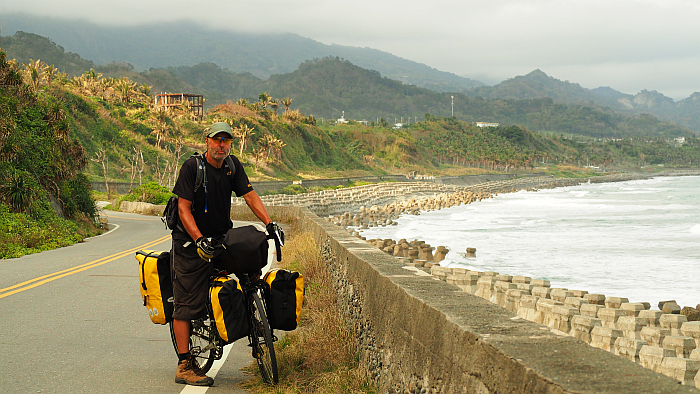 I found Richard from the US suddenly standing on the side of the road. I hadn't seen a packed touring bike since Laos, so I was very happy about an encounter with another cycle tourist.
Richard had been a school bus driver in the United States earlier in his life; afterwards, he taught English for 7 Years in China. Richard was the best child entertainer I have ever met in my entire life. He conquered every child's heart within seconds and it was really fun for me to watch him as he played the clown for them.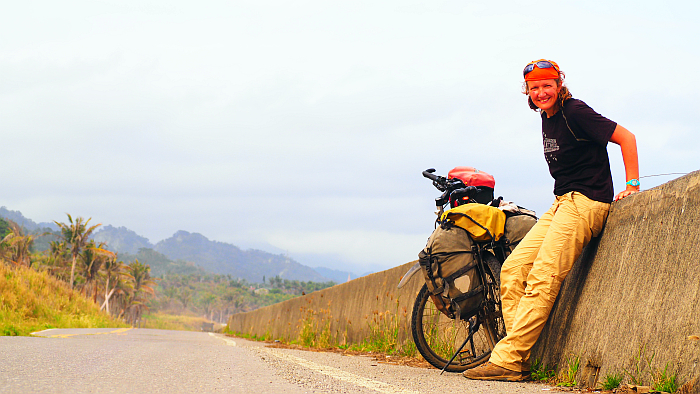 Since I wanted to turn inland from the coast, and go north again anyway, we decided to cycle together and for the first time in many weeks, I was on the road again as a team.
The first night we cleaned out his panniers together because his bike was terribly heavy and I wondered if we could not reduce his luggage a little bit. Richard was already over 60 and complaining about pain in his knee.
We had a lot to laugh about, because it was really worth seeing what Rich was carrying with him. The funniest thing was his electric toothbrush, which he just didn't want to toss away.
We had disposed of nearly 5 kilograms on the first evening and Richard was absolutely happy with his bike, which was now much lighter.
We camped on a look-out platform and were awakened in the morning by day trippers who were curious about who we were.
When I started to put toothpaste on my toothbrush, a very confused girl asked me where I was going to brush my teeth? With that question, of course, I had to laugh inwardly, and only said: "Right here." But there are no bathrooms here!" The girl looked at me very irritated while I started to brush my teeth.
Her question was the cutest question I had been asked for a long while.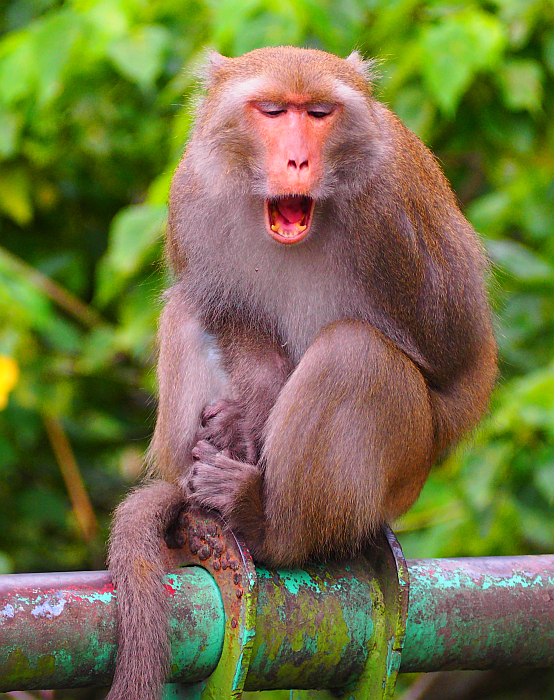 We saw the first monkey right next to the road and were really impressed by that beautiful experience. There were not only monkeys, but also many birds to be admired.
In the morning I enjoyed with pleasure the melodious sound of the birds singing. I just love to be out in nature; for me it is the very best part of being on a bike tour.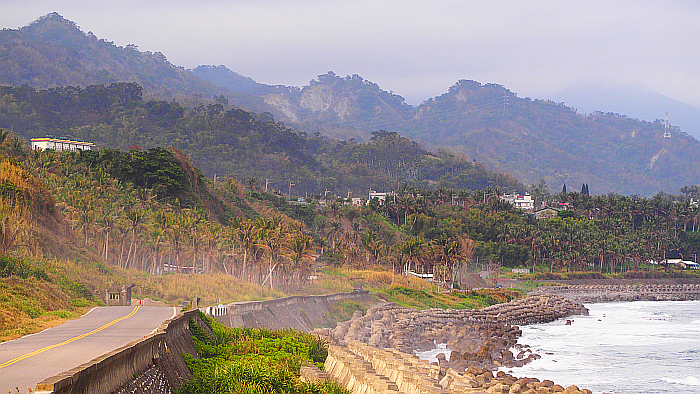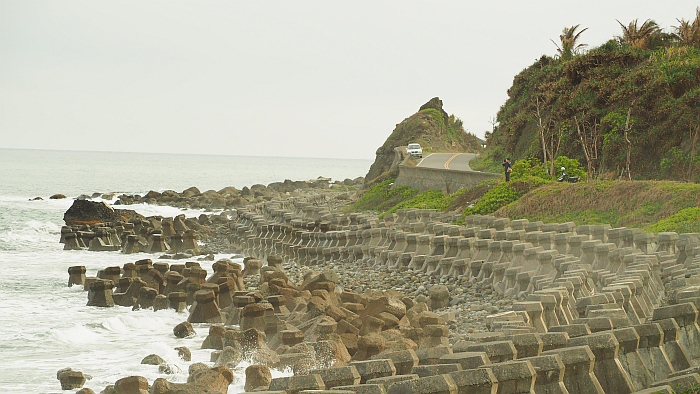 Richard was a self-entertainer. He talked nonstop. His main theme was women, which often really amused me.
While I ate at small local places, Richard always wanted to eat his packaged Yankee food at the 7-Eleven shops. He dreamed of Starbucks every day.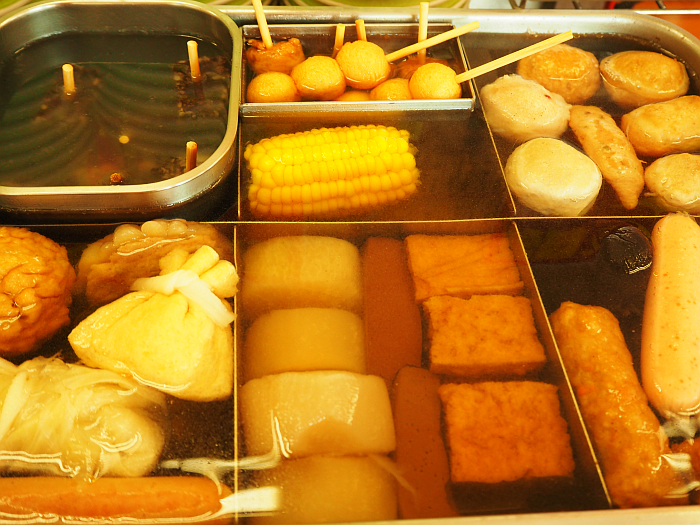 I found it super to be with him because he was a very "special" bloke.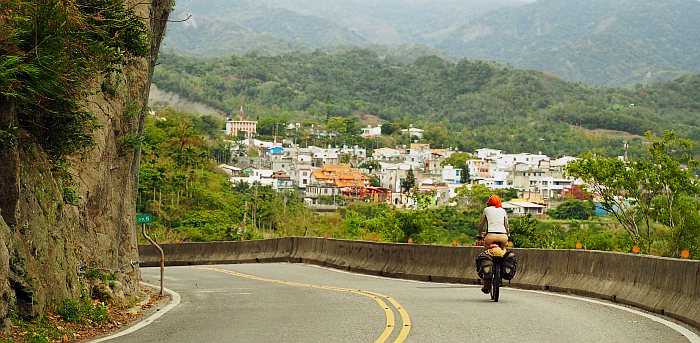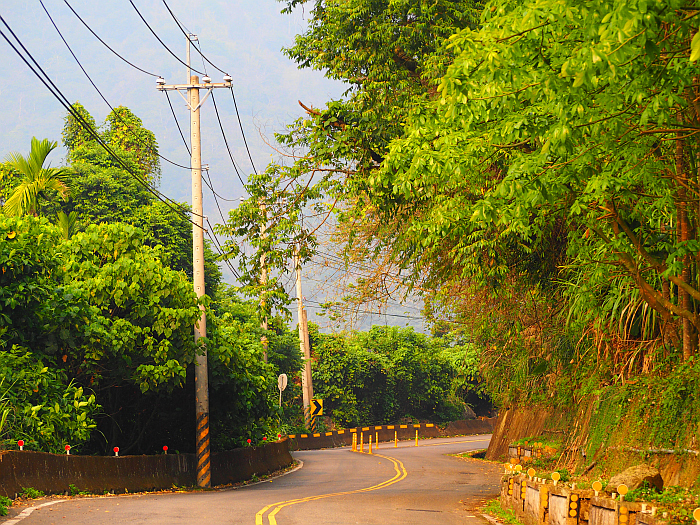 We turned off from the beautiful coast road to head back up north. The lonely route 193 was simply stunning.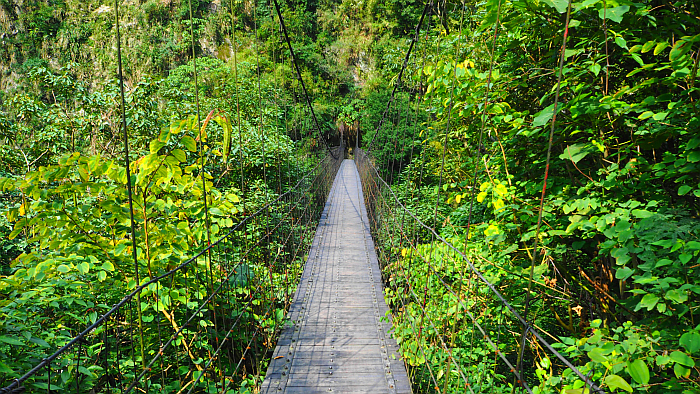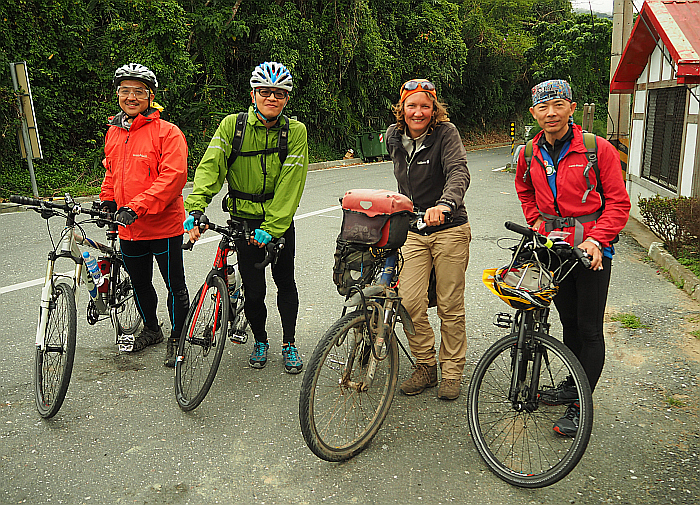 It began raining and didn't want to stop. When Richard wanted to set up his tent somewhere in the grass, I said, let us keep going, there is surely a dry place and a shop somewhere to get something to eat. And that was exactly what happened, because shortly afterward we came upon a visitor center.
To our delight, we were invited to eat and to take a shower there. And if that was not enough already, the Ranger even washed our clothes and dried them in a dryer.
Since it kept on pouring we were allowed to camp in the toilet facilities. Richard slept in the handicapped toilet room while I pitched my tent in the ladies room. Since there were so incredibly many mosquitoes, I preferred to sleep in my tent.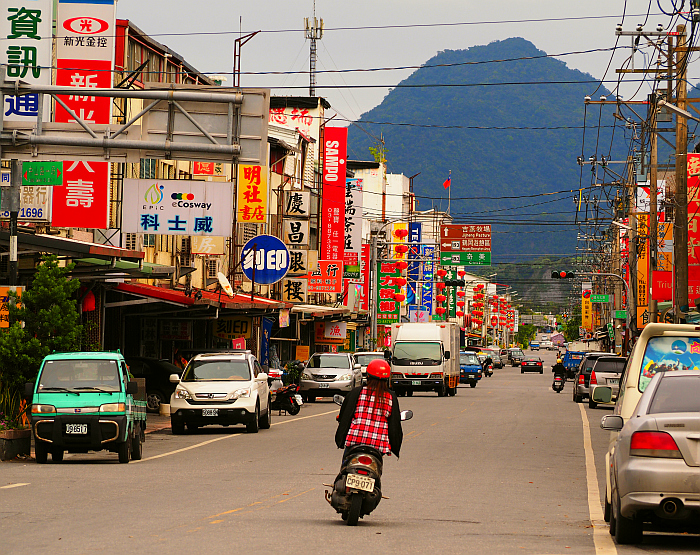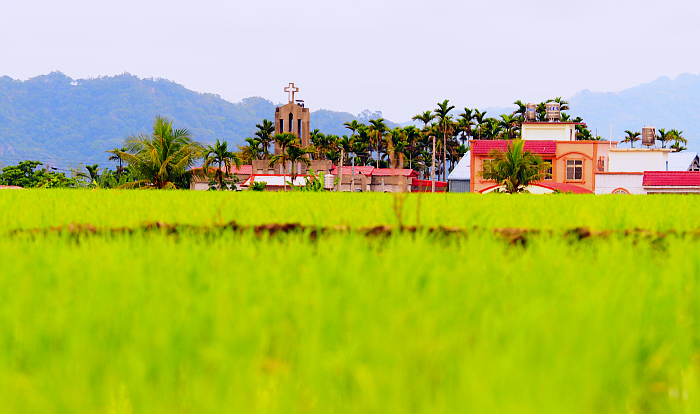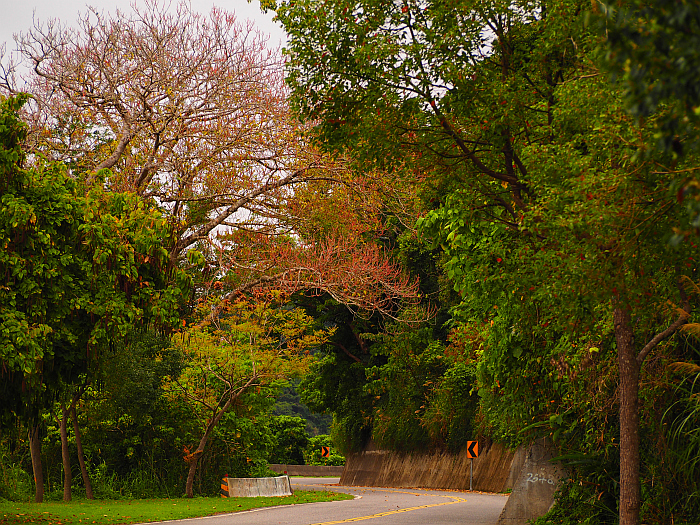 Soon our paths parted again, because I had the impression that Richard preferred to cycle on alone. So we said good-bye and parted at a crossroad.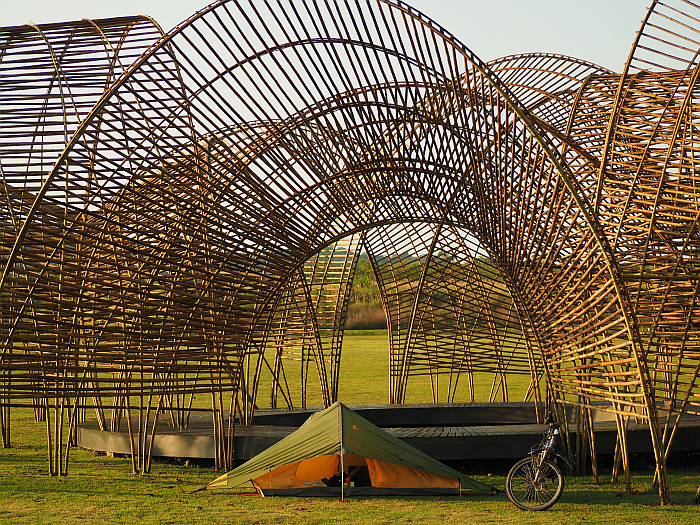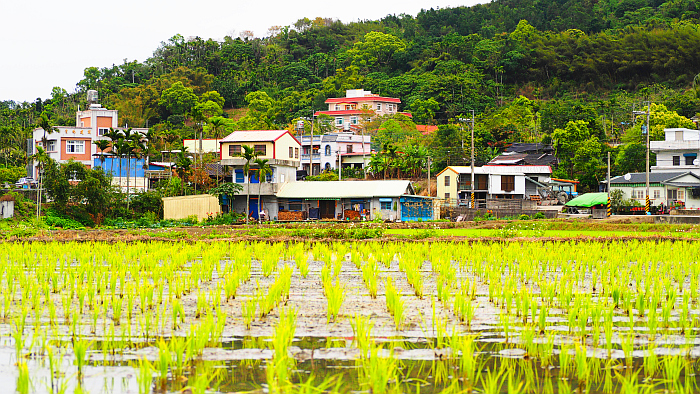 The Lantern Festival in Pinxi would take place in a few days and I didn't want to miss it.
Unfortunately, it was raining again and it wasn't really any fun to pedal in the constant rain, especially since my shoes were no longer waterproof; even my rain clothes already had
their best times behind them.
I tried in vain to buy shoes in Taipei, but unfortunately, there was no place that had my size.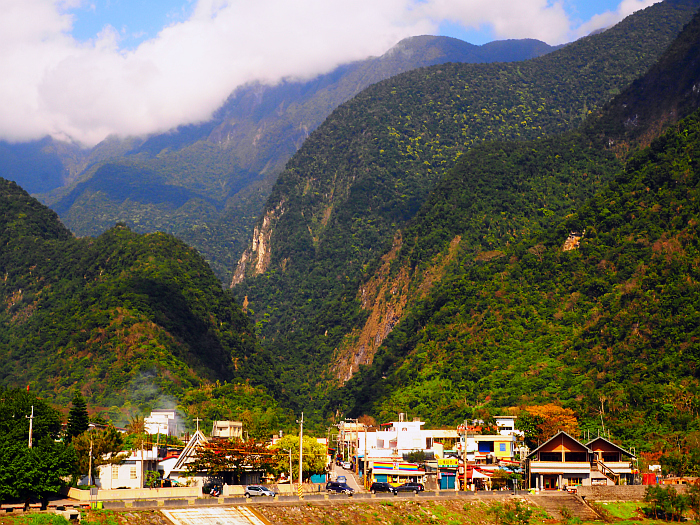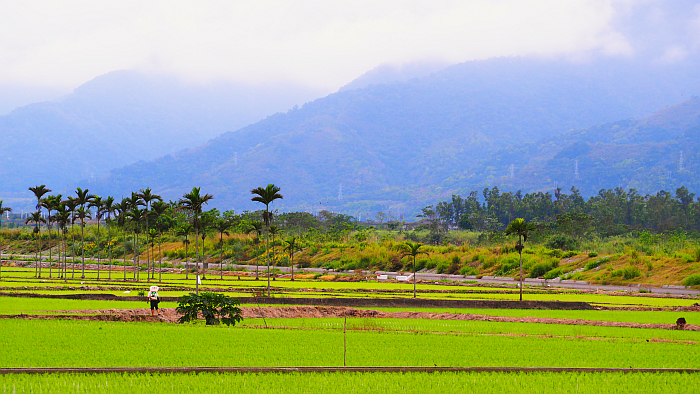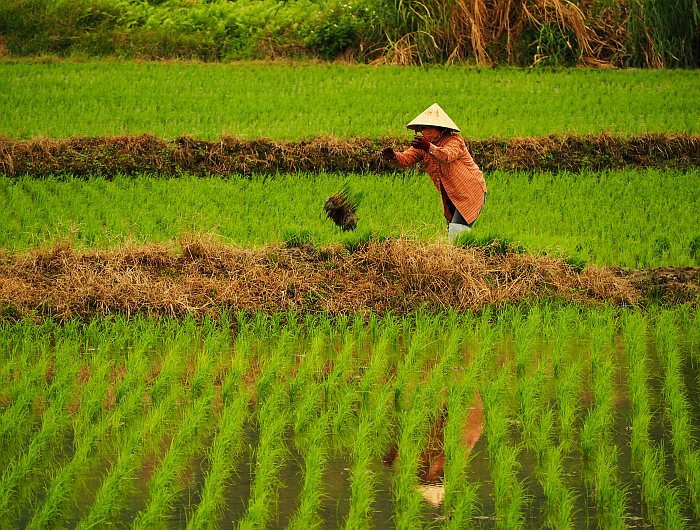 That evening, I knocked on the door at the fire department and asked if I might be able to get a place for the night somewhere. Sure, no problem! And they showed me a picture of a Brazilian cyclist who had stayed there just 2 weeks ago.
In the basement, a room was free. There were hot showers and dinner and, as always at the fire department in Taiwan, NBA basketball was airing on the TV.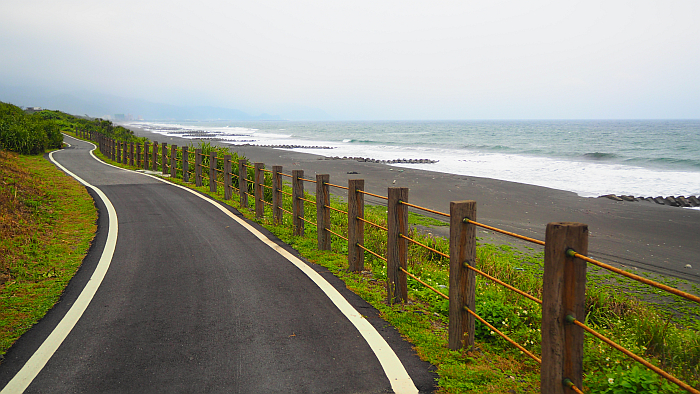 At the beginning of my trip, people knew the names of some of the soccer players in Germany and repeatedly mentioned Hitler. In China, Laos and Vietnam, the people knew absolutely nothing about Germany. In Taiwan, they know about Dirk Nowitzki, Mercedes Benz and BMW.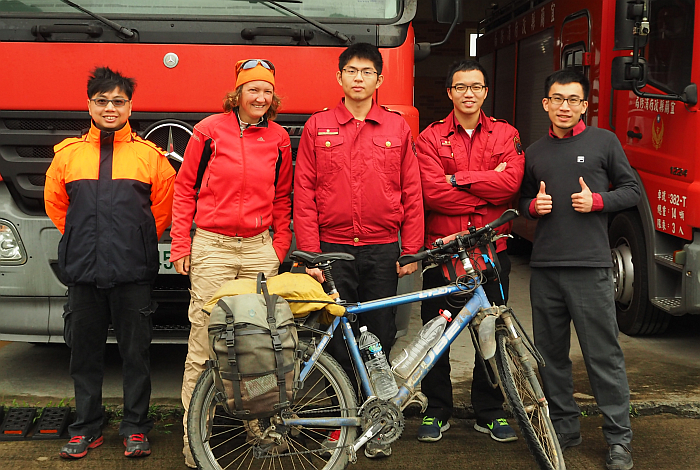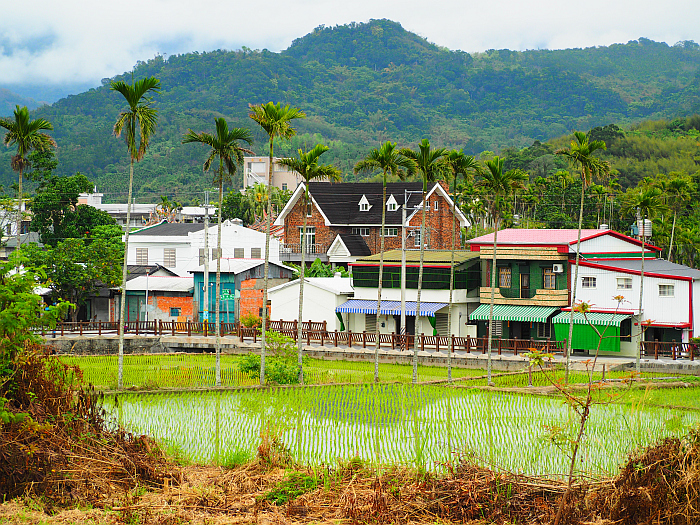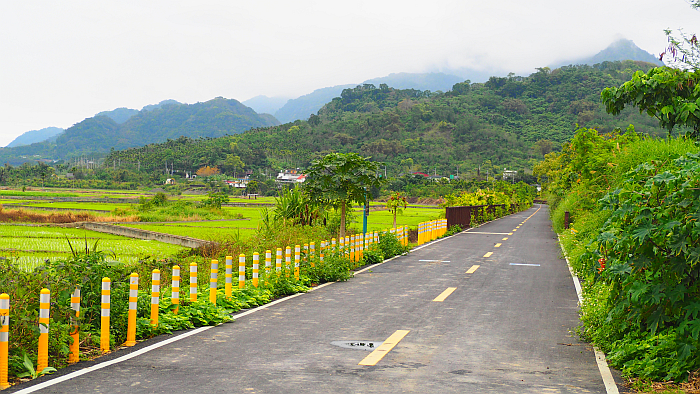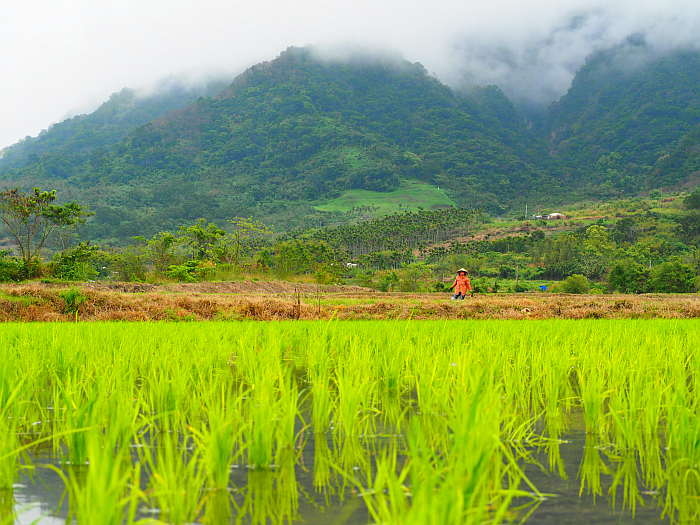 I finally arrived in Pinxi, the lantern city. Many people waited, as I did, until it got dark. Everyone wrote their wishes on a paper balloon, lighted the wick and, together with their loved ones, let it go in the hope that their wishes would come true.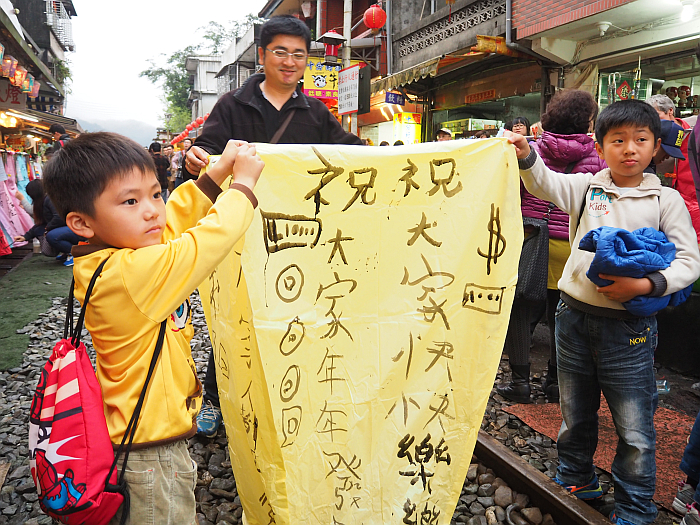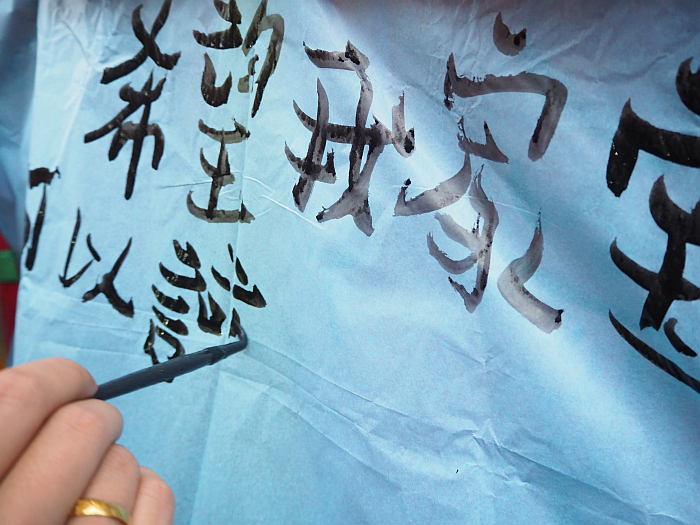 It was a little bit like our New Year's Eve. All the people were happy and hugged each other constantly and continued to greet the new year. It was a crazy mood to look at all those balloons in the sky, but I somehow felt cheated. I was the only one, or at least I had the impression that I was the only who was all alone here. It was somehow totally lonely around me, even though there were so many people.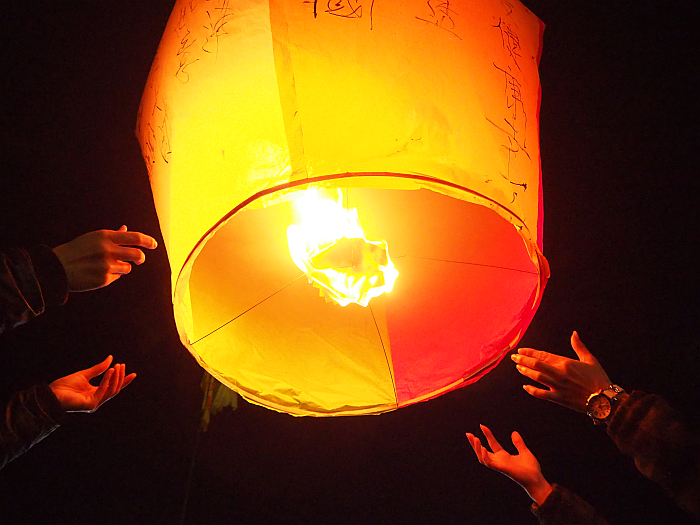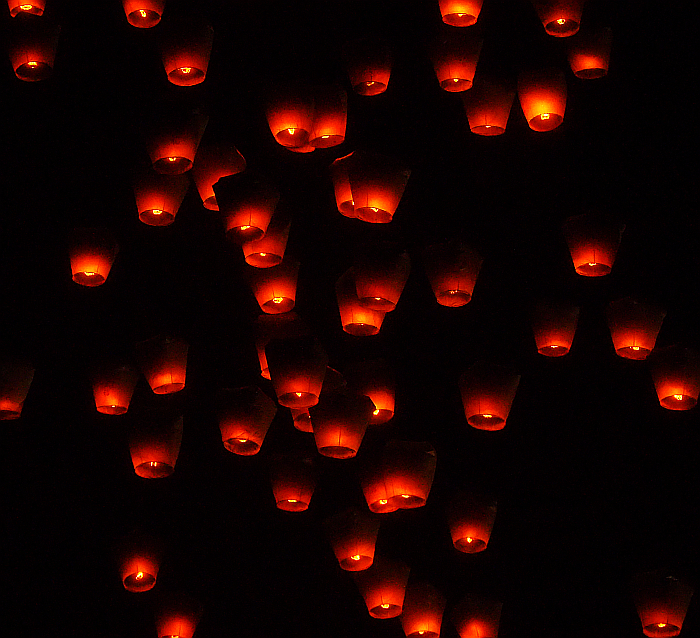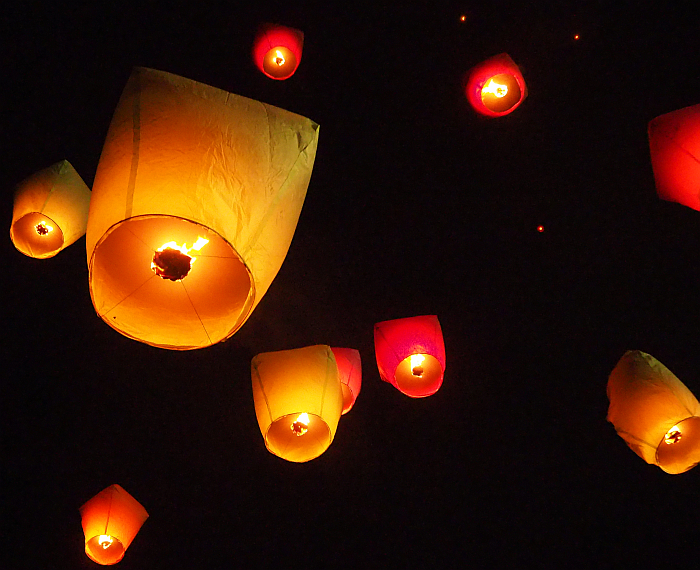 But while I was still feeling sorry for myself, David appeared, a US bloke, with whom I chatted for hours. We waded our way through global politics, one of my favorite subjects and I think it's always exciting to learn how other nations think about political issues.
He saw the policies of the Americans with very critical eyes and was very well-read in terms of American history.
He admitted being gay and said that I could stay with him with no worries in the hotel; nothing would happen anyway. But somehow I did not like the idea.
It continued to pour and it was disgustingly cold, so I rode for a short distance with him in the last shuttle bus to Taipei and then David helped me to find a place to pitch my tent.
At a Visitor Center, I camped again in a toilet, but was constantly awakened by the security guy making his routine rounds. All night long, every hour. I cursed to myself that I hadn't accepted David's invitation.
Sometimes, I get sick of living like a hobo. But, that's the price I have to pay for my freedom and my exciting adventures. Putting it back in the right light, even those situations are all not so bad; they pass and, usually, a short time later, something very positive happens and they are quickly forgotten.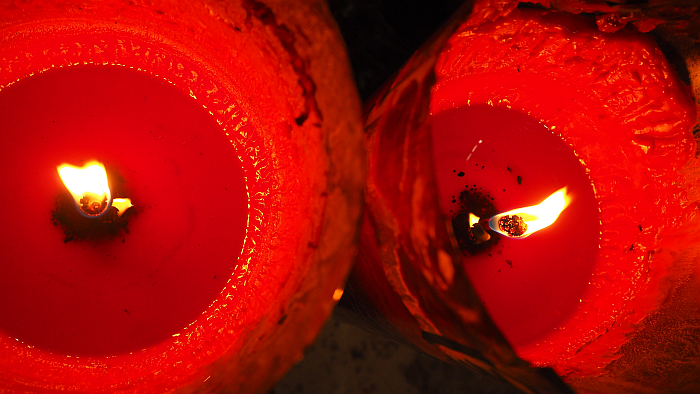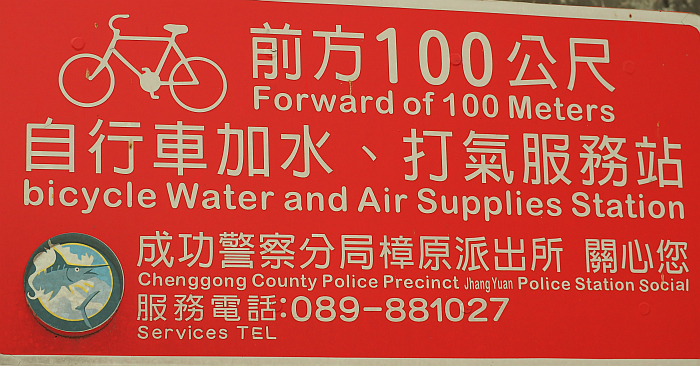 And so it happened once again, because I met Hans, a German who had the word "engineer" tattooed on his forehead; the fact that he was a mechanical engineer was something I recognized immediately. He was on a business trip and was spending his last evening in Taipei.
We met in the visitor center at the train station while I was asking a few questions there. He saw my bike and spoke to me. When I told the lady at the counter with a glowing face that I had just been invited to "fine dining" and Hans and I walked away together, I noticed the bewilderment in her face.
Yes, we Europeans are a little more relaxed than you Asians, I thought to myself and I had long since forgotten about all the rain and the short night.
It also makes a huge difference when you speak the same mother tongue and come from the same cultural background. I can evaluate people much more quickly than a stranger.
Hans was an ally; he came from the same country, was also often on the road with his bike and we simply had a lot to talk about. I trusted him immediately.
While he was making his last phone calls, I took a bath in his hotel bathtub. How glorious!
It was my first bath since Uzbekistan. Luckily, his calls lasted forever, so I had plenty of time to "care" for myself.
The little things are the spice on a trip like this. Hans invited me to the best Dumpling restaurant in town, and we feasted together on the most diverse "Chinese raviolis".
I was brought up to date in world politics and was just happy to be able to find entertainment in a really witty way again. Hans was married to a Korean woman and has lived in Beijing for a few months and, thus, had a very good insight into the Asian cultures.
Unfortunately, however, he had no idea about how to fix the technical problems on my bicycle; he just said, "Just throw the old bicycle away" and said that it wasn't worth attempting to repair it.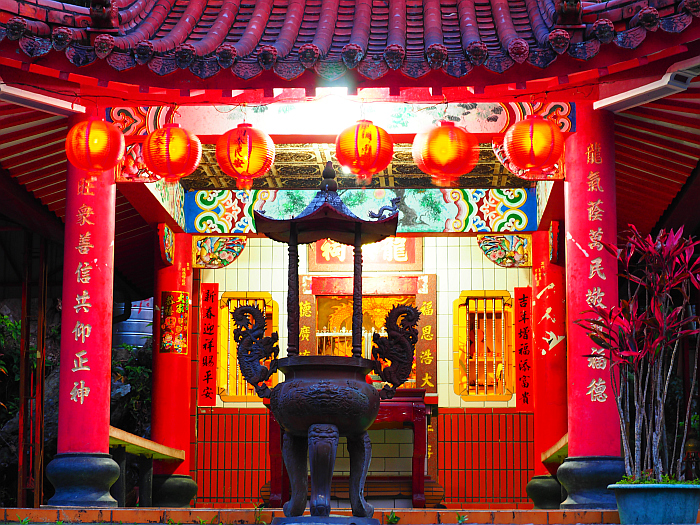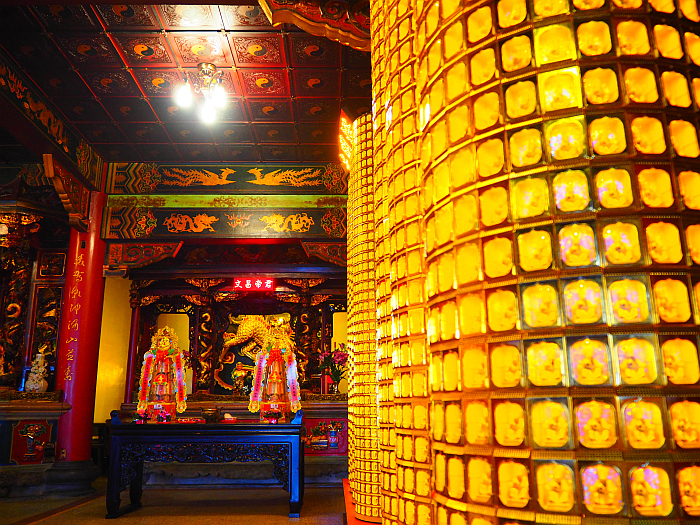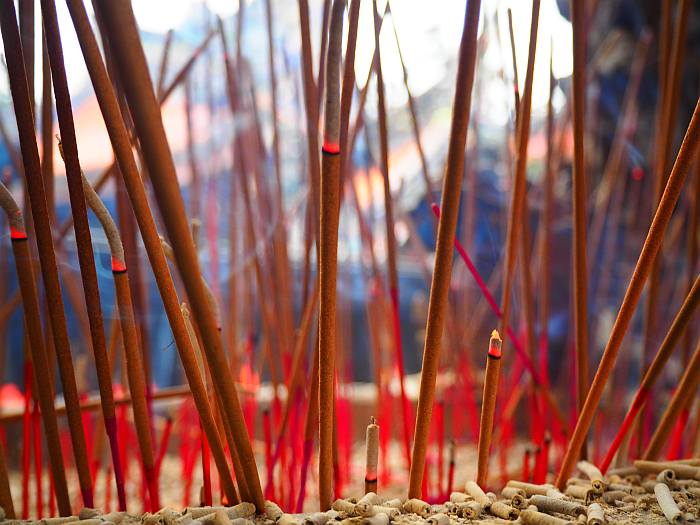 The next day I became really lucky again when I arrived at a temple just before sunset and was offered a place to sleep and eat. It was just super.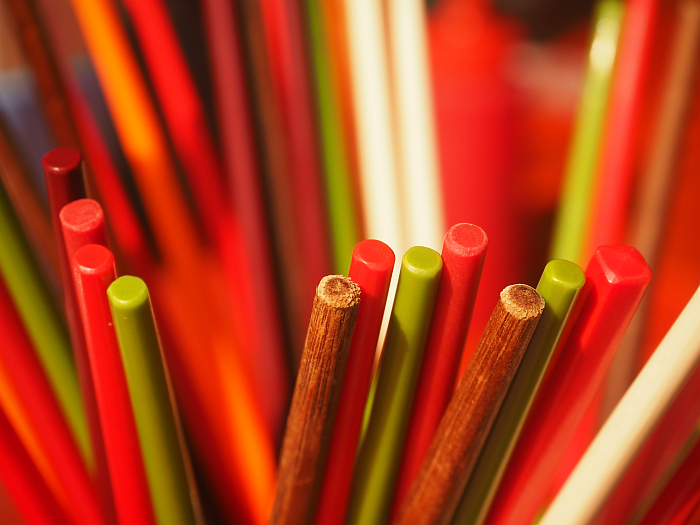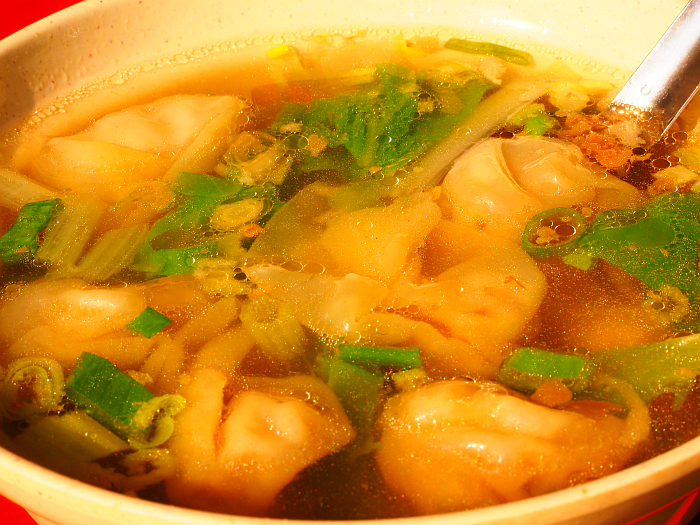 Since I began traveling in Taiwan, I often think about Iran, because somehow, the two nations are very similar. Of course, the culture is totally different, but the two countries have quite a lot in common. Iran is attempt to shed itself of its bad image and all the Iranians I met told me that I should not hesitate to tell all my friends that the Iranians are good people.
In Taiwan, it is similar. Although Taiwan does not have a bad image, it is under the thumb of the monster neighbor, China, and is perceived as only having a marginal significance in the world.
Here I was often asked what do Germans think about Taiwan? Do they know anything about Taiwan? What did you know about Taiwan before you got here? They are looking for a connection with the rest of the world, something that is very clearly apparent.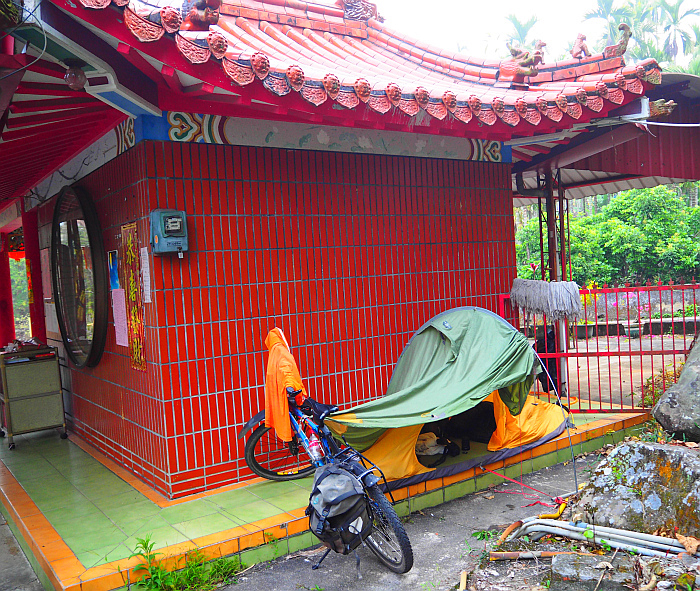 It just didn't want to stop raining, and when I sat again in a dry visitor center, I was approached by a Taiwanese man. When he heard that I was German, he called his friend, a German named Michael, who lived in Weinheim before emigrating to Taiwan. Weinheim is only a few kilometers from my home town in Germany. Michael came through the Freudenberg Group to Taiwan and married a Taiwanese, but he didn't speak Chinese.
I was allowed to stay at the home of the Taiwanese man, whose wife spoiled me every day with Chinese food. I waited 4 nights for dry weather.
Michael invited me to eat some German food and introduced me to another Michael, a self-made man, who had opened a German restaurant in Taipei.
I was spoiled everywhere I went. I received my first baked Schnitzel with Chips, German stew, fried potatoes and was chauffeured with one of my favourite songs "Mit Pfefferminz bin ich Dein Prinz" through Taipei's streets. Home was suddenly no longer so far away.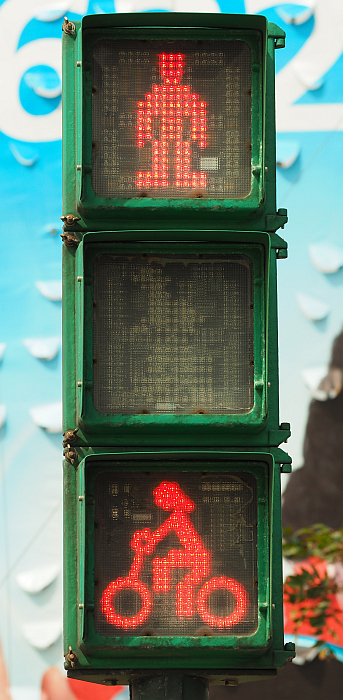 Through Facebook, I met the junior boss, Henry, of "KHS", who offered me to get my bike back on track. Grandiose! He sponsored a lot of parts for me, and I was glad about my nearly "new" bicycle.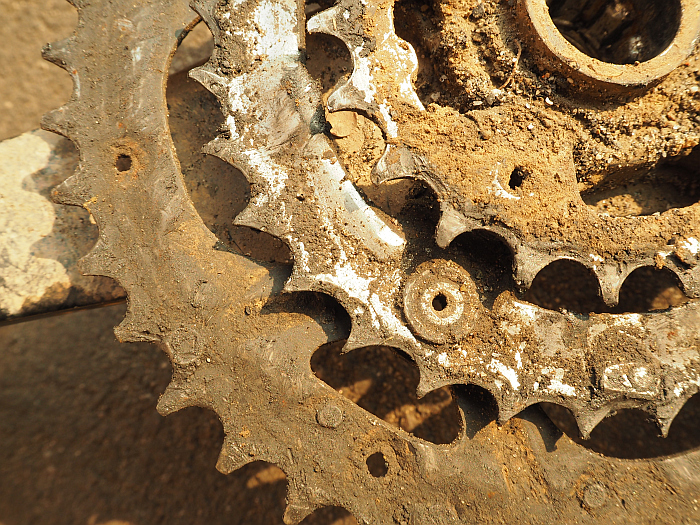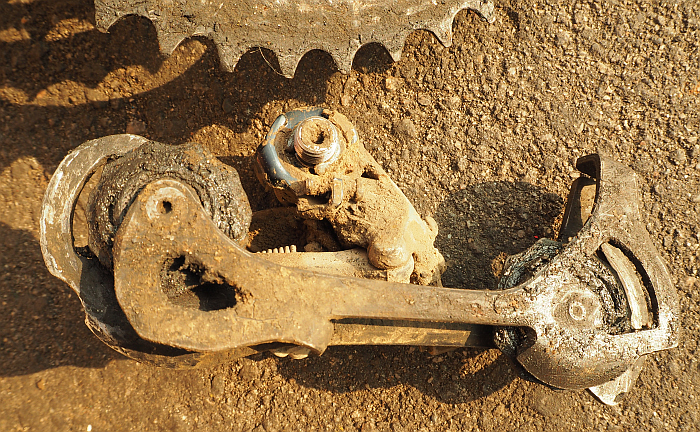 We also discussed whether a new frame would be appropriate. Initially, they had none that would fit, but they were all in agreement that my frame was still good enough.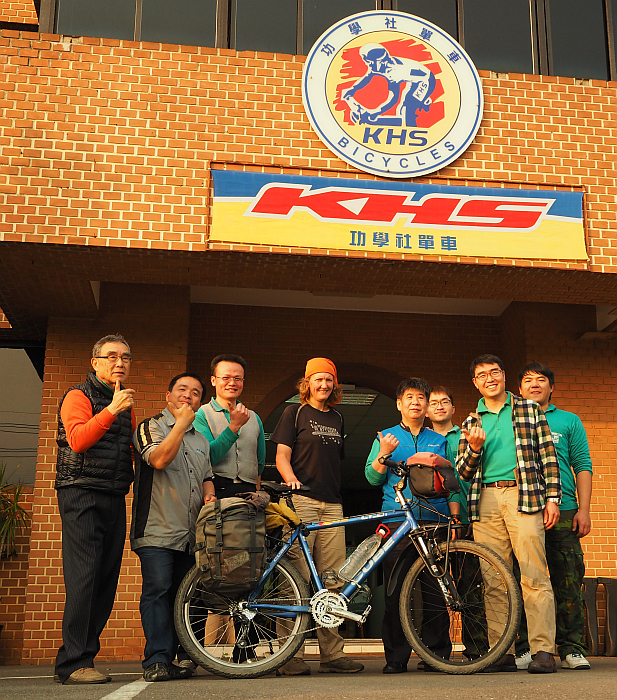 So now, I had a new front rim, a new set of rear sprockets, front derailleur, chain, drive sprocket, rear derailleur, new cables with insulation, a new bottom bracket and steering head bearing. The derailleur already had more than 60,000 km, and looked like it.
With a completely new feeling of fun while cycling, I rode south on the west coast.
Richard wrote me an email and told me very proudly that he had taken his electric toothbrush, his giant water filter and his gas stove and threw them over the Jordan.
He confirmed that cycling now is far more fun for him and he has now voluntarily conquered his first mountain. His pain is now significantly less.