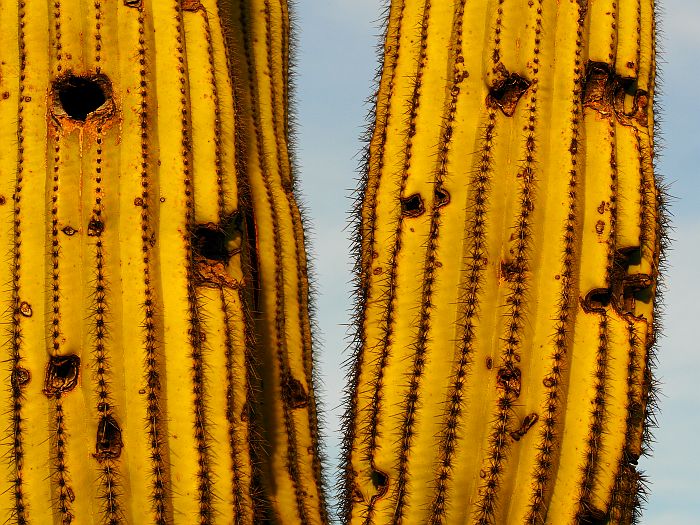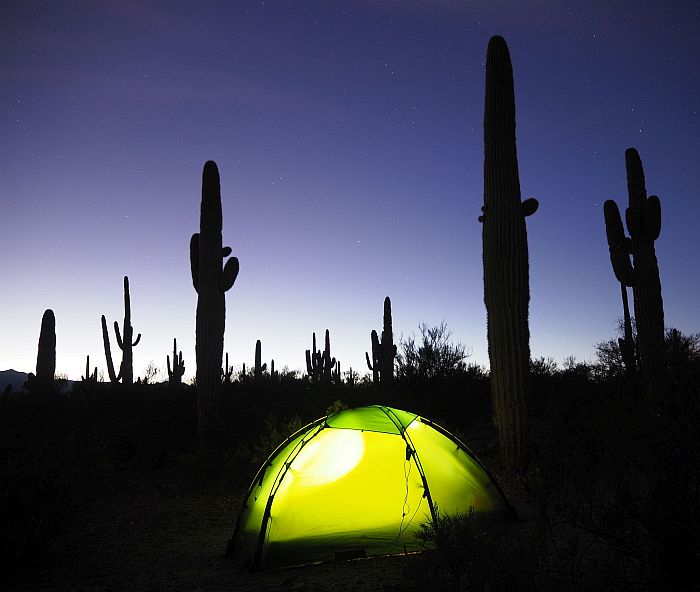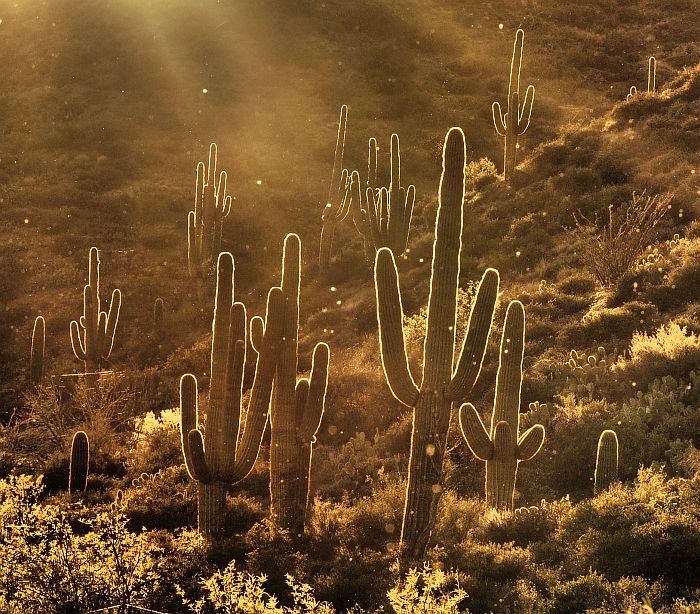 Payson received me with a night at the cinema. I stayed at Warmshower hosts and they had their own cinema in the house. There were leftovers from "Thanks Giving", along with a nice chat about the world.
Cosmopolitan, wealthy Americans who travelled the world a lot themselves. I love those interesting conversations.
I bought some noodles in a store and to my surprise instead of $1.39 they appeared with $2.78 in the checkout and I told the staff that the price is not correct. Without another thought the guy believed me and changed the price manually. Wow, nice. That would have never happened in Germany.
It reminded me immediately of a moment in a cafe where I was with Ron in Flagstaff. We sat at the bar and next to us was the tip jar full of dollar bills – open. It would have been easy for us to simply take them.
Great, even in a city the people have so much confidence in each other, that they can leave the glass open. Also, there are many large supermarkets, where you could just leave the store, without walking past the checkout.
At some checkouts you can buy pre-packed shopping bags for people in need. As it is well known, the Americans are big in giving donations.
But on the other hand I don't understand the hype about their private property especially when they live in isolated areas. In the cities, you hardly see private property signs. It seems people feel more secured in urban areas than out in the country side, something I always experienced differently elsewhere.
Somehow I don't really get this.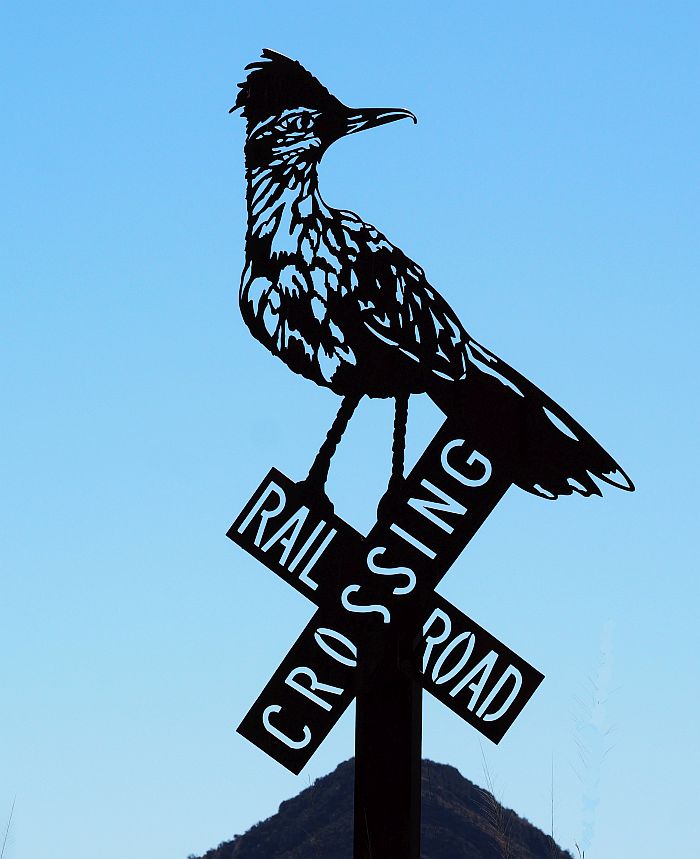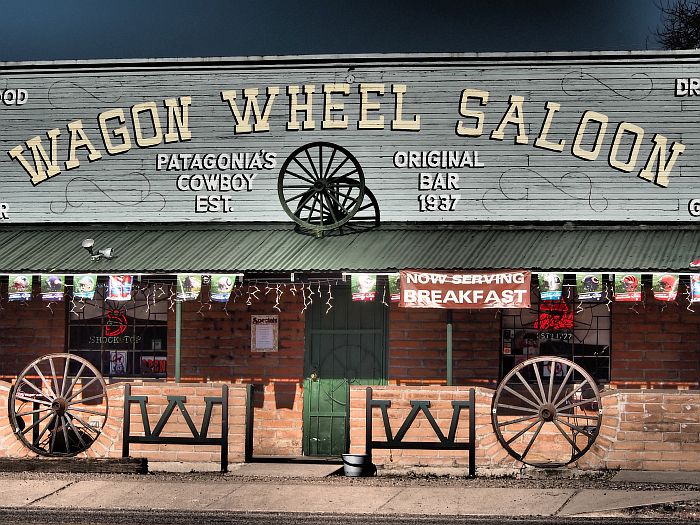 After Payson I had lots of fun riding a monster decent – about 1000m in altitude. Great. Suddenly it was really hot.
At a little shop I had a break and chatted with the nice owner. It is just wonderful if you are able to talk. I simply enjoy it a lot after the long time in Asia.
But in spite of everything I realize, even though the United States is so much closer in their mentality to us German's, as any Asian country, I am just a foreigner. It seems increasingly difficult to connect, the longer I'm on the road. People live in their own world and for the most part can't understand my world, somehow it seems much easier for me to find my way into their world. It's just difficult, if one is different.
But my lifestyle is of course very exotic for many and thus automatically interesting.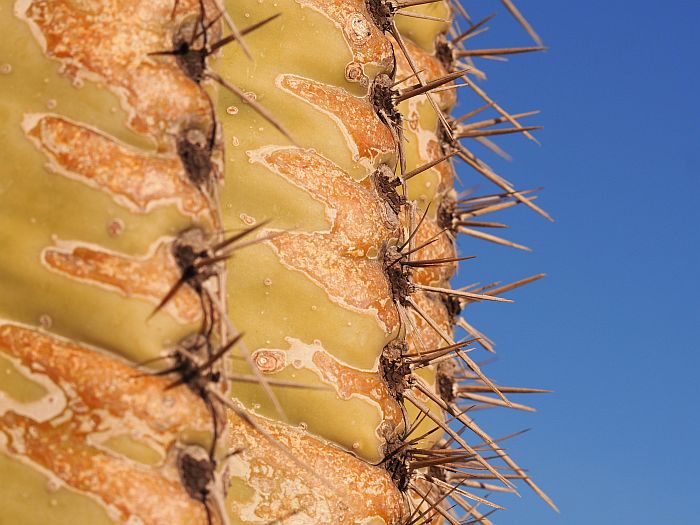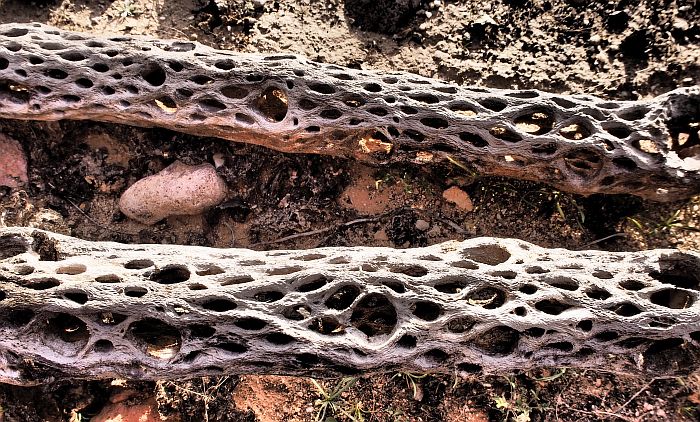 On a gravel road I approached the cacti world. I met nice Native Americans, funny blokes and cool cowboys and had a chat with a few of them. That's something I really love.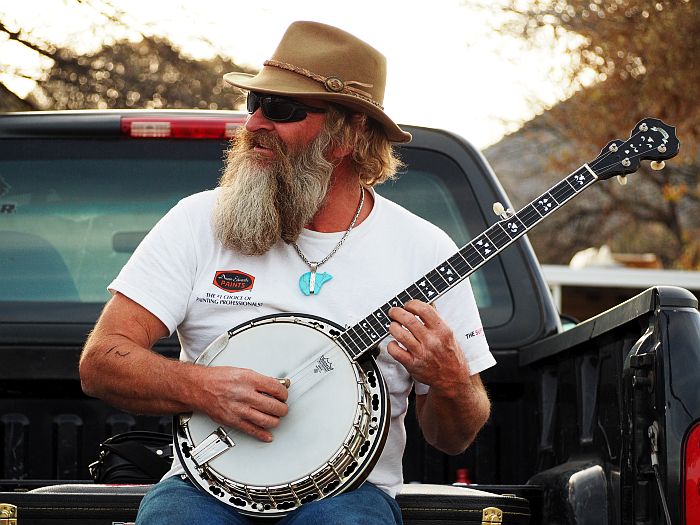 The Saguaros, giant cacti are simply stunning to look at. Finding camping spots became much easier and the scenery was spectacular. Best of all I had it nearly to myself.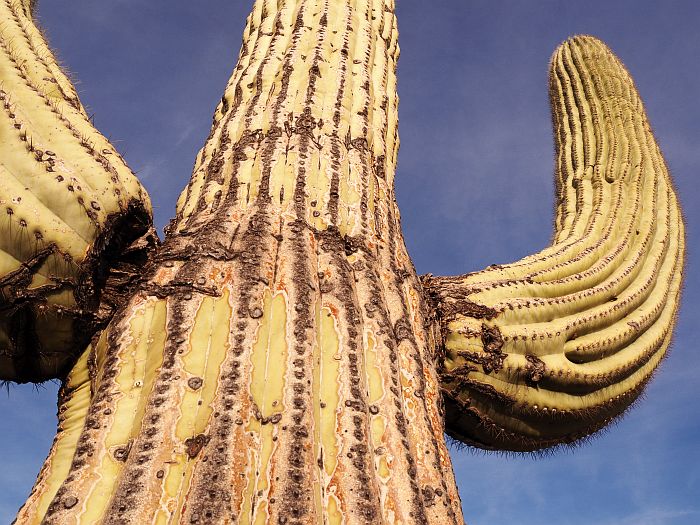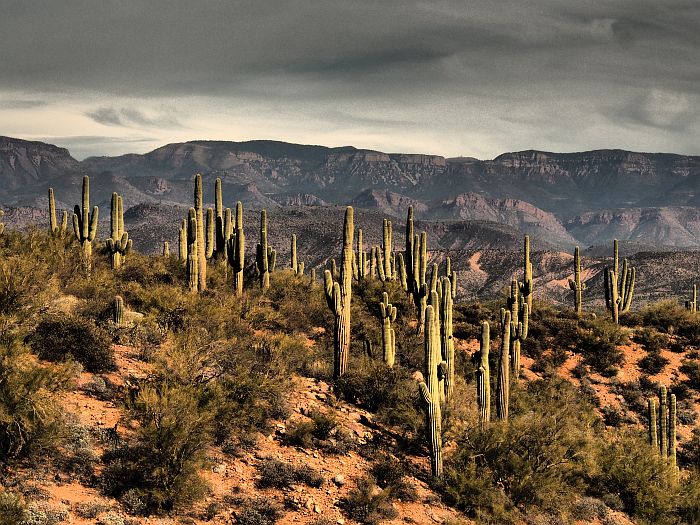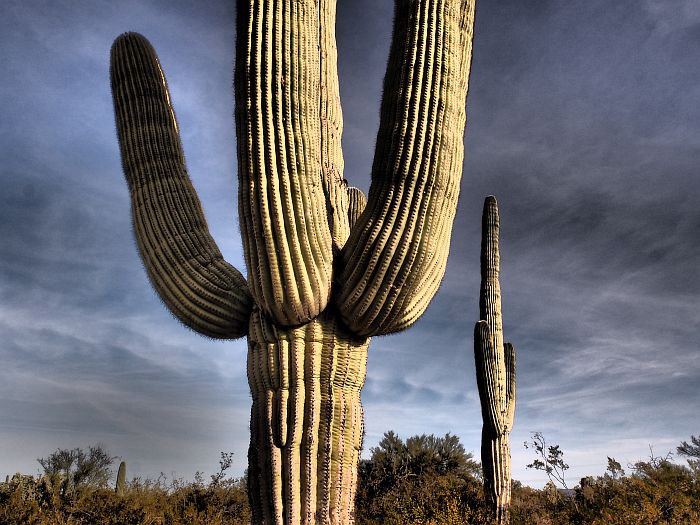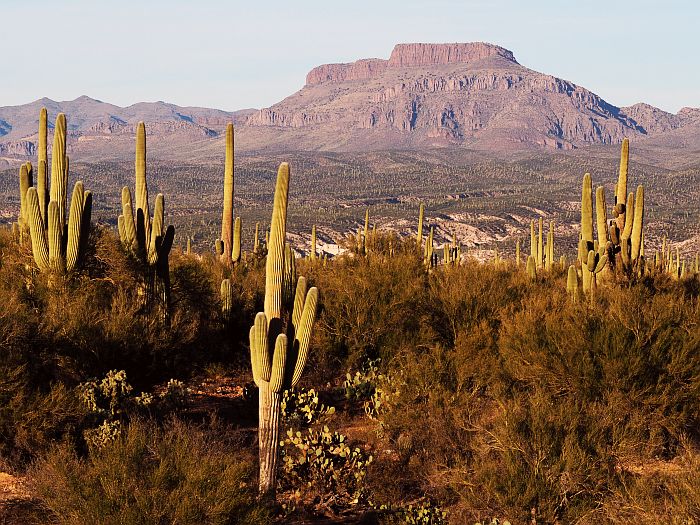 At one house without a "no trespassing" sign I slowly approached the entrance. The owner was just ready to go for a walk with his dogs and I asked him if I could camp somewhere nearby.
"Of course no problem. We have plenty of space. If you want you can also have a fire." "Great, thanks very much."
By the way he went for a walk with them while driving the car and the dogs were running next to it. He was so friendly, he even came again and asked if I was ok.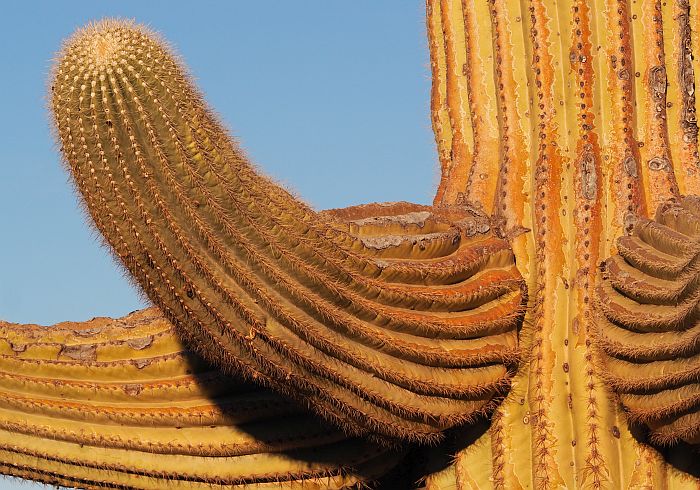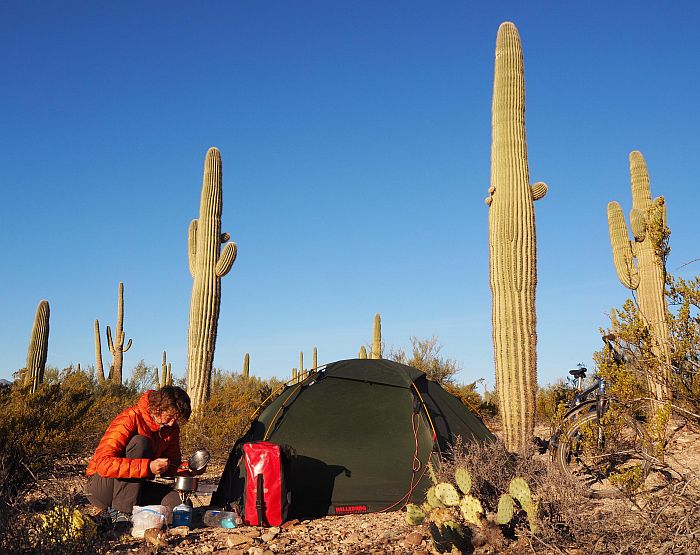 The next day the sheriff stopped me. He had heard there was a woman alone on her bike and he wanted to see if I was fine. Ah, interesting, but also really nice I thought.
At the visitor center of Theodore Roosevelt Dam I had a break. The ranger in the visitor center somehow didn't like me and she wanted to convince me not to stick to my plans I had for the area.
A couple came in and were very interested in me.
They gave me food and said "there are also nice Americans, we are not all crazy."
"I know," I replied and was very surprised about the statement because it totally came out of nowhere.
I had a very similar experience back in Japan. I mistook an American cyclist for a Canadian woman and she was very happy about it and said "Oh great, that you have mistaken me for a Canadian, I would love to be Canadian, I am so embarrassed about where I come from."
I found this pretty funny at the time.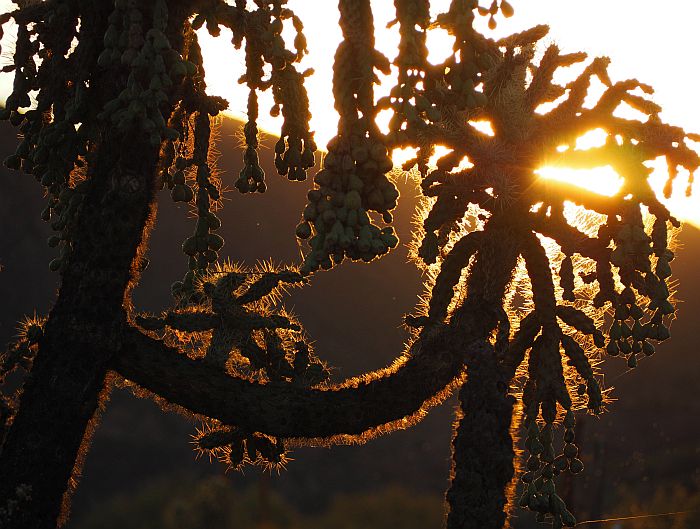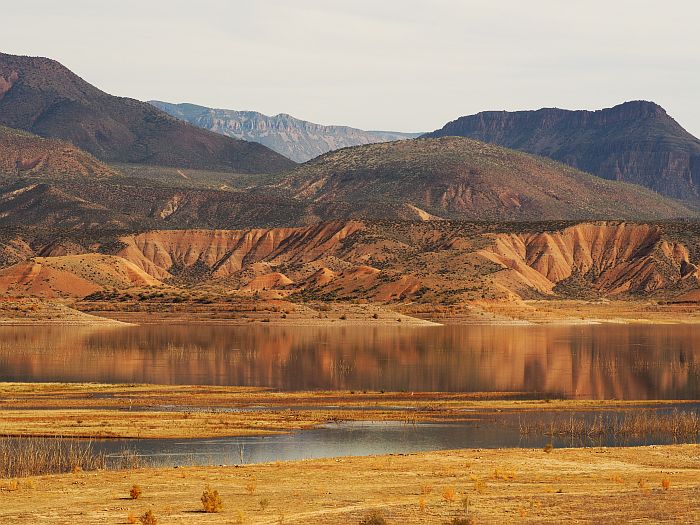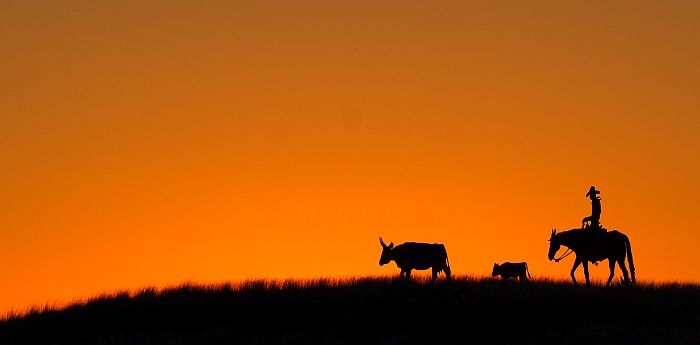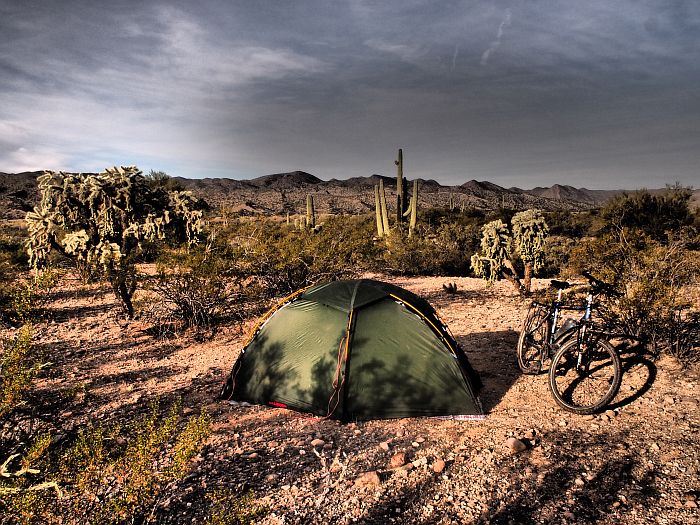 Just before Globe something cracked and there my saddle was lying on the street. The seat post had broken. But after 70.000 km of use on this bike, I would say there is nothing to complain about. Luckily I wasn't hurt.
The only problem was, where could I get a new seat post?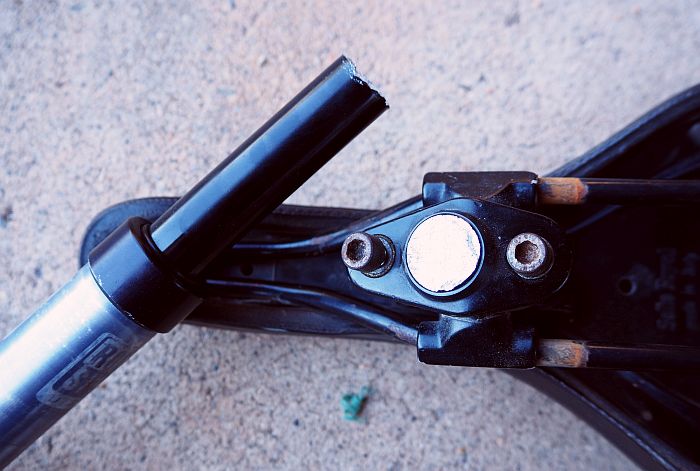 I immediately contacted a Warmshowers host in Globe and the couple invited me to stay with them right away. I had huge luck, because he had a whole workshop including a lot of bikes and so he was able to give me a seat post which fit reasonably well.
They were Mormons and had 8 kids and 28 grandkids. As a parting gift I was given the Bible of the Mormons.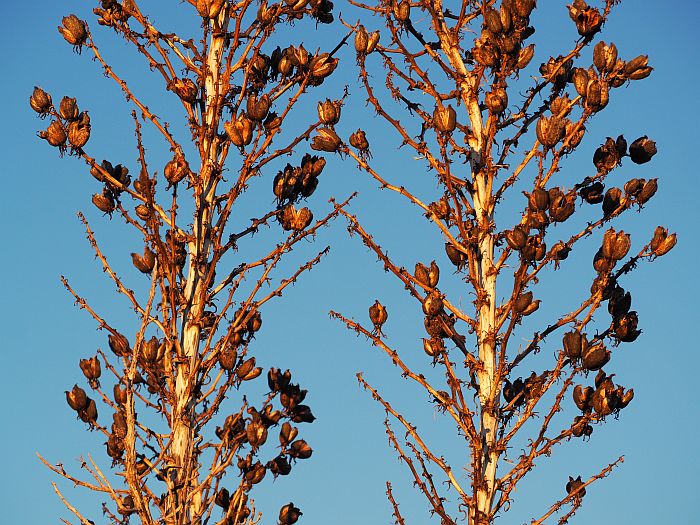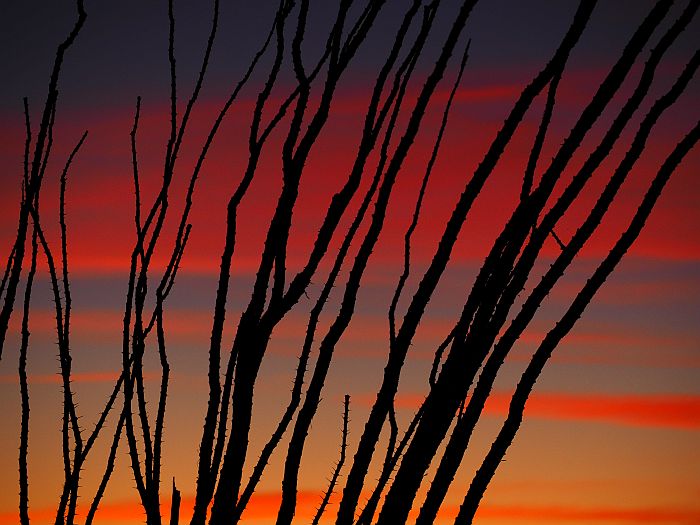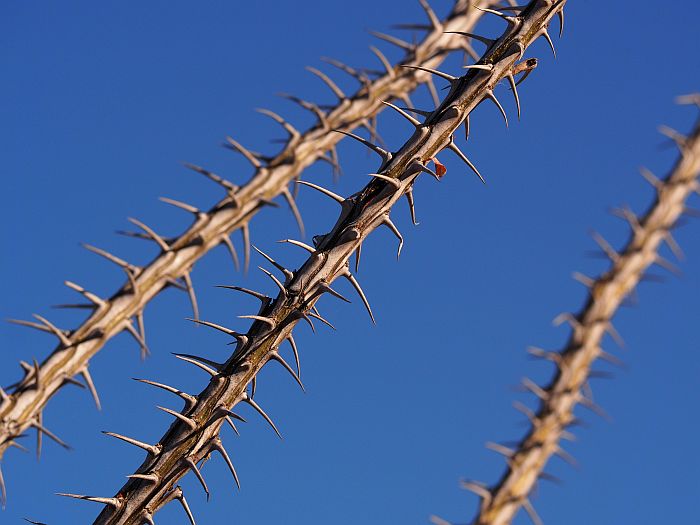 The next day I was sluggish – my motivation was completely gone – therefore I went to McDonald's to use the WIFI and met a couple of retirees, who used Mc Donald's as their office. Six men sat there and researched the internet and felt at home.
We started talking. And once again came the question, "do you have a weapon?" While I answered, I saw two men with guns at the counter.

"You need a gun out here all by yourself."

"What? You are you going to Mexico without a gun? You're insane! Mexico is much worse than Arizona. Girl this is way too dangerous!"

"Why do the Germans let all the Muslims into the country?" came next.

The fact is that the Americans, at least those I've met so far, are clearly more interested in the world, than I noticed 10 years ago.

I have been asked frequently about the refugee problem we are facing at the moment with some finding the approach of the Germans to be positive. As always the opinions are divided.


I also met a lot of people who feel differently concerning the gun laws and just shake their heads about how many guns there are in the US. As in many other topics, the country is also split here.
Certainly Arizona is not representative of the rest of the nation. Arizona is cowboy country and the clock ticks a little differently here.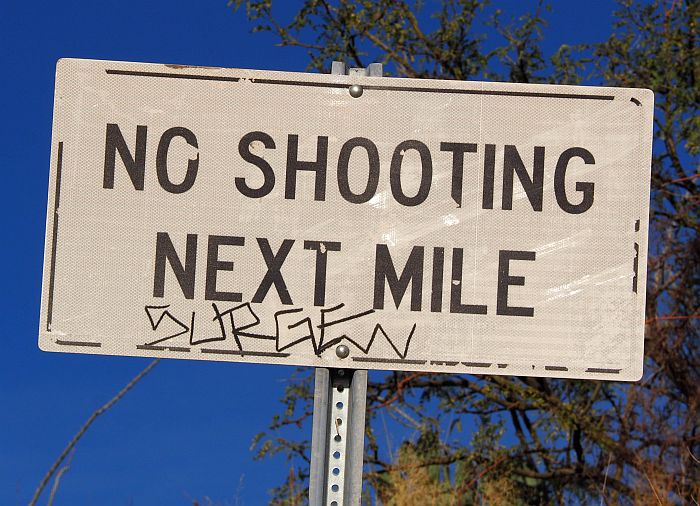 I've noticed products have become more international since my previous visits. Now even in the countryside a grocery store may offer Asian spices and a huge selection of vegetables and organic products. It's now easy to find Indian, Chinese, Italian and Thai cuisine in all the larger towns. I am almost overwhelmed with the variety of organic products sold in the stores.
Unfortunately, the prices with the current dollar exchange rate are not a bargain. I always look very carefully to find cheap but healthy food. This is not always easy to do. The food prices are significantly higher than in Germany in any case.
Sports equipment and electronics used to be so cheap but unfortunately this is no longer the case.
My mood being low, I stayed one more night in Globe in a cheap motel. I needed some time to motivate myself again. I chatted online with a few other travelers, who I got to know either through Facebook or met somewhere on the road.
Like-minded people. People who are indeed far away, but who often understand me best. They can be such a big help at difficult moments and I am very grateful to be able to contact them in these times. I also try support others in their hard times out there.
So I know I'm not the only solo traveler who from time to time has difficulty being alone.
When I went to bed I was completely frustrated, but when I got up in the morning, I kicked my bum and said to myself: " Come on now, stop moping around, the beautiful world is out there and it is awesome and you'll see the day will offer plenty of great landscapes."
And so it was. As always the world fascinated me. Arizona is gorgeous. On a "scenic byway"a signposted, attractive road of the state of Arizona, I continued towards Mexico.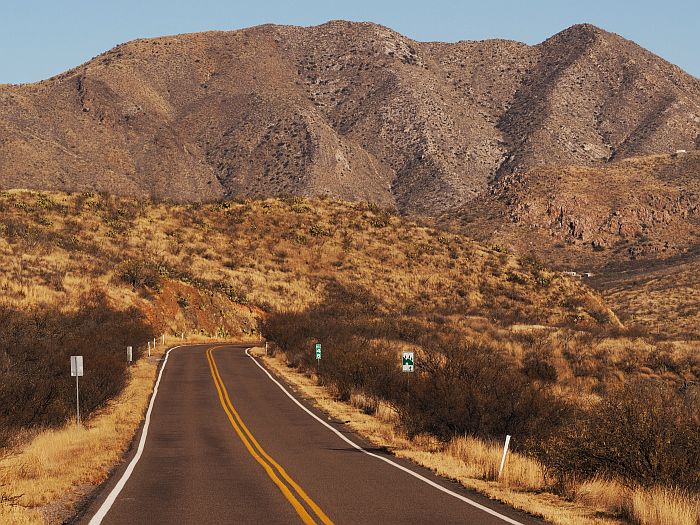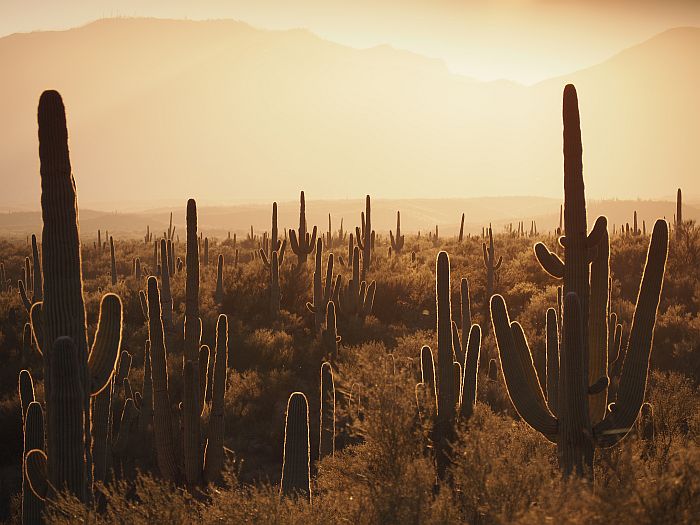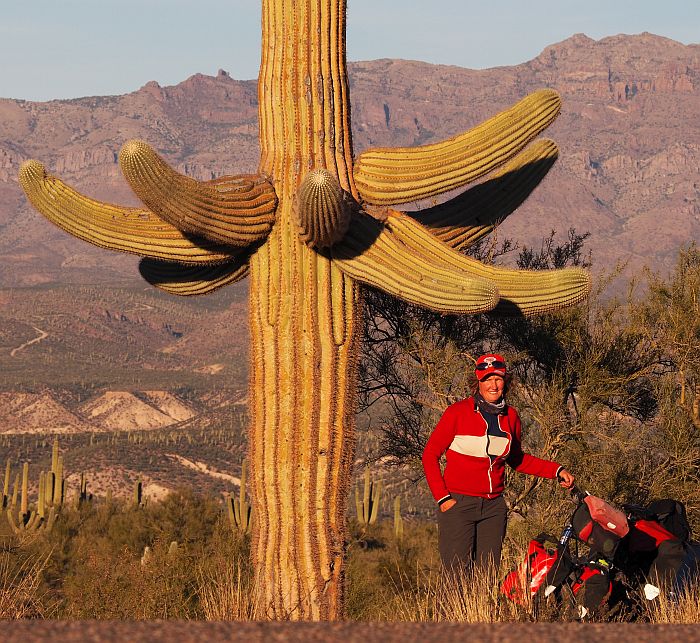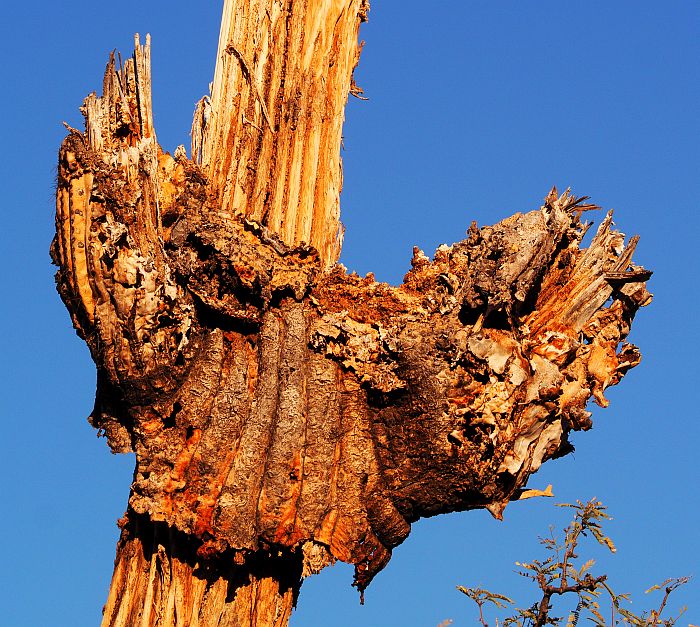 In San Manuel I sat in a junk food store and ate a few fries and had to grin about a primitive conversation among the employees.
"Fuck, shut up, piss off ……". The fries were just as bad as the tone.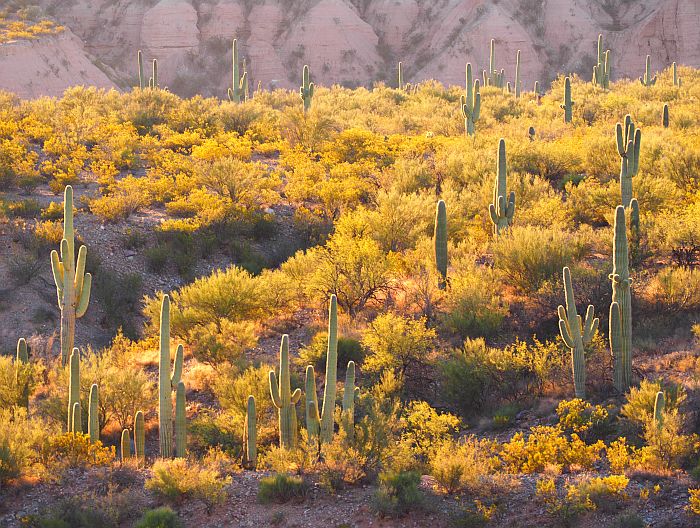 On a beautiful gravel road, I wound my way through a brilliant cacti world. I could have cried as it was so beautiful. Between the cacti I pitched my tent and enjoyed the night surrounded by huge Saguaros.
Unfortunately, once again a bunch of weirdos were out shooting in the area and made
me a little nervous.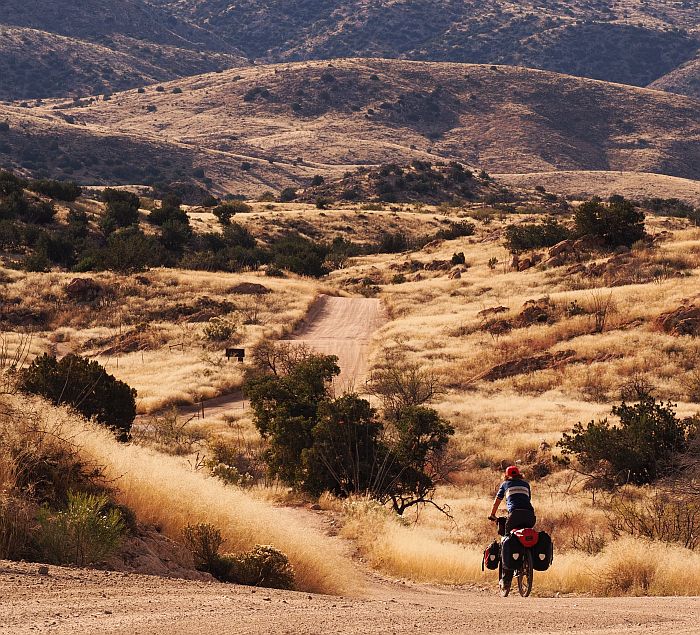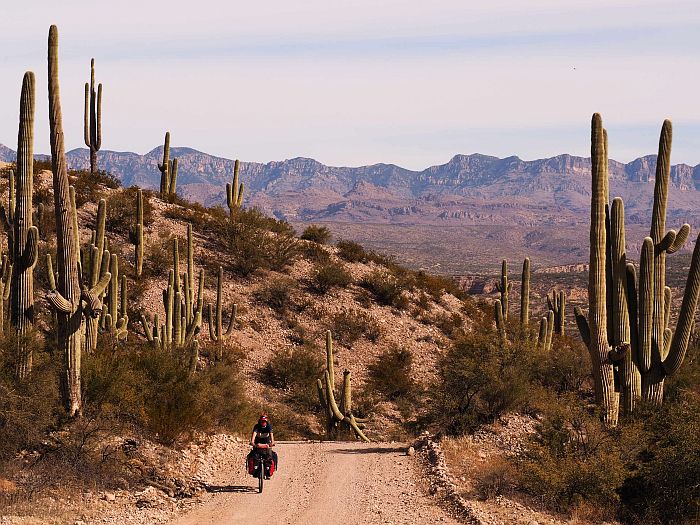 From Redington I joined Redington Road and headed for Tucson. Riding through a remote, hilly, gigantically beautiful area.
During the day I met a motorcyclist and asked for water, because the route took me much longer than expected. I gave him my water bag, as he was on his way to see a friend and offered to bring me water on his way back.
With a full sack, he came back and wished me farewell.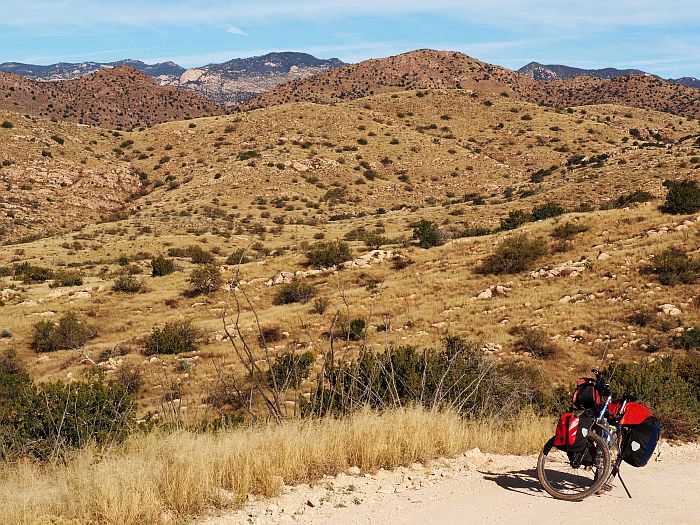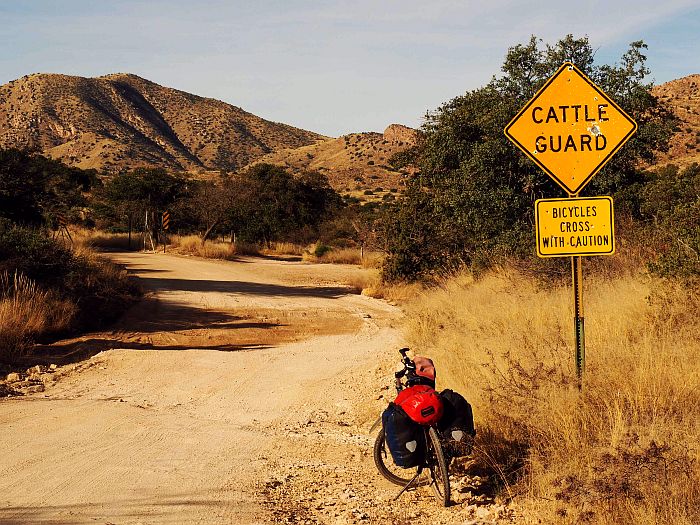 Normally I prefer while camping not to be seen, but on this evening I camped in a parking lot, because during the last kilometers I had heard shots repeatedly from all sorts of directions and thought to myself, it will be better to be seen than shot by accident because I was unseen.
An American said to me anyway "Don't worry about camping somewhere. People don't expect a woman in a tent alone and they will think that you have a gun with you anyway".
This section of road was unusual in the way it was littered with empty ammunition, it seems like people use this as a place to party with their guns.
Kind of scary and a bit crazy.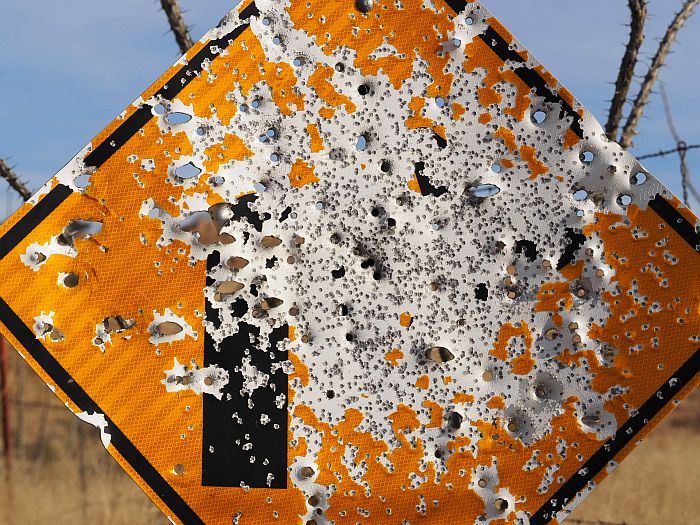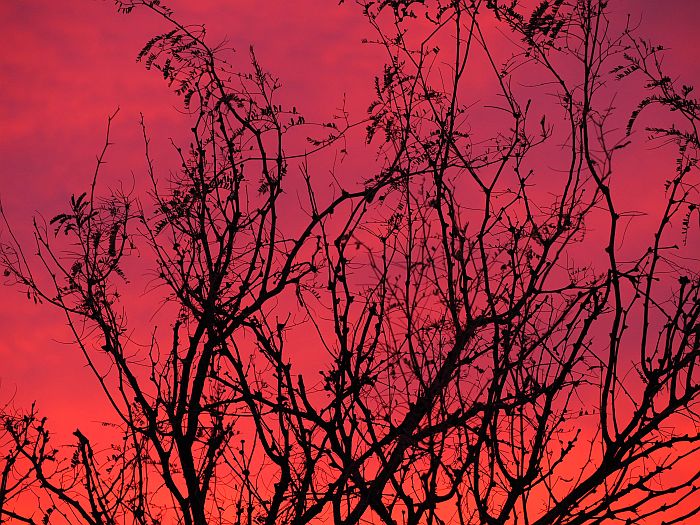 Tucson stretches out like chewing gum. An American city like any other. McDonald's to the left, Burger King to the right, in between cars, boring facades and a few shopping malls. Supposedly it is a well-known bike city. Well, overall, I met two other cyclists.
My cash was gone and my Maestro card unfortunately wasn't accepted anywhere. With my last 70 cents I tried to get a cool drink somewhere, because it was a really hot day. In a store the employee gave me 25 cents from her tip box, so I could get a cup of Coke. That's what I always find awesome in the US and I was very thankful for her help.
I was still not out of Tucson, as it was getting dark and in a small settlement on the outskirts of the city I had a look for a place to pitch my tent. The good thing is, as already mentioned, that there are few no trespassing signs within the cities, so I tried to knock on people's door to ask if they have a safe place for me and my tent.
I approached several homes and could see people were moving about within their homes, but no one would answer the door. Many homes don't have buzzers, so I called from the outside, or knocked on the door. A woman opened the curtain but when she saw me, she pulled it back again. She didn't open the door.
At another home, I stood far away from the house to let the people see that I wasn't a threat. A man opened the door and I explained my situation. I asked him if I could camp next to his property.
But he said that it was certainly not a good idea, because a few days ago there had been three break-ins in the area and the people would surely call the police, when they saw me and my tent. He sent me to a gravel road on which I would certainly find a spot.
Many houses had barking dogs on their property and I was inwardly pleased at the end, when I had found the gate in pitch darkness to the gravel road and spotted a safe place to camp surrounded by cacti. I was kind of happy because I had lost all interest in staying in this strange neighborhood.
I also wondered what would happen when I would do the same in Germany. Certainly people would have opened the door for me, but I don't believe I would have been allowed to camp in the garden. But I guess they would not say anything when I wanted to camp next to their property. I bet they would have no fear but I believe they would worry if I left rubbish behind.
But I am not sure if I am correct. One day I will try to find out.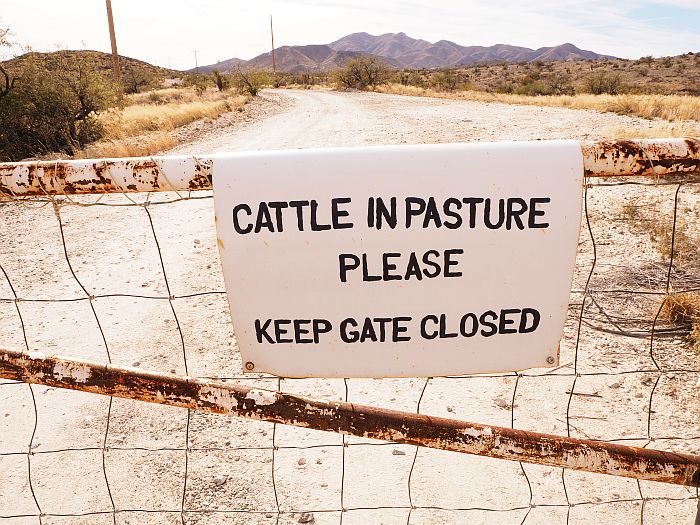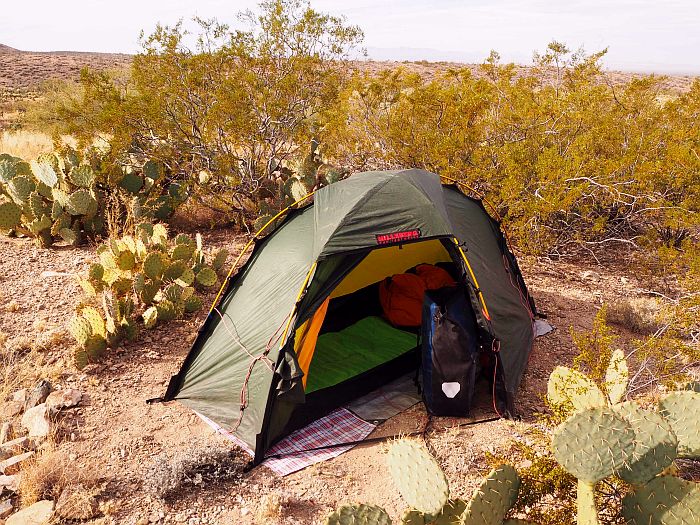 I was hungry but unfortunately there wasn't anything that night, because the stove no longer worked for some reason. And I didn't want to light a fire, because to be unseen is always better, because I was still in the city area.
But I knew the next day Ron wanted to pick me up to spend Christmas with him and his family.
So I had only a few hours to endure with a rumbling stomach.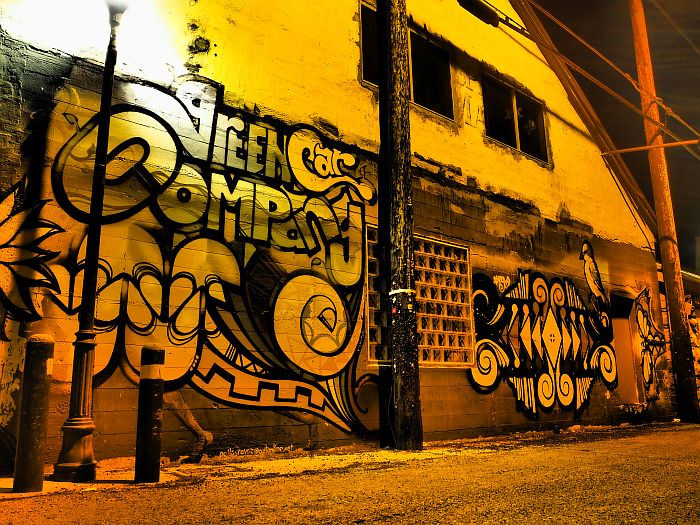 So I was back again in Flagstaff.
The pre-Christmas time flew by and Christmas Eve was just like in Germany. First church, then dinner and afterwards unwrapping the first gifts. More gifts were given by Santa Claus the next morning.
When I asked the kids how the fat Santa Claus can crawl down the narrow chimney, there were only astonished faces and no real answer.
I was very happy about the invitation. It is after all a family celebration and certainly I wouldn't have had a good time all alone in my tent.
Being homesick is sometimes just painful.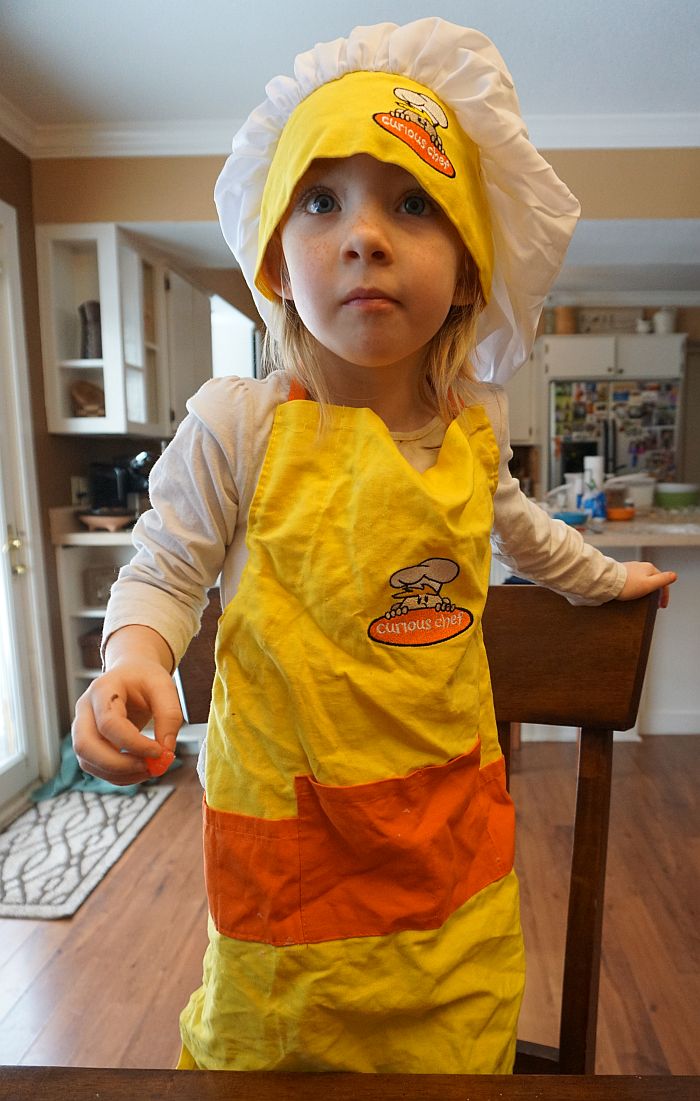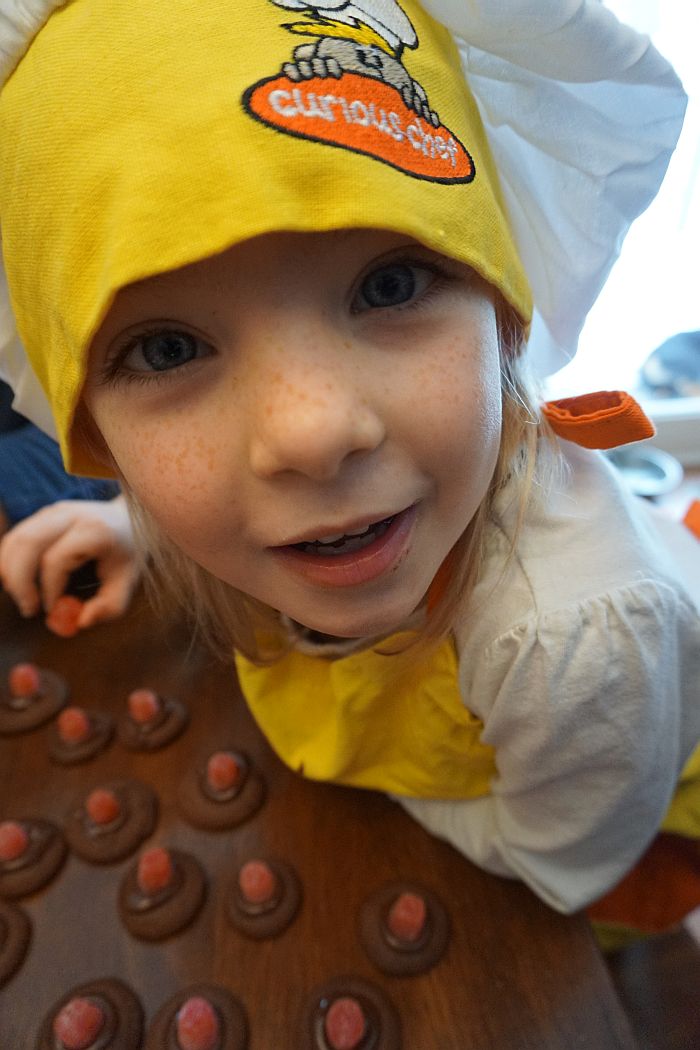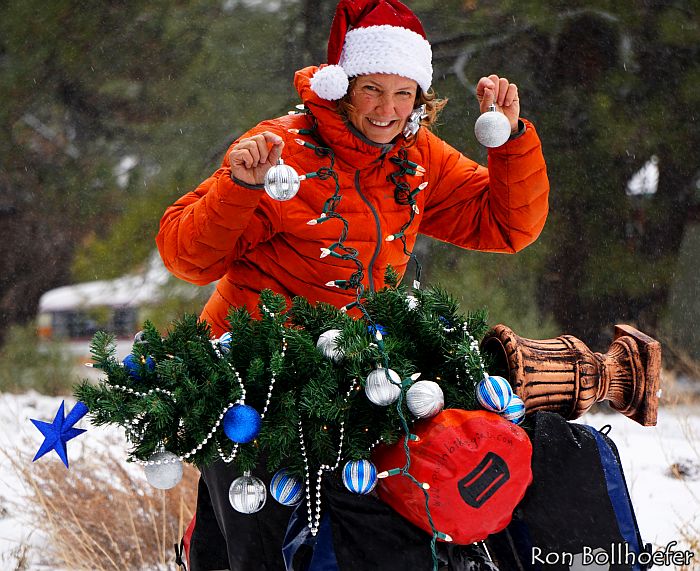 The German company ORWI sent me two long-sleeved undershirts for Christmas, a beanie and socks. ORWI has specialized in merino wool bike clothing and had already sent me two jerseys ten months ago for long-term testing.
The jerseys have proven to be great. They are top notch. I wear them day and night and love them dearly, because they don't smell even after 3 weeks of continuous use. They are cuddly and warm. I'm curious how the new clothes will work out.
Thanks ORWI for choosing me to try out your clothes!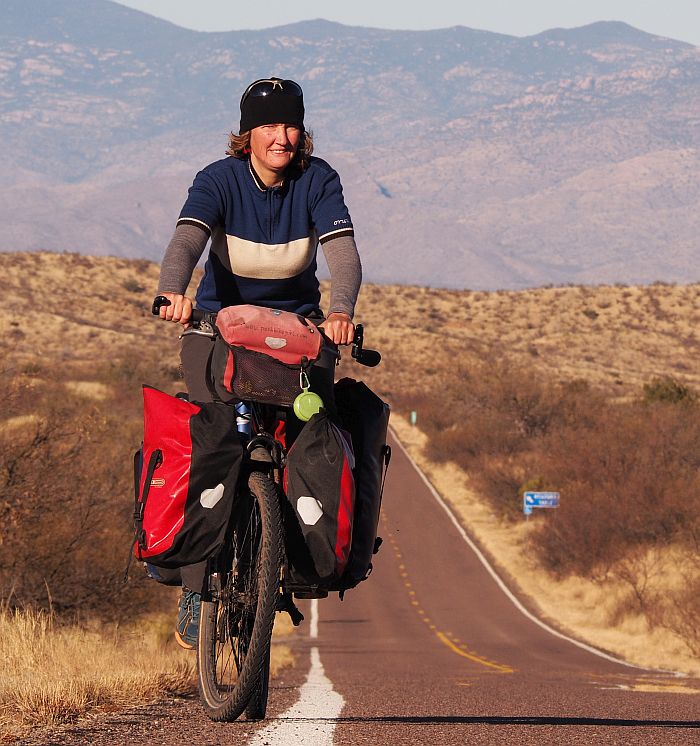 My ninety days were nearly up and I had to be out of the country by December 29th. I had 2 days left and dear Ron drove me back to Tucson so I could cycle from there the rest up to the border.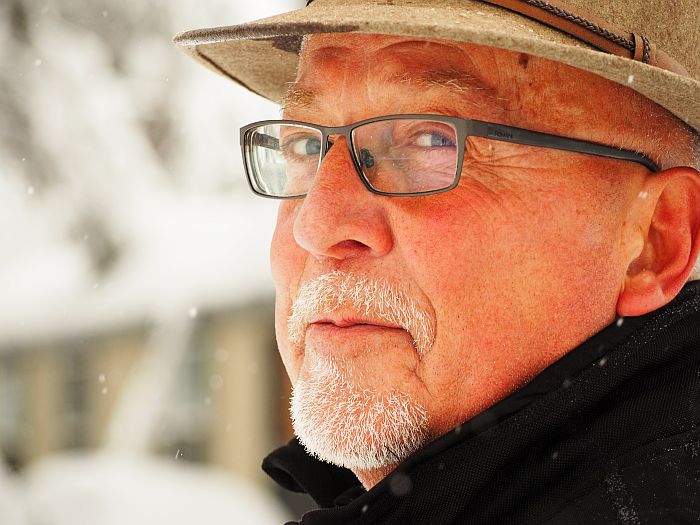 I camped the night at a fire department. The whole team was just great. I was offered tea and French toast for breakfast. And now I only had a short ride to the border.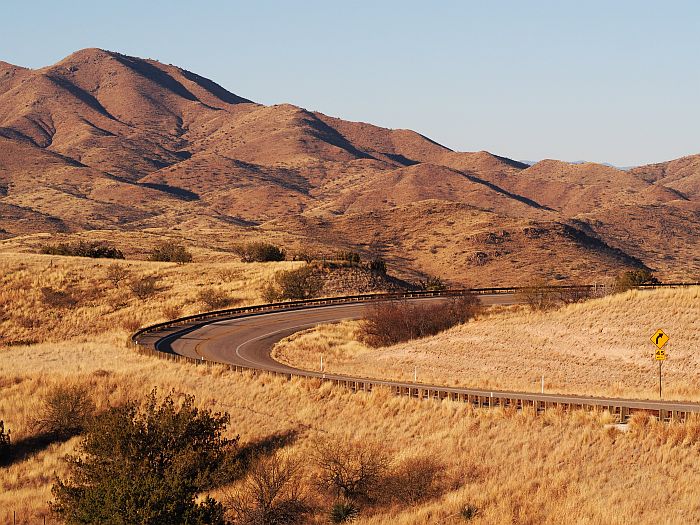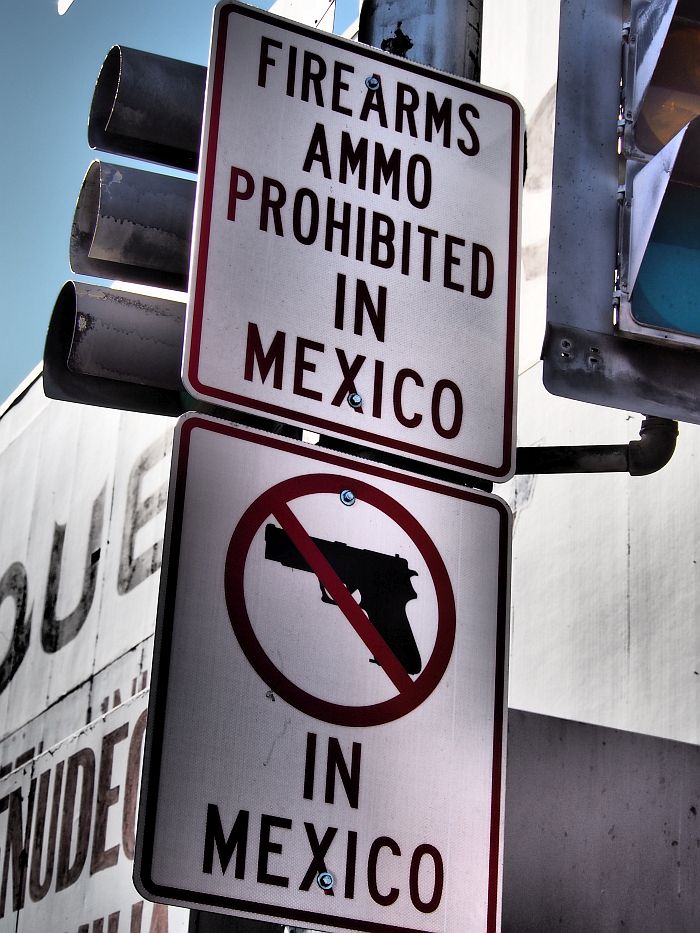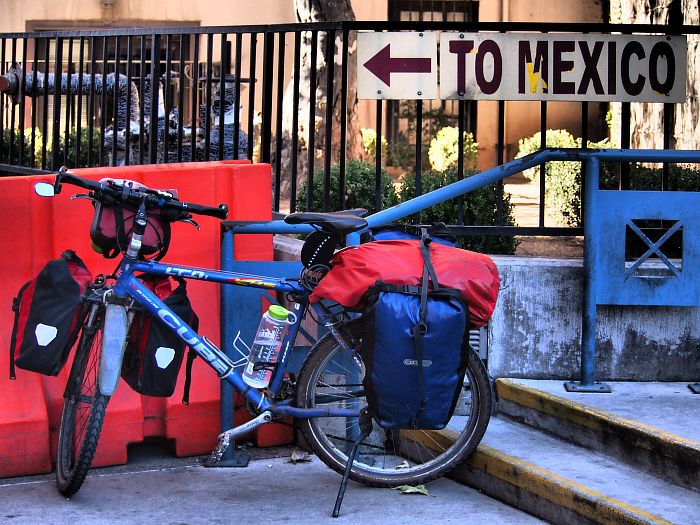 I was nervous. Very nervous. Mexico just didn't seem right at this moment, I wanted to go back to the US. I wanted to travel North America first before heading to Latin America and so I was hoping for some solution of the visa issue.
Usually you can't do a so-called visa-run across the border to Mexico. Mexico, Canada and the entire Caribbean is included in the 90 days of the time you are granted to stay in the US. They want to make sure that people can't stay forever in the States. In theory I am not leaving the States by crossing the border to Mexico.
I knew it was all up to the immigration officer. He has the authority to let me re-enter or not after my first ninety day visit. He alone would decide which way I would travel. But I knew of some fellow travelers who were recently allowed another 90 days entry into the United States without difficulty.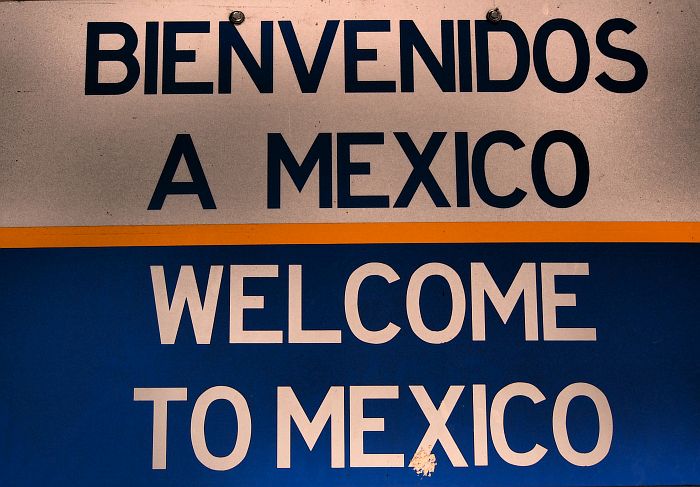 Crossing into Nogales was easy. No officials said goodbye and none said hello. I was in a new country and had neither received a farewell stamp nor a hello stamp.
I had hardly left the country, when I immediately turned back and tried to re-enter the US and stood 2 hours in a queue.
"Why do you want to go back to the United States?" the officer asked. "I want to go to Canada and I am cycling which takes a bit more time to cover the distance", I replied in an honest way.
"Ok, that will be six dollars and you are allowed to stay until March 26, 2016 in the US", said the immigration officer to me.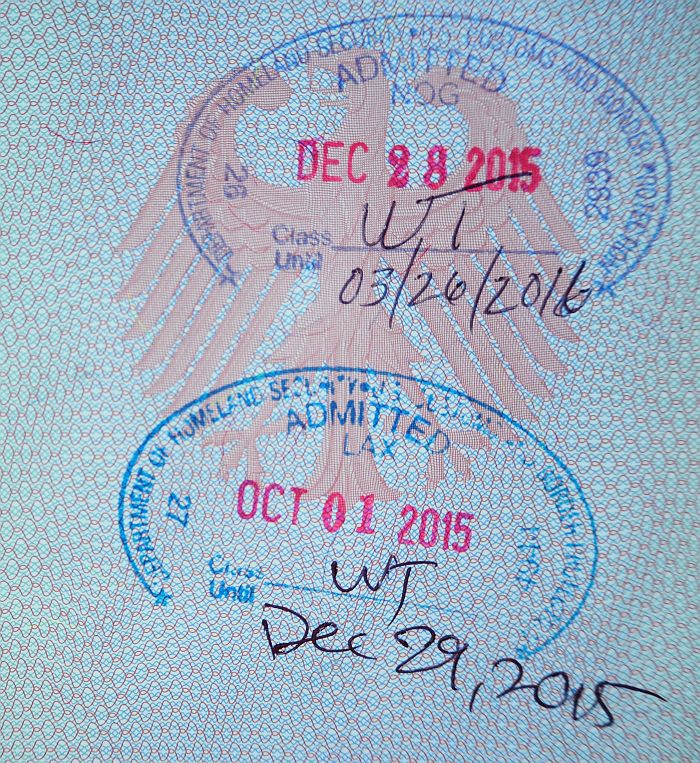 I was really really happy to be back in the land of unlimited opportunities and had
a new goal – Alaska.