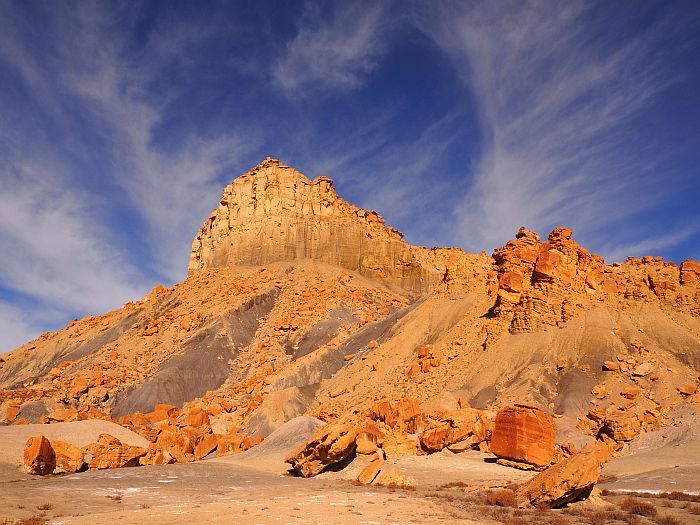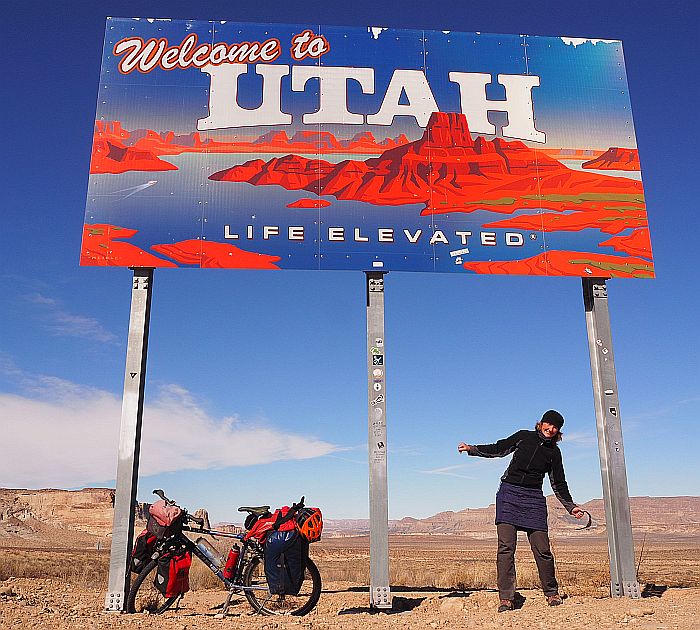 So now I was back in the United States again and was wondering how I should continue.
The next major goal on my long journey is Alaska, but getting there is a long and cold trail.
After I had already cycled all the way through Arizona, I came to the conclusion that I should
get back somehow to my starting point, Flagstaff, and then head from there to the north. I have
always found cycling the same route twice quite boring anyway.
On the way to the bus station, I met an elderly lady who had just had her teeth straightened
in Mexico because it is much less expensive there. Spontaneously, she invited me to her home,
which resulted in her taking me the first 50 miles to the north. She earned her living as a
dog sitter for rich people in her neighborhood.
Via the car pool center in Tucson, I was able to continue on immediately the next morning.
A lady driving from Tucson to Phoenix even took me along with her free of charge. Not only that,
Ruth also invited me to a business lunch with her colleagues – a kind-hearted woman.
One of her colleagues then took me to the airport, and from there, I took the bus to Flagstaff.
Thus, I was in Flagstaff again.
I purchased warm clothes for the cold north at the so-called thrift stores, second-hand shops,
which can be found in every small town. But I had to order a few things over the Internet, so,
as always; it took a little bit longer to get everything sorted.
Ron and I used the time to go on a joint exploration tour.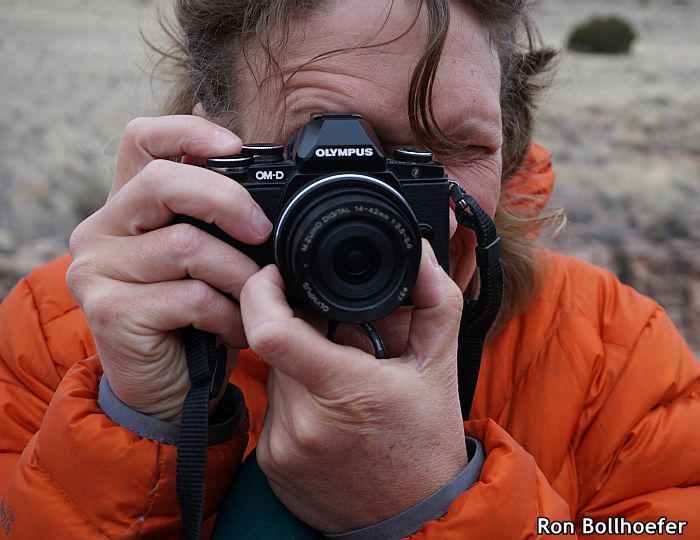 We went to Sedona and were awed by the red rocks. We made our way to the beautiful
Coal Mine Canyon and also visited some old Indian ruins in Wupatki National Monument.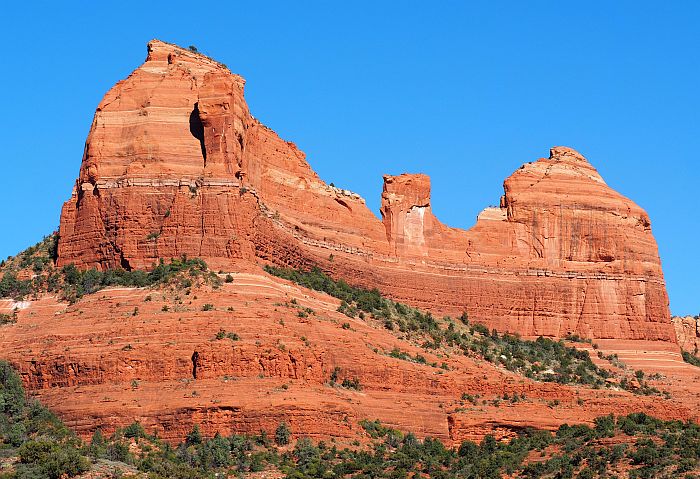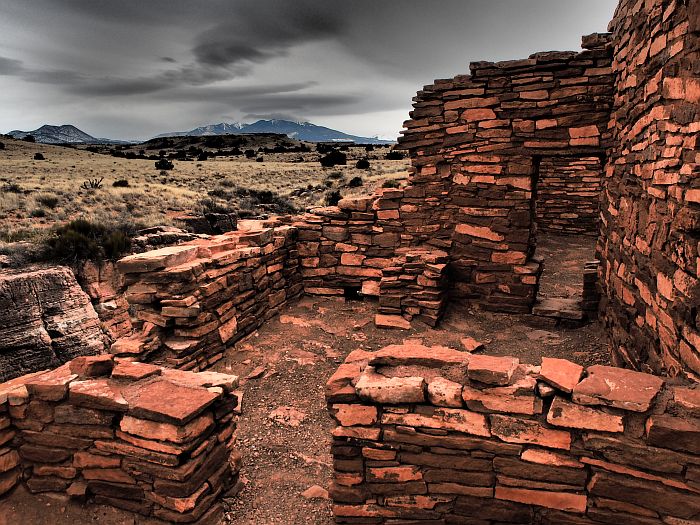 We also shoveled a lot of snow because the driveway to his house frequently transformed into
a dream-like winter wonderland.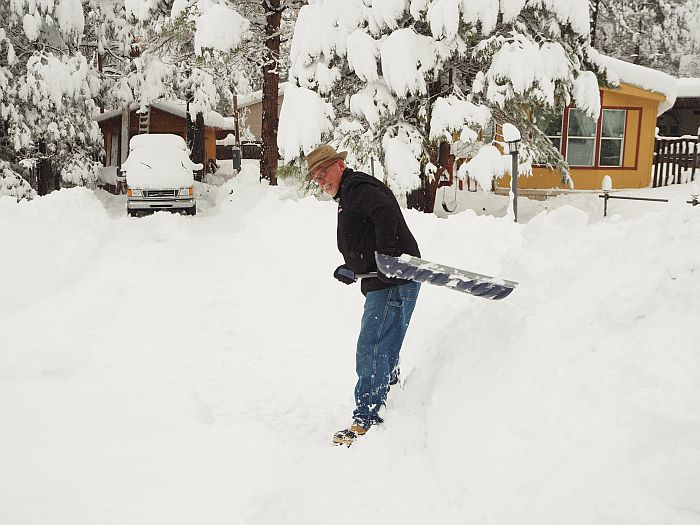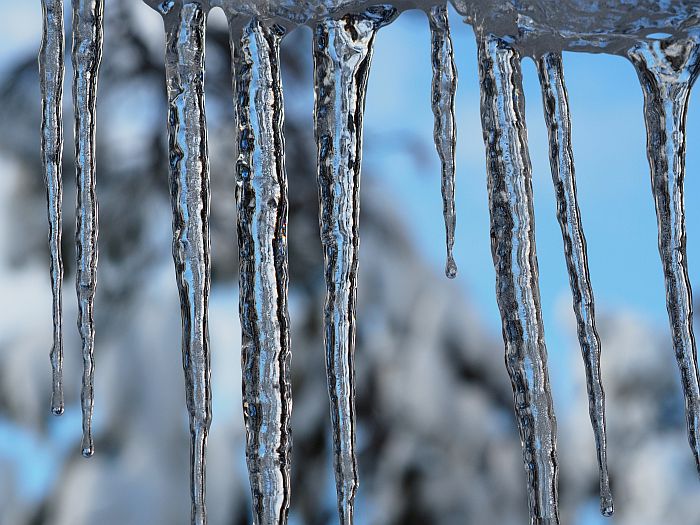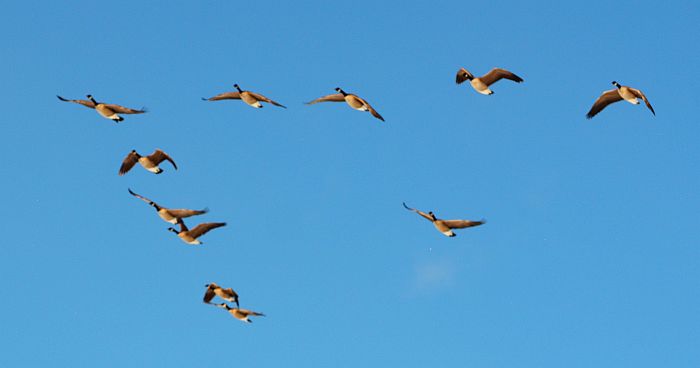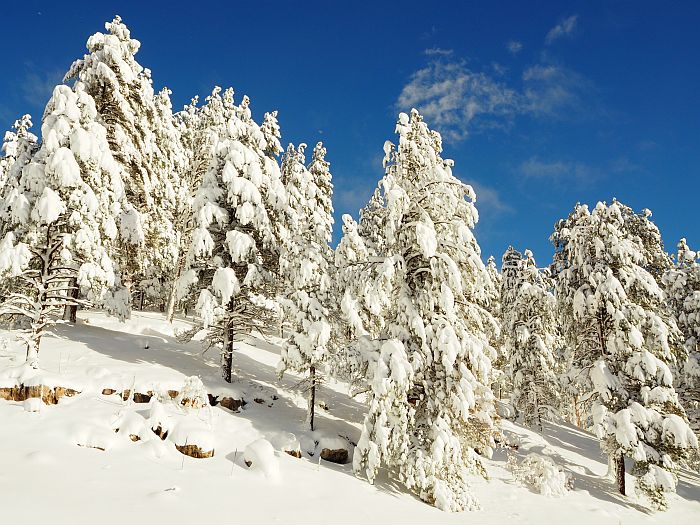 My trip eventually continued and two people, who in the meantime had become big mates,
said farewell to each other with heavy hearts.
Passing through Lees Ferry along Route 89A I saw California condors, Native Americans
dressed in attractive clothes and a lot of dramatically beautiful scenery.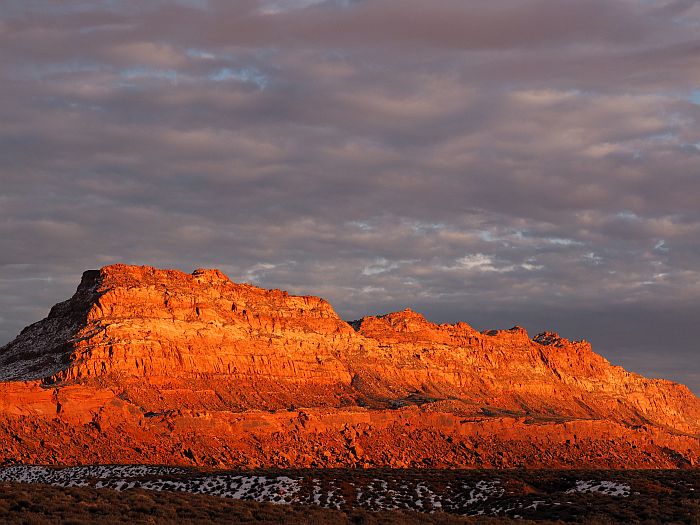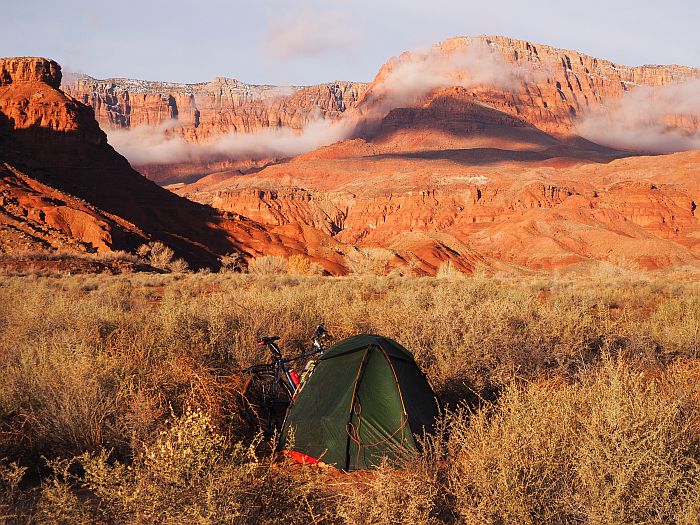 From then on, I met only extremely nice, helpful people and just felt completely happy.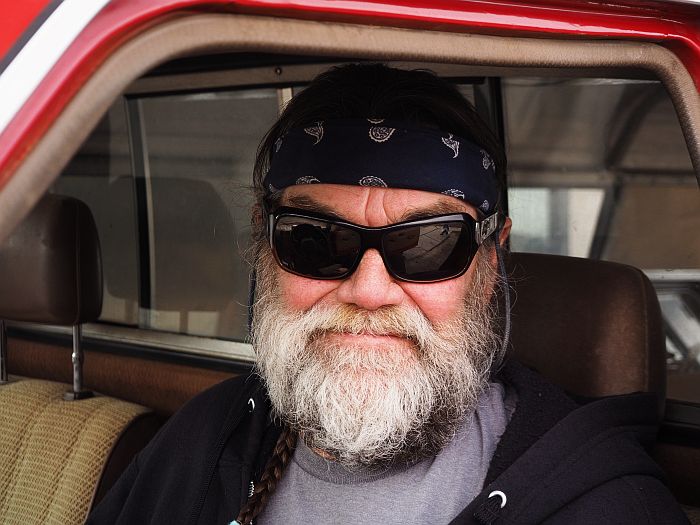 While it was reasonably warm during the daytime, it cooled down rapidly at night. The days were
always sunny and at night I could always make a fire to dry my sweaty clothes and to warm up
a little before slipping into the cold sleeping bag.
Therefore, I was very positive that my winter trip would be successful in the end.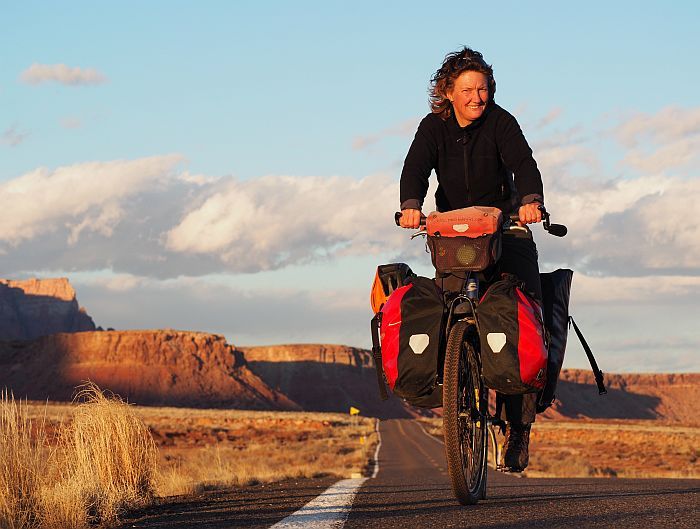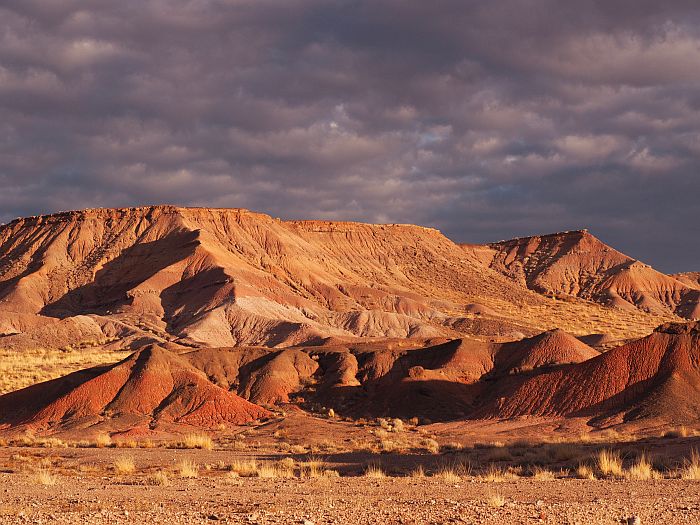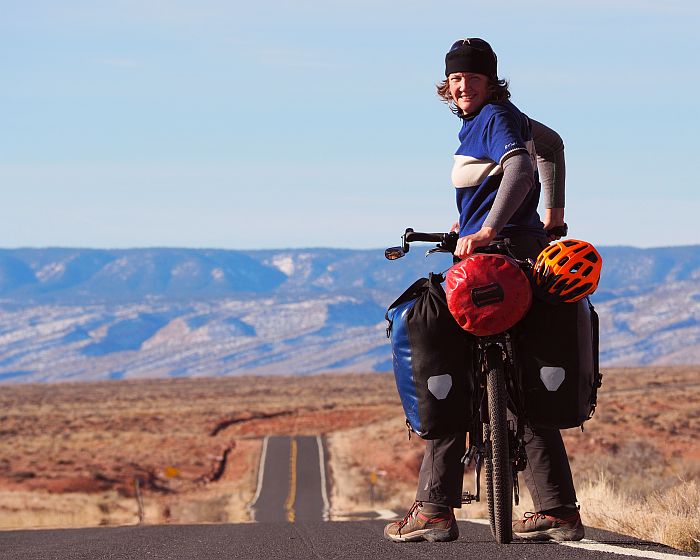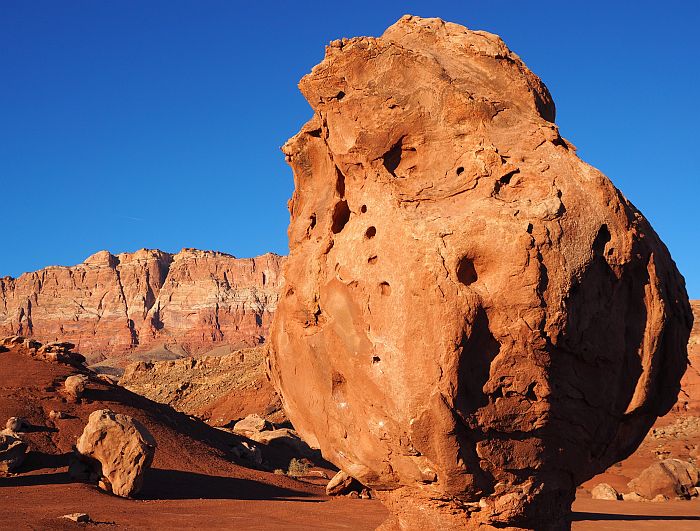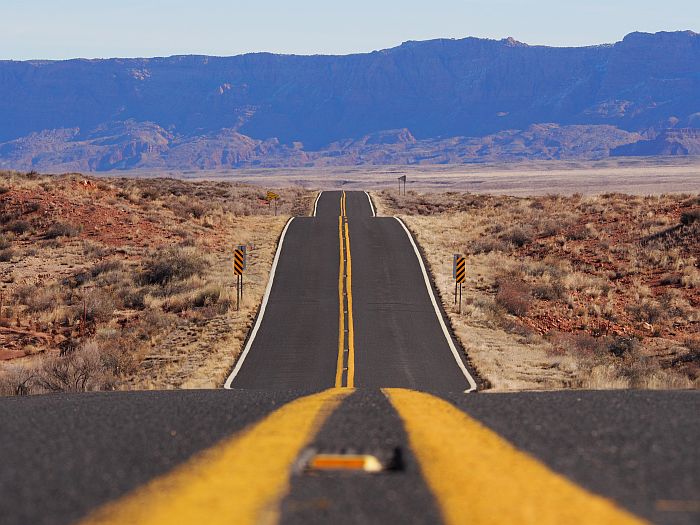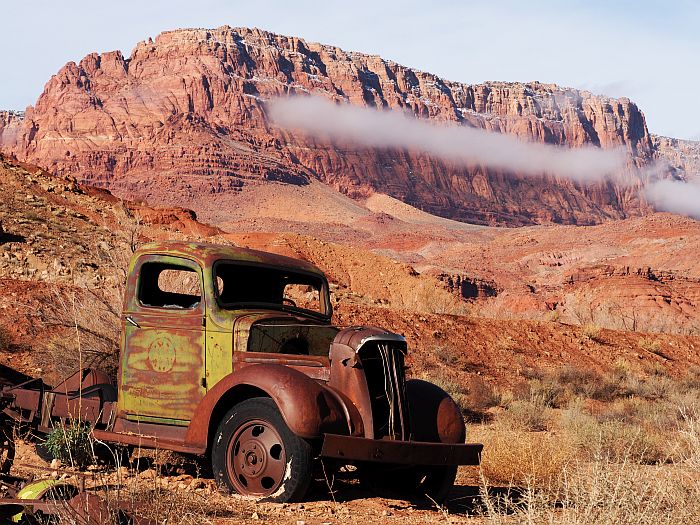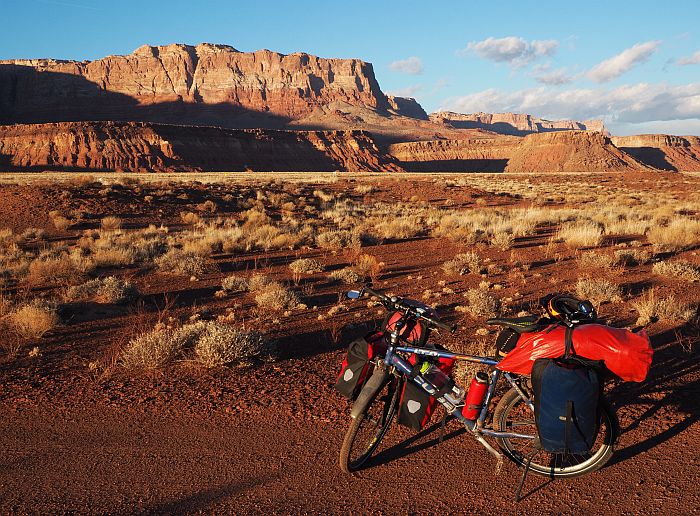 On the House Rock Road I continued on clay. Initially, it was no problem, but the higher I went,
the muddier the trail became. The remaining patches of snow didn't make my life any easier.
On the other hand, the fact that there was no traffic inspired me as always. Lonely roads are still
my favourites.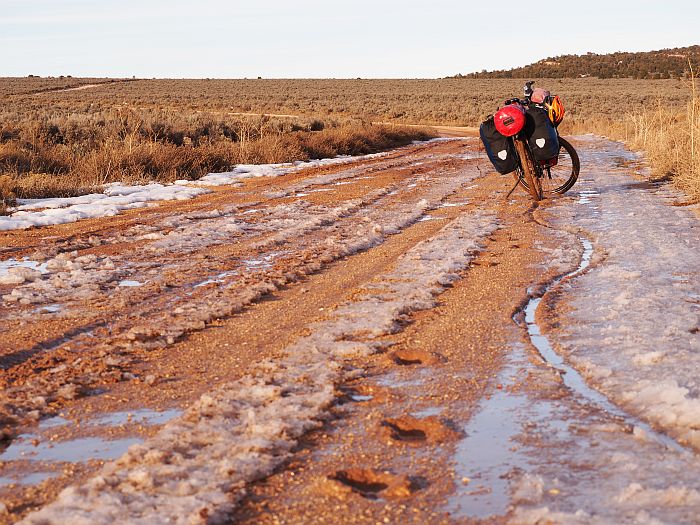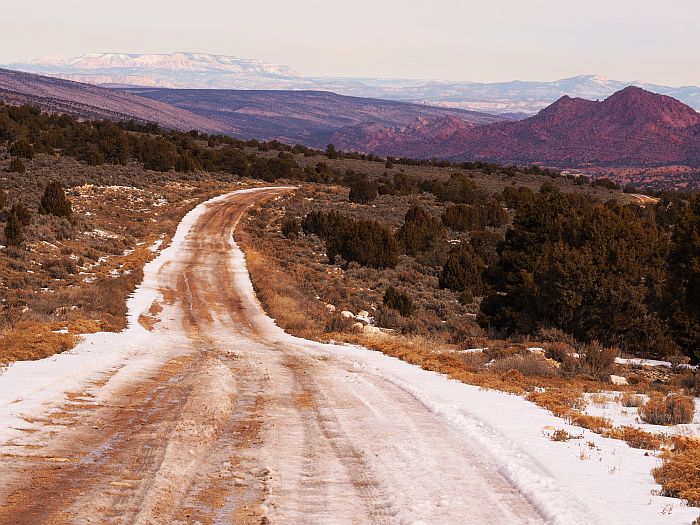 I reached the border to Utah and shortly later I had already arrived at the trailhead to
Buckskin Gulch – a so-called slot canyon.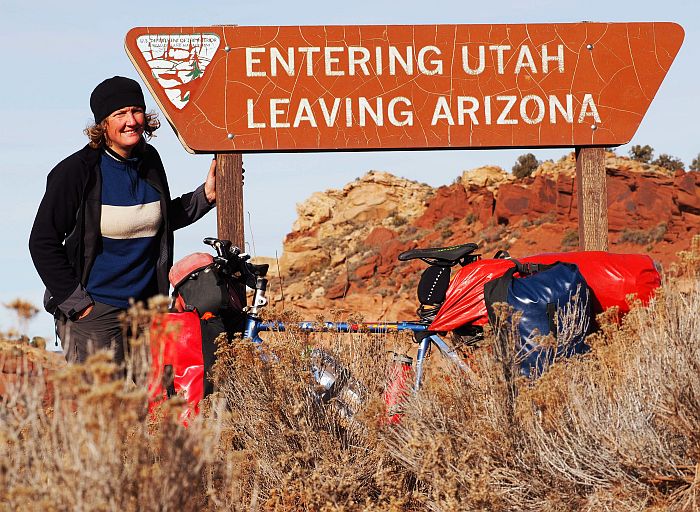 I sat around the campfire with Ryan and philosophized about the current political situation in
the world. Ryan had been in the military and had spent some time in Iraq. I was particularly
interested in the political mood during the election year in the US. I found it positive that I had
not yet met anyone who supported Donald Trump.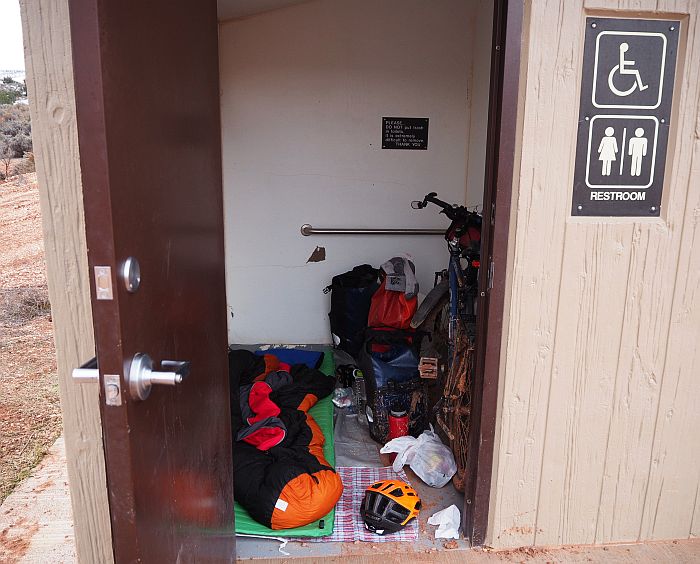 That night I slept in the toilet. I wanted to spare the time it would take the next morning until
the tent was dry. Unfortunately, in the winter that's a real problem. In the morning the tent is
always frozen and, therefore, wet, even the down sleeping bag always gets damp.
The outhouse was not a bad place, but, of course, "comfortable" is something else.
I had to pay $6 for the permit to enter the slot canyon and then continued on into the
dramatically beautiful world of Buckskin Gulch. Dreamlike! I spent an entire day among
the rocks and couldn't stop marveling at the beauty before my eyes.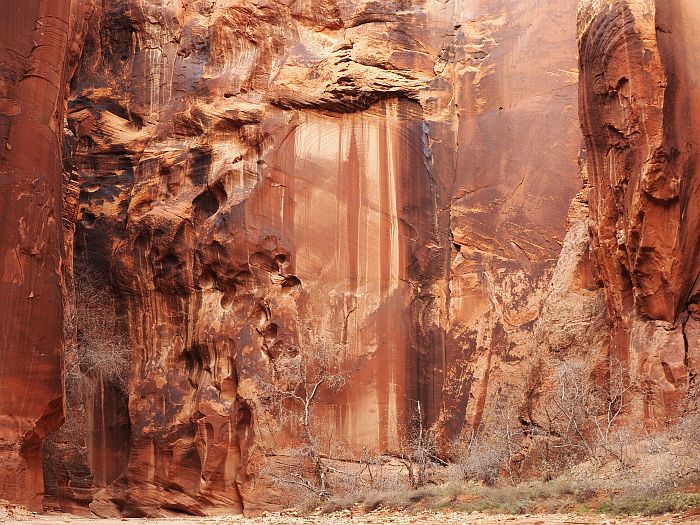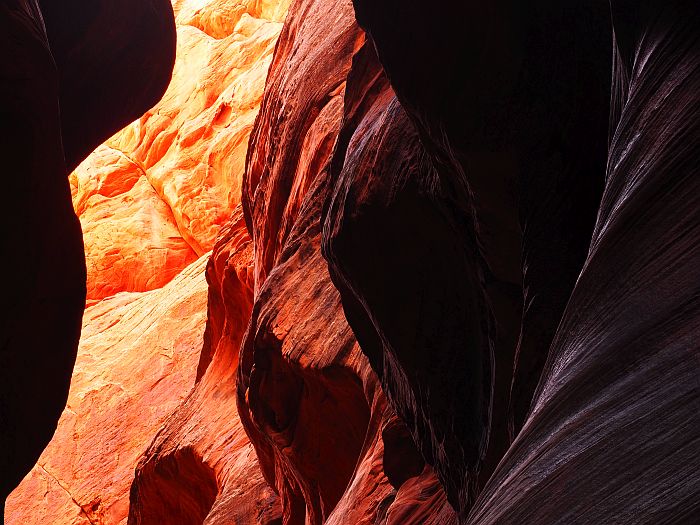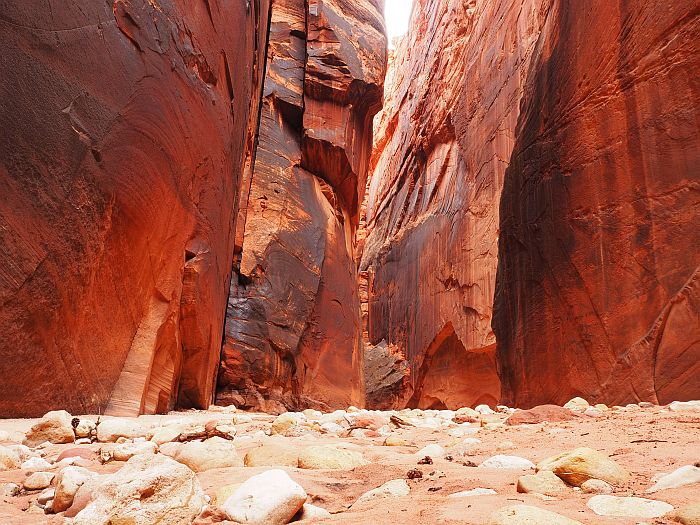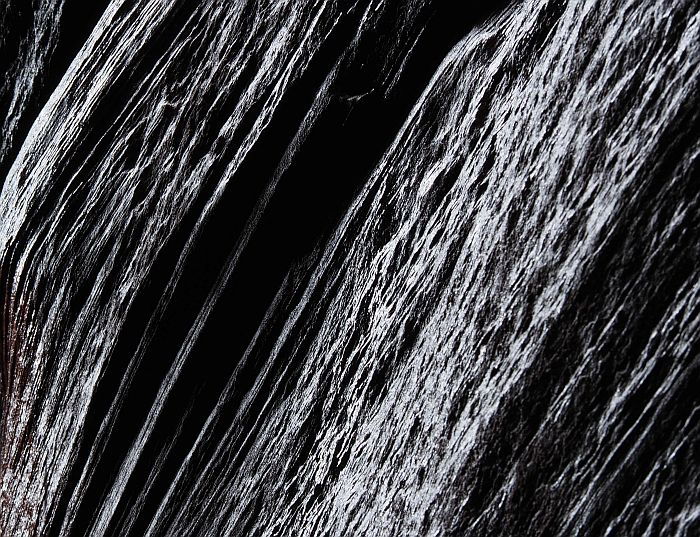 John and his girlfriend had gone shopping for me the day before in Kanab and brought me
pasta, tuna, chocolate and peanuts. They were also in the canyon – but except for us three,
no one was there. Magnificent, in the summer it must certainly look very different.
In the parking lot I was invited by a French family to stay overnight in their huge truck. Surely,
they had pity on me and my toilet bed where I had showed up that night again. But instead of
spending the night in the john, I stayed where there was even a shower, a heater, a warm
dinner and a lot of interesting conversation.
The parents were teaching their children themselves during their long trip to Tierra del Fuego.
As proof, they had to provide information about what the children learn monthly by internet to
the school in France.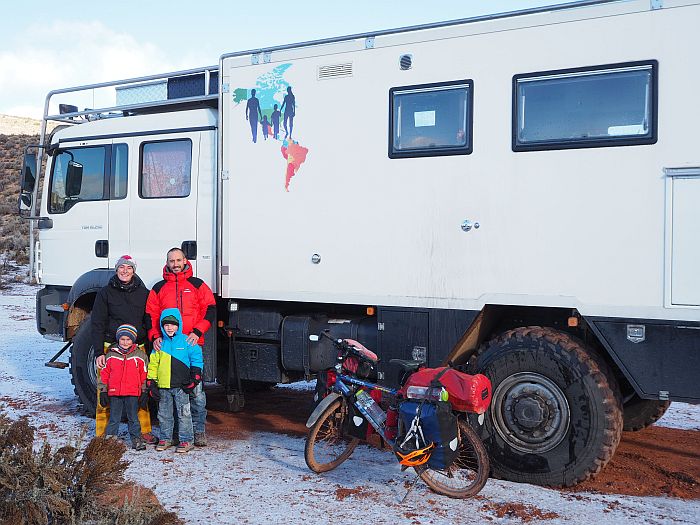 From Buckskin Gulch it wasn't far to Hwy 89, and from there to Big Water.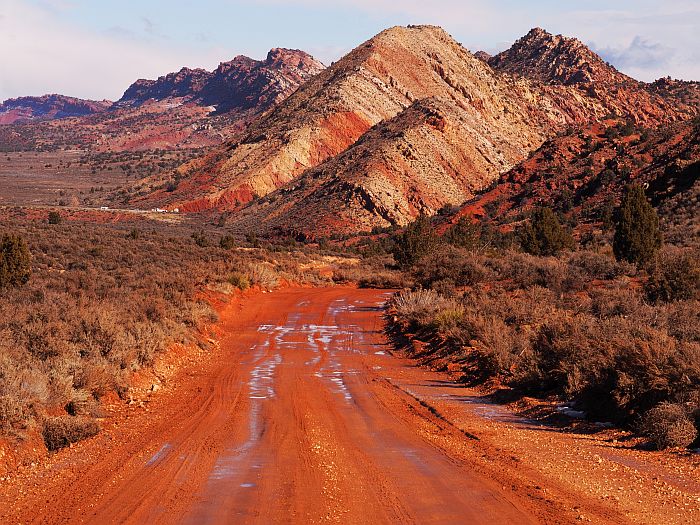 In between there were hoodoos and rock formations in all variations to explore, but my goal for
the day was the start of Smokey Hollow Mountain Road. It was a road that would take me to
the other side of the Grand Staircase Escalante National Monument to Escalante.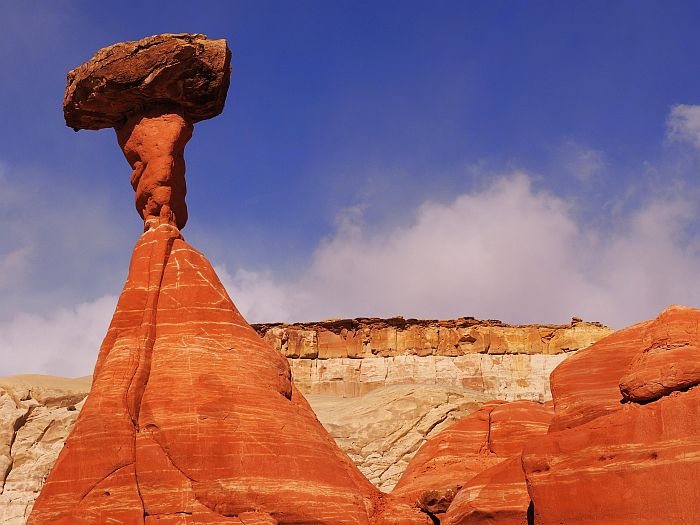 At the Visitor Center I was advised against the idea. The path is too high and it has too much snow.
But the Ranger I met outside the visitor center said it was no problem and certainly a great
adventure.
However, I should realize that I would be all alone out there, because nobody travels in that
area this time of year.
The cool sheriff, with his mirrored sunglasses, cowboy hat, casual gait and an ancient Sheriff's car,
which might easily have come from a Blues Brothers movie set, joined us and presented himself as
cool as John Wayne in front of me. I could have died laughing, but the guys had been really nice to me.
The area was gigantic. One might have the opinion that the scenery was from another world.
Mars or the moon would best fit the description.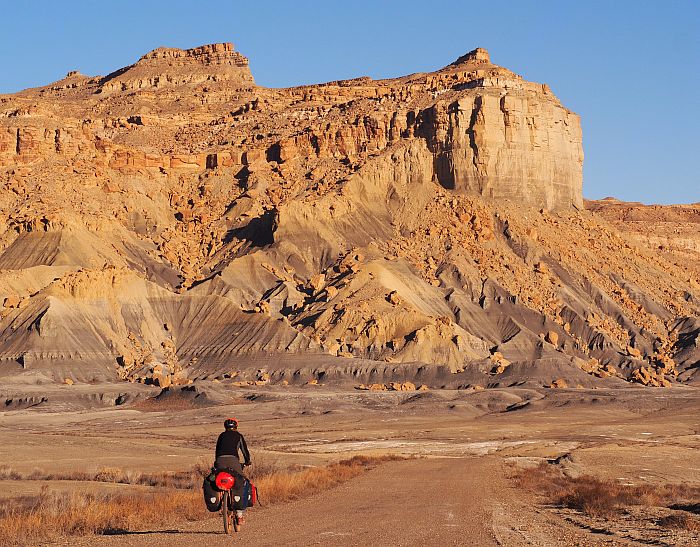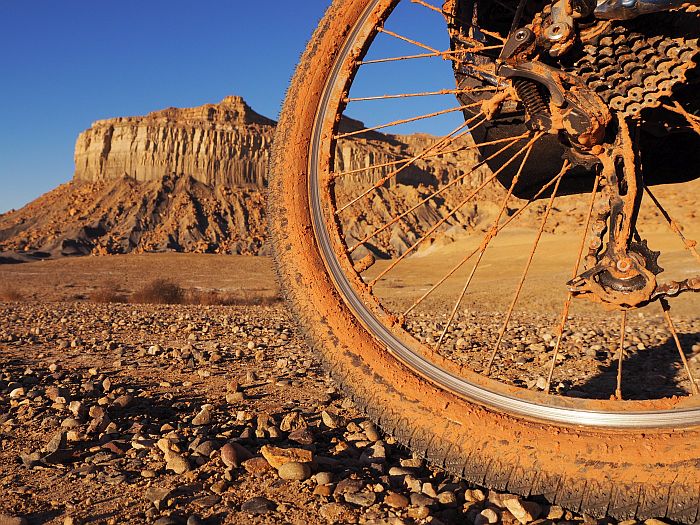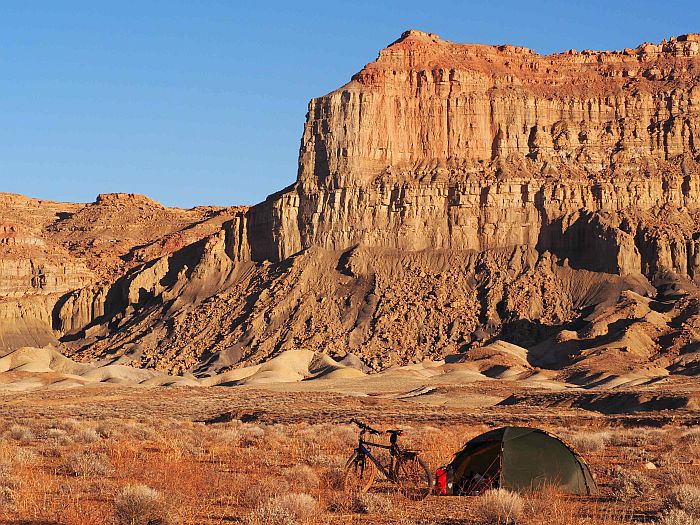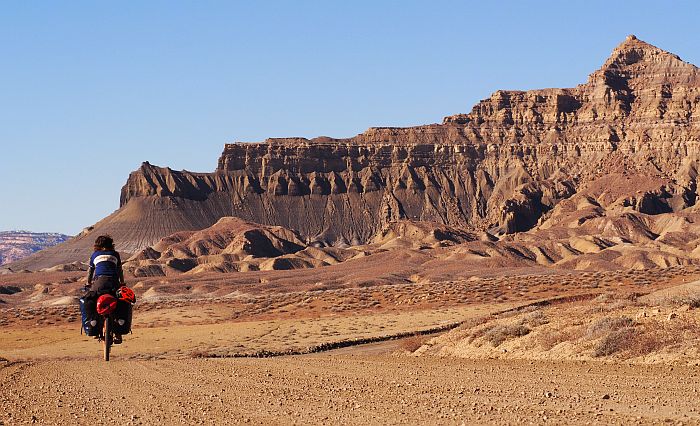 I had food with me for a few days, additionally about 12 liters of water. I had 80 miles of trail in front
of me and was excited as to what lay ahead.
The wind was raging when I pitched my tent in that isolated area, but after a short time the wind
calmed down and suddenly there was dead silence. Magical. The Milky Way was bright in the sky
and the air was clear and cold. Once again I had the world all to myself.
In my little tent I made myself comfortable. I cooked a serving of porridge and lit my new candle lamp,
which not only brought comfort but also some heat into the tent. It was a great invention and
had already become one of my favorite pieces of equipment. Since the lamp is closed,
nothing could really happen in the tent.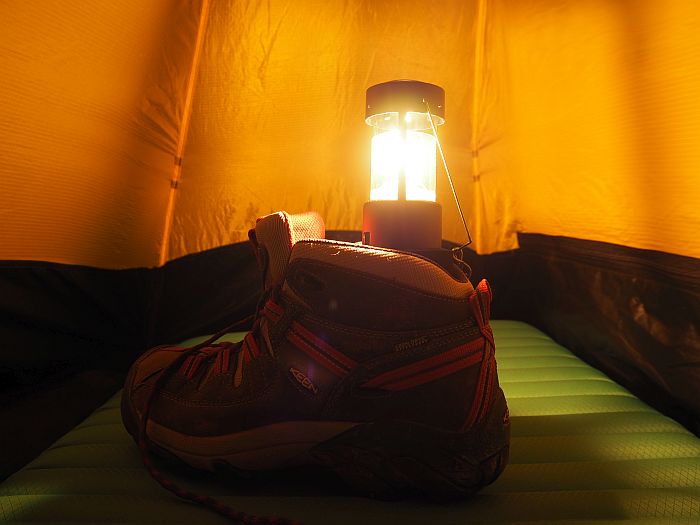 The Smokey Hollow Road MT began with a steep incline and ended with an incredible view into
the distance. In between, it was a dream road, as if created only for cyclists – even though I had
to cope with several meters of altitude that day. But it was worth every drop of sweat and the
area was clearly one of the most beautiful I had seen since I left Germany.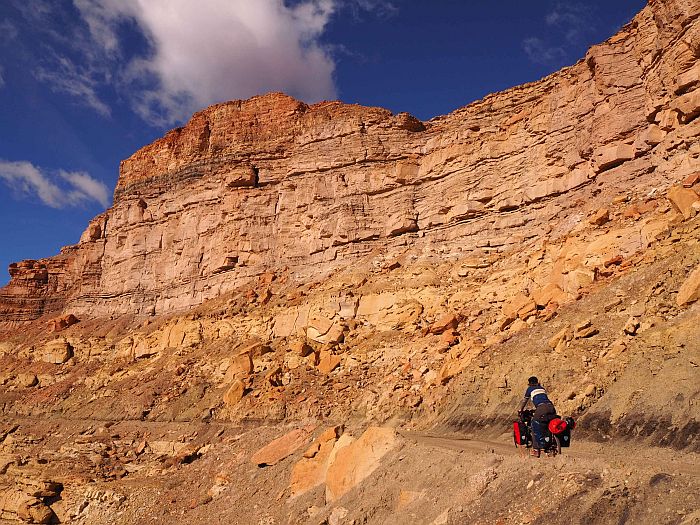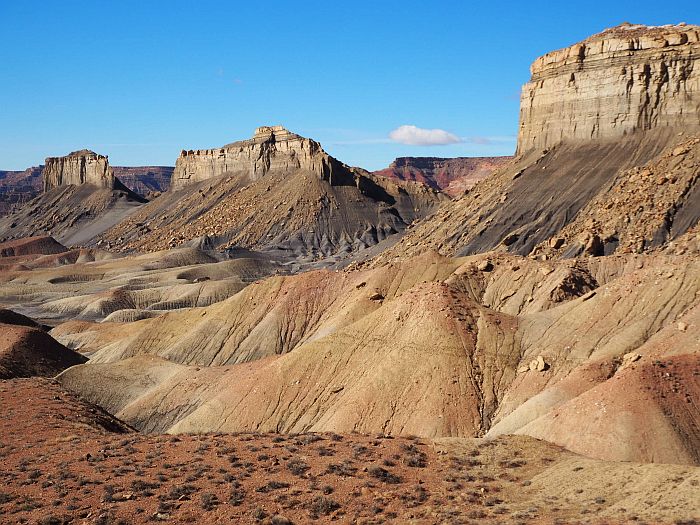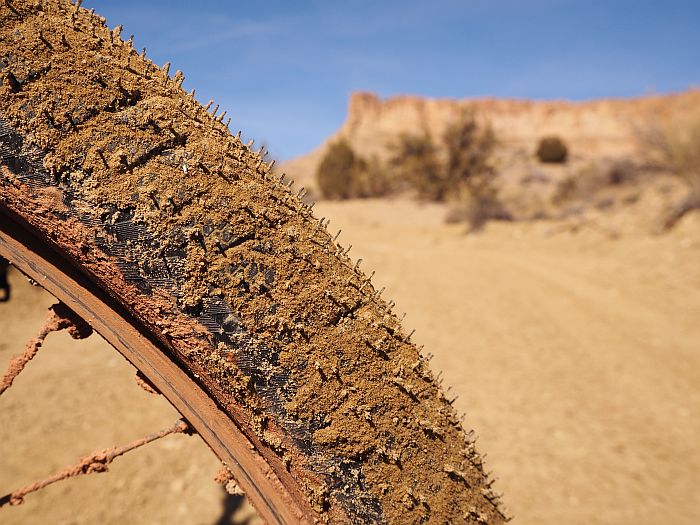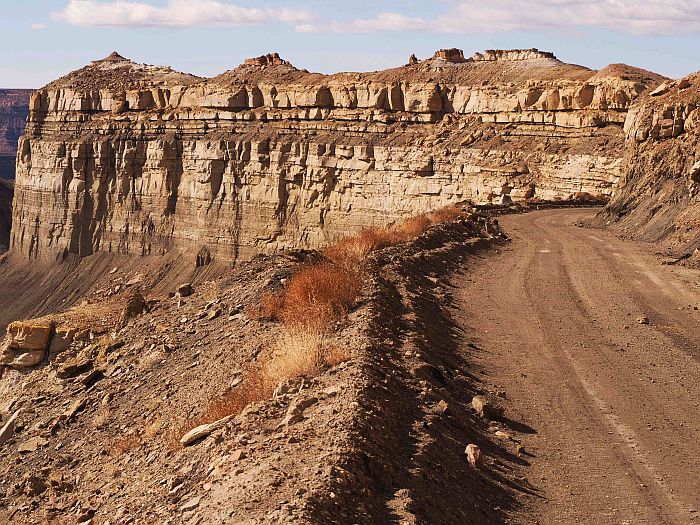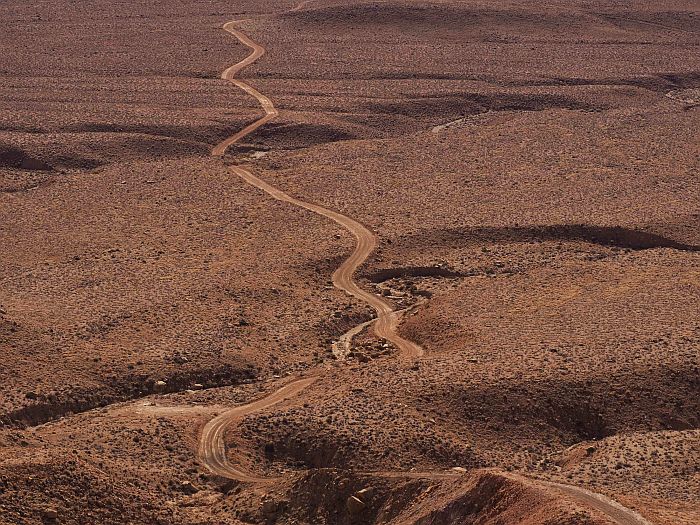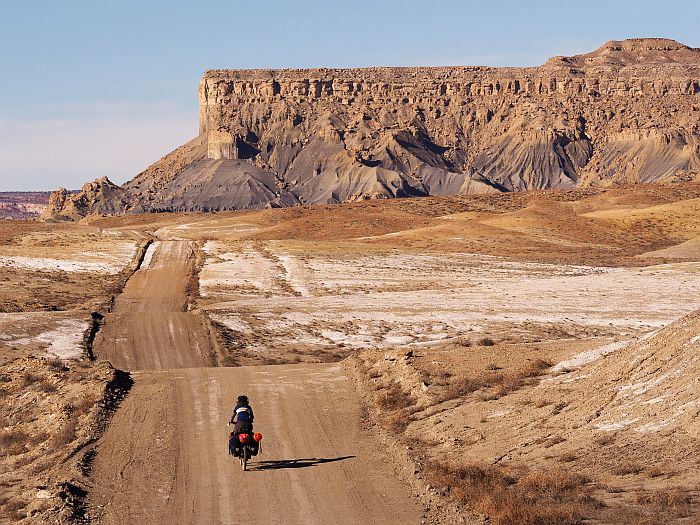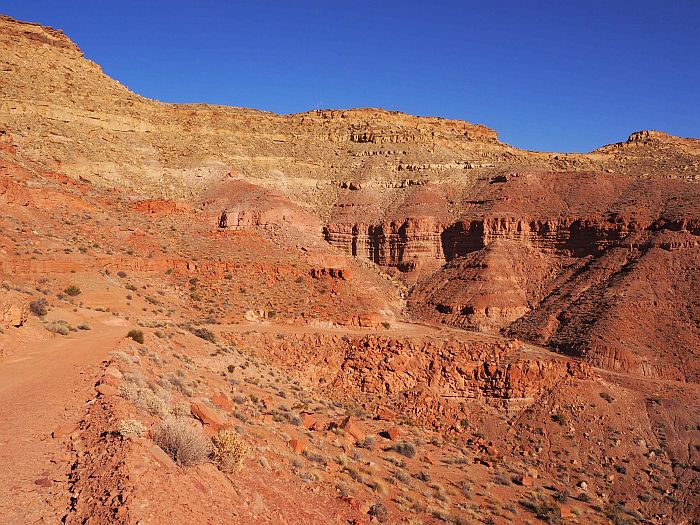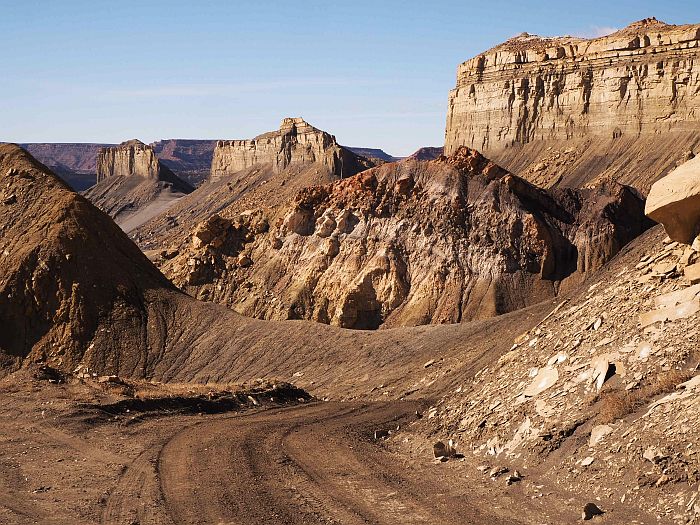 Unfortunately, on the plateau it was either sandy or muddy, but the enthusiasm I had developed
for the area was too intense for a little bit of mud to keep me from continuing the adventure.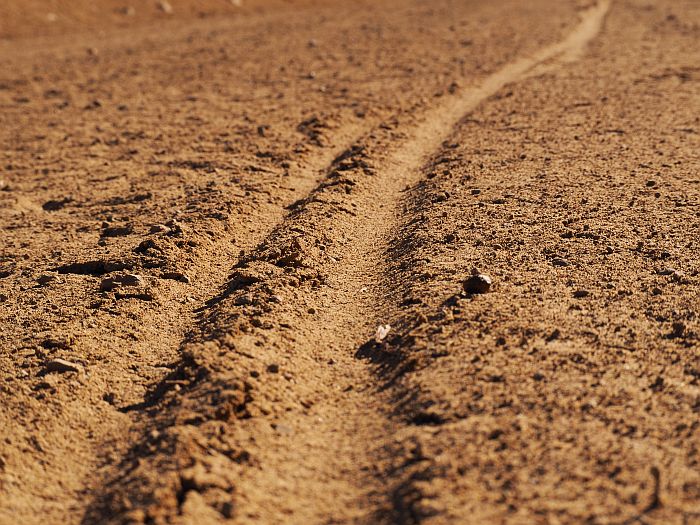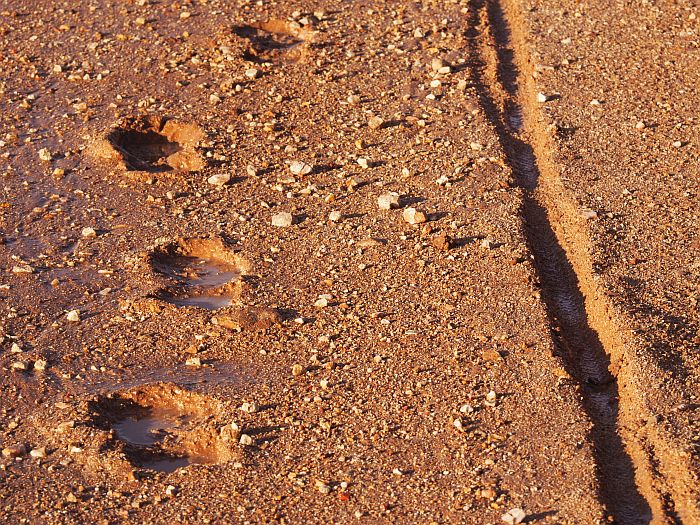 On the second day, the trip continued on frozen ground, but during the day the sun was so
powerful that it transformed the road in a short time into a mud trail, especially because I was
continuously climbing to a higher altitude and more and more snow covered the trail. Eventually,
the whole thing became a torturous ordeal and I wondered whether the ranger actually knew
what he was talking about.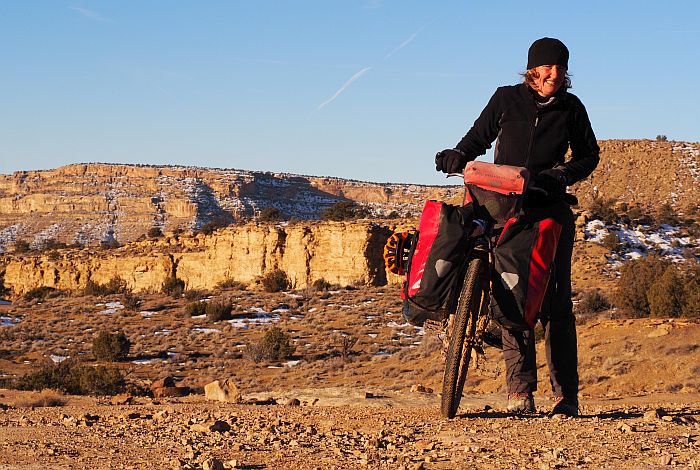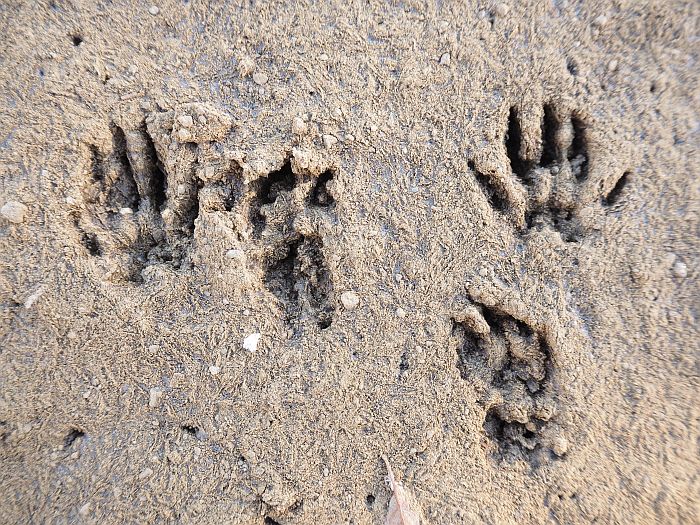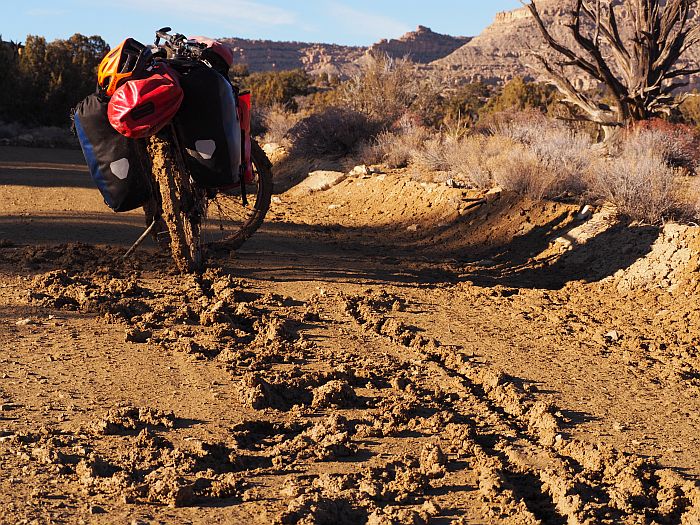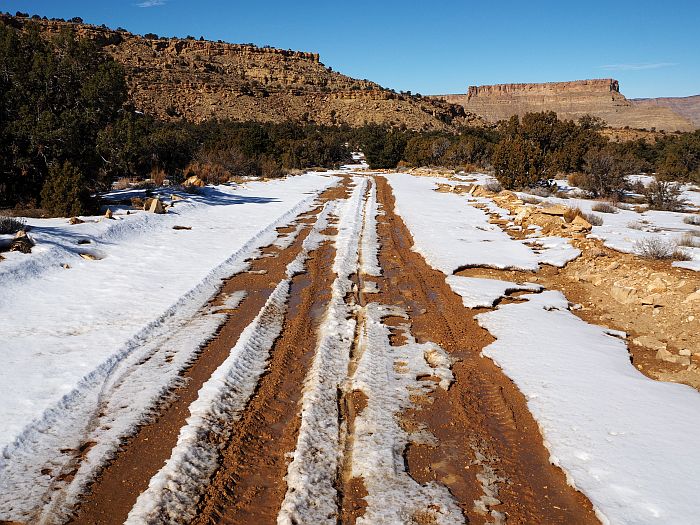 On the third day, I started before sunrise in freezing temperatures so I could go far forward
as possible before the ground thawed. But very soon I found myself trudging in wet snow
and sliding around in the mud. I was increasingly confronted with deep snow, so after a few
hours I had reached the end of my rope. Somehow, it was hopeless. But did I really want to
give up and turn back?
Unfortunately, on top of all that, my left foot hurt like hell from continually pushing the heavily
laden bicycle.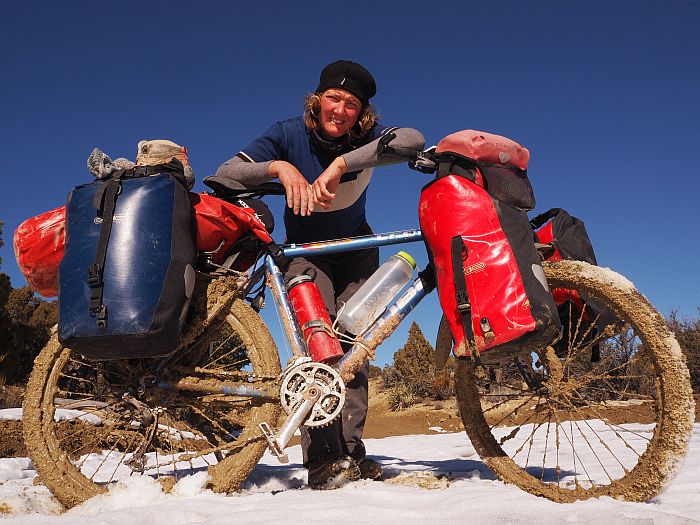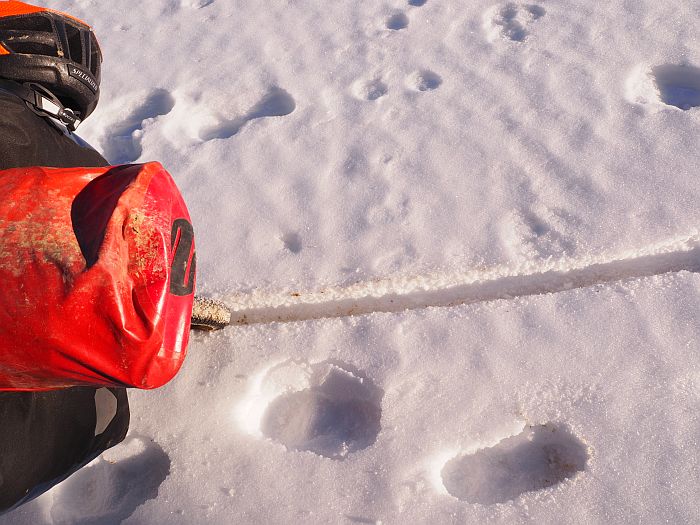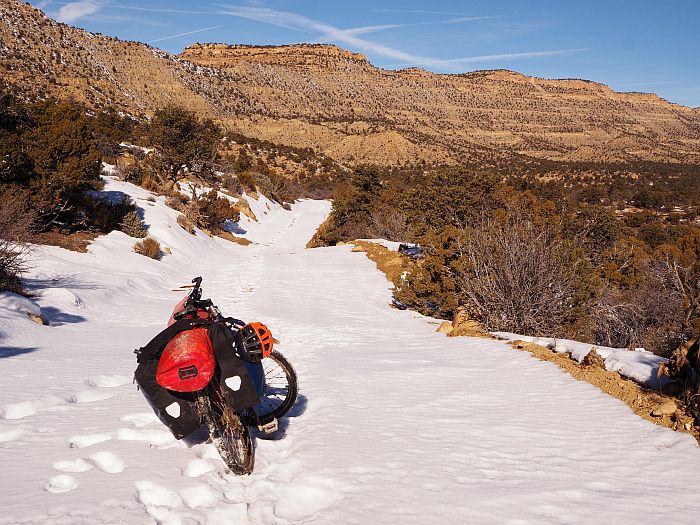 In desperation, I was briefly haunted by the idea of maybe leaving my stuff hidden somewhere
and continuing on foot. I thought maybe I could relieve the pain in my foot somewhat,
because pushing the heavy bike was simply an extreme strain on me. But who would ever
consider coming back with me in such tricky road conditions, and I also I didn't know exactly
how far it was to Escalante. Also, I didn't know how far I would be able to go with my foot in
its current condition.
I hadn't met a soul in 3 days and really didn't have the slightest inkling what I should do.
One thing was certain – my warm clothes and my tent must remain with me – it was too cold
at night to do without them. So I finally put the thought out of my mind.
The next morning, with gritted teeth, I decided to turn back, because continuing in the deep
snow was hopeless. Again, I started in the moonlight and did my best to make headway.
This video might sound a bit negative, but it was the toughest stretch of road of the entire trip so far.
At a fork on the road at the end of the long day, I struggled with my thoughts.Should I dare to
choose a different way back? New trails are always far more exciting, but I didn't want to get
into even more trouble.
My curiosity triumphed and took me into a wonderful canyon world, but unfortunately,
also through many sandy places, which again cost me all of my strength.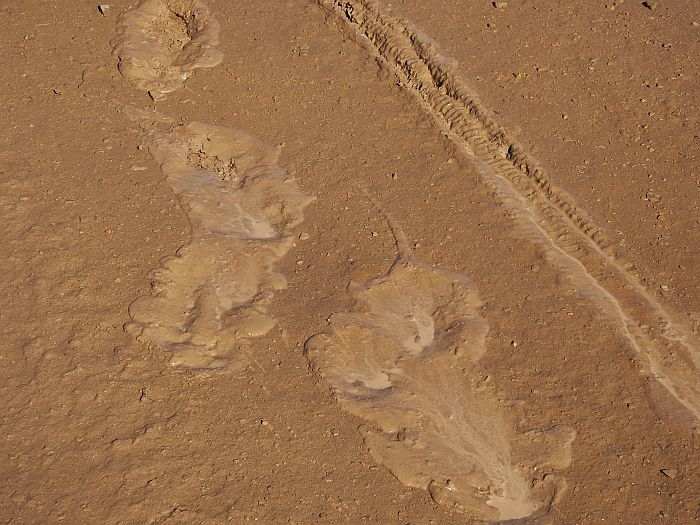 It had been pitch dark for a long time when I arrived back at the starting point. I met a car there
and asked some people for some food because I was totally exhausted and really hungry.
Once again, I had not taken enough supplies with me.
A short time later I fell into a restful deep sleep and was glad that I had made it back to
civilization again – now and again I had been a bit queasy because it was certain that no
one would have come by the next day to get me out of the mess I had gotten myself into.
On the way to Page I lost my jacket, which I had loosely attached to a pannier, and I didn't even
notice that it had fallen off my bike. A car stopped and a friendly gentleman, who had picked it
up for me, returned it wished me a nice trip.
In Page I allowed myself two days break in a cheap motel to regenerate my aching feet while
a winter storm was raging outside. More than anything I was glad that I had turned back,
because with the intensity of the storm I would have gotten into some real trouble.
I knew then that I would have to cancel all of my off road plans, because along with the new
storm there was even more snow, therefore, it was now even more hopeless to make any
headway on unpaved roads.
Too bad, but unfortunately, there was nothing that could be done about it.
I was also slowly getting into some time pressure, because I didn't have all that much more time –
the road before me is long and I have to cross the border into Canada no later than the 26th of March.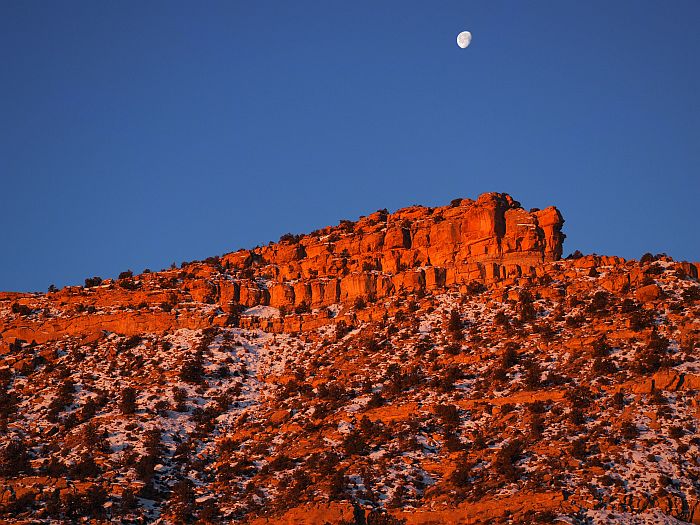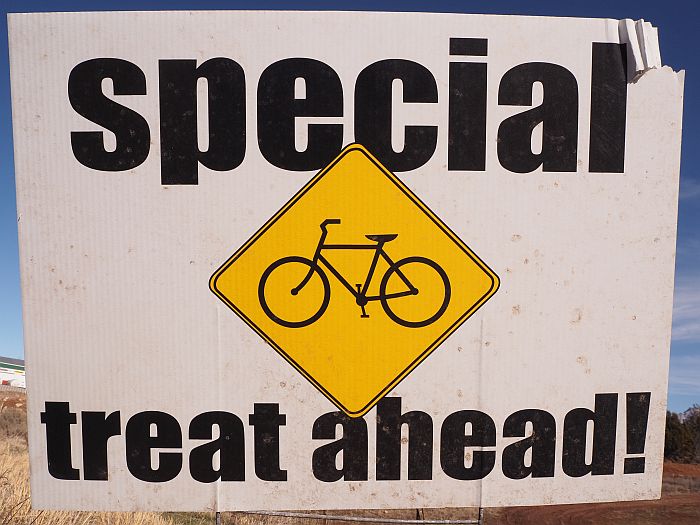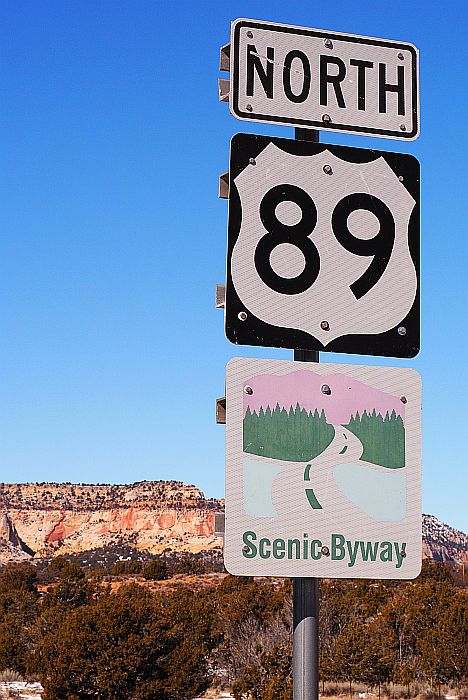 Utah is Mormon country and although I kept hearing negative things about the Mormons,
I have to say that I only met extremely friendly and helpful Mormons, who all wanted only
the best for me.
Having an extremely large family seems to be important to them; also, many of them are active
in their church and some of them have already been active as missionaries worldwide.
So I was able to stay with Mormons in Kanab in a hostel because it was terribly cold at night.
The owners spoiled me with food and a cost-free night because they were impressed with
my journey. I was able to wash my clothes and get a lot of rest before continuing on the next day.
A great hostel which I would really recommend to everyone.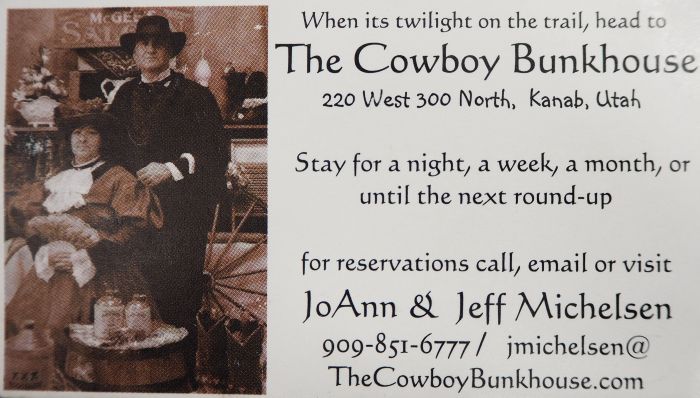 At the entrance to Zion National Park, I was alerted by the ranger that I must first pay
$15 admission, and secondly, that I was not allowed to cycle through the tunnel;
therefore, I should organize a ride in a car for that.
After I found out that the park entry fee was per vehicle and not per person, I said to her:
"Oh, you know, I think I'll just wait and find someone to take from here, then I can spare
the entry fee."
In the end, she just took me on her way home from work through the tunnel and didn't ask
me again for the $15.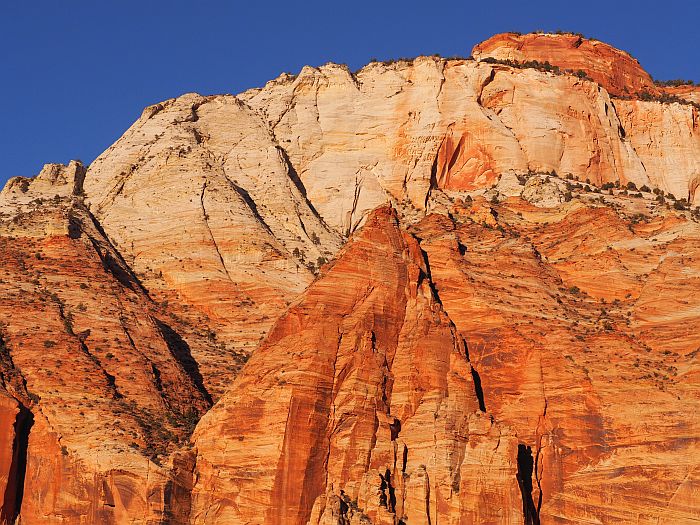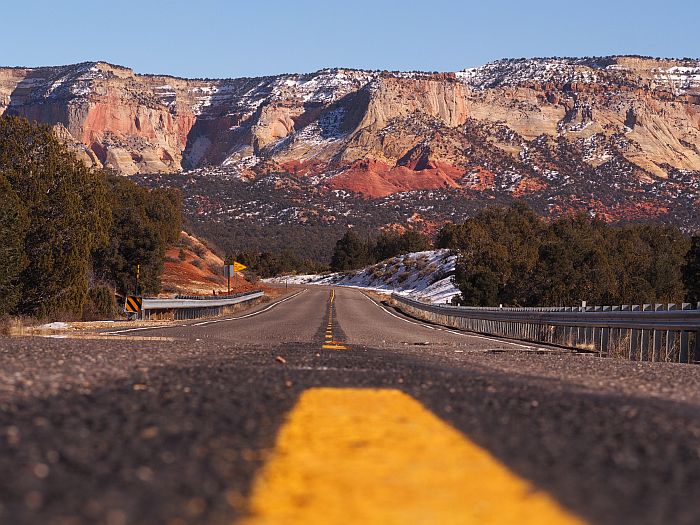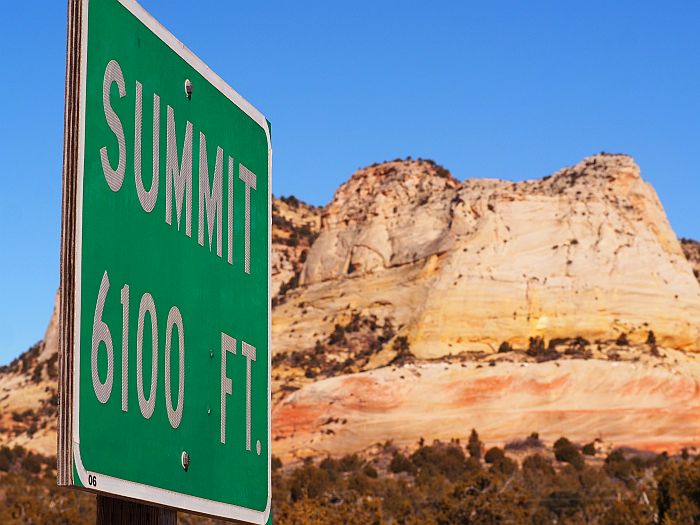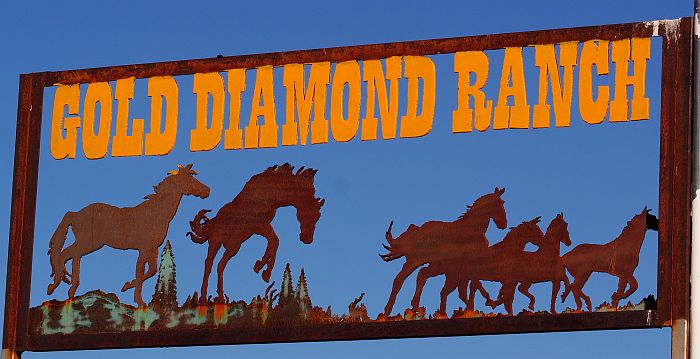 The scenery continued to be magical. Red rocks as far as the eye could see. Secluded streets
and an impressive, endless vastness. It was gigantic out here.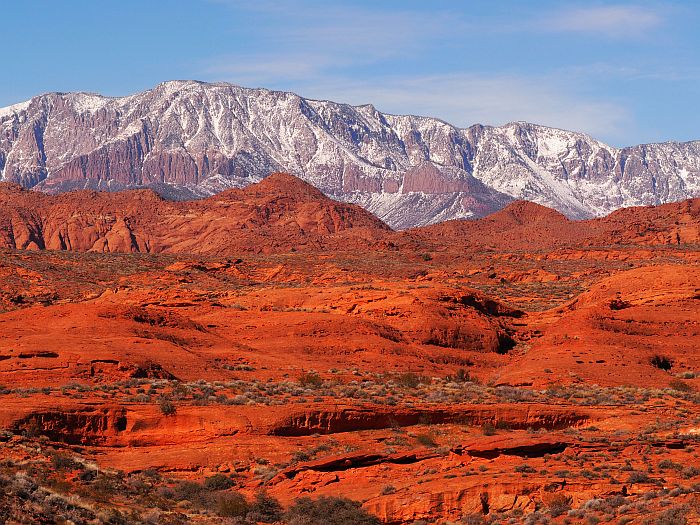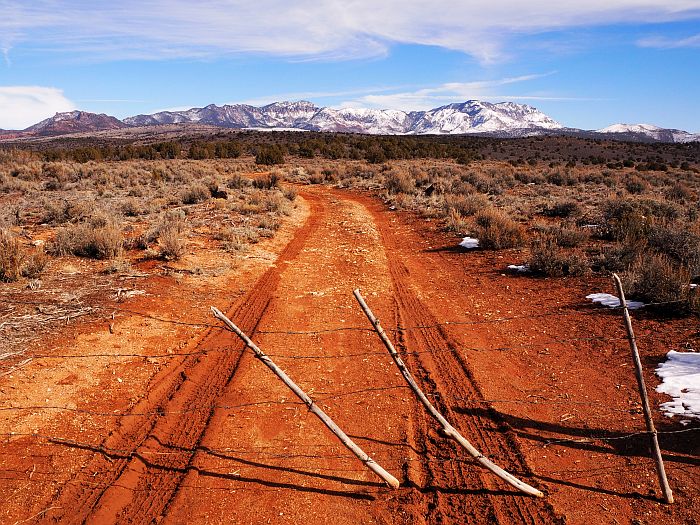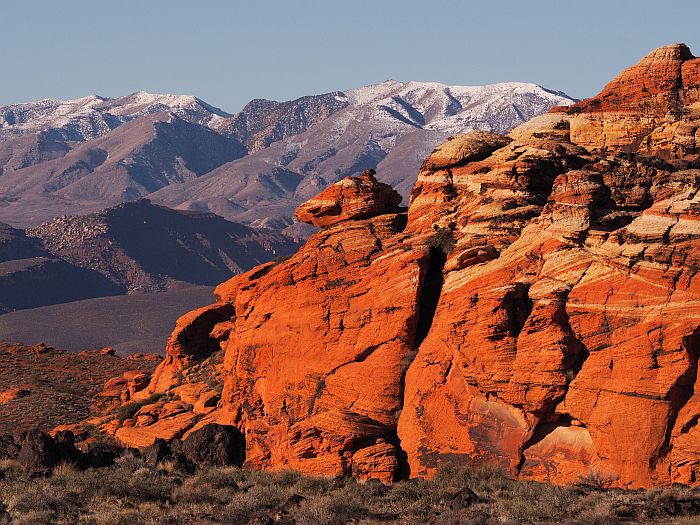 In St. George I was invited by a Mormon couple to their home and was treated to a delicious dinner and a snuggly bed. They had already hosted Rubina Soorty www.rubyrideon.com on her way through the United States and were amazed that I knew her.
"Cyclists on the road know each other," was my answer.
With a bite to eat and $20, I was sent back on the road.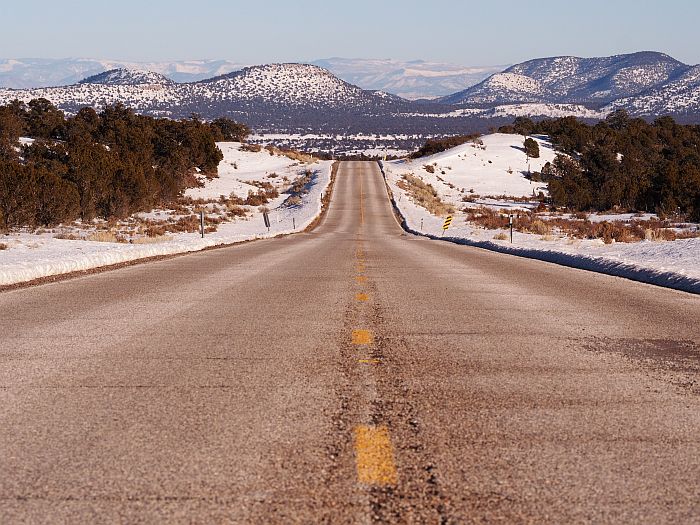 From that point on, the trail went uphill and the warm weather in St. George was replaced by
an icy cold area in Enterprise. It was already well below freezing when I arrived and I was
confronted with a beautiful snowy landscape. I attempted to find a shelter and was referred
to a Mormon Bishop. He was so helpful that he paid for one night so I could sleep in the only
motel in town.
One thing is certain: Mormons are extremely hospitable.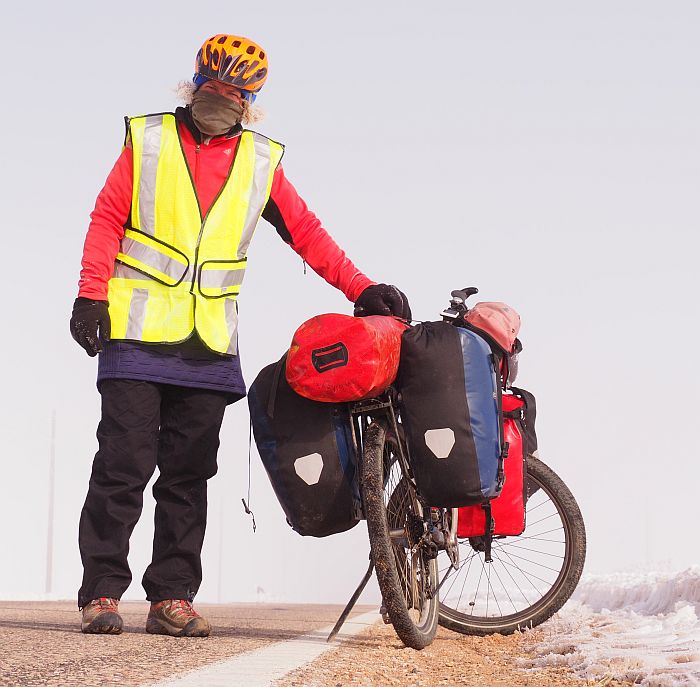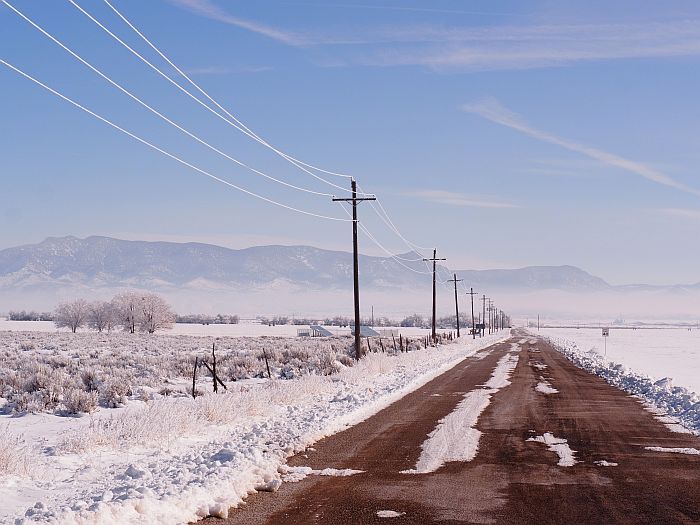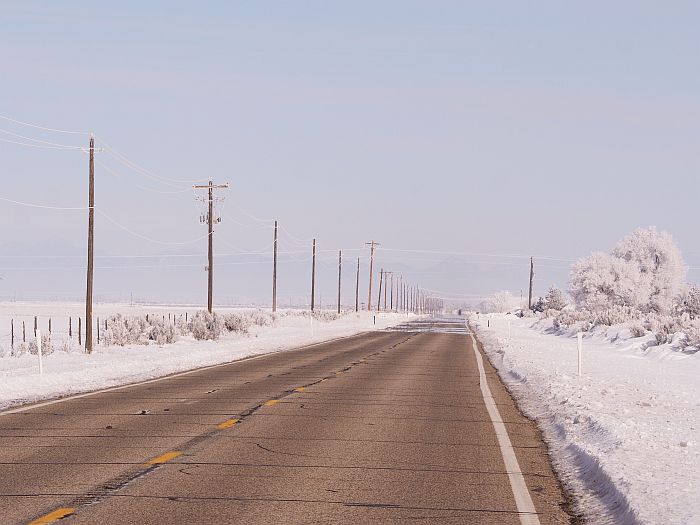 In the morning, when I started out, the temperature was about minus 15 degrees and there
was a light fog. It was magical and cold at the same time. But during the day, it warmed up
and I could really enjoy being on the road in the deserted, crystal white countryside.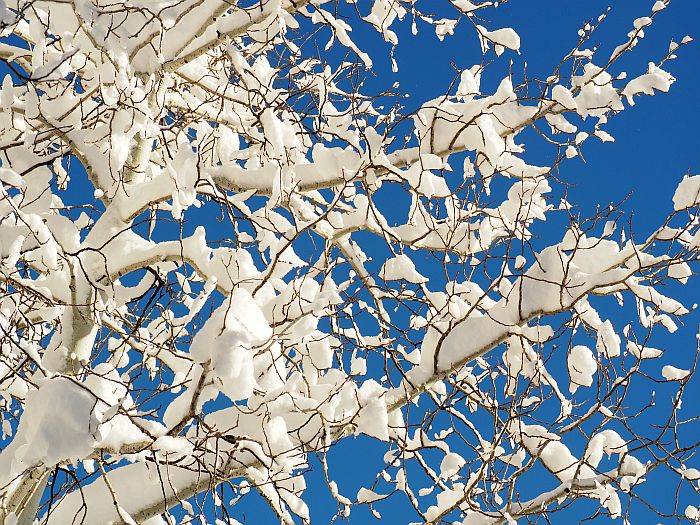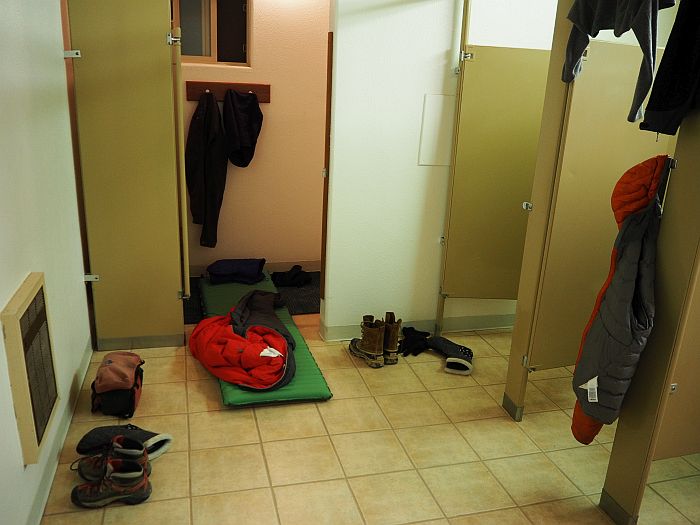 Shortly after crossing the border to Nevada, I spent the night in the heated toilet building in
the Cathedral Gorge State Park and was curious as to how things would progress now in Nevada.