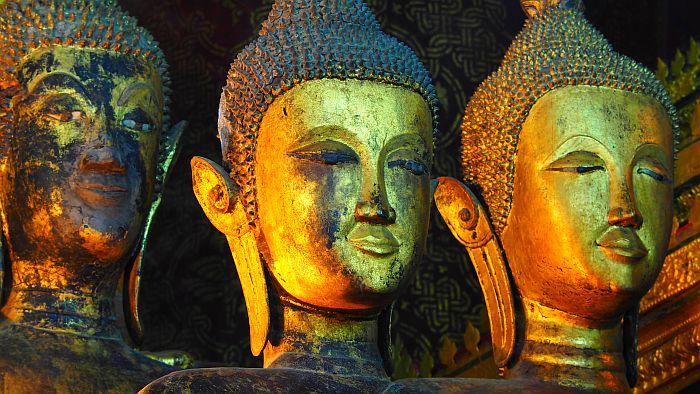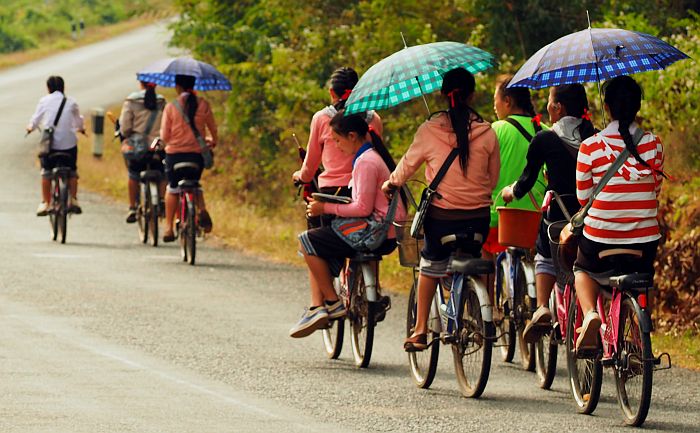 I was driving down the raod in the direction of Hongsa because Monica, a German living in Laos for 7 years, was there waiting for me. She had invited me to eat Kaes' Spaetzle (German cheese noodle specialty) together with her. Weeks ago, she had already contacted me via Facebook and had invited me warmly into her guest house.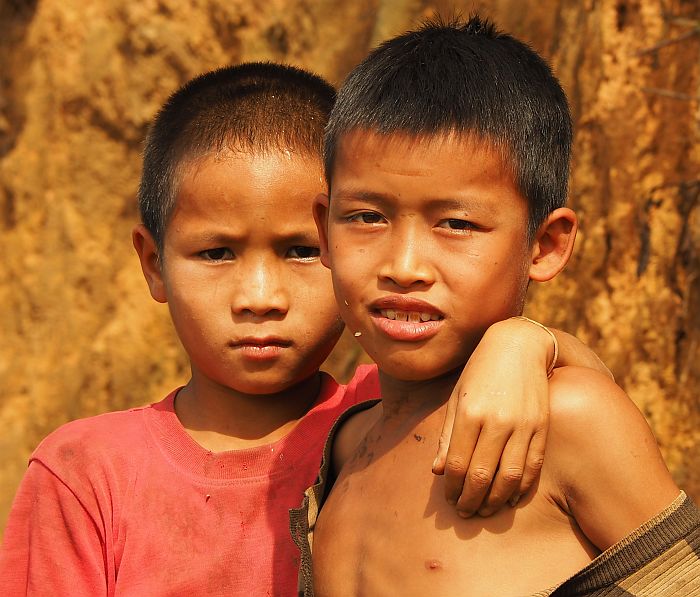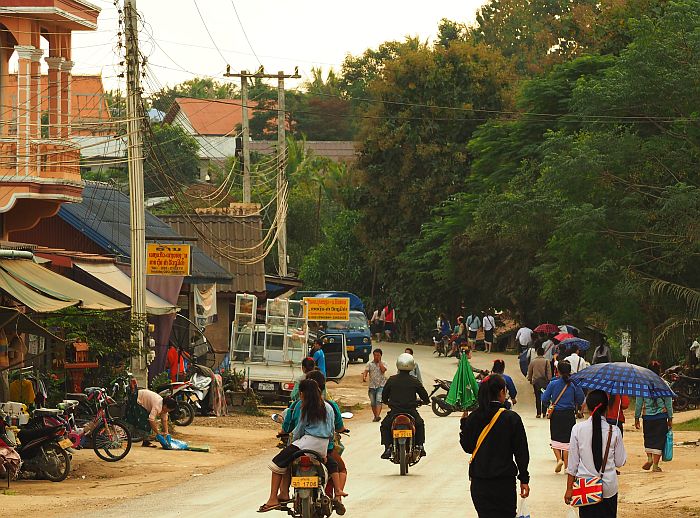 On the way there, I witnessed a horrible scene. A dog ran into the street and was hit by a truck.
Out of sheer shock, he bit hard onto the inside of a woman's foot who was passing by.
People rushed quickly to her and drove her to the doctor. The way she was dressed,
she could certainly afford the treatment and the rabies vaccinations that she now
desperately needed.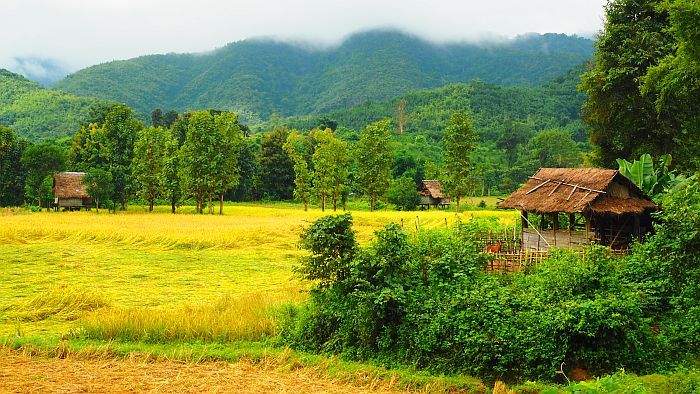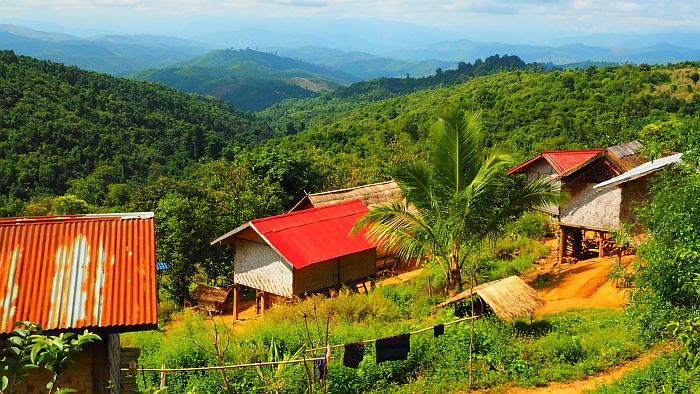 My shift cable tore again, so I fumbled around for a while with my gearshift before I could continue.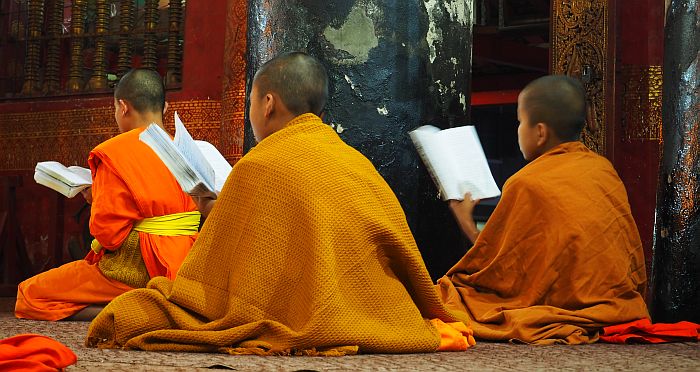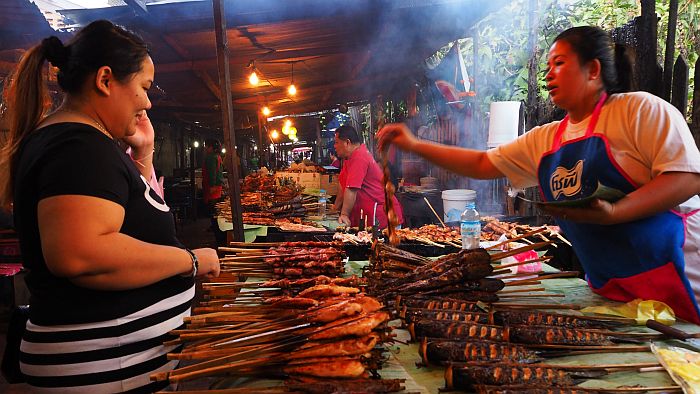 In Pakbeng, I arrived at the Mekong River and had originally planned to take a short ride in the
direction of Hongsa. But when I saw the crowds of tourists coming from Thailand in the boat
that evening, I skipped that thought out of my mind.
The boat would go the next morning to Luang Prabang, the same direction I wanted to go.
Instead of going with the boat, I continued ahead with my bike. As always, the roads were
brutally steep and it took all day for me to ride the 90 km to Hongsa.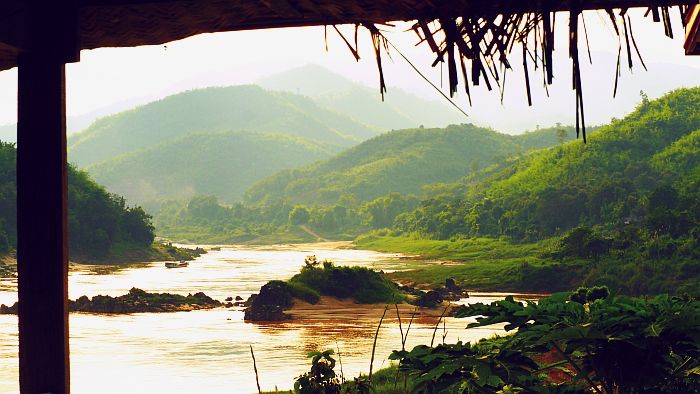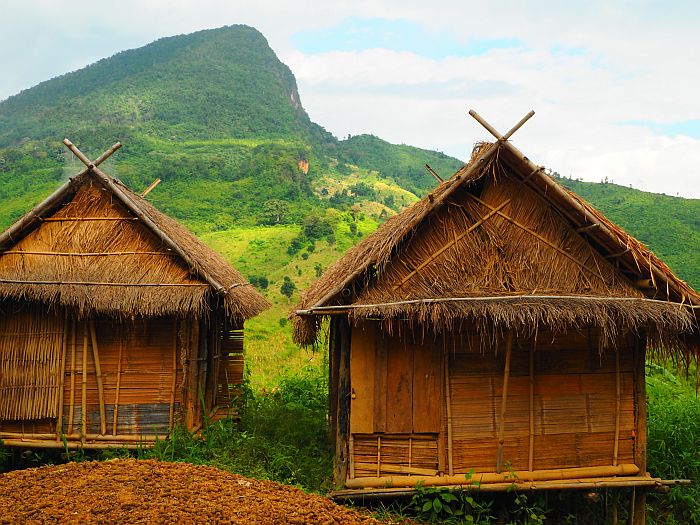 Monica was some kind of a German island in the middle of Laos. The "Kaes' Spaetzle" dinner
was a complete success and the cozy mattress was simply heavenly. Breakfast included bread
with butter and honey along with sunny side up eggs seasoned with interesting German conversation.
Sometimes, something like that really makes one feel good. In the course of the 4 days that I
was spoiled there, I also enjoyed delicious potato pancakes with hot applesauce, cinnamon
and sugar, as well as fried potatoes. How wonderful to finally have potatoes and no rice.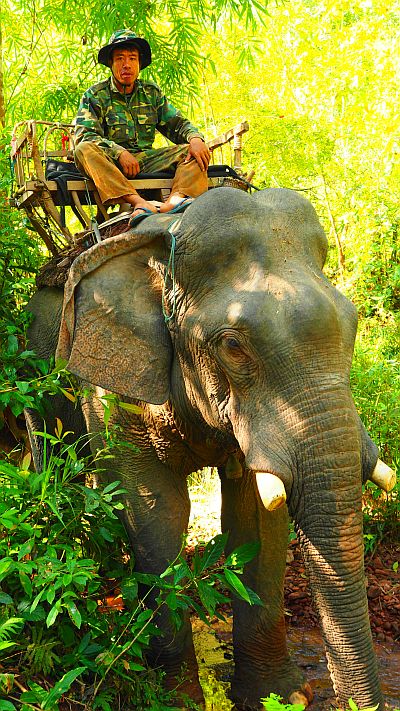 Monica also invited me to go on an elephant march through the wilderness near her home.
We rode for six hours crisscrossing through the jungle.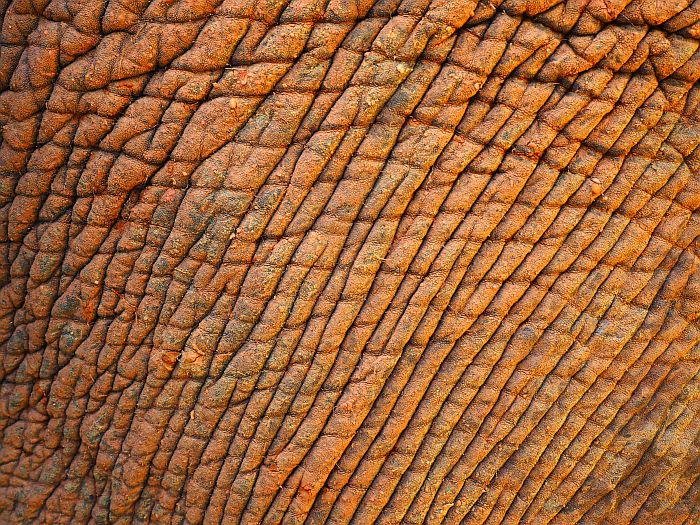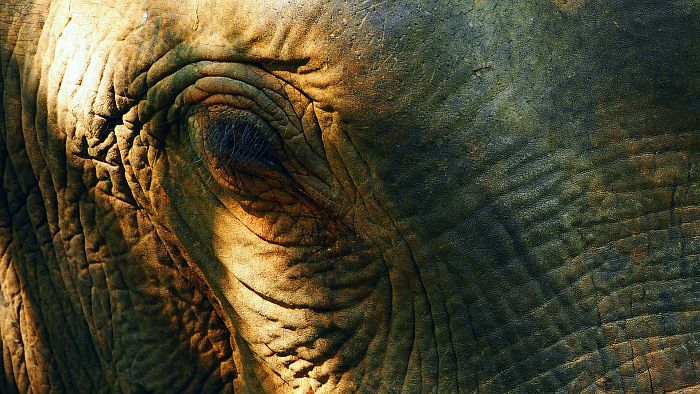 I sat in the front for a long time, directly on the shoulders of the beautiful animal, so I could feel
every move. When the trail went down or he just decided to tear some tree out of the ground,
it was a pretty shaky ride, because I couldn't hold on anywhere. Its skin was extremely rough
and the hair stubbles were totally hard. It was a great experience!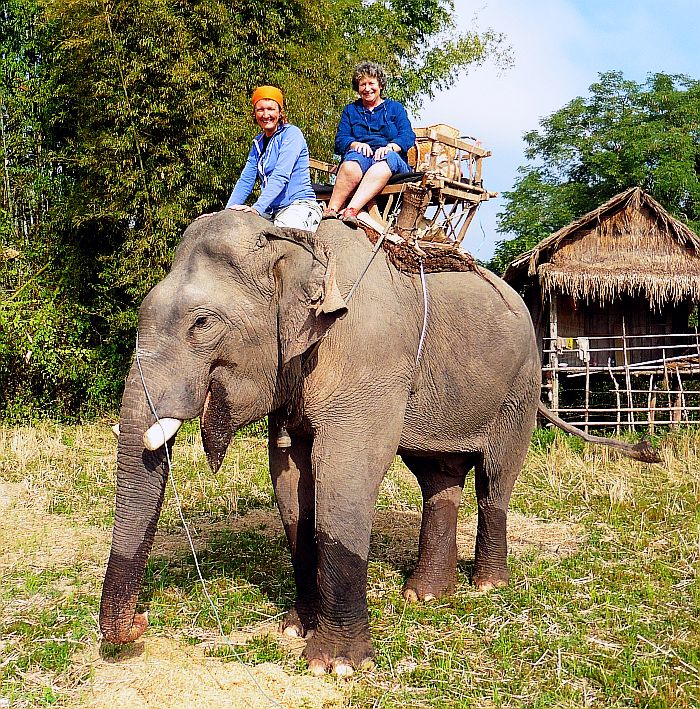 Unfortunately, I was running out of time and decided to leave my bike with Monica in her shed and,
instead, took a bus to Vientiane.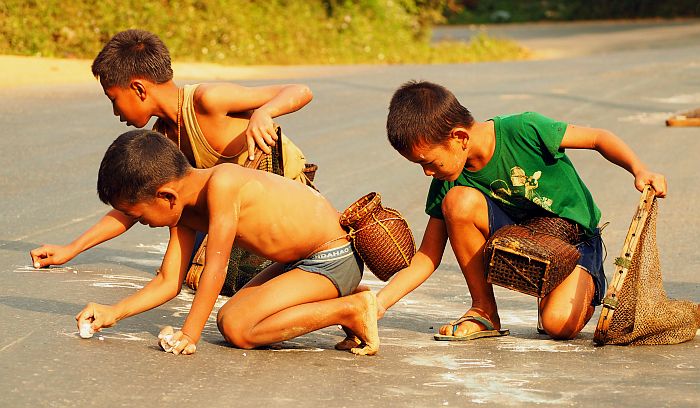 First thing the next morning, I went to the German Embassy and applied for a provisional
passport. Unfortunately, the German Embassy was not exactly the easiest bureaucratic
activity that I had to undertake on my bike trip.
German regulations simply go beyond the national borders.
In the end, unfortunately, I was indeed able to get a temporary passport within two days.
But I couldn't ask for a permanent passport, which takes 2 months. I didn't want to wait that long.
Actually, the Embassy wouldn't normally send a passport to someone after completing the
paperwork, and although I found a way to convince them that they could forward it to me,
it didn't work because of the strange handling of the transport route.
The request would have gone from Vientiane to Berlin and Berlin would send the passport
to Vientiane. After that, the passport would not have been sent directly to a different embassy,
but rather back again from Vientiane to Berlin, then on to the right place. When I learned that
the embassy in Vientiane was only serviced by a courier every 2 weeks, I decided to forget it,
because I couldn't say exactly where I would be in 3 months.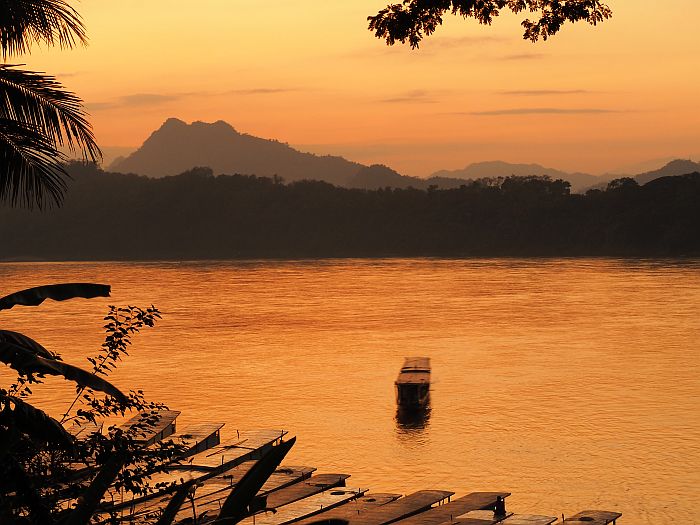 Next, I crossed the Mekong without any problems and traveled to Thailand. Less than 5 minutes
later, I entered Laos again to get a new visa at the border. That worked without any problems at all.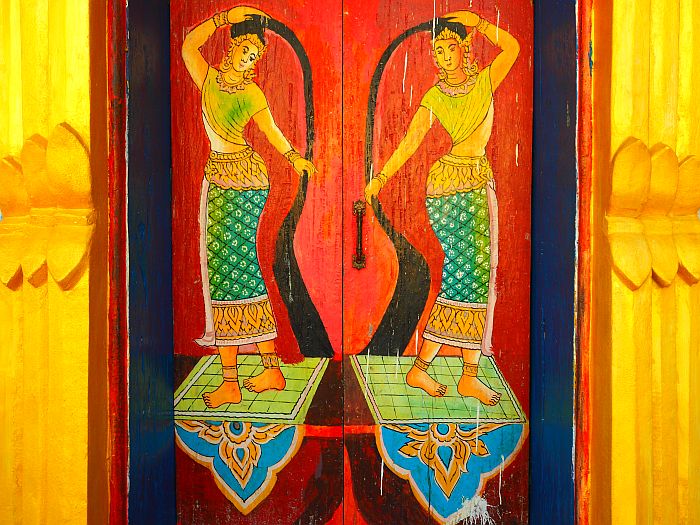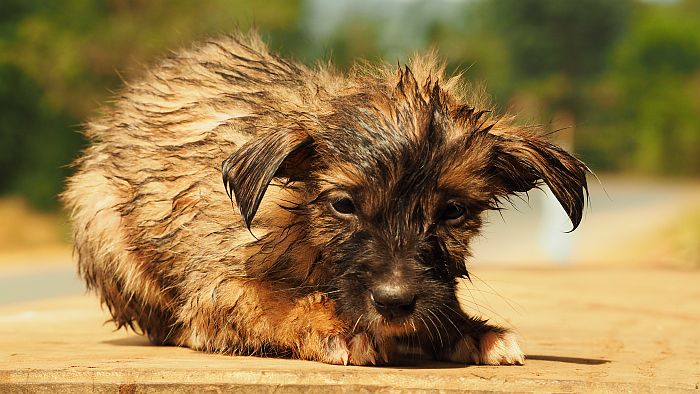 Then it was time for the Chinese Embassy. Would I be able to get a visa for China again?
I was uncertain about that because it's normally not possible to get three visas in a row.
I tried to be as inconspicuous as possible and asked only for a 30-day visa. I was asked for
a plane ticket there and back and a hotel booking for the first few nights.
No problem – I paid $5 and asked a travel agency to make the reservations for me,
which they then canceled again immediately after printing. I did have a new passport
and hoped that maybe I'd get lucky and they would think that I had not been in China recently.
But, of course, they're not stupid because I can always be found on the computer.
There were no questions; I just needed to deposit the fee in a bank and come back the
next day. What? So easy? That seemed impossible. I got 30 days for $50. Super!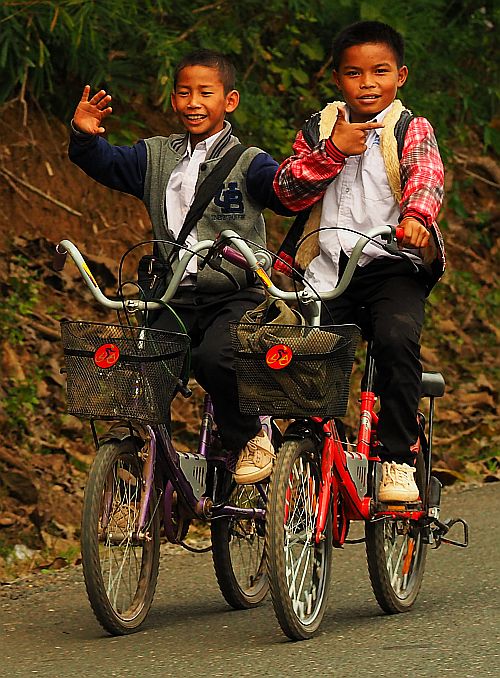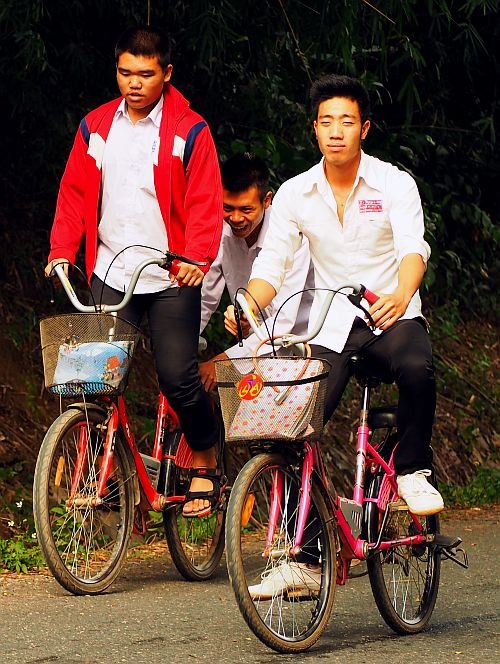 I still needed a visa for Vietnam. Vietnam has the same strange visa regulations as Uzbekistan
and Turkmenistan. You have to specify the exact arrival and departure dates.
So I said 18 December through 18 January. The visa is valid only during that period.
If you enter later, you simply forfeit the initial days and still have to leave by the departure date. $70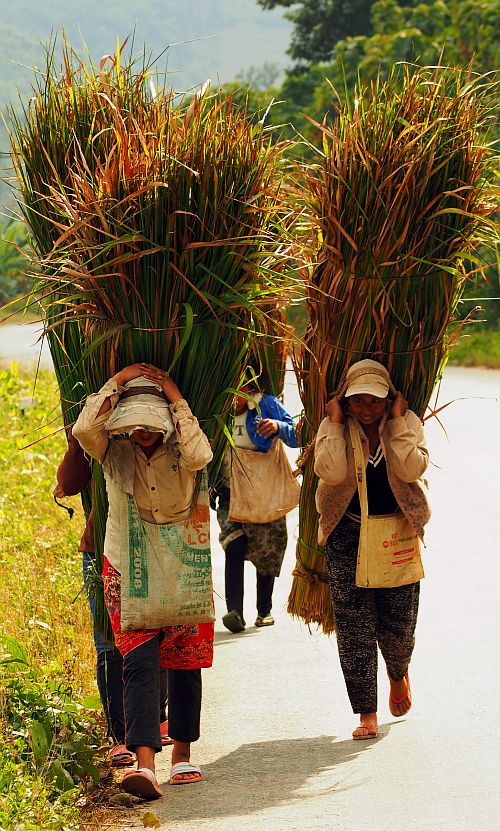 Back in Hongsa, I freed my bike from the dusty shed and cycled once again on an outrageously steep stretch of road to Luang Prabang. Overall, the landscapes in Laos are very similar, but what fascinates me the most is the calm and peacefulness that the country radiates. The clocks simply tick more slowly here.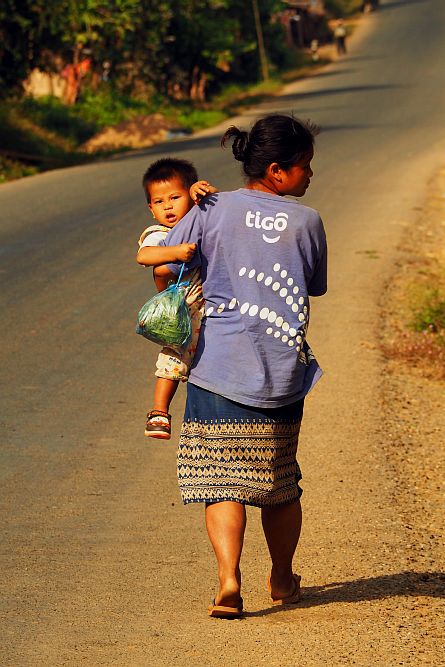 I again camped in a school in one of the villages and was invited by the teacher for dinner and breakfast. Super nice and also very tasty. Her kitchen was a total mess and most people I know would most certainly not want to eat there.
She herself was very attractive and neatly dressed.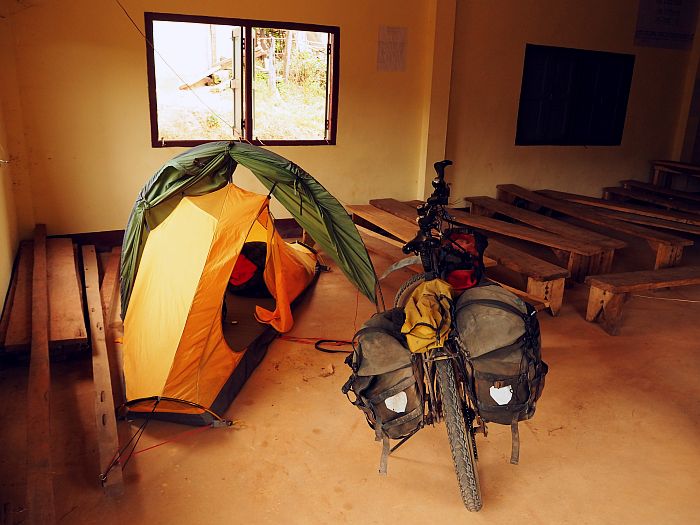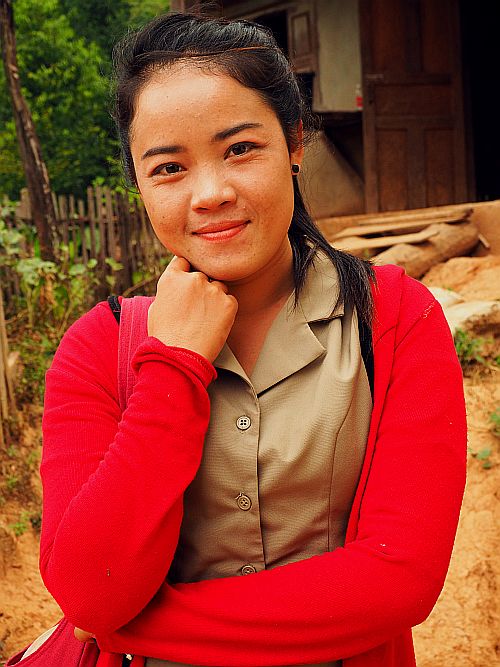 Luang Prabang is a tourist haunt and, despite everything, it has somehow retained its charm.
Although I spent a week in the city, I had lost the spark to my ignition.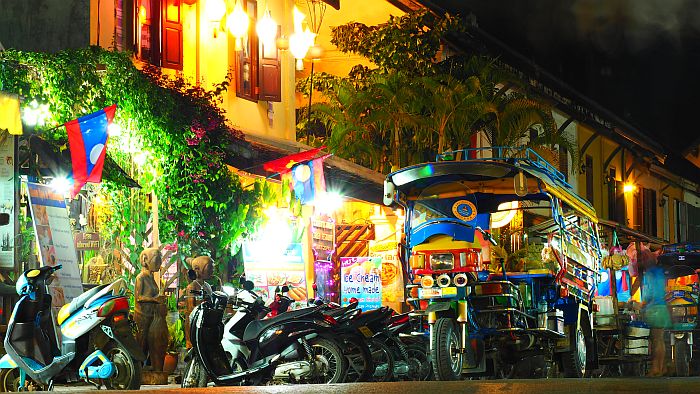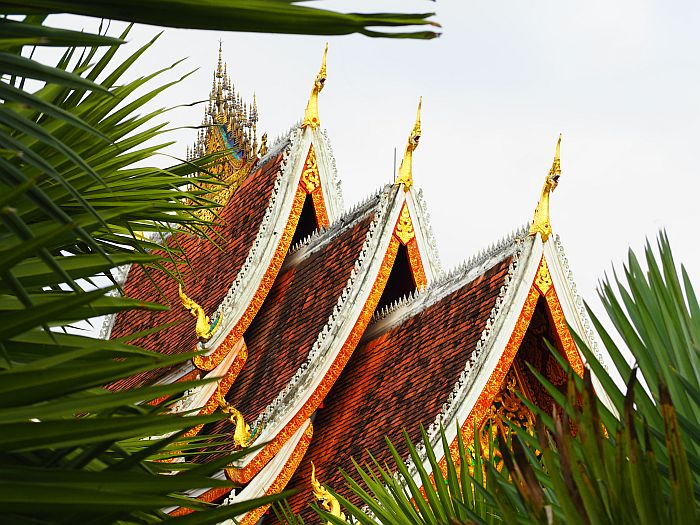 The city was full of backpackers. There are certainly a few with whom I could undertake something,
but most had just finished school and were making their first trip experience on the simple,
tangible "Banana Pancake Trail". Many of them sit together but they don't talk with each other.
Instead, they tap texts into their iPhones for hours and take no notice of the environment.
Somehow strange.
They fly halfway around the world to drink a Banana Milk Shake and then they chat online with whomever they can. A few years earlier, people used to sit together; they talked with each other and experienced something.
Now, in every guesthouse, there is WIFI and the people seem to be lonely. Very sad.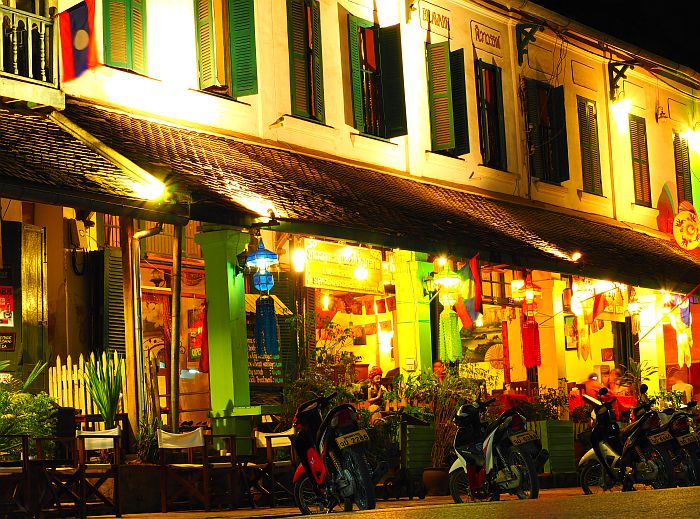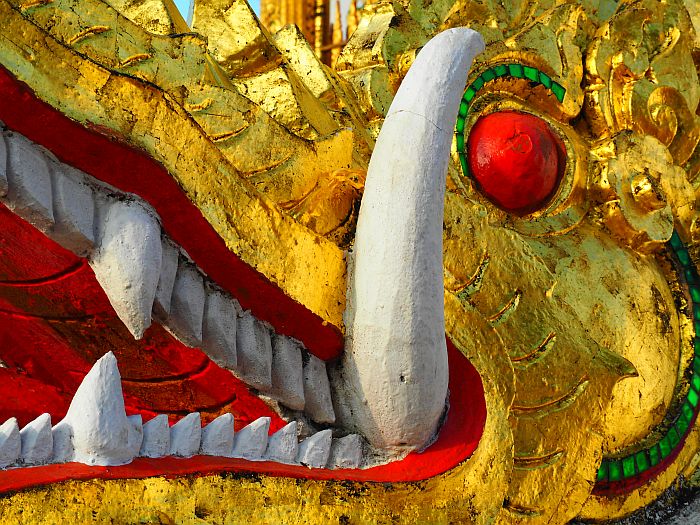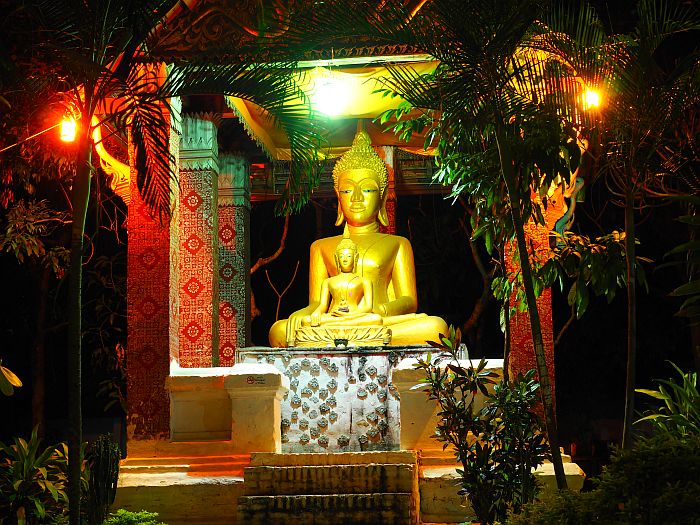 Also, I reminisced several times in the past few weeks about my backpacker days when I would rumble through the world with chickens on my lap crossing third-world countries and, squeezed in between random chaos, wobbling and bouncing along small country roads.
The standard backpacker of today, however, doesn't do that anymore. Nowadays, they sit comfortably in an air-conditioned bus or, even better, on a plane and fly from Vientiane to Bangkok instead of taking the train.
Today, everything is so cheap and so much easier. I would miss the adventure. Even thinking about the environment seems to me to be much too lax here. I often ask myself, who dishes out all the money for the students to do what they're doing?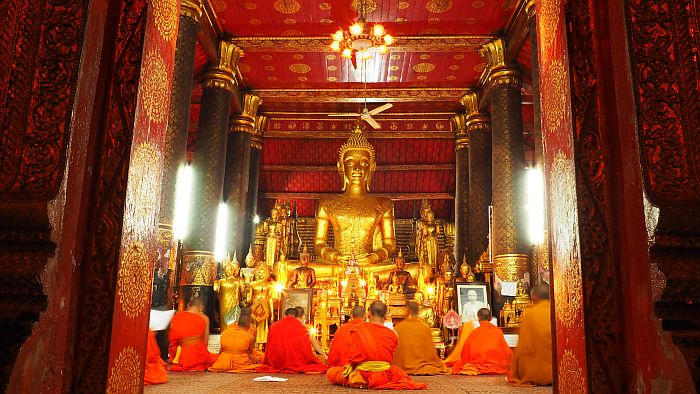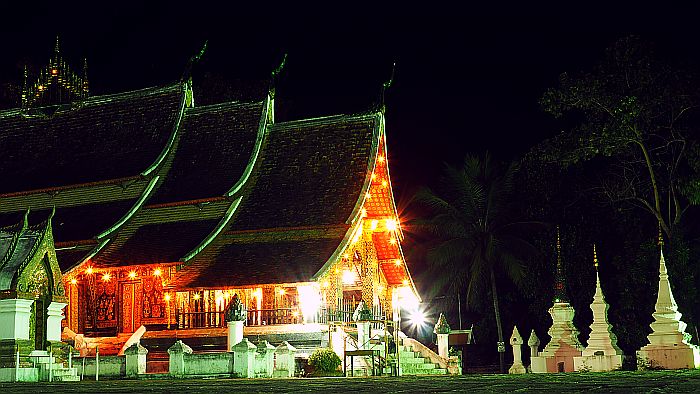 The world of traveling has become a different one and I'm really glad to be underway on my pushbike and to not have much to do with all of this, which, in my view, is a negative development.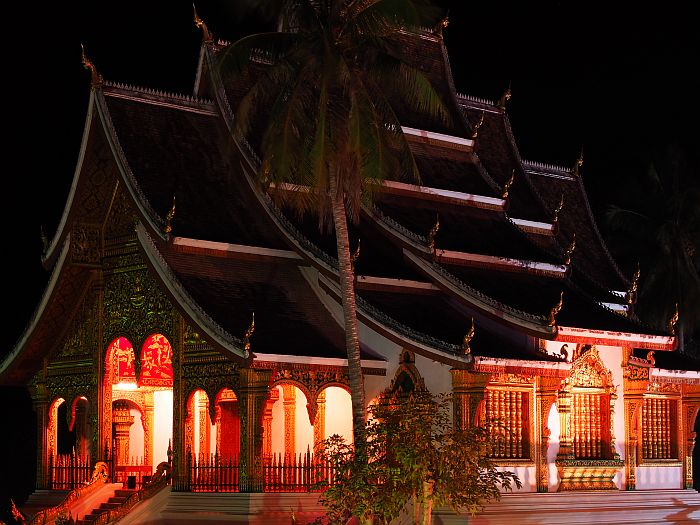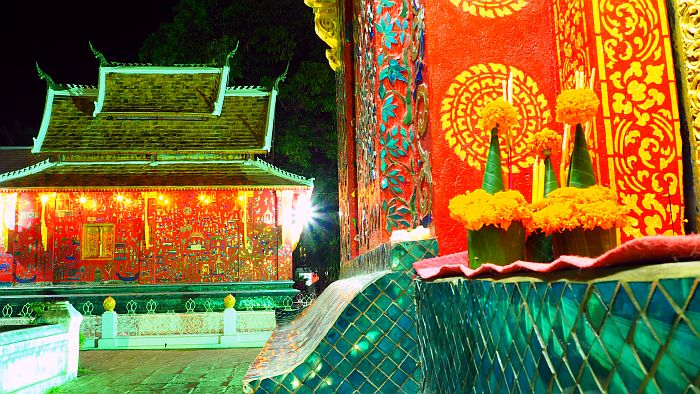 As I rode through the streets, quite by accident, I discovered a man who I recognized – Nicki, an old friend from my hometown. We talked for 2 entire evenings about everything – a wonderful encounter.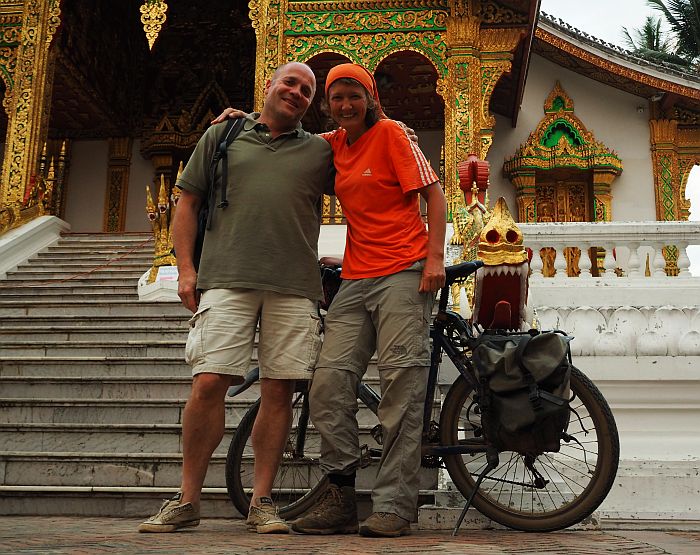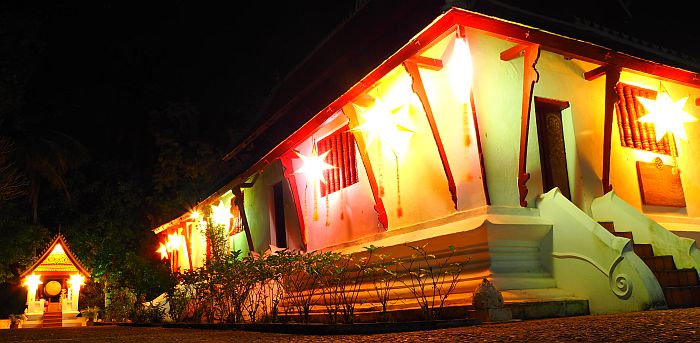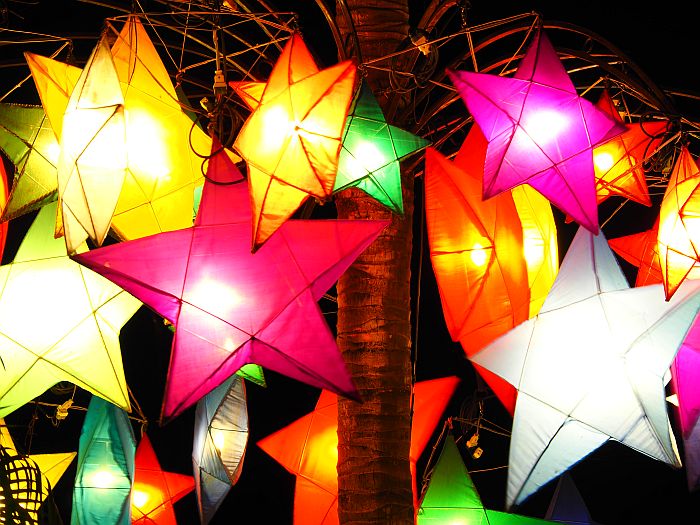 Finally, it was time for me to continue on, and as I was getting ready to leave, someone shouted at me from a distance "Heike". Yikes! Who knows my name here? A couple of cyclists recognized me by my orange buff, because they had been following me in my blog for a while.
Even in Vientiane at the border to Thailand, I had experienced the same thing. A cyclist recognized me, knew my name and my story. It also happened a few days ago in a small village.
A Kiwi (New Zealander) had seen my business card, which I had left as a "thank you" gift somewhere in Turkmenistan, and since then he had looked several times at my website and knew me under the name Pushbikegirl.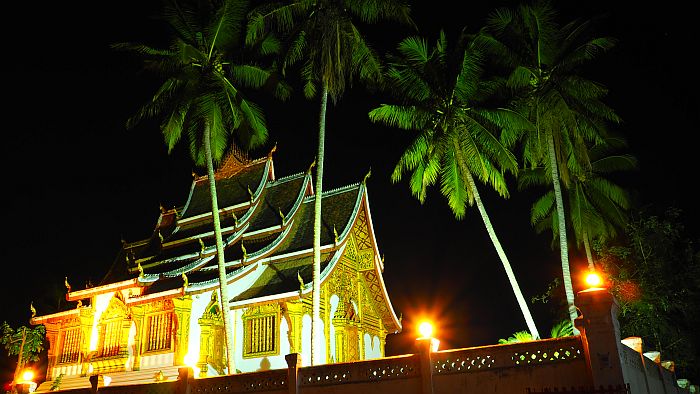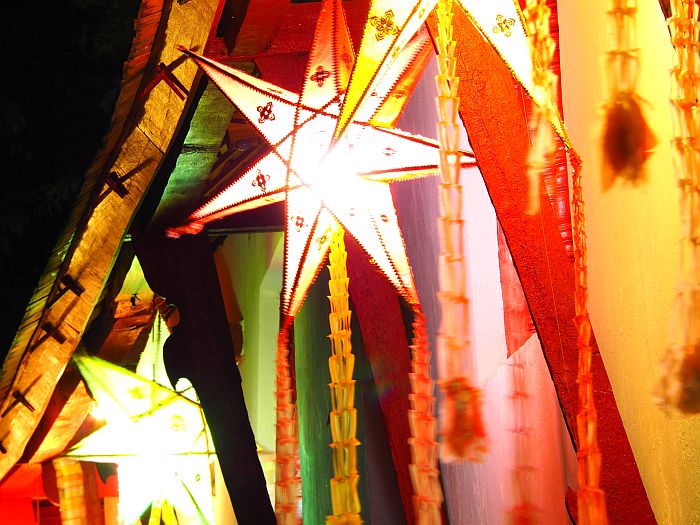 One evening in a village, I asked where I could pitch my tent. As always, I was pointed toward the school grounds. At night, when I was already asleep, a car suddenly drove up.
In any other country, I probably would have had second thoughts, but not in Laos, because nobody here would really do anything to you.
Five policemen were suddenly standing around my tent and none of them wanted me to stay there. After a lengthy discussion, I had to pack everything up and load my bike onto a pick-up truck. None of the men wanted to lend a hand, so I made it clear to them, either they help me get the bike up on the truck, or I would stay there, because I am not able to lift up the heavy bike by myself. They also wanted me to sit in the dirty truck bed with the bike, whereupon I said, "Forget it. One of you can sit there in the dirt."
They didn't want to, of course, and so we sat squeezed tightly together in the cab and drove through the dark night, back the way I had come. They dropped me off in front of a guest house and didn't drive away until they were certain I would really spend the night there.
Apparently, there is a law in Laos, which says that you can only stay somewhere other than in a hotel with a business visa, but not with a tourist visa. Probably a fictional story.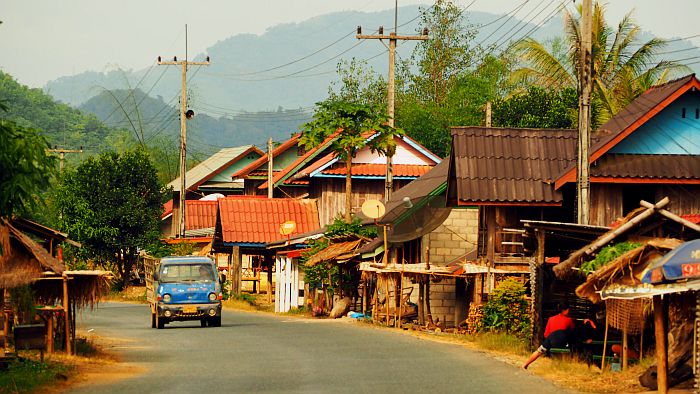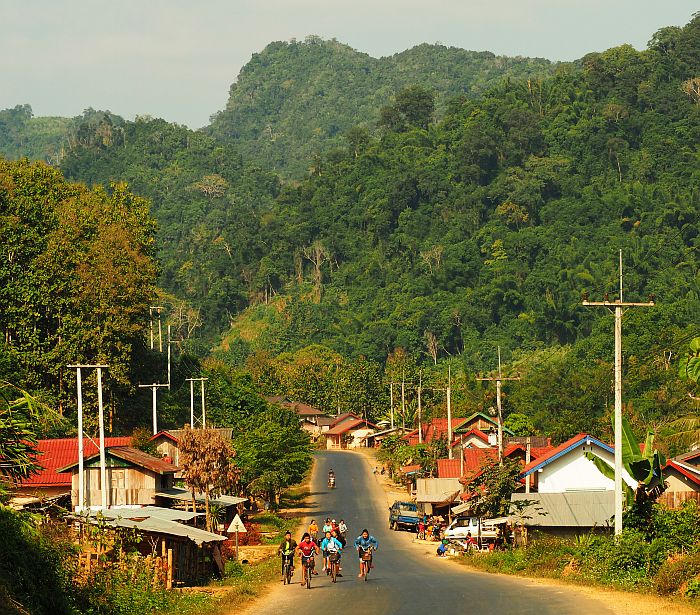 I was thus returned to the main road and stayed there. The road was nearly flat and it was wonderfully relaxing to ride on a good tarmac road back to the north. In every village, children
stood on the street and held out their hands for a "high-five" from me. Everywhere they called "Sabaidee" to me again and I felt really welcome.
The children always smiled so cheerfully to me – it was almost magical.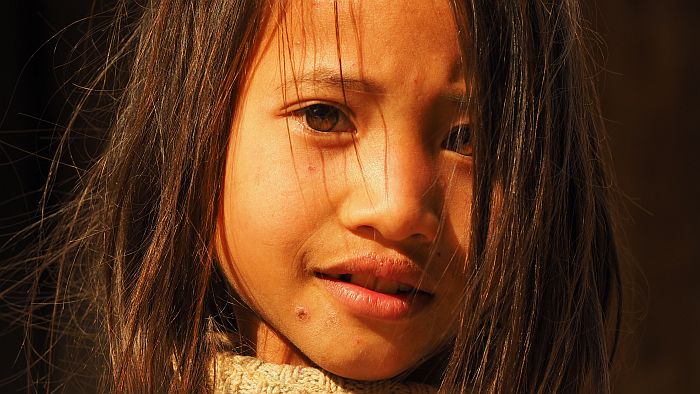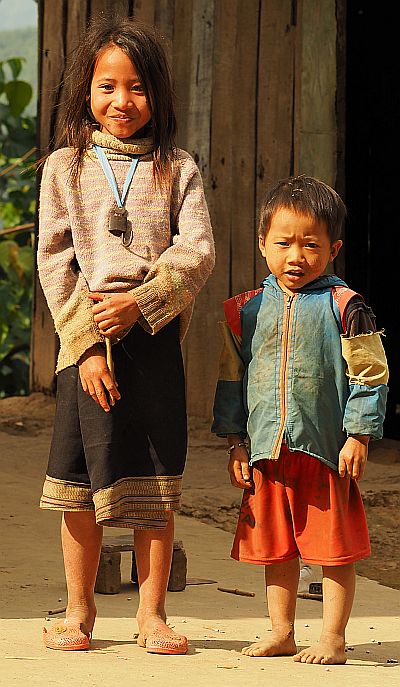 Outside the tourist areas, the Laotians are really honest and polite. They always say, "Khop Chai Lai Lai", which so nicely means "thank you" in the Lao language. People take care of you in a friendly way and always smile at you.
In the tourist areas, however, you feel a bit like a walking ATM. You have to look quite a long way for friendliness, and you really have the feeling that the only thing important is money.
What I've learned from this, that money changes cultures and destroys character. It's a shame how much money can affect us humans.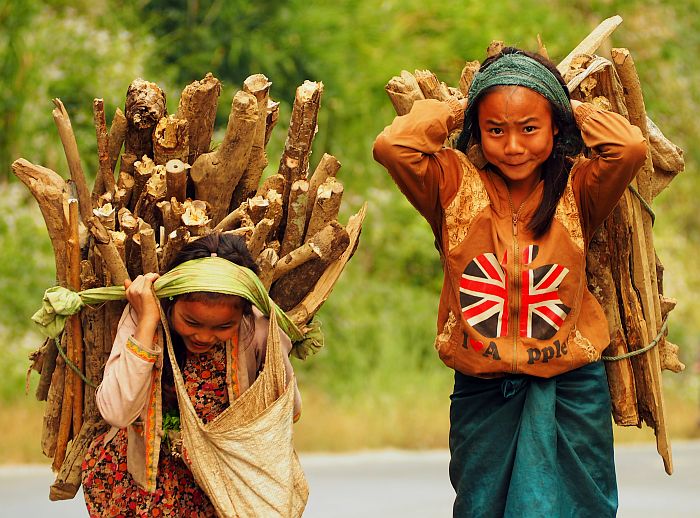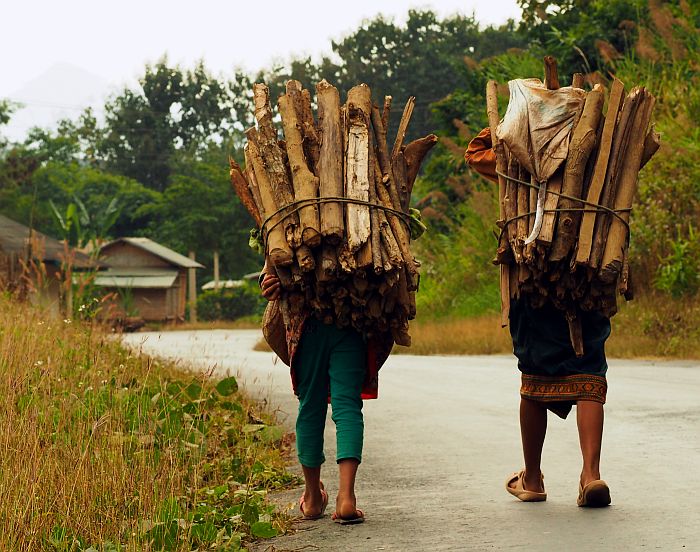 In Luang Prabang, I stayed for 7 days in the same guest house and was not greeted even one time with "Sabaidee" when I entered the house or in the morning when I looked out of my room and called out a big hello to passersby.
But certainly, the tourists themselves have a strong influence on how the locals respond to the "generic" stranger, because the arrogant behavior of rich westerners is sometimes really embarrassing. It is no wonder, then, that the locals sooner or later view a tourist only as a walking ATM, because they can't expect much more from them.
In Luang Prabang, the government placed signs in strategic places to make tourists aware of their misconduct in a nice way – dress code, behavior in the temple, etc. Unfortunately, many people appear to ignore the signs.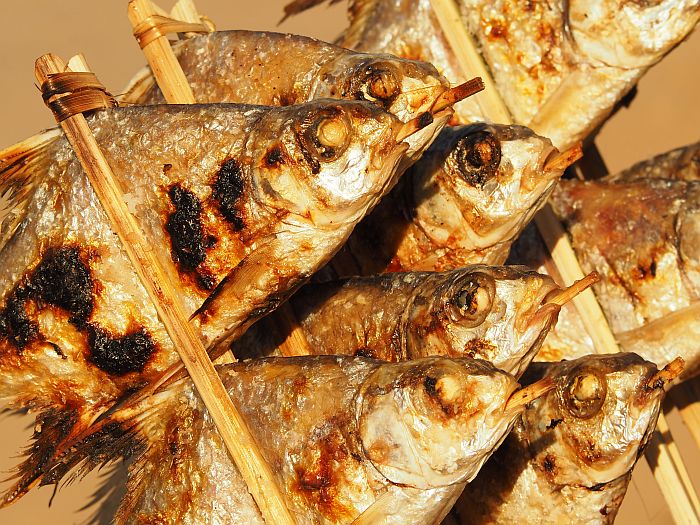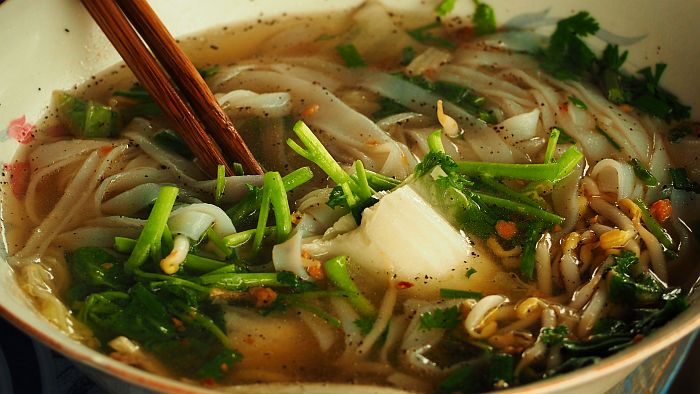 The Lao food is OK, but not a highlight. Usually, you can get various kinds of noodle soup that is delicious and affordable at all times of the day, but unfortunately not filling. The other dishes, which you get at the market more than anywhere else, are always served in infant-sized portions; even the senior plates in Germany are larger. I always have to order at least 2 servings of food and that quickly cuts into the wallet.
My favorite food is a dessert. Cassava, melon, bananas, rice, beans and some ingredients unknown to me are cooked and flavored afterwards with syrup and coconut milk. Ultra tasty.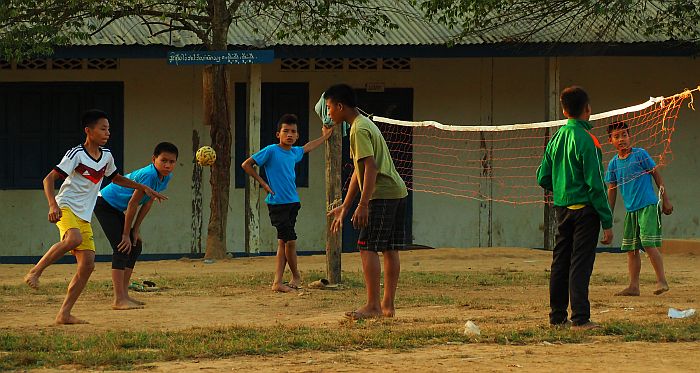 Boule (Pétanque) is a popular pastime, as is the popular ball game, Takraw.
It is played on a volleyball court with a rattan ball and the players head-butt or shoot the ball
over the net. Using the hands is taboo. It is a very fast, acrobatic game.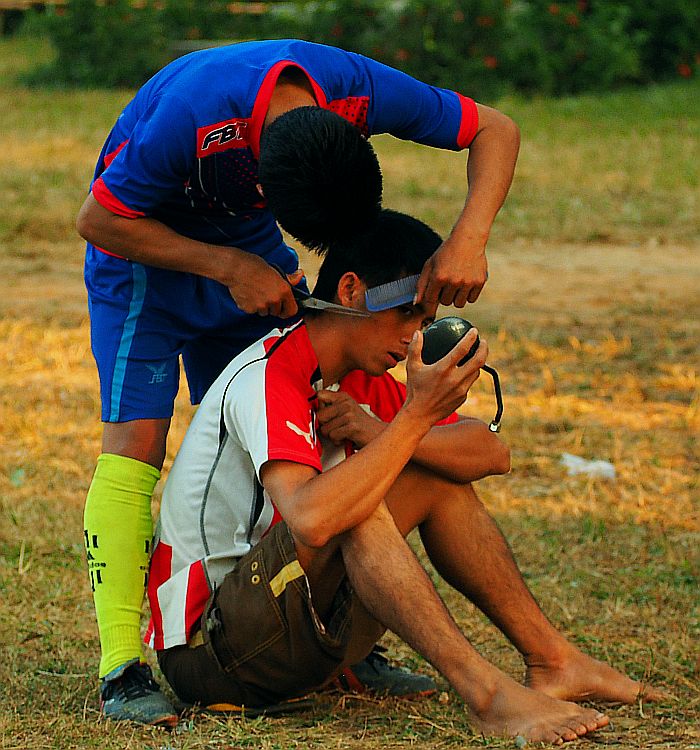 Of course, soccer is popular as is a hoop game, in which small children roll a tire in front
of them – a third-world game that is known all over the world.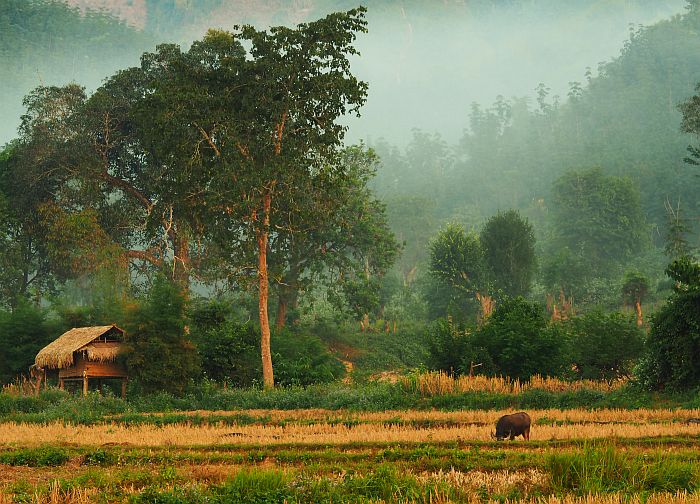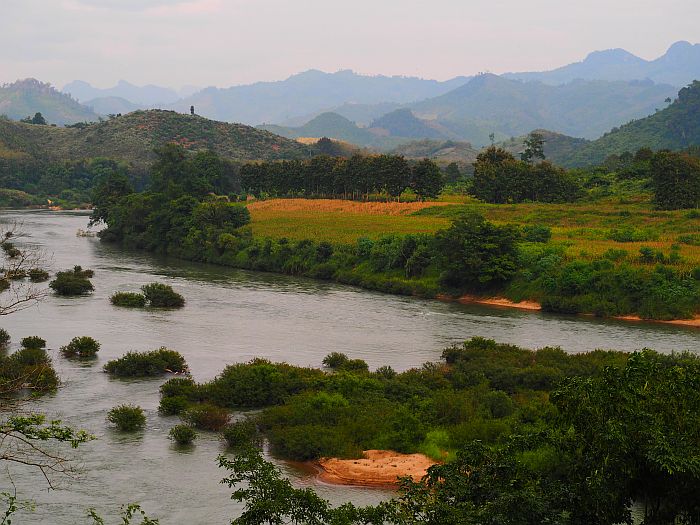 Since arriving Laos, I feel somewhat like I am without a goal and have less energy. I'm under
the impression that the long break hurt me more than it did me good. I had somehow lost
interest and tormented myself every time I got back on the road, fighting to ride every mile.
I also found Laos a bit boring. Nothing really happened. Everything was so simple.
The people always understood what I wanted. The scenery was always the same
everywhere. The villages looked the same, and life just continued slowly onward.
Nothing exciting ever happened.
I could no longer endure the many mountains and hills. It has to make sense for me to climb
a mountain, but I had lost that sense in Laos because I knew exactly what it was going to be
like on the other side of the mountain, namely, exactly the same as on this side of the mountain,
and that didn't motivate me.
I can only whip myself forward every day when I know that it will
be exciting because there is something unknown awaiting me when I go around the next bend.
I also simply pedalled too many steep mountains the last months and I was really looking forward
to get to some flat terrain.
Somehow I also felt a bit tired of traveling. I guess it could be also the reason why I wasn't able
to enjoy the beauty the country has to offer.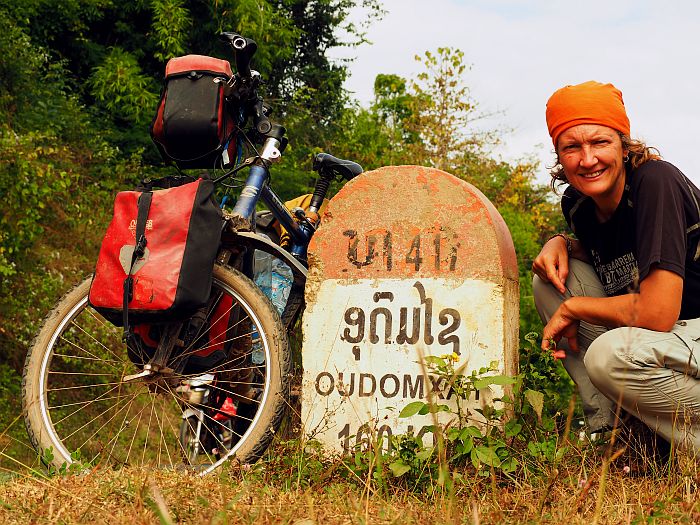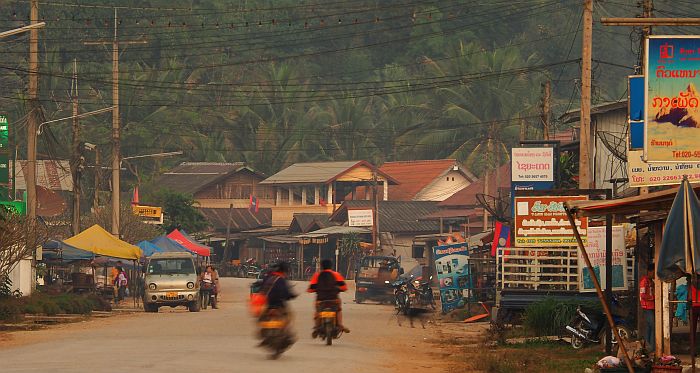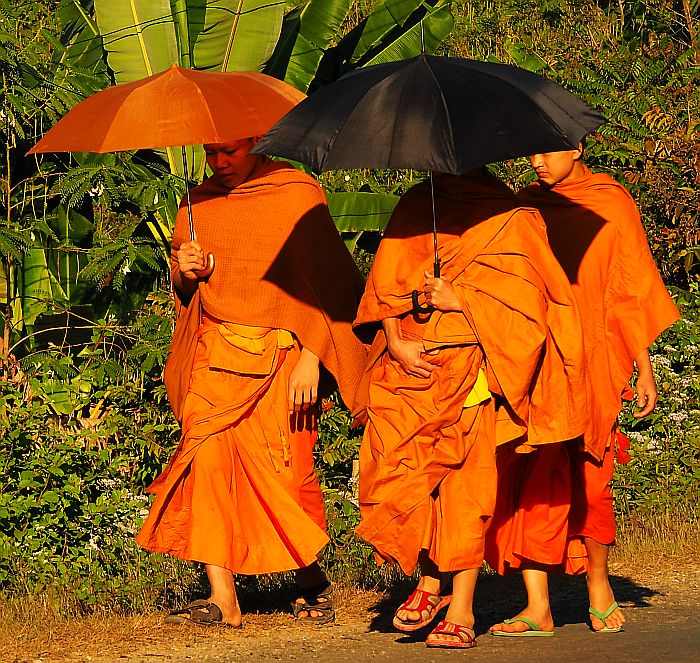 Slowly but surely, I began again to plan how I should continue on my journey, which gave me
some motivation. In my mind's eye, I was sighting Japan, Korea, Taiwan and possibly, Russia,
but those are a long way away, and I am curious as to how things will finally turn out.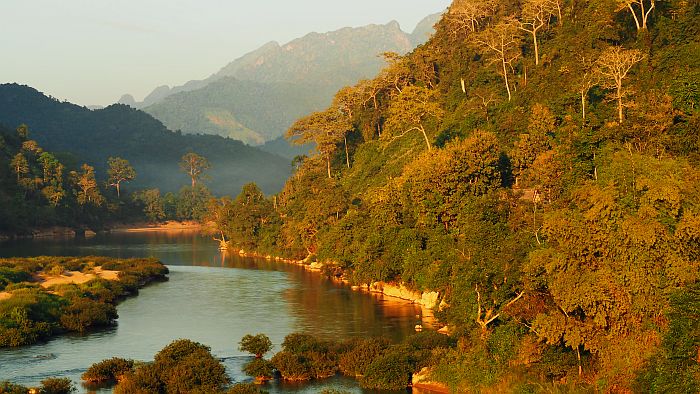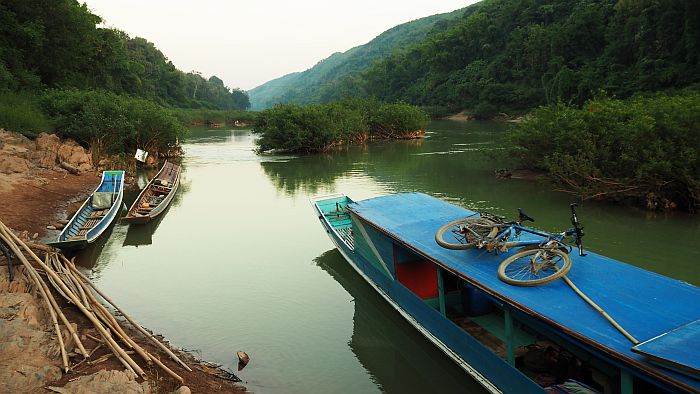 In Nong Kiao, I treated myself to a ferry ride on the Nam Ou River. It was comfortable and
something different to experience the world from boating on the water.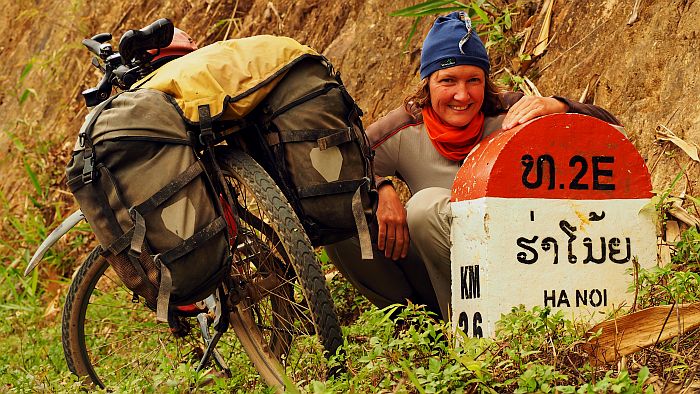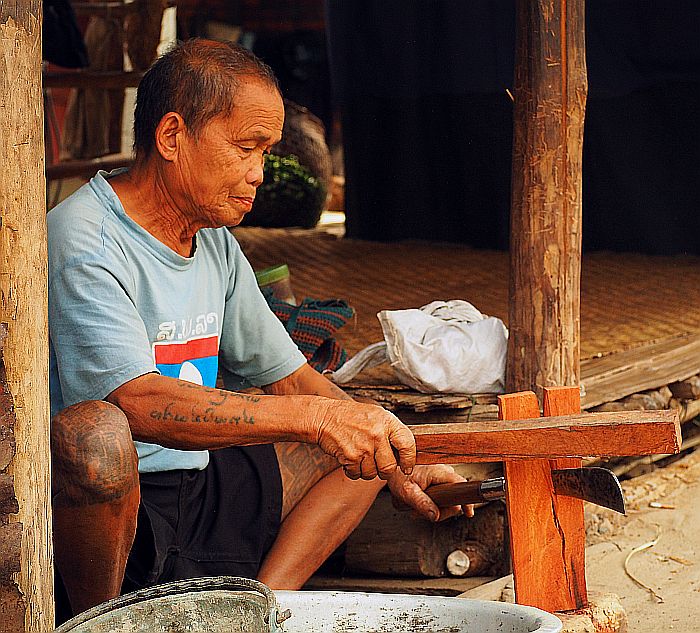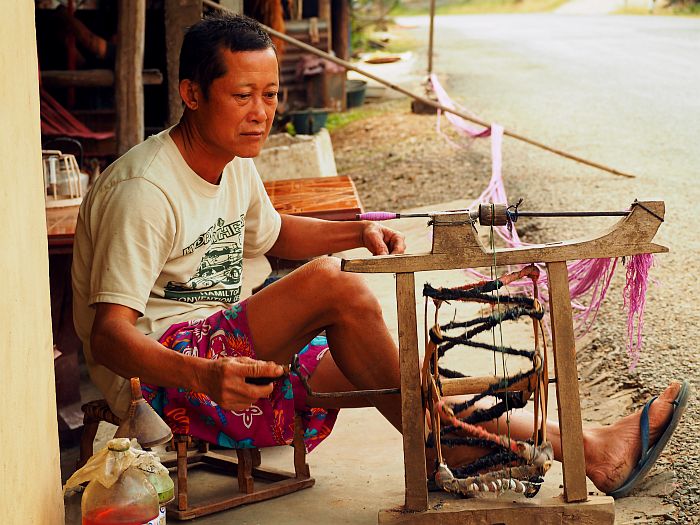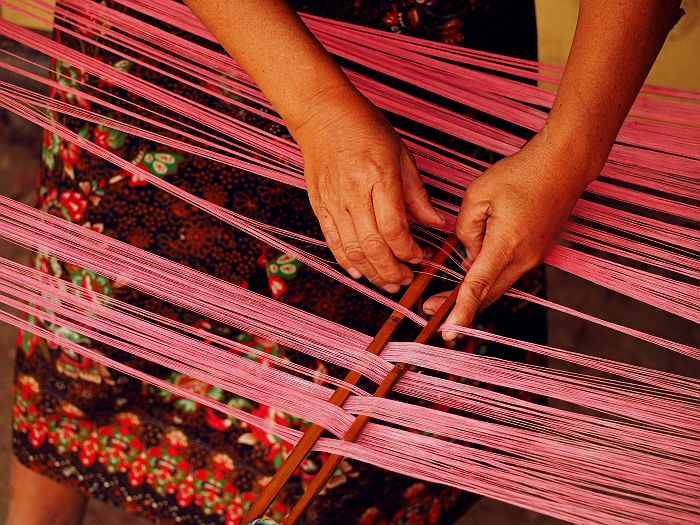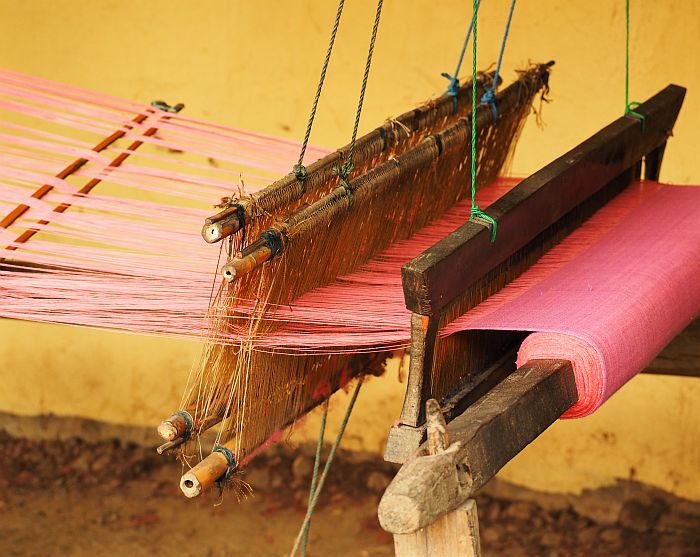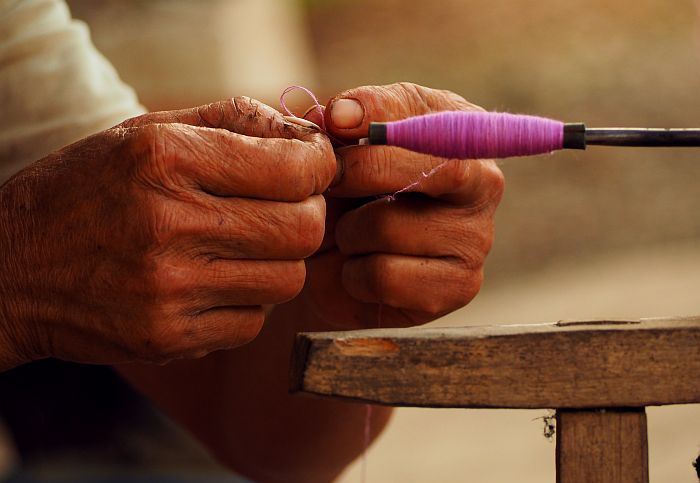 Vietnam was no longer far away. Shortly before the border, I reached the next milestone
– 25,000 kilometers.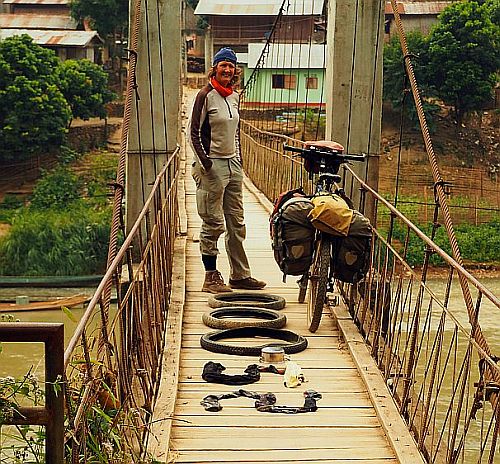 After climbing only a few more mountains, I rolled into the next country.