After Gansu, the traffic signs were in Chinese and English, which made my life as a cyclist somewhat easier.
The Gobi Desert seemed to be endless, but I was able to continue to motivate myself and was not really bored which could have easily happened in the desolate landscape.
In Facebook I learned that the plague had broken out in the area surrounding Jiuyugan. Supposedly, the highway was closed and cyclists were transported around it in busses. I hadn't really decided which direction I was going to take, but with this situation, the decision was made for me.
I could only go south.
Finally, I was able to leave the highway and continued along a smaller road.
What lay before me was a vast endless road – hot, desolate and windy.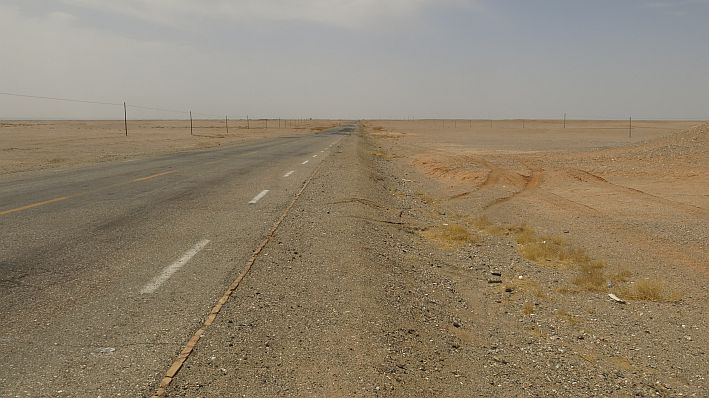 Somewhere in this barren dry Gobi wasteland, my bicycle computer displayed 20,000 kilometres. Wow!
I noticed that I was somehow much better off mentally than 5000 km ago, because I was carrying far less sentimental emotional baggage with me. This time it was only a number – a milestone. I was proud but no longer weighed down with 1000 different thoughts.
I felt really good and simply enjoyed life, my freedom and the joy of being underway in a fascinating land.
China was good for me. I felt happy and contented. I had only good experiences and didn't allow myself to be irritated by the incredibly difficult communication problems which I had to deal with
every new day. I took it with a grain of salt when people simply ignored me when I asked them something. Or when the police or hotel employees handled my passport like a crumpled piece of note paper, or when the noodles were served cold, or instead of tea with my food, I would find noodle water in my cup. I didn't care; I was relaxed.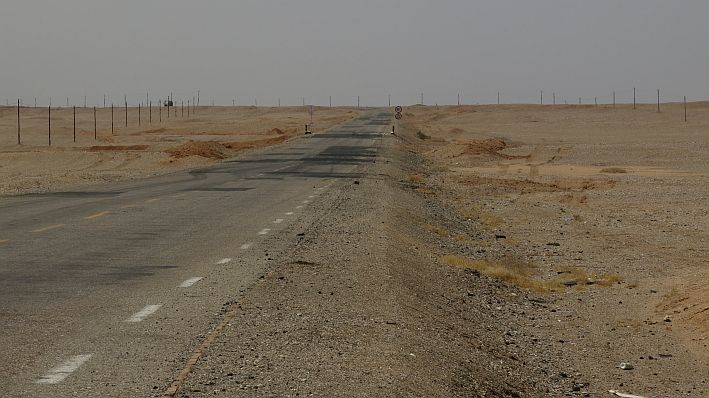 I had the impression that I had finally arrived on my journey. It had become my way of life. I enjoyed every new day. I neither felt lonely nor was I exhausted in the evenings from cycling, even though the total number of kilometres I was riding per day had significantly increased.
China didn't stress me out. I was no longer in the spotlight and that was simply very comfortable.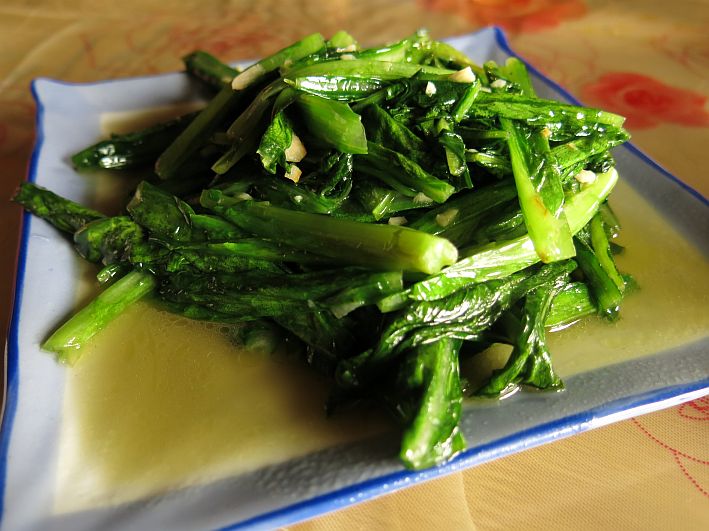 I especially enjoyed each visit to a new restaurant.
With my translation card, I ordered either rice or noodles with vegetables and always got something different every day. It was always a surprise, but never a disappointment.
It was exciting to watch how they made the noodles. In a jiffy, the Chinese cooks could magically transform a huge clump of dough into unbelievably different kinds of noodles just by swinging the dough back and forth or by tearing it into small pieces. Sometimes they were super thin and incredibly long. And the longer they were, the more the people slurped while eating them.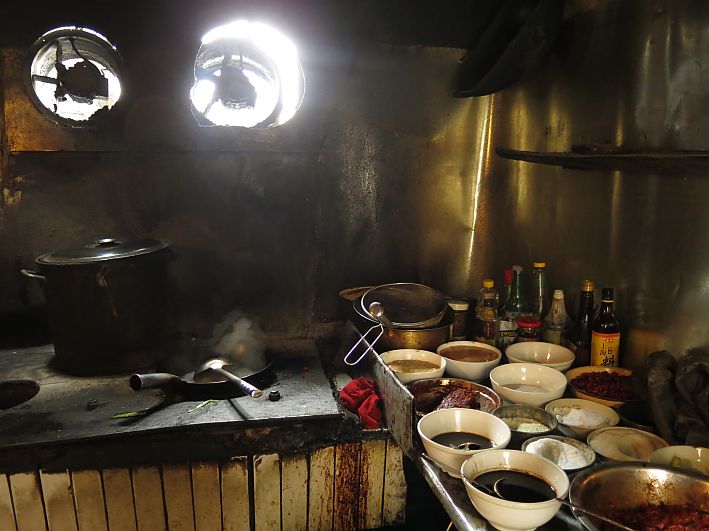 What I thought was funny were the talking calculators and especially the food
that was sealed in plastic. Chicken legs from plastic bags, grilled chicken wings
or even vegetables. Quite a lot of stuff you find in a supermarket is appalling.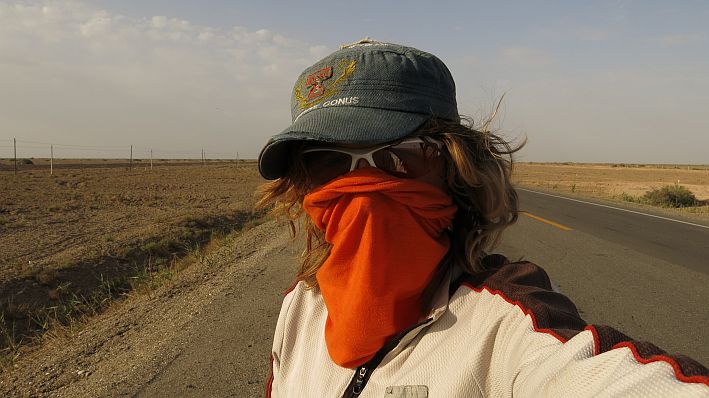 I finally arrived at Dunhuang, but unfortunately, it was on a Friday evening, because Dunhuang was the city I had chosen where I wanted to get an extension for my visa (or, that is, where I had to get an extension).
I took a forced 2-day break there, because I had to wait until Monday and was able to find a place to stay in a youth hostel.
Sleeping in a bedroom with 5 young Chinese teenagers was quite exciting, because a whole new world opened for me there like I had never lived myself.
They were real girls – with make-up boxes, beauty creams, giggling and screaming. 1000 pieces of clothing for a few days of vacation and nothing but chaos on every single bed. One night, as one of the girls got into bed with a face-mask and lay completely unrelaxed on her pillow, I thought to myself
"it must be really stressful to want to be beautiful."

A star – or supposedly he was a star – showed up at the youth hostel. Everyone there was completely beside himself.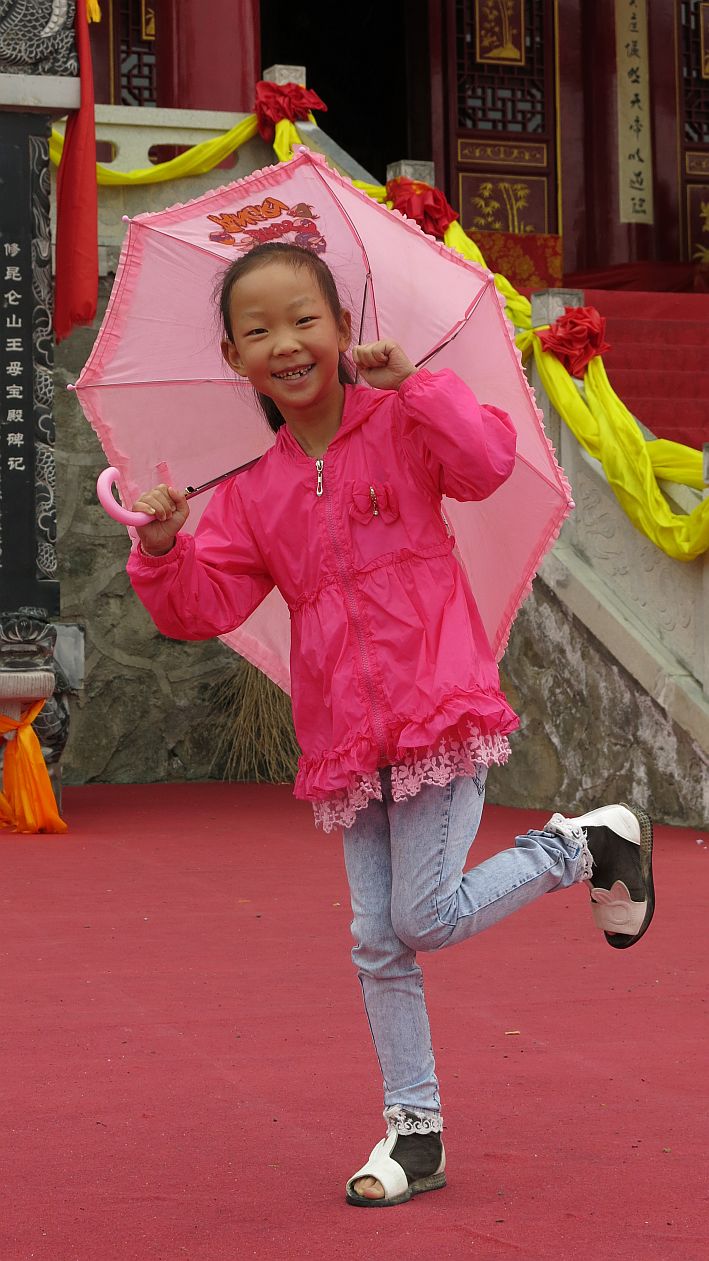 The girls went totally crazy; he signed his autograph non-stop and I asked myself why a star would find it necessary to spend a night in a youth hostel.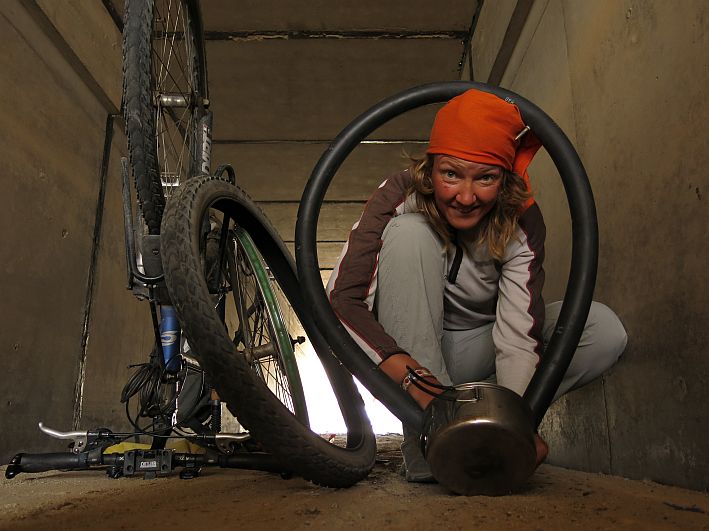 Monday morning, I stood punctually at the door to the PSB (Public Security Office) and asked about an extension for my visa. Luckily, there was a lady there who could speak a little bit of English. "Where would you like to go next?"
"Chengdu!" I answered. Unfortunately, that was a mistake. Then I should go there because she had no more visa stamps.
"No! That can't be true!" I thought to myself. After a while of haggling, somehow there was an agreement. But she would not begin the extension from the date the first visa expired, but from that day onward. There was nothing I could do. Not only that, but I would have to wait until late afternoon the next day.
After I had then lost time on my current visa, I could still use the time left on the old visa and allowed myself another day of rest and returned the following day to get the visa renewed. She sent me to a photographer because my pass photos were not what they required and so I returned a short time later with the form filled out and an "official" portrait photograph. The police lady wanted to begin
to put the data into the computer when I realized that something was wrong.
There was a long discussion back and forth and I thought to myself, "please just give me the extension."
"The computer system is turned off. We can't issue you a visa."
"When can I return?" I asked. "We don't know" she answered. I should go to Jiuyugan and have it issued there. During our discussion, I learned that in the entire Gansu Province the system had been newly installed – and Jiuyugan was also in Gansu. "Could you call there for me please and ask if it is possible?"
"Mei you" (freely translated: can't do that – not possible – no – don't feel like it).
"Could you please call the office in Hami and asked if I can get a visa extension in such a short time?" "Mei you"
I only had 4 more days until my visa expired. Normally, you have to appear at the police station 7 days in advance and so I asked if they could please give me a statement in writing that there was a problem with the system so I could give a reason why I requested a visa extension late in another PSB office.
"Mei you" All further questions I asked got me nowhere. The situation reversed. One of the officials became sour that I was asking so many questions.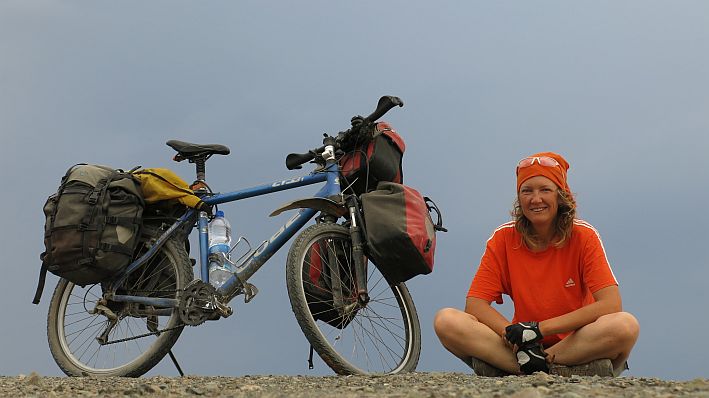 I had to find a solution. The nearest PSB offices in the area were at least 400 km away.
I went back to the youth hostel and coincidentally met a Chinese person
who had studied 5 years in Canada and offered me his help. It was interesting to see
how insecure the Canadian Chinese appeared when he spoke with the PSB police.
The policeman was even less friendly with him than he was with me.
It was no help at all and I got no further.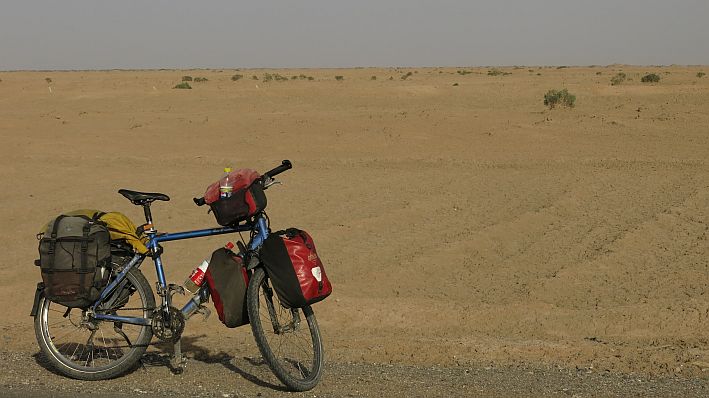 The Canadian Chinese explained my situation on a piece of paper for me.
He said, however, that he hadn't written anything in Chinese in 5 years so
it would look like a 10-year-old had formulated it. He had forgotten many
of the writing characters and couldn't do it any better. No matter, I took the paper,
left my things in the youth hostel and took a bus to Hami. 400 km backwards,
back into the Xinjiang Province, actually a critical region where it is questionable
that I could get an extension, but in the "caravanistan" forum I had read that
recently someone had gotten an extension easily.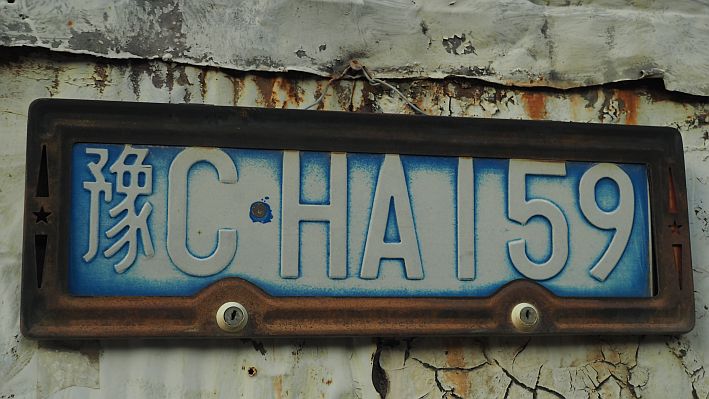 6 hours later, after I had been entertained by Kung Fu & Co in the bus, I arrived in Hami.
I had to perform my "favourite" pastime of finding a hotel, just because
I would have to have a hotel certificate for the visa extension. The discussions began
again which again lasted forever while I stood by – like being ordered and not picked up –
because I was not involved at all in the conversation. Again, it was a drama
and again the police became involved and, to my misfortune, we stood in exactly
the same police office where I was to get the visa extension the next day.
Since I had asked for a cheap hotel and the policeman had already sniffed through
my passport, the question came as to whether I had enough money.
"Yes, yes" I said, because I didn't want at all to take the risk that my extension
would be refused and I showed him my ATM card.
Eventually, I was accompanied by 3 men who all made sure I found a room.
In possession of a room card, the same 3 men stood together with me in the hotel room
looking at where I would spend the night. "So please, now you can all go."
And I pushed them decently but confidently out of the room. Whew!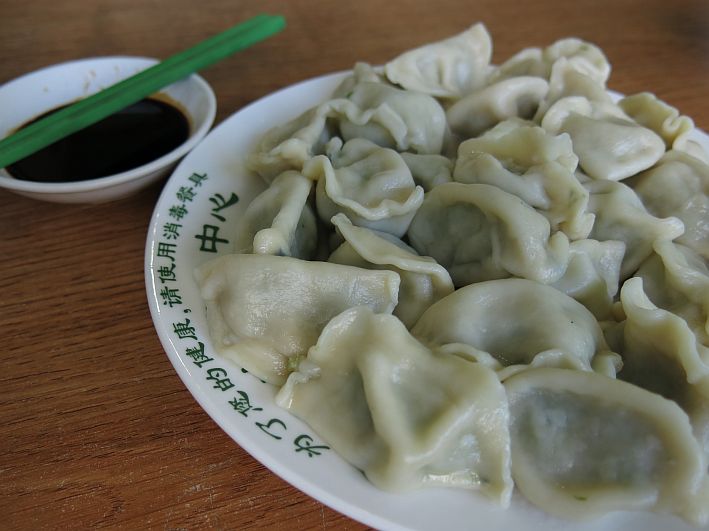 Punctually at 9 a.m. I was at the PSB. The morning gymnastics were taking place
and around 50 policemen and women were standing in front of the police station
and were moving to the shouts of the boss. I showed one of them my "Canadian Chinese"
excuse paper and, to my amazement, the female official went straight to work.
Pass photo, hotel certificate and 160 Yuan – she didn't ask for anything more.
Less than 10 minutes later, she told me to return in 2 hours. Wow! How efficient.
She even asked me if I was underway with a bicycle and was happy when I said "yes."
Unfortunately, the visa was to begin from the date of issue.
"Oh well – at least it's an extension" I thought.
2 hours later I had my passport again and I asked if it might be possible
to get another extension later. She felt like it would be no problem.
Since last September only one extension was possible, but it appeared
that the conditions had changed again and I might have luck and not have
to travel to Hong Kong in 30 days to get a new visa.
Unfortunately, there was no return bus and hitchhiking was not easy.
Nobody picked me up and, besides, it was mega-difficult to make the people
understand what I wanted. The only man who finally stopped and picked me up,
drove me back to the bus depot to make it clear to me that I should take the bus. Great!
I have been in many countries where I could not speak the language,
but there is nowhere where communication was as difficult as here.
A travel book was now really helpful where I could at least find the most
important things so I would not constantly have to ask about everything.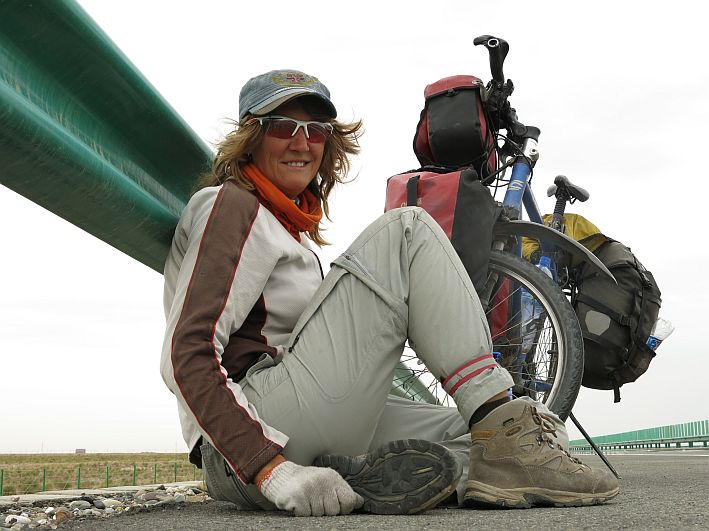 There, I met Daniel, a German cyclist with whom I had had contact
over the past months by e-mail. He recognized me immediately.
We talked and talked, or let's say, I talked and it was exciting to hear how
extremely differently Daniel had experienced everything. Also, his "thought world"
is totally different. As a man, of course, he had completely different experiences
in the Islamic nations than I and, sometimes, we thought we were talking about
entirely different countries. He is significantly faster and had already travelled
14,000 kilometres in 6 months. In China, he had ridden more than 200 km per day
and expects to be through China in 6 weeks arriving at the Pacific ocean – a speed
that is not for me and which I couldn't possible keep up with in my condition.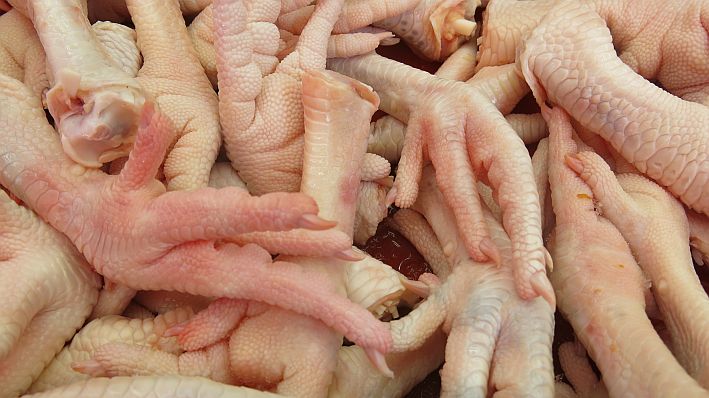 It was really nice to be able to speak again, especially since he was the first German cyclist
I had met since Oman and the third in total.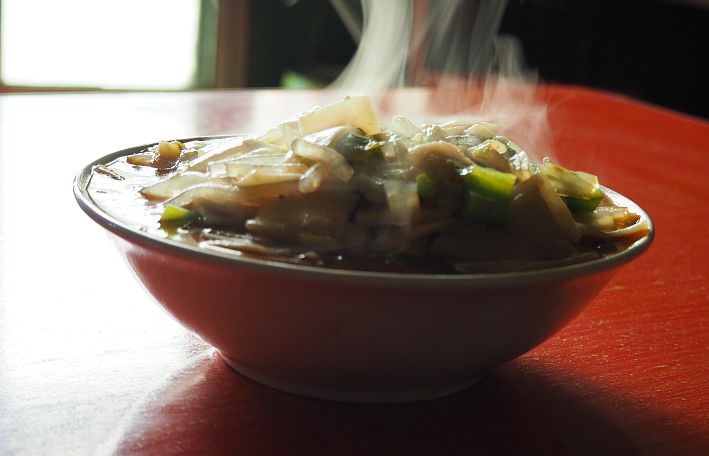 What really made me think was that, in the meantime, I had the feeling that I had lost contact
with society. Even though Daniel was doing the same thing, and had the same focus
about cycle touring as I, we were as different as day and night.
We cyclists are pure individualists and the only thing that connects us is the way we travel.
And even though we are doing the same thing, we are limited in what we have to tell each other.
Am I distancing myself more and more from everything? After a few more years,
what's it going to be like when I return home? Who will I have to talk with?
We have nothing in common anymore. I was always different from others and,
previously, you could always find me somewhere on the edge of the crowd, but now,
after being away so long with intense experiences, that will become even more drastic.
I have a few boxes in my mom's cellar and nothing else. All the others have a family,
homes, nice cars and a nice income. And me – I'm a vagabond. I like it and it doesn't matter
to me, but I'm one of the few who thinks like that and that makes me an outsider – an oddball.
Even at home I'm the strange one, not just travelling, when the people who live there ask me:
"Are you alone? Why are you doing that?"
Even when I was young, I never wanted to live a homey life. And today,
I know I could never do it. But where do I belong in the long run?
It is a question that will surely go through my head again and again all the way
to the end of my trip and one for which I will probably never find an answer.
Swimming against the stream was always more difficult than flowing
with the masses. But, that's the way I am and that's OK. But that doesn't make
it easy to cope in some situations.
Back in Dunhuang I could finally continue on.
Somehow I had imagined that the landscape would become even more interesting
from now on, but I was terribly wrong. I even had to continue on a highway,
but admittedly, with the wide side strip it was quite comfortable to ride.
There wasn't much traffic but the landscape, the wind and the heat made up for that.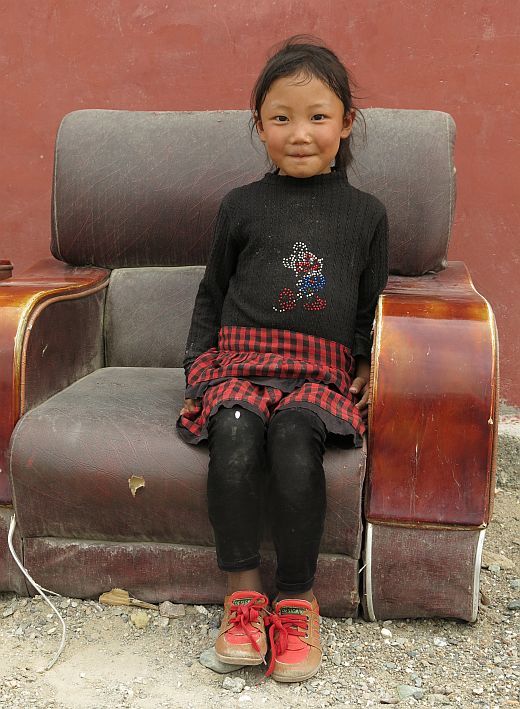 The only thing that was left for me to do was to get some kilometres behind me.
Pedalling, pedalling, pedalling. So every day I was cycling some 150 km to finally
escape this endless sand desert. The distance between the villages became longer
and longer and, sometimes, the inclines on the road up and down the mountains
were steep; that accounted for some variation, but you couldn't speak about an interesting
landscape at all. There were windmills, huge solar panel fields,
and endless electricity poles that accompanied me every day anew.
As always, the highway was completely fenced in, so I was forced to sleep under
the highway in the water removal canals.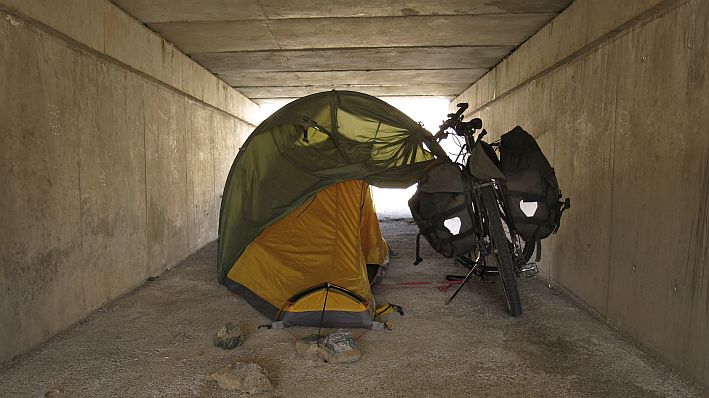 I missed the forest. For months I had been underway in treeless areas.
I had seen enough grasslands and desert. Somehow, I had grown tired of the landscapes.
One evening, I looked for a place to pitch my tent in a small village.
An old man came to me and we attempted to communicate. He kept looking
at my bicycle, tried to lift it, asked me how many kilometres I had travelled
and then shook his head continuously. Eventually, he took a stone and sketched
the sign for man and woman into the street (I recognized it from the toilets)
and pointed to me and the signs. He couldn't believe that I was journeying
alone as a woman and had been riding such a heavy bicycle up the mountains.
It is often that the people begin to sketch writing characters when they realize that
I don't understand them. Or they hold the menu under my nose when I attempt to explain
what I would like to eat. Many begin to talk to me non-stop and just cannot
understand that I cannot understand Chinese.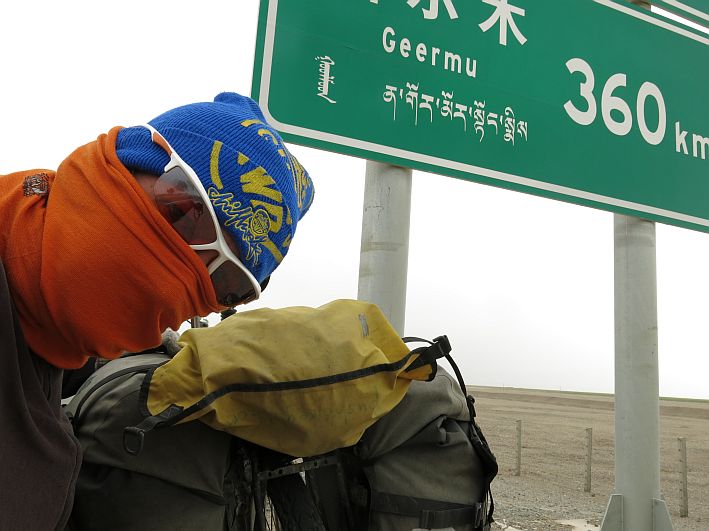 I had a month to learn how to say the word "De Gua" (Germany),
but most just look at me – irritated when I say it. I seem to think it is because
of my pronunciation rather than because the people have never heard of the country.
The more educated understand my pronunciation. Some even know then
that we became the world champions in soccer.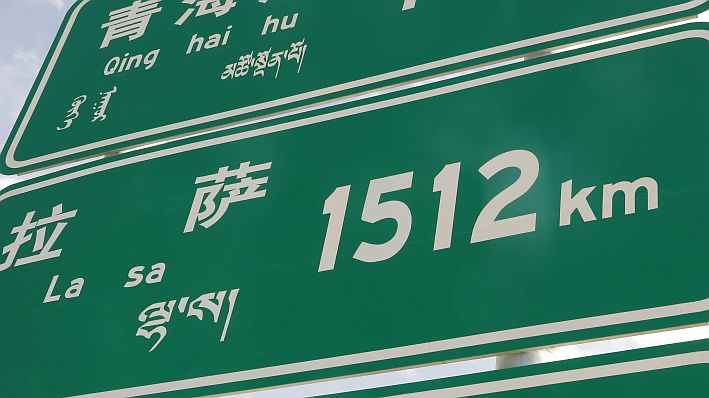 There are also many uneducated people in China and they usually end up either
ignoring me or by beginning to laugh. Sometimes it is frustrating when no one
understands what I would like to have.
I arrived at the next province – Qinghai. There, the signs were sometimes
in 4 languages – English, Chinese, Sanskrit and Mongolian.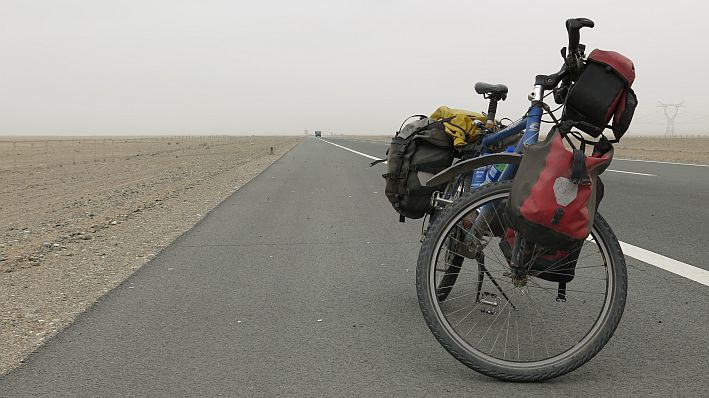 Sprinting to the next pass at approximately 3500 meters I noticed a tickle in my throat.
I coughed my heart out and had real difficulty breathing. I tried to calm down,
breathed shallowly in and out and tried to convince myself that I was ok.
I really couldn't expect any help at all. The attack lasted for at least an hour.
Then, my throat became better and I could put up my tent and sleep without fear.
The further south I went, the worse the landscape became;
I passed several factories and the traffic became significantly heavier.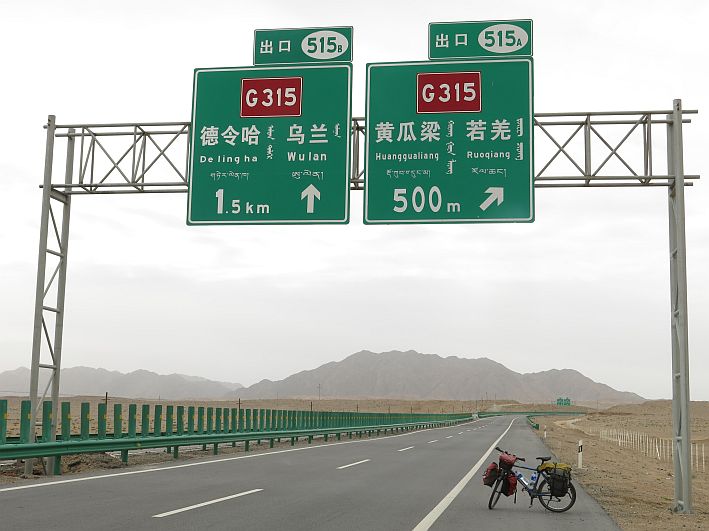 I had time – a lot of time – to think about what had happened so far. I remembered
the situation in the Xinjiang Province where I asked for a place to pitch my tent
next to a mosque. Completely surrounded by Muslim men, a fully hysterically acting
Han Chinese woman came running to me and asked me if I knew what was happening
in Xinjiang Province. "Yes" I said "but the attacks were not intended for me as a foreigner."
She explained "these people are evil and that I should not, in any case,
spend the night near them." At that I said "I was underway in Muslim countries
for several months. Muslims are particularly hospitable people. Nothing will happen
to me." The lady couldn't believe it and watched me with a horrified look on her face
as I followed a man on a motorbike.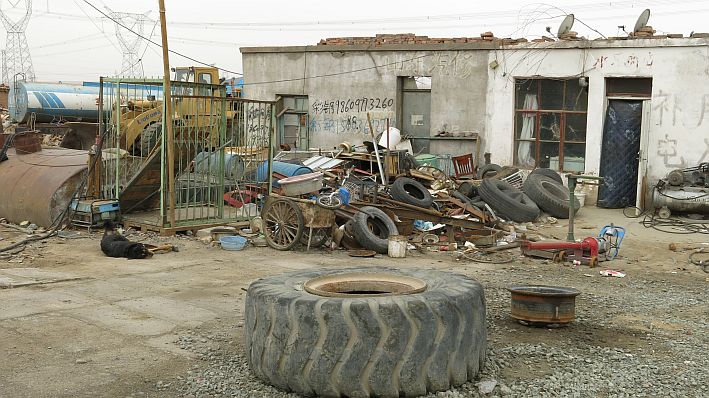 Shortly later, I spoke with an Uighur, who spoke very good English and who explained
that Uighurs were only fighting for equal rights and nothing else. They find it wrong
for people to be handled as second-class citizens in China. Even for them it is difficult
to get a hotel room – actually, nearly impossible – even though they have a
Chinese passport. The hotel personnel would simply tell them the hotel is booked solid.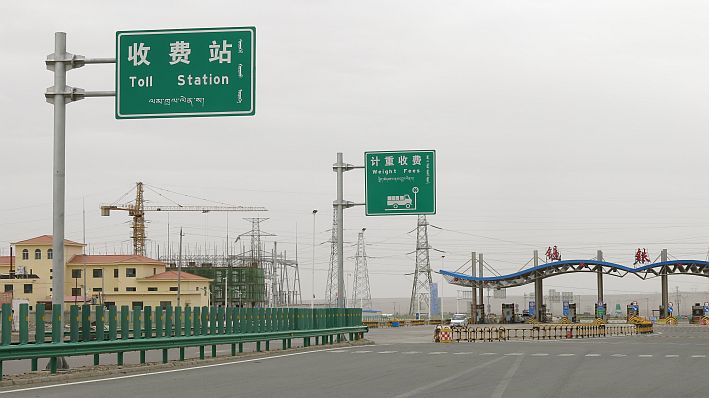 Eventually, I finally arrived in Golmud, but I will tell you more about that later.