For once, it was sunny and warm as I left Yushu and in the open space outside the town,
there was a huge Mani stone wall, where believers were placing their painted, labeled
"Om mani padme hum" stones. May glory be to you, you jewel in the lotus blossom.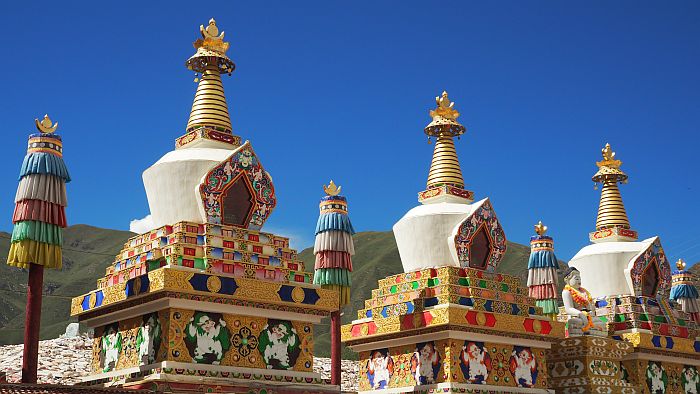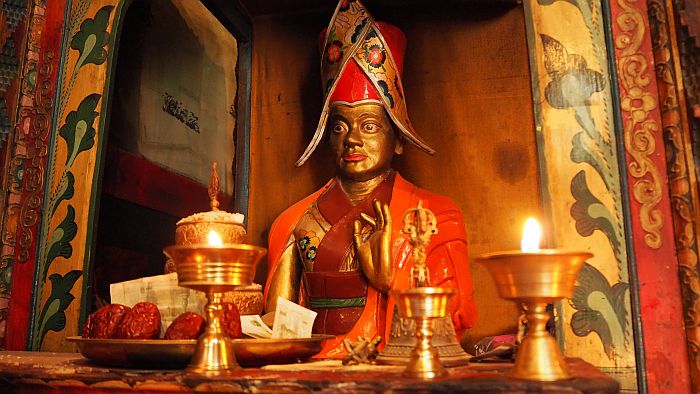 Many Tibetans were running clockwise around the temple and turning their prayer wheels
in front of them while muttering "Om mani padme hum" over and over again, while, in one hand,
they held a pearl necklace and slipped one pearl at a time through their fingers. With each bead,
they would recite the prayer dictum. Some of the elderly people were sitting in old,
tattered chairs, right next to a large heavy prayer wheel, turning it clockwise
over and over again for hours.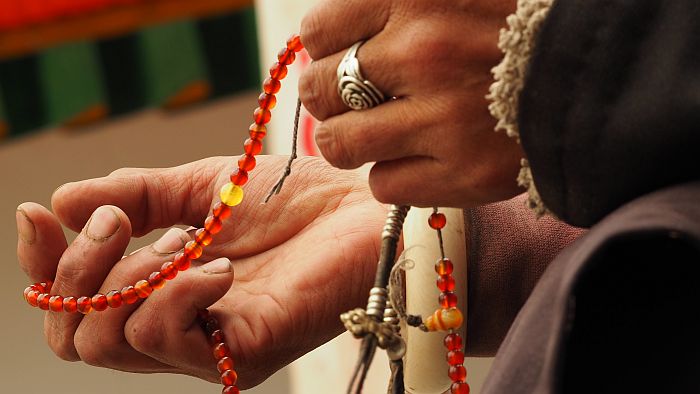 The atmosphere was breathtaking. Inside the compound, butter candles were burning;
Dalai Lama hung on every wall; and an uncountable number of prayer flags were waving
in the wind. Despite the crowds, everything was taking place calmly
– there was no loud talk – it was a harmonious gathering and, above all, they would
say a friendly "Tashi Delek" (Hello) to me. I felt very welcome, as always when you are
surrounded by Tibetans.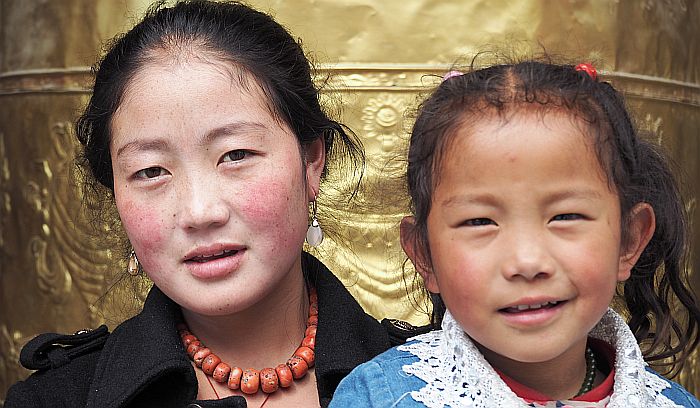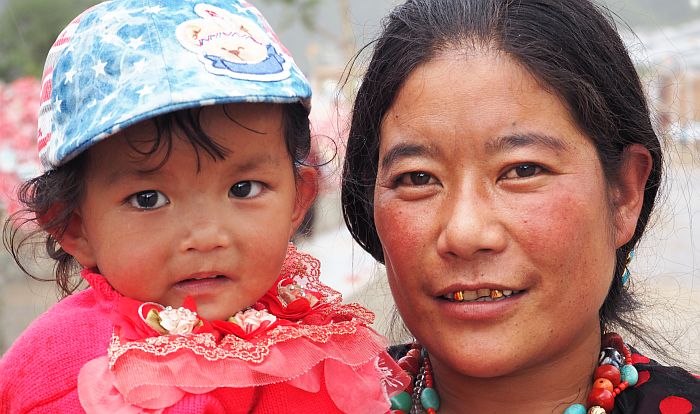 The first day I made it to Xiewu, a small town in the direction of Xining. From there, the street
branched off to the east, toward the Sichuan province.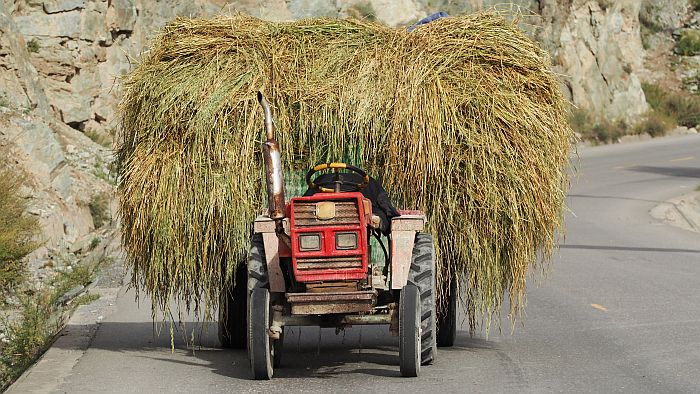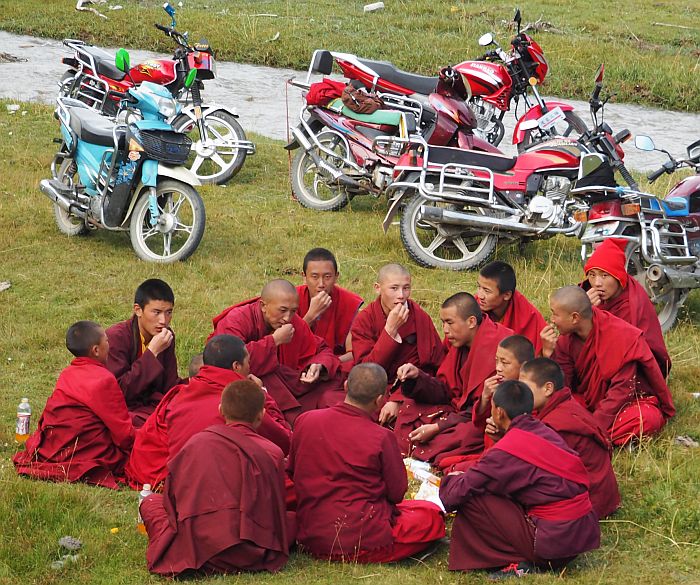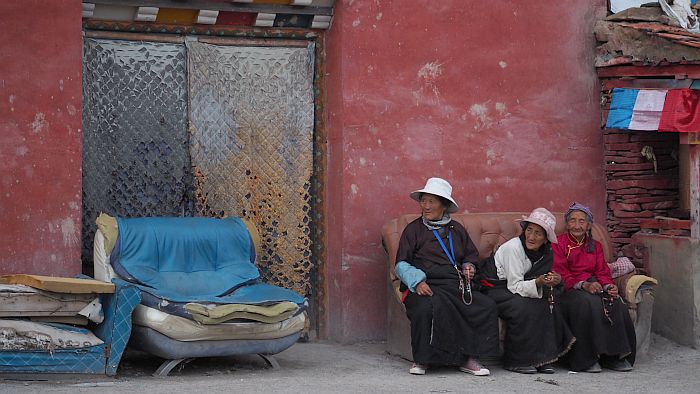 It was enjoyable to ride a few more kilometers, but then the climb to the next pass suddenly
came upon me. Luckily, the road was paved all the way to the top, but regardless
of the smooth road, I was glad when I finally arrived at the top of the pass at 4700 meters.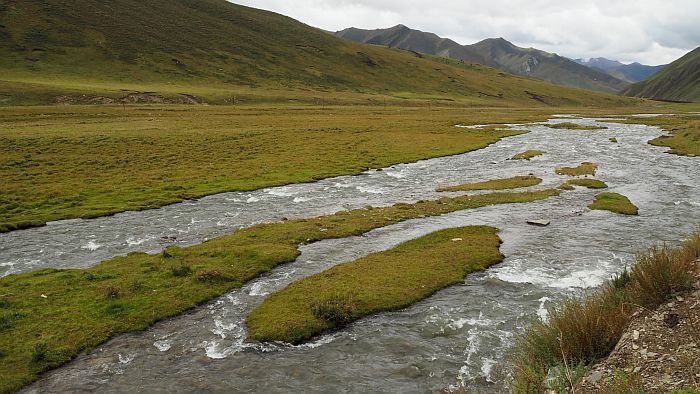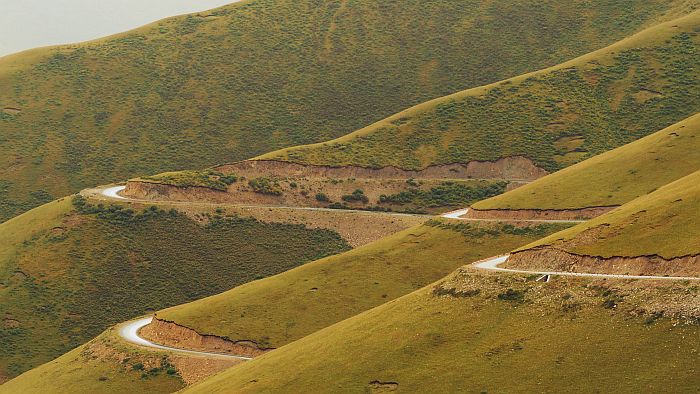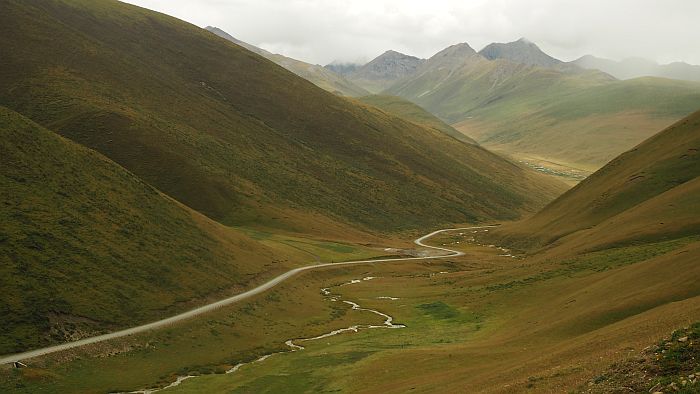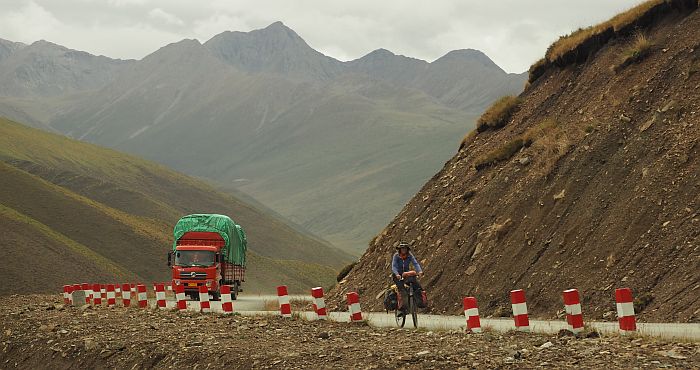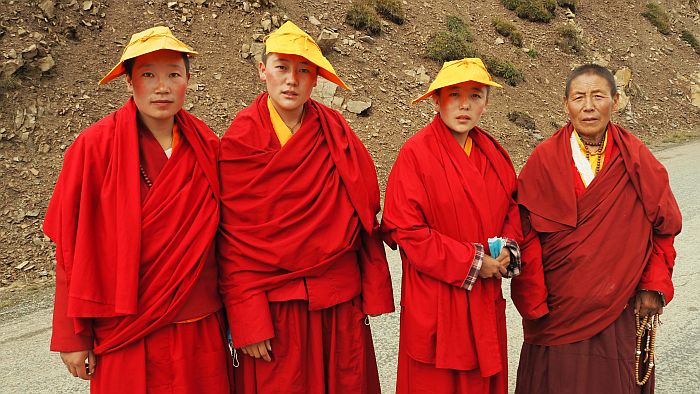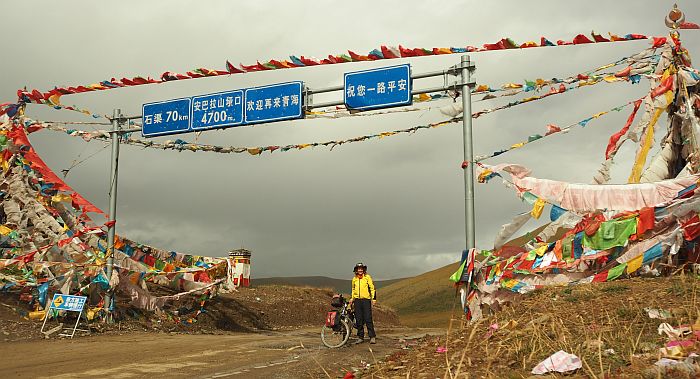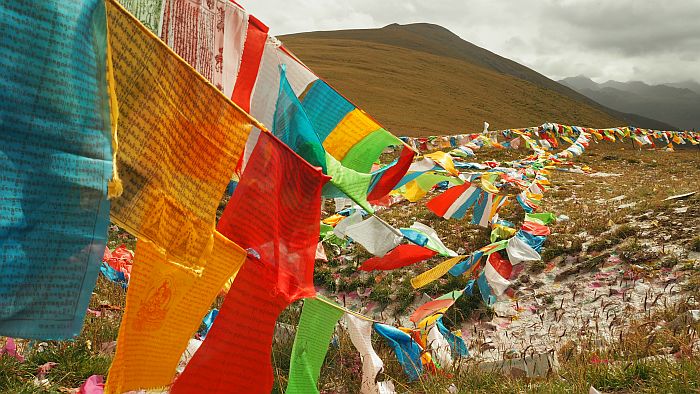 As always, the summit was totally adorned with prayer flags; the wind was raging and I
decided to continue on, because it had started to rain. From then on, the road ahead
consisted only of mud, and a short time later, the dripping rain stopped and it began
to rain cats and dogs. The road was a disaster – the scenery, as always, only desolate
grasslands. I already had 750 kilometers of this exact same landscape and weather
behind me. I had no desire to continue, but this was the only road to take.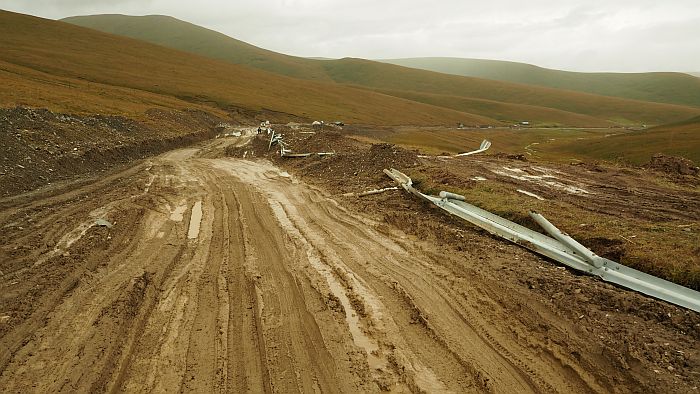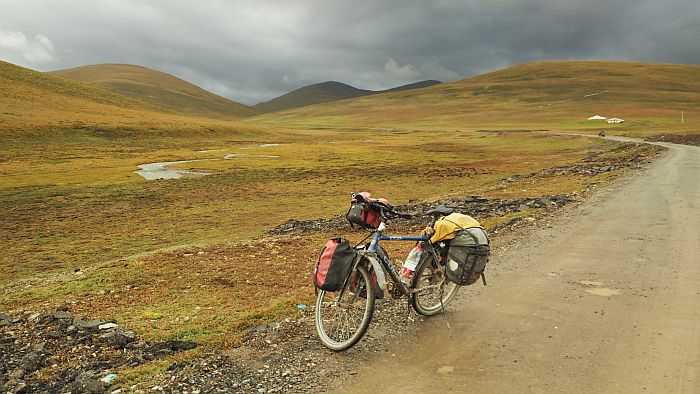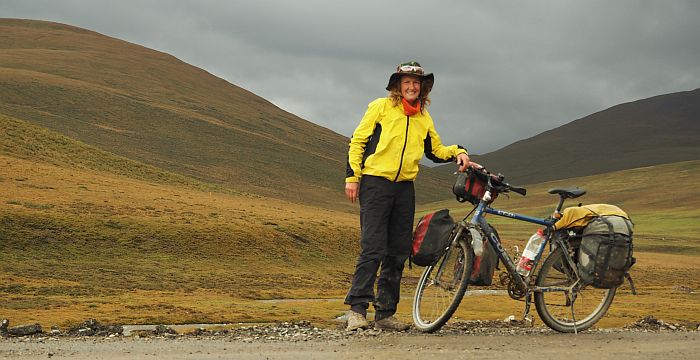 Eventually, I stopped at a village and discovered a winter garden, which many people had
grown in this region besides their homes, and I was hoping to be allowed to pitch my tent
in it. The mother with her three children took me in gladly and I was happy to have a dry
place to sleep for the night.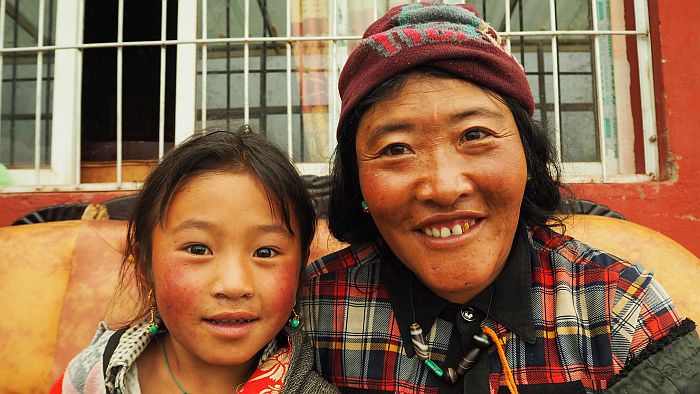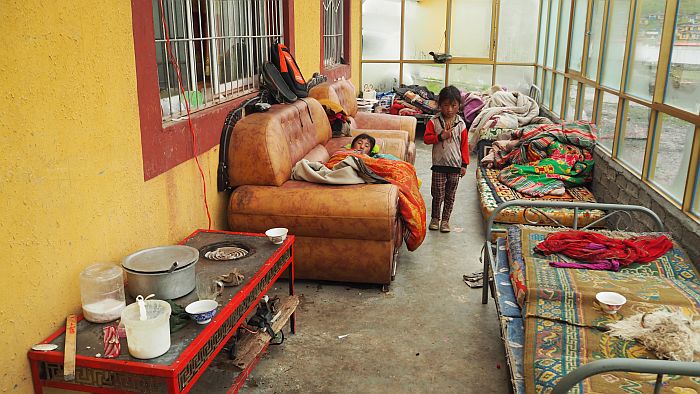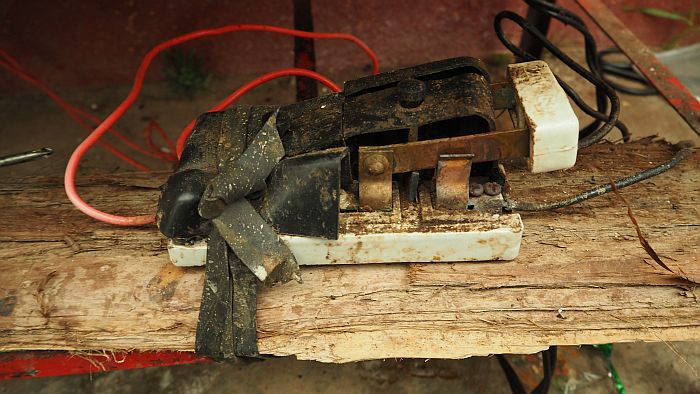 The house wasn't exactly the cleanest I had seen. When the children blew their noses,
they simply threw their tissues onto the floor. Everything was just lying around throughout
the house – dirty and stinking. For dinner we had only rice and rancid yak butter,
from which I refrained. The stove was life-threateningly dangerous and, now and then,
sparks would fly out of the transformer.
The little daughter, already seven years old, would suckle again and again on one
of her mother's breasts.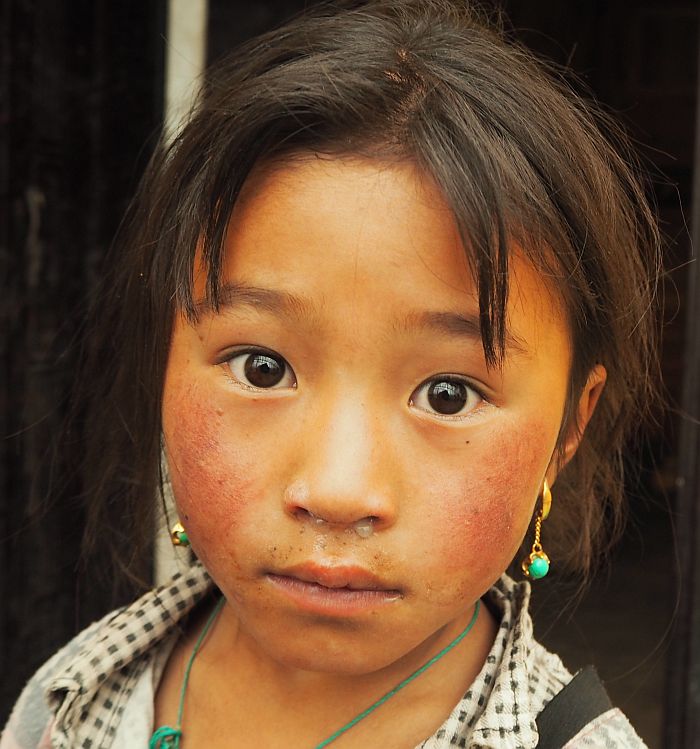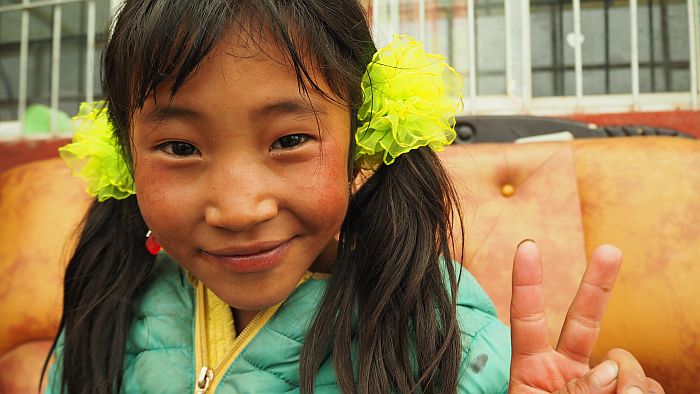 There was no school there, so the children were bored all day long. The mother owned a
few yaks, which they milked in the evening. Then they would come back into the cold room
wearing their soaking wet clothes and didn't change them into dry clothing. The kids wore
wet socks and walked around all day long on the cold stone floor.
It's no wonder they all had snotty noses.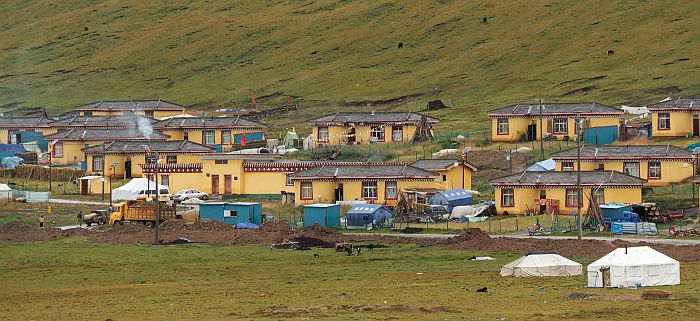 A nun came to visit, who would look into her prayer book now and then. Their clothes
are quite comical, because they understand the onion principle perfectly. They dressed
in umpteen layers of clothes, one layer on top of the next, and often tightened them together
with a strap. The right shoulder usually remained free, because the sleeves of their coats
were usually left hanging down along their backs.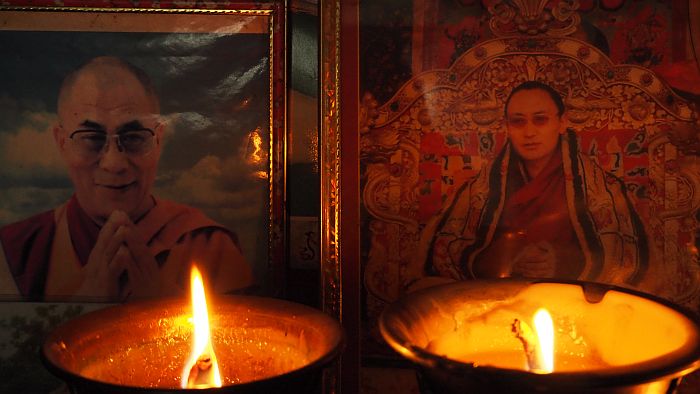 A cyclist came along and I immediately ran down to the street, screaming as loudly as I could,
but the guy didn't hear me. "That can't be true," I thought to myself, "the first Western cyclist in this desolate area and he doesn't even hear me." A fence blocked my way to the street, so I screamed repeatedly, but he didn't turn around – eventually he disappeared in the mud.
I slept in the storeroom where a smorgasbord of chaos was scattered all over the place.
For breakfast we ate Tsampa – Tibetan food par excellence. Barley flour with yak butter,
bone-hard yak cheese chunks, yak tea and if you were lucky, it was made potable with
some sugar. In a small bowl, the dough was kneaded into a lump and, when it was soft
and well kneaded, it was dipped in Yak tea and eaten.
I'll say quite frankly "that stuff is disgusting." The rancid yak butter is disgusting,
and the pungent taste sticks to your tongue hours later. I thus waived the breakfast,
because I had been familiar with this culinary delight for several weeks now.
The little girl was crazy about me and she placed the business card I left behind
as a thank-you gift right next to the picture of the Dalai Lama. I was glad,
because it would have been impossible to receive a higher honor than that.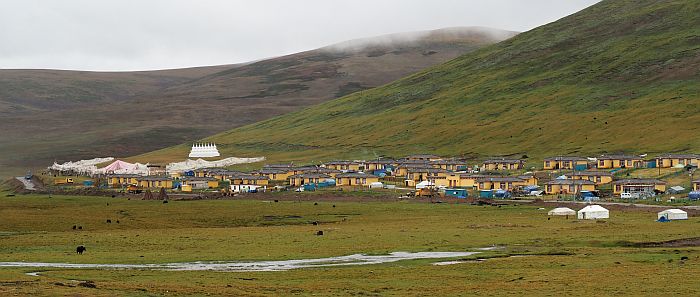 It began raining again and I continued on in the mud, but luckily I was not far from
Serxu where a huge monastery with 1200 monks awaited me.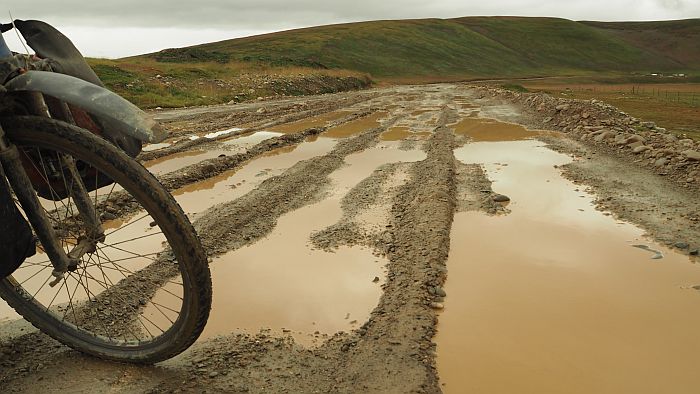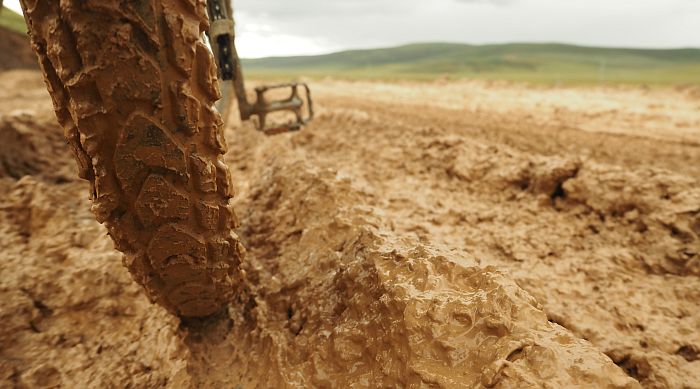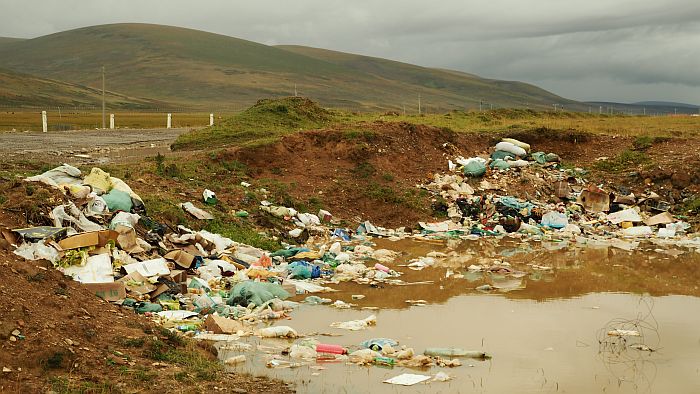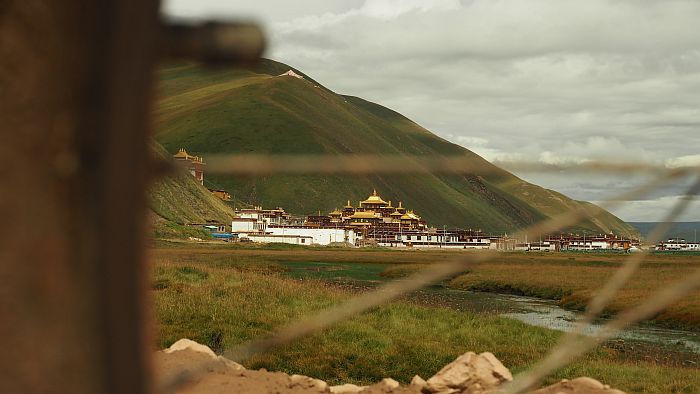 When I saw the golden-domed roofs, I was absolutely excited.
I was able to stay in a small hotel room. Here, out in the wilderness, nobody was interested
whether I was a foreigner or not, and so I could sleep there inexpensively.
Of course, there was no electricity, no shower and the toilet was, as always,
outside in the backyard. But, I did receive a thermos with hot water and a bowl,
so I could wash myself.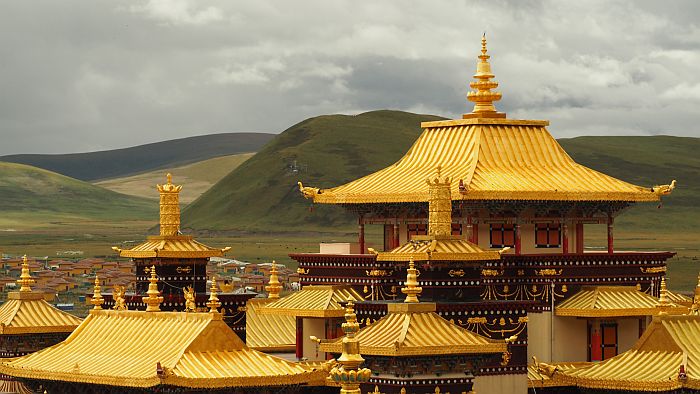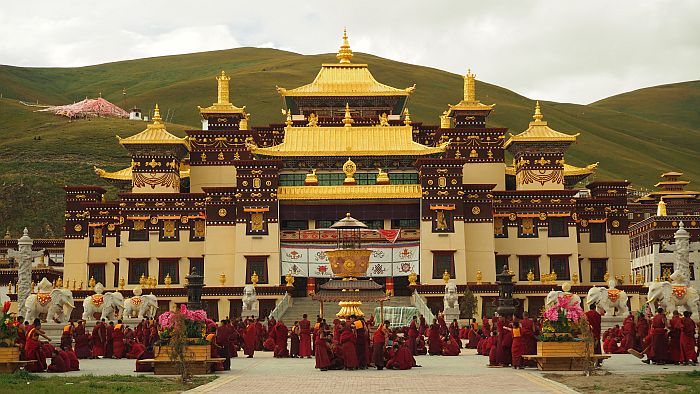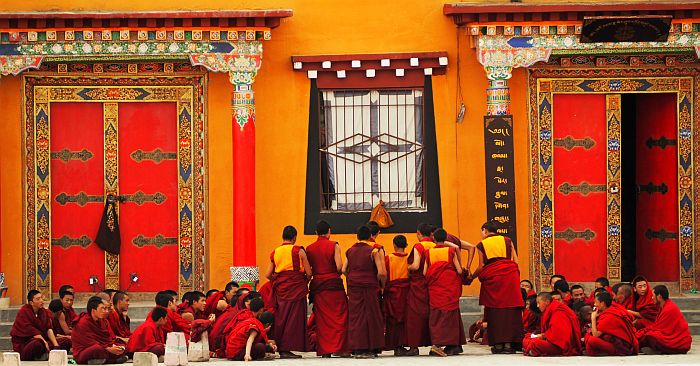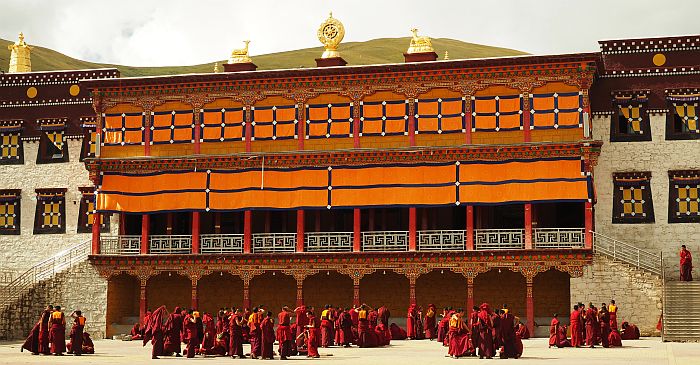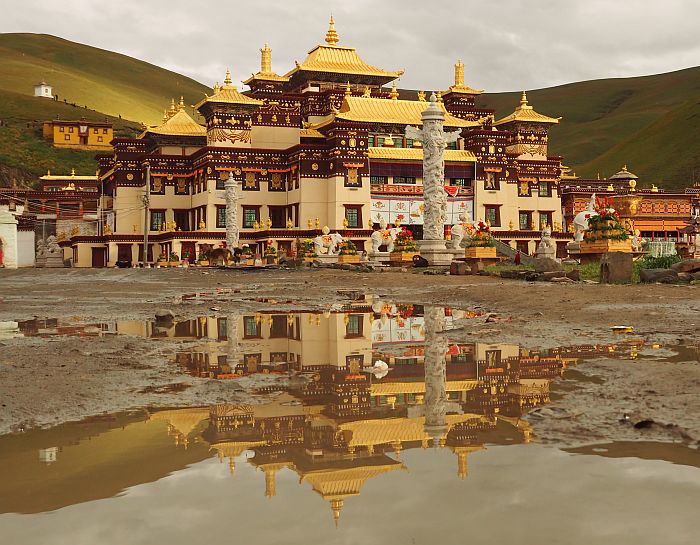 The monastery was surrounded by a circular path, and the believers would, as always,
run clockwise and stop at each Chorten, temple or Mani wall and say their prayers.
Most of them were old people or children.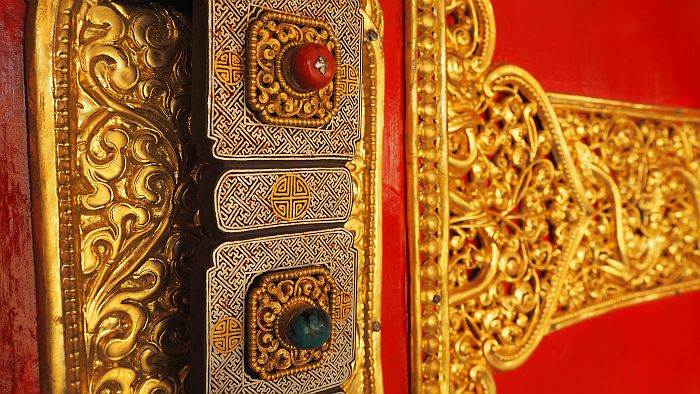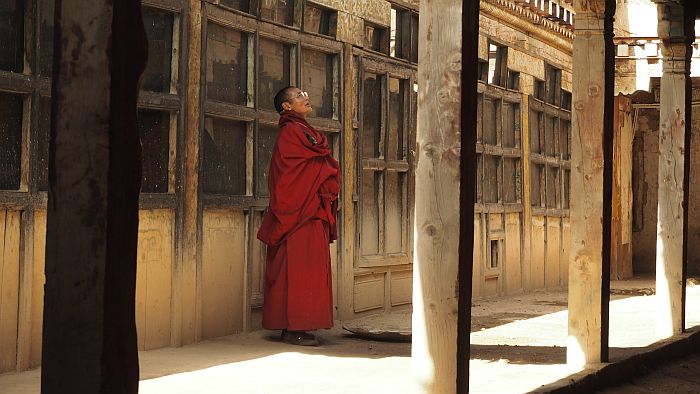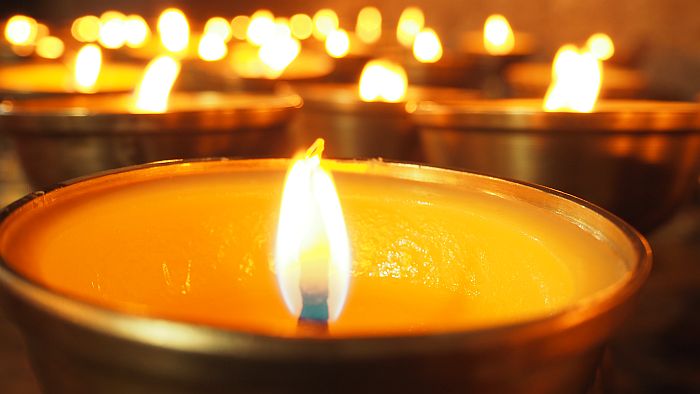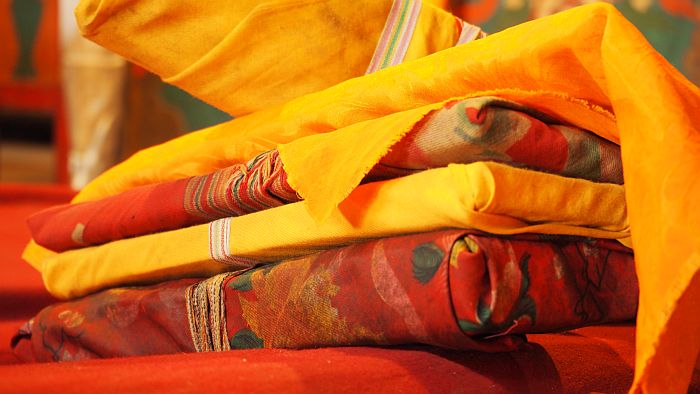 I went from one temple or prayer room to the next watching the people and listened to the
monks murmuring their prayers. The children were corrected properly with whistling sounds,
although this happened in a quiet and factual sort of way when they began to play with their
toys again or made faces. It was no surprise, because the young children were beyond
boredom having to spend hours sitting cross-legged and muttering prayers.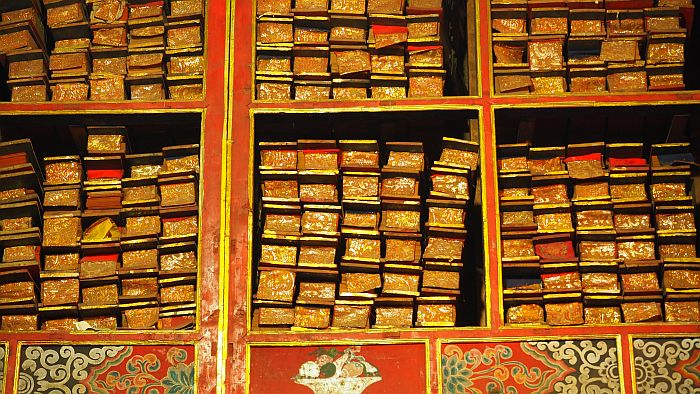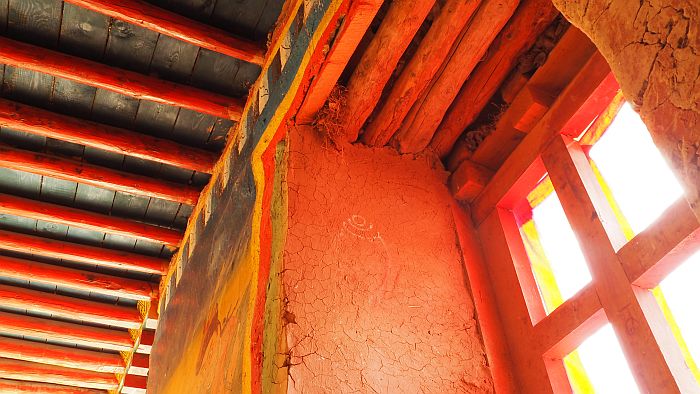 As I walked around between the small alleyways, something absolutely terrible happened.
Everything happened so quickly, I didn't know what to do. Five snarling dogs came from
all sides running in my direction and I had no time to pick up rocks from the ground to
throw at them.
They were right at my legs and barking madly at me. I didn't want to kick
them for fear that they might snap at my foot. I didn't want to pick up stones, because I
was afraid they might bite my hand. I panicked! I was really frightened and the critters
knew that. There is probably nothing worse than to be mangled by dogs in such a
desolate area. I screamed again and again out of sheer desperation, yelling "help, help".
Eventually, I was wondering why these monsters didn't bite me when a monk finally
rescued me and began to throw stones at them.
I could have cried from sheer relief, out of sheer hatred for these mutts, and out of sheer
desperation what I would have done in this situation if they had bitten me. I was truly lucky
and with trembling legs I ran away from them.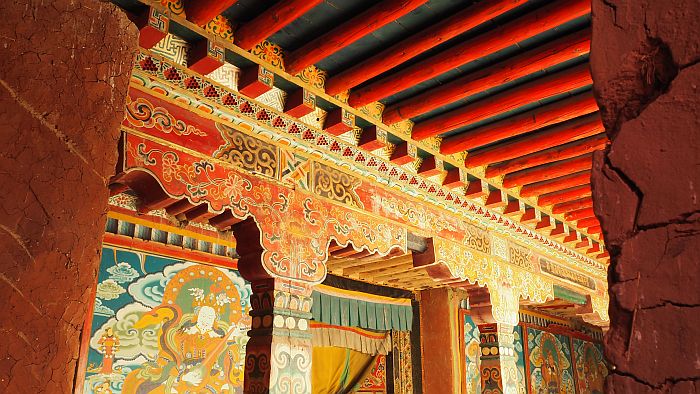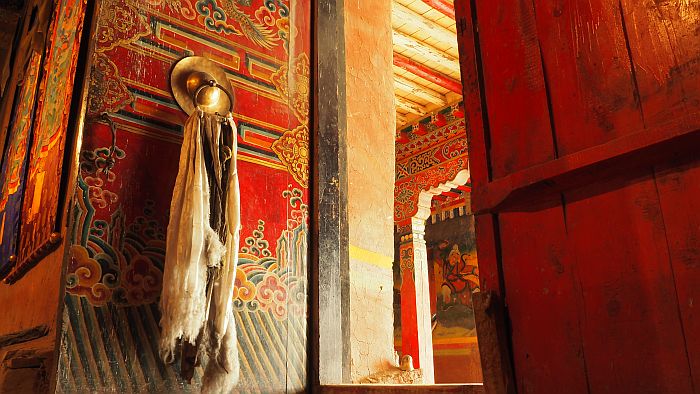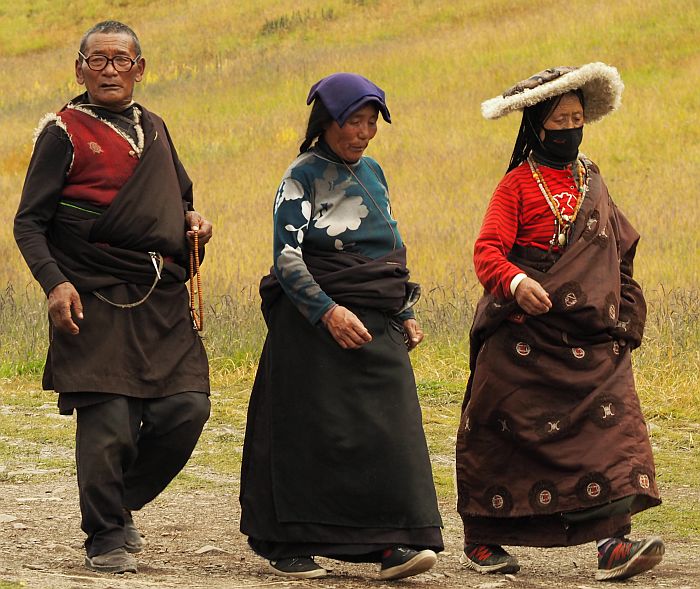 One thing I will never understand is why such super warm people would allow those mutts
to hang around everywhere. There are dogs without end here. At night, they are like werewolves and nobody dares to go onto the streets anymore – not even the people who live here.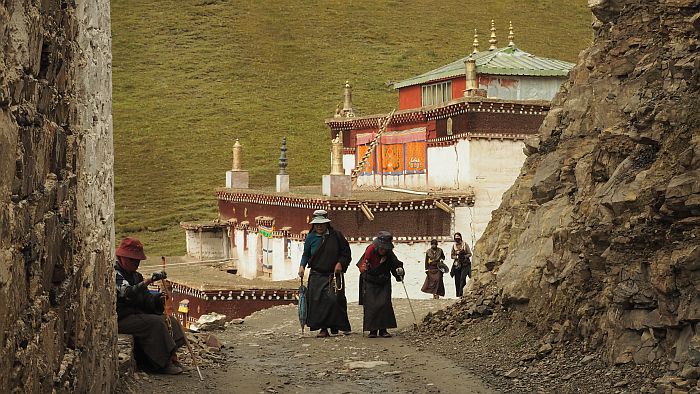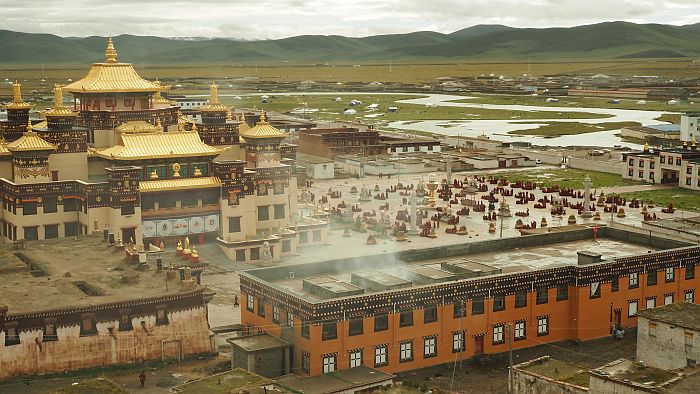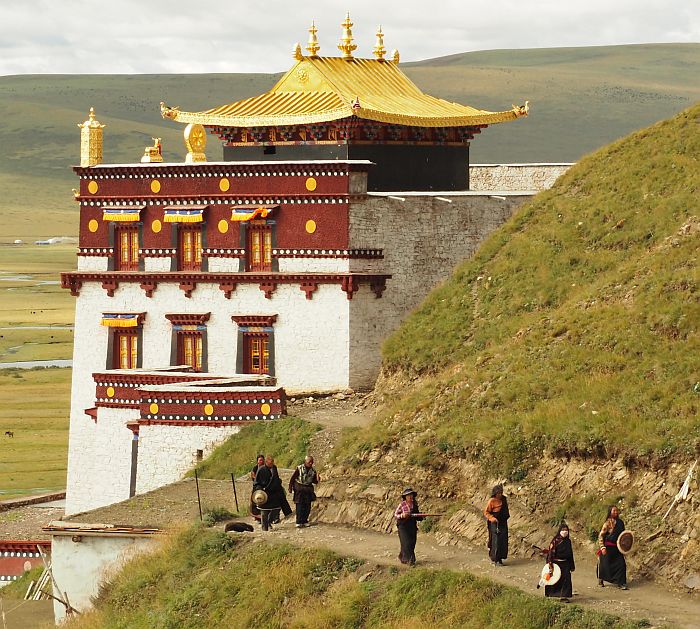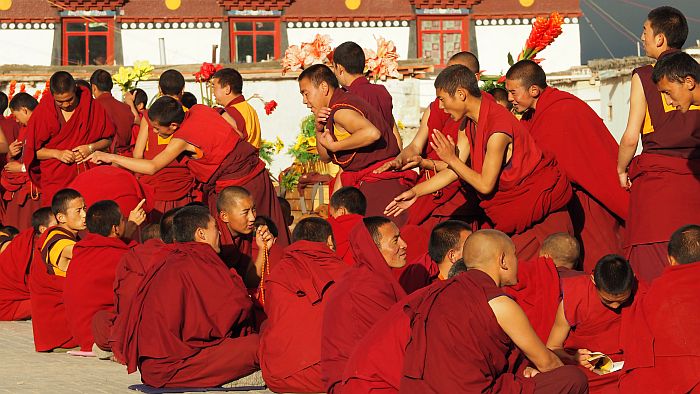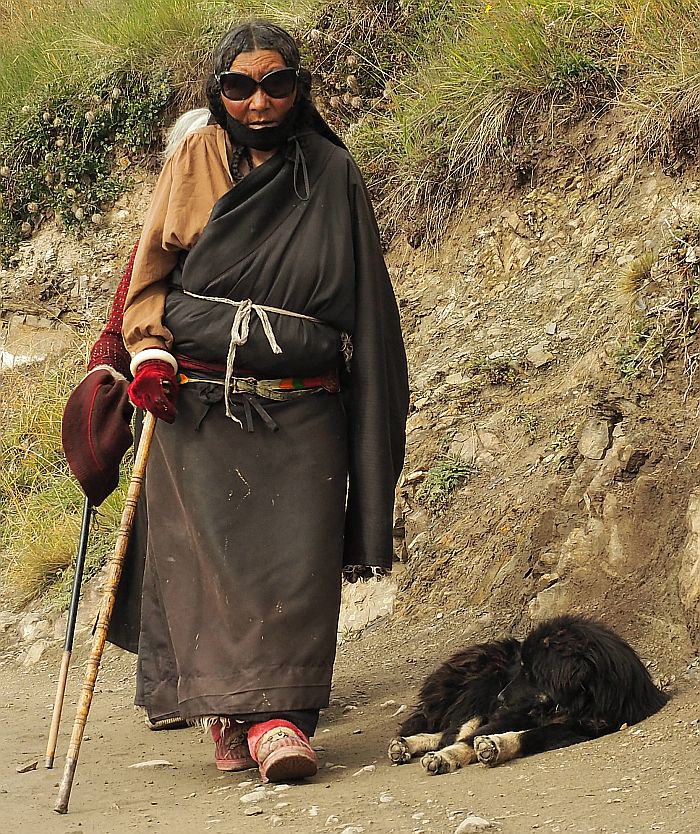 From then on, I always had stones in my handlebar bag and didn't hesitate in the least to
throw them, instead I did the same as the people who lived there. If only one or more of
these dogs came running toward me, I would stop and throw a stone at them.
It was fortunate that I had played handball for several years, so most throws would
hit their target. Many of the monsters are chained, and they are the very worst,
but luckily they are also the safest.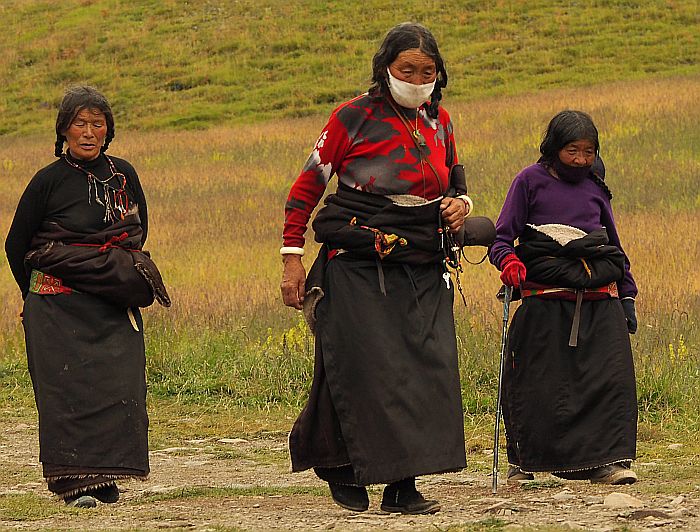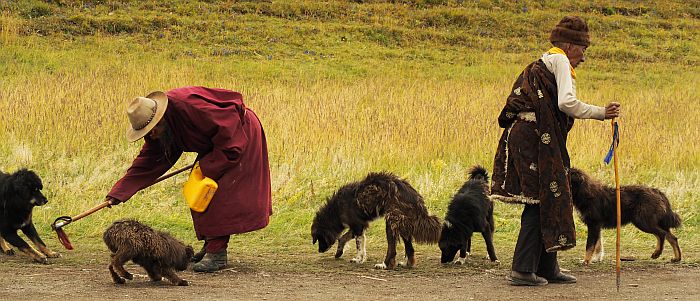 In one village I turned into an alley when another dog ran up to me and immediately grabbed
at my front bike bag. Startled, I fell off the bike, but luckily, the owner came immediately
and yelled at him and threw rocks at him.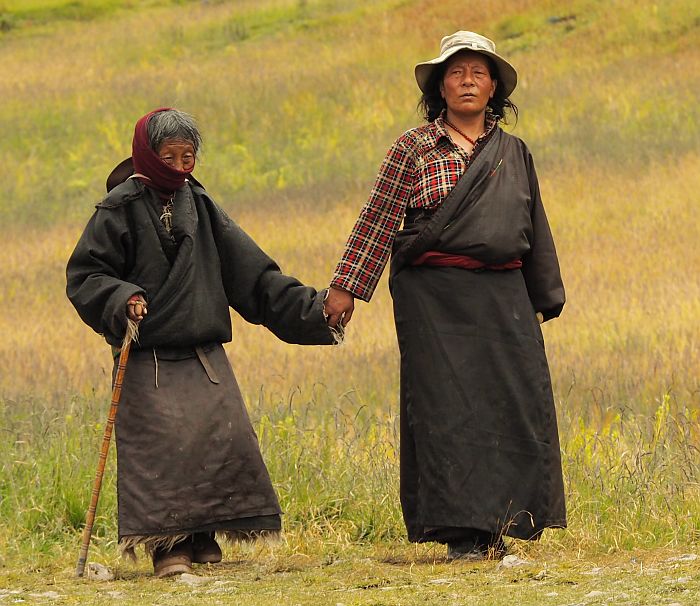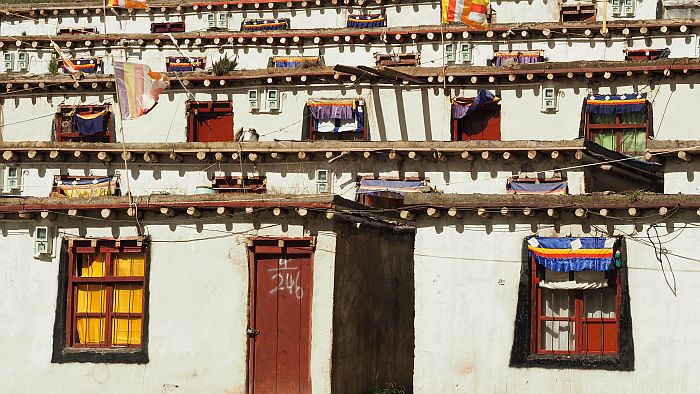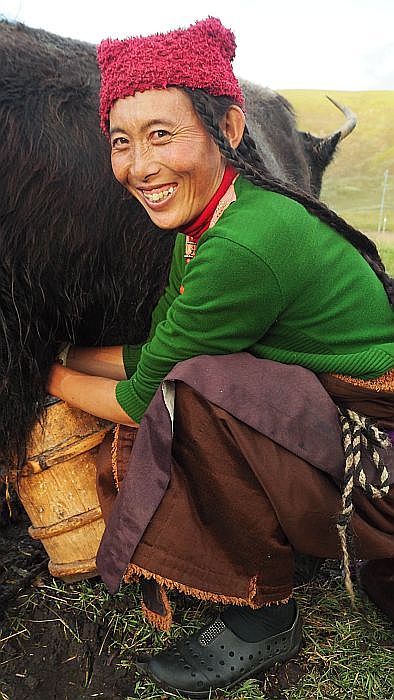 It was no fun to drive through the villages and to be the target of so many crazy dogs.
I was honestly afraid of these beasts. But at some point it became better; the dogs
were less aggressive and, most of them slept calmly beside the road.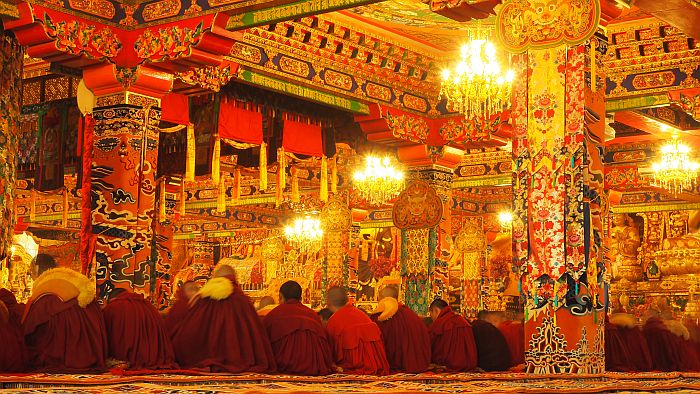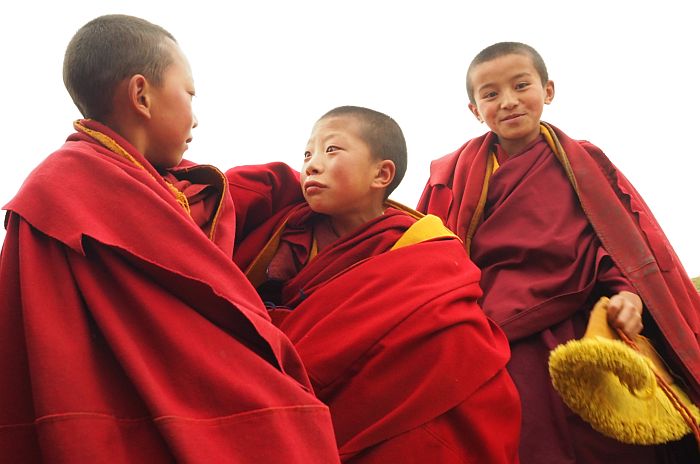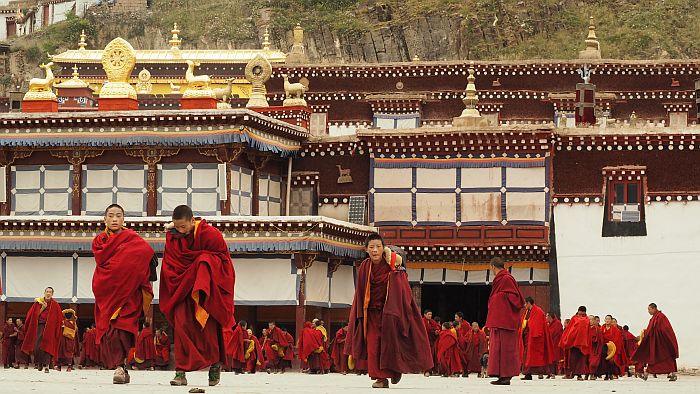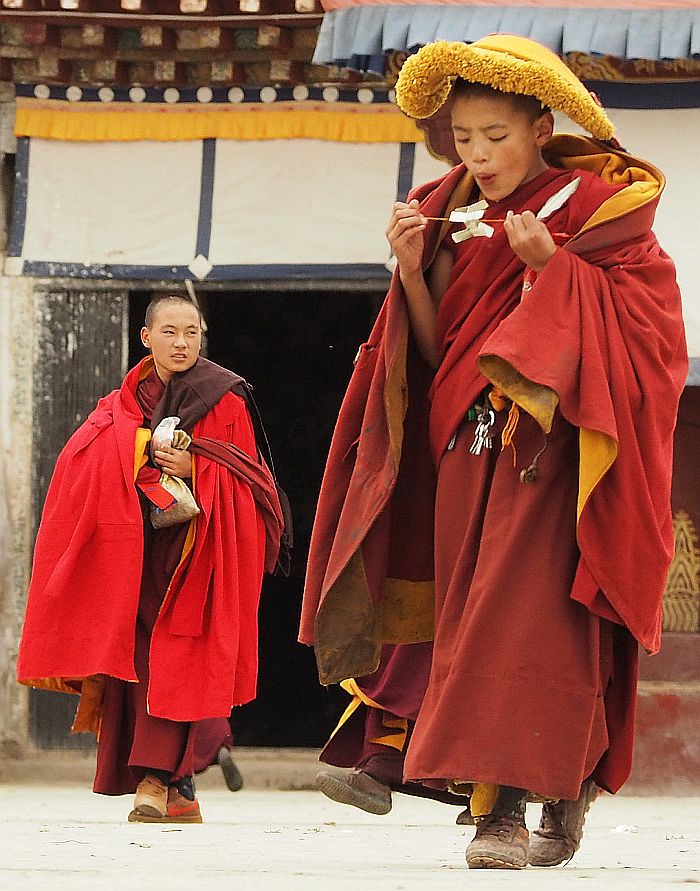 One night I spent in a hayloft, where I was safe from the monsters, and another night
I camped in an abandoned house. Once I got really lucky and was allowed to stay
in a beautiful wooden house. The mother, just 65 years old, was lying in bed and dying.
Her four children spent a lot of time caring for her and the grandchildren were clever,
cute kids. The family cooked me a delicious dinner and allowed me to sleep in peace.
The house was brand new and super clean.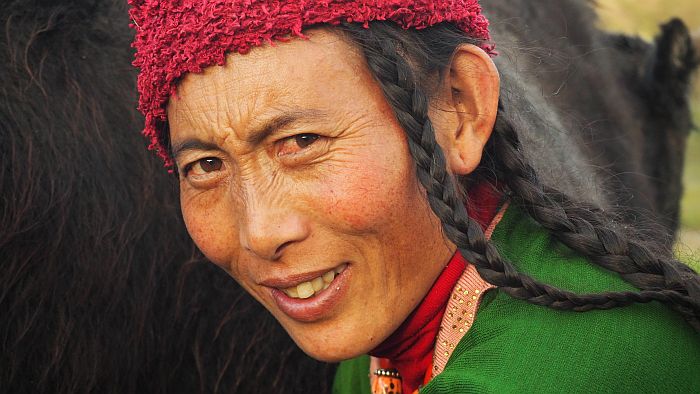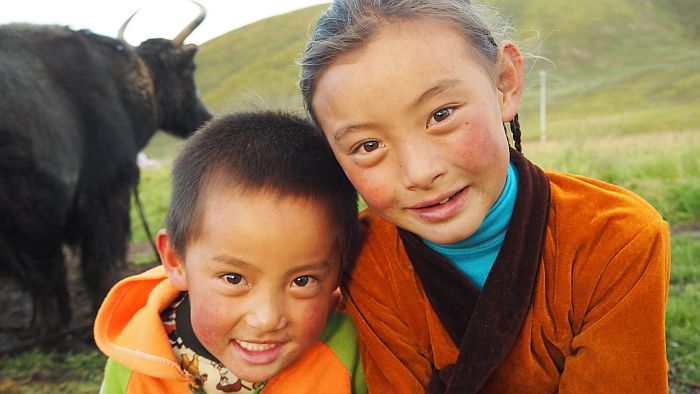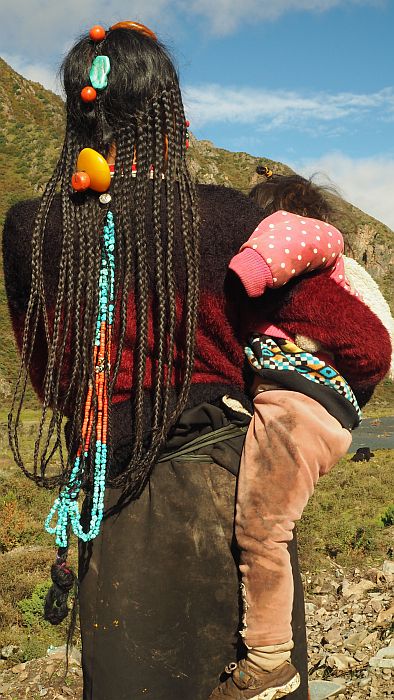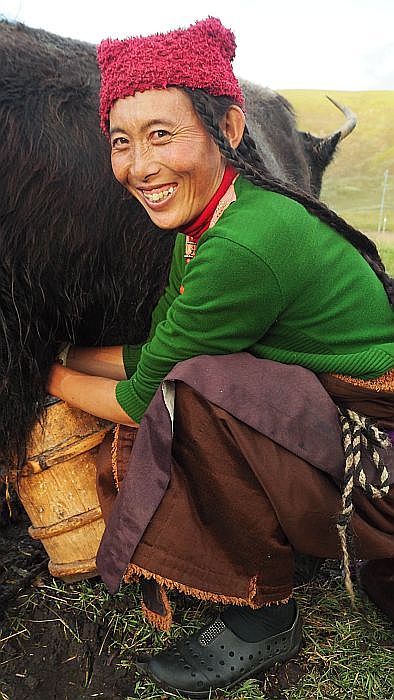 Tibetans are incredibly considerate human beings, although I must say that they can also
be very intrusive. They often come very close physically and have no natural distance
to strangers as one would normally expect. Also, they always wanted to get close
to everything. They weren't afraid to reach into my pockets and just pull something
out or open it. I always had to watch my things carefully. Even though I never had
the feeling someone wanted to steal anything from me, I also didn't want anyone
sniffing around in my things.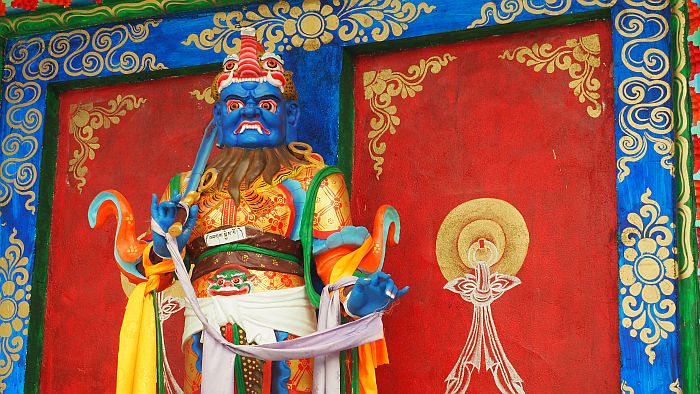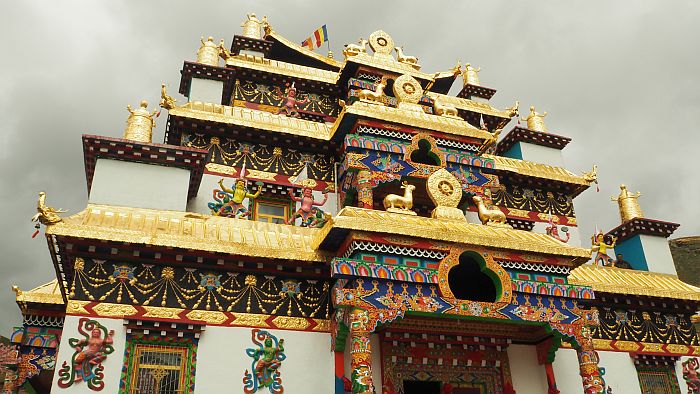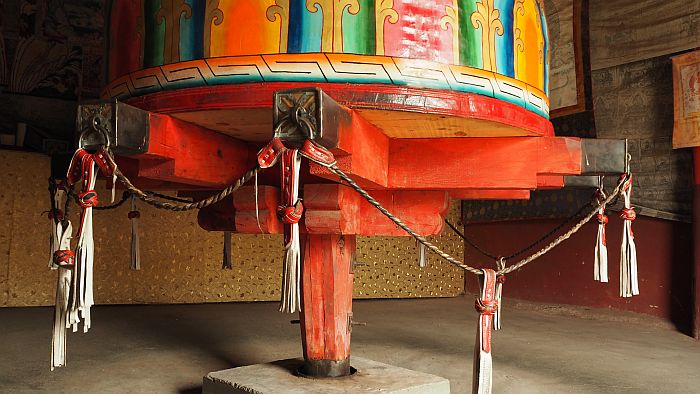 Slowly but steadily, the trail went downhill. Eve if I had to climb across a few more passes,
I noticed the vegetation was finally beginning to change. When I reached the dirtiest of dirty
places I had seen, Maningango, I was visibly relieved that the landscape was now different.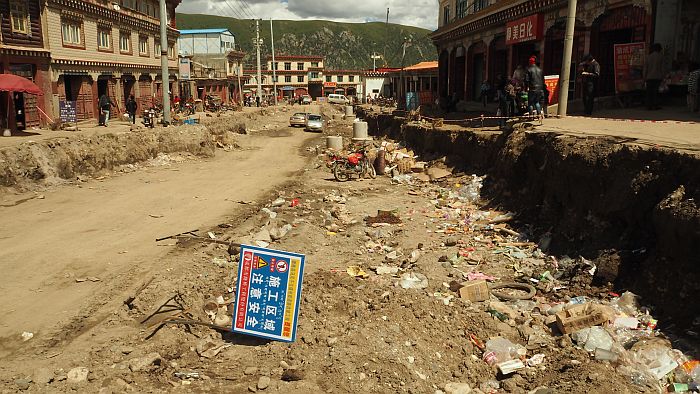 I ordered some food in a small restaurant and, as usual, I got a paper cup with hot water,
disposable chopsticks and the food in a bowl. After I finished eating, the cook took my bowl
outside the door and just threw all the leftovers, including the cup and the chopsticks onto
the street. And that is exactly what it looked like there too – it was disgusting – a huge
dump in the middle of a village.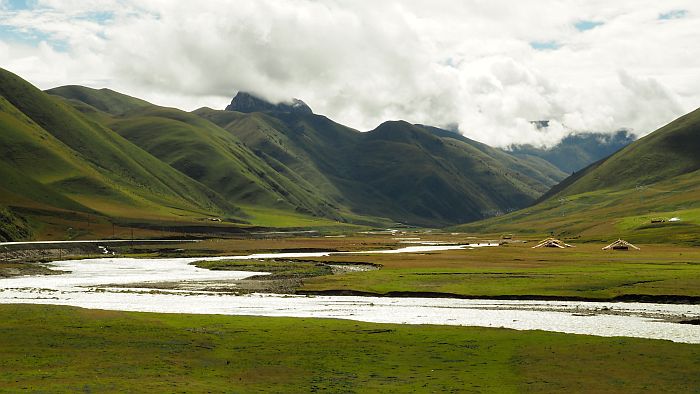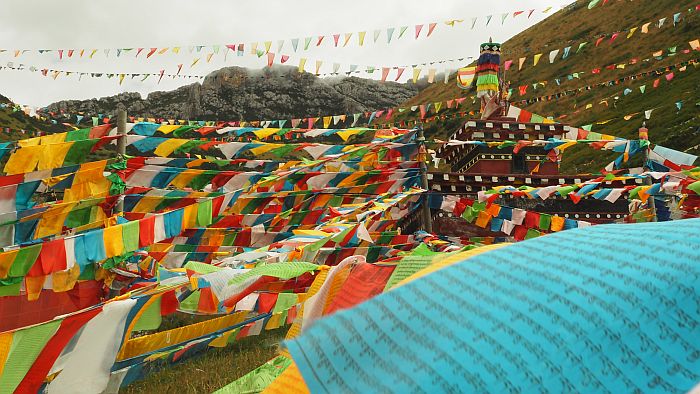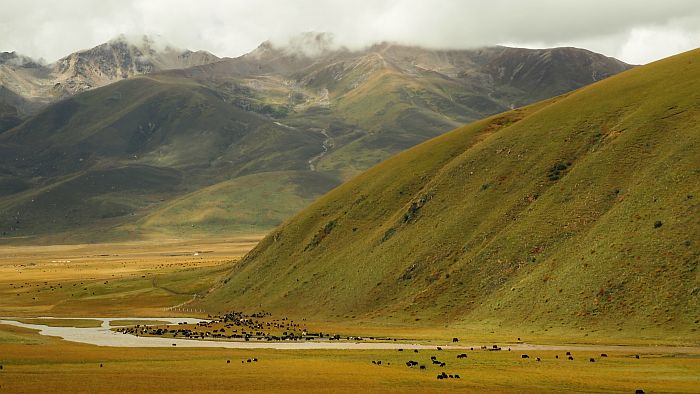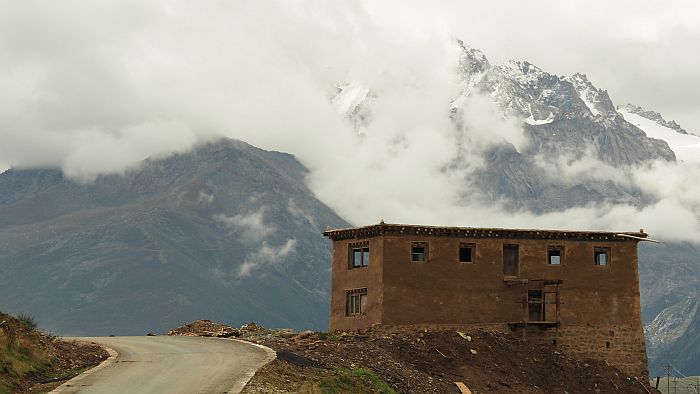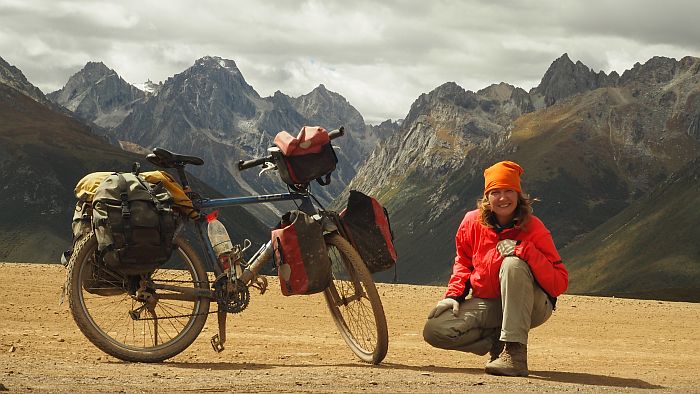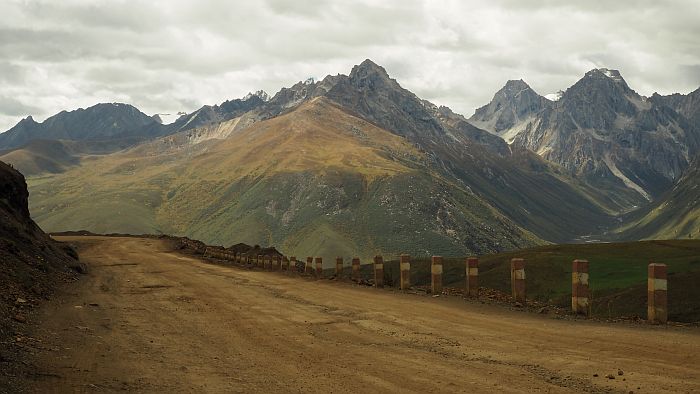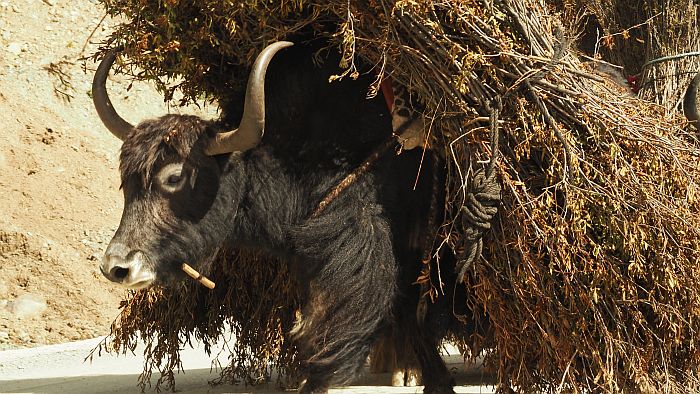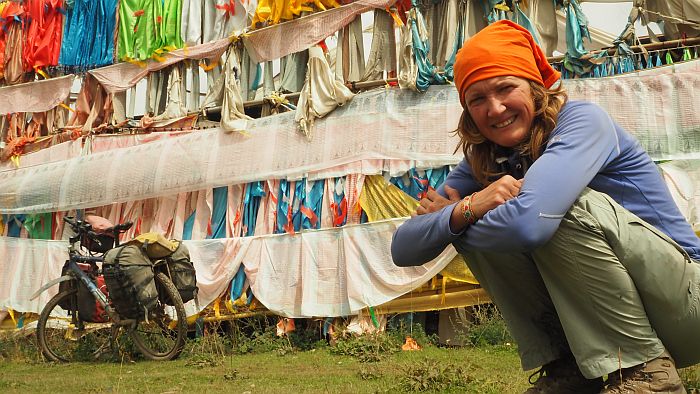 A beautiful mountain panorama spread out before me. I saw the first trees and the sloped
mud road gave way to a brand new, paved highway. The worst was behind me,
at least I hoped. And at last, there were trees again. It was wonderful.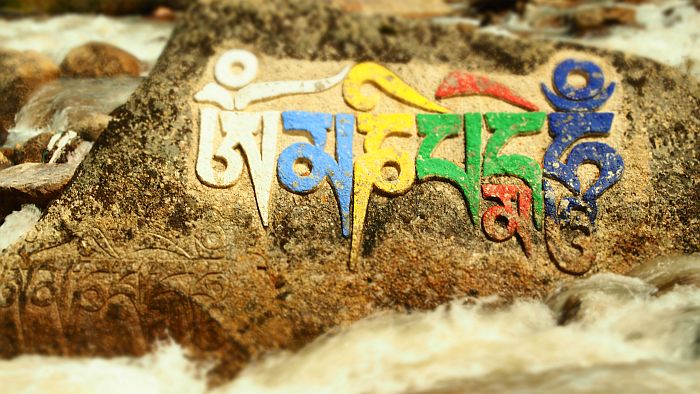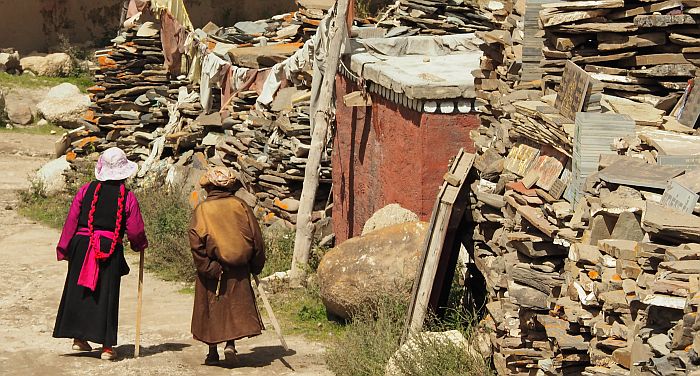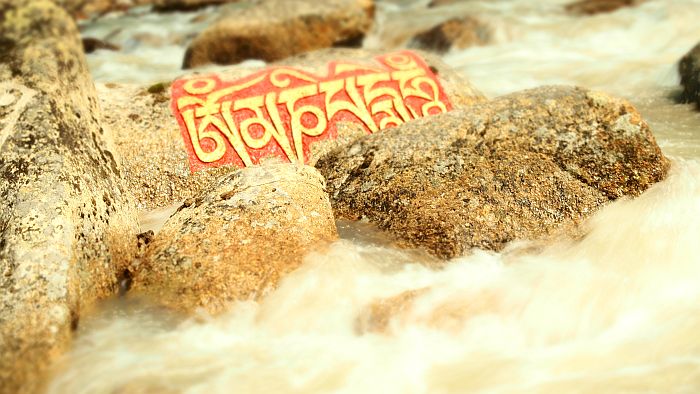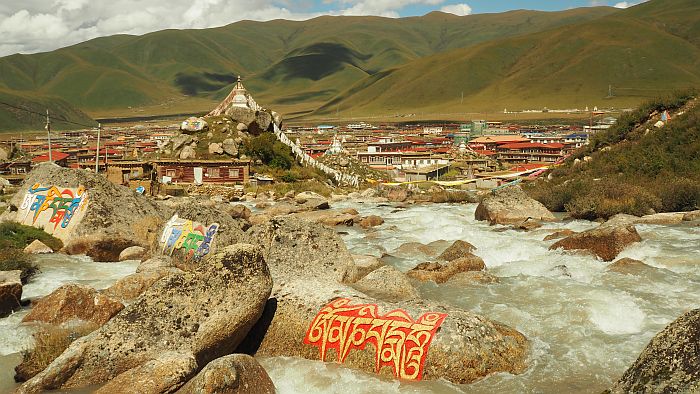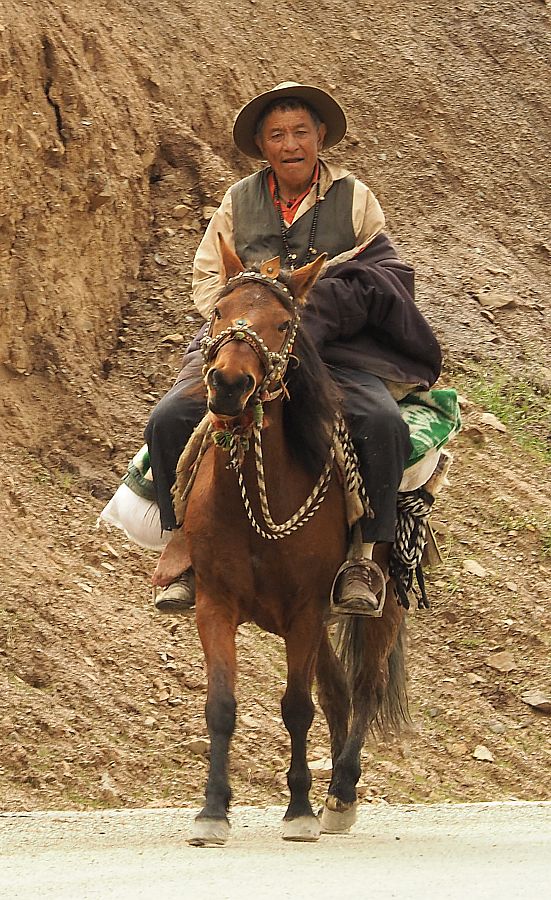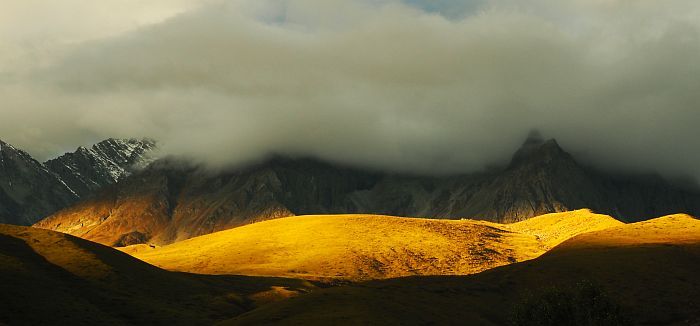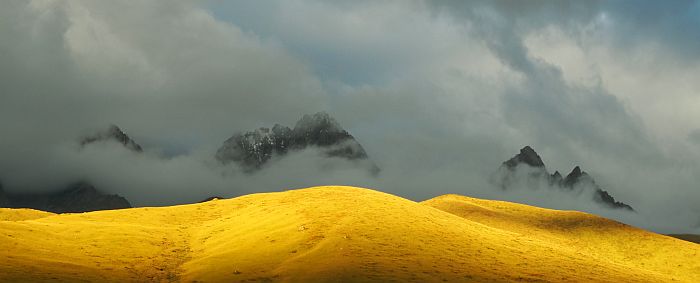 Coincidentally, I stopped at a beautiful monastery and met two Westerners – an American and an Israeli lady. Super! We talked for hours on the roof of the monastery and basked in the warm sunshine.
Surrounded by a great panoramic view, I enjoyed the afternoon.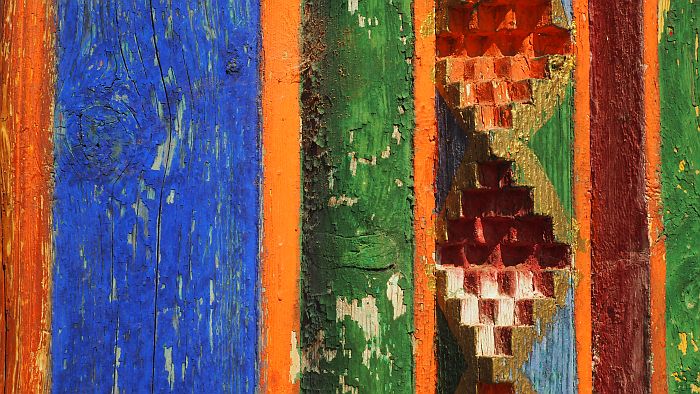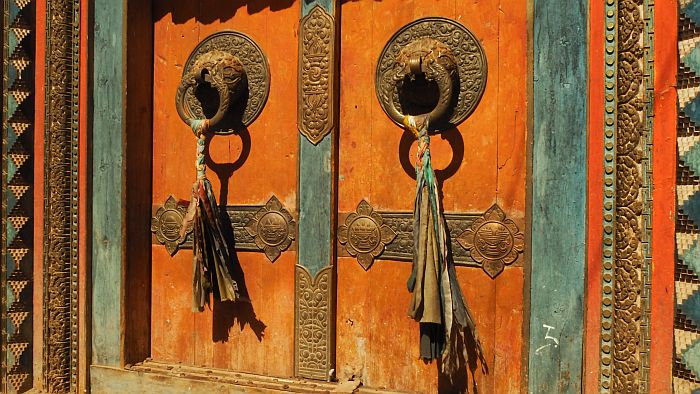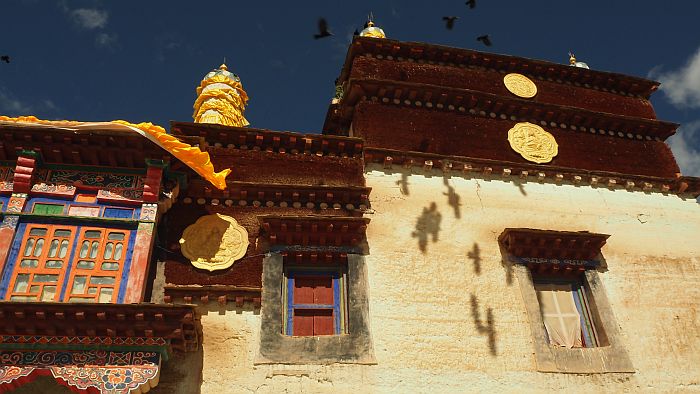 In the evening I rolled on to Ganzi and met the two again for dinner.
I slept in a small Tibetan Hotel; as always, there was no shower, no toilet, and as I had
often experienced, no key. It seems that everywhere, there is always a key problem.
They always asked for the money in advance, so it was necessary to mention everything
you wanted before paying to ensure you would get what you want; because once
you paid, hardly anyone felt responsible for anything anymore.
Frequently, their promises were not kept. I was allowed to shower in the room of the couple,
because they were more fortunate in choosing their quarters than I had been.
Finally a shower!!! My clothes were stiff with dirt, but they wouldn't have been dry until
the next morning if I had washed them.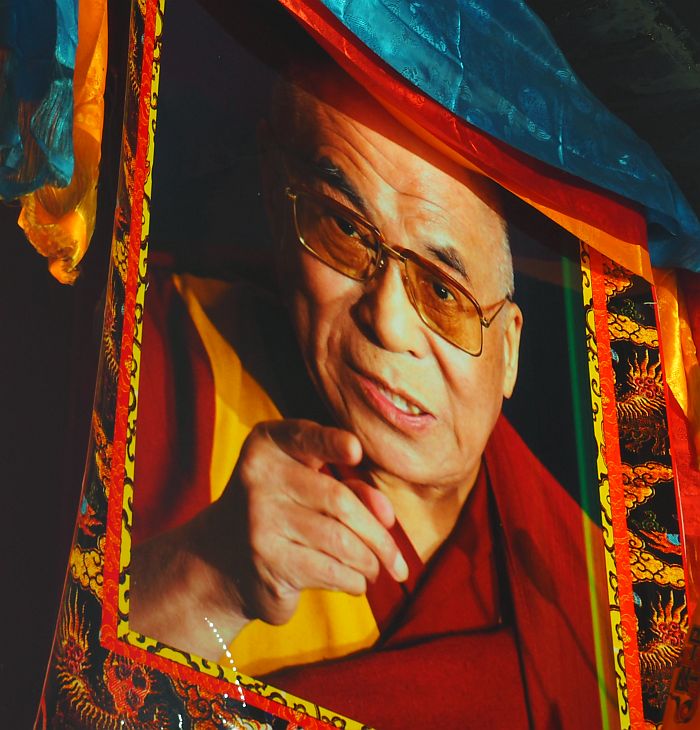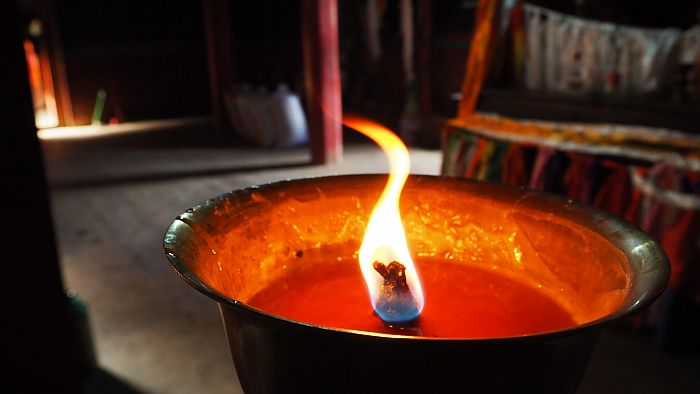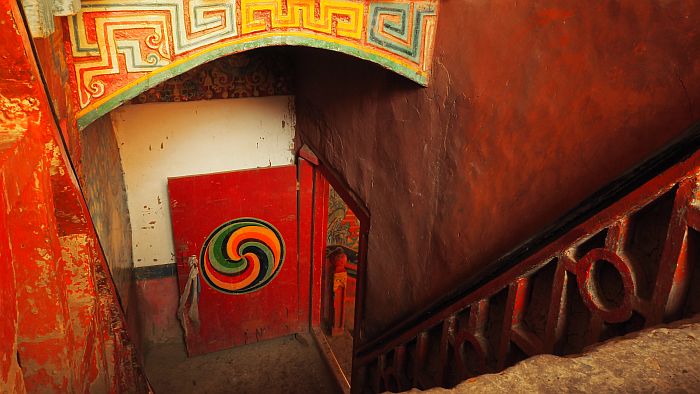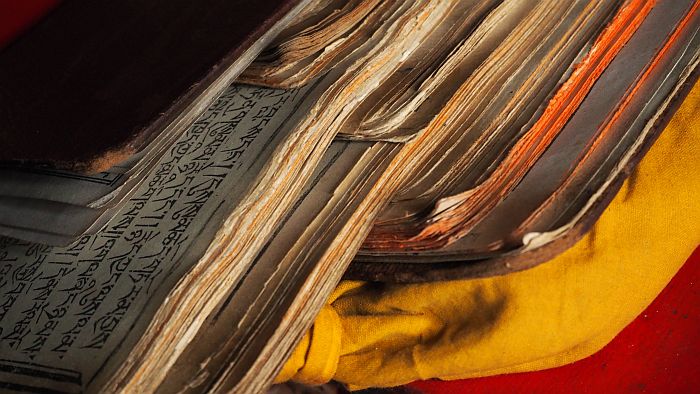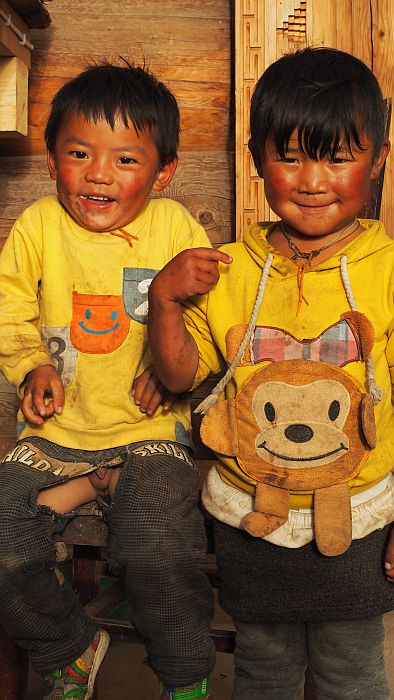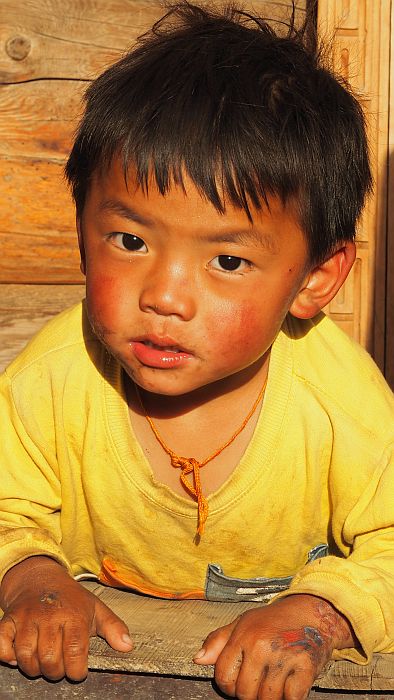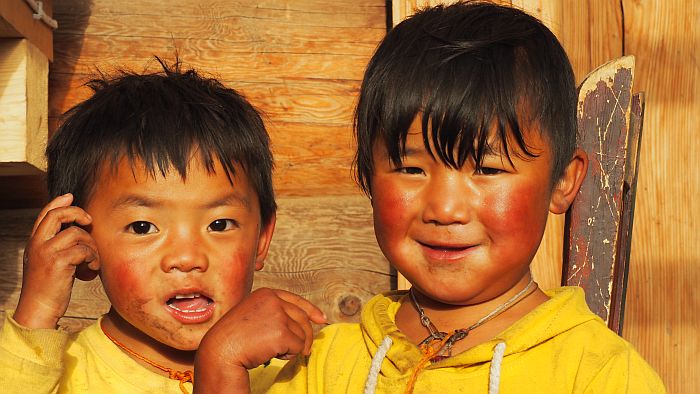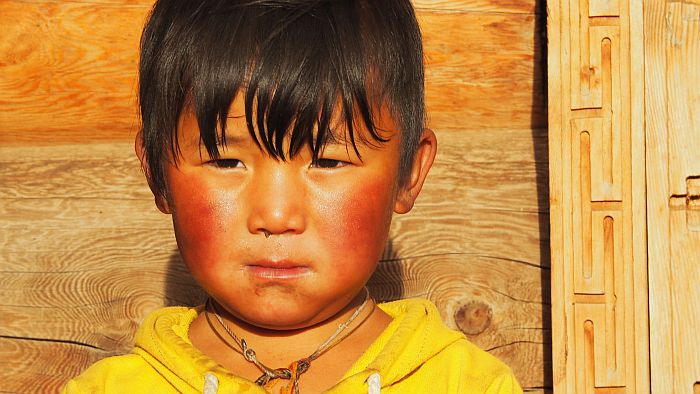 How the trip continued from Ganzi to Yunnan, well, as always, I'll tell you about that
in the next blog entry.