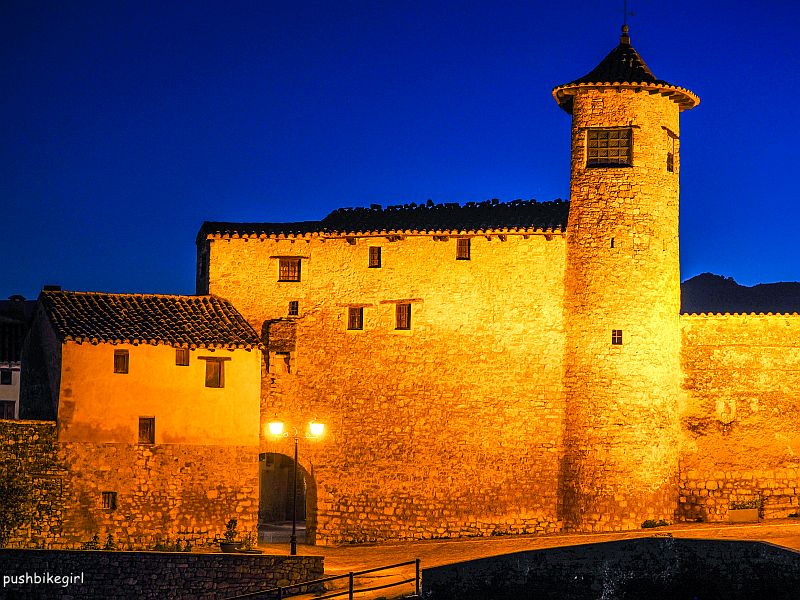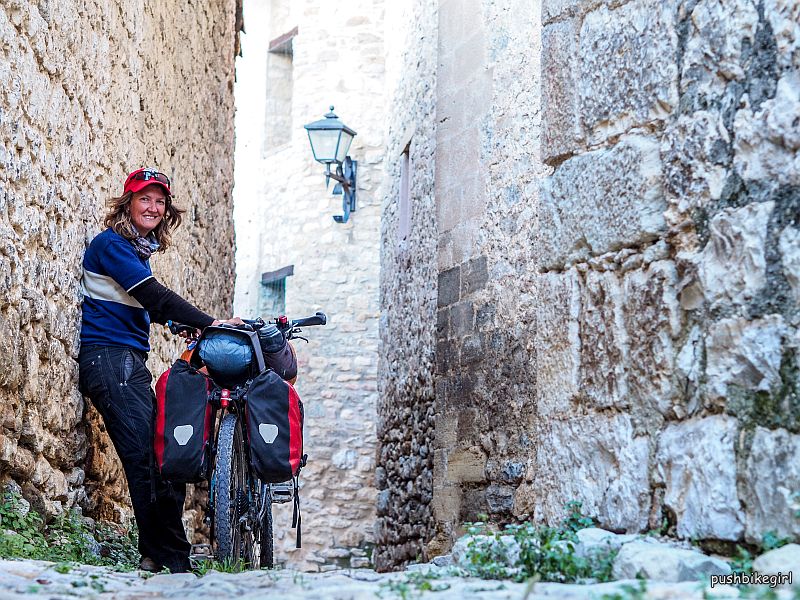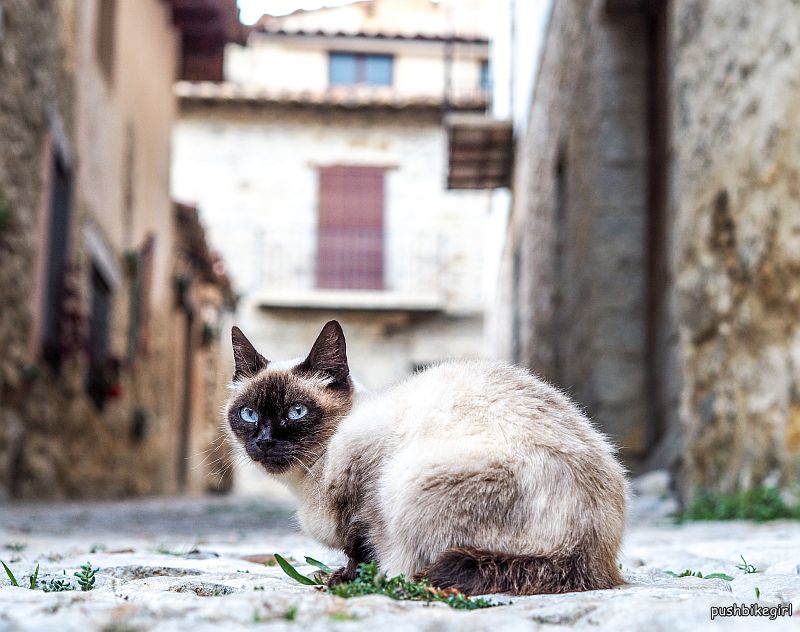 "The sun shines day and night – Eviva España" that's the name of the famous folk song or not?
Unfortunately, it was rather wet and cold. Thanks to climate change, this year the weather was totally crazy, so it was warm in the north of Europe and cold in the south.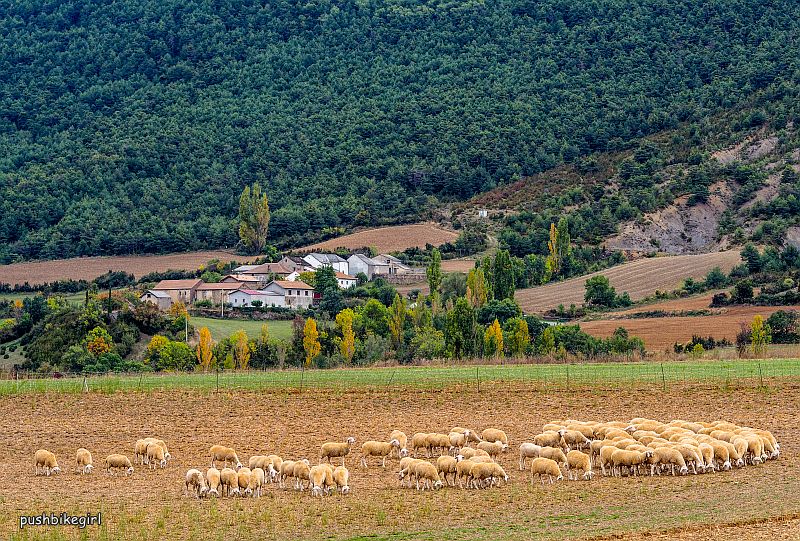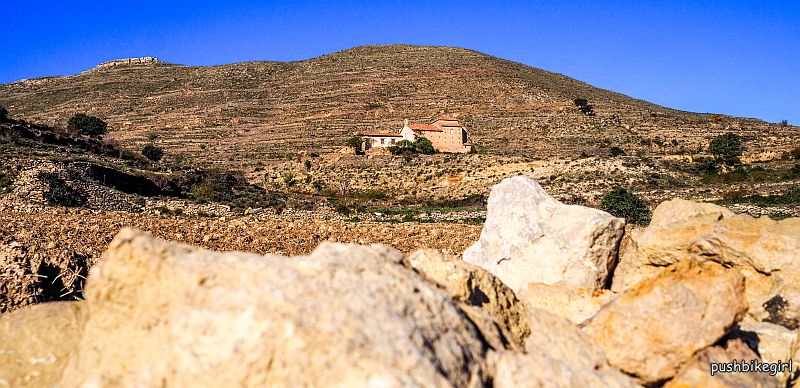 South of the Pyrenees the landscape grew more barren. It wasn't yet desert, but the vegetation appeared dry, the ground stony and woodlands sparse. Small villages adorned the landscapes. The church spires towered, enthroned over the roofs of tiny villages which were often quite deserted but still worth visiting.
If and when I saw people, they all seemed to be old especially old men, because the village pub was often the only place where I found life. And the pub clientele was dominantly men. The noise level in those pubs was enormous. Spaniards are just loud. Smoking is still very popular.
People were reserved but friendly. I often refilled my water bottles in the pubs and this was never a problem.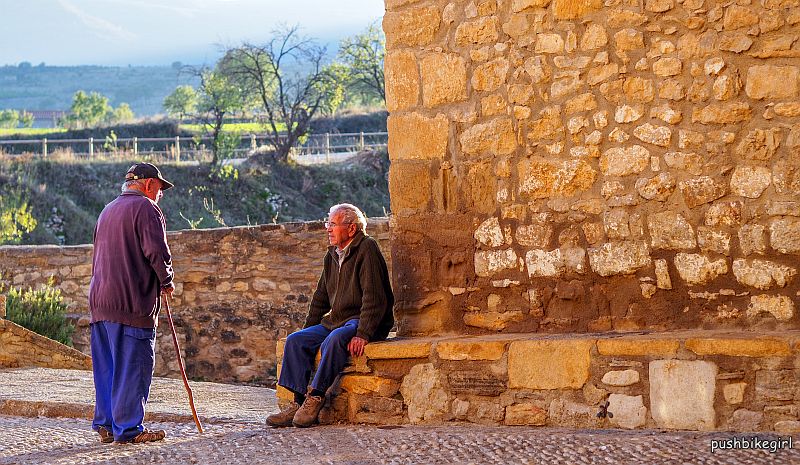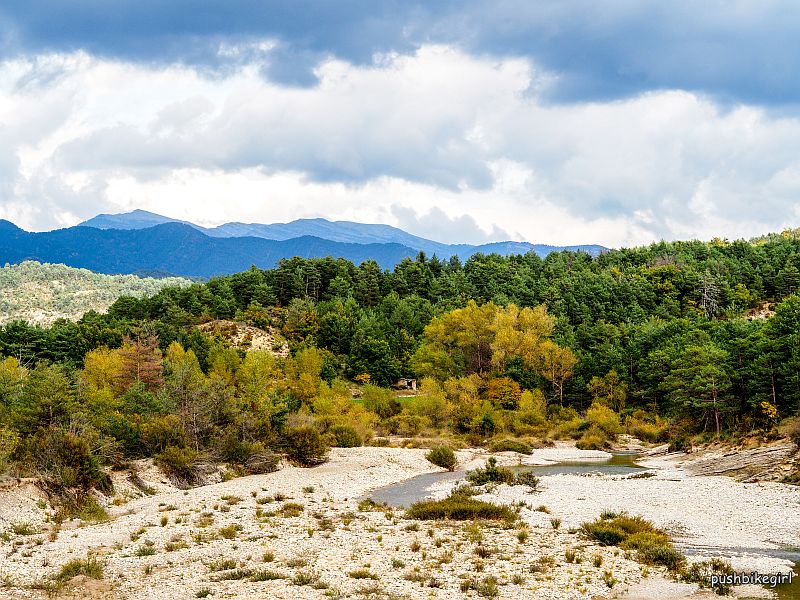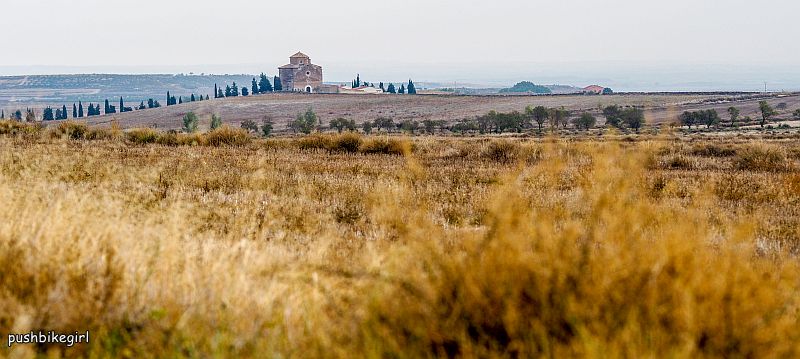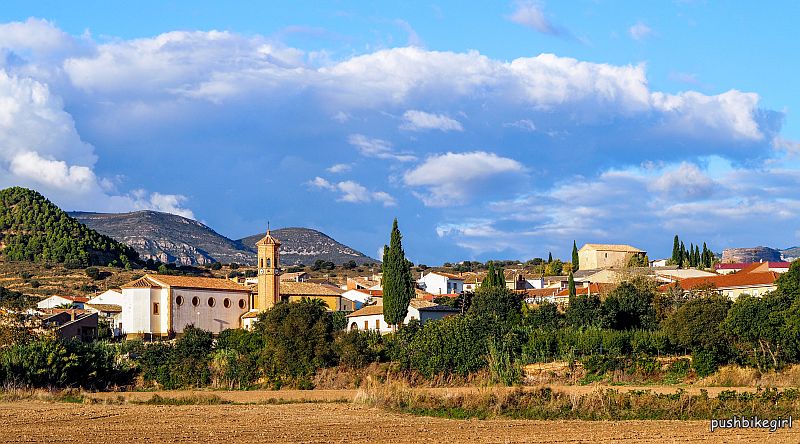 Mountains accompanied me daily, they were endless. The landscape was fantastic.
Camping was finally something to look forward to, especially because I enjoyed my first campfire and that made me twice as happy. It had recently rained so much that getting a fire burning was a chore, but it was well worth the effort.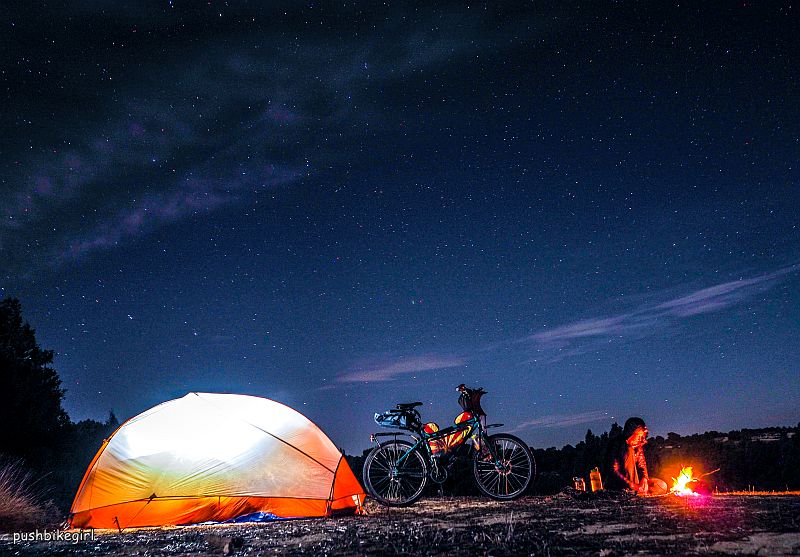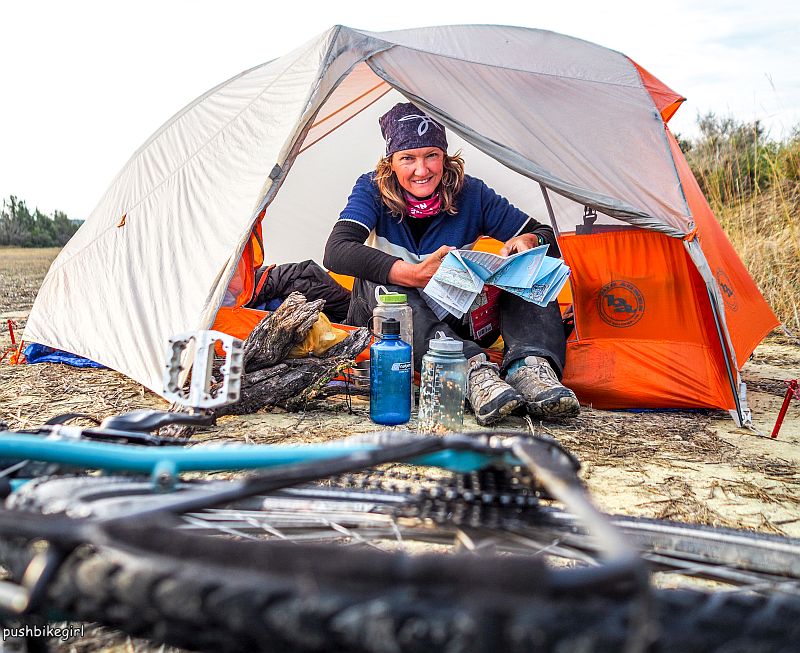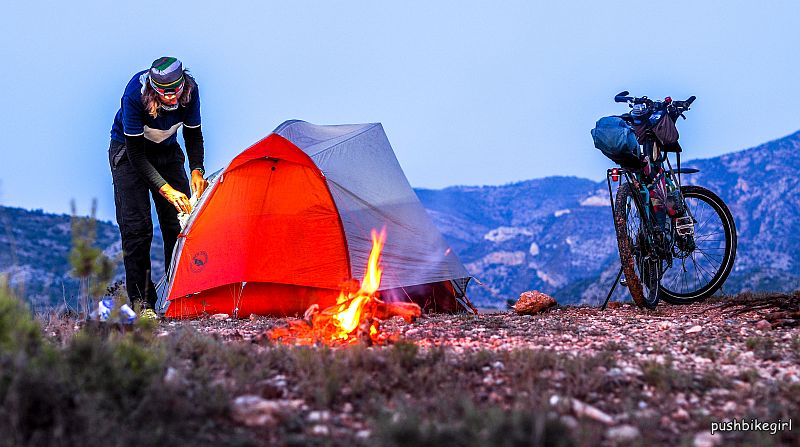 I like to cook on the fire, it just gives me something special.
Finally, I saw the stars again. How claustrophobic Central Europe often is and how oppressive its effect is on me. Liberation came easily in such a sparsely populated country as Spain. Life here was once again stroking my soul and I was loving it.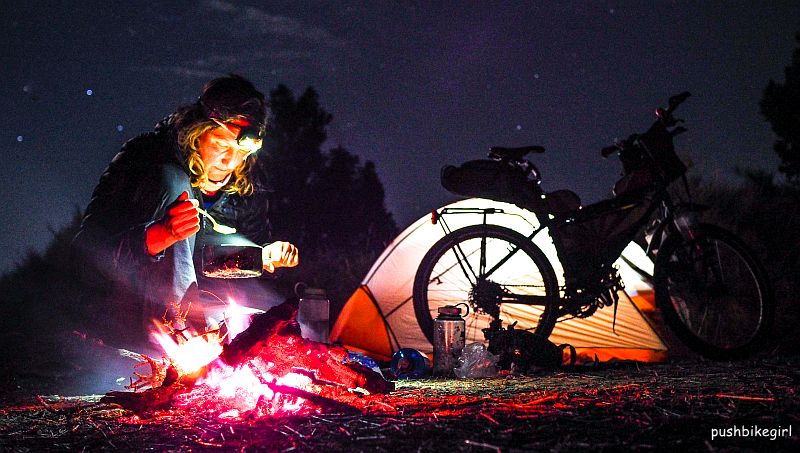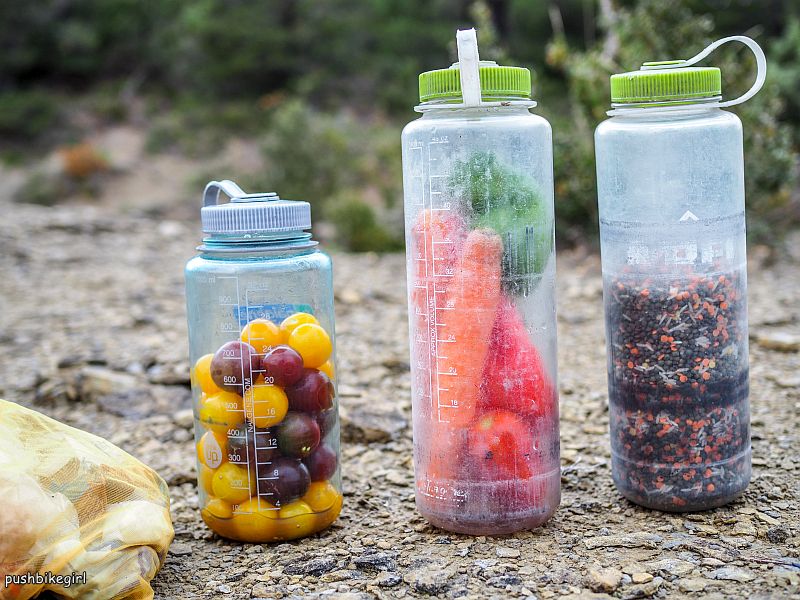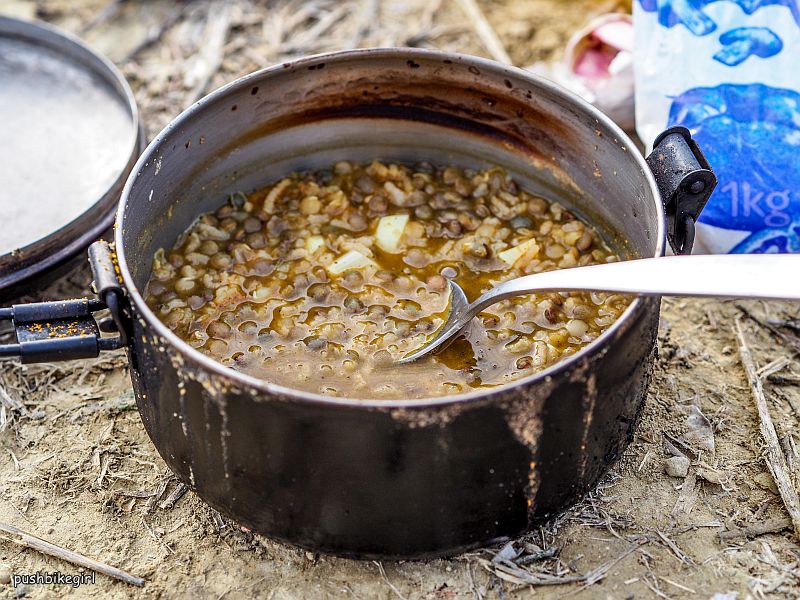 Not far from the Pyrenees I landed in a small settlement. A place where everything seemed a little different, because the village was once a ghost town. But new residents were now busy with the reconstruction.
I was immediately welcomed and was allowed to camp in the church, which had been converted into a brilliant climbing hall.
Ricardo and his Dutch wife gave me lots of vegetables and cared otherwise for my well-being.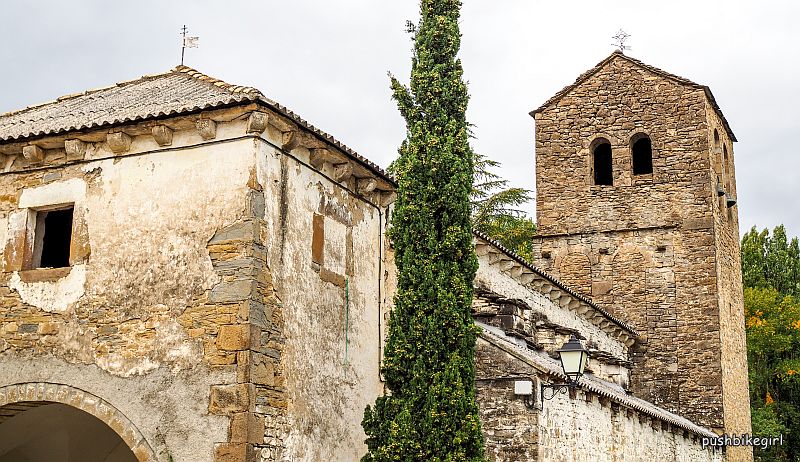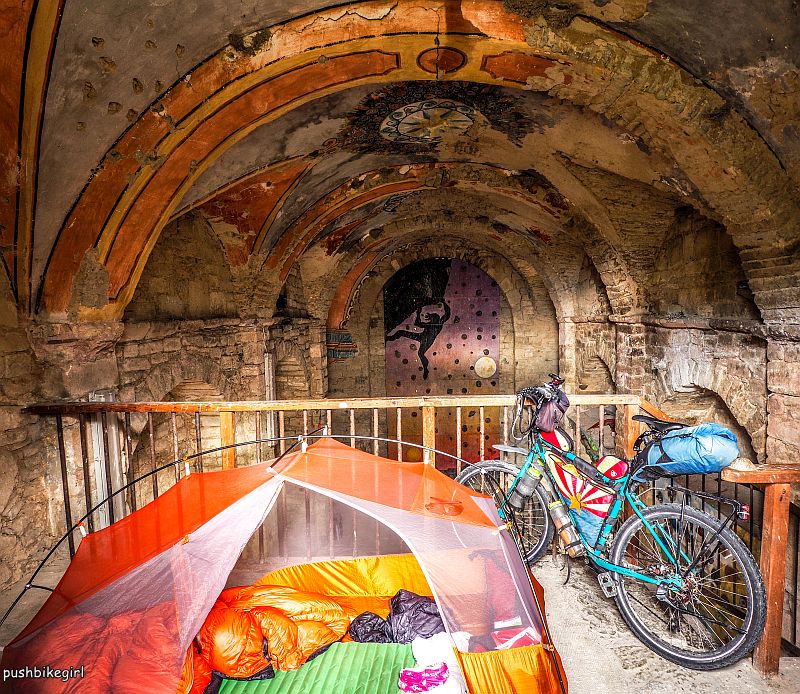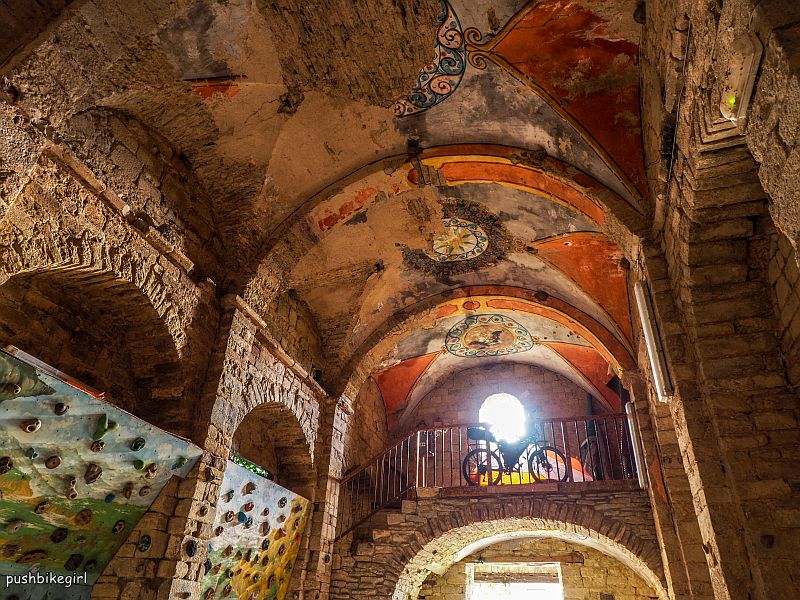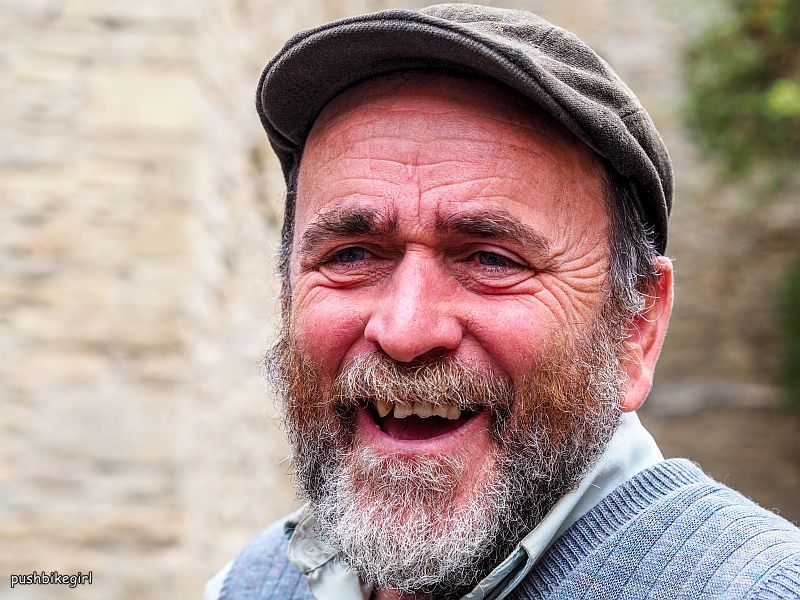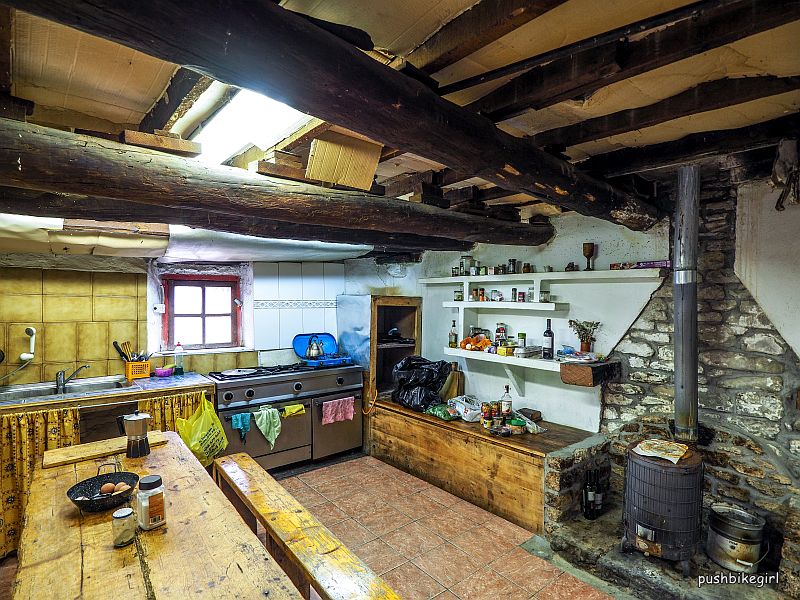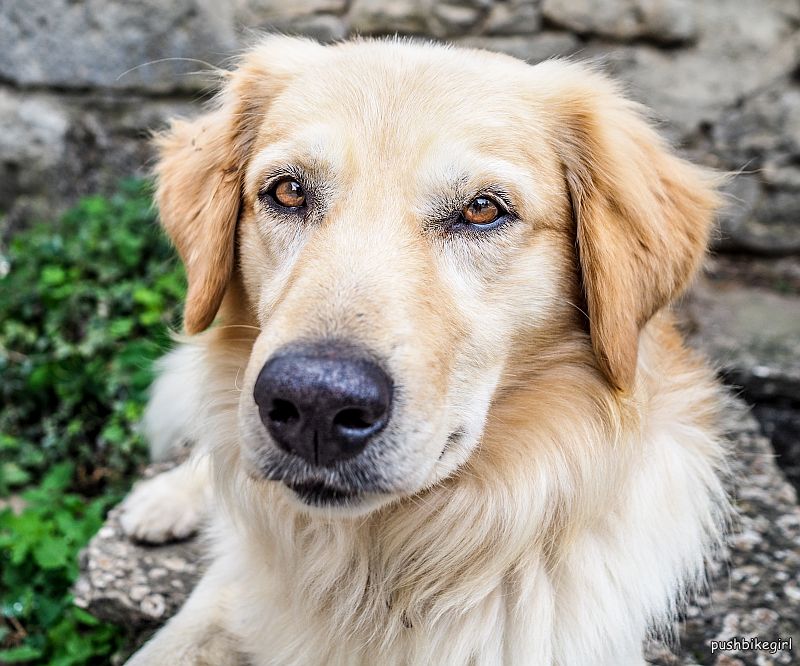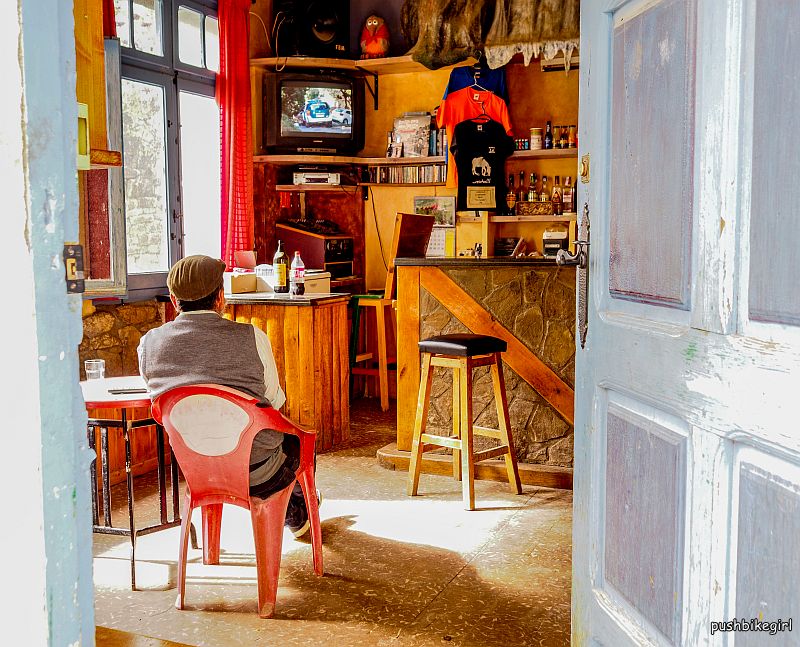 In the Sierra de Los Canones de Guara Natural Park, I was surprised by a hurricane that was actually raging in the middle of the country, including here on the edge of the Pyrenees where it was raining like hell. Thus, I took shelter for two days in a small accommodation and was glad to be out of the weather.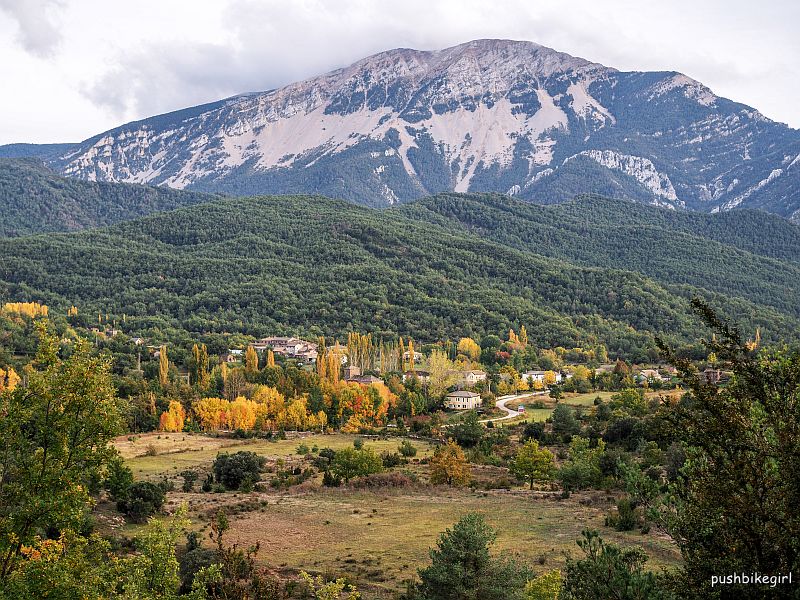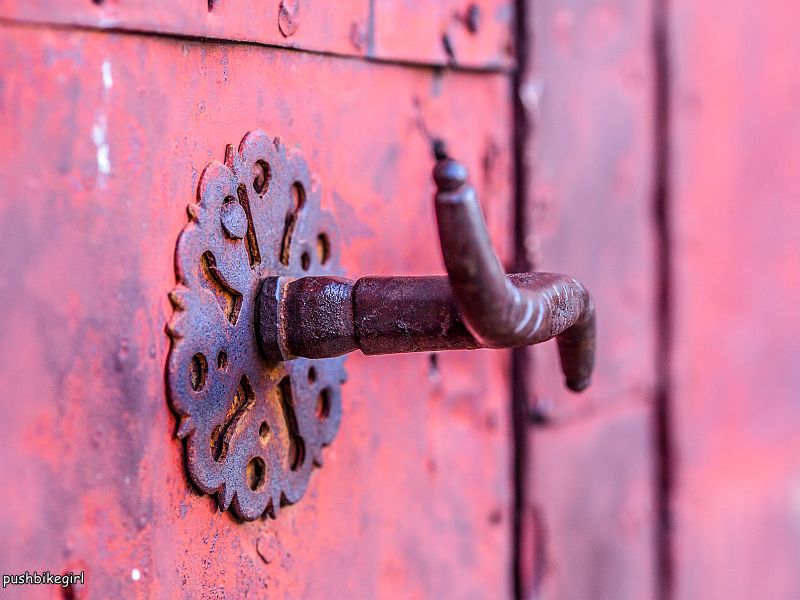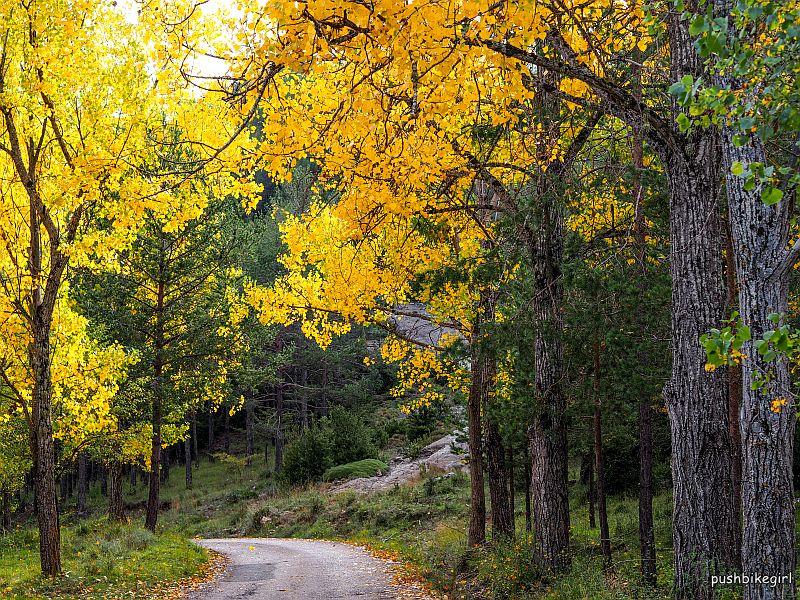 Many lonely, curving roads accompanied me for the next days. Very much to my taste.
Shopping or eating out somewhere is not that easy in Spain. At least not at times when Central Europeans are hungry. Here, the clocks tick differently. The shops are unfortunately more closed than open and restaurants start serving very late.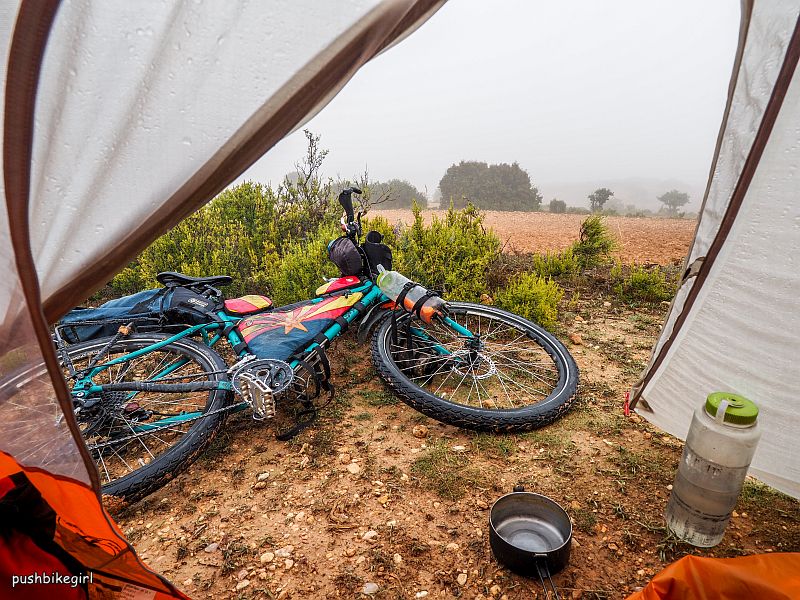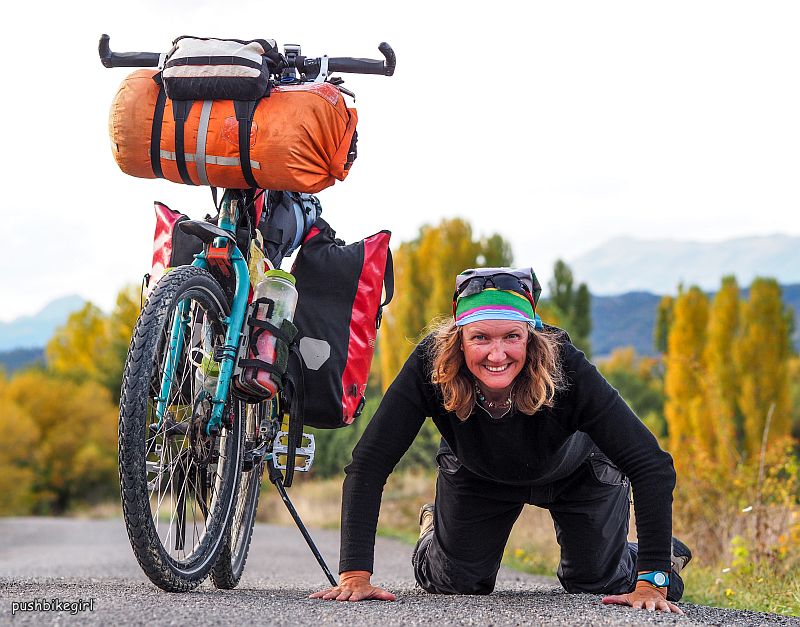 I wanted to torture myself for a bit and tried several GR hiking trails, but had to push or carry the bags way too often and lost interest pretty quickly.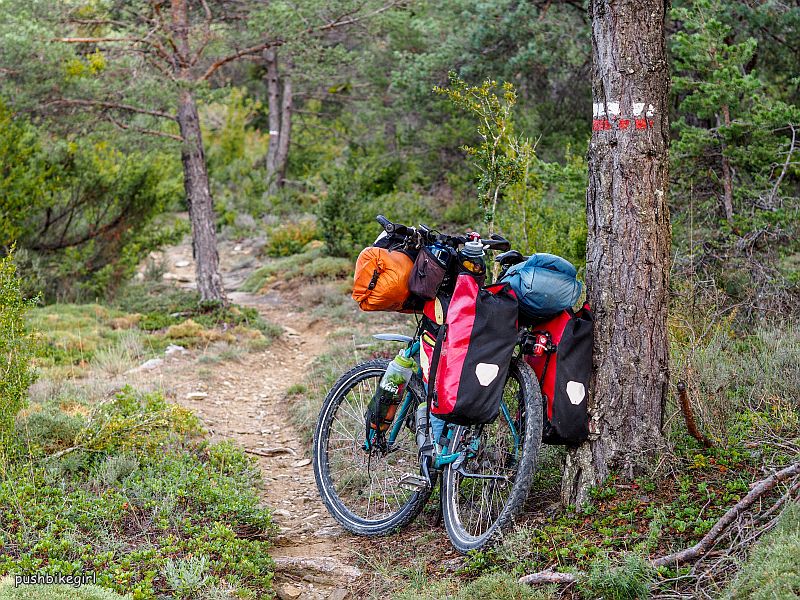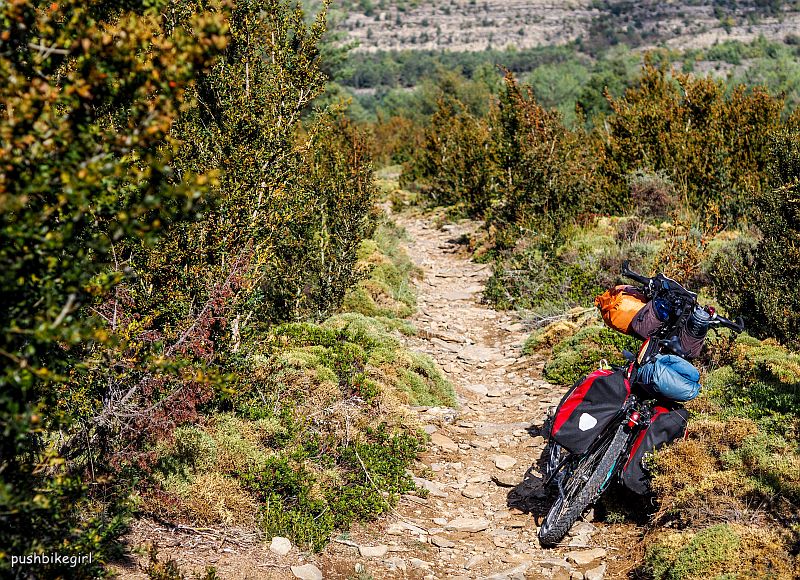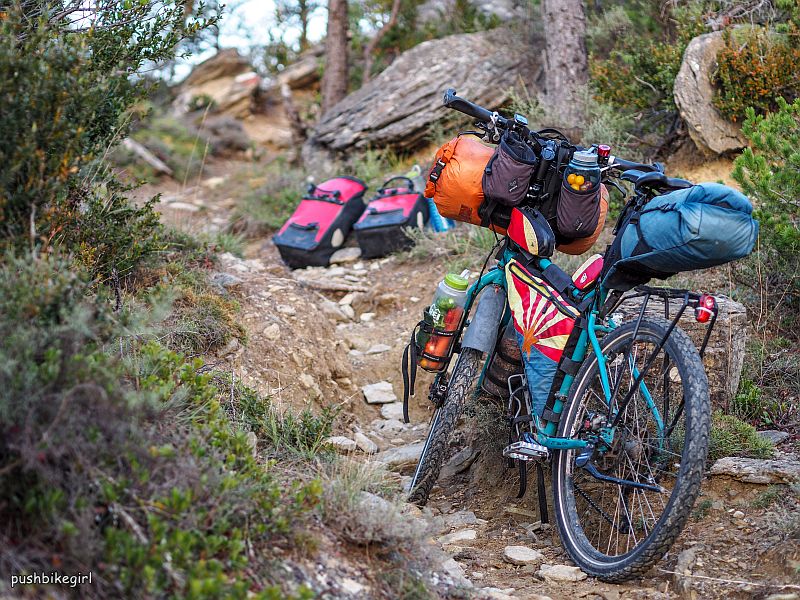 But still I loved my campfire and the natural beauty which surrounded me. It was like a celebration and I even made fire in the mornings and cooked something warm for breakfast.
The nights were often cold unfortunately. In addition, it was now getting dark very early, which also makes the outdoor life a bit less enjoyable. But thanks to my many audiobooks that I have on my hard disk, it doesn't get boring. Anyway, starry nights and looking into the fire makes me happy for hours.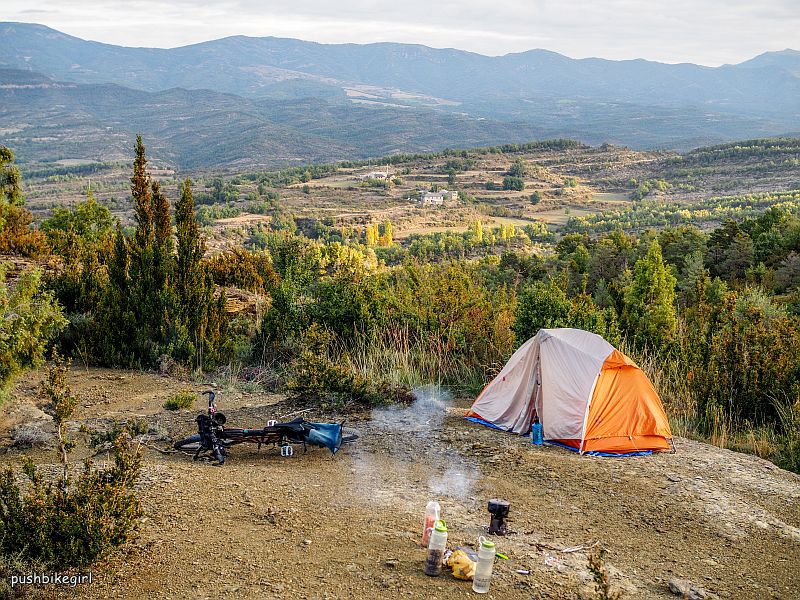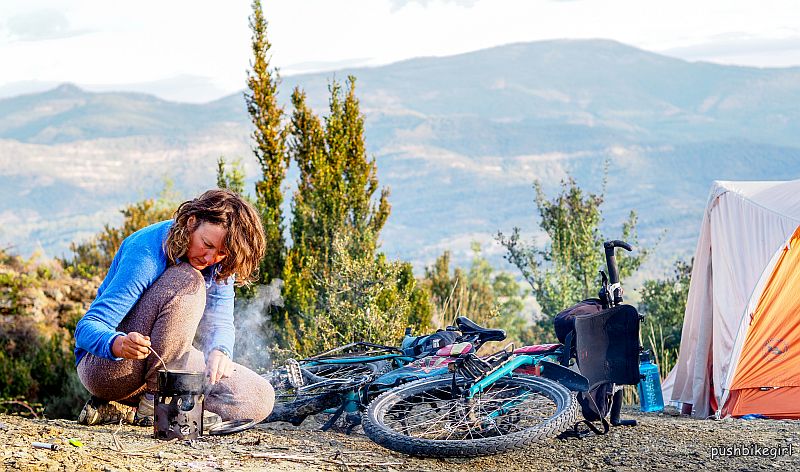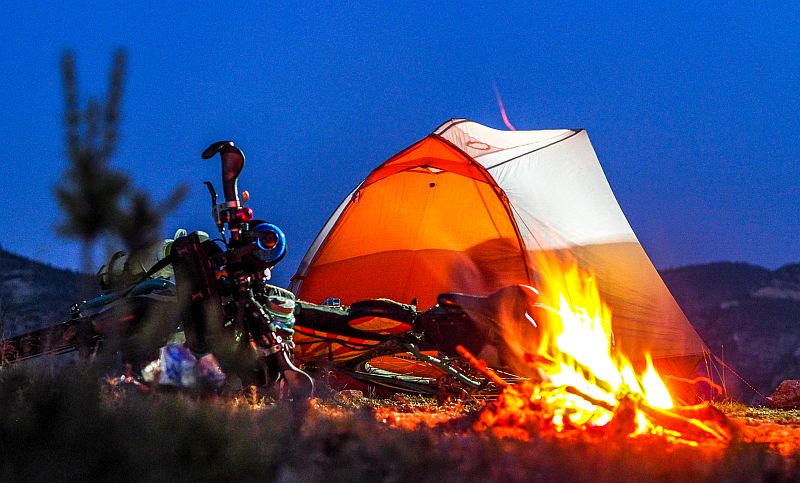 Worse luck, I once again met my best friends – the hunters. There really is nothing scarier than lying in a tent and hearing shots and not knowing if the hunters see you or not. However, it was fun and interesting to see, that they used tracking dogs. They were equipped with transmitters and ran around like crazy in the bushes.
Not sure what they were after.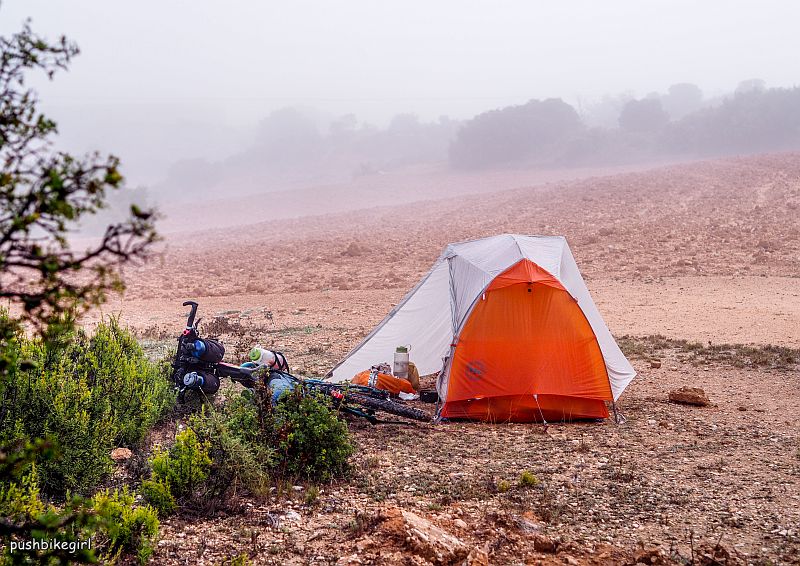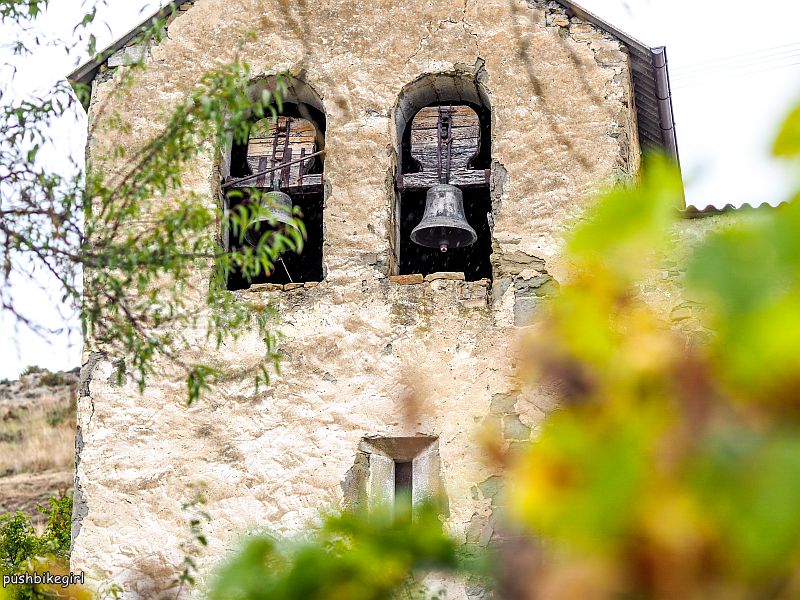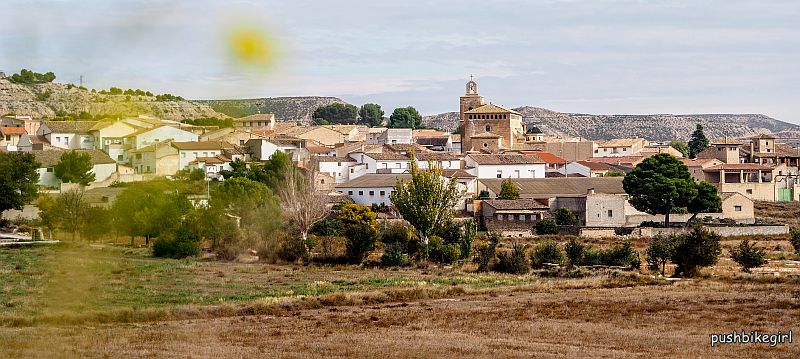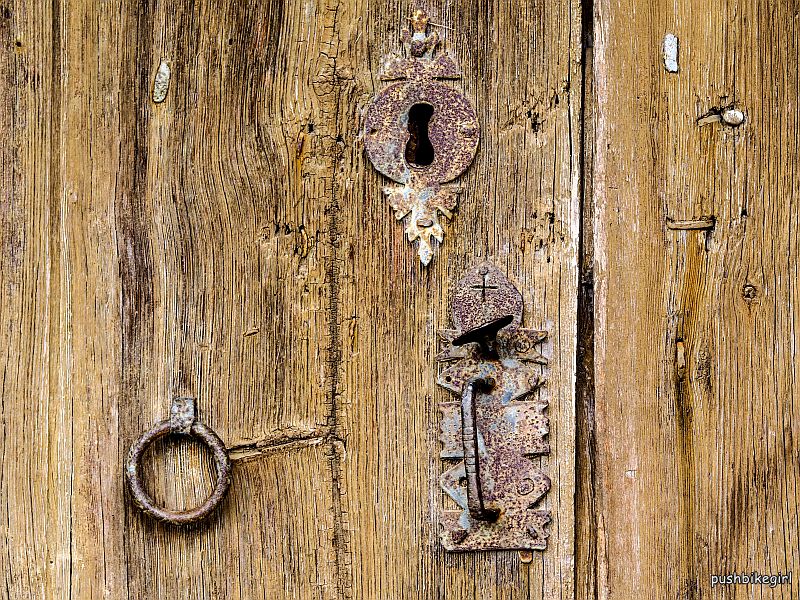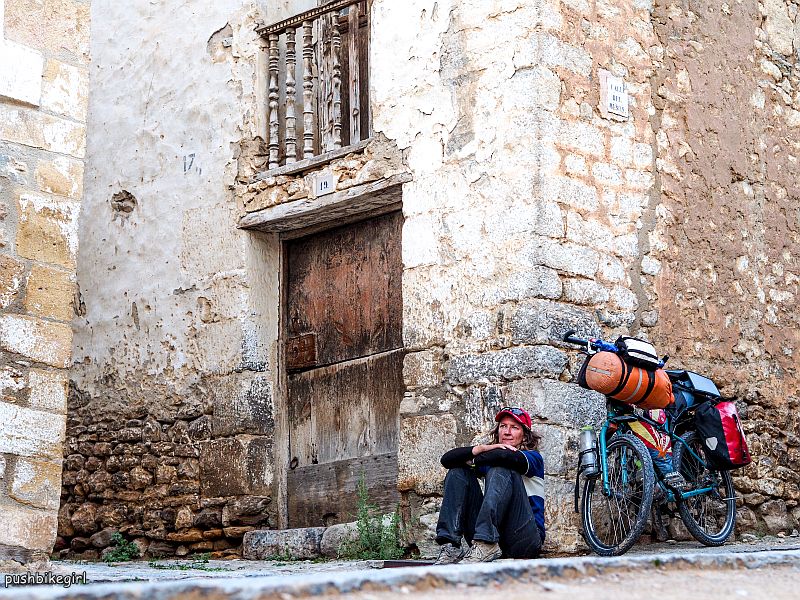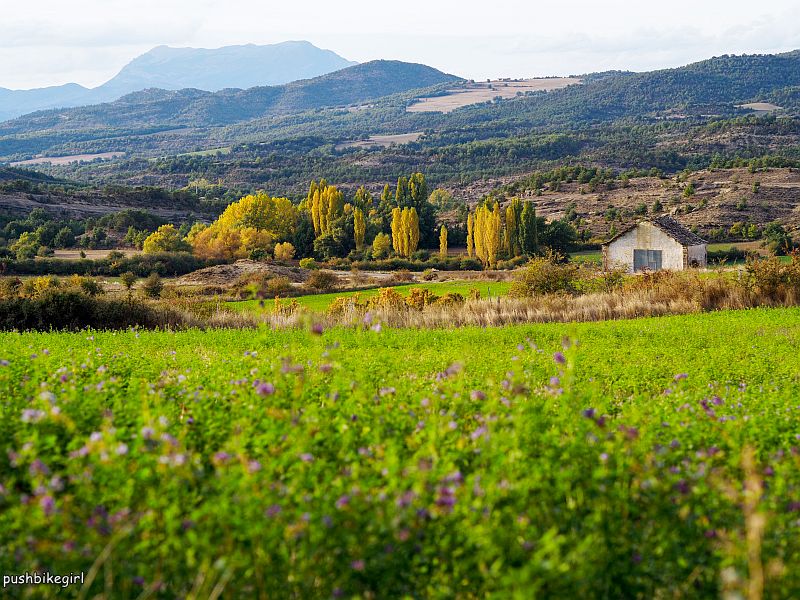 Aragon is a sparsely populated province and therefore great for cycling. I especially liked the town called Mirambel. Lovely narrow lanes. Sleepy and charming. As always, I met only old people who kindly let me sleep in the gym hall.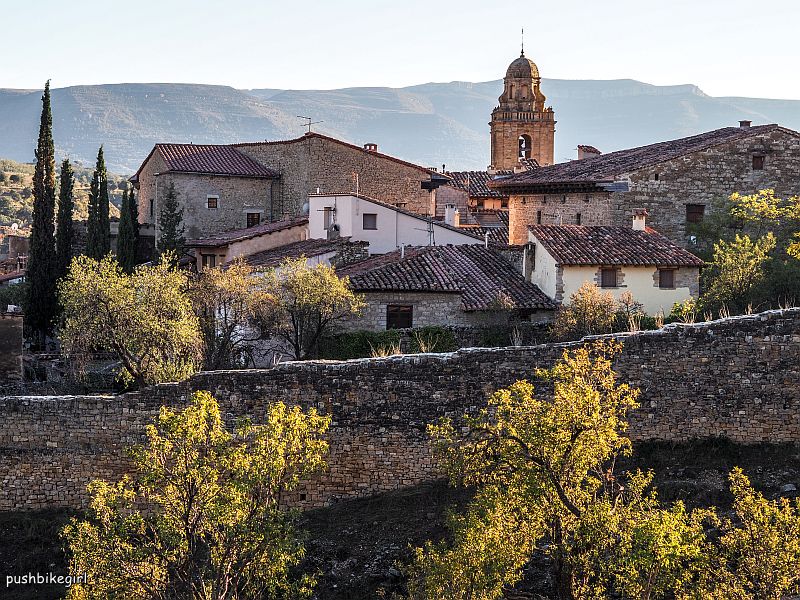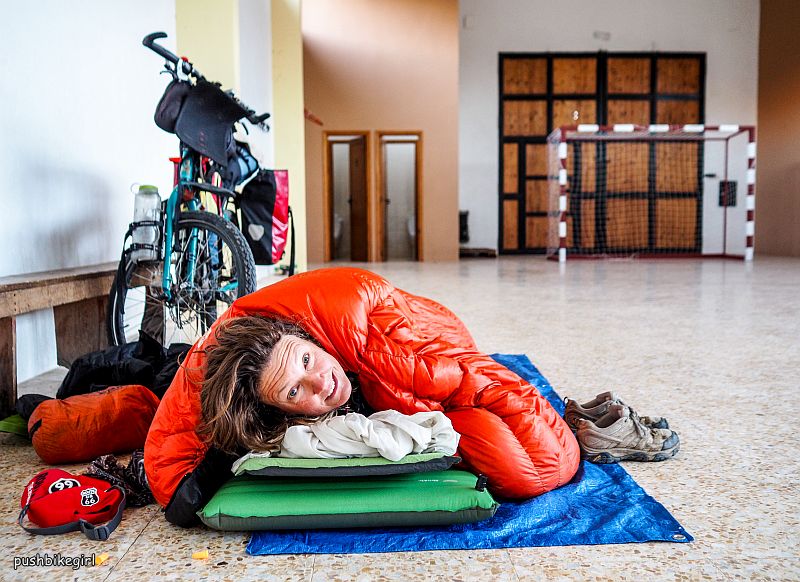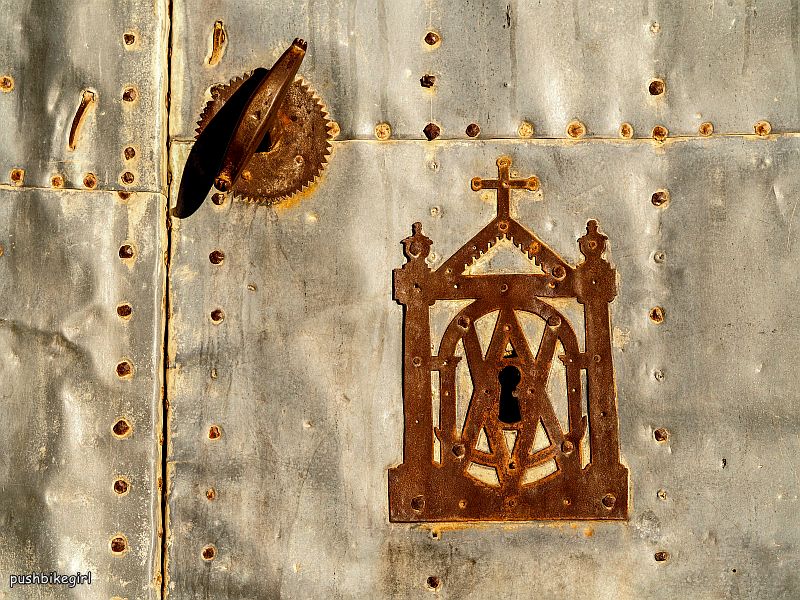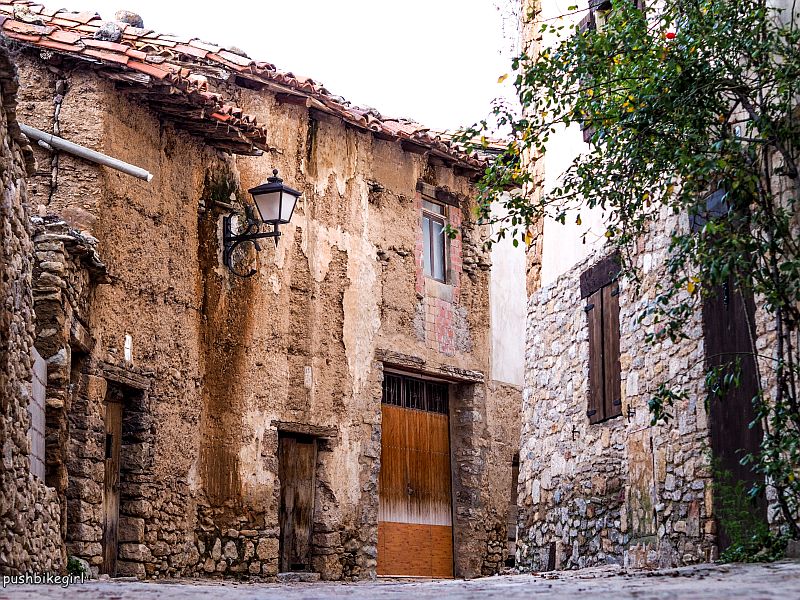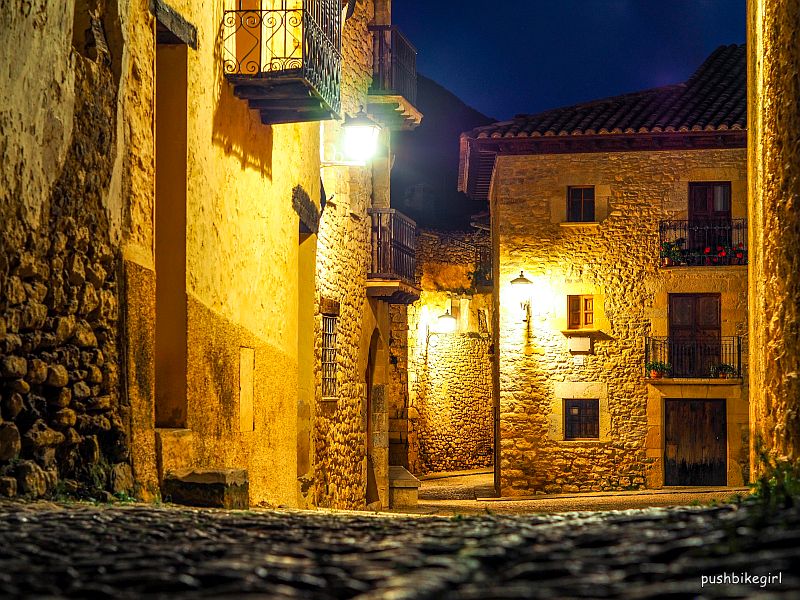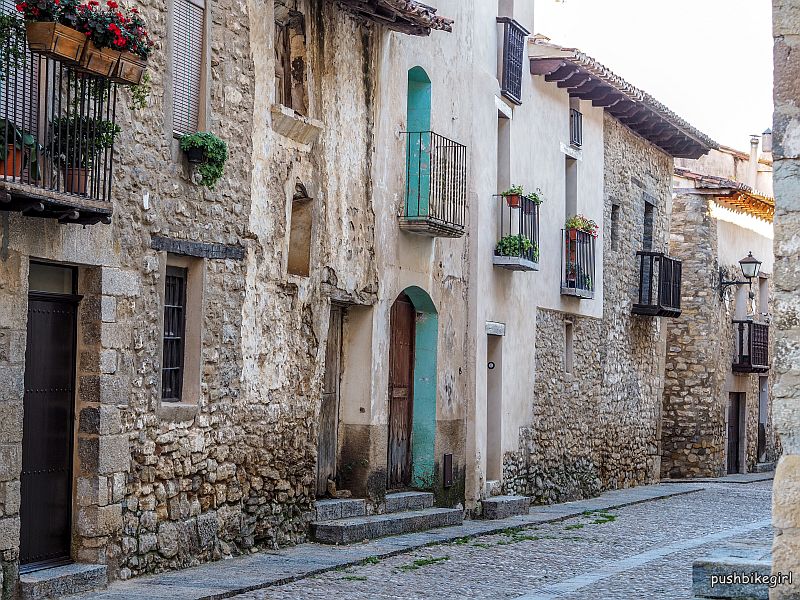 Flies. Normal house flies are a plague in Spain. At least in the areas where I was traveling. They were really everywhere. It somehow reminded me a bit of Australia.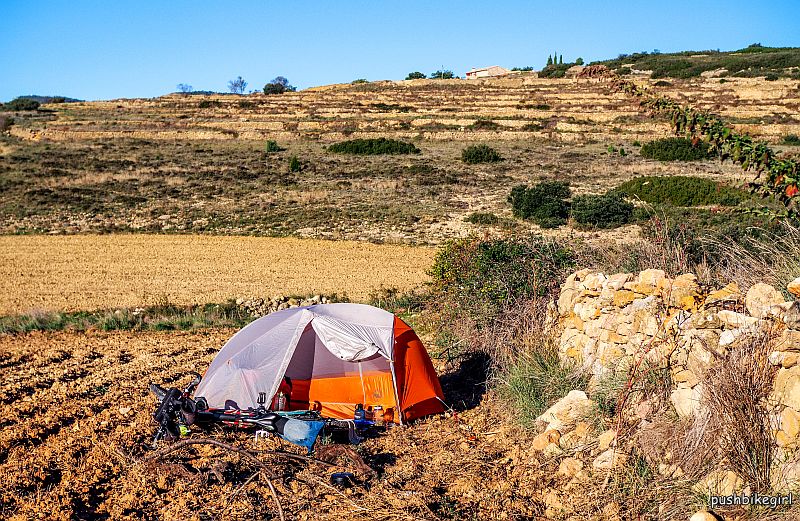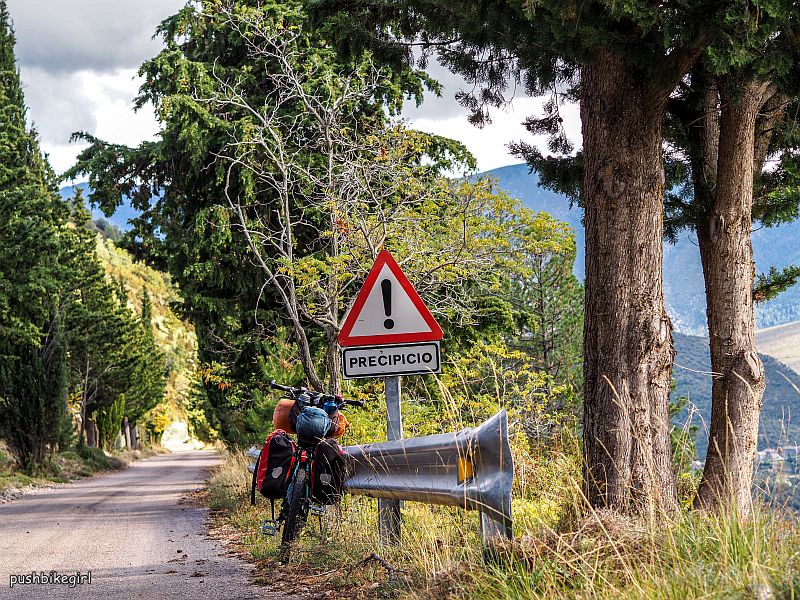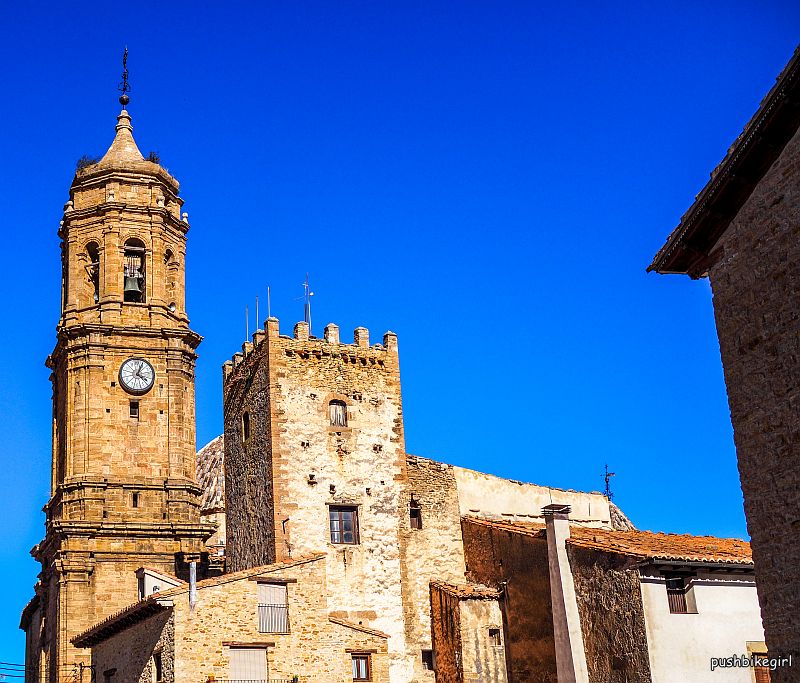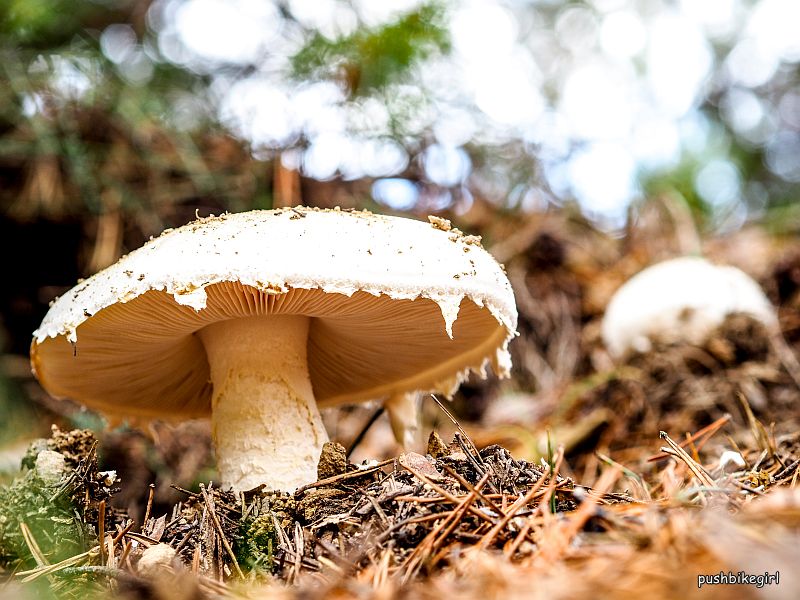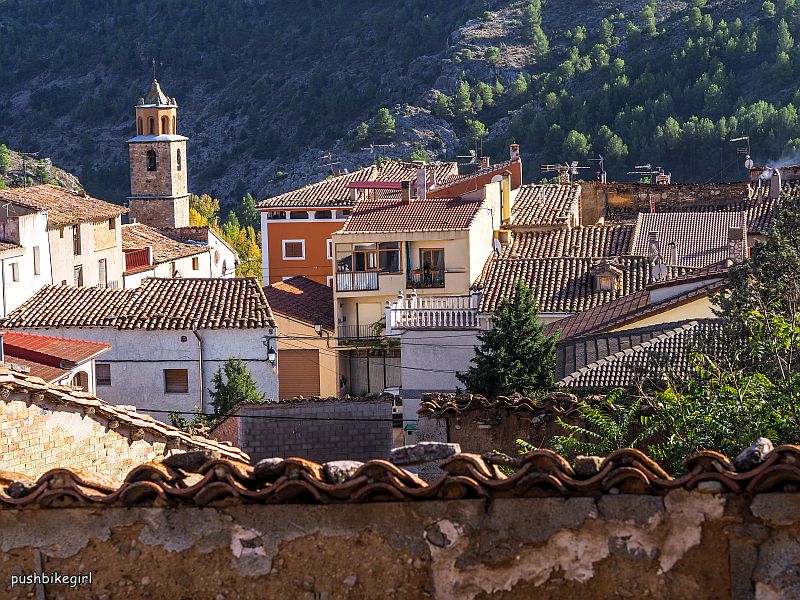 More rainy days in the mountains. I decided to escape to the coast to soak up some sun. I wasn't sure if this was smart, but the mountain world was getting a bit dull for me. As much as I love being alone in remote areas, I also love getting to know the people and the culture of a country, and so far, this part had been a bit meager. It just does not happen much in these remote places where there is little life.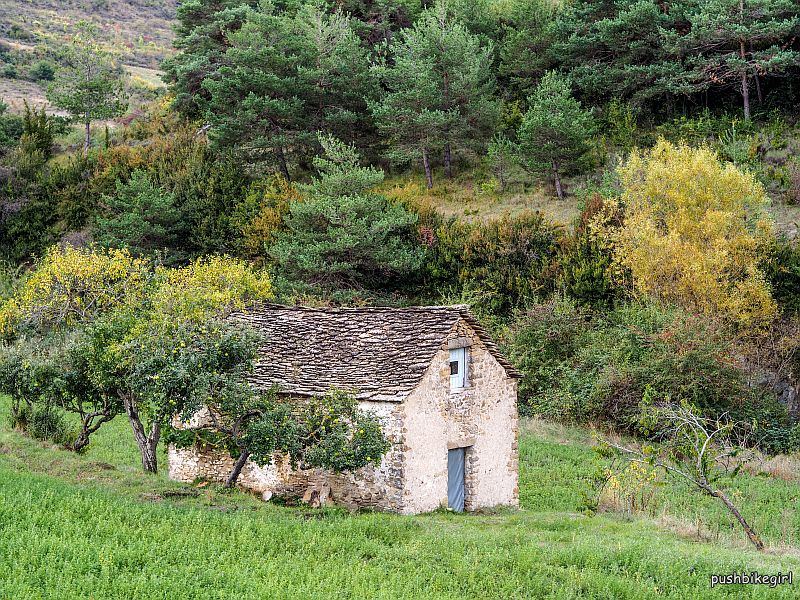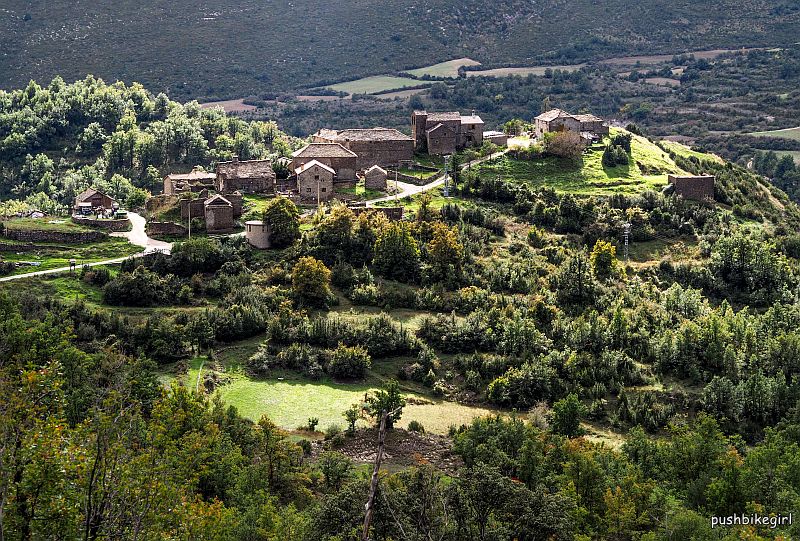 It was pouring rain so I took shelter in a restaurant and a Romanian family took me into their caravan. Lovely people who adopted me immediately. And so, I finally sat once again at a family table and was allowed to experience the warmth of hospitality.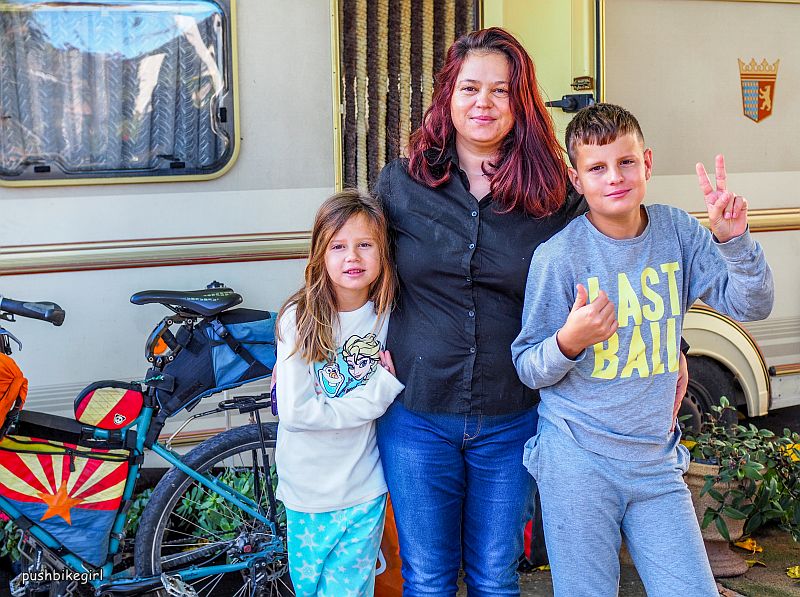 Shortly afterwards, I met Dragan, a Slav who has been following me on Facebook for a long time and happened to be in Spain as well. A nice guy with whom I camped and cooked at the beach. We talked about politics which I always find interesting. Sadly, his bike broke down the next day and so our ways separated again.
Biciclown, Alvaro, a Spanish cyclist, contacted me. He has cycled around the world for a total of 13 years, performing and entertaining as a clown as he traveled. Of course, I did not miss this opportunity to meet him. He now lives in a mobile home continuing the life of a nomad. He spoiled me with delicious Spanish food.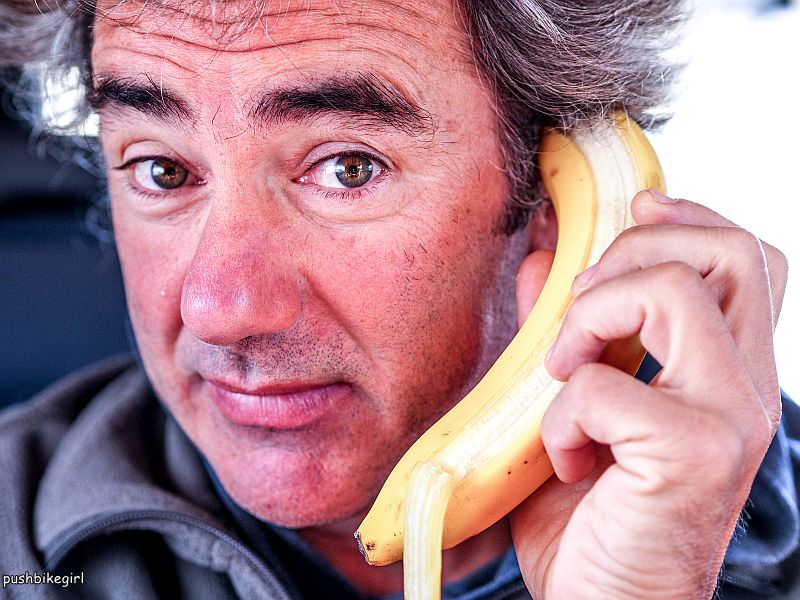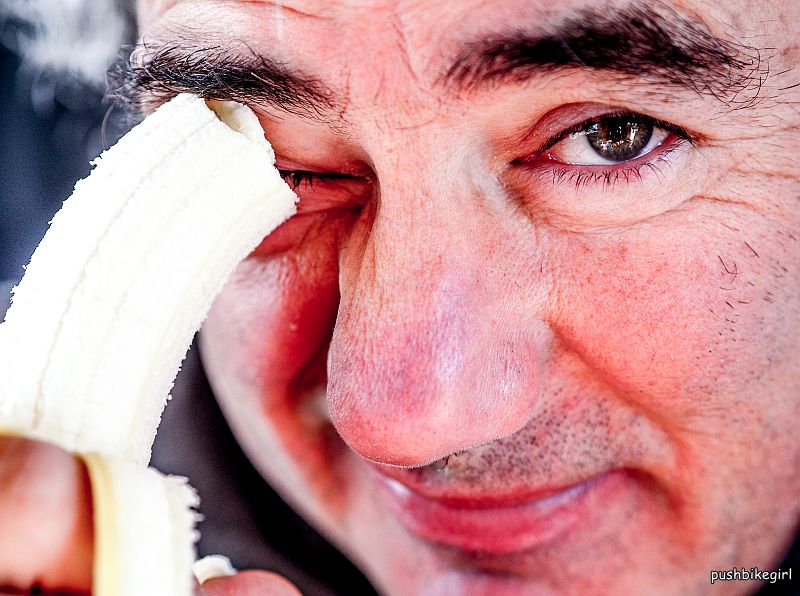 Of course, we had a lot to talk about and I really enjoyed spending time with him. It is always exciting to find out what others experienced during their travels. And it is also always great to hear that other long-term travelers have similar feelings as I have.
He also feels a stranger in his own country and said I will definitely have a lot of fun in Africa. I used the opportunity to interview him ? If you want to know more about him, then here's the Interview.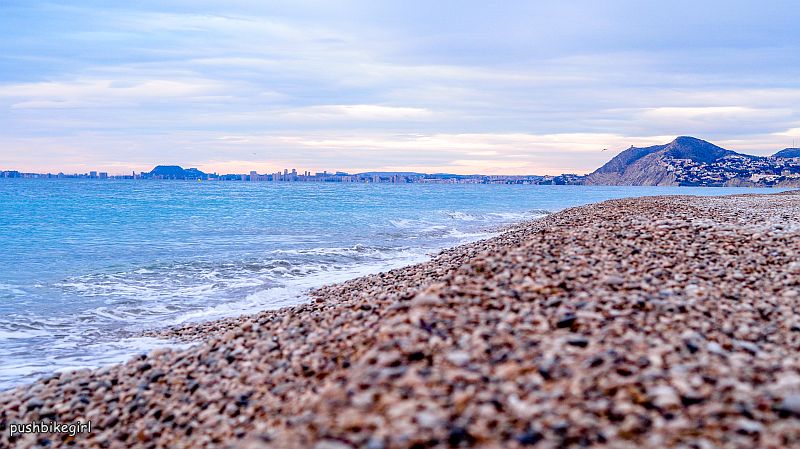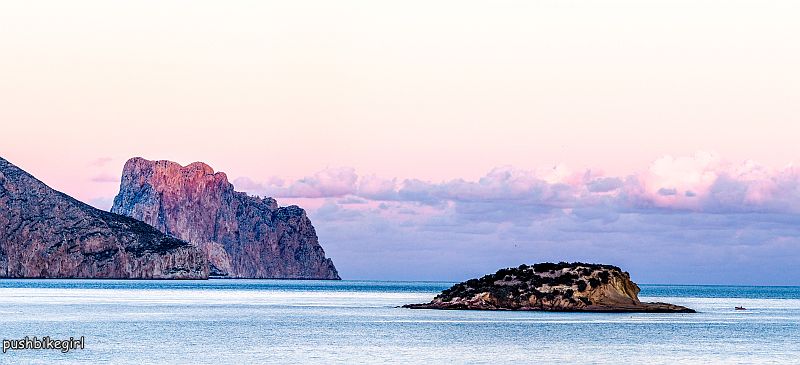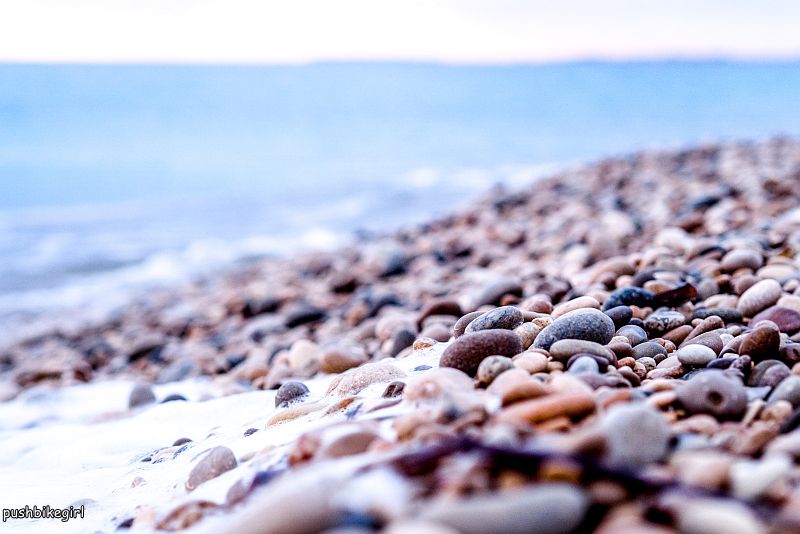 As I had suspected, the coast along the Costa Brava is totally built up and, in many places, really ugly. In addition, there are droves of foreigners. It seems like there are more Germans here than Spaniards. Lidls and Aldis are never far and the friendliness wasn't all that great.
I have found, wherever there is tourism, locals tend to be annoyed by the many strangers and therefore not very friendly. Although it is often their main source of income and without the foreigners their lives would be quite different.
Therefore, travelers like myself always try to avoid the sightseeing spots. The true life of a country cannot be found there.
Nevertheless, I liked it. I always found small ways to avoid the traffic and enjoyed the sea and sometimes even the bustle. I cycled a lot at night, used the night hours to hide somewhere and of course did not make a fire in those populated areas.
Sometimes I also joined the many mobile homes that were parked together in vacant places to be able to chat for a while.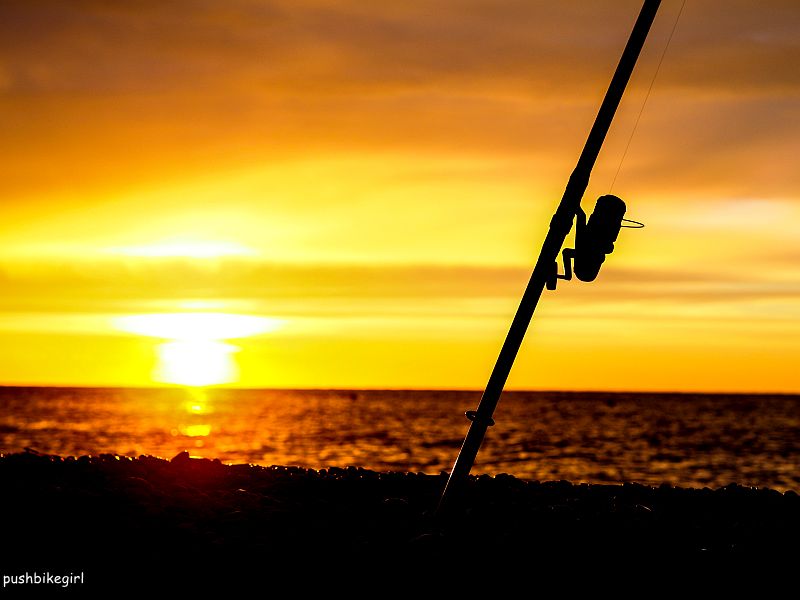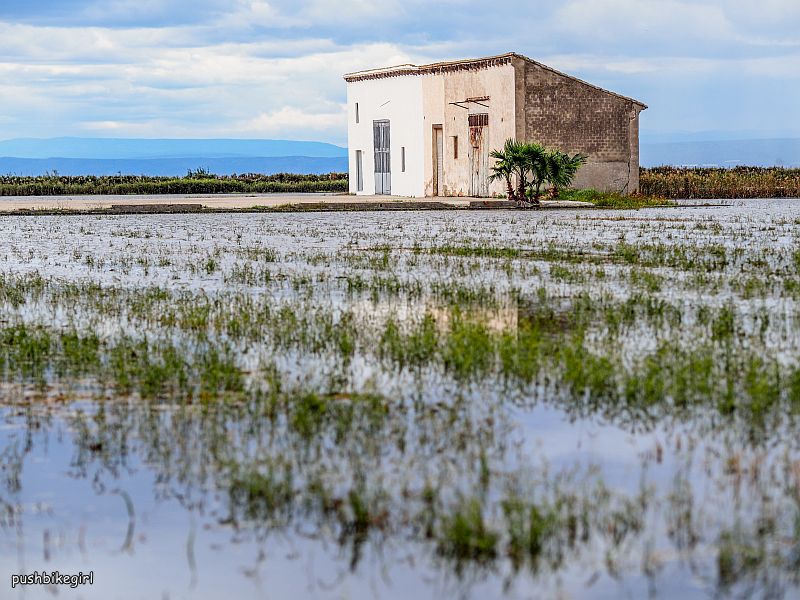 The food is cheap in Spain. The famous Spanish ham a dream. The tortillas delicious.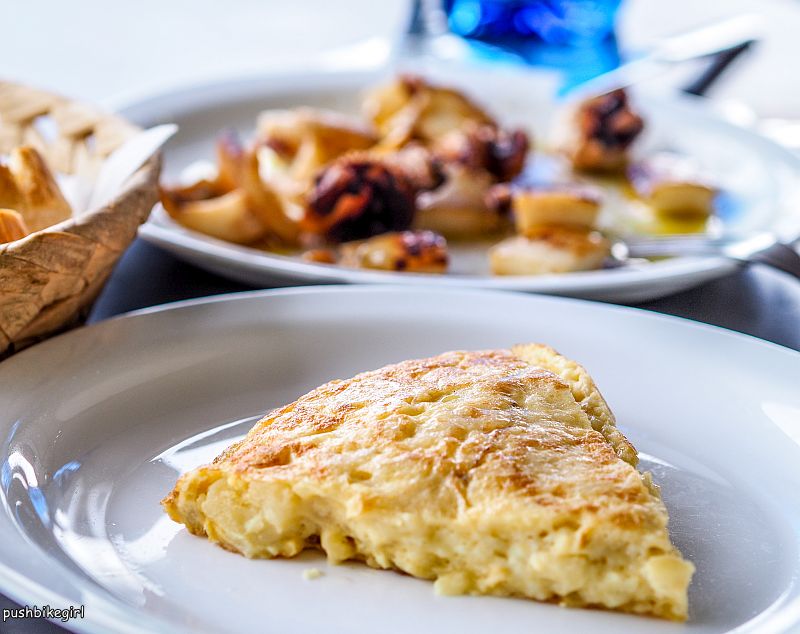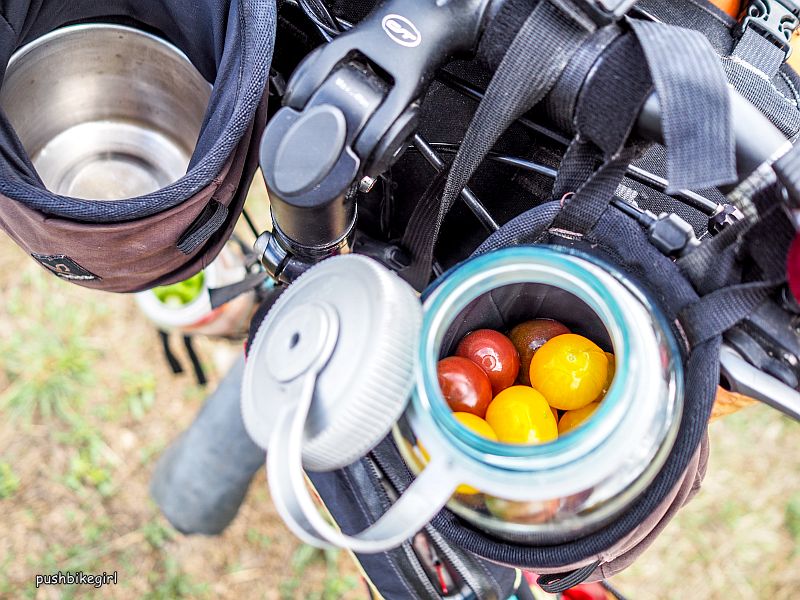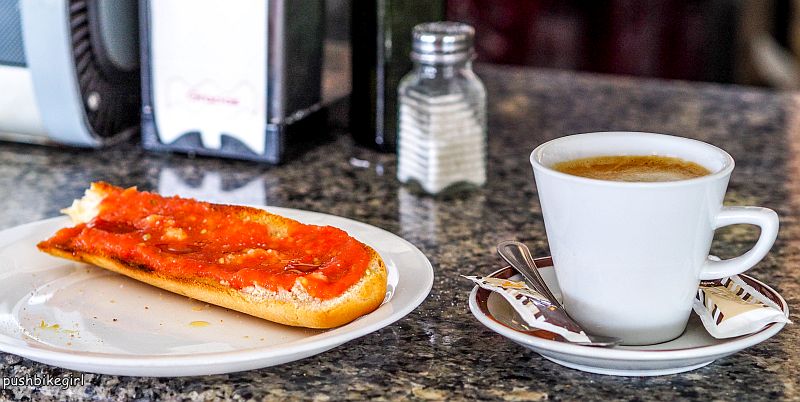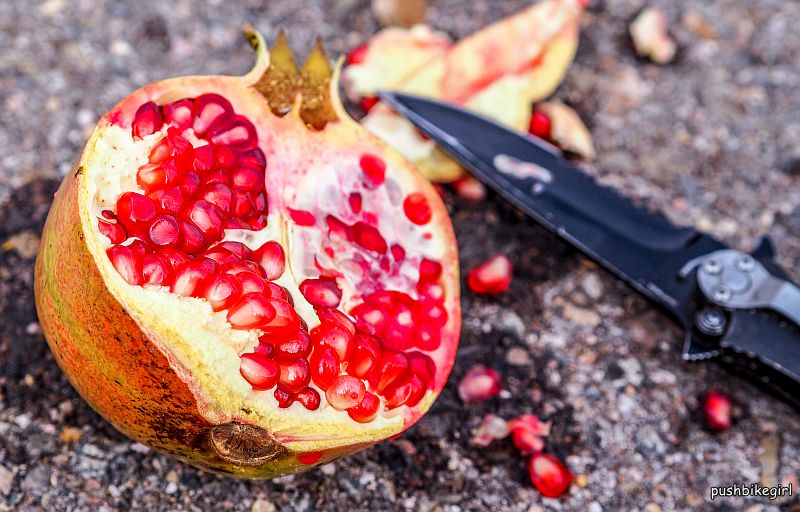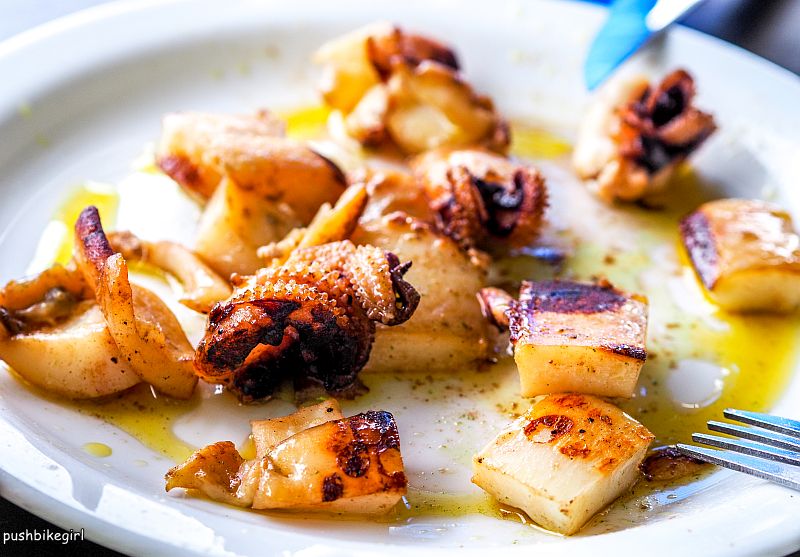 My first repair was in Torrevieja. Bottom bracket and chain had to be exchanged.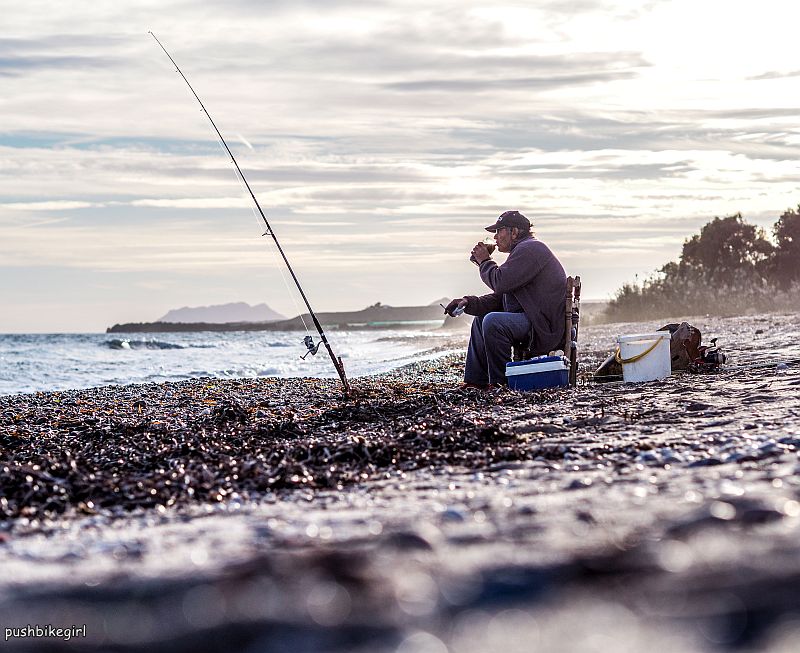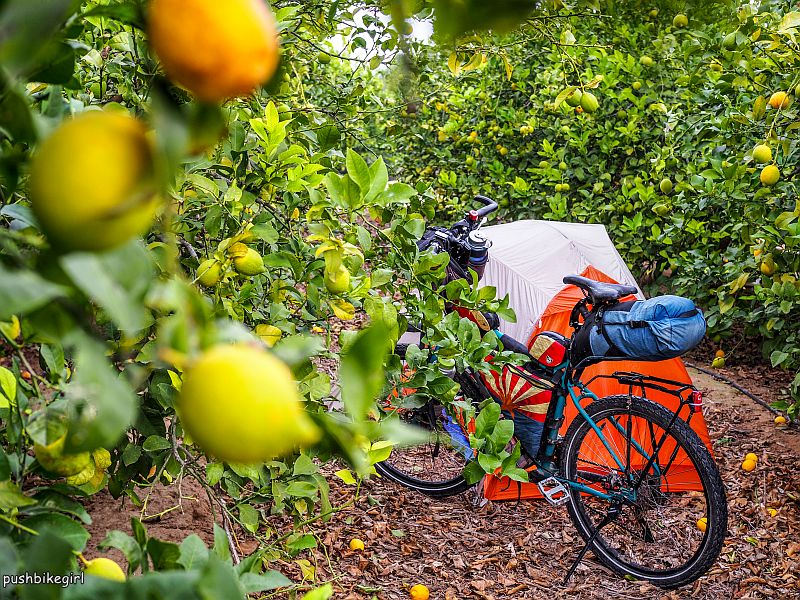 I recently got a smartphone, a friend gave me her old one. I partly used it for navigation, but soon realized it was taking away from encounters with people. I was no longer asking for directions, or for a shop or anything else. No, Google was there giving me instantaneous answers.
I didn't like that.
From now on, I will only use it when there is no other way. I would like to continue to have contact with the people. I would like to have a reason to approach them. Give them the chance to give me an info, show them that they are important to me. Appreciate them.
It may sound weird or old-fashion, but it's frightening to see people more and more entrenching themselves behind their phones and isolating themselves from the world. When people sit together at the table and do not talk to each other, but gawk at their cell phone.
Unfortunately, I also realized I was using it too often in lonely hours. It's access to the outside when no one is there.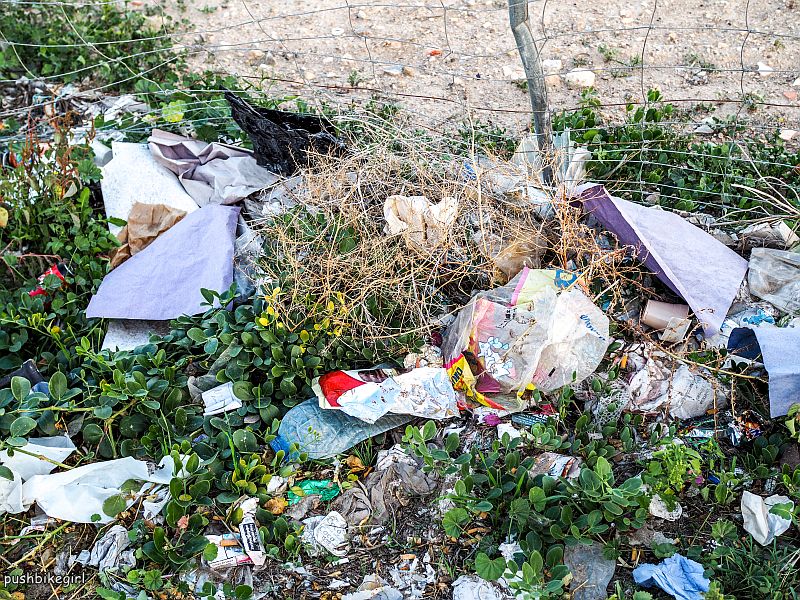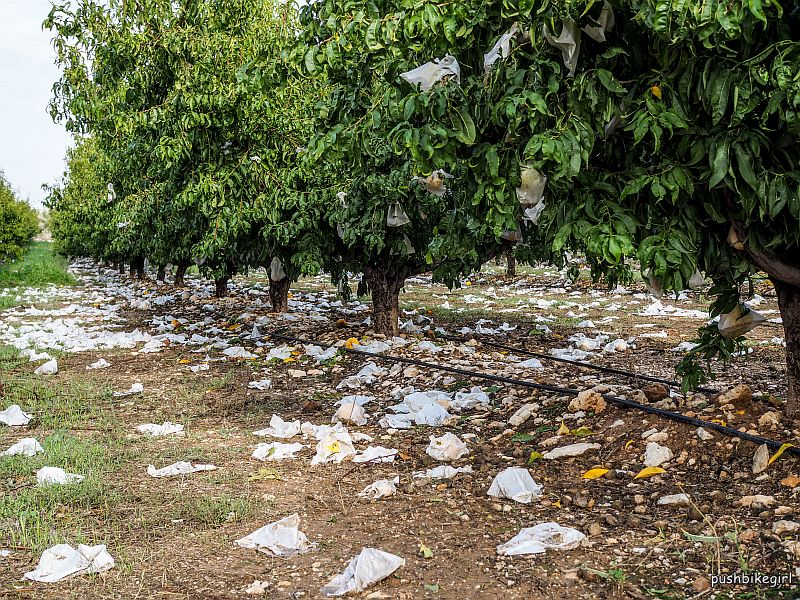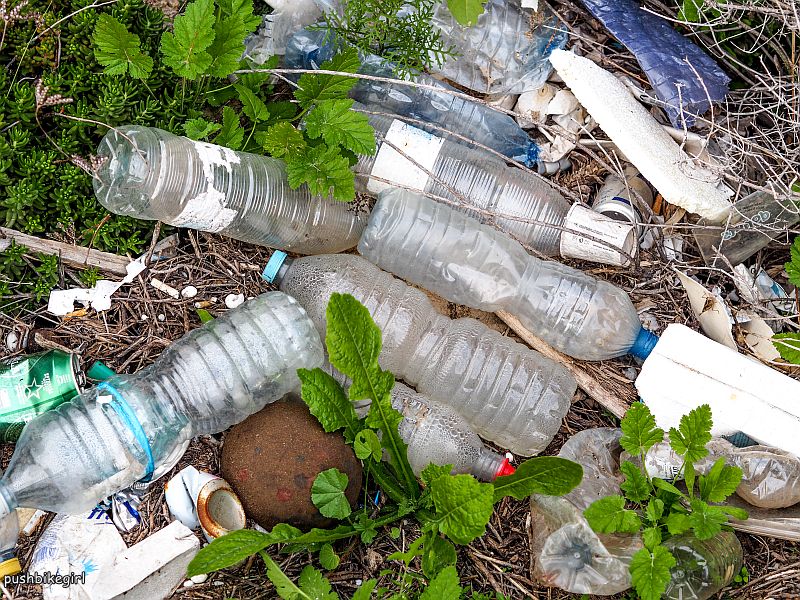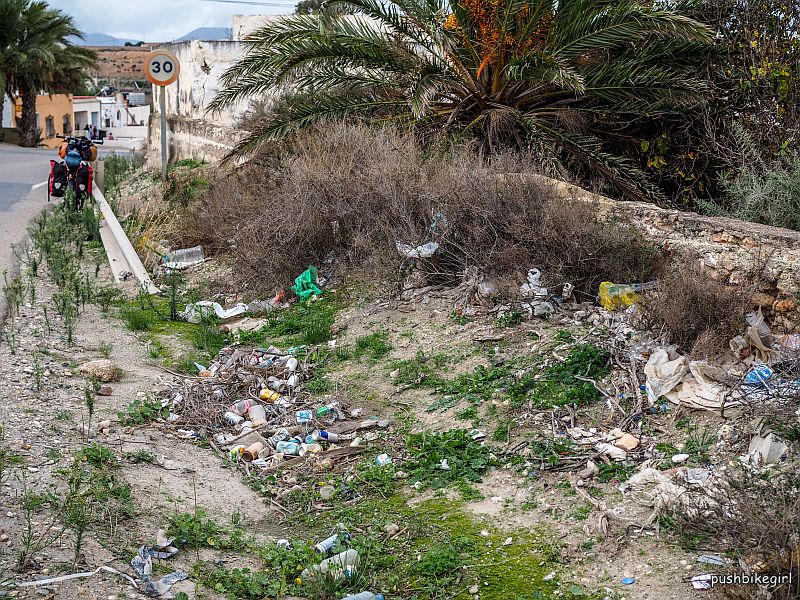 Garbage is a huge problem in Spain, it's everywhere and just sad what you see here.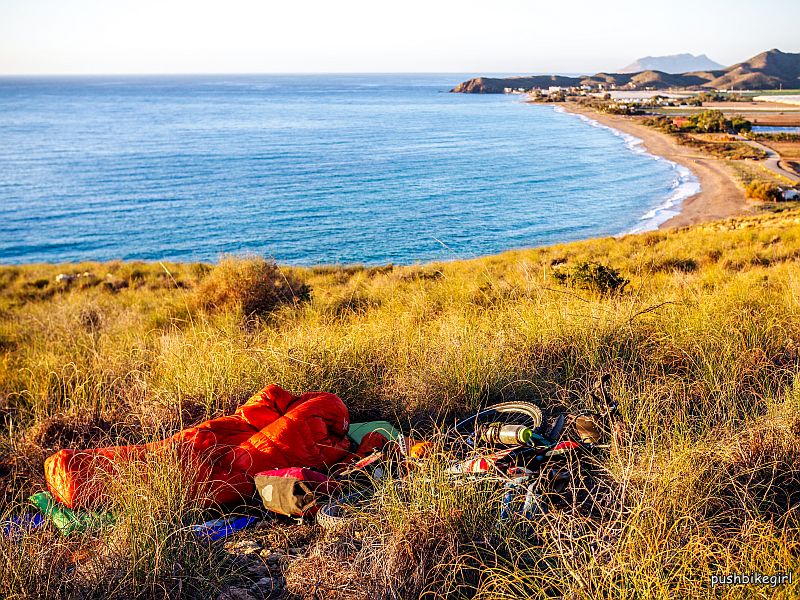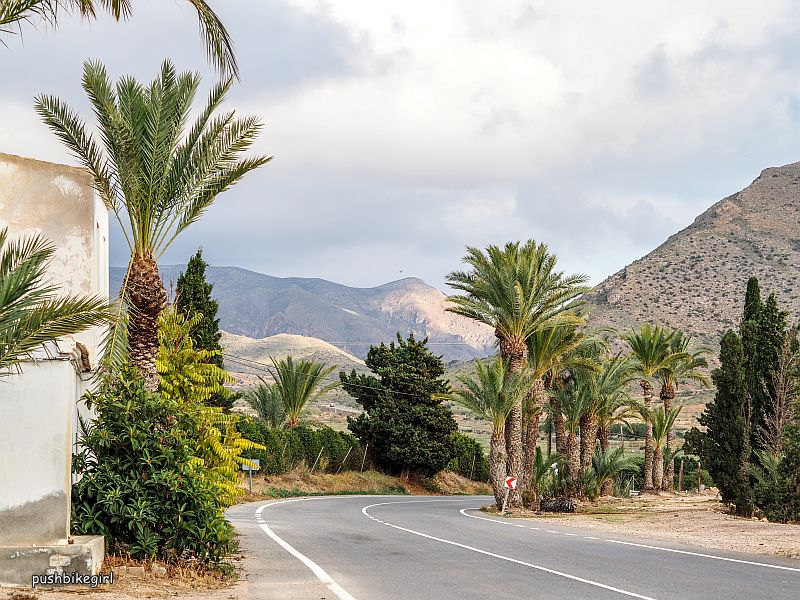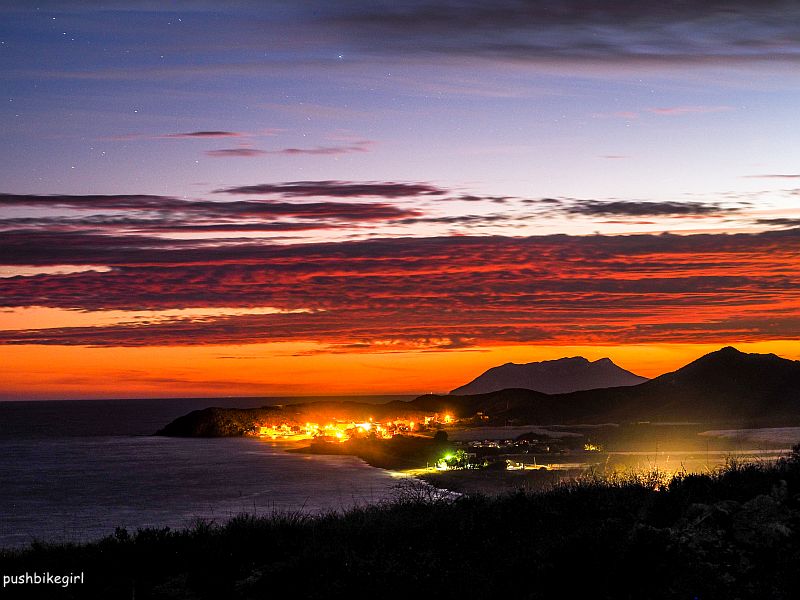 The whole way from home was more expensive than I had hoped. It was longer than planned and it was not always exciting. But it was environmentally friendly, because I cycled every meter of the 4237 kilometers.
Nonetheless I think, it is always important to expose yourself to fewer interesting areas in order to be able to rejoice again in the charming ones with their various lively cultures. Because it is not always and everywhere great. A long journey has times where it might be boring. Cold, harsh, unappealing, hot or whatever. The world is not just sunshine.
My own continent, too familiar but I also had many beautiful hours. Only the adventure was missing. So far this had been a very easy-prepared cafe.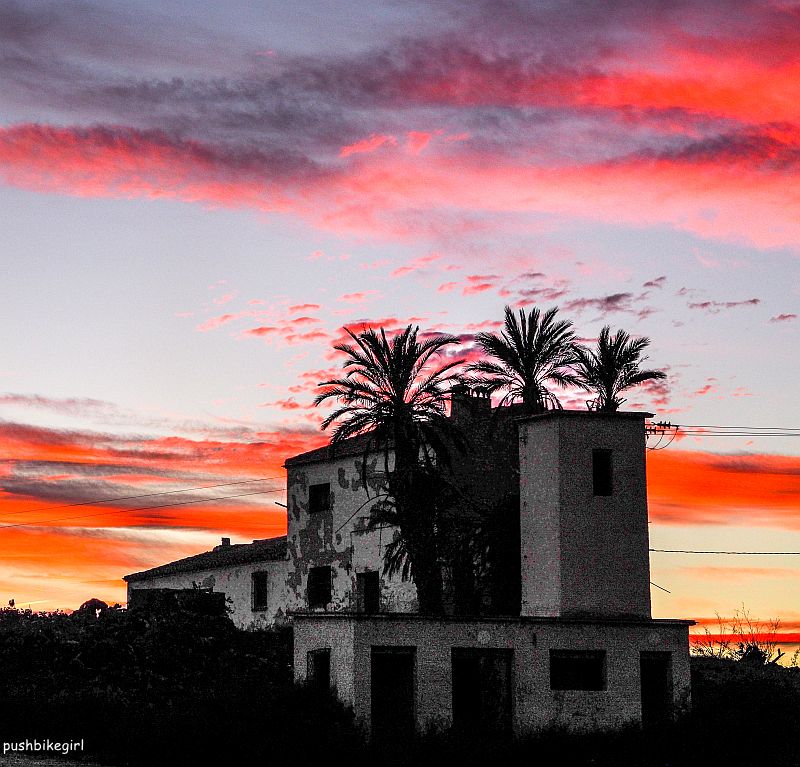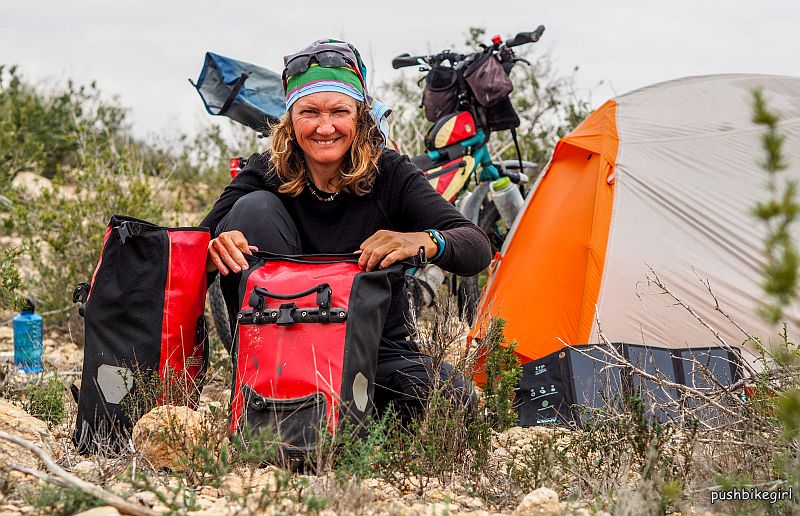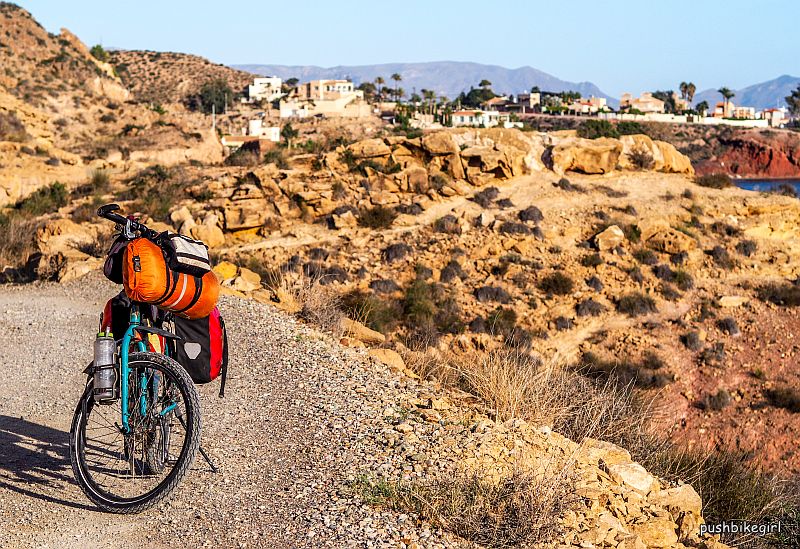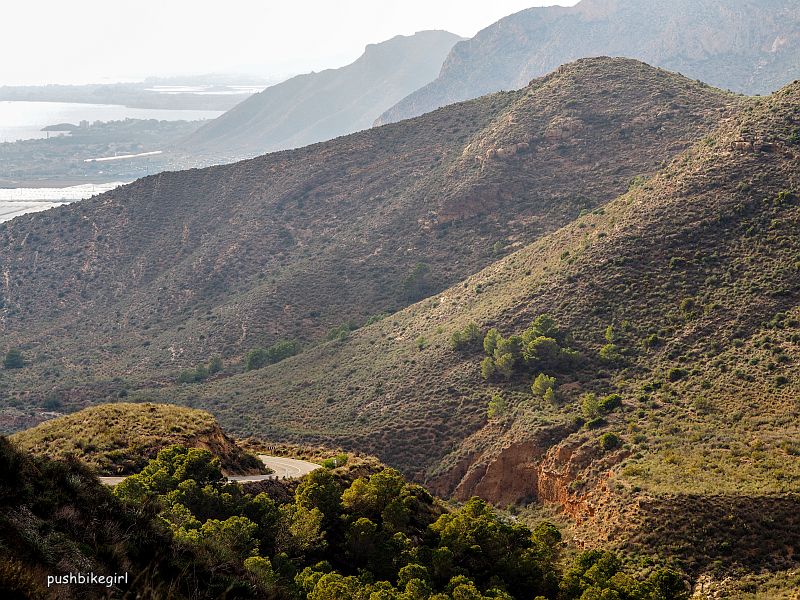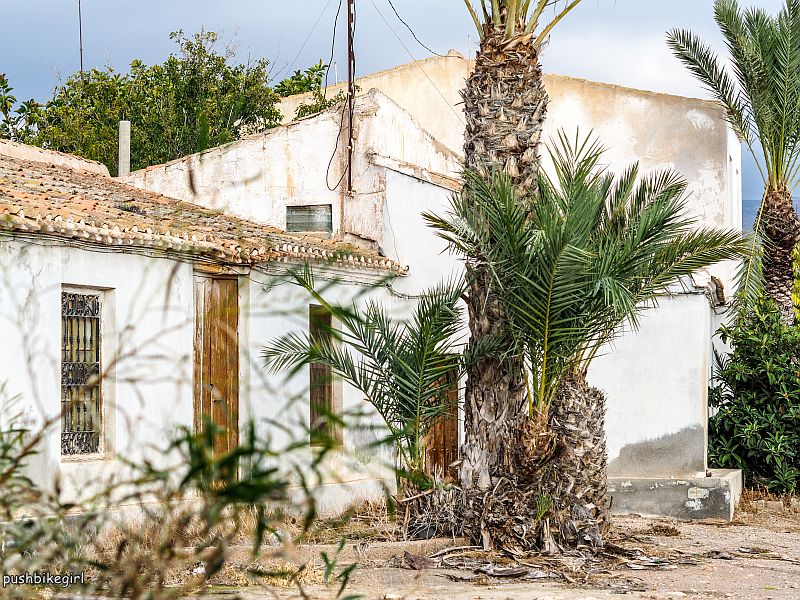 The last evening at the harbor in Europe, Almeria, was once again an eye-opener for me.
Admittedly, I was nervous. There was a huge continent ahead of me and I was surrounded by nothing but Africans or let's say North Africans. The carpets were rolled out for prayer and I was right in the middle.
Exactly, right in the middle because I was offered food, I was asked questions, curiously they joined me and in no time, I was allowed into a new world.
I remembered once again what a cold world I am from. And how much I looked forward to Africa – especially to the people. Laughing people. Friendly people. Children. Life and time. No one in Europe has time anymore.
I'm curious if I'll find those people. Do I only have dreams or are there really still people living a warmhearted life?
Whatever it is going to be. Now it is time for the real adventure. Off to Africa – Morocco here I come.